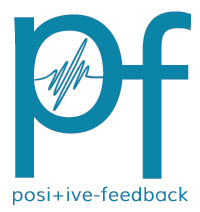 You are reading the older HTML site
Positive Feedback ISSUE 58
november/december 2011
fritz loudspeakers
Rev 5
as reviewed by Francisco Duran
Every once in a while, as other audio reviewers will attest, a product comes along that defies audio logic. The Fritz Rev 5 Loudspeakers are just such an example. I have thought about this for quite some time now. Having lived with these speakers for a while, I have come to the conclusion that: Number One, they play music instead of reproduce sound effects. And Number Two see Number One. That first point might sound like a ridiculous audio cliché from a smart aleck reviewer, but believe me; I have heard my share of high end loudspeakers that are better at reproducing sound effects than music. And sometimes even those sound effects don't always sound that good. But some speakers are blessed with the ability to "play music" and dish out all the audio details that one could wish for.But boy are we all eager to learn about all the nasty little details. How's the bass from such a small box? What's the frequency extension of these babies? How well do they image? How do they compare to the so and so's that cost considerably more? These speakers inspire questions like these.
I was originally slated to do a review of the Fritz Carbon 7 loudspeakers. But personal problems, among other things, prevented me from doing so. But the generous personality of Mr. Fritz Hieler made it possible for me to have a go of his new creation, the Rev 5s. Although my visit to T.H.E. Show in Newport Beach was short and sweet, it gave me a chance to have a listen to the Carbon 7s and secure a review of the Rev 5s.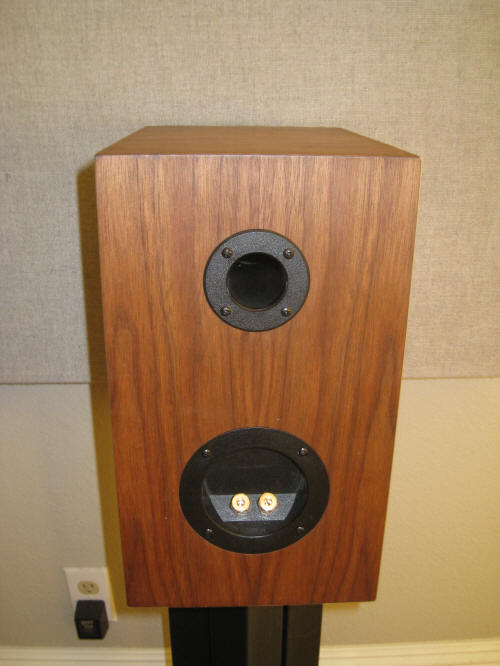 What are the Rev 5s you ask? Looking at the Fritz Loudspeaker website, we get the idea that Fritz Hieler is partial to small stand mounted speakers. Indeed, this type of loudspeaker does seem to outnumber the floorstander's. The Rev 5s are a small, rear ported design, measuring 13HX7.5WX12D and weigh 24 pounds each. These are very solidly built, and have a very high standard of fit and finish. The grills attach with magnets that are buried beneath the veneer. Smart! That veneer covers the whole speaker. Frequency response is stated at 45Hz-20kHz, and the impedance is 8 Ohms nominal. The bass/midrange driver is a ScanSpeak 5.5 inch Revelator and the tweeter is also a ScanSpeak 28mm 1.1 inch hand coated textile soft dome unit. Ho hum you say? You have heard it all before? But the piece de resistance is the crossover. In several of his designs, Fritz uses a series crossover based on the Acoustic Reality Series crossovers. This was designed by Acoustic Reality of Denmark. This particular type of crossover does not use capacitors or resistors in the circuit with the tweeter. Please refer to the Fritz Loudspeaker website under the Rev 5s for more information on this technology. The recommended power is 30 to 150 watts. That leaves one plenty of room for an amplifier of your choice. The Rev 5s were driven quite well with either my Marantz Reference Series PM15S1 integrated amp (Signature Edition upgrade by the Upgrade Company), or my Margules U280SC tube amp (30/60 watts triode/ultra linear).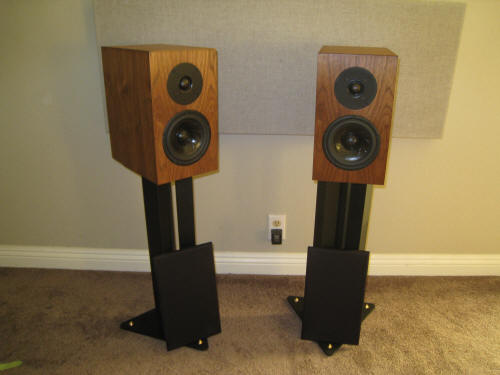 I was fortunate to have Fritz drop the Rev 5s off at my house. We talked so much about audio, had dinner, and listened to my Tonian TL-D1s, that we didn't have enough time to actually hook up his speakers that night. A few days later, I dusted off my old Lovan 24 inch stands, hooked them up, and I have been listening to them ever since. If memory serves correctly, Fritz mentioned that this particular pair had some hours on them. Even so, I dutifully broke them in for a hundred hours before taking notes. I didn't find the sound to change dramatically. But believe me; these speakers have been playing many hours a day for months.
For the most alluring trait of the Rev 5s, I wanted to start with the bass. But let's start with dynamics instead. Whether reproducing single notes from the lower scale of the piano, the swift plucks of a harp, or gunshots from an action movie, these mighty mite speakers are punchy as all get out. Dynamics are fast, clean, and taut. How many times have we read reviews of small speakers that punch way out of their range in dynamics? Well you can add these speakers to the top of that list. I have never heard a small speaker so dynamic and solid, especially in the lower ranges, yet so well balanced as the Rev 5s, unless it cost many thousands of dollars more than these speakers, many thousands. And then shelling out more money doesn't necessarily mean more quality. The proof is also there when you play action movies through them. With the exception of volume limit, I literally felt that a pair of these is all one needs to have a satisfying, almost full range experience watching movies. Gun shots, cannon shots, or somebody slamming an empty shot glass on a bar top, the Rev 5s convey rapid fire dynamics with the best of them. My video collection is filled with mostly action movies (no Jane Eyre) so watching any of them was a blast with these speakers. They do have a volume limit, but the sound pressure does start to get a bit uncomfortable when you start to get there.
Of course the Rev 5s didn't disappoint on the music. It was hard to cherry pick music based on certain performance perimeters because the Rev 5s were so easy to listen to music through. But for instance Slightly Stupid's album, Chronicitias, has bass that is more prominent in the mix than the average pop album. This album had bass that was deep, tight, solid, and room filling through the Rev 5s. The same held true with another example of the genre, Shaggy's Hot Shot album. In fact, the way these albums are recorded should be the norm and not the exception. Far too many rock/pop albums are recorded to sound loud, without the dynamic range or bass that is buried in the mix. Okay, as long as we are at it, how about some Stravinsky and his finale of the "Rite of Spring" on a Reference Recordings CD Sampler? This is my go to classical disk. Wow! What great dynamics I thought. Although there is a limit to how loud you can play these speakers, within their limits, they deliver surprisingly deep, dynamic bass that far belie their size.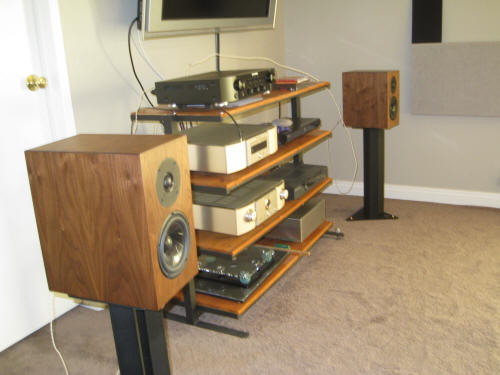 In fact, what seemed to be giving out before the bass was the treble. Indeed, when pushed very hard in my 20 x 12 foot room, the drivers do show their limits. (What speaker doesn't?) But kept even way above sane levels they kept their composure and delivered clean, coherent, and balanced music. Actually, while playing Mozart's "Piano Concerto #21" on the same RR sampler, the top octaves sounded natural and realistic, never becoming bright, ragged, or brittle. The treble exhibits smoothness without that "smoothness" coloration. I am talking about products that are purposely designed to sound smooth with a lack of detail and rolled off highs and slightly hazy. In spite of these speakers' smooth and natural sound, they exhibit a great amount of detail without becoming etched. Believe me; my reference speakers have customized ribbon tweeters. I am very familiar with clean, detailed treble. I found a kind of odd place to highlight the treble detail and spatial qualities of the Rev 5s. Listening to Neil Young's remastered album, After the Gold Rush and the track "Only Love Can Break Your Heart," each singer in the background chorus sounded so clear and distinct, yet whole. The voices also had a natural texture to them that was not jelled together and lost in the chorus. Part of this is due, no doubt, to my new Clearaudio Maestro cartridge. But the Rev 5s easily showed this musical phenomenon.
It was in the midrange that the Rev 5s again went above and beyond their weight class. The midrange performance always sounded harmonically right and true to tone. A lack of glare and coloration is the order of the day. Listening to an old LP that has been in my collection for ages, Ozark Mountain Daredevils, Men from Earth proved interesting. The vocals sounded clear and distinct. When the group did background harmonizing, again as with the Neil Young track, there was a solid sense of a group of men singing with no sense that each individual vocal part was distorting into another. There was only smooth, clean harmonizing. On the track "Break Away," the solid reproduction of the soundstage brought congas, wooden sticks, and a tambourine snapping clearly and cleanly in space. The same was heard with the track "Red Plumb," the mandolin's strumming sounded taut and clean and floated off into the air. I know I am reaching a bit on these examples. and this album might not be in everybody's collection, but this bit of nostalgia brought a lot of joy running through my system. Apart from amazing dynamics and a very competent treble, this is the area of the speaker that can pull you in to the music and keep you listening for hours.
One Saturday morning, while breaking in the Clearaudio Maestro cartridge, I let the music rip. I played nine albums in a row. After that some CD spinning was in order. I played a couple of Bebel Gilberto's, some Buena Vista Social Club, and a few of the spin offs, and ended with my old stand-by, a few Neil Young CDs. Although the quality and character of each of these albums came through for good or bad, it was easier to listen through the lesser quality recordings than the same recordings being played through my speakers. Oh yeah, that night we put the Rev 5s through their paces with a few movies too. (Boy do I have an understanding wife).
I strongly feel that to really get a handle on a component's performance, a good comparison helps greatly. In this case it was my Tonian Labs TL-D1 floorstanders. Yes, floorstanders. Although the difference in stature of these two speakers is obvious, their prices are very close. Tonian Labs prides themselves in producing speakers that are very clean, fast, and can track dynamics like a bloodhound. They are mostly two way designs, with customized ribbon tweeters and exotic paper woofers. One of the most obvious differences is the efficiency of each pair. Now, I hope I don't break any of you techie's hearts out there, but I did not measure the difference with a meter. I did it the caveman way. I had to crank the volume up quite a bit each time I switched to the Rev 5s. This is one area where I am fond of the Tonians. I can use a very low wattage amp with great success, although my Margules U280SC all tube amplifier in 30 watt triode mode drove the Rev 5s very well. I should mention that the Rev 5s are not a power hungry pair of speakers, and I did use an old Sonic Impact Tamp just for the fun of it a few nights, that drove them OK. It is just that going from a true 95Db efficient speaker; the difference in power handling was obvious.
One would expect a small speaker to disappear and that is what the Rev 5s did. For a big speaker, the Tonians threw a pretty credible soundstage, but not as wide and deep or dimensional as the Rev 5s. With a good recording, the Rev 5s also carve very solid and very clean images in the air. Naturally the Tonians have more solid and effortless bass. But again, the Rev 5s were not embarrassed in any way bass wise. I wanted to say that the Tonians were airier and more extended than the Rev 5s, but the longer I listened and compared these two speakers I realized they are very close in treble detail. I think the Tonians edge the Rev 5s out a shade in the treble, sounding a bit more harmonically correct. Cymbals and the like have a bit more dimension and realistic tone to them, even though I had to listen very intently to hear the differences here. The shocker came when I paid close attention to the midrange performance. Again back to the Ozark Mountain Daredevils LP. It took all of two times switching speaker leads to hear the difference. The Tonian speakers definitely sounded thinner in the midrange. There was also a slight hazy veil and slight distortion over the midrange, the sound was a bit flatter, and the stage was slightly closed in. I first attributed this to the cartridge swap. What a difference it was going from the Blue Point #2 to the Clearaudio Maestro. When I did the cartridge swap, I was listening to the Rev 5s only. Yes a veil of haze did lift after the cartridge swap, my new Maestro is clearly better. But when I put the Tonians back in the system, the negative traits in the midrange reappeared, and disappeared when I put back the Rev 5s. The Rev 5s have a very clean and realistic midrange. To be fair, I have had work done to my Tonians recently. Whether they are running up to spec or not remains to be investigated further. In any event, it is clear that the Rev 5s kept up, and surpassed in some ways my reference speakers.
So, am I writing ad copy for Fritz loudspeakers? I don't think so! What I am reporting is what I heard. How do they compare to speakers in the five, ten, or fifteen thousand dollar bracket, I can't tell you. They certainly kept pace with my hi-rez towers. Are there better speakers out there? I am sure there are, but you better be ready to give up the big ching-a-ling. When I first installed the Rev 5s my initial impression was that they were a smooth sounding speaker that was slightly closed in on the top, with great bass and dynamics for such a small speaker. That was part of my struggle with trying to get this review out. I wanted more, I wanted sparkle, and I wanted audiophile "sound". Not to mention the fact that they are a different approach to music making than my own darling TL-D1s .Well the dynamics and bass qualities were there. And what I said about them being musical in the first paragraph is true. On closer inspection, declaring these speakers as smooth and closed would be misleading. They do sound smooth, but they have an inner detail and harmonic purity in the upper octaves that doesn't call attention to itself, yet they are very resolute. They have the quality of letting you listen for many fatigue free hours.The Rev 5 loudspeakers are a solidly built, great looking pair of speakers. They are small in stature, but have a very well balanced sound. Having no design quirks, they are easy to place in a room and easy to match to a variety of amplifiers and components. They bring the music out effortlessly, yet can deliver sound effects from movies when called upon. Fritz Hieler has many years of experience designing and manufacturing speakers. He is a musician, and from our conversations, a great music lover. He also has a winning combination of a speaker on his hands in the Rev 5. Francisco Duran
Rev 5
Retail: $1950 a pair
Fritz Loudspeakers
www.fritzspeakers.com