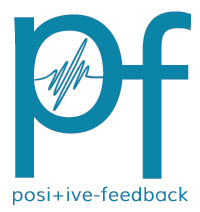 You are reading the older HTML site
Positive Feedback ISSUE 57
september/october 2011
Sonic Satori - T.G.I.RMAF, Our Rocky Mountain Audio Fest 2011 Adventure
by Michael Mercer
The Rocky Mountain Audio Fest was a wholly different experience for me this year. In the past I eagerly awaited the event, knowing I was going to spend time with friends that I barely see in person throughout the year because we all live in different parts of the world. RMAF brings us together through our shared addictions: music and Hi-fi. This year however, one of those friends was not there; Lee Weiland. This was punctuated by the fact that, for the first time in fourteen years, my wife Alexandra would be accompanying me (she had never been to a Hi-fi show—she's been hearing about these unique gatherings and all the crazy tales that go along with them, but never experienced one).
She was supposed to meet Lee this year at the convention and I was so excited. They got along so well over the telephone. I know they were kindred spirits. They shared a very funny moment over the phone this year during CES after Lee and I snuck away from our crew of close friends and went off to get into a Hunter S. Thompson-style adventure. I remember wondering what they were saying to each other as he laughed so hysterically he fell to the ground, which at that point in the evening was a small patch of flowers and cactus, a small garden of sorts in this hotel complex (don't bother trying to figure it out, I was there and I can't recall exactly). I was looking forward to introducing them so very much.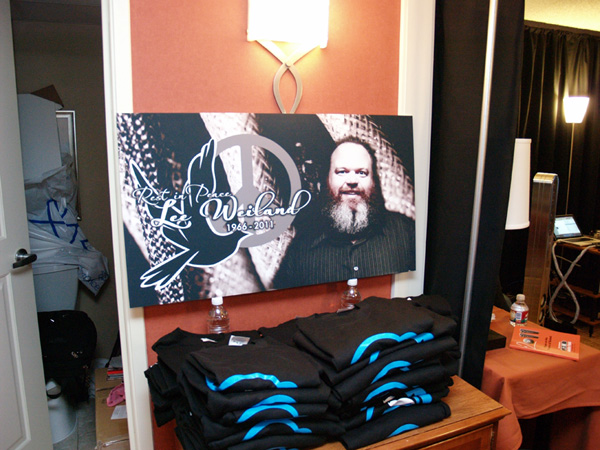 We lost Lee this year. He died in his sleep. I wrote an article about our dear friend (you can find it HERE or at the top of the TOC in this issue—I'm very thankful they kept the essay up). We've spent the last few months trying to cope with the sudden loss. He was certainly a force to be reckoned with, and to be brutally honest, he was (aside of my best friend, Peter Wohelski, Label Manager at Beatport in Denver) the number one reason for my continued excitement about RMAF. Sure, I live and breathe records and Hi-fi, so it all kept me engaged and excited, but what's better in life than friends and family? We would go to rooms together and whisper our thoughts on the systems while people looked at us like the burned-outs in high school. We'd people-watch, laugh our asses off, and take over part of the bar in the Atrium, and then end the night with more laughs around the fire pit in the back of the Marriott. If you haven't been to that spot, and you've attended RMAF, be sure to get out there during a brisk evening. It's a magical place to talk about the fest with people who have been experiencing it all day and just want to kick back and let their minds go. Last year, I had one of my most cherished conversations with Lee out there sitting next to the fire. I will never forget it (and it has kept me pushing forward, trying to grow this industry one listener at a time).
So that is where my head was at going into RMAF this year. Plus, I had stepped outside of Hi-fi as a career for the last five months and took the safety and security route (the job with the best benefits, longevity, yadda yadda, but this year's fest was like a salve for my Hi-fi soul). I have kept on writing and helping companies with their new media outreach, but I haven't been as engaged as in years past in terms of the bigger picture within the industry itself. Again… offering up some honesty bordering on stupidity, I was growing tired of trying to preach about a future to the seemingly un-interested and disconnected. I wanted to step back and attend the show as an observer and a reporter. Frankly, I didn't want to have to report to anybody while I visited with some of the people that have helped me carve out a little place in the crazy world of Hi-fi! I wanted to see it all with new eyes. This proved vital to my overall outlook on where I truly belong, and what it is that I love to do, as I realized, within the first hour of our arrival, that this is where I need to be—in Hi-fi, spreading the good music and sound Gospel. Now, enough of my masturbatory ramblings and onto the show!
One of the first things that set RMAF apart from all the other Hi-fi shows is what many people comment about: the vibe. Now, I'm not talking about it in a seventies, "groovy" sort of vibe, I'm referring to the palpable energy that radiates from the attendees and the exhibitors. There is a sense of community at Rocky Mountain Audio Fest that I have not experienced anywhere else when it comes to conventions and similar events. This year was no exception and a good thing too, as it would have been a domestic disaster for me to go home and have to try and explain how it "should" have been! No need, as Alexandra enjoyed herself immensely (despite having to deal with a serious bout of travel fatigue and tummy aches the first evening—it had been awhile since she travelled with me).
I must however, tip my hat to a few individuals in particular for making this event so special for Alexandra…
Anthony Kershaw from Audiophilia.com (who had Alex at "hello"—but never you mind Anthony, she's still mine buddy).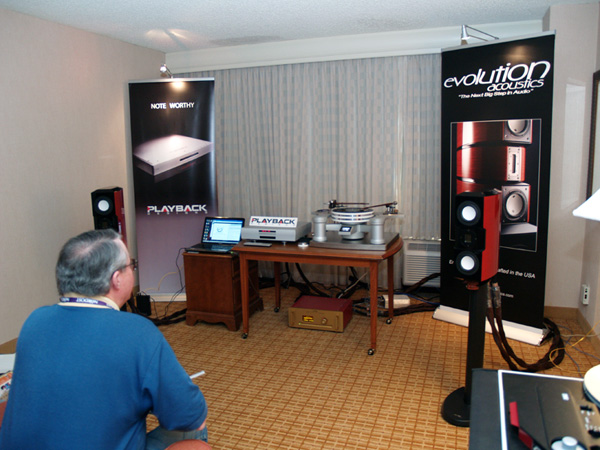 Jonathan Tinn, who gave Alex (and me) such a treat by playing a record for us on the new Wave Kinetics NVS turntable that carries a very special place in our hearts: Dusty in Memphis (Bravo Acoustic Sounds by the way—I think Arif Mardin, Jerry Wexler, and Mr. Tommy Dowd would have been proud of the sound). Rhino remastered the CD while I was working for Arif, and honestly, I think they killed the life of that album. The spaciousness and dynamics were gone (and Arif was not happy with their job either). Jonathan Tinn and his team brought the Memphis soul sound into that hotel room, and it was something special. I couldn't withhold my emotions listening to the music—and that should say it all. Bravo Jonathan!
Dan Meinwald (US importer for E.A.R, Marten Loudspeakers, Townsend, and other amazing lines) also provided Alex with spectacular musical moments she won't soon forget. I always look forward to seeing Dan and hearing Tim de Paravicini's latest creations (one of my favorite audio engineers/designers of all time). I must admit I've been drooling for months waiting to hear the new E.A.R DAC (as Dan knows I do much of my listening these days via my computer and NAS drive or my AppleTV—acting as a music server) and, as expected, it sounded like music! There was soundstage width and depth, a real sense of dimensionality: space between instruments and around the vocalists, and harmonic textures were luscious and velvety without sounding too rounded or romantic (some audiophily gear sounds too polished for me, I want the soul of the music to hit me in the gut).
I must also give my editor Carol Clark and Colleen Cardas serious props for being there for Alex when she felt like she needed some time away from the audio-geekery. The cool thing was, when she did have questions, who better to ask? She felt like she had temporary sisters, and that made her feel at home.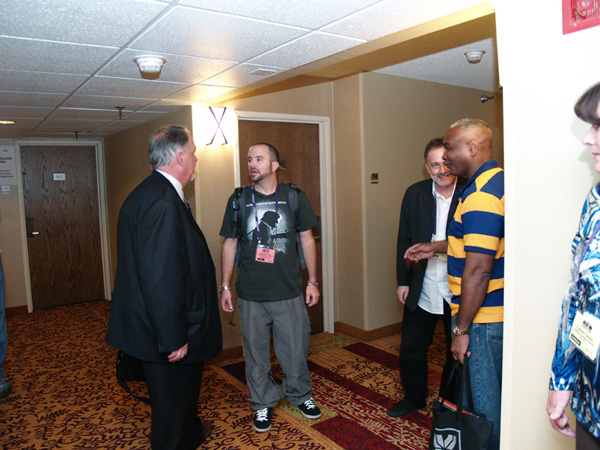 Speaking of feeling at home. This year that was room #1102 (the AudioEvo.org/Sonicweld/Positive Feedback Online/Blackbird Audio Gallery/Colleen Cardas Imports hospitality suite) that provided us with a place to always come back to. Plus, if you only experienced Josh Heiner's Sonicweld Pulserod speakers on the first day (when he was still tweaking the system) you missed something truly glorious. That's also a big part of the problem in the audiophile industry I think: when reviewers peak into a room at a show (or at an audio boutique) and make up their mind within a minute or two as to whether or not the system is worth their time. That's somebody's art you're taking in. When I visit an exhibit at a museum and glance at a painting, I spend time exploring the visual, trying to see past the paint and the canvas and the wood. I feel as a writer/reviewer that it's my obligation to try and experience new things, even when they seem completely alien to me. I heard about a reviewer that Josh thinks very highly of stopping by the room and leaving within a minute. It was the first day, and Josh (Heiner, the designer of the Sonicweld system, and arguably one of the best high speed digital designers in the Hi-fi business today) felt so terrible about it. He wished the man had returned once the system was, as I say, snapped into focus. However, that is part of the business, but I felt his pain. If you haven't truly experienced his designs then I actually pity you… because I've been very blessed in having heard all sorts of systems since I was a teenager (from my sonic induction by way of the Genesis 1 system and Audio Research Ref 600's—to the Nola Grand Reference being driven by all ASR amplification: A religious experience for me).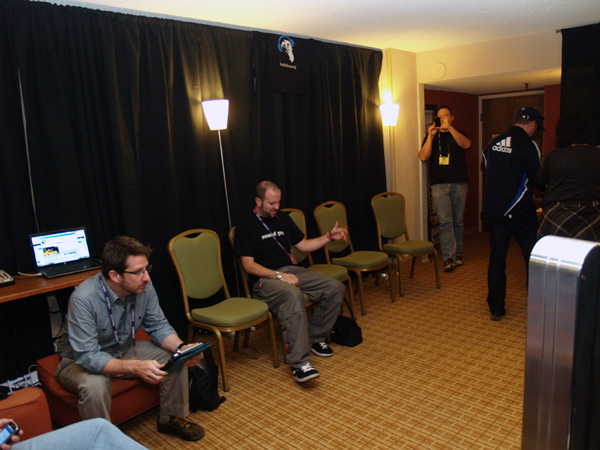 When I first heard Josh Heiner's Sonicweld Pulserod system at his clients home in Denver following the closing of last year's RMAF (actually, that was the system in the suite, his customer had lent him the system to use this year—and if that doesn't showcase a trusting relationship between builder and devotee, I'm not sure what else could) I was simply floored. See, I could never stand aluminum speakers prior to that session. All I can say is when I threw in Tori Amos's "Me and a Gun" on Josh's speakers, I ended up with goose bumps and literally had to get up from the couch, walk away from the system, and come back to wrap my head around how I had just transcended into another time and place via these speakers that look like something off the set of Star Trek! But, again, I didn't judge them before I actually experienced them, and for that I am forever grateful! Suffice is to say: They sounded great in the hotel room, especially when Dave Clark and I started playing stuff like James Blake, Eskmo, Bonobo, Hecq and other stuff that had people's jaws dropping, asking "What the hell is that"?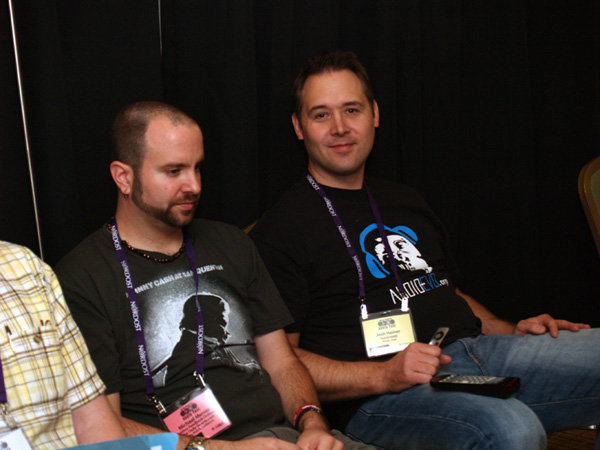 Audioevo.org also did something revolutionary this year when it comes to high-end audio (a community that is still figuring out how to reach new potential customers/users) that we need to do more often: they gave live video and audio access via the internet (via Ustream, which users could access via both the RMAF group page on AudioEvo.org and through Ustream itself) to the hospitality suite! This may sound like a kooky idea—but the response was fantastic! Comments were all positive (except a few users who didn't expect the occasional ad). These live feeds and services have to get paid for somehow—and it's a small price to pay for an interactive experience like that, especially for those who couldn't be there! I found it exhilarating to have that as part of RMAF this year. It shows the world we're not just some clicky, pretentious group (though we have those too), rather it shows we want to share our experiences with the world, and that's what people respond to: enthusiasm!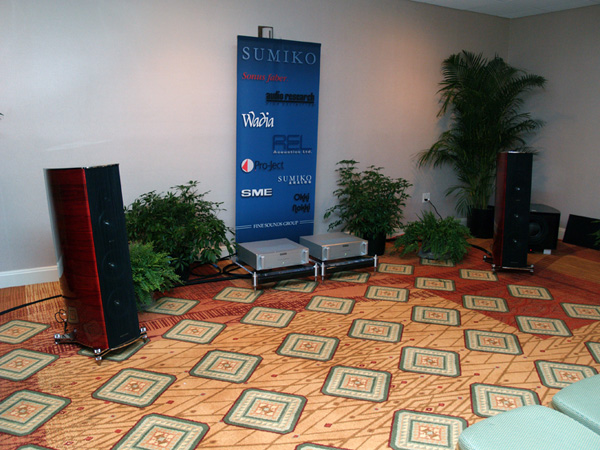 Lastly, with respect to the rooms/sounds aspect of the show: I was very impressed with the sound going on in the Wadia room. Admittedly, last year I thought the room looked better than it sounded. This time however, I was very excited as it was the first room for which I could plug in my iPod Touch (via the Wadia 171iTransport) and listen to something I know well for reference: James Blake's "Limit to Your Love" off his debut album (which I reviewed for PFO months ago—check it out HERE). In the rooms before that, I had to either use a CD or my thumb drive. When I caught my friend Peter Wohelski from Beatport beginning to close his eyes while nodding his head, fingers snappin' in the air to the sick bassline, I knew we were in for something special. There was a tactile feeling of presence in that room (while that word maybe abused in this audiophile world, I feel it fits perfectly here). Blake's vocals soared, but also contained real focus, and the piano riffs floated in space while never losing their dynamic punch. The bass… well, lets just say we were shaking things up a bit but it felt completely controlled. We also had a great time listening to Eskmo's "Cloudlight" as well. After hearing it, John Schaffer (head honch at Wadia) immediately hounded me for a copy, which is a great compliment as I know that style of music (dubstep) was a definite departure from what was filling the room before we got there. In addition, once we threw the Eskmo track on, the room began to fill. People were getting engaged, and asking who the artist was and how could they get a copy. I love turning people onto new music, especially stuff that defies what many consider to be typical audiophile choices, but still sound fantastic and gets your blood pumping!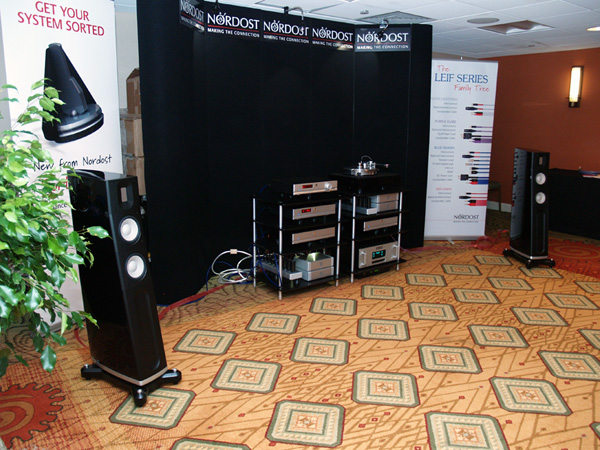 The Nordost room sounded exceptional as always, but then again, those of you familiar with my column already know that I'm a huge fan of their cables and products. Lars Kristensen and Roy Gregory were constantly showing the differences their audio magic can make by spreading the Nordost gospel. They are always on-point in their presentations and work very hard to keep people engaged during their demonstrations. The positive chatter that immediately followed on their Facebook page said it all. Many users were dazzled by the differences showcased by merely adding their Sort Kones to the system! Who knew a little thing could do so very much. I find they introduce a kind of clarity and focus (in my system at home) that always surprises me! Do I understand the fundamentals of how they work? To be honest, not entirely, but it's the end result that matters.
The CanJam was also a great experience this year (it has been in years past as well, but there seemed to be more excitability in the exhibitors, which resulted in more engaged listeners and wanderers). Drew Baird from Moon Audio spent some time talking to us at the end of the show (another person I have the utmost respect for, as he works his tail off to keep Moon-Audio out there and on the bleeding edge of personal audio) and he gets a big ol' tip of the hat as well. As for Jude Mansilla of Head-Fi.org: eh, the guys ego is the size of Montana, what a rockstar! Seriously, if you knew Jude, you'd know that's as far from the truth as you can get—I just had to throw a dig his way. I give consistent praise for Jude and he is deserving of all of it. He's doing more to introduce consumers to the magic of Hi-fi than anybody I know. What has he done? He's figured out where the entry-point is that people can easily understand: headphones (how many earbud only listeners are out there waiting to be converted, hmmmmm).
I could write about the Fest for hours, because in all RMAF 2011 was one of the best shows I've ever experienced, despite the fact that I dearly missed my friend the whole time I was there and that should frame my feelings in a way that all these words might not capture. So, does that make you want to make the pilgrimage to experience the high altitude and even higher sounds next year? I sincerely hope so. I'll be thinking about it for a long time.
*A few of us that were especially close to Lee managed to sneak off and enjoy a meal at Carmine's in Denver, a restaurant that he really enjoyed. I want to express sincere gratitude to Peter Wohelski and Dorelle Peters for making that happen for us. We all needed that.