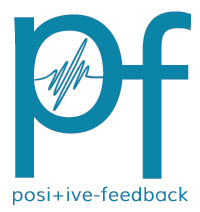 You are reading the older HTML site
Positive Feedback ISSUE 57
september/october 2011
A brief interview with Leonardo Pavkovic of Moonjune Records - A label for truly innovative artists, genuine, challenging, "non-over-produced music" that cannot be easily categorized into any specific format or genre.
by Steve Lefkowicz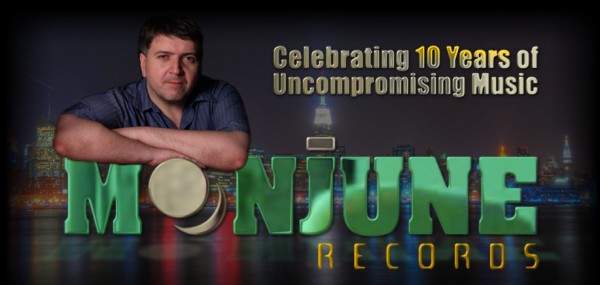 In many ways, the music and recording industry is in a mess. The big record companies are busy looking for the next American Idol type pop star that they can make a quick buck from, while churning out auto-tuned and compressed releases from minimally talented performers mostly because they look good in a video. They chances of finding interesting, exciting, new releases from any of the major labels these days is about as likely as finding logical and insightful thought in a televised political debate.
Not likely to happen.
That is why over the past several years, it has been up to the small, independent record companies to find, nurture and release real music, by real artists. Smaller companies can find a specific niche, genre, or have a unique point of view, and if they find the people who like what they release, they can make a living from it. They can probably feel good knowing they are doing something worthwhile, at least from an artistic or musical standpoint.
One of these small independent companies that has a really well defined viewpoint, and a clearly focused view of the type of artists they want to release and promote, is the small, New York based MoonJune Records (http://www.moonjune.com), run by veteran producer, tour manager and promoter Leonardo Pavkovic. Having just celebrated their ten-year anniversary this past summer, I felt this label deserved some exposure, and I took several months to listen to and digest almost their entire catalog. Capsule reviews of those releases will be available here in PFO shortly.
Moonjune, who derives their name from Soft Machine drummer Robert Wyatt's famous 1970 epic The Moon in June focuses not so much on a few very specific types or styles of music, but more importantly, on music from bands that Pavkovic personally, truly likes. If you are a fan of progressive rock, progressive jazz, Canterbury Scene bands like Soft Machine, or Matching Mole, or more importantly, really innovative, artistic bands who put their craft ahead of simply trying to write a hit single, then you should check this label out. What is also very exciting about MoonJune, is that they don't just look in the standard US, UK and European rock and jazz venues for artists to record. They have found great talent in Indonesia, South America, and other places all over the world. I have over thirty MoonJune CDs, and find just about all of them worthy of being in my regular rotation of music to listen to.
With that in mind, I was fortunate enough to have a brief interview with Leonardo a few months ago.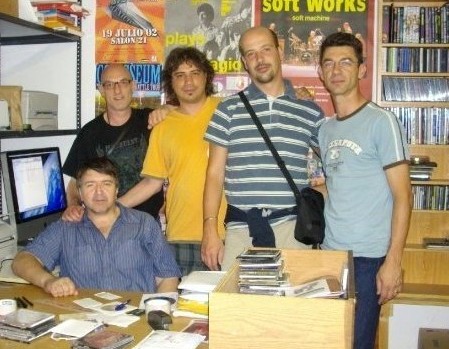 Question PFO: Leonardo, thank you for taking time to discuss MoonJune Records with me. From your Facebook posts, it does appear you keep yourself very busy. I think the best place to start is what led you to start a record company when so many people in the industry are saying traditional record companies have such a bleak future, especially one that specializes in music that many would say is largely noncommercial?
Leonardo Pavkovic: As someone once pointed out, the word "business" comes from the word "busy." Despite my hedonistic tendencies rooted in my native Balkans, I like to be busy all the time and to feel that things are continually happening. As Soft Machine once titled a tune, "Slightly all the Time"—that's how I like it. But I prefer to be occupied with things I like, and I've always striven to achieve a modus vivendi based on the motto "I like what I do, I do what I like." I'm not exactly sure what led me to start MoonJune Records—it happened by, shall we say, non-accidental accident, and it has now been fully 10 years since I established the label. MoonJune is still not my main source of income , but it is certainly one of my main sources of personal enjoyment. To start a record label, people need a lawyer, an accountant, a corporation, distribution in place, publicity and marketing staff, a publishing deal, and sufficient cash in the bank account. When I started MoonJune, I didn't have any of that. It may be true, as you say, that traditional record companies are now in crisis, but then I've never been a "traditional" kind of guy anyway. Philosophically I do not believe in traditions, trends, and formulas. MoonJune was never intended to be a conventional record label, but over 10 years, with no prior experience whatsoever in the traditional record business, I have learned and experienced many things and can apply that knowledge to raising MoonJune Records to the next level. I believe that after 10 years of fun and experimental adventures (which I have enjoyed immensely), I should start a "serious" record company, but it will still be something that represents my philosophical and intellectual values. I am approaching a group of philosophically similar progressive souls with whom I would like to build a larger and more durable legacy of what I am doing with the label. I do not worry if the music I present is commercial or noncommercial, it really doesn't matter. Mars Volta do not make commercial music, and they sold millions. Similarly, Primus sold out Radio City Music Hall some years ago. And before he died few years ago, Esbjörn Svensson was a jazz superstar all over Europe and the world. So it's a bit simplistic to dismiss all "commercial" music as lacking musical merit. The key for me is to totally ignore and disregard anything in the musical mainstream, as that world does not belong to me, doesn't interest me, and doesn't really matter. Not everybody is dumb in the world—I am not competing with Sony, and Tohpati (one of the artists on my label) is not competing with Lady Gaga. I will continue to do what I like and to like what I do, but I'll upgrade my approach. I have built the MoonJune brand name for 10 years, and my focus is to reinforce the name and invest fully in that; everything else will come by itself.
Question PFO: About your choice of artists. You obviously are very influenced by the old Canterbury Scene, with Soft Machine and all the great musicians that came from that era. What other musicians are your favorites?
Leonardo Pavkovic: I listen to so many different kinds of music that it's impossible to narrow it down. Without doubt, artists like Soft Machine, Robert Wyatt, Hatfield & the North, Hugh Hopper, Elton Dean, and National Health are very special to me. I am attached to the philosophy of '60s and early '70s music, and I also love bands from the past three decades that are taking that same philosophical approach to the music, which is basically to put the music first, rather than trends or appearances. Of course I like the classic progressive rock that everybody else likes, and adore bands like Yes, Genesis, Jethro Tull, and ELP, but my four favorites from the progressive heyday are King Crimson, Van Der Graaf Generator, Gentle Giant, and Hatfield & the North. I really love the whole Italian progressive rock scene of the '70s—PFM, Museo Rosenbach, Il Balletto DI Bronzo, Banco. Then there's the whole ECM catalog, including my favorite musician, Terje Rypdal, as well as Egberto Gismonti, Jan Garbarek, Ralph Towner, Eberhard Weber, John Abercrombie, Bobo Stenson, Keith Jarrett. I also love the British '60s blues and blues-rock bands such as Cream, early Fleetwood Mac, Savoy Brown, and Alexis Korner, and the proggy jazz-blues of Colosseum and Blodwyn Pig. I like Zappa, The Doors, psychedelic West Coast bands like Jefferson Airplane and Spirit. American blues masters such as Howlin' Wolf, John Lee Hooker, and Muddy Waters. I love Coltrane, Ornette Coleman, Sun Ra, acoustic Chick Corea. Jazz-rock, early Weather Report, Return to Forever, Nucleus. Also Brazilian masters like Milton Nascimento or jazzers like Hermeto Pascoal. Or the Argentinian tango master Astor Piazzola. The classical music of Bach, Beethoven, and Bartok. I adore early Black Sabbath, Led Zeppelin, and Deep Purple. And let's not forget Traffic, Al Kooper, Paco De Lucia, and hundreds and hundreds—thousands—of others. I like also a lot of "new bands", like Black Label Society, Wolfmother, Owl. Most of the musicians I've mentioned are acknowledged classic artists; it's impossible to mention all of my many lesser-known musical inspirations, there are thousands....
Question PFO: You use the term "progressive" in describing the music you specialize in; progressive jazz, progressive rock, etc. What defines the idea of "progressive" music to you? What makes an artist a potential MoonJune artist?
Leonardo Pavkovic: To me, any music that is not purely song-oriented can be considered progressive music. MoonJune is not about song-oriented music but is about progressive music that transcends stylistic pigeon-holing and operates within an evolutionary progressive musical continuum that places jazz at one end and rock at the other. I tend to lean toward the jazz side of the progressive music spectrum, or the progressive side of jazz music. The first criterion for what I release is that I have to be friends with the artists—it's important that we have some chemistry and similar musical tastes first, and then if they have music that I like, I might decide to release it on MoonJune—that's how it happens. I really don't have any other criteria. Also, I do not "sign" bands—all of our dealings happen organically.
Question PFO: How do you find these artists? Some of course are already well known, but for the others, are you constantly scouting venues for talent? It doesn't appear that many of your artists would be found in traditional clubs.
Leonardo Pavkovic: I prefer to find a new band than have the band find me. The only MoonJune band that found me is Mahogany Frog, and I am so glad that they did; hopefully I can release their new studio album once it is ready, sometimes in 2012. They will likely be the last band ever to be "signed" on MoonJune in that way; I like to make them special!. I do not go to clubs to discover new bands, but as always, there is an exception. When visiting Chicago in Fall 2010, I had a day off, and a friend, a local jazz and rock journalist, showed me the city and then took me to a private loft on the north side to see some live music. Once I heard Dani Rabin playing guitar that night, I instantly decided to release his band Marbin's upcoming CD, featuring his pal the very talented Israeli sax player Danny Markovitch, plus Paul Wertico on drums and Steve Rodby on bass. That makes them a special case. I am not sure I would discover more bands in this way, but you never know, will find them in other ways—maybe by seeing their video clip on YouTube, or through a friend's recommendation, who knows. Do you think ECM honcho Manfred Eicher accepts demos? No way. Accepting demos is another characteristic of traditional labels, something that doesn't have anything to do with MoonJune's philosophy.
Question PFO: Who do you feel are your biggest "finds" so far?
Leonardo Pavkovic: Boris Savoldelli is a vocal genius. And Dani Rabin and Tohpati are two of the most amazing young guitarists I've heard in ages, simply phenomenal. They have to be patient, and hopefully MoonJune will rise to the next level in 2012. The past 18 months have been a transitional period in my life; also, I am now doing something else and have a "real job" running another company that philosophically is very different from MoonJune. But as soon as I am able to upgrade MoonJune, the aforementioned guys will be among my priorities. But there are many talented young musicians now on MoonJune, like saxophonist Pietro Santangelo and guitarist Marcello Giannini of Slivovitz, saxophonist Danny Markovich of Marbin, and the new Indonesian progressive jazz band, soon on MoonJune, very young fellas with an unusual name: I Know You Well Miss Clara.
Question PFO: You once mentioned that you do not like retro-progressive music and would never release a neo-prog album. Why is that?
Leonardo Pavkovic: I believe I was referring to neo-prog, as I do like retro-prog. MoonJune is not a home for neo-prog, bombastic prog, masturbatory fusion shredding, etc. I do what I do, I like what I do, I do what I like, and what I like is not what neo-prog is about. And I insist that MoonJune Records is not a progressive rock label but a label of progressive music.
Question PFO: Do you give your artists full control over their artistic output? Do you pretty much release what they want?
Leonardo Pavkovic: I only release what I like, and so far the artists and I are all on the same page. Is that giving them full control? I would rather say that I am giving them freedom, not control. Basically, I like all my releases, and that's why they are on MoonJune.
Question PFO: I see that your artists are recorded all over the world: Boris Savoldelli in Italy, Tohpati Ethnomission in Indonesia, Soft Machine Legacy in the UK, The Wrong Object in Belgium, Moraine in the USA, etc. How involved do you get in the recording process? Are you traveling all over for these sessions? Do you have certain studios you prefer using? The sound quality of the CDs I've heard so far has been very good.
Leonardo Pavkovic: Studio albums are recorded in places where the artists can conveniently record their music, while live recordings can be done wherever live recording facilities are available. Sometimes I do participate in the full production, as happened with Soft Machine Legacy's two studio albums. My role is more that of the executive producer of all the albums, because all the artists self-produce their own music on the artistic and technical level. There is no mandate to use certain studios or mastering facilities—it's done where it's done, and I believe that 85 percent of all MoonJune albums have a very decent or even an impressive quality of sound.
Question PFO: Fans of higher-quality music and audio, like most of Positive Feedback's readers, have been getting more and more into hi-rez downloads, like 24/96 or even 24/192. Considering the expense of manufacturing, distributing, and inventorying CDs, have you thought of offering high-resolution downloads instead of, or in addition to, physical media?
Leonardo Pavkovic: After ending my association with EMI Digital, I am currently searching for a new digital distribution outlet. And soon on my website and all my social media sites, I will use a company that specializes in high-resolution downloads. Downloads do not sell, but hey, if I can make 20-30 bucks on each CD through digital sales, welcome! I can't predict the future of the music business, but I believe there will always be demand for physical products. At a certain point I thought that I would never sell anything digital, which is why I left EMI DIgital distribution. The only reason that I will return to regular digital distribution and offer high-resolution downloads on my website through a specialized company is because that would make MoonJune far more discoverable by all search engines—the more info that is out there about anything related to MoonJune, the better for the label and artists. I am not an audiophile freak, and despite the fact that I do not like the idea of a digital world in general, I accept all that. And even though I love old albums and like CDs much better than anything digital, my 2-TB external hard drives are loaded with thousands of albums in m4a Apple Lossless format. Why? I converted most of my collection into digital format for the sake of convenience. I still have my CDs, or most of my CDs, but in my office I have this 2-TB drive and I can play whatever I feel like anytime I want. It's a commodity. I can upload whatever I want onto my iPhone or iPad, travel to Japan or Brazil or India or Italy, and listen to the music that I like from my iTunes library. I remember traveling years ago with burned CDs, just to kill my many long transcontinental flights with music I dig.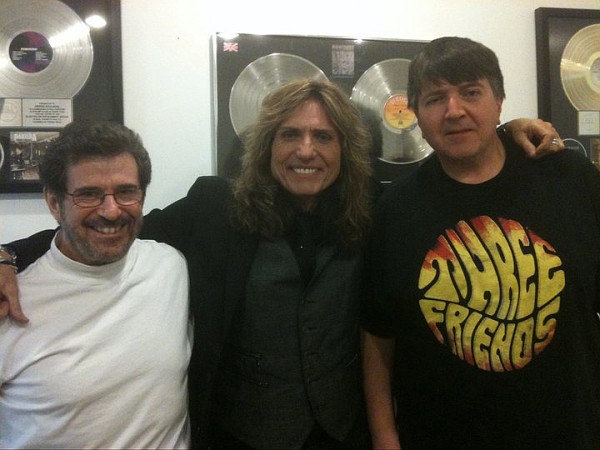 Question PFO: As a longtime fan of Gentle Giant, I am interested in your connection with Derek Shulman. Is Derek involved in a venture with you?
Leonardo Pavkovic: I have known Derek for over 12 years and we became very close friends. Recently he was looking to begin a new venture, and he asked me to join him in early 2010. We have really great chemistry between the two of us. I believe that at certain point I needed to know more about the world that he successfully navigated over the past 30 years, and he needed to know more about my world, which he was aware of but didn't have a chance to explore. I'm not necessarily talking about the progressive music world, but about my extensive knowledge of Asia and Latin America and my ability to communicate with people from those secondary and tertiary markets on the same human level, something that is missing sometimes (or often?) in the stiff corporate Anglo-American world. I have booked many bands of all kinds all over Asia and Latin America. Also, I am an unusual kind of guy, I guess, and Derek wanted to have another successful venture before entering into retirement, something very different from what he has done over the past 30 years when he was a major honcho in the big-league music industry. Our new company, 2 Plus Music & Entertainment, deals with different aspects of the music business. So far we've had fun, and after cookin' for almost a year, we are about to launch several major adventures in the music and entertainment world, worldwide. No frontiers, all seven continents are our target! Of course, my personal interest is in exploring more business opportunities in South America, India, China, and Southeast Asia, and I am starting a new company in Brazil later this year, plus we are about to manage few very big rock bands, cannot yet drop names.
Question PFO: Hopefully after ten years, sales are doing well enough to make the label successful? Can we look forward to more releases from MoonJune for many years to come?
Leonardo Pavkovic: Sales are actually going down as records sell less and less everywhere. Digital sales in particular are pathetically low. But I am "surviving." One of the "problems" with MoonJune Records is that I do not have artists that are constantly touring. The only way to increase sales potential is if you have artists touring, on any level; it doesn't matter if it's on a very small, medium, or large scale. MoonJune Records never was my main source of income, but again, I like what I do, and I am glad that I am able to help some totally unknown bands and give them better exposure. For example, if the amazing Seattle band Moraine didn't have their release on MoonJune or a similar label, they would be just another great local band, but I believe that having over 150 reviews in more than three dozen countries worldwide has helped them a lot—their name and that of the great guitarist Dennis Rea is circulating more on the Internet and in jazz and progressive music media, which enabled the band to be invited to a prestigious festival such as NEARFest and also do a nice short tour of the U.S. East Coast; we are also exploring the possibility of taking the band to Brazil and other countries in South America, and perhaps to Europe and China. We both do not make any money on the sale of CDs, but we can at least make sure that our mutual investment is recouped, and the band is happy, and of course I am extremely happy, for I am not only a fan of their music but also a very good friend of the band and especially Dennis Rea, who already has four albums with three different bands/projects on my label. Then there is the case of several Indonesian artists that I have released or will release on MoonJune. Thanks to MoonJune, the names simakDialog, Riza Arshad, and Tohpati are gaining their space, even though that space is still the niche space of jazz and progressive music, otherwise their names would be confined just to their own country of Indonesia and lovers of great music would never be able to discover such gems and such talented musicians. I would like to "gamble" with Tohpati, definitely one of most interesting and amazing guitar players I have heard in many, many years. For now, there are already four records featuring Tohpati on MoonJune (two with Riza Arshad's band simakDialog, one with his ethno-fusion band Tohpati Ethnomission, and one with his power trio Bertiga, an album that is among my next releases). In the next 18-24 months there will be at least 4-5 more releases—he is simply phenomenal. I also hope to do more projects with Riza Arshad, also a really amazing musician and very good friend of mine for almost 11 years. More artists from this beautiful exotic country will be on MoonJune, like Agam Hamzah Ligro Trio, I Know You Well Miss Clara, and few more. I quantify my and my artists' success more with these examples rather than stating how many records we have sold so far. Of course I wish records would sell more, but that's not what's it all about, it's about great music and the friendship I have with the musicians. I will continue to practice this philosophy into the future.
Question PFO: Well, I hate to take up any more of your time, but are there any other comments you'd care to make? Anything about MoonJune, your artists, or the future of music you would care to comment on?
Leonardo Pavkovic: What sets MoonJune apart is that it is more than a record label, it is a community, a family. I believe I am one of the very few labels, perhaps the only one, who sends CDs of MoonJune artists to all the other MoonJune artists. For example, when I released Marbin's CD earlier this year, I sent the band a box of all the CDs released on MoonJune and said, enjoy the music, get to know the other bands/artists on MoonJune, we are all family. In this way the artists are able to influence and spread the word about each other, which works to everyone's benefit, and the seeds of possible future collaborations are sown.
MoonJune Records http://www.moonjune.com