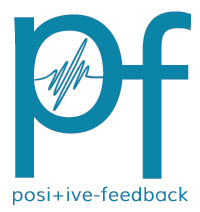 You are reading the older HTML site
Positive Feedback ISSUE 57
september/october 2011
The Lure of Computer Audio and the Latest High Resolution Developments
by Teresa Goodwin
iTunes Database, Displays, Sorting and Searching
I am very fond of SACDs, however I am discovering that high resolution PCM can sound almost as good. I love the iTunes database. In the main 'Music Library' display one can sort one's entire computer music collection by Album, Artists, Song Title, Sample Rate or any one or 39 view options. In addition there are four very useful grid views Albums, Artists, Genres and Composers.
The Albums grid view lists all albums in alphabetical order by artists along with the cover art you added to the music file.
The Artists grid view lists the artists name, how many albums and how many songs you have by that artist along with a picture of the first album in alphabetical order. Click on the artist's cover and you will be taken to a sub-page that displays all the albums by that artists with album artwork and complete track listings.
The Genres grid view breaks everything down by type of music and shows you how many albums and songs you have in each. (see below) Clicking on each Genre also takes you to a sub-page like the above Artists view.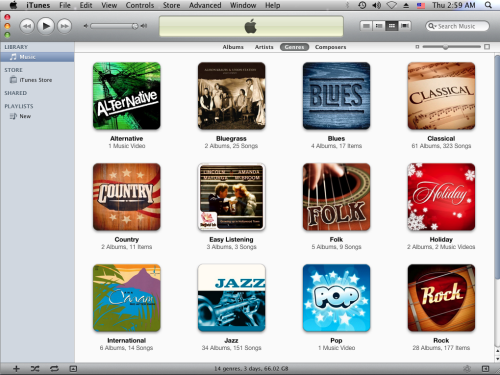 Finally, the Composers grid view lists each composer in alphabetical order and how many albums and songs you have by each. This will require tweaking as the music you download or even import from CDs has no standard for listing of composers, sometimes it is 'first name, last name', sometimes 'last name, first name', and sometimes no composer name at all! . I use 'last name, first name' and so edit all of my music files to match this format. (see picture). Thus you have complete sub-pages listing all the works you have by each composer.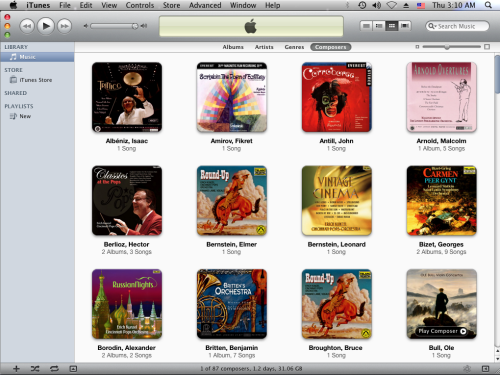 All the Music One Loves with No Filler
Another big advantage of computer audio is one no longer has to have an entire album if one does not want it. There are many albums in which I like only one or a few songs, on a physical format these would get sold as the songs I don't like would outnumber the songs I do. However on the computer I can have those songs I actually like. And for me this is not just an advantage with Rock and Pop music but Jazz and Classical as well. For example I only like the last two movements of Berlioz's Symphonie Fantastique and often only like half the selections of classical and movie music collections. Computer audio's 'pick what you like' is a solution to this. In the past we copied our favorites to reel to reel and cassette for much the same reasons.
SACD Copy Protection Defeated
In last issue's article High Resolution Audio, What is Next? Issue56/sacd.htm I reported on a loophole with HDMI and Oppo making it possible to tap into the DSD stream after HDMI conversion to 24 bit 88.2k PCM. This was designed to enable listeners to use the DAC's in their receivers instead of the players. It backfired as it bypasses SACD's famous until now unbreakable copy protection.
Now one is able to get to the DSD stream itself and leave it intact using Sony's Playstation 3 and Korg Audio Gate. There are now illegal downloads of the DSD stream from SACDs using ISO on the internet.
This latest development does away with SACDs number one selling point to record labels, undefeatable copy protection. With the major labels gone from the SACD landscape coupled with the unaffordable SHM-SACDs this will push more and more music lovers spoiled by high resolution digital into downloads.
Mussorgsky SACD versus 24/96 audio out copy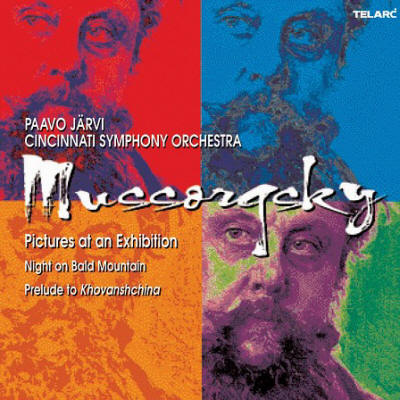 As I revealed in my CES 2011 report Issue53/ces_hirez.htm the Telarc SACD of Mussorgsky's Pictures at an Exhibition with Paavo Järvi conducting the Cincinnati Symphony Orchestra is my favorite recording. It is pure DSD using the Sanken CO-100K microphone for the main orchestral pickup, whose frequency response extends to 100kHz.
I made a 24-bit 96k copy using the analog outs of my SACD player and Audacity's free recorder http://audacity.sourceforge.net/. This was made before it was possible to get DSD out from SACDs, however this type of copying for ones own use is legal whereas defeating copy protection is not. I have no doubt that recording DSD-analog-DSD using the Korg would have been sonically superior, however at present I cannot play DSD files from my computer or DSD discs from my SACD player so it would in effect be DSD-analog-DSD-PCM so for now I am recording to 24/96 PCM.
The results were considerable better than I expected surpassing any DVD-Audio I've ever heard and most of my high resolution downloads. The resulting 24/96 download is sonically very close to the SACD and every bit as thrilling, so now my favorite SACD is also one of my favorite high resolution music files. This proves that engineering is the most important aspect and Telarc could have done nearly as well with high resolution PCM compared to DSD.
This also shows how the record companies missed a golden opportunity with 24bit 96k stereo 'audio only' standard DVDs back in 1995. With the majors on line they could have replaced CDs as they worked with any DVD player and at full resolution with all but some the first generation of DVD players which would downsample 96k to 48k. It would be safe to say the majority of DVD players will play two channel 96k natively. BluRay is now replacing DVD, which offers high resolution surround sound (like DVD-Audio) however with the option of video at the same time. Will BluRay audio be their next opportunity? Or will high resolution downloads be the ultimate answer? Only time will tell.
Only Chesky, Classic Records and Arts Music adopted the 24/96 "audio only" DVD format, sometimes referred to as DAD (Digital Audio Disc), in addition there was a single release from Water Lily Acoustics. If Telarc had adopted this format I may have let SACD pass me by. The format passed mostly into oblivion as it offered no copy protection and was stereo only. However high resolution computer downloads offer everything the 24/96 "audio only" DVD format did and a lot of what DVD-Audio did including even a few multichannel releases, of course without the physical disc. I am very excited about the future of high resolution computer downloads.
Telarc and High Resolution Digital
It's been almost three years since the last Telarc SACD was released and the Telarc high resolution downloads promised by Passionato.com for the fall of 2010 never happened. They only offer Telarc MP3's and lossless FLAC at standard 44.1kHz resolution. Passionato.com still has yet to offer any album as a high resolution download. HDTracks only has one Telarc high resolution 24/96 download: Al Di Meola's Flesh On Flesh. Hopefully more will be coming. Concord Music Group, Telarc's current owners discontinued the SACD programs for all the labels under their umbrella as they said adding the SACD layer did not generate enough additional sales to make it profitable. It is my hope they have not given up on high resolution altogether, perhaps they are waiting for hardware for consumers to playback DSD downloads which would remove the financial risks of printing physical discs. Once again only time will tell.
We must be ever vigilant to insure high resolution downloads come from all companies recording in high resolution.
Back in 1999 when two channel stereo SACD was introduced audiophiles, reviewers, engineers, and regular music lovers were thrilled with the non-digital, analog-like, smooth, pleasing, realistic sound it presented.
There are some folks who are now saying that two channel stereo SACD sounds no different that CD. I find this extremely shocking and provocative and wonder how anyone could make such a bizarre statement. I have heard improvements to the CD format since SACDs introduction, but they are still sonically crippled compared to SACDs and high resolution downloads. Could this be a case of wishful hearing on the part of audiophiles who have invested too much in the CD format? If so I believe this mindset is doing damage to the advancement of high resolution digital in all its many forms.
I also see this same mindset in computer forums where some listeners truly believe that high resolution digital sounds no better than 16-bit 44.1k PCM. Part of the problem has been phony downloads especially from the major labels. If one purchases music from HDTracks then I would start with true audiophile recordings such as those by Chesky or Reference Recordings before condemning high resolution digital as the emperors new clothes. Real high resolution digital is amazing in it's realism, clarity, beauty and ease of presentation.
Some of my favorite high resolution music files...
These will demonstrate what real high resolution actually sounds like.
Rachmaninoff: Symphonic Dances, Vocalise & Études-Tableaux
Eiji Oue, Minnesota Orchestra (Reference Recordings 24/176.4)
My absolute favorite so far, this is the one I use to show others how good computer audio can sound. From the HRx data disc.
Mathias Landæus Trio: Opening
(MA Recordings 24/176.4)
Wav files from DVD-Data disc, the best piano-bass-drums jazz recording I have ever heard, I am there. Scary real!
Arnold: Overtures
Malcolm Arnold, London Philharmonic (Reference Recordings 24/88.2)
From Prof. Johnson's modified focused-gap analog reel to reel recorder. Fantastic music and sound quality.
Exotic Dances from the Opera
Eiji Oue, Minnesota Orchestra (Reference Recordings 24/96)
Another great RR download, sounds fantastic although the SACD version to me sounds more analog-like.
Sullivan / Sibelius: Shakespeare's Tempest
Michael Stern, Kansas City Symphony
(Reference Recordings 24/96)
Not a major orchestra but this recording is fantastic both musically and sonically.
Mahler: Symphony No. 6
James Levine, Boston Symphony Orchestra (BSO Classics Live 24/88.2)
My favorite Mahler recording, excellent realistic sound.
Ravel: Daphnis et Chloé
James Levine, Boston Symphony Orchestra (BSO Classics Live 24/88.2)
Excellent sound and performance of very enjoyable music!
Dave's True Story: Sex Without Bodies
(Chesky 24/96)
Super cool jazz, I also have Unauthorized by this is my favorite Dave's True Story download.
Herbie Mann: Caminho de Casa
(Chesky 24/96)
Great latin jazz from the flute master and crew, wonderfully realistic atmospheric sound.
Será una Noche: La Segunda
(MA Recordings 24/176.4)
Wav files from DVD-Data disc, very natural and interesting music.
Some of my favorite Vinyl rips
Bill Berry and his Ellington All-Stars: For Duke (M&K Real Time Direct to Disc LP to 24/96)
Dave Grusin: Discovered Again (Sheffield Lab Direct to Disc LP to 24/96)
Cat Stevens: Tea for the Tillerman (MFSL LP to 24/96)
The Grateful Dead: American Beauty (MFSL LP to 24/96)
Pink Floyd: Dark Side Of The Moon (MFSL LP to 24/96)