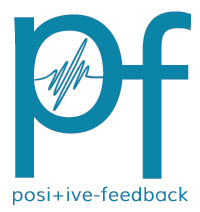 You are reading the older HTML site
Positive Feedback ISSUE 57
september/october 2011
The Future Is Here- Audio Still Rules
by Karl Lozier
Blu-ray recordings may be video, audio or most commonly video plus audio. If the video is a distraction turn it off though I would suggest watching the video at least once; at times it can be interesting or entertaining. Naxos is again following up with more high definition (Blu-ray) audio only releases. For many listeners that will be a distinct improvement in audio quality if the HDMI digital output signal is used instead of the analog. That one cable carries everything including stereo or multi-channel audio in addition to the very high quality Blu-ray video signal. Greater clarity and a smoother treble will be noticed with many if not most home audio systems. So far this seems to be consistently true. Easier connection needing only one cable is appreciated by all. Sometimes new-fangled things are even easier to use while offering better quality, at least in the audio musical field.
An easy way to get into the beauty and audio and video qualities of Blu-ray releases is by getting a truly good player (a good start is important with many things in this old world). In this issue I will continue to use the moderately priced Oppo BDP-95 player for all the Blu-ray reviews, an over performing universal player; other players may be used for SACD recordings. Next item needed would be a very decent AV receiver such as by Onkyo, Integra, Denon and others that have multiple HDMI cable inputs and good digital or digital to analog connections and jump right in. Your newer television sets will have the correct and simple HDMI connections for simplified setup. The AV receiver will let you add surround sound easily. Remember that quality is more important than quantity in the long run.
Notice the generally favorable brief revues I write each issue? There are logical reasons for that to happen. Changes such as digital and HDMI connections have made pretty darn good audio to be easier for the manufacturers to give us and easier for us to put to use. Same is true for the video portion that we pretty well take for granted here. As you purchase and use some of my suggested performances you may notice that relatively unknown sources and performers are often doing a superb job and why not! Unlike many of the big professional outfits and famous performers they can and possibly do practice for many months on end, repeating the same music or performances. That can be the way for an individual, or group, chorus or orchestra to be discovered by being on these well done Blu-ray recordings! Pay attention, watch and listen to the possible stars of the near future in the comfort of your own listening and viewing room.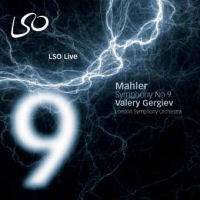 Manuel de Falla. Nights in the Gardens of Spain. Piano: Joaquin Achucarro. Orchestra: Berliner Philharmoniker. Conductor: Sir Simon Rattle. Recital at Teatro Real, Madrid. Piano: Joaquin Achucarro. EuroArts Blu-ray 2058884
What a fine selection of music for piano and a sublimely beautiful performance of the music for piano plus orchestra, Nights in the Gardens of Spain. The release's title could have been the recital plus the Gardens just as logically or even more so; a marketing decision obviously. The combination was recorded in Berlin in September 7th and the solo recital exactly one month later at the Teatro Real in Madrid. The recording times favor the recital as being three times as long. The audio quality with the orchestra was quite excellent overall with a definite hint of excess smoothness/sweetness. Many Blu-ray recordings have that trait and ultimately my newest Blu-ray player very possibly tilts to that side of the audio spectrum. The strongest hints came from a perceived slight lack of bite on the leading edge, the initial transient in other words, of many instruments playing in their upper ranges. A far more pleasant lack of perfect audio quality than when a bit of excess of those initial transients intrude upon our musical listening pleasures. When the solo selections came up, all was cured and spot on, as the Brits have often described excellent musical quality. The piano playing was in the masterful category as expected from the "leading pianist from Spain", here playing Spanish music written by masters such as Albeniz, Debussy, Granados and Ravel. Outstanding audio quality, in the solo recital pieces simply leaves no other choice than an ultimate top choice for lovers of really good music for piano so well presented.
*Observations: Video excellently and typically well done. Multichannel outputs matched well with my usual settings, solid mid to deep bass range output and neither exaggerated nor weak. Side and rear channels were spot on and added greatly to ambiance and spaciousness, center channel had fine clarity. I used it with settings at 7.2 (right and left subwoofers) though recording is simply 1080i Full HD, PCM Stereo, DTS-HD Master Audio, 5.1.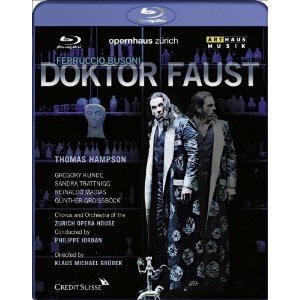 Ferruccio Busoni. Doktor Faust. Orchestra: Zurich Opera House. Conductor: Philippe Jordan. Chorus: Zurich Opera. ArtHaus Music Blu-ray 101 284
Busoni was fascinated by the famous Faust legend for much of his life and was known to desire using that as a basis for a composition. The famous Goethe story about Faust took fifty years to complete. The Faust stories or legend are simply based on the idea of Mephistopheles, the devil, making a pact with Doctor Faust to please his every earthly desire and in return Faust has to do his evil biding for eternity. Busoni used an old German puppet play version of the Faust legend plus a different ending as the basis for his version. Busoni's version has never created great popularity and has been fondly embraced by the cognoscenti. It has had a reputation of being difficult to appreciate its musical language and appeal. Busoni wrote the libretto in 1914 and worked on the composition until his death in 1925! A pupil of his put the finishing touches on it in that same year and the premiere was held later that year. Also helping to hinder popularity is the fact that there is relatively little stage action. That of course does not hinder we who appreciate hearing musical ideas and beauty. I do not remember hearing this opera or even excerpts from it ever before. My first two sessions with it were with both the audio and the video. The music is so intimately tied to the relatively little stage action and to what is happening mentally that I somehow really got hooked on this production. Perhaps the fact that so much of the singing, because of the roles of course, is by men, whether solo, duet or chorus may have influenced me. I am a real pushover when listening to male vocals particularly in choral groups and the fact remains that I quickly liked this opera production. The "Home Theater" multi-channel setup let that thirty-four foot long room come alive and filled with sound. Side, rear and center channels all contributed to the enjoyment; even the subwoofers got a bit of exercise. Both the Zurich Opera House orchestra and chorus committed beautifully to this fine presentation of a personally enjoyed production of something I may never get to enjoy in a live presentation. With no obvious faults to annoy or irritate, it's an easy recommendation.
The fine audio quality is definitely full-range, no added bass emphasis, vocal reproduction is realistic and orchestral contribution is excellent with notable string section quality and same goes for the organ's contribution simply completely filling my home theater room with unexaggerated surrounding quality.
*Observations: Typically fine video Blu-ray and PCM Stereo.dts-HD Master Audio 7.1 Center and surround sound channels all worked as designed with no flaws. I do use a right and left pair of sub woofers that might qualify as 7.2 surround sound?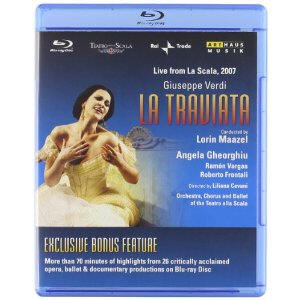 Verdi. La Traviata Plus**. Orchestra: Teatro alla Scala. Conductor: Lorin Maazel. Chorus: Teatro alla Scala. ArtHaus Musik Blu-ray 101 342
Surprising at least to me, the beginning of this well known and very popular opera starts off with a bang. Very attractive and very delightful music such as this almost has to be popular. That is precisely what happens here. The Lavish production starts off with a dance floor setting showing off female costumes and very fancy dresses in a lavish party atmosphere. Dancers and all are having a great time celebrating and the music accompanying all this is simply appropriate and entertaining. It is all much more lightly hearted than I had expected from Verdi. All the vocalists have very appealing voices to my personal feelings. The females do not have edgy, harsh or shrill voices and the lead singer can belt it out when called for. The male leads have manly sounding voices and actions. Therefore all the solo vocals are quite pleasing and the choral passages are outstandingly good, some of the very best in recent memory. I am going to use a, rare for me adjective, lithe, to help describe the orchestra's overall performance. I can easily describe it as superb also. The orchestral performance is not to be faulted in any way and just part of that may have to do with Lorin Maazel as conductor. I seem to see his efforts more than ever, seemingly from all around the world lately particularly with stage productions such as opera. By the last act the heroine's hints of illness can not be hidden and the spritely gayety of the first acts is gone. It may be an unspoken rule with operas that after the first act or two at least one of the lead characters will get very sick, die, get killed or commit suicide. It just seems to go that way to me. Audio quality is excellent overall and definitely full range without any excessive bass response and no tendency to any harshness. That rapid responding orchestra still sticks in mind. Opera buffs have their favorite singers and/or conductors and certainly will not change because of my personal likes or dislikes. Others should simply enjoy this fine recording that seems to have no weak points and is easily recommended by me.
*Observations: Typical excellent video and audio quality revealing an outstanding orchestra/conductor combination. No unusual audio effects, simply excellent listening and contribution from all audio channels in seemingly correct ratio. Format is PCM stereo, DTS-HD Master 7.1, Blu-ray Dual Layer 50 GB, full HD 1080i.
**Plus is for a Bonus Feature with this release: It contains more than an hour's high definition highlights from more than 20 opera and ballet productions.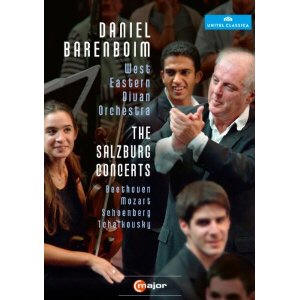 The Salzburg Concerts. Beethoven: Leonore lll Overture. Schoenberg: Variations for Orchestra. Tchaikovsky: Symphony No. 6 (Pathetique). Orchestra: West-Eastern Divan. Conductor: Daniel Barenboim. Bonus: August 15, 2007 Mozart: Sinfonia Concertante in E flat major. Unitel Classica Cmajor Blu-ray 706704
I would give up everything else for this; said Daniel Barenboim on the West- Eastern Diven Orchestra. Famous and influential as pianist and conductor, he holds Spanish, Israeli, Argentinean and symbolically
Palestinian nationality. Motivated by the idea of coexistence between Israelis and Palestinians he was the main force along with Edward Said in the formation of this orchestra in 1999. As you might guess every effort has been made to include musicians from surrounding countries, hence the terminology of West and East in the orchestra's name. Enough background for now as I continue. Reporting what I had noted in the first listening session, I noticed or thought I had noticed some roughness of performance in the Beethoven overture. However subsequent listening sessions revealed almost none. My comment is that I have no idea how to reconcile the disparity. The overall performance is solid and basically middle of the road with a very good if not quite excellent orchestral contribution. I have to admit I must repeat those findings with the Schoenberg "Variations" due to the fact that it has been far too long since I have heard it live or on a really good recording to have any reference. The audio quality is just fine and being early in his output of what some call modern or contemporary music much of the "Variations" can he handled if not loved, by most classical music lovers. In contrast, Tchaikovsky's last symphony the justly famed, loved and unique number six, Pathetique, is commonly heard live and in numerous recordings.
There are usually two schools of thought with Tchaikovsky's greatest, most famous or most popular compositions. Either it is the composition is so outstanding and exciting and so on, just play it straight, just as written or, with just a little more of this or that it would be the greatest, even more exciting or wow. If your first or first two exposures to one of his compositions is the same philosophy then that's the way it should be for you though eventually you might change your thinking. So, which way do you want your Tchaikovsky? Well, here you get some of it both ways, almost. The conductor and his orchestra are of one mind and the result is simply outstanding. The excellent treatment and playing of the first two movements are building up to a climactic third movement that is so well recorded with all details and dynamics captured its almost as if there is a great deal of highlighting or spotlighting going on. That is not the case and I am not positive if the reason is conductor Barenboim's leading into one of those not to be repeated efforts by the orchestra or mainly a near perfect recording of just another musical selection.
The end result is such that I can say that this performance of Tchaikovsky's sixth is the best I have heard in a long time and covers many recordings as I am simply unable to review so many of the releases I do receive. I do get to listen to most of them and then chose good candidates for review. I can tell you that all ten of the loudspeakers in my multi-channel setup (all from the same manufacturer) were delivering a tremendous amount of clean detailed musical output. The manufacturer assures me it will be even better when I receive his latest new models. We will see and I will report on them in one of the next few music reviews issues. The solid, deep, mid and upper bass ranges were beautifully captured by the audio engineers as well as seemingly capturing the entire surround sound in realistic detail. Two channel stereo would not be able to capture what the recording was able to output. The audience seemed to agree with thunderous spontaneous applause at the end of that outstanding third movement even though that did not end the composition! Then at the quiet, somber and reflective ending of the fourth and final movement, the audience did not realize it had quietly and subtly ended; it was as if no one in the audience was familiar with this famous symphony. An easily earned recommendation is awarded based on the featured Pathetique symphony.
The bonus Mozart Sinfonia Concertante is a lovely addition to this release. Using about half the usual orchestral forces the overall audio quality remains surprisingly rich and melodic. It comes fairly close to sounding as if it is a concerto for oboe, clarinet, horn and bassoon. Beautiful music making featuring instruments not so commonly featured and again captured faithfully by the audio engineers; this time
placing almost the entire group realistically in multichannel surround sound in my listening room. I will probably invite them back as soon as I want. Another trip to the local performing arts center saved or is it simply convenience?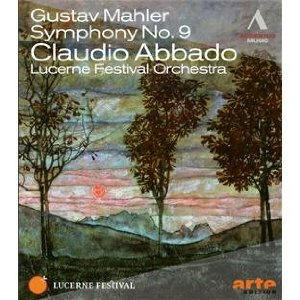 Mahler. Symphony No. 9. Orchestra: Lucerne Festival. Conductor: Claudio Abbado. Accentus Music ACC Blu-ray 10214
Claudio Abbado continues his Mahler cycle with his now famous orchestra of soloists, the Lucerne Festival Orchestra. I am willing to go along with that descriptive title; they are really good and the summer tradition with the now almost legendary Abbado seems to inspire them to greater and greater
heights. Mahler is well known for using voices even in his symphonic works though none are to be heard here in the so called farewell or final symphonic composition; it is probably coincidental that death is dealt with here. He had started one movement of his tenth symphony and sketched out much more but never finished it. Though he started his symphonic works while still living in Europe without great success his gradual rise to fame came after coming to America as conductor of the Metropolitan Opera and eventually conductor of the New York Philharmonic Orchestra. I hope I am correct when I say that no other composer was as famous and good at conducting than Mahler. Other conductors promoted Mahler's compositions, particularly his symphonies and some of them such as Bruno Walter and Otto Klemperer were responsible for bringing his works properly into modern day recordings as authentic spokesmen for Mahler. Good modern recordings by them are still available. For those relatively new to classical music this superb recording of his famous ninth symphony is not the place to be introduced to his genius even though his popularity seems to be growing by those well known leaps and bounds. His first symphony is one of the best four first symphonies ever written and his sublimely beautiful fourth is my personal favorite but neither really represents Mahler. For that start with either his second or fifth symphony. The grim character of death, cryptic phrases and sharp edges of his sixth and seventh symphonies are balanced here with other familiar phrases of greater beauty such as he had ended his and perhaps in general, the romantic period of famous composers. The translation of the third movement is "Very fast and defiantly" and probably best serves as the finale. Those who know and love the ninth symphony have a good chance of embracing this obviously heartfelt performance and outstanding recording. Flawless comes extremely close to my personal evaluations and I choose not to search for possible minor flaws while recommending this recording very highly.
*Observations: Particularly atmospheric recording of a seemingly heartfelt performance being enhanced by the surround sound perspective and quality. At times very dramatic and nice video quality is a bonus.