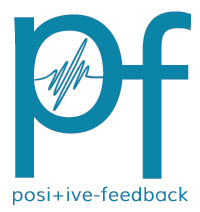 You are reading the older HTML site
Positive Feedback ISSUE 57
september/october 2011
The Beatles in High Resolution
by Teresa Goodwin
If you have only heard the Beatles on CD (either the original 1980's issues or the newly remastered ones in Digipaks) you have not heard how great their music actually sounds. The Love DVD-Audio in 24 Bit 96kHz sounded so fine most of us audiophiles were hoping for a 24 Bit 96kHz remaster of their catalog and release on DVD-Audio or SACD. I have the following question on my blog http://sacdlives.blogspot.com/
SHOULD THE NEW BEATLES' REMASTERS BE RELEASED IN HIGH RESOLUTION?
Current results are:
Yes, SACD - 135 (60%)
Yes, DVD-Audio - 9 (4%)
Yes, either SACD or DVD-Audio - 74 (32%)
No, just CD - 8 (4%)
As you can see 96% wanted the entire Beatles catalog in either DVD-Audio or SACD. Here is my post from June 2, 2009 which began the email campaign for the Beatles in high resolution: http://sacdlives.blogspot.com/2009/06/beatles-finally-re-mastered-why-are.html
So what did EMI finally offer us? A 24 Bit 44.1kHz USB drive of the entire catalog, not exactly what we asked for but still better than CD. This was the last of a long string of unsuccessful email campaigns I have initiated, it seems with record companies audiophiles are not important. We have to wait to them to toss a bone every once in a while.
Whichever format gets The Beatles wins.
In the beginning of the high resolution era most believed whichever format got the Beatles first would win the SACD/DVD-Audio war. The DVD-Audio/CD set of The Beatles Love was released November 2006 and was a very big seller. We kept waiting and waiting and waiting for the rest of the promised Beatles catalog on DVD-Audio, they never came. No one won the format war. SACD is on life support as a niche format mostly for classical music and geezer rock and DVD-Audio is almost dead. If EMI had released the rest of the Beatles catalog as 24/96 DVD-Audios they might have saved the format and possibly even mortally wounded the competing SACD format. It is said the Beatles catalog is what made CD a household name.
The Beatles Love DVD-Audio versus the MFSL LPs from the 1970's.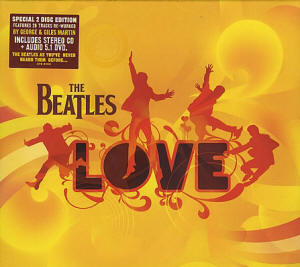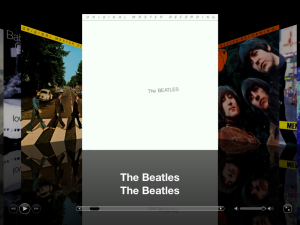 The Beatles Love features music compiled and remixed as a mashup for the Cirque du Soleil show of the same name. The album was produced by George Martin and his son Giles Martin, who said, "What people will be hearing on the album is a new experience, a way of re-living the whole Beatles musical lifespan in a very condensed period." Basically it is a greatest hits album with many twists, some songs dissolve into other songs, some songs are complete, some songs are alternate takes and there are many sound effects.
While I find the same songs on the Beatles Love DVD-Audio considerably better than they are on the most recent CD reissues, they are not even close to the fine sonics on 24 Bit 96k copies I have of the original Mobile Fidelity Sound Lab LPs of the White Album and Abbey Road.
I thought the Love DVD-Audio was the best the Beatles ever sounded until I stumbled upon these MFSL LP copies. I had not heard the MFSL LPs in decades and do not remember them sounding this grand, vinyl rips such as these restore my faith in possibilities of high resolution PCM. They were made using a Technics SL-1200MK2 Direct Drive Turntable with the KAB Fluid Damping and KAB record grip, Ortofon 2M Black MM Cartridge and Pro-ject Tube Box SE II Preamp. No noise reduction was used, de-clicking software was used in full manual mode to preserve musical transients. The records were cleaned with the Nitty Gritty RCM 1.5 record cleaning machine.
The ambiance is more evident, the bass warmer and fuller, the midrange smoother, more attack from the high frequency percussion instruments and the vocals sound more real on the 1970's MFSL LPs. I have always preferred the MFSL LPs over the American pressings, either on Apple or Capitol. However I have read that the early English pressings are supposed to be the most accurate.
I have yet to hear the 24 Bit 44.1kHz USB drive as I don't like every Beatles album. However I doubt even when they are finally offered as downloads they would equal the DVD-Audio Love or the MFSL albums. If we are ever offered the Beatles in digital in higher resolution I hope they sound as grand as the MFSL LPs!
Beatles music on SACD
While DVD-Audio has the only high resolution Beatles recording, there are several recordings of Beatles music on SACD including: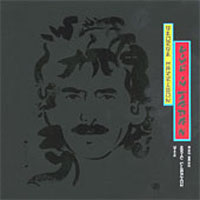 George Harrison: Live in Japan
Capitol 5946652 - Stereo/Multichannel 2 Hybrid SACDs
Disc 1:
1. I Want To Tell You
2. Old Brown Shoe
3. Taxman
4. Give Me Love (Give Me Peace On Earth)
5. If I Needed Someone
6. Something
7. What Is Life
8. Dark Horse
9. Piggies
10. Got My Mind Set On You
Disc 2:
1. Cloud 9
2. Here Comes The Sun
3. My Sweet Lord
4. All Those Years Ago
5. Cheer Down
6. Devil's Radio
7. Isn't It A Pity
8. While My Guitar Gently Weeps
9. Roll Over Beethoven
A lot of Harrison written Beatles songs here mixed-in with songs from his solo career. Excellent music and performances and the sound is pretty good.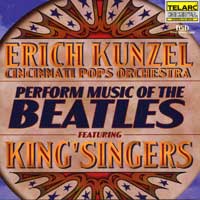 Music of the Beatles
King's Singers, Erich Kunzel (conductor) Cincinnati Pops Orchestra
Telarc SACD-60540 - Stereo/Multichannel Hybrid DSD recorded SACD
1. Eleanor Rigby (orchestral version)
2. All You Need Is Love
3. When I'm Sixty-Four
4. Michelle
5. Octopus's Garden
6. Across the Universe
7. Ob-la-di, Ob-la-da
8. Penny Lane
9. Sgt. Pepper's Lonely Hearts Club Band
10. Eleanor Rigby
11. Because
12. Yesterday
13. Here, There, and Everywhere
14. The Long and Winding Road
15. Hey Jude
16. Let It Be
I love the Beatles however their music is sometimes even more enjoyable when preformed by jazz ensembles and symphony orchestras. The high musical quality of this recording sets the Beatles music writing skills way above those of most rock groups. This is musically and sonically one of the finest SACDs in my collection. The orchestra playing, the rhythm, the perfect voices of the king's singers and the superb sonics make for some very enjoyable music.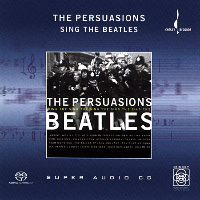 The Persuasions: Sing the Beatles
Chesky SACD244 - Stereo/Multichannel Hybrid 24Bit 96kHz PCM recorded SACD
1. Eight Days a Week
2. Oh! Darling
3. Come Together
4. Rocky Raccoon
5. Octopus's Garden
6. Love Me Do
7. With a Little Help From My Friends
8. From Me To You
9. Yesterday
10. Ob La Di, Ob La Da
11. Don't Let Me Down
12. The Ballad of John and Yoko
13. Imagine
14. Sgt. Pepper's Lonely Hearts Club Band (Reprise)
The sound quality is excellent, however I am not a fan of a'cappella singing, I need at least some instrumental accompaniment.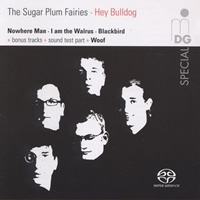 The Sugar Plum Fairies: Hey Bulldog
MDG 906 1340-6 - Stereo/Multichannel Hybrid SACD
1. His Master's Woof
2. Nowhere Man
3. Hey Bulldog
4. Blackbirds
5. I Am the Walrus
6. Nowhere Man (Mono and Stereo mixes)
7. He(a)r(e) the Difference
8. Nowhere Man (2+2+2 Sound)
9. Awakening Nature + Sound Tests
10. Speaker Configuration
11. Level
12. Phase
13. Turn to Nowhere
14. Set Sub Subwoofer
15. Underdogs
This SACD proves that rock can have the realism of classical or jazz, according to the liner notes it was not recorded the way traditional rock music usually is, instead MDG recorded it just as they record traditional classical music. Realism and excitement are here in spades, this is sonically the best sounding recording of the bunch. Not a lot of music as it is also a test record but the music is great.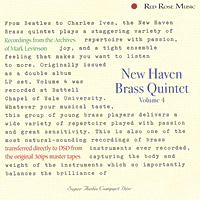 New Haven Brass Quintet
Red Rose Music RRM 04 - Stereo Single-layer analog recorded SACD
10. Magical Mystery Tour
11. Penny Lane
12. Ob la di Ob la da
This one I have not heard so I cannot comment.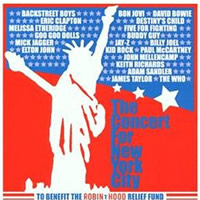 The Concert for New York City
Columbia C2S 86270 - Stereo/Multichannel Single-layer 2 SACDs
29. I'm Down (performed by Paul McCartney)
30. Yesterday (performed by Paul McCartney)
31. Let It Be (performed by Paul McCartney)
32. Freedom (Finale) (performed by Paul McCartney)
I thought the sound quality of this set was very poor, not recommended.
In conclusion if you can find the Beatles MFSL LP versions at a decent price grab them, if not try the 24bit 96kHz downloads of them as this is likely the closest we will get to high resolution authentic Beatles in our lifetime. If you don't mind Beatles songs by other talented musicians you can't go wrong with The Sugar Plum Fairies' Hey Bulldog on SACD.