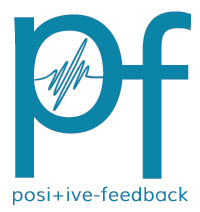 You are reading the older HTML site
Positive Feedback ISSUE 57
september/october 2011
Notes of an Amateur: Saariaho, Ravel and Bach
by Bob Neill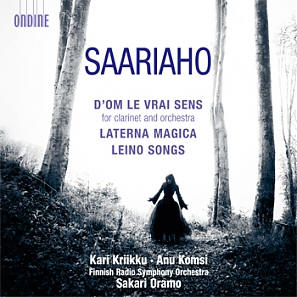 Saariaho. D'om Le Vrai Sens for Clarinet and Orchestra. Laterna Magica. Leino Songs. Kari Kriikku, clarinet. Anu Komsi, soprano. Finnish Radio Symphony Orchestra, Sakari Oramo. Ondine ODE 11732
One of the appointed missions of modernist music has been to combat our natural human desire to make the world more comfortable by domesticating its natural strangeness. Children know very well that the world is strange: adults make it their purpose to cure them of that knowledge by 'educating' them. Sussana Välimäki, the commentator in this latest Ondine release of the music of Finnish composer Kaija Saariaho, captures the composer's 'program' perfectly when she characterizes its pursuit of "the strangeness of being." Saariaho's success in reaching a great many of us with her version of a defamiliarized, fresh, exciting, undressed, and initially alien seeming world is what sets her among leading contemporary modernists. By saying all of this, I do not mean to suggest this music is easy to listen to. It is, well, strange -- by design.
Her clarinet concerto, The True Sense of Man (2010), addresses the six (!) senses of man, though there would be no way to know that if we hadn't been told. No need to know anyway, music seldom needs its program. Like her contemporary countryman, Magnus Lindberg, she finds the clarinet the appropriate vehicle for this wild and raucous project. It can do birds and beasts we barely recognize, shrieking winds that most of us have only read about, the raw electricity in the air, the beauty of new instrumental color, the terror of unknown things, as yet unnamed and uncatalogued, that live in the back of the mind. The music asks us to re-open our human senses, including our 'sixth' intuitive sense and apprehend the non-human world around us.
Saariaho's orchestral songs, Leino Songs (2007), text by Finnish poet, Eino Leino (1878-1926), provide a fascinating contrast with Mahler's. Where the late romantic German composer creates a rich, lyrical, and melancholy dream world, the contemporary Finn weaves dreams closer to those we know: complex, disjunctive, but also sonically lucid and strangely beautiful. She is more considerate of her listeners in this work than she is in the concerto!
Laterna Magica [magic lantern] (2008) is a ghostly work, inspired by the memoirs of filmmaker Ingmar Bergman. The cover art tells you more about it than I can.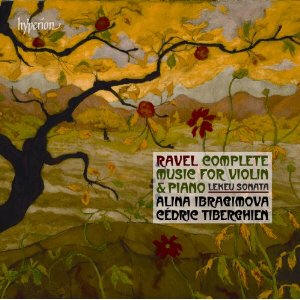 Ravel, Complete Music for Violin and Piano. Lekeu, Sonata. Alina Ibragimova, violin; Cédric Tiberchien, piano. Hyperion CDA 67820.
Around the turn of the twentieth century, music history paused, before embarking on the new adventure of modernism. After the eloquent bravados and sonorous bitter-sweet elegies of late romanticism that kissed goodbye to the nineteenth century, a handful of mainly French composers (and painters and English and French writers) explored ways to resist both the past and the freewheeling future hard upon them. They composed (and painted and wrote) works that worked with the old style but sought to do more in the way of expressing 'private experience,' to get at specific human experience of the world rather than conventional ideas about and representations of it. They did this by making style itself more active, even to the point of partially displacing subject matter. As we know, there was no stopping this move once it began; but in its 'impressionist' moment, it produced some fascinating and moving music, fine art, and literature. We can thank it for, among others, Monet, Manet, Gauguin; Joseph Conrad, Henry James, Virginia Woolf, Marcel Proust; and Debussy and Ravel.
In this album, featuring violinist Alina Ibragimova and pianist Cédric Tiberchien, the fine young musicians who recently gave us one this generation's most evocative and moving performances of Beethoven's sonatas (http://www.positive-feedback.com/Issue53/amateur.htm), we get all of Ravel's music for violin and piano, introduced by Belgian composer, Guillaume Lekeu, whose Violin Sonata (1892-3), shows us the new style in its most conservative form.
Ravel's early, one-movement Sonata No. 1 (1897) begins in the same, almost pastoral, vein as the Lekeu, then drifts into a chromatic meditative mood, calling up more complex emotions. We can hear precursors of blues and jazz in this music. There is a sense of sophistication and urbanity, but it plays off genuinely poignant expressions of feeling. Stylistic color plays a huge role here. It produces a quality we learned two generations later to call "cool." It is the opposite of straightforward and it gains emotional power as a result by its indirection. As Ibragimova and Tiberchien play this music, they enable it to foretell music's future. That said, the music and their musicianship also suggest that it need not have been a transition to anything else: this is a marvelously satisfying aesthetic and sense of the world to live in. After all, impressionist paintings remain the most popular in the world, even now!
Ravel's Sonata No. 2 (1923-7) uses style even more boldly to 'color' the musical content, enabling it to become suggestive rather directly discursive: to point us toward others levels and kinds of experience. Modernist music will fly past mere suggestiveness, let the world go and dive boldly and directly down the rabbit hole into the inner world of human experience, eventually giving us a world of almost pure style where everything becomes very nearly a pure abstraction from the familiar world around us. Here, in Ravel, we still have our worldly bearings.
This is marvelous music, expressed by Ibragimova and Tiberchien with passion, flair, and just the right amount of sophistication. They were born to play this music.
The release ends with what amount to a pair of encore pieces, Tzigane and Berceuse, the latter essentially a brilliant showpiece for the violinist who delivers it with great taste and panache.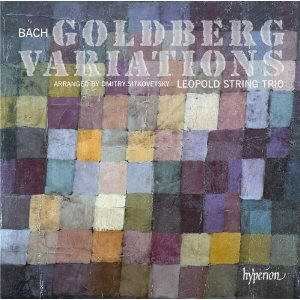 Bach, Goldberg Variations. Arranged by Dimitry Sitkovetsky. Leopold String Trio. Isabelle Van Keulen, violin; Lawrence Power, viola; Kate Gould, cello. Hyperion CDA 67826.
I should say up front that as wonderful as the Bach Goldbergs are played on keyboard (Hantai, Gould), my favorite way to hear them is via the arrangement for string trio by violinist Dimitry Sitkovetsky and played by him, cellist Mischa Maisky, and violist Gérard Caussé on Orfeo (1985). Several trios have performed Sitikovetsky's arrangement since, one that includes Maisky, but none to my ears come close to the compelling force of this one. So that's my reference.
I came to this new recording by the Leopolds because I admire their violinist, Isabelle Van Keulen enormously and like what she and her colleagues did with the Beethoven string trios (Hyperion CDD 22069), but it did not take me by storm. As the performance opens, with the aria, Van Keulen's violin comes in with a whisper, in stark contrast to Sitkovetsky's bolder entrance. If you're married to the bolder entrance, this is disconcerting, disappointing even. It's not until she plays it again thirty variations later in the aria de capo that we finally get it. And both understand and appreciate the dramatic difference between these two ensembles' interpretations of this great music.
Sitkovetsky's violin is more forceful and insistently expressive—and that is Maisky's style anyway, so their performance is heavily accented, richer in tone, more flamboyant, indulgent even. It is more nineteenth century romantic than baroque. It sweeps us along with its joie de vive. But, at least for me, it takes the Leopold Trio's contrasting approach to make this clear. Van Keulen plays with considerably more restraint, her colleagues follow her, and so their performance is lighter, airier, graceful, highly inflected, refined, baroque -- sometimes almost French baroque. Delightful, joyous rather than passionate.
This music, no surprise with Bach, can give great pleasure either way. As I say, I have long been a fan of Sitkovetsky's but Van Keulen and the Leopolds have induced me to rethink my preference. Again, by the time we get to the final aria da capo, hearing the violinist's quiet opening thirty variations earlier in our head, we hear the confirmation of where Van Keulen and her colleagues have been going all along. It is not reserve, it is utter beauty. There are some things that women may understand better than men.
System used for this audition: Audio Note CDT3 transport; Blue Circle BC501ob LOC dac, BC 3000II GZpz preamplifier, and BC204 KQ amplifier. JM Reynaud Orféo Supreme speakers. Audio Note and Crimson cable interconnects, Crimson speaker cable.
Bob Neill, in addition to being an occasional equipment and regular music reviewer for Positive- Feedback Online, is also proprietor of Amherst Audio in Amherst, Massachusetts, which sells equipment from Audio Note, Blue Circle, and JM Reynaud, among others.