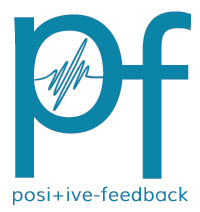 You are reading the older HTML site
Positive Feedback ISSUE 56
july/august 2011
Robert Plant and The Band of Joy: Live at Copley Symphony Hall, San Diego, CA June 8th 2011
by Andre Marc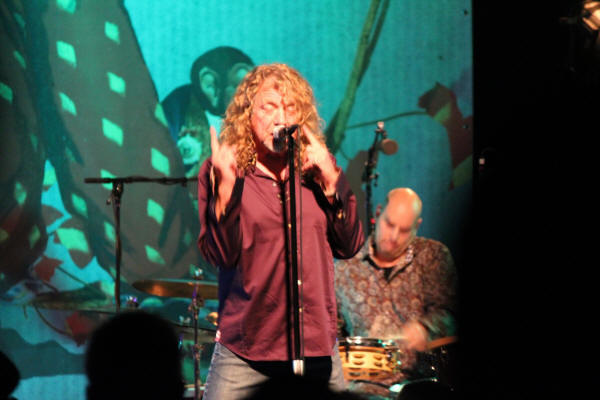 Robert Plant has been a musical wanderer for the past ten years; beginning when he released his masterful 2001 work, Dreamland. It was an homage to his 60's musical heroes: the Youngbloods, the Grateful Dead, Bob Dylan, Tim Buckley, and more. He followed that up with a futuristic take on psychedelic world music called The Enchanter. He shattered even more barriers, (and minds), with his collaboration with bluegrass and country star Alison Krauss, Raising Sand.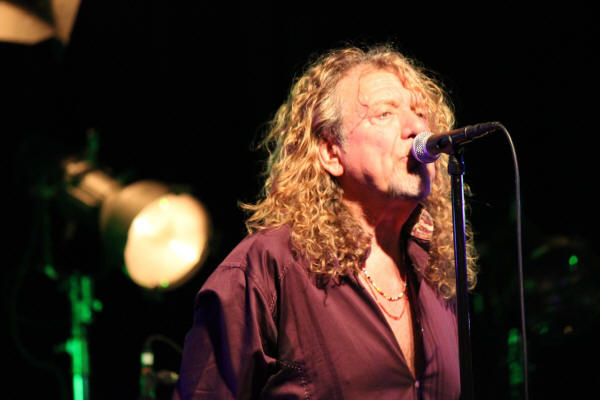 Using his work with Krauss as a launching pad, last year he resurrected a short lived band he formed in the mid 60's with the late great John Bonham, prior to taking off with the mighty Led Zeppelin. The concept was "anything goes". And so it goes with Band of Joy, an album filled with amazing covers and some superb originals. Who else could pull off mixing covers as diverse as songs by the likes of Los Lobos, Richard Thompson, Townes Van Zandt, and even alternative Minnesota band, Low? It certainly helped bringing on such seasoned pros as Buddy Miller on guitar and other stringed instruments, Patti Griffin on backing vocals, and Darryl Scott on mandolin, lap steel, and pedal steel. Both Miller and Griffin are critically acclaimed recording artists in their own rite, Plant launched a tour last last year to spread the word about an album is he quite proud of. June 8th saw the sixty three year old lion mane'd, "golden god" of rock hit San Diego's Copley Symphony Hall with his 'Band of Joy' in tow. The venue was packed to the rafters, and the show opened with the mandolin tinged Los Lobos cover, "Angel Dance". From the first few notes, it was apparent Plant and company were into to it, and for the next hour and forty five minutes, they delivered the goods. It was the band's first show after a six week break, and they sounded fresh. The vibe was focused, yet relaxed.
Plant pulled a wide variety of material out of his back pocket. Material as diverse as the majestic "Calling To You", from his Fate Of Nations album, "Please Read the Letter", from the Page and Plant album, Walking into Clarksdale, and a few tracks from Raising Sand made it into the set list. Of course, material from the Band of Joy album made up a good chunk of the set as well. What was perhaps most surprising, and not unwelcome, was the generous helping of songs from his, ah, other band. Revamped versions of "Thank You", "Gallows Pole", "Black Country Woman", and "Misty Mountain Hop" had the crowd of middle aged rockers, ex hippies, and young hipsters in a frenzy.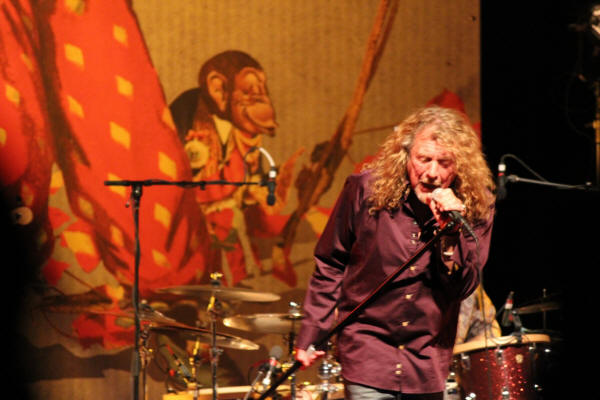 Plant was in great voice, and looked to be in great shape. He was limber, stalking the stage, and doing his "ragged doll" dance when the mood hit him. He was clearly having fun, proclaiming at one point he had "never felt so free" musically as with this current band. A little known fact is that Plant is quite a musicologist, with an extensive collection of LPs, and a deep obsession with everything from pre-war blues, to North African trance. Since breaking away from his image as strictly a rock artist, he has certainly spread his wings. On a Wednesday night in beautiful San Diego, the crowd was treated to a musical voyage, and the captain of the ship was a star sailor of the highest order. This is the fifth time I have seen Plant in concert, going back to the early 90's, and if his powers have diminished, I did not see it. In twenty years, when I turn 63, I hope to be enjoying my work as much as Robert Plant. His new 'old band', Band of Joy, is aptly named.