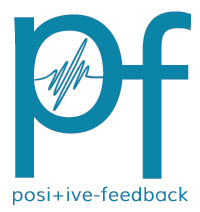 You are reading the older HTML site
Positive Feedback ISSUE 56
july/august 2011
New Releases From Reference Recordings, Chandos, LSO Live, 2L, ATMA Classique, and Naxos
by Karl Lozier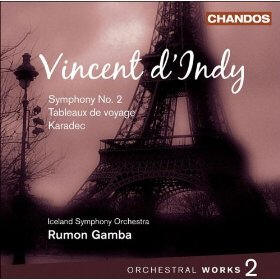 Vincent d'Indy. Symphony No. 2. Tableaux de voyage. Karadec. Orchestra: Iceland Symphony. Conductor: Rumon Gamba. Chandos CD CHAN 10514
Though pretty much neglected in recent years Vincent d'Indy's compositions definitely deserve to be programmed in our performing arts theaters and listened to by recordings such as this fine one by Chandos. This CD has sound quality as good as it gets with standard Redbook recordings in my experience. It is not a showpiece type of recording. It simply, probably not so simply, offers a natural tonal balance, truly full range response with no apparent highlighting and an abundance of ambiance and true dimensionality. The recording engineers did an excellent job and probably are very familiar with this orchestra's recording site. Play this recording for your most knowledgeable classical music friend and ask, who is this composer? It would be a rarity if it is guessed correctly, even with a couple of guesses, though there are some hints of Franck, Wagner and even Beethoven. Personally I thought the most immediately appealing sections on this release to be the last three movements of the symphony. I get the impression that the entire orchestra and conductor Gamba are definitely in sync together. Trying to decide which section to praise the most turned out to be rather futile; all are quite excellent here. This recording is a very good choice for something new that you may never get to here at your local performing arts center. Do not expect to hear a better performance of the d'Indy symphony any time in the near future. Though probably not a logical purchase choice for newcomers building a basic listening library, Chandos' usually fine audio quality should be kept in mind for the future as this release is also worthy of a top recommendation.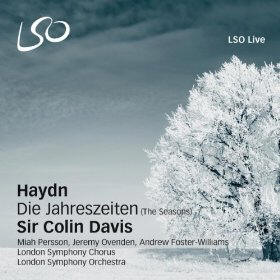 Haydn. The Seasons (Die Jahreszeiten). Orchestra and Chorus: London Symphony. Conductor: Sir Colin Davis. LSO Live 2-Multichannel Hybrid SACD LSO0708
Yes, even though Valery Gergiev is still listed as the LSO's principal conductor, the LSO's president, Colin Davis often steps in perhaps particularly with compositions/composers he has been closely associated with in the past. Haydn's composing efforts over a span of many years are famous for a number of reasons and definitely include many very serious compositions such as the recently reviewed The Creation. This reviewed oratorio, The Seasons is on a different plane and is not as solemn or somber as his other oratorios. Of course, if deciding on the first Haydn oratorio to purchase, many might go in this direction. Different strokes for different folks come to mind. I believe that Haydn has been credited with saying that while angels speak in The Creation, in The Seasons only Simon, the peasant farmer does. His daughter, Hanne and a country lad, Lukas are the only other principal characters in this oratorio. The chorus is comprised of country folk and does just fine in every respect. The performance and recording quality are both quite outstanding, more so the performance though the audio quality is very good. With the aid of really good conductors the LSO is to be expected to perform as such with its tremendous background of more recording time than any other symphonic orchestra. As such they again deliver here. What great large scale orchestral playing we are treated to here, seemingly done rather casually though not really. I would love to brag on some sectional playing, but which section? All are to be praised. Though the live perspective is rather well preserved, personally I would rather have the listening perspective that is closer to mid-hall. Then present all the vocal performers to appear to be in front of the orchestra for greater realistic presence, not just the choruses. I continue to hear slight improvements in the generally fine live recordings from LSO Live with bass response that adds a bit more quantity to the clearly excellent quality as heard in this release, particularly the SACD stereo layer of the recording.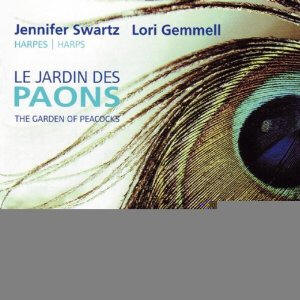 Le Jardin Des Paons. (The Garden of Peacocks). Harps: Jennifer Swartz, Lori Gemmell. ATMA Classique ACD2 2539
This fine recording of excellently played music for or transcribed for harp is a bit different than what is usually offered in harp recordings. In addition to two fine musicians sharing the spotlight instead of the usual soloist, the compositions performed cover a fair amount of a time span plus quite some variety from the famous classical music composer Ottorino Respighi, to the much more contemporary Eric Clapton. By doing that the ATMA recording company must hope to attract more listeners than usual to a recording of harp music, not usually found on best seller music lists. The performances are seemingly impeccable and the plain ol' CD recording is beautifully recorded and atmospherically up to the task of giving listeners a surrounding feeling as if seated where the music was recorded. All this is accomplished to quite a great extent without using SACD multi-channel or Blu-ray recording techniques. How is that possible you might ask? I might respond that I believe the harp to be as nearly omni-directional rating as any musical instrument and able to fill many recording venues without specificity of being located audibly. The shape of those horn instruments results in very directional sound propagation and location as does the sounding boards and holes in the body of string instruments. The harp is almost unique by lacking those characteristics. The effect is compounded with a pair of harps radiating so widely in real space that locating them precisely can be a daunting task if there is no visual image. It might necessitate some cures to possible recording problems. That is not obvious here and the recording is simply top notch. Harp lovers have a new gem for serious or even casual listening pleasure. Of course recommendation is easily earned.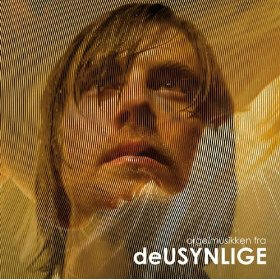 Orgelmusikken fra deUsynlige (DeUsynlige). Organ music from the film "Troubled Water". Organist: Iver Kleive. Organ: Bergen Cathedral ( Rieger Orgelbau, 61 stops). 2L Hybrid Stereo +5.1 SACD 2L66
This beautiful group of songs transcribed (+2 written for organ) for pipe organ is not to be missed. You have been warned. The transcriptions were done by the listed organist. In no way, except natural or realistic, is this a demonstration or show off pipe organ recording. Yet, at this time, if a visiting music lover requests listening to some organ music, this will be the one he or she will hear. I could simply end this review now and you have all you really need to know. For those not entirely satisfied by that sharp comment, I shall add a little more. The liner notes mention that the organ music is" one of the main characters" in the motion picture "Troubled Water" playing a unique interacting role. Perhaps uniquely is the placement of Simon and Garfunkel's famous hit song, Bridge Over Troubled Water both to begin and end this truly outstanding recording. The other musical selections are beautiful and recorded in state of the art quality. Two of the selections have passages that will push you further back in your seat if your audio system is top flight and can put out real power in the bass ranges rather than simply getting louder. In summary, I say that this recording is a true gem, combining beautiful music with the very best audio quality, particularly in the SACD stereo mode (only mode used in review). It is a keeper, demanding purchase and if it does not sound and satisfy as I have tried to describe, you need to have your sound system checked out as you are not getting all of what you paid for. An absolutely highest possible recommendation is awarded by me. May we look foreword to more soon?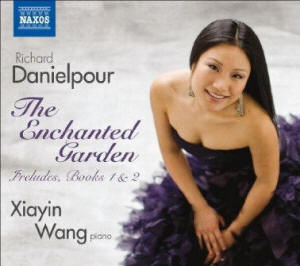 Richard Danielpour. The Enchanted Garden: Preludes, Books I and II. Pianist: Xiayin Wang. Naxos American Classics CD8.559669
Richard Danielpour's music is definitely being played and heard more than ever. His compositions cover orchestral, chamber, ballet, vocal and as here, instrumental. He says that the first set was inspired by some of his dreams. Those selections have contrasts and positioning with his conscious reality and as used in this composition it results in "a garden of the mind." The second set (Book II ) includes seven preludes based on his life experiences and memories. The seven titles are unique and unusual and to a certain extent do seem to explain or describe those compositions. As with some other of his compositions, the music kind of treads a fine line separating familiar music and more contemporary music. It tends to make me want to listen to it more often to help me get further into more contemporary compositions. I keep hearing all sorts of familiar or almost familiar fragments in these compositions. Things such as sci-fi sounding film music, jazz passages and folk music, square dances and other hints often seem to just pop up. The contemporary sounds are not severe though they are not very melodic either. The times, they just keep changing and can not be held back. Here you may find a fairly safe way to sneak up on something that is a bit more "modern" than usual. We must assume that the performances satisfy the composer and the music satisfies the excellent performing artist; after all Book II was commissioned for her. She first performed it seventeen years after Book I at Alice Tully Hall in New York City. She has performed quite often in my home state of Florida. It would not be possible to fault her performance here and I find no fault with the excellent CD audio quality by Naxos. Recommended highly to music lovers wanting to hear something a bit different and not extreme contemporary.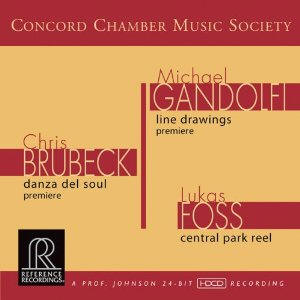 Chris Brubeck: Danza del Soul. Michael Gandolfi: Line Drawings. Lukas Foss: Central Park Reel. Musical Group: Concord Chamber Music Society. (violin,cello,bass,clarinet,piano and percussion). Reference Recordings 24 Bit HDCD# RR-122
WARNING If searching for this fine recording it may be listed as "Concord Chamber Music Society". Here we go again; another recording, this issue, featuring rather contemporary music by some of the very best contemporary composers and here recorded by one of the very best recording engineers for Reference Recordings. The sound quality seems to present quality almost the equal of the better SACD recordings. The outstanding audio is the equal of any CD quality that I have ever heard and plays on any regular player. The listening perspective is a bit closer up than usual and beautifully captured in great natural detail. Part of the outstanding recording is due to the famous acoustics of Mechanics Hall in Worcester Massachusetts. Chris Brubeck is the son of the deservedly famous Dave Brubeck. Igor Stravinsky is one of his compositional idols and Chris readily embraces his well known phrase that composition is selective improvisation. He also uses the abilities and personalities of the performers who are to be in the inaugural performance of the composition in the conception phase and that was done in this instance and I find it to be extremely interesting. Here the title and hints of Spanish simply happened and were not planned.
Gandolfi is known to find the arts and literature as the basis for compositional inspiration. In this case his Line Drawings link up with Picasso and supposedly sharing equally concise and clarity qualities. Quoting Gandolfi about these compositions, "they are composed of lines; that is they are pieces that place a premium on melody and linear activity." There are five of them in this composition and as with the other selections on this recording the performances must be outstanding and the recorded audio quality is what I must refer to as being of demonstration quality for CD recordings; it doesn't get any better with CD unless you go to SACD.
Lukas Foss is kind of the "grandfather figure" for this trio of composers, having passed away a couple of years ago. Unlike the other compositions, here is basically a duet for piano and violin; the rest of the Concord Chamber Music Society is simply missing. Central Park Reel might slightly hint at New York though the Reel rather clearly hints at a bluegrass group playing for an American folk dance and is pure enjoyment. This is probably a fitting end to a group of contemporary compositions in this issue's reviews that try not to stray too far from the well known. This release is receiving my top recommendation even though you may not instantly love every note, every note is beautifully recorded.