The Squeezebox™, in my opinion, is one of the cleverest and user friendly digital audio devices on the market. I believe it is also one of the most versatile and feature packed products around. After Logitech purchased Slim Devices, the originator of the Squeezebox family of products, there were a few bumps in the road, but overall there has been a continuing effort to improve
performance, and an effort to add cutting edge features. I had been using a Squeezebox 3 up until earlier this year when I purchased a Squeezebox Touch.
The Squeezebox Touch™ jumps leaps ahead of the previous generation of Squeezebox for a number of reasons. First, it now handles material of up to 96kHz and 24bits, where previously up to 48kHz was the limit. Secondly, the sound out of the analog outputs is shockingly good, where before the analog outputs were pretty rough sounding, to put it politely, and an out board DAC was really mandatory. Network connectivity via hard wired Ethernet, or WiFi has been improved. The Touch also now allows for direct input of of an SD Card or USB storage device, where a truncated version of SqueezeServer™ runs off the device for playback without a home network. Lastly, the build quality of the Touch is leaps ahead, which now includes a solid aluminum base.
Aside from playback of any type of audio file stored on a network or an attached drive, the Squeezebox Touch™ allows for practically endless options in internet radio, and for connection to premium services like Pandora and Rhapsody. For a device like this that has such an impressive feature set, and sounds great, $299 seems like a bargain. But like every audio product, there are design compromises that can be pointed out. Certainly, the wall-wart, switching power supply that is included is not ideal as it can introduce noise and other anomalies in to the signal path.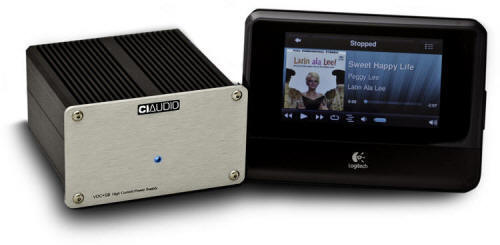 Enter into the picture Channel Islands Audio, headed up by Dusty Vawter. CIA is well known for their Class D amplifiers, passive preamps, and their VDA-2 24 bit DAC, which I currently own, along with the matching VAC-1 power supply. CIA has taken the path of offering high value, reasonably priced gear that is made in the U.S.A. The subject of this piece is the VDC-SB outboard power supply designed by Vawter for use with the Squeezebox™. It retails for $259. Incidentally, CIA also makes external power supplies for the Squeezebox Duet™ and the Wadia iTransport.
To hear Vawter him self tell it, "When I first heard about the Squeezebox™, I thought it was worth checking out so I ordered one to try out. Once getting it up and running I was surprised by it's performance and ease of use. The following day I turned on my old Accuphase tuner and noticed that it produced nothing but noise. I suspected the SB3's stock switching supply was creating RF noise, so I unplugged it from the wall and sure enough, my tuner was once again noise free and sounding great. The next step was to make a linear supply (no RF noise) to fix the problem. The first prototype did the trick and also improved the overall sound on both the analog and digital outputs. So then we went to work experimenting with transformers, filtering, regulation circuits, and layout, to create an efficient and cost effective design which produced a rock-steady output voltage with very low noise and ripple. The result was a nice plug-n-play upgrade for the SB3 (and now the Touch)."
During set up, plug and play it was. Since the VDC-SB has an IEC connector, you are free to use the aftermarket power cord of your choice. I plugged in an ElementCord AC cord, superbly terminated with top shelf cryo-treated Marinco and Wattgate connectors, and then ran the supplied umbilical cord into the Squeezebox Touch™. A blue LED light indicates the unit is on. I should also mention the case work, which is first class. This what I have come to expect from CIA. The attractive silver faceplate and case shape match the VDA-2 DAC and VAC-1 power supply units.
Vawter mentioned, rather modestly, that the improvement the VDC-SB would bring about was not the type that would knock you out immediately, and would probably yield the best results on the analog outputs. However, that being said, the improvement over extended listening was impossible not to notice when using either the analog or digital outputs. The improved performance of the Squeezebox Touch™ over its predecessor is pretty clear to me, and it was elevated to even higher levels with the VDC-SB. Imaging was more precise, bass was tidier, and the high frequencies were more detailed, and yet smoother too. This all became apparent after several days of critical listening. For me, the most significant upgrades to a system tend to take more time to appreciate, and I am a bit suspicious of anything thing you can plug in that causes immediately noticeable, yet over time, dubious changes.

Using the VDC-SB with both digital outputs also provided for a refinement, and the same improvements over time as noted above. I used digital cables from DH Labs; the Deluxe TosLink, and the D-75 coaxial terminated with RCA plugs. The DAC I had on hand was the well reviewed Bryston BDA-1. Some of the source material I used included Redbook FLAC rips of Ray Lamontagne, Robert Plant, R.E.M., Tinariwen, and Duffy discs. I also used 96/24 downloads of Alison Krauss, Paul McCartney, Elton John, Derek & the Dominoes, Allman Brothers, as well as various Hi-Rez classical downloads.
Regardless of musical genre, resolution, or whether streamed via ethernet, or via directly connected USB devices, the improvement was consistent. I can only surmise that the above described increase in refinement, high frequency performance, and imaging must be due to the elimination of switching noise. I was told my a well known component manufacturer that in his opinion... that "the power IS the sound". So noisy power supplies, less than optimal isolation, and "dirty" AC do somehow find the a way to compromise sonics, much like a pollution seeping into a clean water supply. After market power products have been addressing these issues, and others, for some time now.
Summing Up
In my opinion, CIA has provided for a very cost effective, significant upgrade to the crafty little Squeezebox™. To put it into perspective, for around $1500 you can put together a world beating digital front end that includes the Squeezebox Touch™, the VDC-SB power supply, a high quality digital cable, and an external DAC. I believe this would compete with much more complicated and more costly set ups. My experience with the Squeezebox Touch™, and previous models has been flawless, excluding a minor firmware glitch from a about a year ago that quickly got resolved. The SqueezeCenter™ software and file cataloging system is in my opinion far ahead of the pack, and the endless, customizable user options are easy to navigate and set.
CIA also produces versions of the VDC-SB for Japan (100v), US (120v), Asia & Europe (230~240v). CIA sells its products direct from their web site and through Music Direct. The company also has some interesting products in development. These include their first loudspeaker (The SoulSister), a medium size floor stander in an aperiodic alignment with custom designed drivers, and are expected to be shipping in November. Also in the works is a portable USB interface (The Transient) with coaxial, Toslink, and I2S outputs, as well as a built-in 24/192 DAC with volume control. This device will run directly off of the power provided by the USB, but can also use VDC-SB as an upgrade supply. This should also be available in November.
I can honestly recommend the VDC-SB as an upgrade for Squeezebox™ owners. It will without a doubt help you get the most out of a great product. CIA makes classy, beautifully made products that are hand crafted in the USA, at very attractive prices. The VDC-SB offers no downside, is easy to install, and clearly works as advertised. As a bonus, it looks great. The VDC-SB is a keeper. Andre Marc
Channel Islands Audio VDC-SB external power supply for Logitech Squeezebox™
Retail: $259.
Channel Islands Audio
webs address: http://www.ciaudio.com
email address: info@ciaudio.com
TEL: (805) 984-828