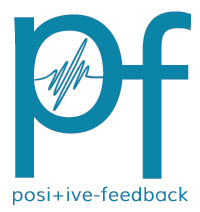 You are reading the older HTML site
Positive Feedback ISSUE 56
july/august 2011
The California Audio Show in San Francisco, July 2011
by Dave and Carol Clark
The California Audio Show is the brainchild of Constantine Soo of Dagogo. This is the second show with the first being reported on in Issue 50 back in 2010. The difference between the two are different hotels in different locations within reach of San Francisco. Even so, the two shows had much in common... a fair amount of exhibitors and decent enough traffic where many rooms were simply too crowded to venture into. Even so, over the course of the two days we attended, we were able to find the right time to sneak a shot or two of all the rooms (unless of course we missed one or two and if so, my apologies) along with an occasional listening session when the room/system piqued our musical curiosity.
The following is a pictorial report with commentary when so warranted.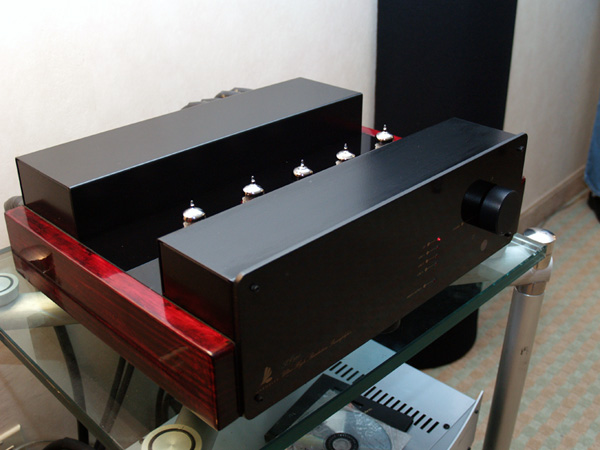 Margules Audio, beautiful products from Mexico.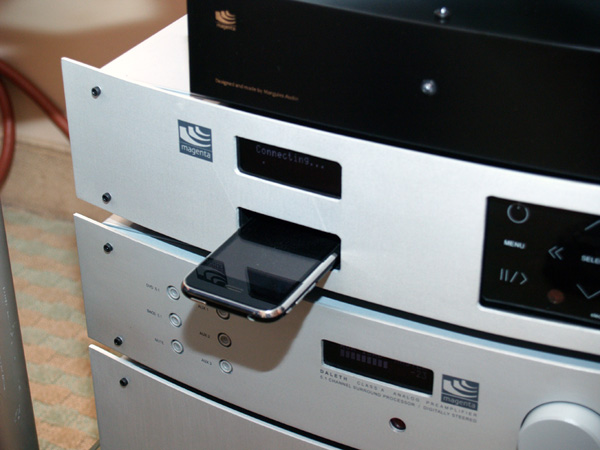 The iEnd from Magenta in the Margules room. Slide in your iPod or iPhone and the analog out feeds whatever tunes you have into the integrated. The product might not be available in the US, but is way cool all the same.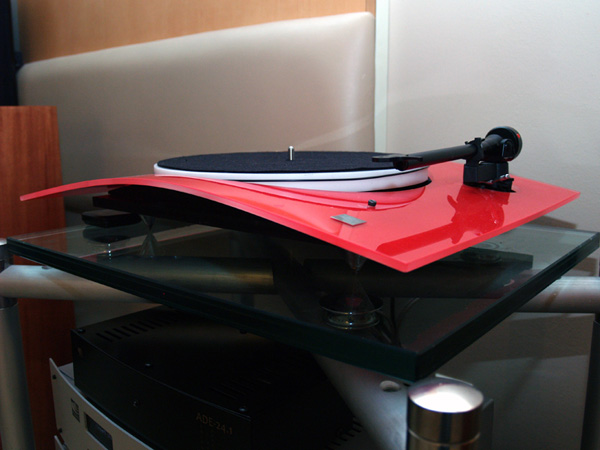 The TT-10 turntable from Magenta, coming soon. Now this was true eye-candy.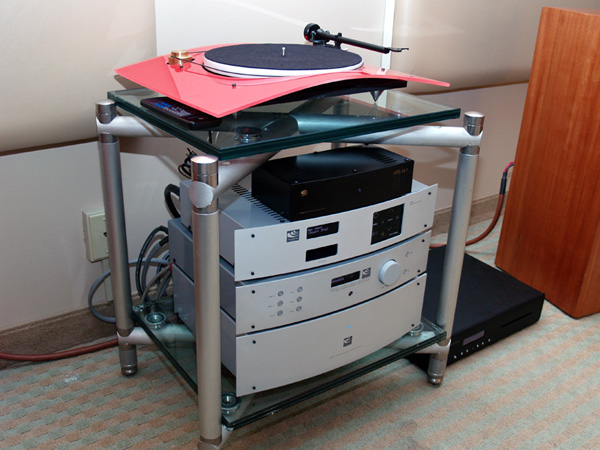 Gorgeous Magenta and Margules products.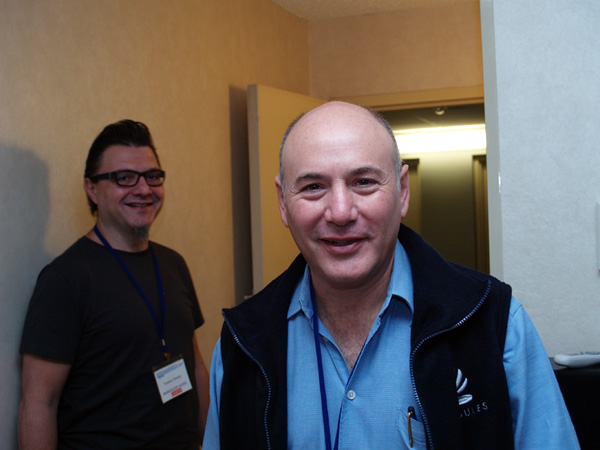 Julian Margules of Margules Audio with his Italian distributor.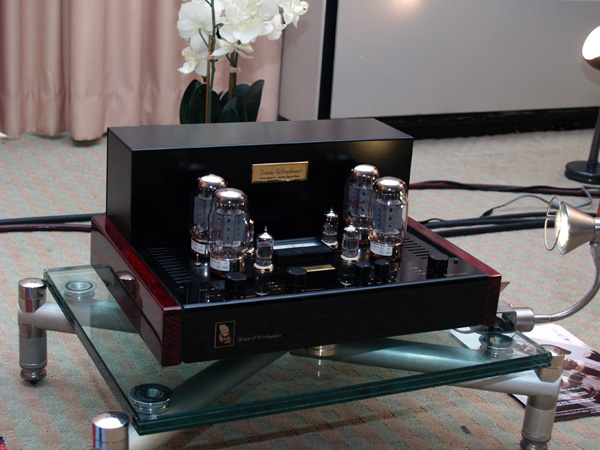 The U280SC amplifier from Margules.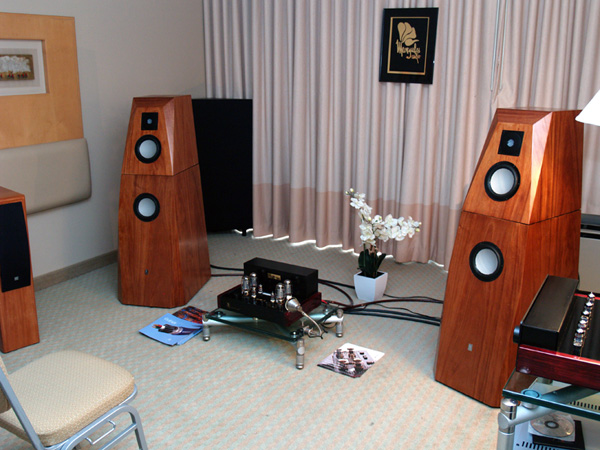 Grand Orpheus loudspeakers from Margules. Nice sound if a bit bass heavy at times. More laidback than we prefer though that might be more a reflection of the lower volumes being used during the show. Even so, nice tonally.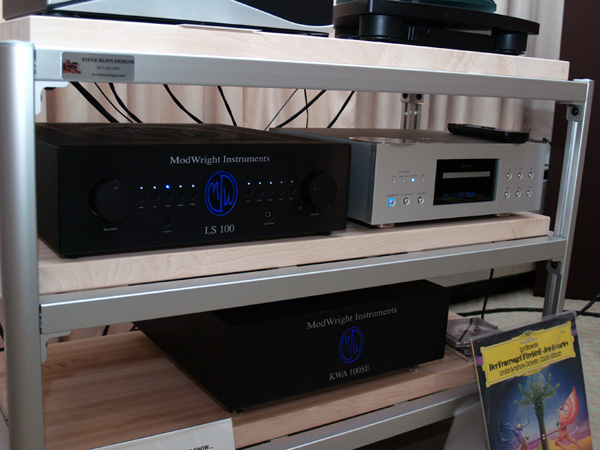 Modwright products in the WyWires, Zesto, Fritz loudspeakers room.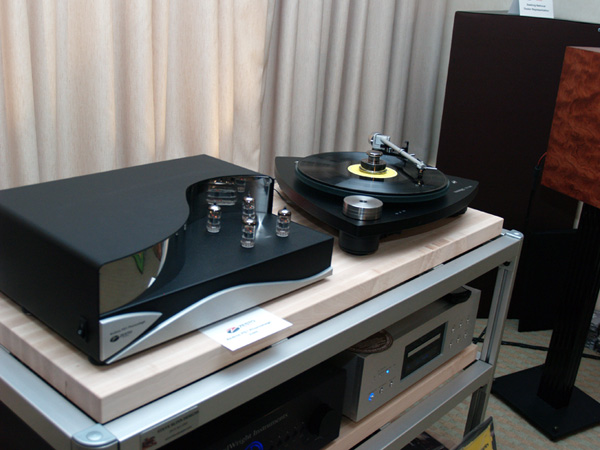 Zesto Audio Andros PS 1 phonostage preamplifier.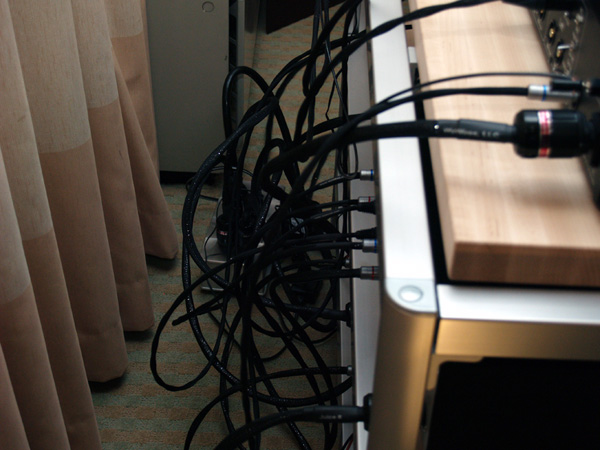 A plethora of WyWires.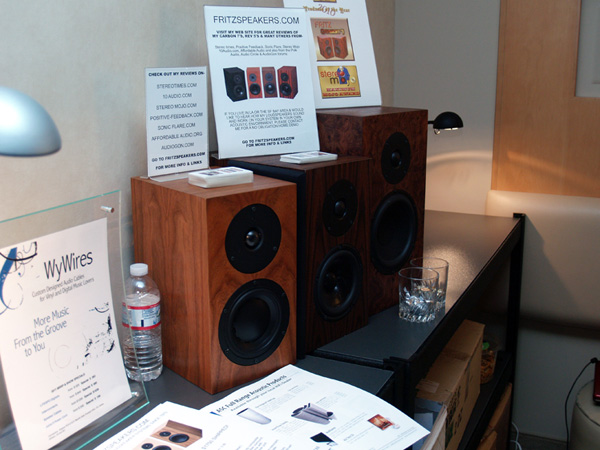 Fritz loudspeakers in the room with WyWires and Zesto Audio.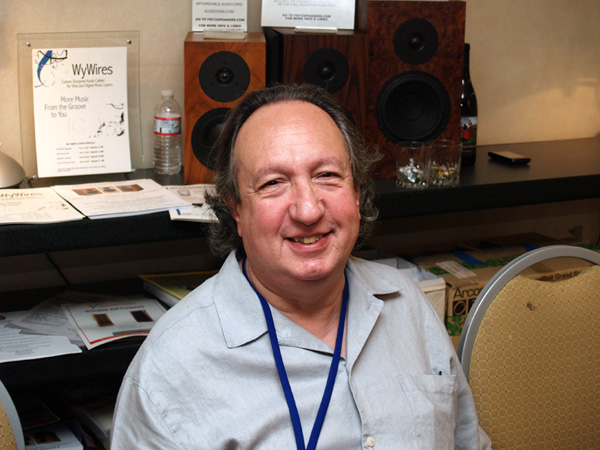 George Counnas of Zesto Audio, what a pleasant guy.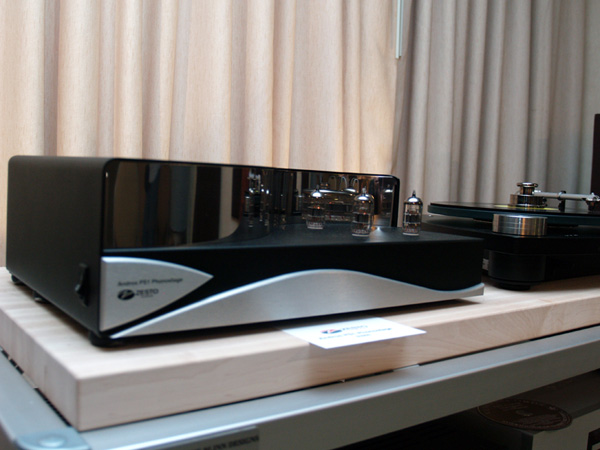 The design of the Zesto preamplifier is stunning.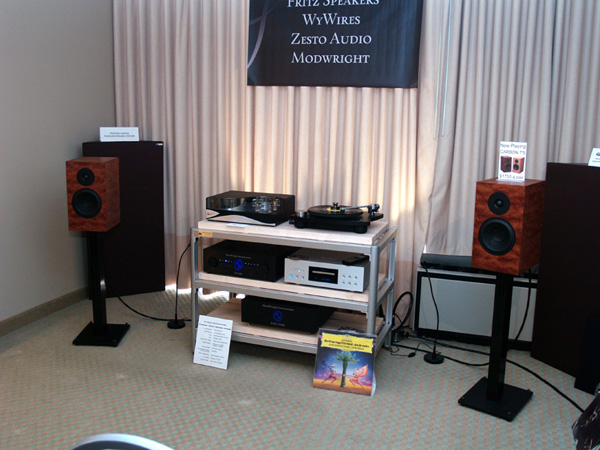 The full system, sounding good indeed. Spent a decent enough time here to realize that this system spoke music. Nice indeed.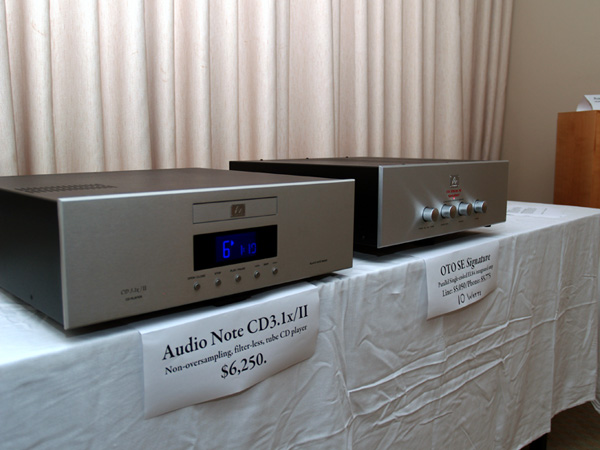 Audio Note CD3.1x/II $6250 and OTO SE Signature linestage $5050.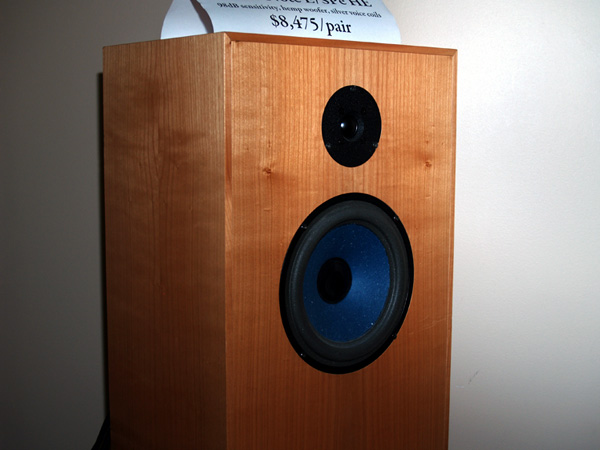 Audio Note E/SPe HE loudspeakers, $6250.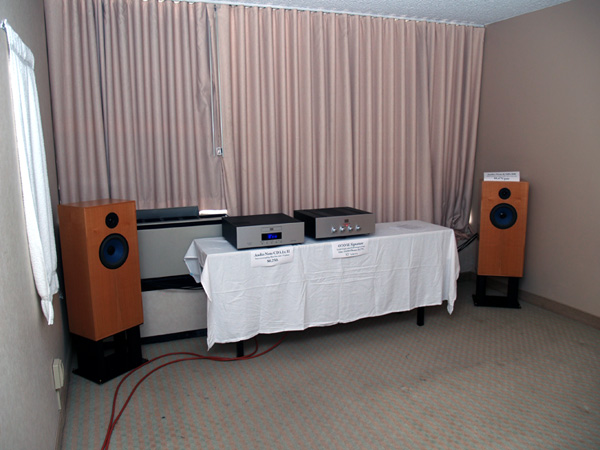 The Audio Note system. Simple.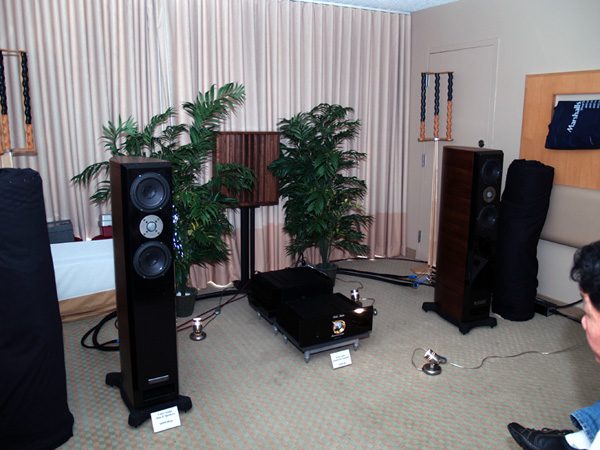 Audible Arts room. Usher Mini II loudspeakers $4999, Wells Audio Innamorata amplifiers $5500. The system featured JPS Labs speaker cables and interconnects, Wells Audio power conditioner, MIT Z stabilizer, Bybee Super Bullets, and Shakti Halographs. Stands by Solidsteel.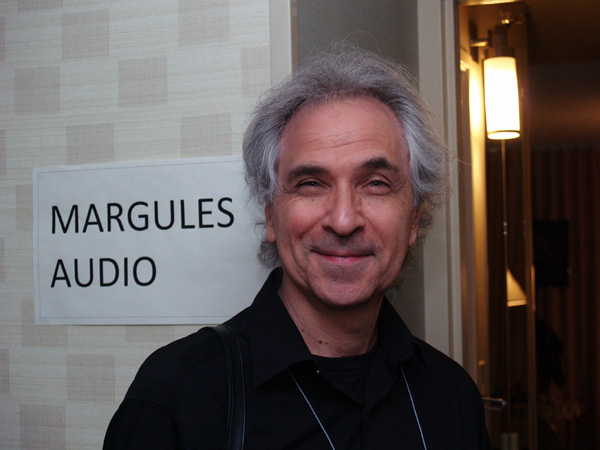 Joe Cohen of Lotus Design Group dropped by to see what was going on since he lives just a short drive up the coast. Had lunch with Joe later in the week and took a tour of his cable/distribution facilities.... way cool. More on that later.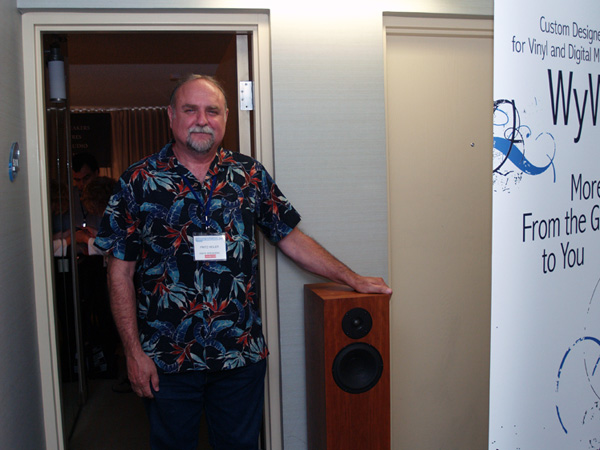 John Heiler of Fritz loudspeakers. Another nice guy... genuinely so too! Plus his speakers are 'nothing fancy or tweaky' just good affordable music making products.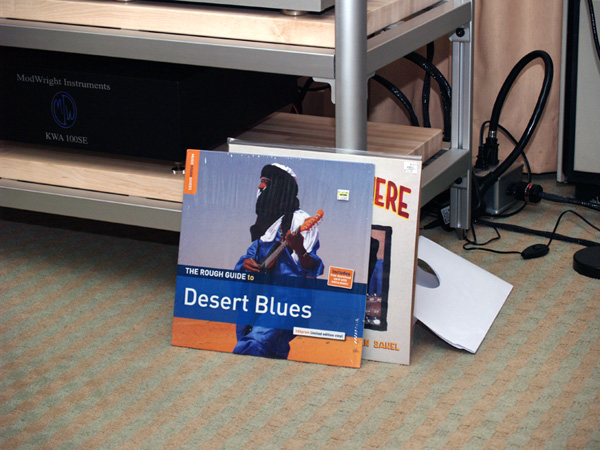 Interesting music supplied by Adam LaBarge of Dagogo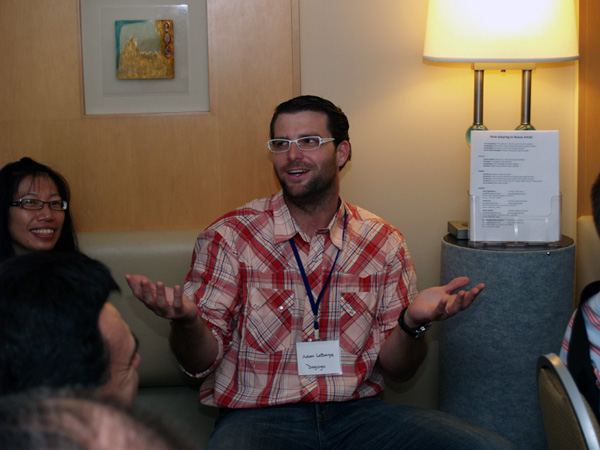 Adam LaBarge of Dagogo. Cool times 17!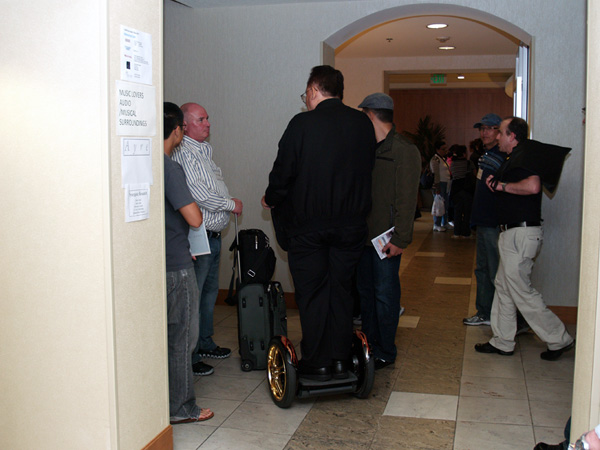 Noel Lee of Monster Cable drawing a crowd.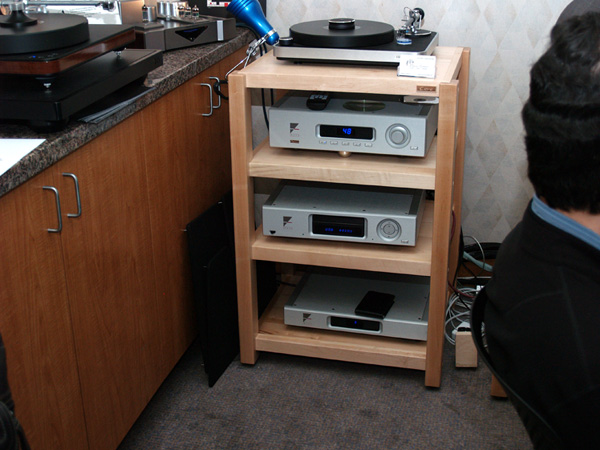 Music Lovers room, ClearAudio turntable with Ayre Acoustics products and Grand Prix stand.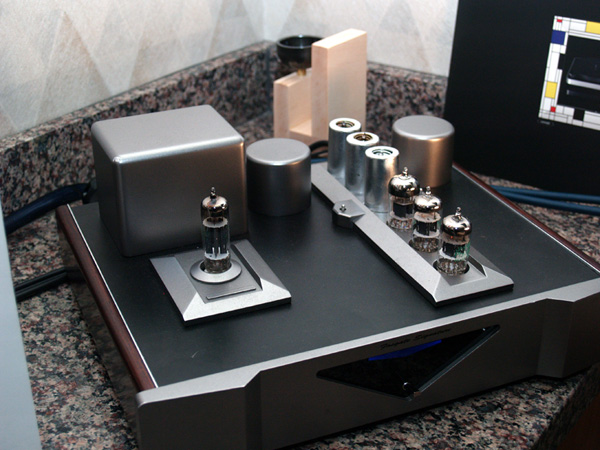 Aesthetix amplifier.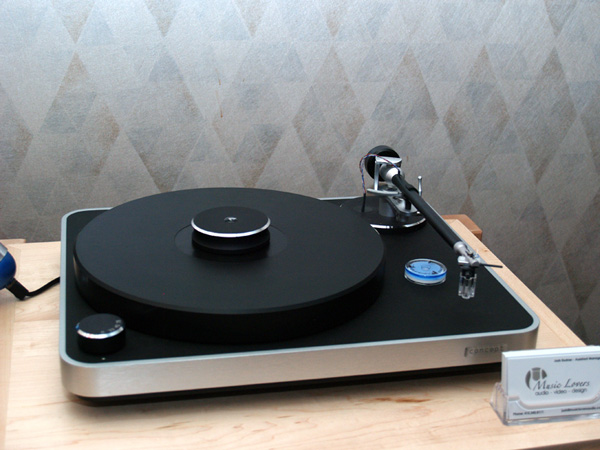 ClearAudio turntable.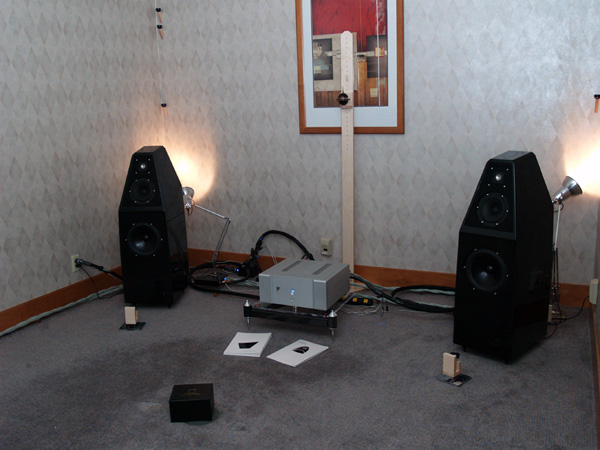 Wilson Audio Maxx loudspeakers.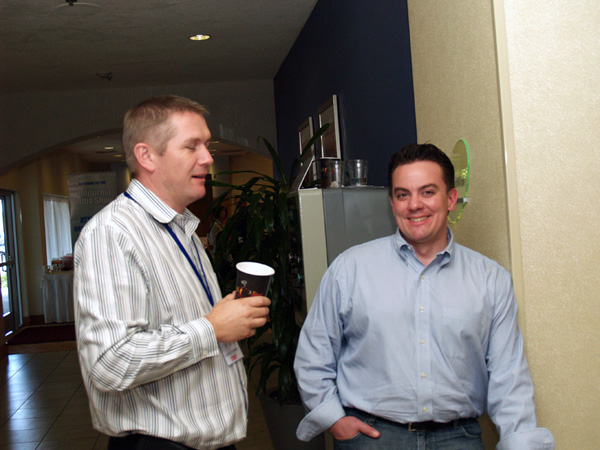 Peter Hansen of Synergistic Research with John Quick. Nice guys as well.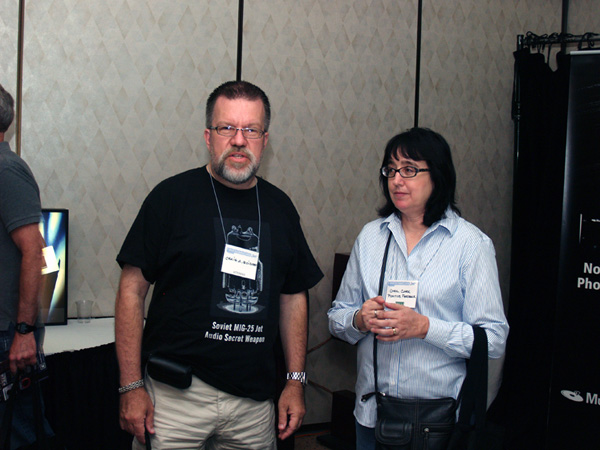 Craig Boisvert and Carol, looking concerned about something. Yes Craig, I am going to take your picture and publish it!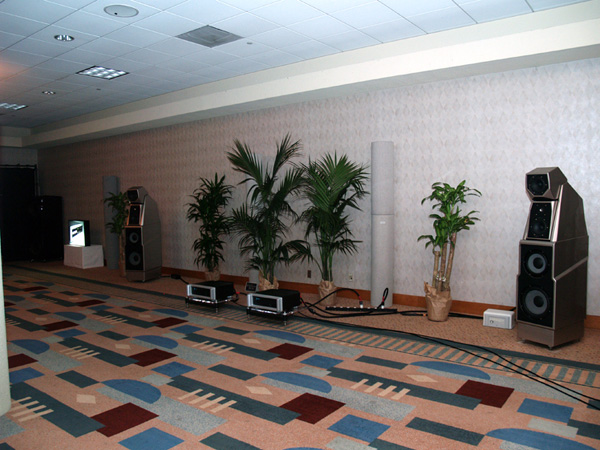 Wilson loudspeakers in yet another Music Lovers room. Wide, wide, wide (did I say wide) set-up in a gigantic room.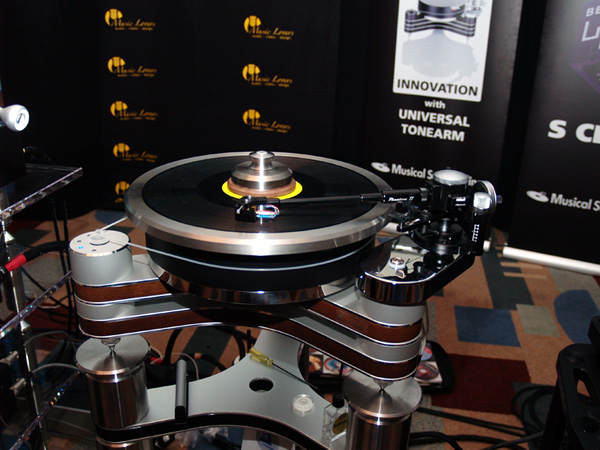 ClearAudio turntable. Wow.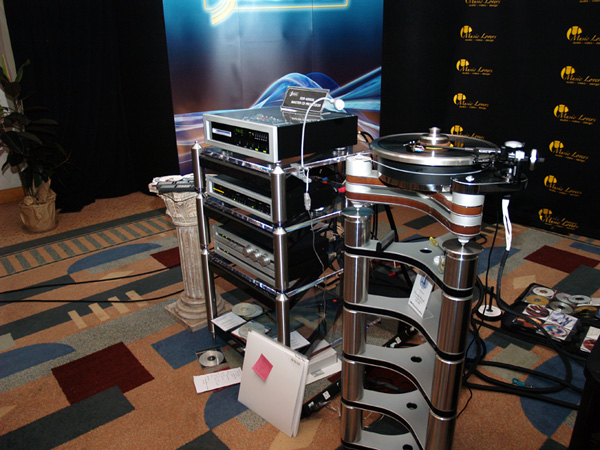 More of the impressive ClearAudio turntable from Musical Surroundings with a rack of Spectral gear.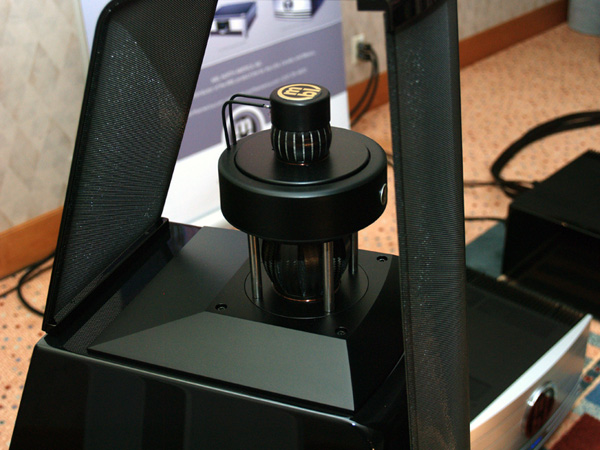 MBL loudspeakers.
In the MBL room.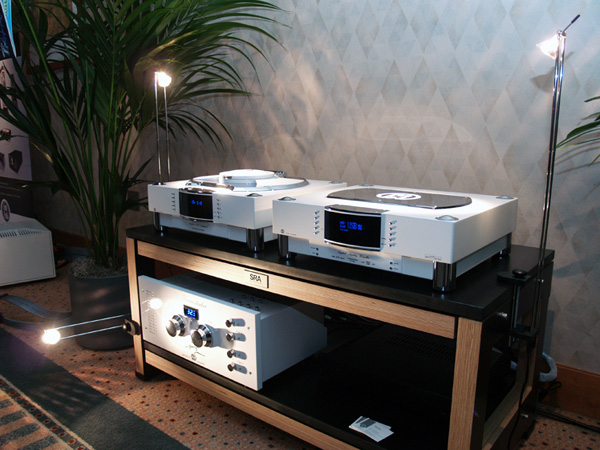 Another shot of massive MBL products.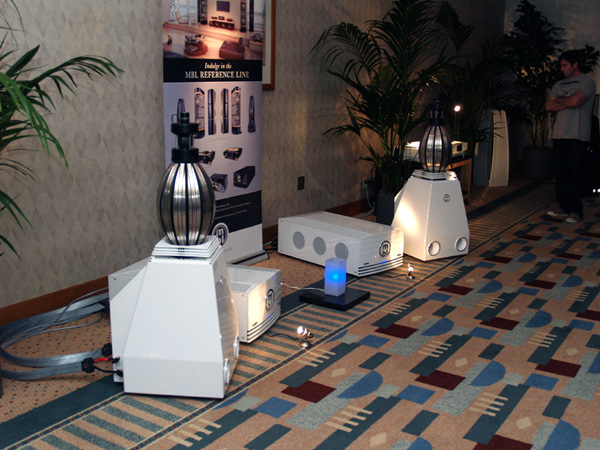 MBL loudspeakers. White and neat.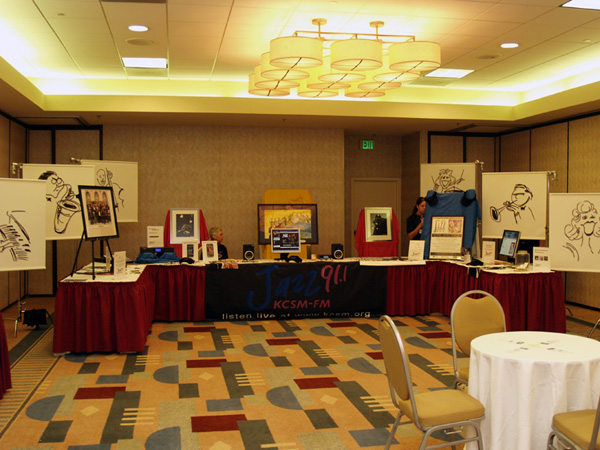 KCSM FM.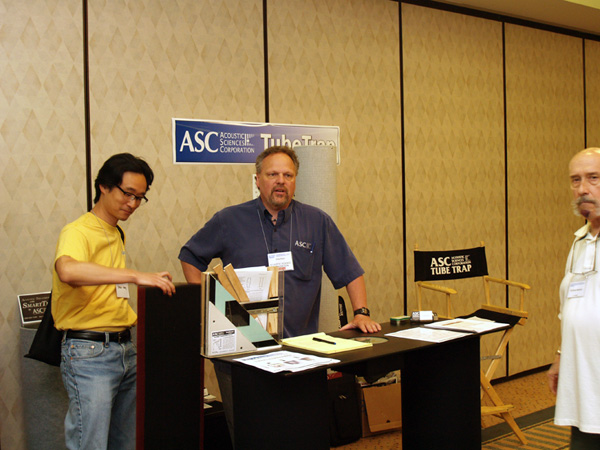 ASC TubeTraps.
High Value AV with powered ATC.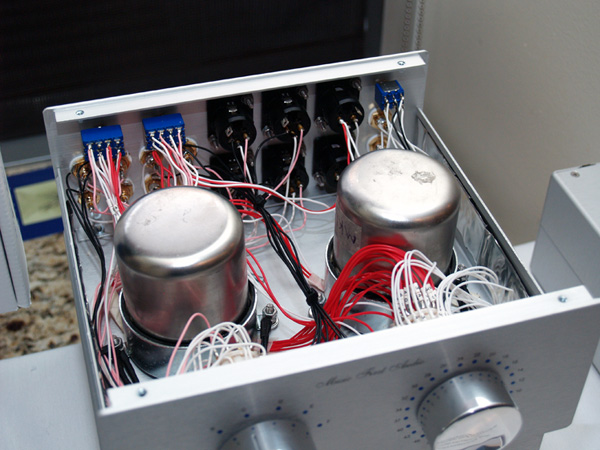 High Value AV, Music First preamplifier.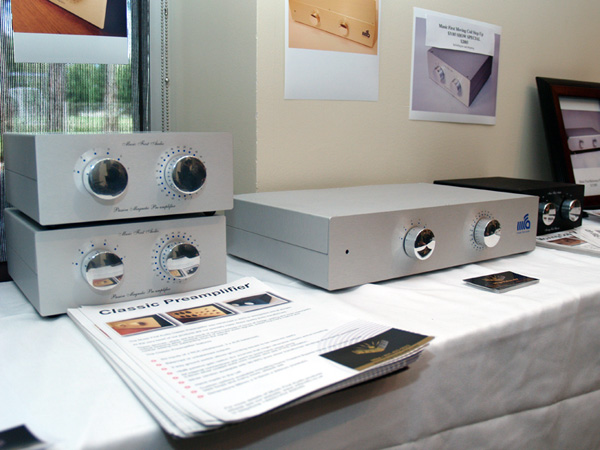 High Value AV, Music First preamplifier and amplifier.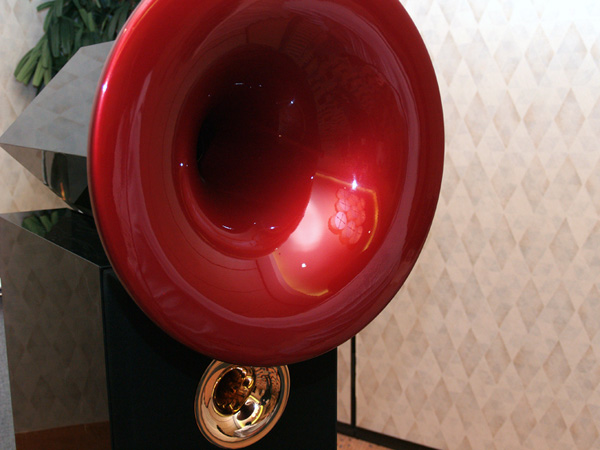 Acapella High Violoncello II loudspeakers, $80,000.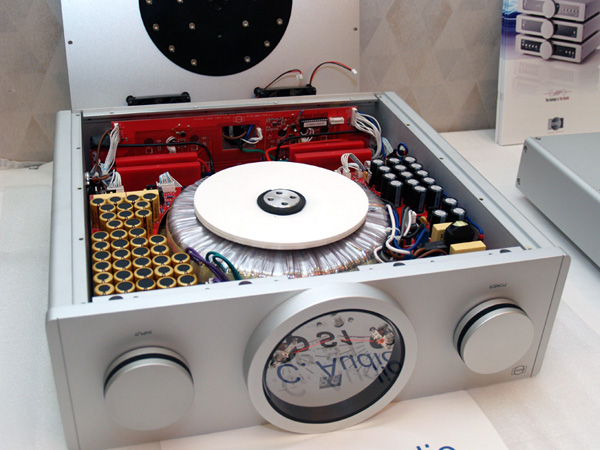 Aaudio Imports room, B.M.C. amplifier ... affordable luxury.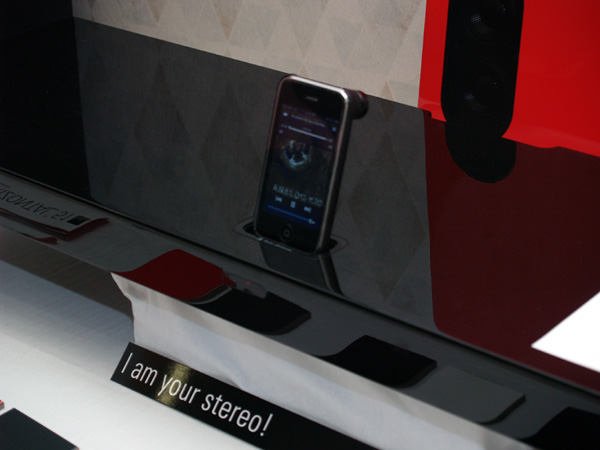 The Hohrizontal 51 Soundboard. A functional shelf with iPod dock.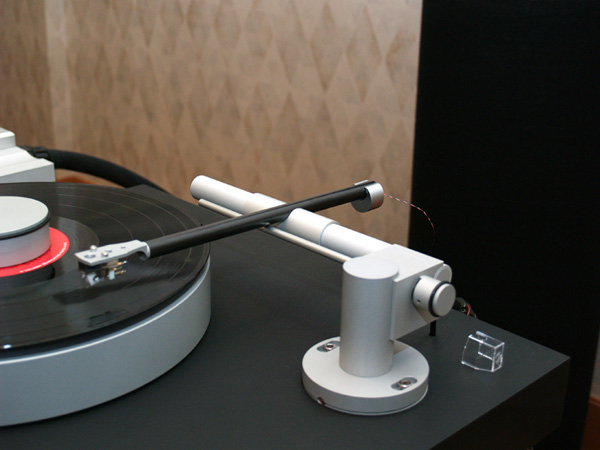 Bergmann Magne Turntable and tonearm, $12,000.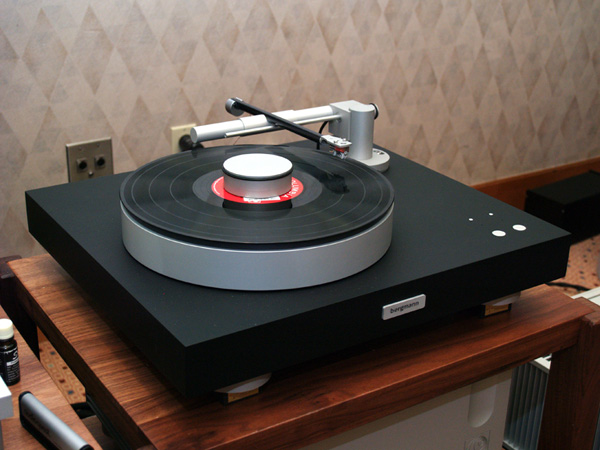 Gorgeous Bergmann turntable.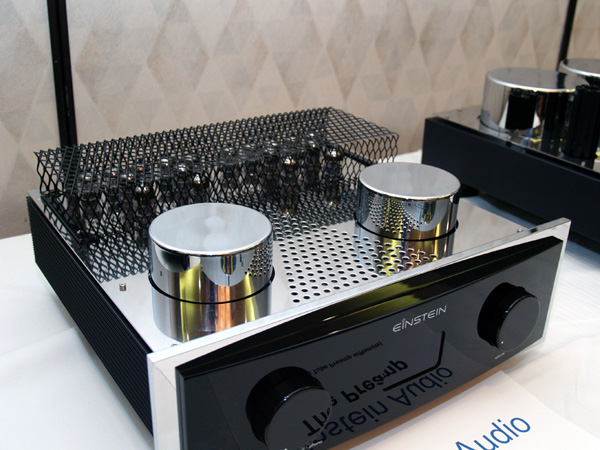 Einstein preamplifier.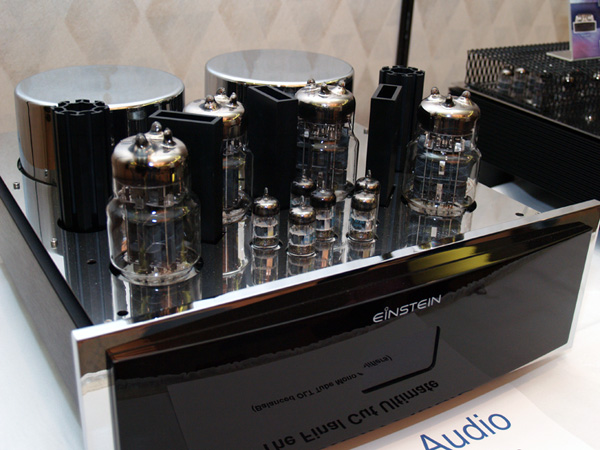 Einstein amplifier.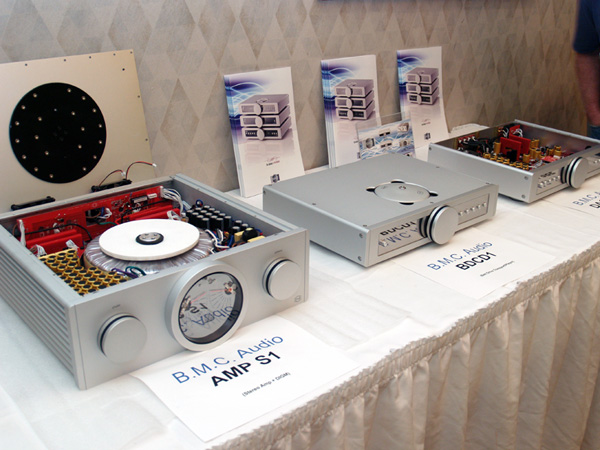 More B.M.C. Audio products.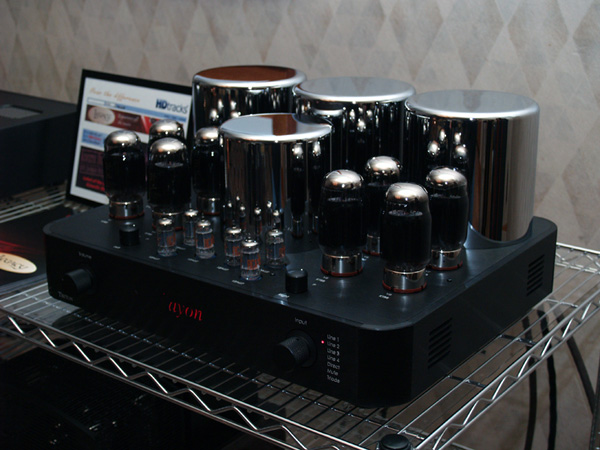 Ayon Audio Triton II integrated amplifier featuring pentode or triode operation with KT88 tubes.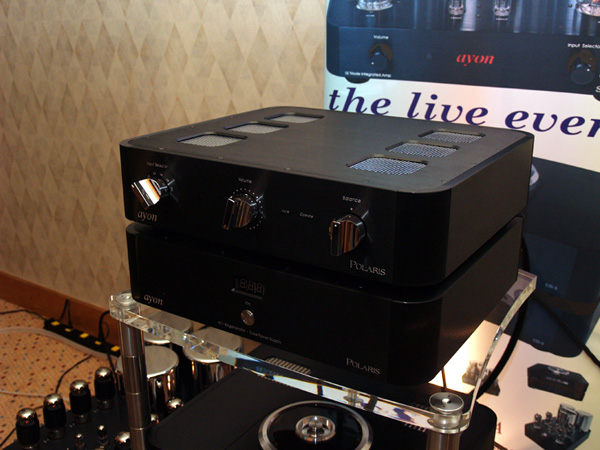 The Polaris III tube preamplifier.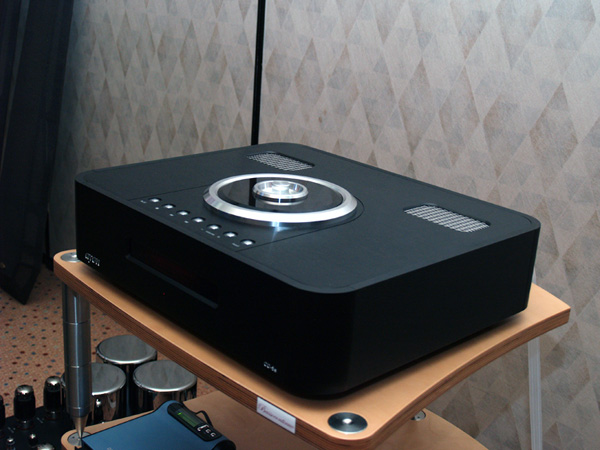 Ayon CD player.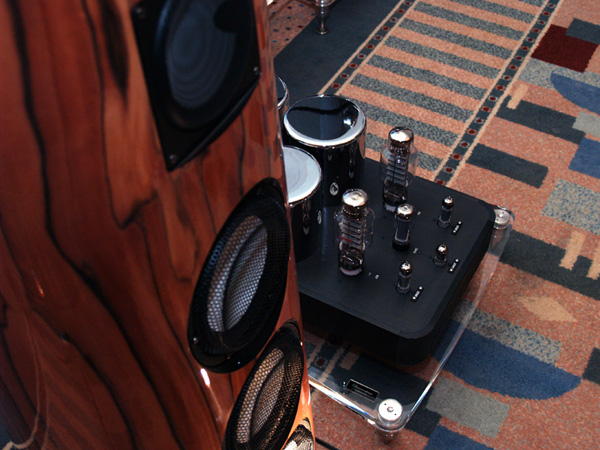 Vulcan II power amplifier based on a single-ended triode circuit.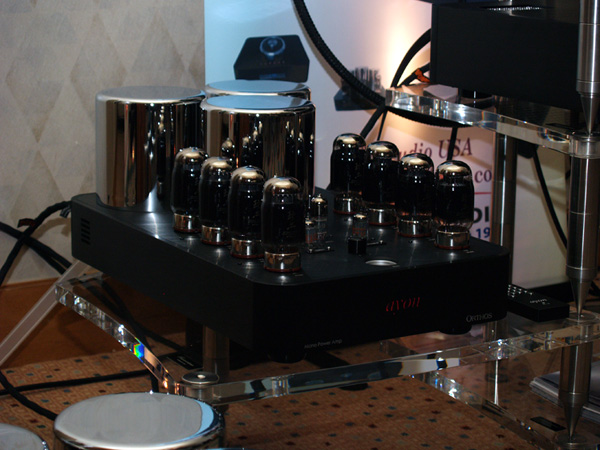 The Orthos II monoblocks provide true balanced or single-ended operation combined with the ability to deliver more than 200 watts per channel.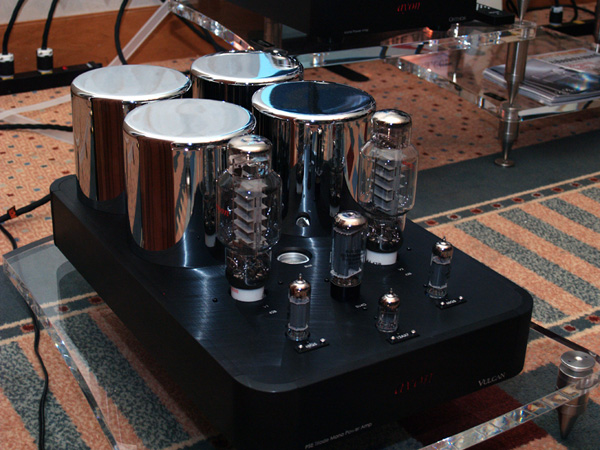 Vulcan II mono power amplifier is based on a single-ended triode circuit.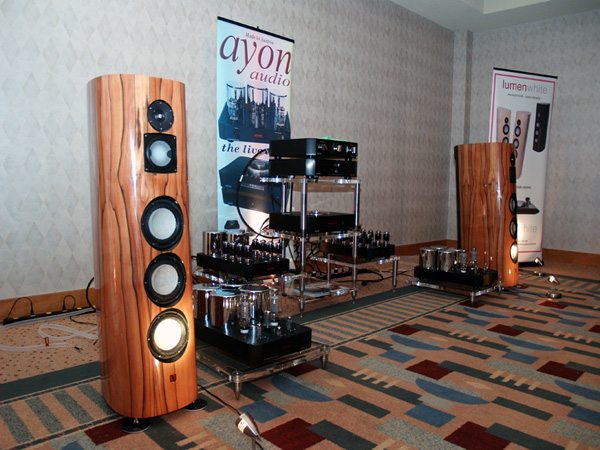 Lumen White Artisan loudspeakers. This system was chosen by the attendees as the best sounding at the show. DId sound very nice indeed! Big, dynamic and wondrously musical.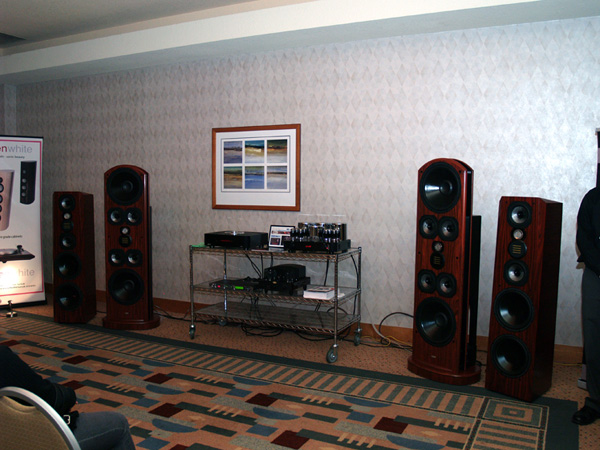 Legacy Aduio.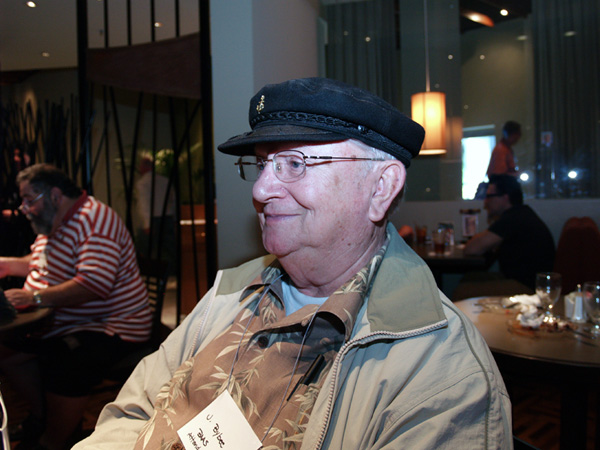 Jack Bybee drooped by the bar and shared some time with us chatting about life and what not.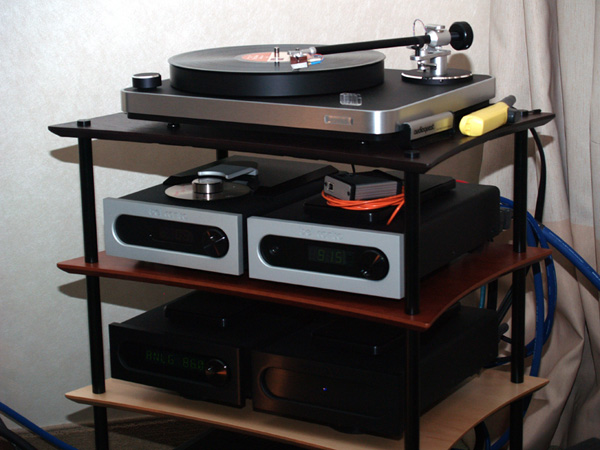 Bel Canto products in the AudioVision3 room, a e.One CD player, and the C5i integrated amplifier, with Cardas cabling.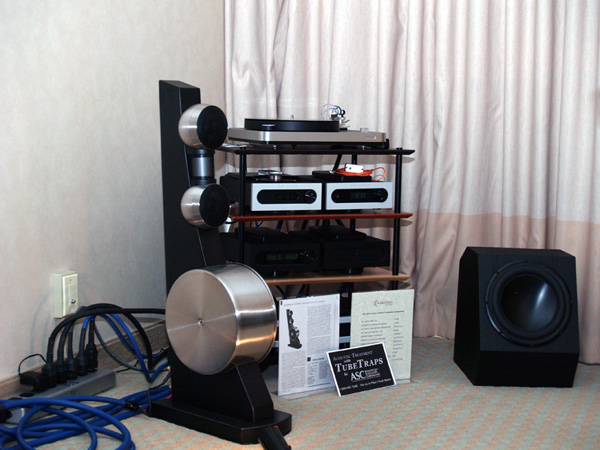 Anthony Gallo loudspeakers with the Bel Canto products.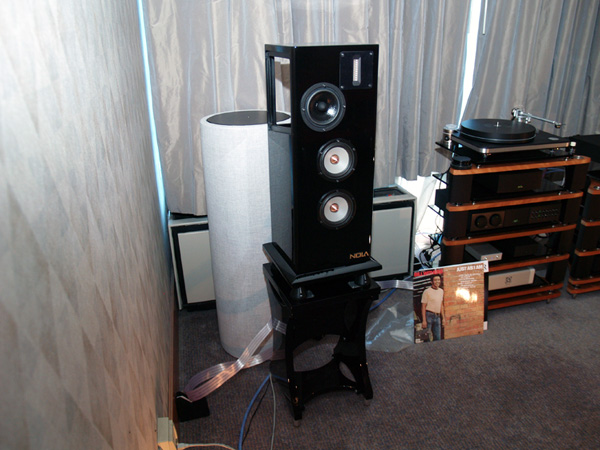 Audio Vision San Francisco with the Nola Micro Grand Reference loudspeakers, Nordost cabling, and Naim electronics.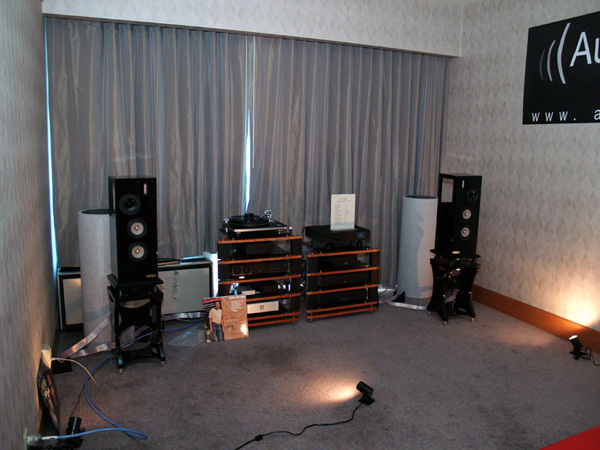 Another shot of the gorgeous Nola Micro Grand Reference loudspeakers.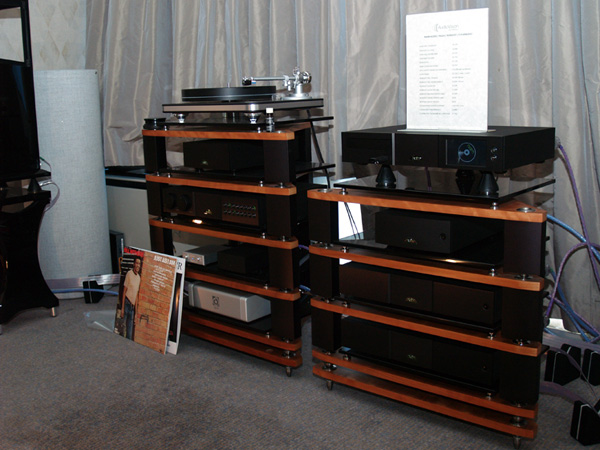 And, the Naim electronics.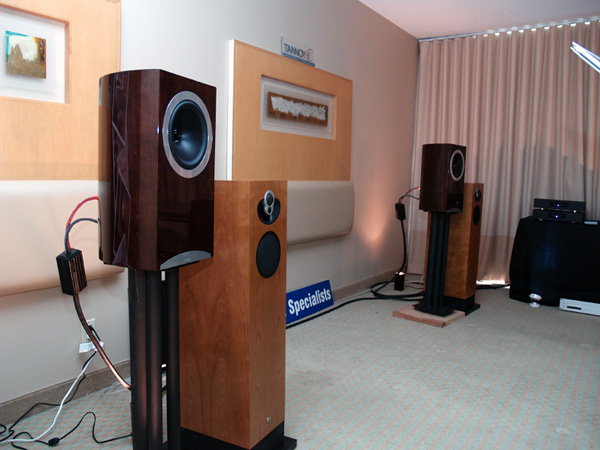 Tannoy loudspeakers used with Linn electronics. The the right of the Tannpys are the new Linn Isobariks.