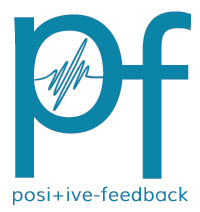 You are reading the older HTML site
Positive Feedback ISSUE 56
july/august 2011
Notes of an Amateur: Mahler 3/Jansons; Nicolas McGegan and Philharmonia Baroque Orchestra Return; Stephen Dodgson
by Bob Neill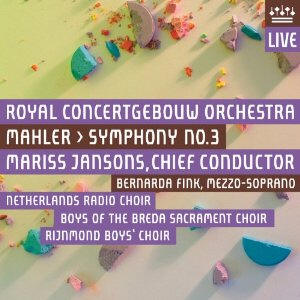 Mahler, Symphony No. 3. Royal Concertgebouw Orchestra, Mariss Jansons, conductor. RCO Live 10004.
My favorite Mahler's Third has been Boulez' for some time now, partly for its musical boldness, partly for its sonic splendor. It makes a great impression at audio shows when I feel like making one. Jansons' Mahler 3 would not turn audiophile heads at a show, partly because the conductor's interpretation of the symphony does not ask the orchestra to show off. Like Jansons' other Mahler symphonic recordings, it is a restrained, poetic affair. The Concertgebouw musicians are doubtless accustomed to this view of Mahler by now, but I expect it would drive some ensembles nuts. So much the worse for them. This may be the quietest and most beautiful Mahler 3 on record. And before detractors think to characterize the restraint in this performance as being 'too Dutch,' we need to remind them that Jansons is Latvian by birth and a resident of St. Petersburg, Russia. There is wonderfully dark, Eastern European light audible here.
Perhaps most important—and this comes out in the five movements that follow the half-hour first one— Jansons hears this music as profoundly of the nineteenth century. It grows out of Schubert but has moved past his melancholy lyricism and Wagner's bravado to a fuller vision of both the richness and hopelessness of late German romanticism. By the time we get to the fourth and fifth movements, we hear where a whole century of European lieder and tragic opera were trying to get. Mahler comes through in this performance as someone who understands why his successors will no longer be able to speak this unequivocally emotional language but who aims to give it a mighty last moment on the stage.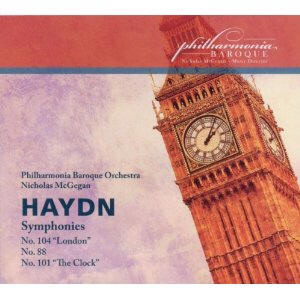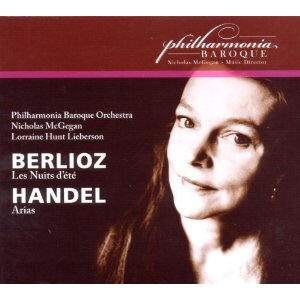 Philharmonia Baroque Orchestra, Nicholas McGegan: Haydn, Symphonies, Nos 104, 88, 101. PBP 002.
Berlioz, Les Nuits d'été. Handel, Arias. PBP 001.
Nicholas McGegan and the Philharmonia Baroque Orchestra made some of the very best recordings (32 in all) of baroque music, for Harmonia Mundi beginning back in the mid 1980's, the days of transition from vinyl to digital. His LP (and CD) of Handel's Water Music is the most suave and elegant ever made, to my ears the definitive one. I can no longer hear that music any other way. If I lived in the Bay area where the PBO lives, I would have a lifetime subscription to their concert series. I lost track of them at some point but here they are again, in the first of what I hope will be many 'live' releases on their own label, Philharmonia Baroque Productions.
As many have said, McGegan is able to make his period instrument ensemble sound right rather than eccentric, 'authentic,' ancient, or conspicuously fresh. His Haydn is clear and detailed but also full and naturally warm. His tempos also feel natural: unforced and graceful. McGegan's Handel (including Messiah and several of the composer's operas) tells us who he feels is at the heart of the baroque; his Haydn would seem to do the same for the classical period, though it's too soon to tell. Bach and Mozart may be greater composers but they are also 'beyond' their musical periods in ways that Handel and Haydn capture their periods' essence.
It is hardly surprising that 001 for this new label would feature the orchestra's discovery/star, the late mezzo soprano, Loraine Hunt Lieberson. This album, made from the orchestra's archives of 'live' performances, is from concerts made in 1991 and 1995. For many of us, at least during the last decade of the twentieth century, Loraine Hunt (who later married composer Peter Lieberson), defined the sound of the mezzo. Rich, big, passionate, and ever so slightly dark, her voice often tends to blend with an orchestra like a fellow instrument rather than rise above or shine through it as sopranos tend to do.
Berlioz' Les Nuits d'été is new to me (it does say "amateur" up there), so I have no reference for it, don't how it has gone in other performances. It is a loosely assembled group of songs about romantic love, loss, and lament composed over a period of years, held together only by the power of its music, which is considerable. If you know the composer's Symphonie Fantastique, L'enfance du Christ, Romeo and Juliette, and Harold in Italy, the style will be familiar to you. I find all of this music uniquely intoxicating in its various ways, so Les Nuits worked well for me. Berlioz is a marvelous example of an exception that proves a rule: no one should attempt to compose rapturously refined music like this, it is bound to be an indulgent disaster!
Handel is home for Hunt, her best loved recordings are the half dozen or so Handel operas from which this album's arias are taken. What Hunt Lieberson brings to Handel is unaccustomed depth and weight. Baroque opera, especially for modern listeners not attuned to the oblique and fanciful angle it takes to the world, can come across as pretty light fare. Hunt Lieberson brings a surprising element of emotional directness to the music. Major art can be, indeed needs to be, reinterpreted as the world around it changes if it is to remain accessible to us with the power it had in its time. In a word, if you find baroque opera somewhat artificial, seek out this album and be prepared for a wonderful surprise.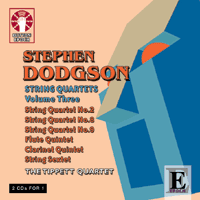 Stephen Dodgson, String Quartets, Vol. 3. String Quartets 2, 8, 9. Flute Quartet, Clarinet Quartet, String Sextet. Dutton Epoch DCLX 7265.
Eighty-seven-year-old Stephen Dodgson is a musical voice I doubt many of us have heard or even heard of. Thanks to Dutton who continue to soldier on recording otherwise nearly lost modern British music: this is the fifth album of Dodgson's music they've released, and this one is a twofer. And thanks also to the highly competent Tippett Quartet, who have done three CD's of his chamber music, including eight of his nine quartets.
Dodgson's style is modern in what I consider the best sense: vigorous, rhythmic, counter pointed, dissonant, and chromatic—neoclassic modernism a lá Stravinsky. And the style is what is most conspicuous about Dodgson's music: crisp, bold, exuberant, which Dutton's usual superb audio engineering brings us with great clarity and immediacy. If this sounds a little patronizing, it is; but there is a considerable amount of art—not just music—that can compel us with style alone, far more than can do so without it! When Dodgson moves beyond style, as he does in moments of his Clarinet Quartet and string quartets, his English roots show through, to the music's benefit. Modern English pastoral lyricism is as difficult for an English composer to escape altogether as Copland's romanticism is for modern Americans. These are the sounds each culture has learned to feel with. In the Clarinet Quartet in particular, written just four years ago when Dodgson was 82, modernist and pastoral idioms contend in eloquent contrast. Clarinet soloist John Bradbury expresses both wonderfully well.
Dodgson's string quartets, interestingly, recall Britten, though without the latter's sense of a spiritual or emotional center. The two composers share harmonic texture, phrasing, and overall mood; but Dodgson is more evasive melodically. There are very few emotionally resolving landing places in his music. Again, this throws us back onto style as a focus, style as end as well as means. Here and there we can sense a lyrical goal in sight but, presumably by design, it tends to come too late in the work to provide a controlling interest.
Resistance to an emotional center does represent a point of view. Music of this ilk is sometimes characterized as 'academic,' meaning that it seems designed to work out and demonstrate interesting formal musical ideas, while avoiding emotional diversions. In twentieth century England, what I suspect gave rise to some of this academic writing was a fear of the pastoral referred to above, a fear of being too simple emotionally, easy, accessible, unsophisticated, or worst of all, sentimental. To move beyond this fear to compelling expressions of complex emotion, which Dodgson certainly does in a few passages of the Clarinet Quartet and for some moments in the string quartets, is no small task. Alas, it is how major art gets made.
Again, music that amounts primarily to the cultivation of a style, has a place in the world. If conservative in intentions, it is surely preferable to both its over sweet and inanely experimental competition.
System used for this audition: Audio Note CDT3 transport; Blue Circle BC501ob LOC dac, BC 3000II GZpz preamplifier, and BC204 KQ amplifier. JM Reynaud Orféo Supreme speakers. Audio Note cable.
Bob Neill, in addition to being an occasional equipment and regular music reviewer for Positive- Feedback Online, is also proprietor of Amherst Audio in Amherst, Massachusetts, which sells equipment from Audio Note, Blue Circle, and JM Reynaud, among others.