I was fortunate enough to get a pair of speakers to review from NSM Audio. The pair sent to me was their 100M from the Mastering Series—the latest incarnation of their original series. Who is NSM Audio? NSM Audio has been manufacturing loudspeakers since 1990 and is based in Durham, North Carolina, US of A. The company is headed by Mr. Erol Ricketts. But, before we go any further, an official announcement has to be made. In an email sent to me just before this review was sent to my editors, Mr. Ricketts informed me that as of March 31st, NSM Audio will have an official name change to NSMT Loudspeakers. In their "about us" section of their website, there are a few small paragraphs about the company. But one sentence caught my attention. "When we started out in 1990 we were driven by our love for music and a passion to build the most accurate and musical sound reproducers." These speakers are built well alright, but it is gratifying to see a speaker company that puts music first in their company's information.
The Mastering Series share many specific features: they are all two-way, time coherent, first order, point source, concentric driver array, acoustic suspension, and transmission line designs. In the case of the 100M, the top mounted magnetic shielded, concentric driver array is a 7-inch cast frame, TPX woofer with a one inch soft dome tweeter smack dab in the middle of the driver. Each speaker is also equipped with its own active bass section which uses a 10-inch paper cone subwoofer in a bandpass design. This design is said to have, "The excellent transient response of acoustic suspension designs and the dynamic ease of vented designs." Driving these two 10 inch woofers is a 200 watt amplifier with adjustable crossover, phase, and volume controls housed in each enclosure. The monitor's crossover is first order minimalist. Connections for the monitors are bi-wire/bi-amp, five-way gold plated binding posts. They are of the knurled knob variety, and recessed in a rectangular cup pointing up at a slight angle. Wiring is silver plated copper to the tweeter, and multi strand copper to the woofer. There is a length of copper wire from the two binding posts of the woofer that attaches to the two bottom binding posts for the concentric driver. The grills are magnetically attached to the cabinets making for an aesthetically pleasing, and very trick design. I find this preferable to the inset tabs and holes found on most other speakers.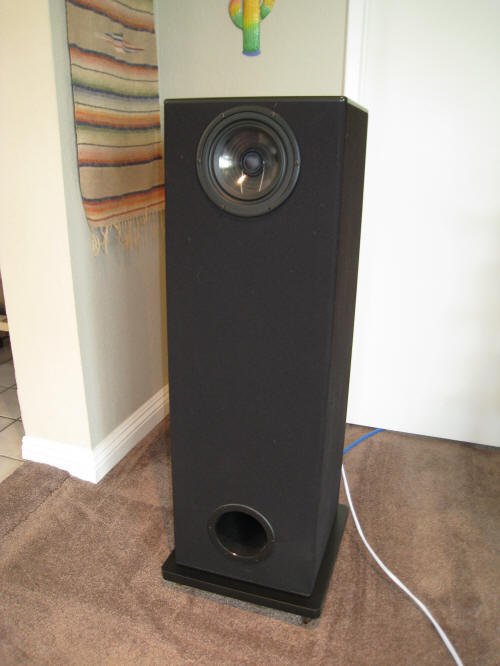 The review pair I received was not wood veneer, but wrapped in black cloth and capped top and bottom with black wooden end caps. This presented a compact and sleek appearance, especially with the grills attached—though the grills were used very little during listening sessions. The 100M's are not as physically deep as my Tonian Labs speakers which made it easier to move them around and place in my den. The icing on the cake though, is the fact that the speaker cabinets are made from formaldehyde-free certified "green" birch plywood. They are also "rigidly braced" with carb 2 formaldehyde-free anti-resonant medium density fiber board. The website also states that "only water-based non-toxic paints are used." NSMT should be applauded for manufacturing speakers with concern for others and our environment. The dimensions are 37 x 12 x 12.5 (HWD), frequency response is 27Hz-20kHz +/- 3.5 dB, bandwidth is (-10dB): 24Hz-20kHz, impedance is 8 ohms, minimum impedance for the monitor is 6.5 ohms and recommended power for the concentric driver is 10-200 watts. The shipping weight is 82 pounds each. NSMT provide a five year limited warranty.
I asked Mr. Ricketts what was the low end response of the 7 inch concentric drivers. He told me that it is a full-range driver, but for this design, it hits 100Hz on the bottom due to design considerations in blending with the built in woofers. After a full break in, I felt listening to the 100M's without the subs sounded okay, as long as I was watching TV. Other than that, I turned one or both subs on depending on mood and demand of the music. With movies through my Marantz BD8002 Blue Ray player, the subs were mandatory.
On the NSMT website, they do compare their concentric driver design with several other well known brands of high-end loudspeakers. The comparisons are very interesting. I invite all to have a look at the NSMT website. Not only for this comparison but you will find a candy store full of loudspeakers designed by NSMT and their affiliate, Role Audio.
I broke these speakers in with over 300 hours prior to doing the review. They were initially set up without spikes, and toed in toward the listening seat to where I could just see the front inside corners while being out into the room approximately 15 inches (from the rear wall). This set up was all wrong. The midrange sounded too warm and the top end too rolled off. I even installed the supplied "claw" type spikes (as seen in the picture on the website) to no avail. Erol Ricketts was kind enough to send me an additional set of spikes that were considerably more substantial than the first set, along with plinths that bolted to the bottom of the speakers. This proved to be very beneficial. Setting the speakers straight ahead and now 36 inches from the back wall (rear speaker measurement), 17 inches from the side walls, and about seven feet apart (along with the new hardware installed) turned out to be the best set up in my listening room. The top end roll off disappeared and the midrange became a heck of a lot more neutral. The bass was left intact, except that it now sounded a tad more dimensional. I would still characterize these speakers as a bit 'warmer and fuller' than 'thinner and leaner,' but they are not colored. They walk that fine line between resolution and musicality quite well.
Finally sitting in the official reviewer's chair and taking notes, the fun began. And fun these speakers are. First you have concentric drivers that can be used by themselves, or you can turn on one or both of the subwoofers; versatility is built into these speakers. You also have the option of adjusting those subs anyway you like. I followed the manual's suggested settings which worked out fine in my room. Playing one of my Reference Recording Sampler CDs, on track 1, "Dance of the Tumblers", the soundstage was an eye opener. On this disk the sound was wide, deep, and realistic, and those concentric drivers are oh so coherent. The next thing I did was a result of curiosity more than impulse. I couldn't resist pulling the speakers out another foot. Wow, the depth and width of the soundstage was even more impressive. This made it sound as if you were sitting past mid way in a concert hall. I shifted musical gears to a CD from a relative unknown artist, Ulu Dara and played track 5 from In The World CD. On this track, "Harlem Country Girl", the magic was all there; I was in a small club somewhere listening to this band. Dara was slightly left of center, drums behind him, guitar player slightly to the left and bass even a bit further to the left. But the electric bass, which sounded full, rich and very deep and strong, is what did it for me. Along with the realistic tone of the trumpet and deep powerful bass, the sound from these speakers pulled you into that club in a very life like manner.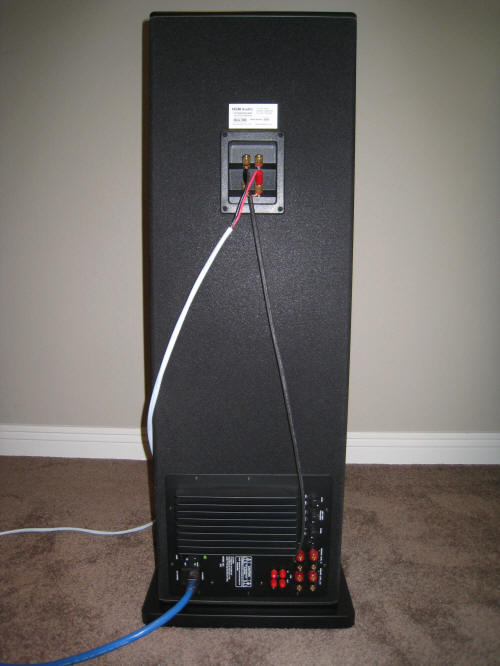 Hankering for more brass, on went The Eric Gale Quintet's a Minute With Miles on Mapleshade Records. On track 1, "African Sunshine", a shaker sound starts far right with the percussion just to the left, and then the acoustic bass comes to the far right. Eddie Gale's trumpet comes in ever so gently just right of center till the whole ensemble is off to a slow simmer. I give this example to show that this is one of those 'walk around the musicians into the soundstage' moments. There was realistic depth, space, and especially the tone and color of instruments flowing from the speakers. I have heard two way small monitor speakers with exacting soundstages before, but these concentric drivers and simple crossovers seem to take the guess work out of blending two drivers together.
On to a CD called The Ana Caram Collection, Postcards from Rio on Chesky Records. This disc moves the tonal realism of instruments and voices up a notch. Again the sound and realistic soundstage and solid image placement was a tad more convincing on this CD. I think that the strength in Chesky's recordings is that they are some of the least digital sounding CDs out there. For the most part, they move away from the flat individual images and cardboard soundstages that most CDs deliver. Instead they give you a bit more depth of stage, and more fleshed out images. They also display a little more clarity and naturalness of tone. On this CD, every nuance of Caram's voice is tracked easily by the 100M's. Every minute detail of percussion was easily heard. Bass notes were reproduced with wonderful articulation; clean and full with no smearing.
Ok so I've thrown you some audiophile ringers. How does the 100M's handle recordings of lesser pedigree? The Pretenders and Damn Yankees are rarely played through my home system because my speakers are a little more revealing of their poor recording quality. Not so the 100M's. I actually enjoyed listening to these CDs through these speakers. The Damn Yankee's CD especially seems like it could burn the tweeters of an unsuspecting run-of-the-mill speaker. Yet I actually stood in front of the 100M's and air guitared along with Mr. Nugent on a few tracks. The 100M's are noticeably less crisp sounding at certain spots on the frequency spectrum, where my speakers are not. But they never sounded off enough to color the sound of the music. One could call them all around more accommodating. Don't get me wrong, they did not sugarcoat these CD's. They still sounded bad, just a lot more listenable through the 100M's.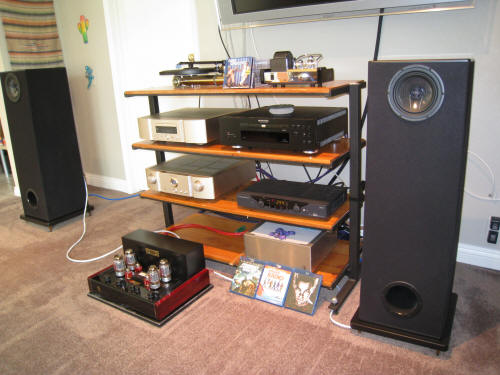 One night I came home from work, ate, cleaned up, and put on disc No. 4 from the Moody Blues Box Set, Time Traveler and got goose bumps from the beginning of the disc to the end. I have seen the "Moodies" live many times throughout the years in venues around Los Angeles. This is the first time my home system has given me an inkling of how they sounded live as far as dynamics are concerned. The credit goes to the two built in 10-inch sub-woofers in the 100M's. Call this art rock or prog rock if you will, but soft rock I don't think so. I have heard The Moody Blues crank it out and flat out rock hard at the Hollywood Bowl and the L.A. Forum on songs such as, " I'm Just a Singer In a Rock and Roll Band", "Gemini Dream", and "The Other Side of Life" to name a few. The sound of John Lodge's bass guitar and Patrick Moraz's, and later Bias Boshell's, synths seemingly came close to shaking the walls of those venues down! The 100M's, with their two powered 10-inch subs, shook the walls of my home with deep, taut, solid bass—and integrated very well with the rest of the music. There were no bumps, no peaks, suck outs, gaps, notes lagging, or blurring. Their bass capabilities also showed their mettle on many of the big orchestral cuts from my Reference Recordings compilation CD, Tutti. Regular attendance of the Rio Hondo Symphony in Whittier, California gives me a fresh perspective of the live experience of a full orchestra in full tilt while employing a bass drum. While my room didn't turn into a symphony concert hall, the music sounded full and exciting.
The highs exhibited no grain or glare or brightness. They did not sound exaggerated or hyped up or etched at all. The top end sounded unassuming, just doing its job and I say that as a compliment. Too many high-end loudspeakers sound overly revealing and temperamental in the top octaves, for my tastes. Such speakers make choices of associated equipment and cabling a more demanding and trying experience and are fussier about recordings. This takes away from the musical experience. This is not to say that the 100M's obscure fine detail, they don't. One has only to go back and listen to the Ana Caram disk for subtle and delicate cues from the softly struck percussion instruments to the piano and guitar. The 100M's just go about their business and reproduce the top octaves in a matter of fact way. I replaced a 12 foot pair of Transparent Audio Laboratory Musicwave speaker cables for my 8 foot Supra 2.5 cable, and while the differences were noticeable, I quickly forgot about the change and went on about the business of listening to music.
And so it also went with albums. I played Monteverdi Christmas Vespers on Nonesuch (LP) with its tightly focused chorus. Then I played the Bach "Christmas Oratorio" Choruses and Arias Munich Bach Choir and Orchestra on DG (LP). The chorus was spread out across the room. The trumpets sounded quick and clean. The chorus sounded completely uncongested with natural flowing dynamics from the vocals. I switched back to a CD with Robert Shaw and the Festival Singers doing Barbers Agnus Dei (Telarc CD) and also Winton Marsalis' Baroque Music for Trumpets on CBS where these multi-layered recordings displayed similar musical qualities as noted above. The Festival Singers sounded spot on. The 100M's can get to your musical emotions without boom and sizzle. They play music with energy and natural tone and timbre with realistic dynamics.
And what about movies, you ask? The latest Star Trek, ­ and especially The Book of Eli sounded dynamic as all get out, to name just a few of the many movies we watched. I heard bass and deep sounds that never come out of my regular speakers. It was great!
Credit also has to be given to my electronics. My modified Marantz integrated amp and SACD player helped to bring out that naturally realistic signal. Together with the 100M's I heard a very grainless and clean presentation throughout the frequency range. But what about trying tube amplifiers? Those concentric drivers are pretty efficient and should be a great match for my Margules U280SC tube amp. The Margules outputs 70 watts in ultralinear mode and 30 in triode. Hooking up this amp to my system and using the preamp section of my Marantz PM15S1 integrated proved very satisfying. Immediately noticeable and surprising, my Mexican tube amp sounded less warm through the midrange, more extended, and more open in the top ranges than the integrated Marantz. The Margules sounds nothing like your typical cute and cuddly tube amp though. It is very dynamic, linear, and clean with just the right amount of harmonic texture and dimension to bring you into tube land without too much honey. Transients on the Caram disk now sounded clean, fast, and distinct. That bass on Ulu Dara's CD, track 5, was powerful, full, and again surprisingly a tad leaner and slightly more down in the mix than on the solid-state Marantz. It also sounded a bit less warm in the mid range. Go figure. Remember that shaker in the beginning of Track 1 on the Eddie Gale CD? It sounded more fleshed out, textured, and slightly more dimensional as did the drum kit. I liked this combination better than the Marantz integrated alone. I felt my Margules U280SC sounded the most musical, and had the best grip on dynamics of all the amps I used with these speakers. It was very exciting listening to music on this tube amplifier through these speakers.
While I was at it, I also hooked up my trusty Monarchy SM70 solid state Class A amp, and an iTube Fat Man 15 watt integrated tube amp just for fun. The Monarchy is a nice little amp which I have had for many years. But it proved to have a bit less fidelity. Sounding a bit pinched in the soundstage department, slightly colored and slightly more sibilant than the other amps. The iTube did a surprisingly good job of running the concentric drivers, but exhibited a bit less high quality resolution. It was nevertheless fun to use with these speakers. This exercise wasn't to have a shoot out with my amplifiers. My point was to show that the NSMT 100M's clearly and easily showed the slightest difference in the gear that I used to drive them with. In a pinch you could use an inexpensive amp like the iTube yet have a lot of fun listening to music.
Are there any Negatives to these speakers? I find speaker binding posts that can be tightened by a binding post wrench and are flush mounted straight out of the back of the speakers to be much more preferable and easier to use than the knurled posts in a cup—as used in the 100M's. I found it very awkward when inserting jumpers and speaker wire. With all of that real estate on the back of the speaker, why not give those posts some breathing room? There are some who might say that these speakers could use a little more fireworks in the treble. For them I say see you on the Fourth of July. They played plenty loud in my 20 x 12 foot room. But others who would like more loudness and overall dynamics than this probably have a room twice as large as mine. They might also want to look into a used PA system from the likes of Metallica. Other than that, I have no complaints.
I have mentioned quite a few more musical selections in this review than I usually do. That is because the NSMT 100M loudspeakers warranted such behavior. This is to say I really enjoyed playing music through these speakers. I am sure you have read many reviews and most of them, for the most part, are very positive of the equipment in question. I have tried my best to describe the musical qualities of the 100M's in an even handed way, in a "Just the Facts" manner. In a way that is how these speakers play music, with no hype. They have very good inner detail, an exciting soundstage, and a coherent and linear frequency extension. They have a very neutral tone, especially in the midrange. Most importantly, they draw you in to the music with their smooth and fatigue free musical demeanor. Joe Friday would be proud! Francisco Duran
Audio Mastering Series 100M
Retail: $5495 in natural birch plywood, $4995 in satin black MDF
NSMT Audio
P.O. Box 13396
Research Triangle Park, NC, 27709-3396
TEL: 919-244-8777
email address: nsmaudio@nsmaudio.com
web address: www.nsmt-loudspeakers.com