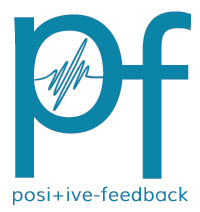 You are reading the older HTML site
Positive Feedback ISSUE 54
march/april 2011
The Sub - Continental Drift: Budget Phono
by Manav Singh Malvai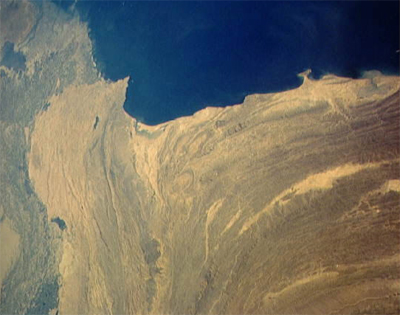 What does the average Indian beginner audiophile do while setting up a starter analogue rig? Well before I answer this question, you must understand, dear reader, the dynamics of the buying decision in India!
Buying considerations of the of the Indian (beginner) audiogeek:
Budget: To my mind almost every beginner has a teeny, tiny budget. It's like taking the first tentative steps towards the pool when one decides to learn to swim. So, basically, most of us here start our journeys by merely wetting our toes.
Lack of options: in the domestic market – phono stages, record players, etc…
Huge mark-ups: on the imports, making even the budget gear available to the counterparts elsewhere in the world - simply out of reach
So, now we answer the earlier question: What does the Indian beginner audiophile do while setting up a starter analogue rig?
Well, it's a simple answer. He/she looks for the following:
Buy a vintage turntable: (usually one of the Technics/Dual ones that are available in great abundance. One usually scores them for about $100-200, complete with tone arms and working cartridges, or…
Buy an entry level set-up:Project Debut III package, and then…
Score a vintage amp:with a decent phono-stage (there are some that have pretty decent phono-stages built into them like the Sansui AU series of the 70s!) or…
Buy an entry level phono-stage: from NAD or Project at roughly twice their street price in the US or Europe. Or…
Try his/her luck on the internet: Ebay or Audiogon for pre-owned deals.
So, when I started out a couple of months back, I wanted to address this question for myself: are there really no decent phono alternatives for the Indian buyer within a $400 budget?
My search led me to just 1 option at first: Audiogon.
But then, I really wanted to answer this for myself: is there really no decent option 2? So after many, many phone calls and discussions, I stumbled upon what seemed like a worthwhile contender: Lyrita Audio's Tube Phono.
More Smoke, No fire?
I find that in the audiophile world, things are so subjective and so marketing buzz driven that one can't just rely on a review and the fanatic ravings of the possessed audiophile alone.
I first heard of Lyrita Audio from a friend who restores old Garrard's in his spare time. Being separated by a huge distance, I could never sample his lunatic raving about Viren Bakshi's incredible budget tube phono, but somehow it stuck in my mind —like a tiny sticky note.
Now, Viren lives in Delhi. I live in Mumbai (Bombay) half the time, and in the other of the month in Delhi. So, come December, I visit Viren at his lovely SoHO/Studio.
Viren's Place:
Now Viren is a soft-spoken mature gent, well into his 50s or 60s (maybe?). He's traveled the world and has a Jazz LP collection to die for! While skimming through his collection, to make a selection to play, I realized one little thing: one has to love music like a fanatic to really build quality amps on a budget. And soon I was about to find out how right that insight was!
Six hours, two black coffees, and several chunks of Lindt chocolate later, I left his place feeling quite high! I also left with a promise from Viren: that he'd tweak his Phono (currently set up for his Supex MM cartridge) to the spec of my Clearaudio Concerto V2, so I would be able to review it!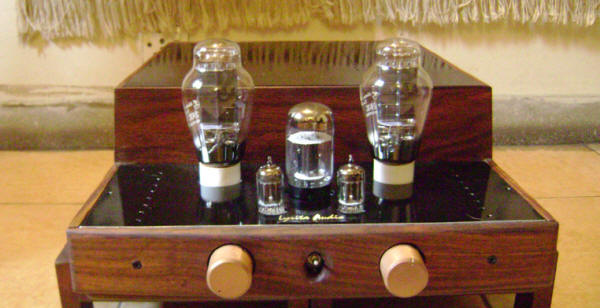 Moving forward another two weeks and with the Lyrita Phono amp in tow, I reach Mumbai. I am now listening to glorious music after three whole weeks on the road, though I am still using my Nighthawk.
Meanwhile, I open the Lyrita packing and examine the contents. The Lyrita is a huge phonostage in size. Made of solid Sheesham wood, it has a good 'old world' charm going for it. I open the four individually boxed tubes. The box also contains a simple manual that is very easy to follow with a diagram that helps you put the right tube in the appropriate slots.
Specifications from the manual:
Tubes, phono: Russian 6N2P
Tube, buffer: NOS 5687
Tube, rectifier: NOS 5Z4G
Frequency Response: 20Hz to 20 kHz
Distortion (THD): Less than 1%
Input: Phono in
Output: Phono out
Mains Power: 230V. 50 Hz, 150 W (max)
(The unit was given to me with very well built power cords made by Viren himself. They seem to work quite well.)
Now for the listening!
What a long strange trip it's been!
For the past month and a half the Lyrita Phonostage has been gracing my rack, making beautiful music; despite the fact that it is a 'budget' product! And in my 'not- by-any-standards-budget' setup, where it has held its own against the other (slightly) pricier budget phonostage: Ray Samuel's Nighthawk F-117.
Does it do better than the Nighthawk?
Now that is a question that I will answer later, so let the listening session story begin.
First up, was the brand new MOFI release of Patricia Barber's Mythologies. The difference was quite audible. The Lyrita Phonostage definitely has that classic warm tube mid-range, combined with sparkling highs and a nice 'body' to the bass.
So impressed was I with the HF's that I put on my favourite Steely Dan track from the album Can't Buy A Thrill (original promo only copy). The tinkling at the beginning of the track was definitely sweeter without being brighter. Most phonostages end up either making it a wee bit shrill or smearing it... but not the Lyrita!
I couldn't believe my ears. Didn't want to! So I swapped the connection back to the Nighthawk and replayed the track. Yep, the Nighthawk was just as clear and airy, but minus that little bit of sweetness… the sweet tone that the Lyrita was somehow imparting.
Now to the next test: A test that I call the DSOM test!
Out came my MINT 1st cut, from UK copy of Pink Floyd's Dark Side of the Moon. The Lyrita shone once again. The soundstage was immense. Not quite fully 3D, but a good 2.2D.
(The Nighthawk is a bit weak in this department where it comes in at a 2.5 or 2.7 at best… still not a truly holographic presenter.) All in all for the Lyrita—NOT BAD AT ALL!
I then subjected the Lyrita to a whole lot of Jazz and Blues; stuff that I truly love. From small brass ensembles, to the Big Band stuff, the Lyrita sang and sang well. No complaints here. In fact, on the smaller ensembles, with brass instrumentation, it SHINED. The HF sweetness experienced earlier on the Steely Dan track was very evident here. Lovely tone. Seems the Lyrita loves reproducing brass instruments.
With the agonizing analyzation concluded, I decided to have fun. I choose to play an album that I love above any piece of music EVER recorded: The Who's Quadrophenia. And then I noticed something, probably the only serious failing on the Lyrita, the bass seemed a bit (just a tad) bloated. And a quick A/B with the Nighthawk confirmed this.
But, owing to it being just a teeny tiny tick of a bloat, I think it is forgivable; especially since I am listening to a 12" woofer. After all, the Lyrita was originally tuned to play with Viren's high efficiency single driver/2-way speakers, along with the more modern 6-7" drivers, but not for the extremely unforgiving B&W Matrix 801 S3.
Upping the Ante
Impressed as I was, I decided to up the ante by playing my 'not so nice' LP's; the ones that are not in mint condition. You know, the ones with a lot of surface noise. After all, most of the target group consists of the young men and women who are just getting into vinyl and whose primary source of software is the flea markets where one rarely finds LP's in mint condition.
So I pulled out my 2nd copy of Vanilla Sky's self titled album Old. This LP has lots of surface noise, no matter how much you clean it, with whatever you clean it with; loads of crackle, despite the vinyl being as shiny as new!
When played through the Nighthawk, each and every crackle and pop is amplified, and the Clearaudio Concerto V2 doesn't help in reducing the pops and crackles. The two of them combined is just too transparent and quite unpleasant to the vinyl if it is not up to the mark. With the Lyrita however, it does seem to ignore the crackle to quite a discernable degree. The crackle doesn't disappear, but somehow it's not 'in-yer-face'.
Can't Judge a Phono by Looking at the Price Tag!
Lyrita is cheap, but then the performance isn't! For almost two months I have fed it LP after LP and after such an extended listening, I have yet to hear any major weaknesses that always seem to crop up in most budget gear.
Now, coming back to the question that was left unaddressed earlier in the review: Does it do better than the Nighthawk?
I can't say it did better, but, it does offer a different perspective; a very beautiful, sweet toned perspective. The Nighthawk really is un-paralleled when it comes to resolution, micro and macro-dynamics.
So, I say this: the Lyrita Phonostage does a lot of things right for very, very little. In a direct comparison, it's more like choosing between a brutally revealing phonostage (the Nighthawk) and a sweetly colored phonostage (the Lyrita). Two totally different flavours.
When paired with budget amps, tables, carts, and speakers, I'd vote for the Lyrita. It is good enough to see the budget 'phile through to an upgrade path 4 times the current rig, and without any complaints and with very pleasing sonics!
Lyrita Audio
http://www.lyrita-audio.in
Price: USD $600/ INR 25,000 (approx) for the MC version and about USD $500/INR 22,000 for the MM version.