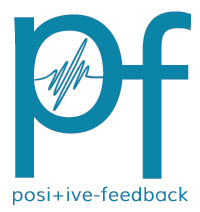 You are reading the older HTML site
Positive Feedback ISSUE 54
march/april 2011
Music Reviews Issue No. 54 - Featuring a trio of releases from LSO Live, a duo from Naxos and a solo entry from Telarc
by Karl Lozier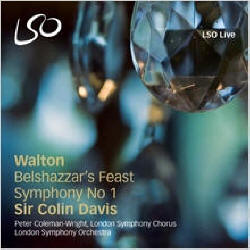 William Walton, Belshazzars's Feast, Symphony No. 1. Orchestra and Chorus: London Symphony. Conductor: Sir Colin Davis. Baritone: Peter Coleman-Wright. LSO Live Hybrid SACD LSO 0681
Composed in the nineteen thirties, these two compositions cemented Walton's position as one of Britain's greatest modern day composers. Though officially an oratorio, Belshazzar's Feast is at the same time a three movement choral symphony. It started as a BBC commission for a small-scale choral work. It quickly outgrew that designation and can be easily accepted as an extroverted mainly traditional piece with contemporary touches and scored for a particularly large orchestra and percussion section. The orchestral performance can not be faulted and neither can the outstandingly clean, clear and beautifully detailed audio quality. This is the first recording that I have spent long and careful review time with since receiving the very latest versions of Keith Herron's solid-state power amplifiers and tubed preamplifier. As usual his rather rare changes seemed to reveal even more detail with never a hint of any form of distortion over the full audio range. The middle sections of this composition depict the famed excesses of Babylon and the final sections depict its ultimate downfall. This is something a bit different for jaded classical listeners and at times very extroverted and melodic. Basically the same can be said about the symphony though Belshazzar's Feast will earn the majority of your precious listening time. The beautiful audio quality should charm you; if it does not, then checkout your components as the problem is not in the fine hybrid SACD recording that has a regular quite excellent CD layer also.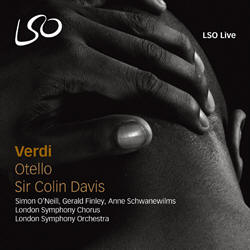 Verdi, Otello. Orchestra and Chorus: London Symphony. Conductor: Sir Colin Davis. Tenor: Simon O'Neil. Bass-Baritone: Gerald Finley. Soprano: Anne Schwanewilms. LSO Live 2SACD LSO0700
I have never heard this opera performed live and I have simply not kept up with the current crop of operatic stars. The voices are all very attractive, no shrill sounding ladies here and very suitable males are quite good though no individual voices seem to stand out as being outstanding. The conducting efforts of Colin Davis are excellent with no slackening of forward momentum apparent. Even though at times there is a bit of variable audio positioning of performers, all in all the audio quality is about as good as it gets. So outstanding, that I actually double checked to make certain that the recording venue actually is the notably acoustically poor sounds of the Barbican Center. Poor no more with this SACD offering almost demonstration quality audio in many passages- not all. The more I listened the more this opera just kind grew on me. It starts with a war-time setting and has some powerful sounding passages along the way with thankfully few slow moving sections. Listen and see if you agree that the overall sound quality is a step above the norm for the Barbican Center. Of course the latest Herron electronics may be playing a significant part here. I am certainly recommending this recording quite highly.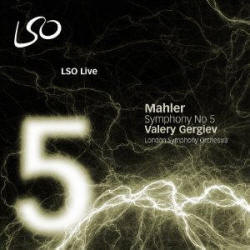 Mahler, Symphony No. 5. Orchestra: London Symphony. Conductor: Valery Gergiev. LSO Live Hybrid SACD LSO0664
What a fortunate coincidence. Less than twenty-four hours ago I was sitting in my usual seat in the fourth row just left of center at the Kravis Center. The orchestras and conductors on the SACD recording being reviewed here and the ones I was treated to last night appear to be at least comparable. The London Symphony orchestra could receive some positive bias on my part subconsciously as I have heard them with some regularity for more than forty years. I have not had the good fortune to hear them live with Gergiev conducting however. Last night the "live competition" was the Israel Philharmonic orchestra with Zubin Mehta conducting. Overall that winds up being great competition. My calculated guess is that most musicologists would give the nod to Mehta for conducting and particularly for clarifying if not emphasizing the great differences in the five movements. Some listeners consider some aspects of this symphony to be rather schizophrenic to some extent and definitely exciting for listeners and probably for the orchestra as well. The London group seems to have a very slight edge in virtuosity.
Remember that the fourth movement, titled Adagietto, a sublime probable love-song to Mahler's wife, is gaining great notoriety used at funerals for very famous people. President Kennedy and Princess Diane are examples. This recording is quite outstanding in every respect though a few listeners might prefer just a tad more bass at the very bottom of that range. The new Herron electronics continues to impress.
The soundscaping of the recording made for a great difference compared to the live orchestra's presentation listening on my reference stereo setup. My loudspeakers in the stereo arrangement are about seven feet apart and even with good dispersion, can not compare with the horizontal spread of the live orchestra's seventy to eighty feet and with my listening distance being only a dozen feet further than at home, it just can not be really compared. The surround multi-channel home theater system can make a very noticeable attempt to begin to compete with live. A fine multi-channel SACD shows its worth here again, though the stereo layer is about as good as they come; highly recommended either way.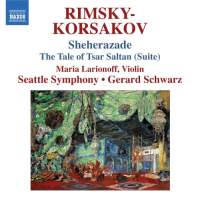 Rimsky-Korsakov, Sheherazade. Tale of Tsar Saltan (Suite). Flight of the Bumblebee. Orchestra: Seattle Symphony. Conductor: Gerard Schwarz. Naxos CD 8.572693
Gerard Schwarz and the Seattle are top notch performers and have been for about twenty-five years. I simply have not received any of their recordings in quite some time and have missed them. I believe they may be new to the Naxos label and if so we all are going to benefit if this release portends the future. For decades Fritz Reiner with the Chicago Symphony "owned" this outstanding showpiece during and beyond the 'Golden Age' of RCA classical recordings. I deliberately have not directly compared this truly outstanding recording with it. The performance is at least the equal of any I have heard in this century. Then I must add that the audio quality is of demonstration caliber to the extent that even audiophiles will have to give it close attention and with a possible change in seating arrangement
or subtle microphone angulations on the later recording date, audiophiles and some music lovers will hear even clearer and richer deep bass response! Hopefully Naxos will consider bringing this release into the full audio glory of their acclaimed Blu-ray series. The Tsar Saltan Suite is not as musically appealing or important as Sheherezade, even with its subtle bass response difference. Interestingly neither that suite nor Sheherezade contains the best known and most often performed selection from either one, namely the often performed as a solo piece, Flight of the Bumblebee. A relative bargain price for this and other Naxos' releases must earn it some sort of best-buy or top-value designation in addition to my personal highest possible recommendation.
Addendum: Two points I need to make regarding the audio quality here. One, this is in the first group of recordings being reviewed since having both my new upgraded electronics and upgraded CD/SACD player burned in and working at the same time. Two, the Benaroya Hall has been mentioned as having superb acoustics (unlike many newer Halls); can any of our readers vouch for that as it may be a major factor aiding audio engineer Dmitriy Lipay?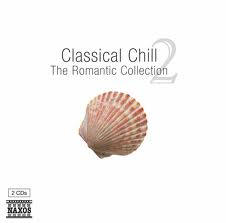 Classical Chill 2, The Romantic Collection. Orchestra: Various. Conductors: Varies by orchestra. Naxos 2CD 8.578009-10
Wow, about a 180 degree turning difference from the above reviewed showpiece this definitely is. The album cover states, "Relax and unwind with these easy listening romantic masterpieces." Logically and obviously taken from many of Naxos' previous releases, I agree. Here are two paired releases offering well over an hour each of appropriate music from a total of twenty-one offerings. The listener gets much more than "snippets": examples include the full Dance of the Swans (Swan Lake), a complete Fountain from the Fountains of Rome and so on. Relaxing for lovers or others depending on the time or mood, Naxos fills the bill here as promised.
Brahms, Works for Cello and Piano. Cello: Zuill Bailey. Piano: Awadagin Pratt. Telarc Advance CD: 32664-02
Interested lovers of music for cello have to wait until the end of the month to purchase this release. It is easy to describe the music on this CD as "all of a kind" and not just because each selection is composed by the famed Johannes Brahms. Even though the cello is expected to be the main interest here, often the piano takes the lead. No matter the title name or type, the music has a definite continuation of similarities. Beautiful, low key, relaxing or introspective can all be used to describe the overall feeling or mood projected by these seemingly equal partners. This is one of the first releases by the "new" Telarc recording company, part of the Concord Group. This excellent recording seems to offer quite excellent audio quality such as we used to hear. There are no hints of distortions of any kind and the often difficult to capture sound of a live cello is fully apparent as is the piano also. The beautifully smooth bowing by Bailey is really highlighted here. A small gem for cello lovers is an apt description.