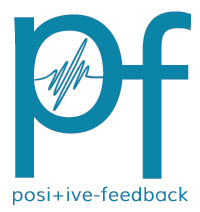 You are reading the older HTML site
Positive Feedback ISSUE 54
march/april 2011
The Future Is Here… Audio Still Rules
by Karl Lozier
Blu-ray recordings may be video, audio or most commonly video plus audio. If the video is a distraction turn it off though I would suggest watching the video at least once as at times it can be interesting or entertaining. The first review this issue is a particularly fine example featuring stunning costumes and widely appealing music. Naxos has immediately followed their first high definition audio only release that I reviewed in the previous issue with more audio only here. For many listeners that will be a distinct improvement in audio quality if the HDMI digital output signal is used instead of the analog. Greater clarity and a smoother treble range will be noticed with many audio systems. Easier connections needing only one cable for even multi-channel surround sound output from a Blu-ray player is appreciated by all. Sometimes new-fangled things are even easier to use while offering better quality, at least in the audio musical field.
Macmillan- Elite Syncopations, The Judas Tree and Concerto Ballets. Orchestra: Royal Opera House. Conductors: Robert Clark, Barry Wordsworth and Dominic Grier. Opus Arte Blu-ray OA BD 7074D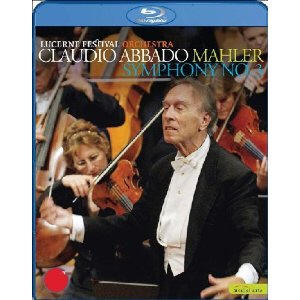 Mahler- Symphony No.3. Orchestra: Lucerne Festival. Conductor: Claudio Abbado. Contralto: Anna Larson. Medici Arts Blu-ray BD 2056334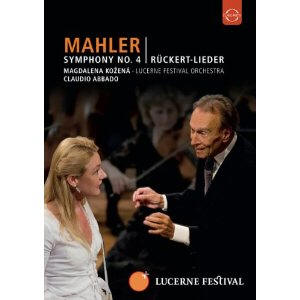 Mahler- Symphony No.4, Ruckert-Lieder. Orchestra: Lucerne Festival. Conductor: Claudio Abbado. Mezzo-soprano: Magdalena Kozena. Euro Arts Blu-ray BD 2057984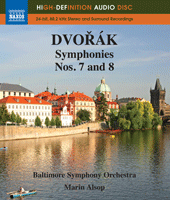 Dvorak-Symphonies Nos. 7 and 8. Orchestra: Baltimore Symphony. Conductor: Marin Alsop. Naxos Blu-ray NBD 0010
The three ballets by Kenneth MacMillan offer an extremely wide range of musical composition and dance performances. The Elite Syncopations is of strong, really strong immediate appeal to all who have viewed it with me-even those who are not ballet or dance lovers usually! The female dancers are simply very attractive with very vivid costumes to accentuate their beauty. Women are as impressed as the men watching their performances. The music, mainly by Scott Joplin with ragtime piano playing is appealing in the extreme and so are the male dancers' striking costumes. This ballet with excellent audio quality easily receives my highest possible recommendation; no more needs to be said. The other two ballets are very different than this one and from each other. The Judas Tree is 180 degrees removed from the Elite Syncopations. It is almost starkly and certainly powerfully performed by mainly male performers. There is no beauty in this almost oppressive composition of dance accompanying music by Brian Elias. It demands attention though possibly nothing much more from many viewers. This is MacMillan's last work for stage. The third and last ballet presented here is accompanying Shostakovich's second piano concerto, specifically a pair of allegros flanking a lyrical andante movement. There are four dance couples, one of which is a traditional lead couple. There is no plot though the attractive music and outstanding ballet dances have long made this a ballet favorite. As with the other two, the audio quality is simply excellent with no negatives though not quite the almost instant projecting appeal of the first.
Mahler's third symphony is an outstanding though complicated work, perhaps not easily appreciated by those new to classical music. Possibly though, the many beautiful passages would be appealing enough to easily outweigh that potential negativity. It is the longest of Mahler's symphonies taking almost two hours to perform. Adding to the complexity is the presence of six movements instead of the more common four. Originally there were seven and the one eliminated eventually became the basis of the much shorter fourth symphony, kind of building it backwards from the last (fourth) movement. Here the third symphony features soloist contralto Anna Larsson, a good solid choice, plus the female voices of a choir and in some passages a children's choir is also apparent. The variety of styles and juxtaposition of life and nature is fascinating and ever changing as envisioned by Mahler here. Repeated listening would be required and easy on the ears with the excellent full range recorded audio quality doing its best with Blu-ray letting us look and listen to a great dimensional depth of soundscape. At this point I am returning after listening to the other reviewed recordings and some that will arrive within the next issue.
Hindsight is 20:20 so they say and now I say that the overall sound quality on this recording is absolutely superb and not surpassed by recent others. The richness of the trombones, horns, cellos and orchestra overall is not to be missed though just as your listening room affects your loudspeakers, surely the gorgeous recording/performing venue is probably a major factor; we must add the contribution of many superior musicians that regularly join to form the Lucerne Festival Orchestra to play with Claudio Abbado. This model formed in 2003 has as its model the elite group founded by Arturo Toscanini in 1938 as the first Lucerne Festival.
Compared to the third, Mahler's beautiful fourth symphony might seem to almost be a miniature composition. Long my favorite Mahler work, surveys indicate that favoritism has become world wide. To my mind it is not really representative of Mahler; it is just my favorite and relatively subtle overall. The great third symphony, as above, is much more typical. All the positive audio qualities attributed in the above review of the third symphony are to be found here also, just not quite to that glorious extreme.
The vocal performed very ably in the last movement by mezzo-soprano Magdalena Kozena sometimes arouses comments. The song is based on a child's view of heaven as mentioned by Mahler. The potential conflict is simply should it be sung by a vocalist that has some child-like qualities or not. Here the vocalist's voice is definitely not child-like. The Ruckert – Lieder were first performed just over one hundred years ago by a baritone. They were not published until after Mahler died and here they are sung by Magdalena Kozena seemingly to fine effect. Though there are other fine performances of Mahler's fourth symphony I am not certain if any have the outstanding audio quality of this one. So I can confidently recommend it as near if not at the very top of my recommendation list.
Antonin Dvorak's compositions are popular world wide and particularly here in the United States possibly partly due to the fact that he lived in Middle America for a number of months and that obviously influenced some of his compositions (notably his Symphony No. 9, "From the New World").
Many musical experts believe that number seven with its dramatic passion predominating, is Dvorak's finest symphonic effort. Personally I really admire its third movement scherzo but overall I definitely listen more often to No.8. Here Naxos offers a pair of solid performances surpassing what I had anticipated with conductor Marin Alsop. Alsop and the Baltimore Symphony are definitely in sync here and can stand comparison with many if not most recorded performances I have heard. Whether it is due to the recording venue, the orchestra or the audio engineers I can not be sure, but the overall audio quality, while very acceptable, simply does not have quite the full, rich and enveloping sound quality of the above reviewed Blu-ray recordings that are or almost are, state of the current recording art. The Naxos recording offers value, excellent performances and their perhaps unique ability to be easily played without the need for a monitor or TV set to be used for setup. We hope that ability becomes more common with other companies soon.