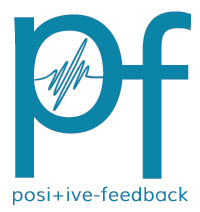 You are reading the older HTML site
Positive Feedback ISSUE 54
march/april 2011
Notes of an Amateur: Wuorinen and Jansons' Mahler 5
by Bob Neill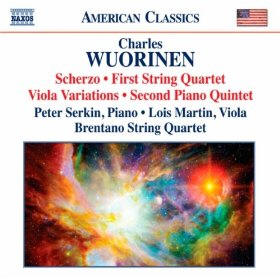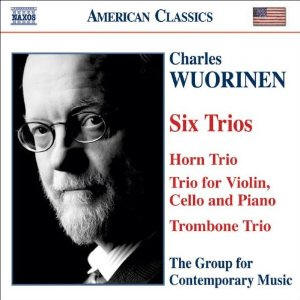 Charles Wuorinen, Scherzo, First String Quartet, Viola Variations, Second Piano Quintet. Peter Serkin, piano; Lois Martin, viola; Brentano String Quartet. Naxos 8.559694. 2011.
Charles Wuorinen, Six Trios: Horn Trio, Trio for Violin, Piano, and Cello; Trombone Trio; and Others. The Group for Contemporary Music. Naxos 8.559264. 2006.
Among second generation modernists, American Charles Wuorinen (1938 -) is one of the most irresistible. And thanks to Naxos' invaluable American Classics Series, which is not only reissuing (and in the case of Six Trios, re-mastering) some of the most lively and appealing performances of the composer from the original Koch International Classics CD's but also recording new ones, there are plenty of opportunities to hear him on CD.
Playful, liberating, prank-some, thoughtful, colorful. These adjectives suggest Poulenc but that ignores the fundamental sincerity and humanity that grounds all of Wuroinen's music. Where Parisian Poulenc is urbane, New Yorker Wuorinen still has some New World delight in his eyes.
The more recent of these two releases features, among others, the brilliant pianist Peter Serkin on his own (Scherzo, 2007) and in a recording premiere (three of the four works on the CD are recording premieres) with one of the premium contemporary ensembles, the Brentano Quartet, led by the great violinist Mark Steinberg.
Wuorinen's genius is composing manifestly avant-garde modernist music that is nevertheless capable of revealing its connection to the music that came before. His music does not express his generation's compulsion to break free of music history. Scherzo feels like what a nineteenth century romantic concerto would sound like expressed by a modernist mind. And as unlikely as it sounds, we can almost hear Schubert and Beethoven deep in the background of the First String Quartet. It has a quality of discontinuity which marks the distance from his predecessors: narrative lines leap ahead of where they appear to be going, then double back. It is music that would exhaust a nineteenth century mind. But for us in our later world it feels authentic, and right.
Viola Variations (2008): fourteen minutes of rollicking viola is a long time unless you love the instrument and your audio system can capture most of it. I do and my system does. Soloist Lois Martin loves her viola and sounds grateful to Wuorinen for this work. It's not all rollick, there is also some singing, some thinking, and some horsing around. Works for solo instruments can be peculiarly powerful by forcing us to focus absolutely on one narrow sonic path through the world. Less can be extraordinarily more, as Bach showed us in the beginning. Fourteen minutes hardly gets us started: it's over before it begins.
The Second Piano Quintet (2008) initially feels like a quartet with piano, meaning the piano lurks about the work, interpolating notes and comments, completing phrases begun by the strings, sometimes bolder than that but never staying around for long. By the third movement (of five, played without interruption), its role has grown into a full-time one; and in the fourth, the longest, it is the principal voice, often speaking mainly by itself. Though still absolutely modernist, the work has a curious pastoral quality, especially in the fourth movement, as if Wuorinen were telling us what a properly enlightened modernist Delius would sound like: quiet, ruminative but somewhat arch and elusive too. The final movement leaves troubled pastures behind: here we have a vigorous conclusion with both piano and strings, pretty much flat out in cacophonic and dissonant abandon.
It is reassuring to see that the other musicians here include established and well respected figures Curtis Macomber, violin; Jesse Mills, violin, and Fred Sherry, cello.
The earlier of these two CD's, a 1997 Koch, re-mastered and re-released by Naxos in 2006, gives us the six trios of the album's title and was clearly seen by Wuorinen as fun, which it is. A Trio for Bass Instruments (1981) -- bass trombone, tuba, contrebass—sets the tone. With no high or even middle voices to distract, we get to listen exclusively to the sounds, pranks, and even lyric possibilities of instruments seldom heard alone together. Horn Trio (1981) and Horn Trio Continued (1982) can be performed separately or together and are almost literally a musical blast—a horn can bark louder than a cello—celebrating the joys and tribulations of cacophony. Wuorinen is what we used to call an extrovert and never more so than here. If you are not a fan of modernist music, these trios will probably not convert you; if you are, no problem.
Trio for Violin, Cello, and Piano (1983), meaning a traditional piano trio, is pretty much more of the same: aggressive, flamboyant, dissonant -- though some will welcome the cello here as a relief from the insistent horn. Violin and cello have some especially nice conversational passages in the midst of the music storm. I found this the most successful work on the CD and wouldn't be surprised to hear it 'live' one of these days.
There is more but you have the flavor by now. Note: the sound of the original Koch CD of Six Trios is decent, the sound of the re-mastered Naxos is spectacular.
These two CD's give us a lot of musical shenanigans to listen to at a sitting, but spread out over a couple of days, they are highly entertaining if not all essential Wuorinen. He is a composer I am happy to hear all of, so you won't hear me complaining.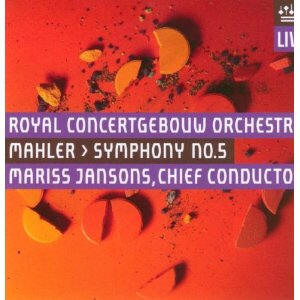 Mahler, Symphony No. 5. Royal Concertgebouw Orchestra, Mariss Jansons. RCO Live 08007.
I held my breath on this one, as we always do when we come to a follow-up to a great recording (http://www.positive-feedback.com/Issue54/amateur.htm). In this case we are actually going backwards from December, 2009, the date of the Symphony No. 2 recording, to 2007-2008. No matter, the question here is about consistency in approach and point of view. Is the eloquent restraint, clarity, sheer beauty, and perfect judgment of the Symphony No. 2 performance present here in the Symphony No. 5?
Yes. And the emotional force released when the orchestra rises from restraint into fuller expression for the dramatic passages continues to be impressive. Especially when we realize that even the loud 'release' passages maintain the overall control that Jansons demands from his orchestra. Jansons' concept of Mahler requires a sense of (European?) emotional coherence. We always feel we are within a musical vision; and so we sense the increased sense of power that is gained through form and discipline rather than in spite of it. It takes artistic courage to stay within bounds in the faith that this will take you farther. Which is Jansons' Mahler, at least in these two symphonies. I look forward to numbers 1 and 6 en route to me as I type.
System used for this audition: Audio Note CDT3 transport; Blue Circle BC501ob dac and FtTH hybrid integrated amplifier; JM Reynaud Offrande Supreme V2 speakers; and Audio Note cable.
Bob Neill, in addition to being an occasional equipment and regular music reviewer for Positive- Feedback Online, is also proprietor of Amherst Audio in Amherst, Massachusetts, which sells equipment from Audio Note, Blue Circle, and JM Reynaud, among others.