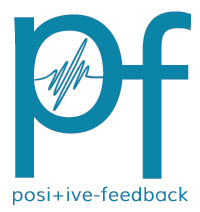 You are reading the older HTML site
Positive Feedback ISSUE 54
march/april 2011
Notes of an Amateur: Rihm and Mahler
by Bob Neill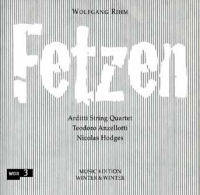 Rihm, Fetzen. Arditti String Quartet. Teodoro Anzellotti, accordion; Nicholas Hodges, piano. Winter & Winter 919178.
Listening to contemporary avant-garde modernist music, we have to learn to trust our ears: there are really no guidelines to help us judge the success of this music. It works if it pleases us and only our ears can tell us that. If we trust them. If we have hospitable ears.
My fifteen-year-old son loves Daft Punk; he plays the clarinet with some skill but not much enthusiasm, yet. His relation to music is quite real but unsettled. Daft Punk notwithstanding, like a lot of his generation, he is a caution. And after all, DP has a beat to hold it together. When he hears my new Rihm CD playing, he stares at me incredulously. "Don't you like to play around with your clarinet?" I ask. "See what else it can do? This is a composer who loves the sound of a string quartet and wants to see where else he can make it go. Don't you ever want to do that?" No, he said. And Scelsi's wonderful, nuts solo clarinet album doesn't work for him either. All of this by way of introduction: to warn you or entice you.
I really like this album. I love the sound of a string quartet on an audio system that can capture it properly. This music is about a string quartet playing, searching, sometimes finding—at one point along the way with an accordion (!) whose timbre surprisingly fits it perfectly. Fetzen means scraps in German. These are mostly just that—and many of them are captivating, unless you share my son's conservative inhospitality to avant garde musical sound. They are scraps from the cutting table of a master modernist. My ears tell me so. Rihm is the dean of contemporary German modernists, the Arditti are the deans of modern string quartets devoted to modernist music. This is an album for open-minded fans of modernism, some of which truly works. Pierre Boulez would love this music and he'd be right to. The album also includes a full string quartet and a duo for string quartet and piano.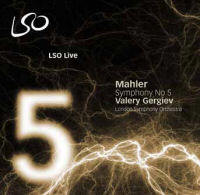 Mahler, Symphony No. 5. Valery Gergiev, London Symphony Orchestra. LSO Live. SACD LSO 0664.
I suppose there is no absolutely right way to play Mahler but I've come to believe there are several wrong ways. The wrong ways have mostly to do with being unable to make his large complex canvasses emotionally credible. If you pump up all of the big passages, a la Bernstein, you leave no room for the great variety of moods the symphonies are full of. If you let the air out of him altogether in an attempt to create more continuity than there is, you get a soporific sleep-over. Which is what it feels as if Gergiev is doing in this performance. Right from the get-go. The first movement is a funeral march but it's no ordinary funeral, it's the funeral of a hero. We've learned from Boulez's performance that it need not be an altogether dreary one; it can be dreamy, lyrical, and beautiful; and it can be dramatic and heart-rending. This is no ordinary funeral in the right hands. But in Gergiev's hands it's an unrelentingly dreary affair from which the rest of the symphony never recovers.
I had been led to believe that Gergiev's Mahler is full of intensity. But aside from a waking flash here and there, I've been misled. His Mahler can be lovely but it is rhythmically flaccid. It limps where it should stride, swoons where it should sing. I'm not in the habit of being so unforgiving: there is usually a point of view to be found behind a performance that fails to meet our expectations. But try as I can, I can't find one here. This is great music, lifting the nineteenth century up for one last near epic cry of might and affirmation in the old heroic language soon to be lost to modernism. But for whatever reason, Gergiev doesn't or can't get it. Perhaps he's moved on.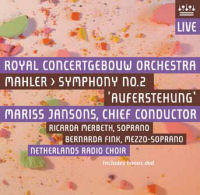 Mahler, Symphony No. 2, 'auferstehung.' Mariss Jansons, Royal Concertgebouw Orchestra, RCO Live. RCO 10102,
Mariss Jansons' Mahler is another story. Granted Symphony No. 2, Resurrection is another game; but Mahler is Mahler, and again, the beginning tells the tale. Jansons making his statement at note one where immediately there is a presence of 'live' energy that Gergiev can't seem to imagine.
Jansons' Mahler cycle with the Royal Concertgebouw on its RCO Live label (it became "royal" on its one-hundredth birthday in 1988) is more than competitive with the just completed set by Boulez with the Chicago Symphony and Vienna Philharmonic. This conductor has always fascinated me, beginning with his Tchaikovsky symphony series for Chandos, which struck me on its release some years ago as both more refined and appealing than my favorite of the time by Karajan (which itself is really good, especially in the often under-appreciated Symphonies 1-3). Somewhat in the spirit of Vanska with Sibelius, Jansons strikes what feels like a perfect balance between elegance and power, which is exactly what Mahler wants. He seems very much at home with this music. He is more eloquent than Boulez, which works fine; and the backbone is there when it needs to be. The transition from the ethereal fourth section to the sudden power and then release in the fifth is extraordinarily moving. Negotiating such changes in Mahler without losing us marks the difference between an acceptable and a great performance, and Jansons makes them all—of which there are a great many!—to perfection. On two hearings, this is already becoming one of the great Mahler Seconds for me. It is the first Mahler in years that has taken me past respect to belief.
The sound is gorgeous, for which we must give some credit, I'm told, to the great concert hall. There are numerous passages where critical low level musical information could be lost that isn't. The low strings humming well below the chorus toward the end of the fifth and final section is a perfect example: the engineer gets them all.
There is a wonderfully entertaining bonus DVD included in the album. The producer clearly knows the score, the camera regularly arriving at a soloist just before his or her notes are played. And it's great fun to see Jansons during the major transitions, asking for what he wants with facial cues, smiling when he gets it. There are three more of these Jansons RCO albums so far and I'm off to MDT to get 'em.
System used for this audition: Audio Note CDT3 transport; Blue Circle BC501ob dac and FtTH hybrid integrated amplifier; JM Reynaud Offrande Supreme V2 speakers; and Audio Note cable.
Bob Neill, in addition to being an occasional equipment and regular music reviewer for Positive- Feedback Online, is also proprietor of Amherst Audio in Amherst, Massachusetts, which sells equipment from Audio Note, Blue Circle, and JM Reynaud, among others.