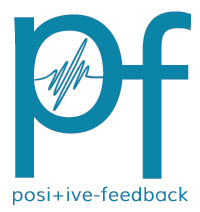 You are reading the older HTML site
Positive Feedback ISSUE 53
january/february 2011
CES 2011 Part 2
by Robert Learner
Part 2 of my CES 2011 report, with the same caveat as Part 1 to the coverage: I make no definitive judgments on products at shows.
The 'test' methodology: I sit, typically people are talking somewhere in the room. And then it's 50/50 whether I get to play one of my own tracks or listen to something completely unfamiliar. Only thing I'll say is that if something sounds really good under such circumstances, it'll sound good in your room. Otherwise, I'll leave conclusions to better men than I. That said, on with it:
VMPS
Brian Cheney again followed a live performance with a recorded version of it through his RM50 speakers powered by Atmasphere electronics. I owned the RM40s for many years and find VMPS speakers to be killer values, so take the below comments as those from a fan, albeit one who believes his critical facilities uncolored despite.
The RM50s sounded extremely open, and presented a life-sized image with seductive depth. VMPS speakers make me aware of the compression often found in other speakers—it's something we can get used to until we hear something that's dynamically unconstrained. They did not have the diffuse character I often hear in bi-pole designs. The output of the rear-firing drivers is adjustable and unusual in the use of a waveguide. A digital crossover with room and speaker correction pulls it all together. A great value at $15K for the base version, the RM50 embarrasses some (far) more expensive speakers.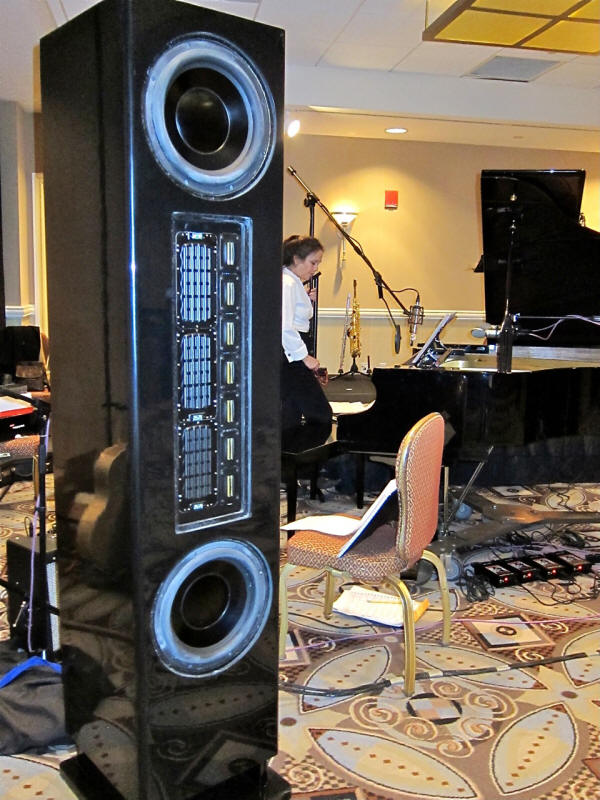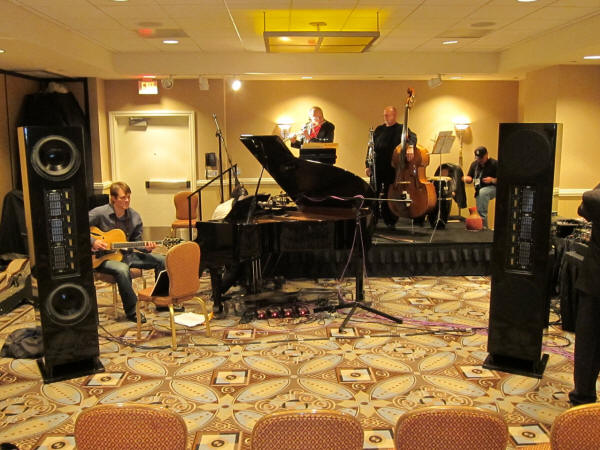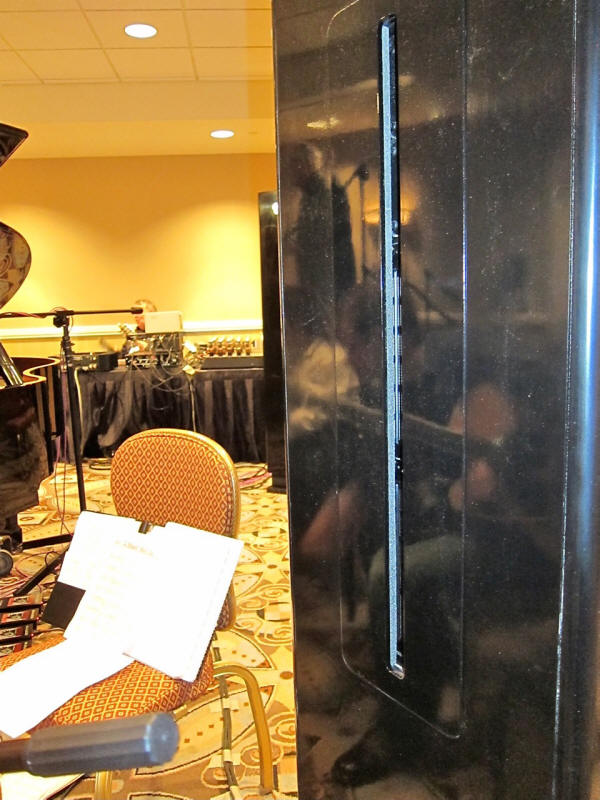 Consensus Audio/Kronzilla
Some manufacturers make their own drivers, others their own transformers and so on. But who makes their own tubes? Kronzilla, and they are in the new DX MKII 100wpc amps for $32K/pr. Driving Consensus Audio Conspiracy ($41K) speakers, the sound was engaging and coherent. My review of the Consensus Audio Lightning SEs will be up on PFO shortly.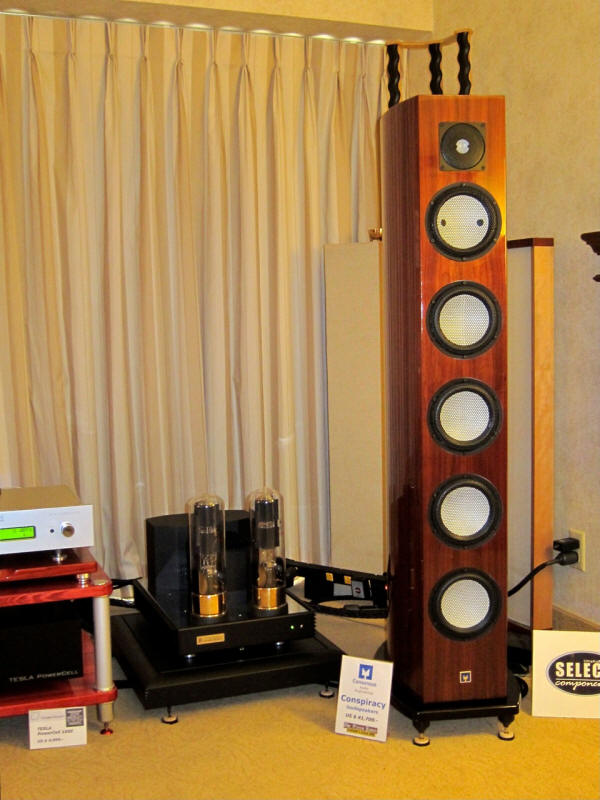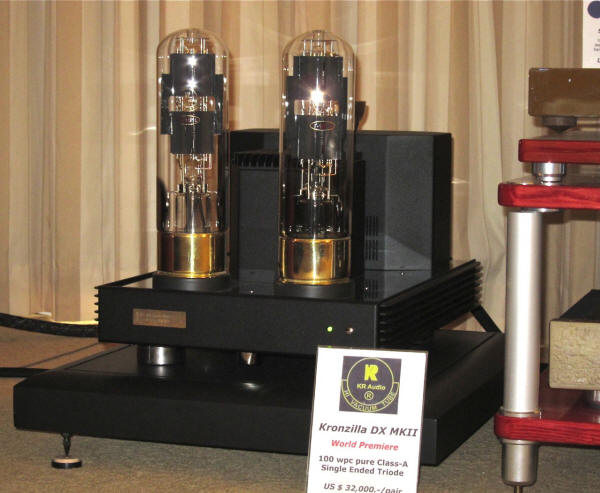 Zu Audio
Zu was showing their new uber-speaker, the Dominance ($40k). Three 10" full range drivers—the middle one sits in a larger chamber than those above and below and goes a little deeper. A pair of super-tweeters bracket the full range units, and a 15" sub powered by a First Watt class A amp kicks in at 27Hz.
The Dominance was as lively, clean and dynamic as you might expect. Deep bass was not quite integrated in this prototype, but I fully expect it to be sorted by their official release in March, and the small room didn't help. I'm a huge fan of the Zu house sound, as well as their apparent philosophy of value and outreach to the untapped masses of music lovers who haven't experienced high quality sound. These guys get it and deliver.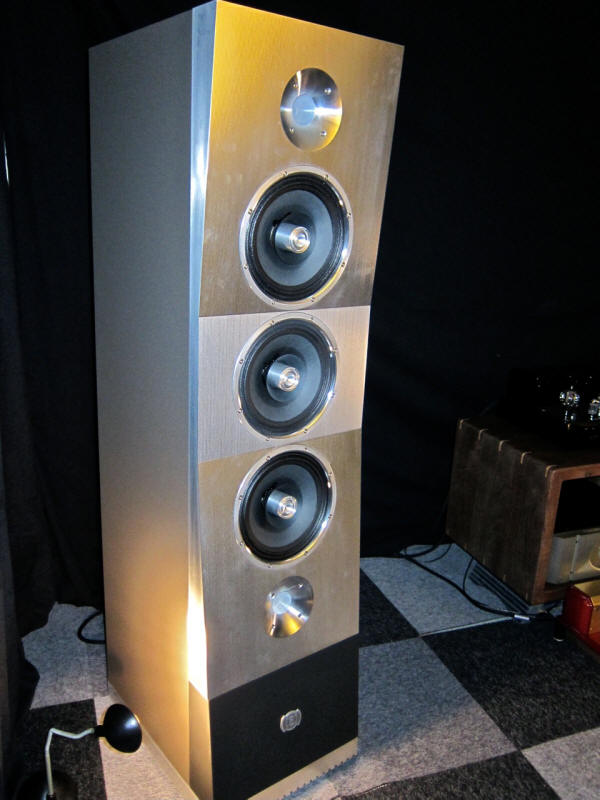 King Sound
Practicality aside unless you're looking for some room dividers, the $60K Emperor II electrostats had ease, flow and detail. They were driven by a Jadis amp with a PS Audio DAC as the source.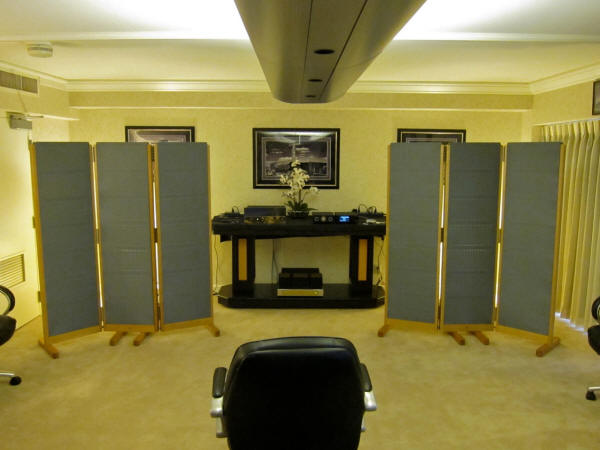 Krell
The $65K Modularis speakers, powered by the $18.5K Evolution 402E amp. The speakers look like close cousins of the old LAT series. The sound was clean and unforced.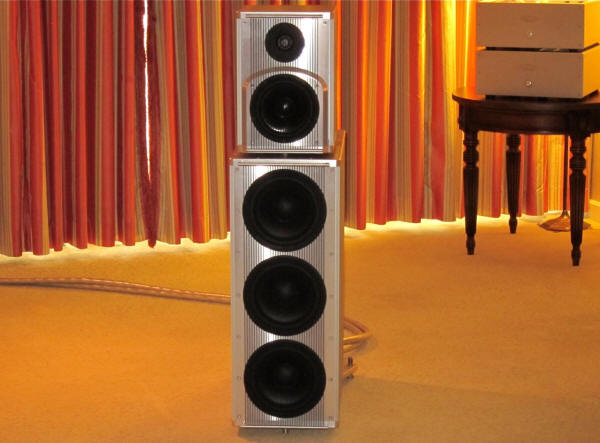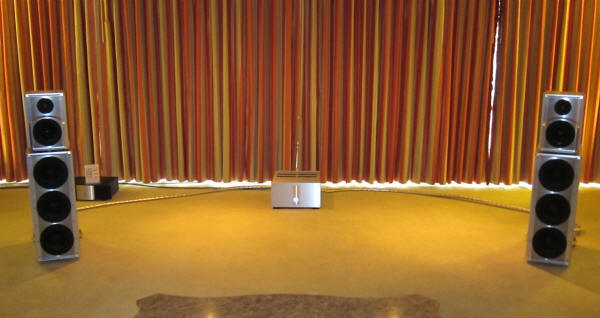 Amphion
Amphion gets my vote for the most consistently underrated speaker manufacturer out there. I'm a believer in the controlled directivity concept they employ as well as the low crossover point of the tweeter—the result is super clean, coherent sound down through the middle that just floats in front of you. Minimizing reflections makes for speakers that are pretty close to plunk 'n play, unfussy about positioning which has true real world appeal and value.
The $20K Krypton 3s with their cardioid midrange radiation pattern sounded very good, but what really turned me on was the small system: the $1895 Argons powered by a tiny Nuforce HDP DAC/preamp fed by a Macbook. Great sound made simple, sensible and approachable.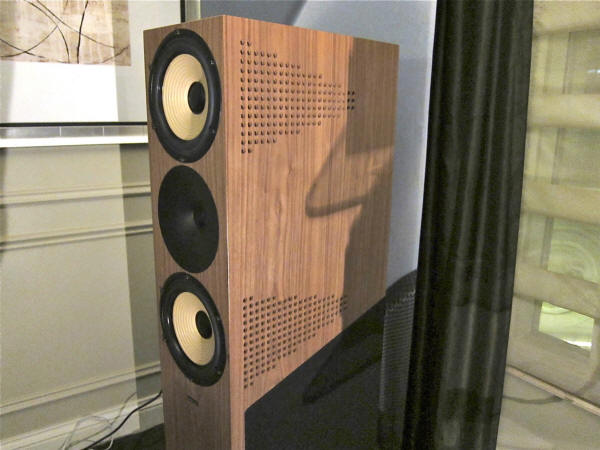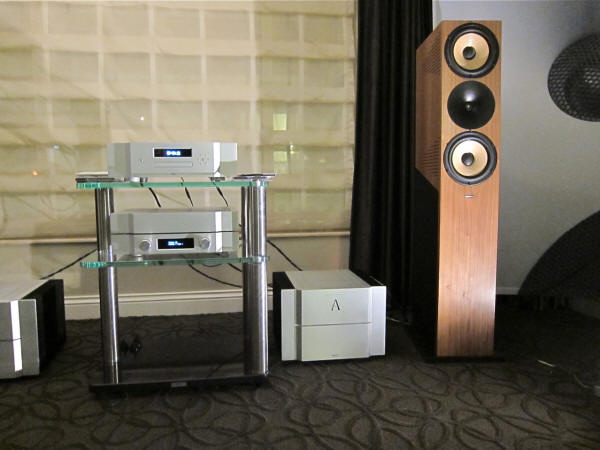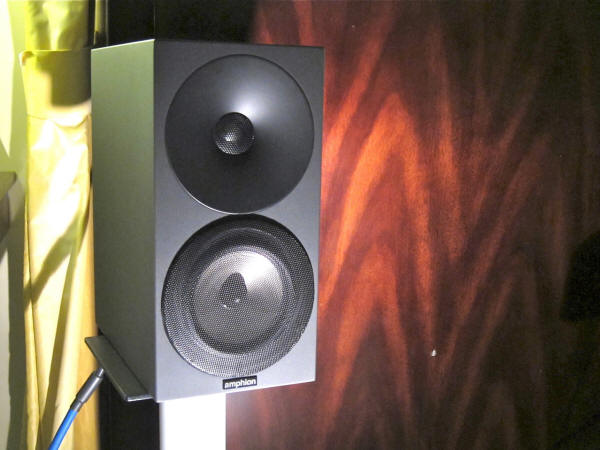 Devore/Leben/Acoustic Plan
Devore was showing their new Orangutan 096 ($12K) speakers. A high efficiency design that's a bit of a departure for them, it still sounded of a piece with their more established designs. Powered by Leben electronics, the sound was lively with nice flow—in a word, organic. The setup made good sound seem simple.
Note too the smart placement of the speakers in the middle of the room. Instead of flattening them against the windows with the equipment in between like most demos, Devore flopped the sofa/speaker-electronics arrangement. This put some space behind the speakers, and allowed all the equipment to be up front so people didn't have to walk in front of listeners to check it out.
Also in the room was the new Acoustic Plan Drivemaster transport and Digimaster tubed DAC, $4200 each. These intriguing components combine interesting capabilities including I2S connection between the two and asynchronous USB input with 24/192 capability with a minimalist ethos of no over- or up-sampling, and no digital filter in the signal path. I hope to have the Digimaster in for review soon.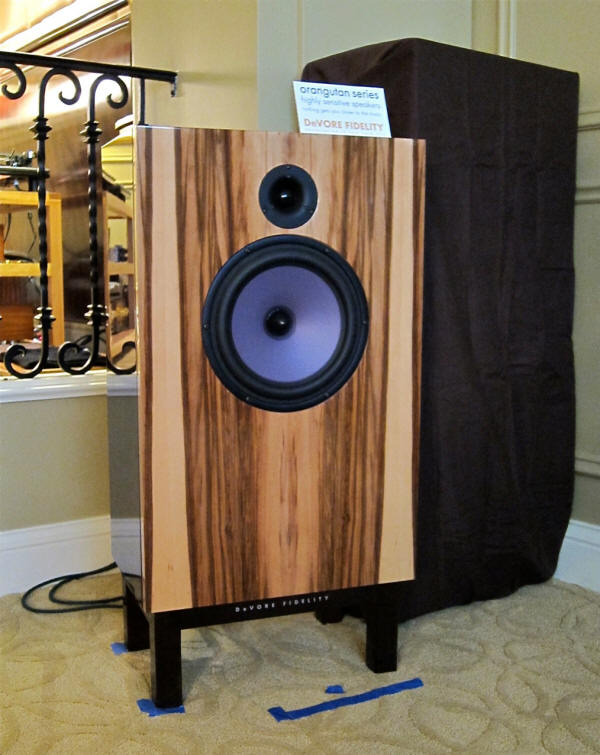 Electrocompaniet
The Nordic Tone ($30K) fronted by Electrocompaniet mono amps and DAC. Bluntly, one of the disappointments of the show. I'd been looking forward to hearing this speaker for quite awhile, and like many others at the show, it just didn't come alive. I'll have to hear it in a better setting.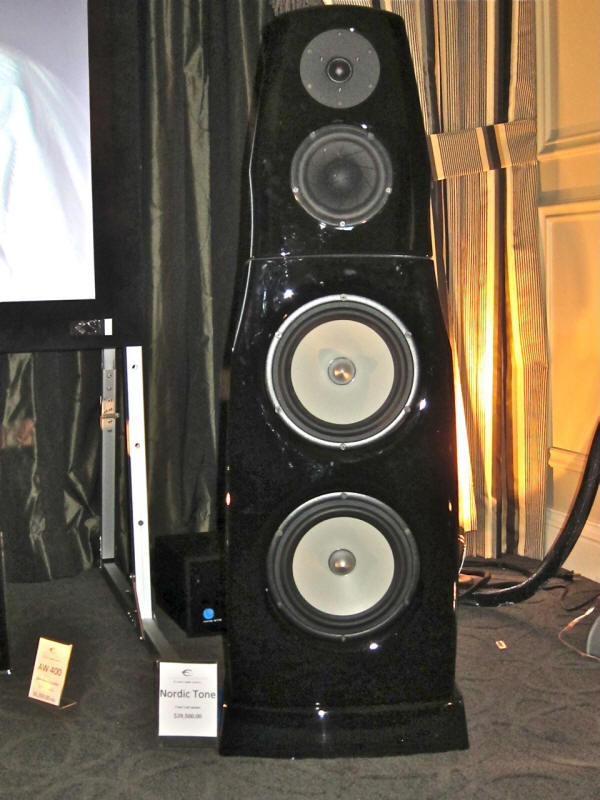 Tannoy/Manley
The $50K Tannoy Kingdom Royals driven by Manley 250 monoblocks at $12K/pr. Love the funky retro look of this stuff, but I was sitting too close for the sound to really work. Liveliness was certainly not the issue though. Hoping for a second date under better circumstances.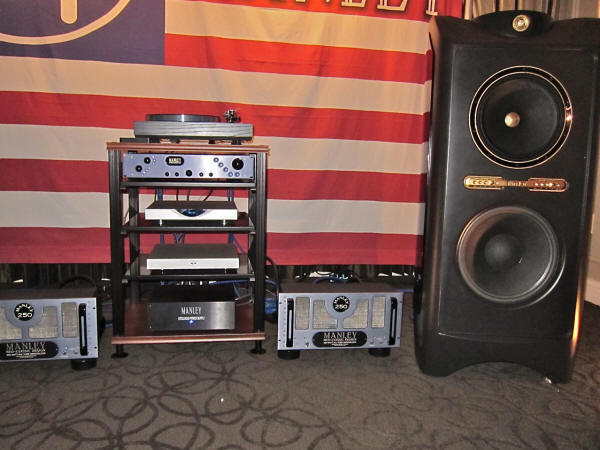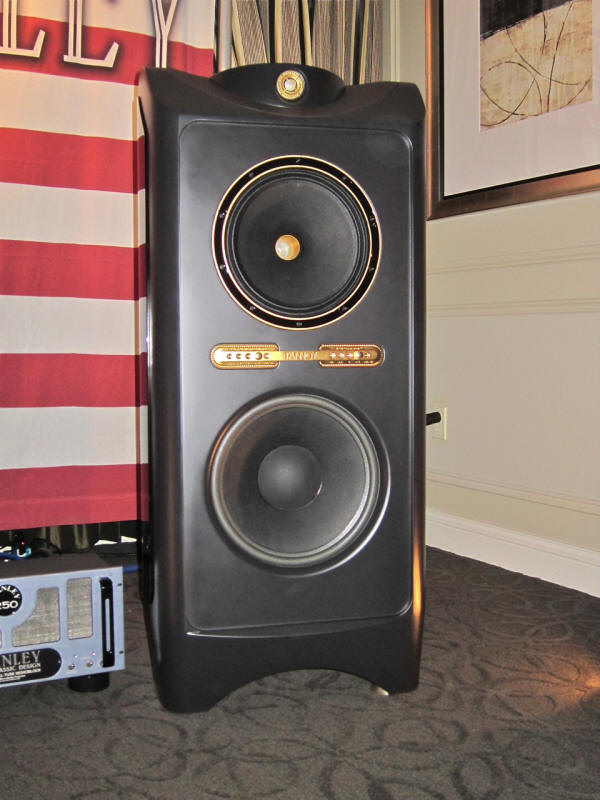 HiVi
The Hivi area at the Convention Center reminded me of the typical menu at an NYC coffee shop. 10 pages long, from chocolate chip pancakes to lobster with barenays sauce (I kid you not). We have everything.
Dali? Got it.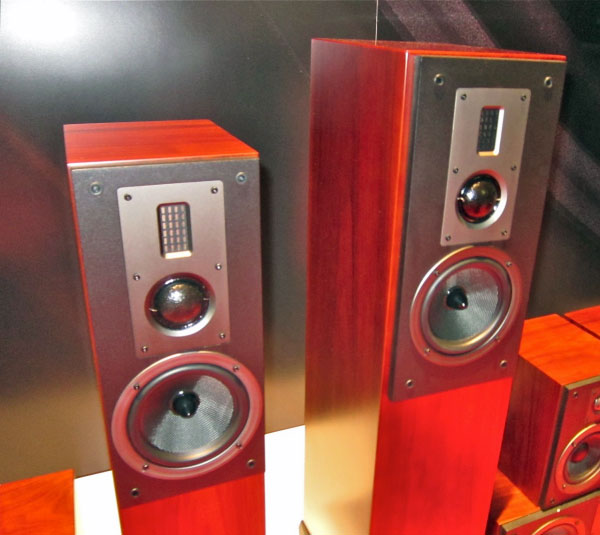 Energy? Got it.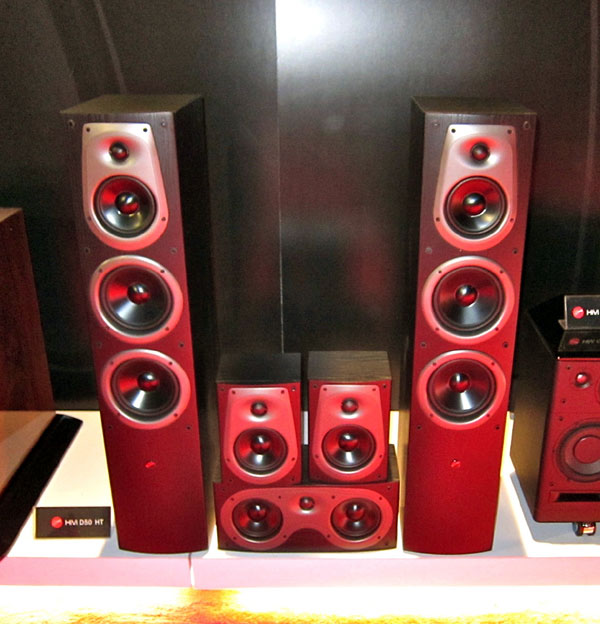 B&W check.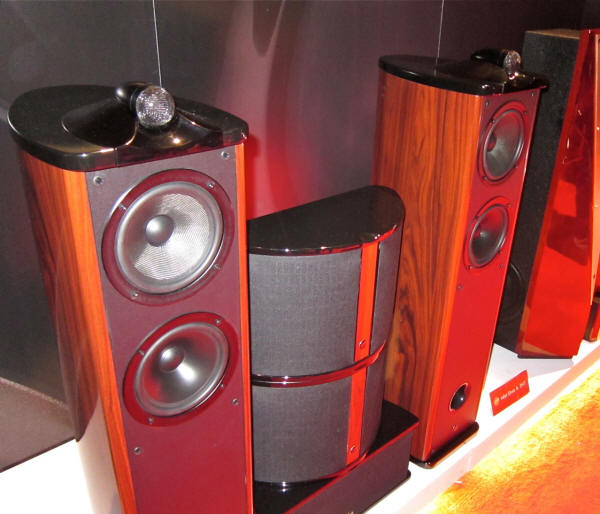 Oh, and today's special, the WurlitzLinnDali aka the Doofenschmirtz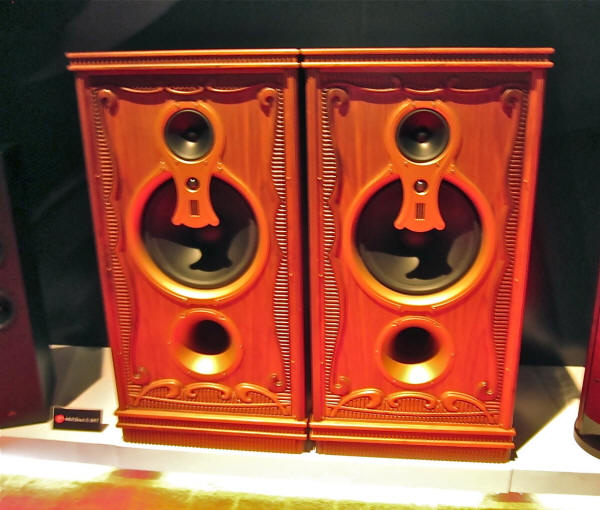 Scaena
I own the 3.2 version of these speakers and have after buying gotten to know some of the principals behind the company. Take the below as you see fit.
The $66K model 3.4 was one of the few speakers to cross the border of reproduction into magic, which is what we're always looking for. It's as if the music is in the breeze right in front of you, such is the ease and holography. Image size, dynamics and transparency are striking. And the new woofers and bass crossover are a big step up from the old.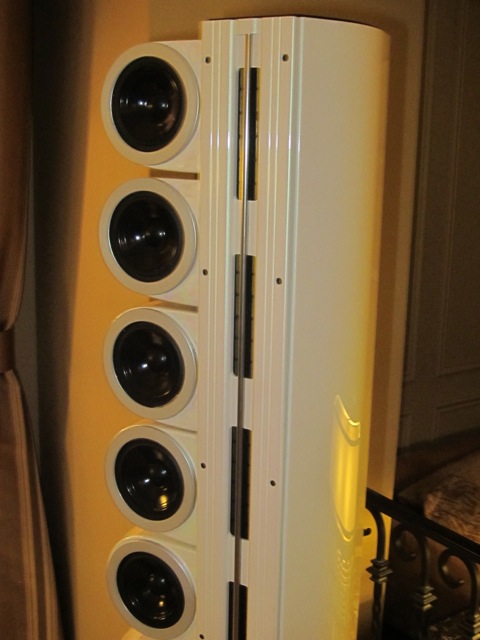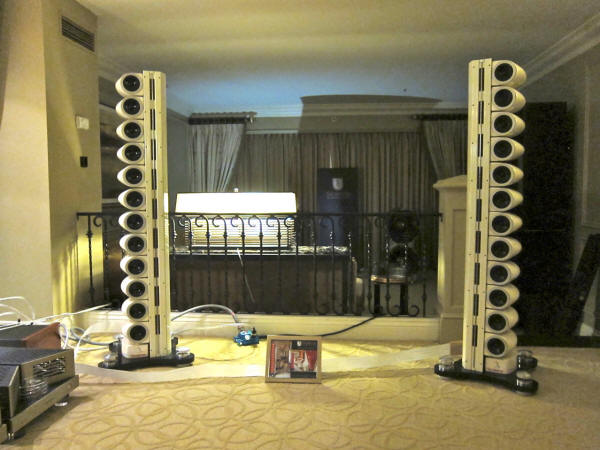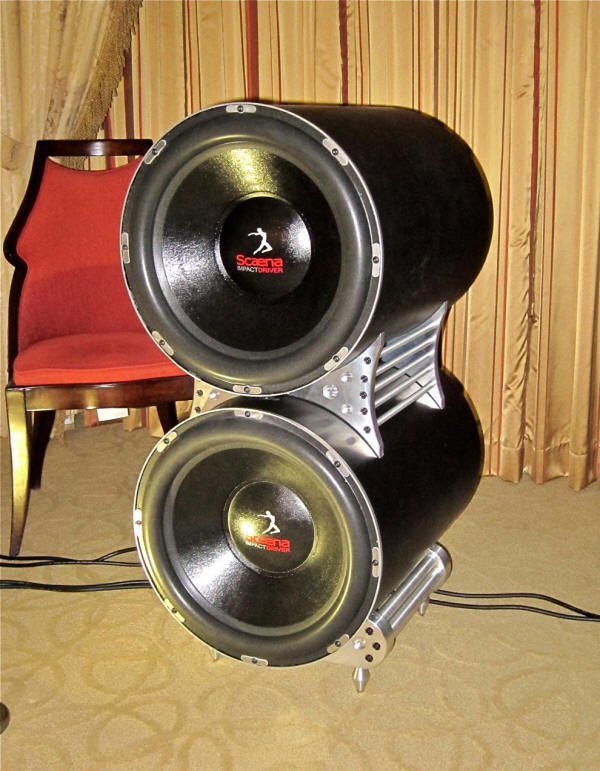 Roksan
The TR5 speakers ($2K) fronted by a reasonably priced stack of Roksan electronics. Punchy and smooth with a body to the sound that belied their size. These were among my favorite small speakers at the show. A room of realistic price and sound. Almost the end of the show, almost didn't walk in, very glad I did.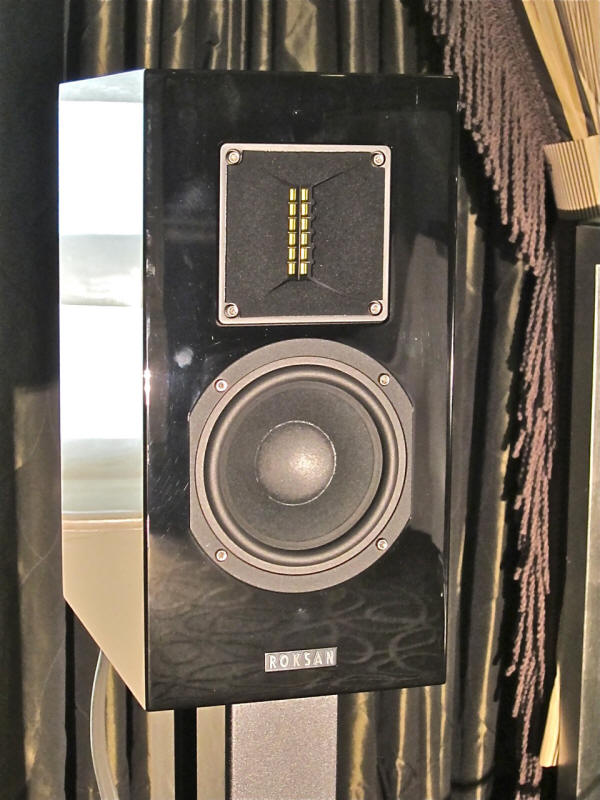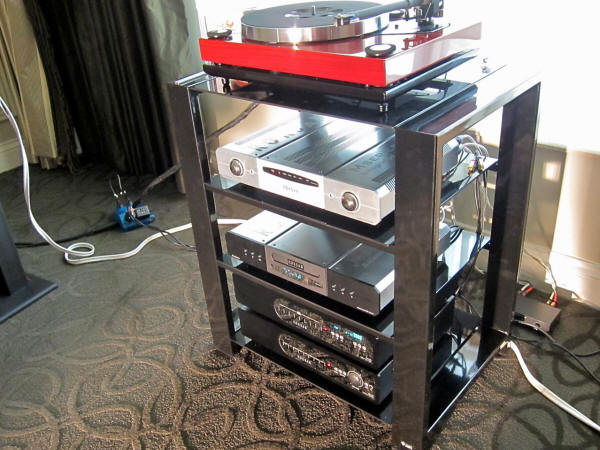 Additional Notes
The Bel Canto C5i ($1895) integrated amp/DAC impressed me as a perfect component for the times in a brief listen through Joseph Audio Pulsar monitors. Small in size but powerful and smooth sounding, it's a one-attractive-box solution without sacrifice. This is exactly the kind of component the high-end should be making. Reviews of the Bel Canto DAC 3.5vb, Phono 3vb and 1000M amps coming soon.
The Magico Q3s lived up to the hype. The sound was, in a word, free: uncolored and unrestrained, to go along with vivid image depth and density.
Paradigm introduced their new Shift components, which included a number of portable and gaming geared headphones, as well as an active speaker: the $500 2-way Atom A2 which sports a 50-wpc amp for each of its drivers. The back panel has 3.5mm input jack and an accommodation for an Apple Airport Express to simplify streaming. I get a little thrill up my spine when I see top quality manufacturers make cool products that meet the market where it's at. Really.