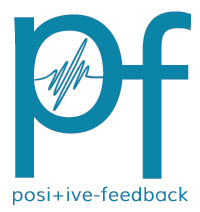 You are reading the older HTML site
Positive Feedback ISSUE 53
january/february 2011
CES 2011: Sights and Sounds of the Season, Part 1: Decking the Halls
by Myles B. Astor
Another year, another CES! The bulk of the manufacturers exhibiting at the Venetian Hotel were spread out over the 28th and 29th floors of the Tower. Other manufacturers such as LAMM, Sumiko, Ayre, Magico and a few others chose to exhibit their wares in some larger suites located a few floors above in the Venetian Tower. And yet a few other high end audio manufacturers such as YG and Thiel were located along the walk to packed adult video exhibits. And yes, my consecutive year streak of seeing Ron Jeremy at CES is still intact!
Further down the strip at The Flamingo Hotel was The Show housing yet another group of high-end manufacturers and software distributors. While the rooms at The Flamingo tended on the whole to be smaller than those at the Venetian, exhibitors were treated a heck of a lot nicer than those manufacturers paying far more money for their rooms at the Venetian (more on that embarrassing and ridiculous situation in Part 2). But before the show highlights, a few of the high-end luminaries I crossed paths with in my journey though the hotel halls and rooms as well as events that stood out at this year's CES Show.
Jumping off point for this year's CES show: the Flamingo Hotel.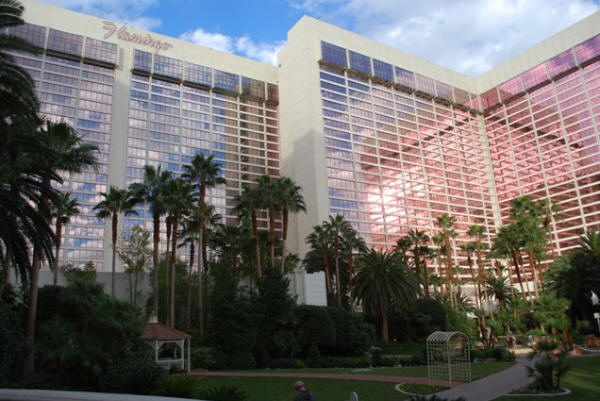 Time for the obligatory flamingo shot. What's amazing is that these gorgeous birds never move away from their "pool."
My favorite show shot! Not a pair of speakers or a fancy looking tube amplifiers with exotic looking output tubes made in the 1930's but a trio of Teals enjoying the Flamingo's waterways.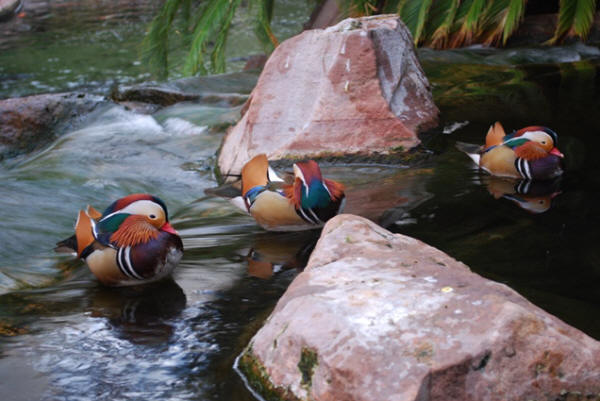 Nothing is impossible in Las Vegas! A waterfall in the desert.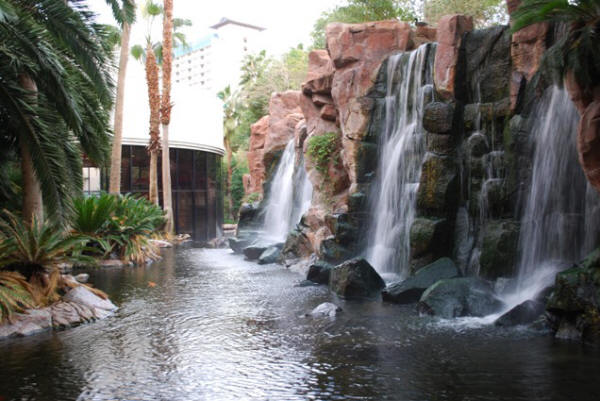 Strolling along the Strip on the way to the CES exhibits at the Venetian Hotel.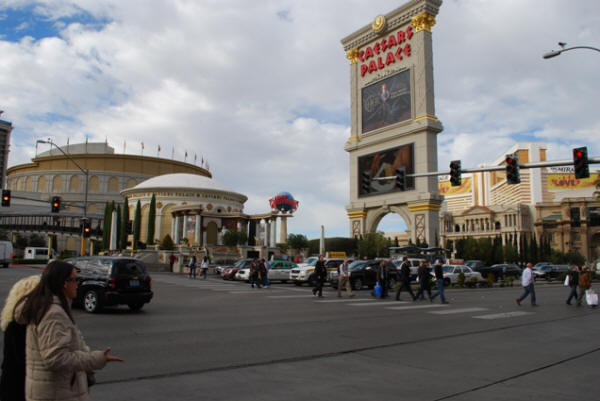 Another day dawns at CES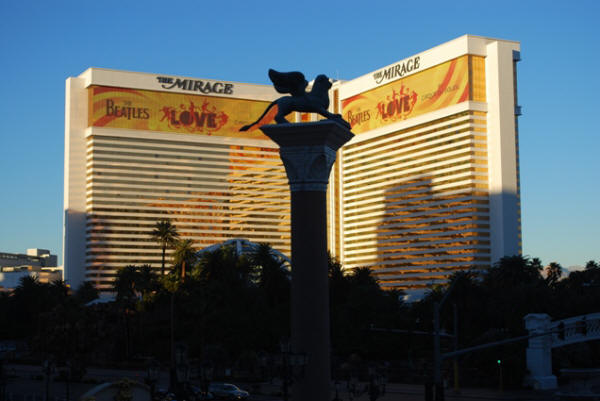 The very first person that I bumped into in the halls of The Flamingo/The Show was none other than veteran and highly respected high-end designer Demian Martin. After figuring out the problem with my new flash, Demian filled me in on his current iPod docking station project for Monster Cable as well as his latest high-end endeavor, the new Auralita L1000 file player. The Auralita plays hi-rez FLAC, WAV, and AIFF files and outputs up to 24-bit/192 kHz.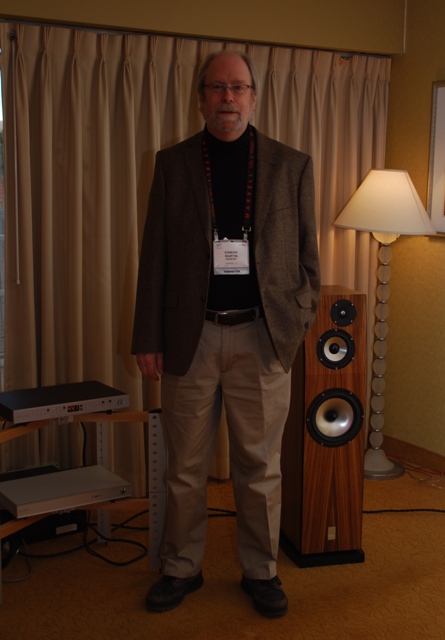 Jonathan Tinn (and friend) of Blue Light Audio as always with a smile on his face on Day 1 of the show. I suspect he had just finished setting up and listening to "his" and designer Kevin Malmgren's stunning new baby Evolution speakers (more to come on the MMMicroOne).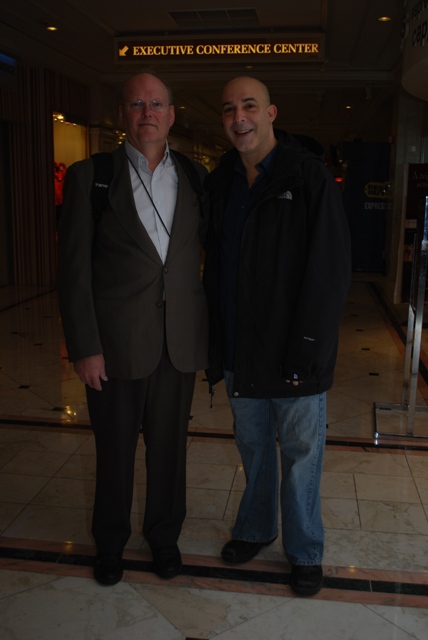 Now these Cardas binding posts and XLRs might be mistaken for a prop right out of the mad scientist's laboratory in Woody Allen's Everything You Wanted to Know About Sex (But Were Afraid to Ask). Truth be told, these Cardas connectors are designed for the Navy's new, super secret rail gun!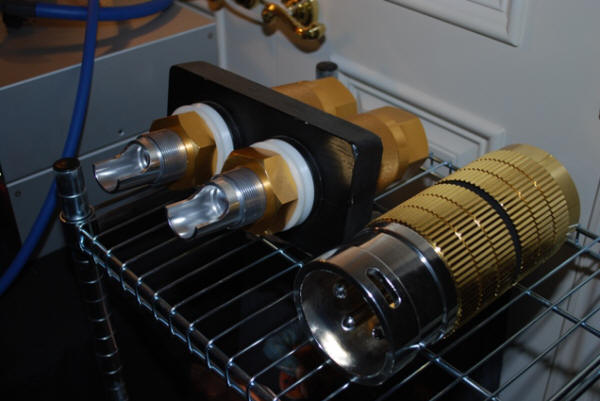 Frederik Caroe of Duelund. Many audiophiles may have never seen Frederik, much less heard of him, but his capacitors, resistors and inductors and other parts are finding their way inside more and more speakers and electronics such as Gryphon, Vandersteen, Lansche, Kaiser, Tron and Merlin.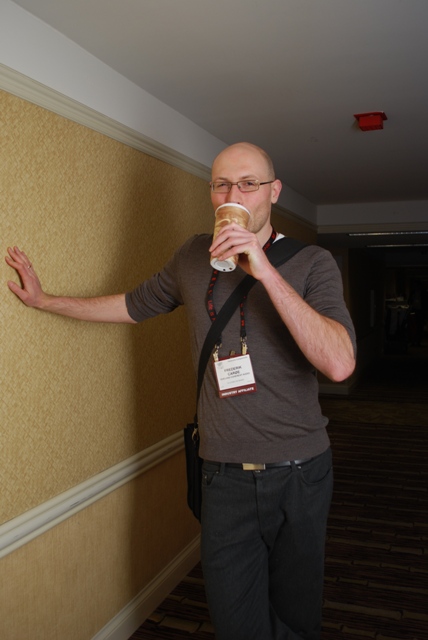 Musicians and recording engineers Jason Smith and Jonathan Horwich sharing tips and experiences. In addition, Horwich (www.hydeparkjazz.com) proprietor of Hyde Park, hosts two internet radio shows devoted to the finest in jazz recordings.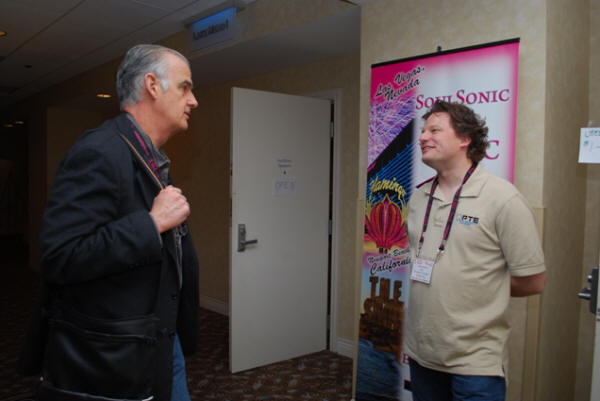 One of everyone's favorite high-end audio designers Ron Sutherland along with his latest creation, the $9800, AC powered, Phono Blocks phono stage. Them Phono Blocks sounded mighty quiet!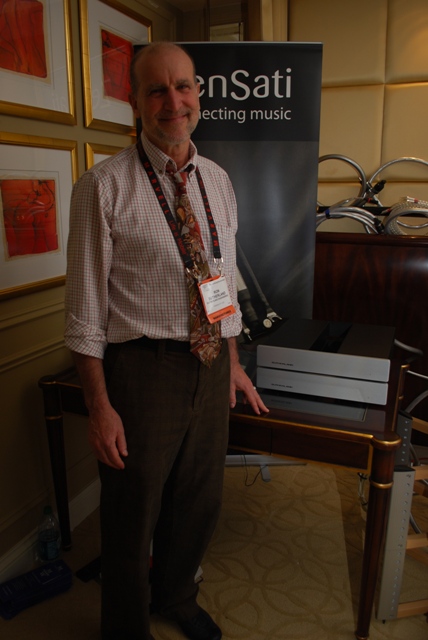 Tapeheads convention at CES. (L-R] Philip Chance, Tim de Paravicini and recording engineer Rich Brown. On a separate note, Philip, a long time dedicated audiophile, uses triple stacked KLH9 speakers in a three channel arrangement (with a couple of other KLHs around for spare parts) for playing back multi-channel SACD.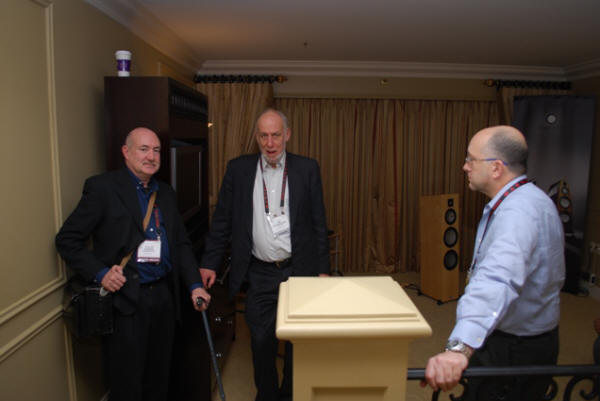 The King holding court with his subjects. Richard Vandersteen explaining some of the finer points of speaker set-up to two extremely devoted and attentive customers.
Two of the nicest high-end cable designers in the industry. Joe Kubala of Kubala-Sosna and Jeff Smith of Silversmith audio cables. (And little did I know until he came over one day and saw the fencing trophies on my bookcase, that Joe and I fenced on rival HS teams in NJ, albeit a few years apart.) On a more personal note, it was heartening to again see Jeff, back on leave, from several tours of duty with US forces in Afghanistan, at CES!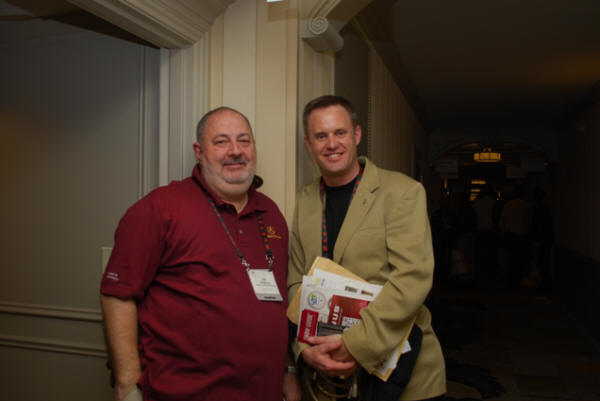 Some analog diehards. (L to R): Lyra co-honcho Stig Bjorge along with Immediasound's (and Lyra's US distributor) Sterling Trayle and Allen Perkins. Allen, of course, is also the designer of the Spiral Groove turntable, seen in more than a few rooms at CES.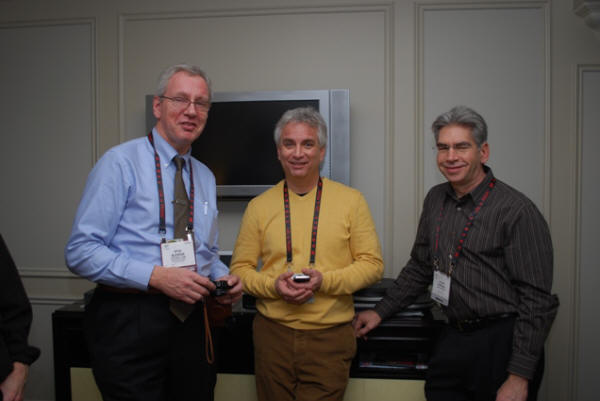 Paul Stubblebine of The Tape Project explaining to Ken Stevens of Convergent Audio Technology that using 15 ips, reel-to-reel tapes to demonstrate your gear, isn't cheating.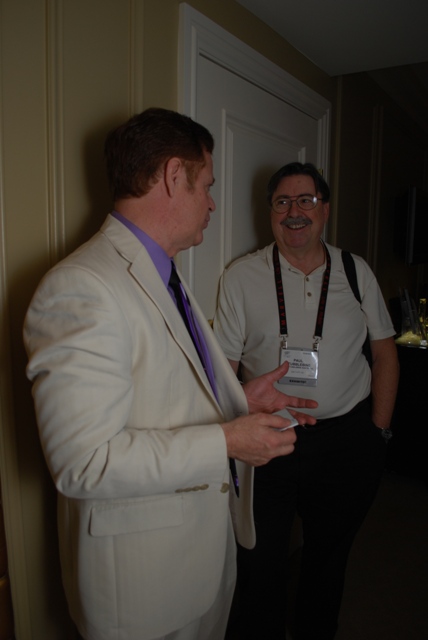 Dan Meinwald of E.A.R. conducting a listening session comparing a of reel-to-reel tape vs. a digitized copy.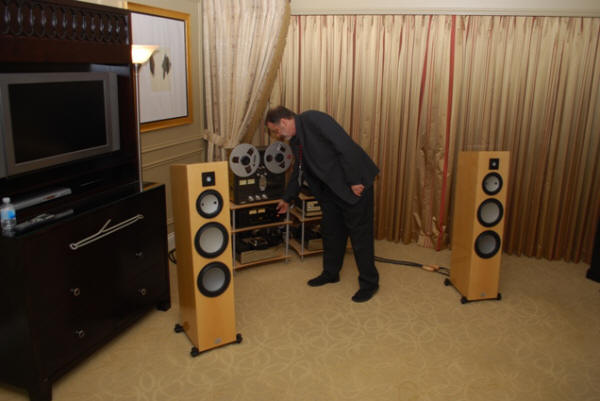 Dave Clark, chief cook and bottle washer here at Positive Feedback Online along with Alex Sventitsky, designer of WyWires. Alex manufactures cables designed for specific situations e.g. phono cables with different capacitances for use with either MC or MM cartridges.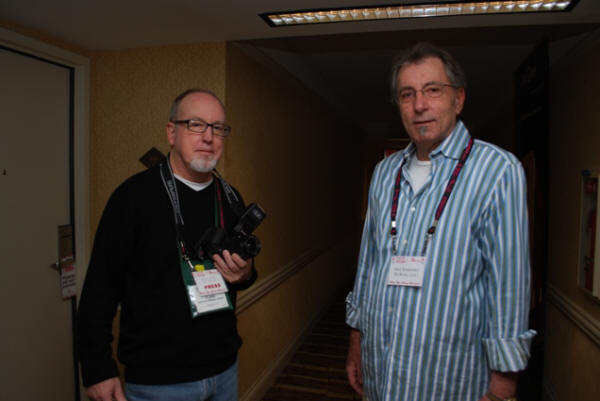 Multi-Grammy award winning engineer Bill Schnee hosting a standing room only event promoting his newest musical venture, Bravura Records. Interestingly, Bill sees hi-rez downloadable music as the wave of the future; audiophiles will eventually be to download the same digital files possessed by the recording engineer.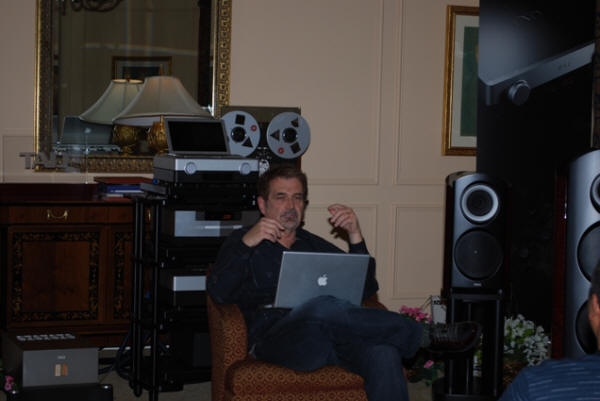 The Euroteam. Adnan Arduman (left) Nuance and Fluence website and Istanbul Hi-Fi club along with Herman van den Dungen of Durob Audio, Holland, importer of top US gear and exporter of Primaluna and Ah Tjoeb gear to the US. Herman revealed he's currently working on the re-release of the long gone Kiseki cartridge line. Stay tuned for more information on this exciting analog news.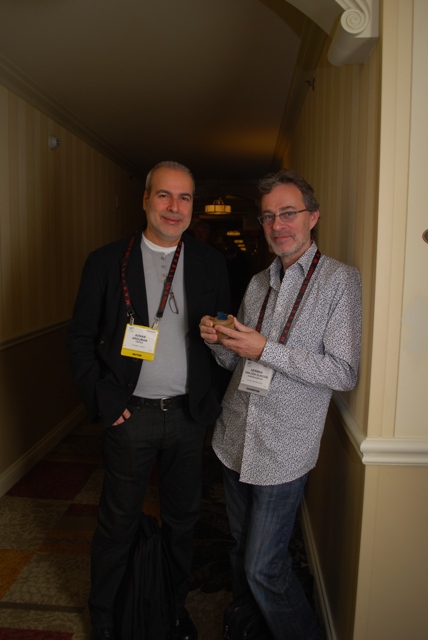 This man needs no introduction to audiophiles. David Chesky, Chesky Records, was at CES promoting his (and brother Norman's) latest audiophile venture, HDtracks. For those unfamiliar with their website, HDtracks offers audiophiles a near cornucopia (and growing) of downloadable musical titles from a variety of music labels in FLAC or AIFF file formats in DVD quality sound (24/88.2 or 96 kHz).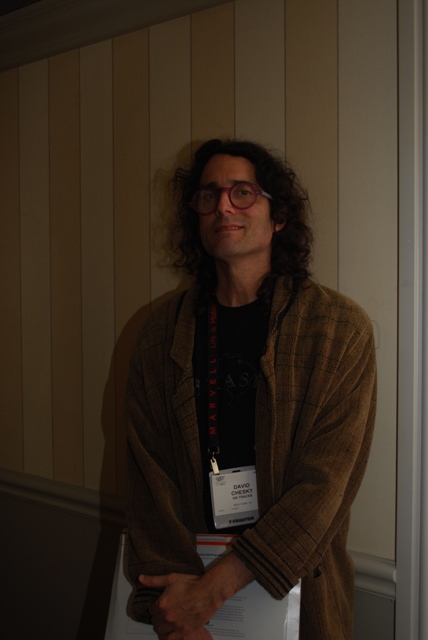 Hans-Ole Vitus, Vitus Audio, with his line of solid-state gear driving the highly received Wilson Sasha speakers.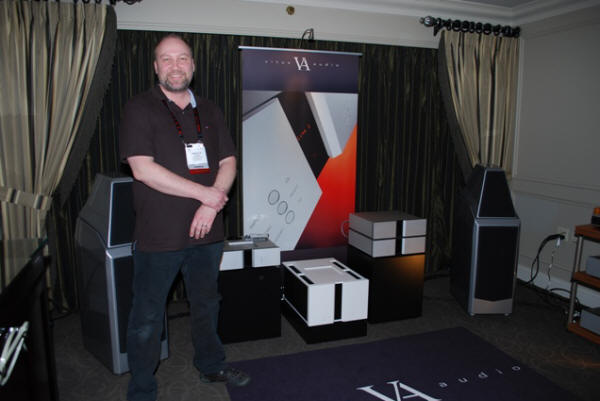 Two audio internet entrepreneurs: Gavin Fish, founder of AudioEvo, the Facebook site for audio lovers and Debbie Wilson, responsible for Wilson Audio's new found web presence on several audio sites—not to mention—Facebook.
The men behind the scenes. Three mastering engineers responsible for many of your cherished LPs and CDs. (L-R): Shawn R. Britton, Senior Mastering Engineer, MFSL, Joe Palmaccio, Chief Mastering Engineer and multi-Grammy winner, The Place…For Mastering (www.theplaceformastring.com) and Rob LoVerde, Mastering Engineer, MFSL. Most are familiar with Rob and Shawn's resume; Joe was formerly Senior mastering engineer at Sony and previously worked at Sterling Sound and Polygram.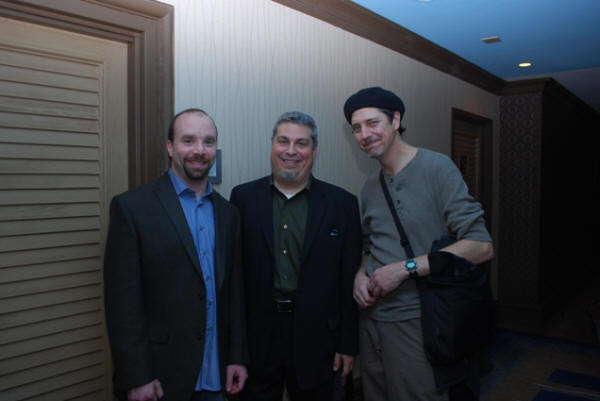 Renowned and award winning engineer Allen Sides of Oceanway Studios with his trusty Ampex ATR 102 running at 30 ips. Spooled up on the deck? THE never released stereo version of the soundtrack to Jaws.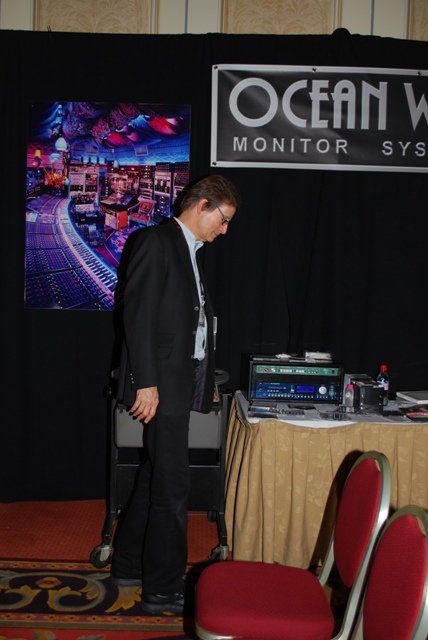 Special Press Events
Dan D'Agostino
CES marked the coming out party for D'Agostino's new company, Dan D'Agostino Master Audio Systems. The company's initial offering, the diminutive, certainly when compared to Dan's trademark monster, space heating and electricity guzzling Class-A solid-state amplifiers, is the green friendly, cool running, 300 wpc The Momentum monoblock amplifier. Dan deserves all the credit in the world for having the gumption and energy to reinvent himself after being unceremoniously jettisoned by the company he founded and built (yet still holds a significant stake in).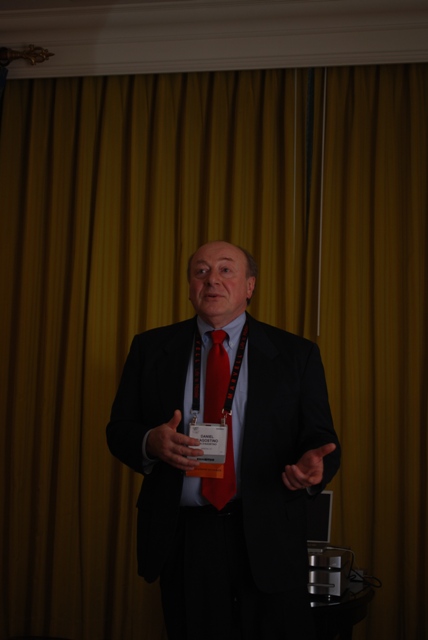 US debut of Marten Coltrane 3 speakers and M-amp mono power amplifier
(L to R) Dan Meinwald, Marten's USA importer receiving a birthday gift from Marten principals Leif and Jorgen Olofsson.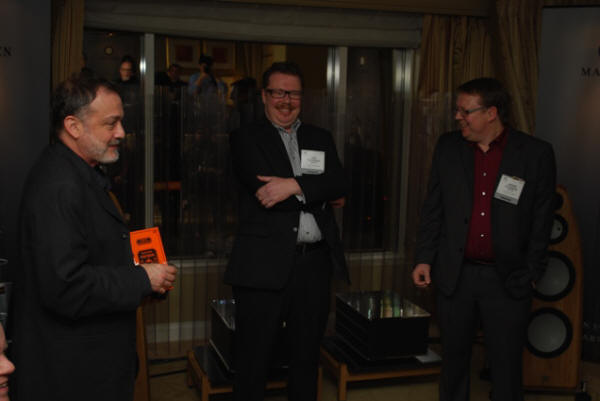 PFO writers Peter Clark, David Clark, and Robert Lerner catching up on the best sounds of the show.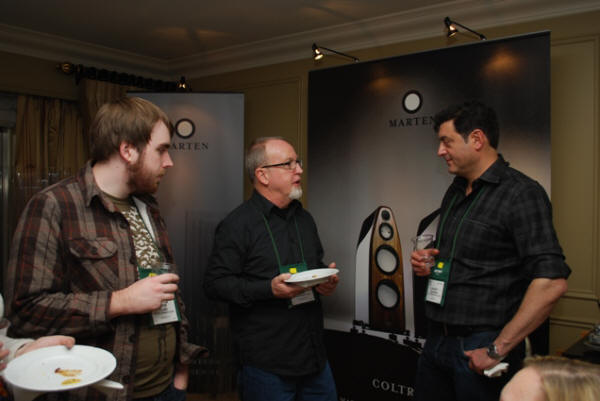 Patrick Bostrom, designer of the new 550 wpc (8 ohm) Class D, Marten M-amp monoblock amplifier.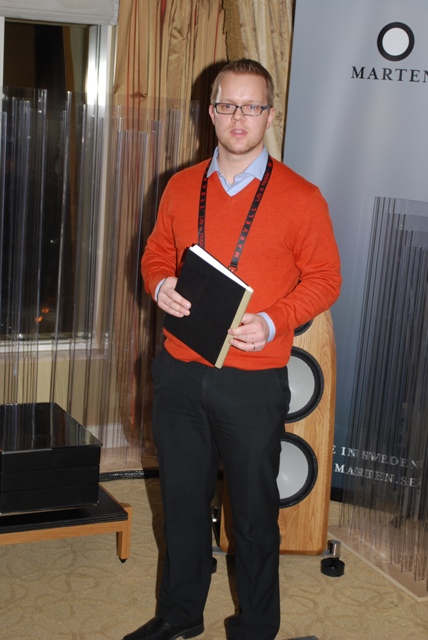 PFO writers Dean Seislove and Pete Davey discussing the finer points of selecting a restaurant for dinner.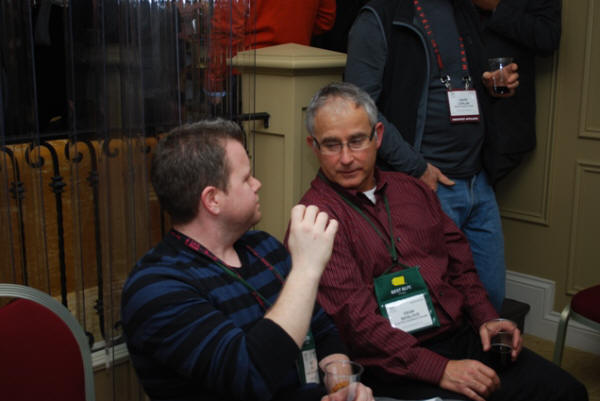 Wilson Audio Reception for Dealers and Owners
David Wilson responds to one of many questions submitted by Wilson speaker owners. Here, David, in response to the question, "which recordings does he use to evaluate speaker performance," is seen jogging his memory thumbing through his CD collection.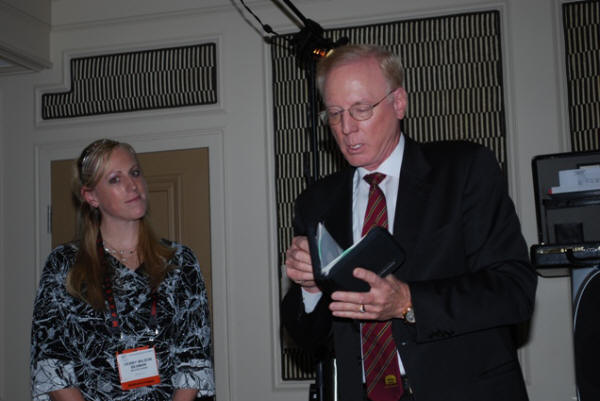 David and Sheryl Lee Wilson presenting a fascinating pictorial history of Wilson Audio beginning with its humble beginning in the garage to speaker drivers hanging from strings (the WAMM) to its present position as one of the world's leading high-end speaker manufacturers!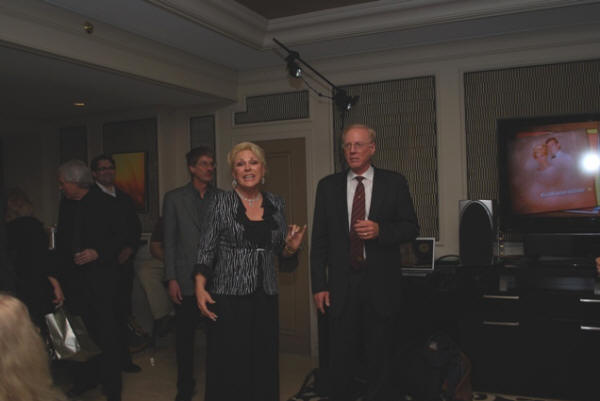 David Wilson recalling that concert at the Musikverein and musical epiphany that culminated in the redesign of the WATT/Puppy and the release of the Sashas (of course, Sasha is Wilson's now 12 year old puppy.)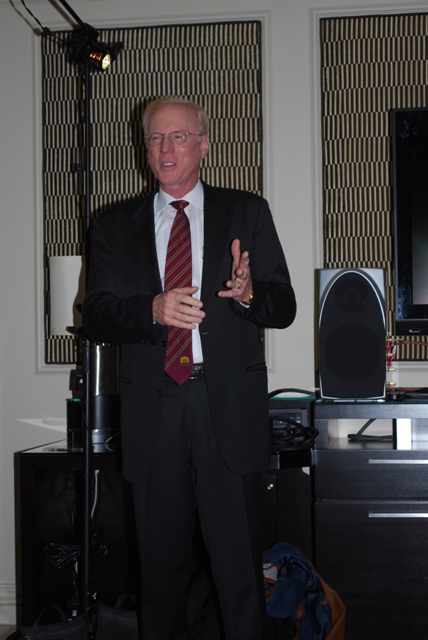 David Wilson holding near and dear, one of his very "own" fav' recordings (Ragtime Razzmatazz, vol. 1) and THE album that he uses to set up all his speakers. Coincidentally, sealed copies of this LP are going for a couple of hundred dollars on eBay. Reportedly, the very first pressing of Ragtime Razzmatazz didn't have the Vol. 1 on the cover; the "Vol. 1" designation was supposedly added to the cover artwork with the second pressing.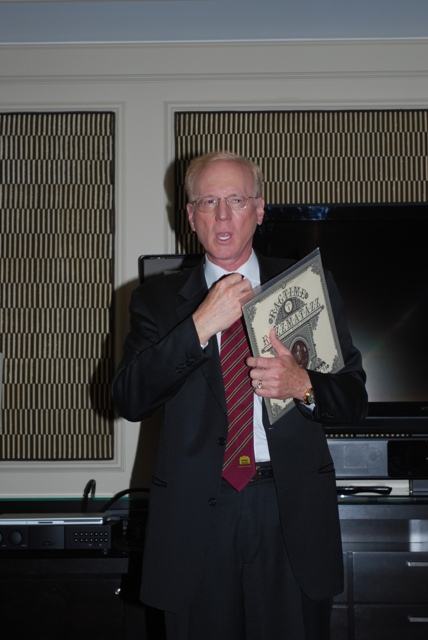 After a day of hard work, what's an audiophile to do but head to The Range Stage Steak House at Harrahs for a hearty meal. (L to R): Robin Weiland of Locus Audio, Dave Clark of PFO, Lee Weiland of Locus Audio, Michael Mercer of PFO (back to camera).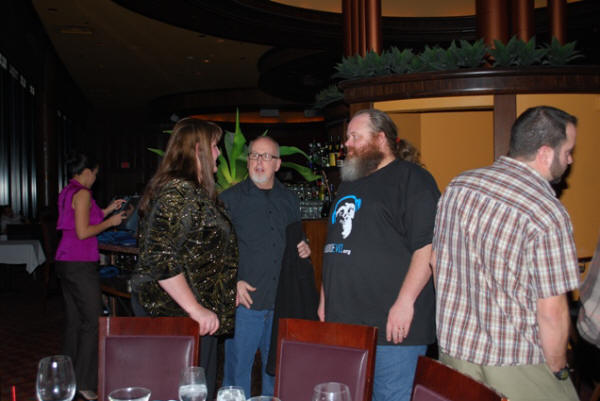 Beware: aliens in human skin inside.