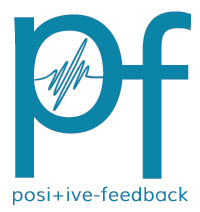 You are reading the older HTML site
Positive Feedback ISSUE 53
january/february 2011
CES and T.H.E. Show 2011 - Lite!
by Greg Weaver
Ok, what does he mean, lite? Well, those of you who have come to appreciate my show reports are probably in for a disappointment this year. Sigh!

This report will be much lighter in detail (hence, lite!) due to an unforeseen, and utterly true, circumstance. You see, last March, Kim and I fell in love with this almost 6-month old AKC Registered Giant Schnauzer, Payne's Royal Toryn, or Toryn for short. Within minutes, we knew he was the puppy we'd been searching for, and he, sharing the stage with Lily, our 3-year old Giant Schnauzer, has become the center of attention in our house.
I'm telling you this because the next time someone tells you, "My dog ate my homework/report/show notes, et al."—you really shouldn't be so quick to dismiss the statement. Upon my return from my trip to CES, I sorted all my collected literature, books, brochures, and music, and placed all these items atop a five-foot high shelf in my audio room. I placed my notes, all taken in a top-edge, spiral bound, news-sized notebook, on the 30" end table next to my listening chair. Can you see the potential problem?
Well, it would seem that Toryn's attraction to anything white kicked in sometime between when I placed that notebook there on January 11th, and the following weekend: the notebook was gone when I went to start annotating my report! To my chagrin, I found it behind the sofa in my theater, a shredded, unusable mass of ripped, torn, and chewed pages and covers with a vaguely recognizable remnant of the wire spiral… Yes, Toryn ATE my show notes, the little shit! No, REALLY!
The game is afoot...
After picking up my rental car from the Enterprise office at McCarran Airport, I headed north up Las Vegas Boulevard for the Venetian. I like to pick up my press credentials and bag and then check into my hotel, the Flamingo, also home to T.H.E. Show again this year. By 1:00 PM Wednesday, I had done all the grunt work and was free to move about the Flamingo to visit with those exhibitors at T.H.E. Show who could afford the time. Not a bad day, all in all.
Last year I was somewhat disturbed to learn that the Press Room at the Venetian had been reduced to about 1/6th it's previous size, and offered virtually none of the amenities we have come to expect from a CES Press Area; various cold drinks and snacks, boxed or hot lunches, access to printers and computers, etc. During the 2010 CES in the Venetian, if you were a press member and wanted a lunch, you had to make your way over to human stampede that is known as the Las Vegas Convention Center. No thanks! Those of us covering high performance audio don't have ANY interest in dealing with that cacophony or fighting our way through the massive crowds for ANY reason whatsoever. This year, the Press Room on the second floor of the Venetian was back to its former glory, with access to all the hardware, assorted foods, and liquids of all varieties. Yes, the lunches were distributed there again this year, as well. Thank you CEA!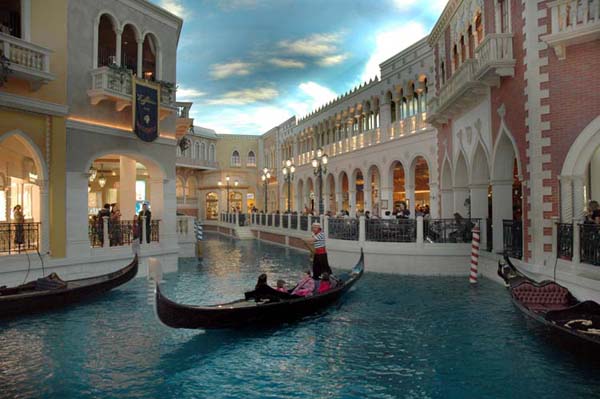 The second floor of the Venetian houses the faux canal system where many avail themselves of Gondola rides. It still amazes me that this "system" of canals is above the main casino on the first floor of the building!
I've said it before, but I'll say so again here. One of the best parts of going this annual mecca for consumer electronics is getting to spend time with friends, colleagues, and manufacturers who, for whatever reasons, I only get an opportunity to visit in person at CES. This year was no different.
Thursday morning, I decided to start my assault on the Venetian at the top and work my way down. The Venetian has three corridors in these towers, with each hallway extending away from the central hub and the elevator banks like three spokes in a wheel.
Given the crowds trying to use the elevators that went only to floors 28 through 35 (all the CES high performance audio exhibits were on floors 28, 29, 34 and 35), I took the elevator bank that went exclusively to floors 16 through 27. Once on floor 27, one floor below the first floor of CES Exhibits on 28, I walked down the 300-suite hallway to the stairwell, and then ascended the eight floors to 35.
As I opened the door at the end of the 300-suite hallway on floor 35, the first person I saw coming down that hallway toward me was STEALTH cable guru, and my dear friend, Serguei Timachev! We walked into the Lamm/STEALTH/Verity room, 35-309, together, where the always gracious and undisputedly gifted designer of Lamm Electronics met us, Vladimir Lamm. Also in the room was Verity Audio's Vice President, Julien Pelchat. And so began my first listen to the world premier audition of Vladimir's ML2.2 ($37,190/PR) single-ended monoblocks.
The rest of the electronics included a pair of Lamm LL1 Signature line-level preamps ($42,690), a pair of LP2 phono preamps ($7590/each), the NeoDio NR22T transport ($13,300), and the NeoDio NR22D DAC ($12,000). The analog front end was Peter Clark's latest creation, the Repoint XX turntable ($75,000), fitted with both a 9" Graham Engineering Phantom II tonearm ($4900) AND a 12" Graham Phantom II XL12 tonearm ($5200), both using the Orofon A90 cartridge ($4200).
Speakers were the Verity Audio Lohengrin II ($95,995/pair), and all cabling was from STEALTH, featuring two pair of Dream V10T speaker cables, the Hyperphono on both arms, Sakra interconnects for most of the electronics, the Indra V10 linked the amps (in this specialized bi-amplification setup) and connected the preamp to them, the Sextet S/PDIF and AES/EBU digital cables, and an assortment of the Dream AC and SWIFT power cords. All told, the total for cables alone in this room was just shy of $230,000! Finally, Critical Mass Systems isolated all components. The listed grand total for equipment used in this room was $611,455! No foolin'!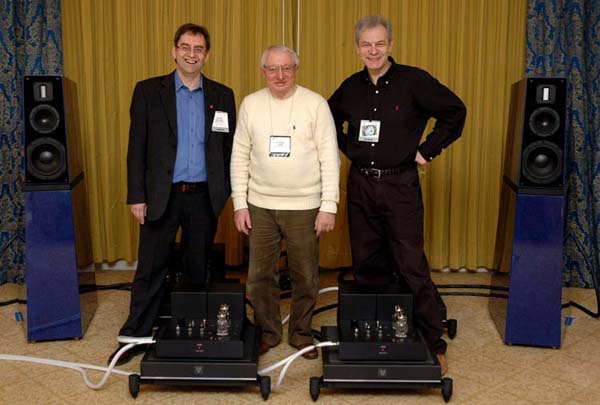 Julien Pelchat (Verity Audio Vice-president), Vladimir Lamm (Lamm Industries), and Serguei Timachev (STEALTH cables), standing behind the new Lamm ML 2.2 monoblocks.
Now, here is where it gets interesting. Thursday morning, Vladimir himself was at the preamp controls managing the system volume. Knowing the relatively low power of the ML 2.2, and at my repeated urging that the gain be adjusted as loud as was safe, the SPL during that demonstration never hit 85dB. Though the system offered prodigious texture, exquisite transparency, and was very coherent and liquid sounding, it had no life; there was no dynamic involvement, nor sense of body. In short, it just wasn't musical!
Serguei and I stepped out into the hall, and we BOTH felt exactly the same. I shared my notes with him and he kept muttering, "Exactly," as I reeled off my list of the strengths and glaring weaknesses of this audition. This was very disappointing, especially as I was aware of the potential for synergy of this component collection. Other than the new ML 2.2 and Redpoint XX, I have heard most of this gear. Even though the ML 2.2s and the Redpoint XX were technically new products, I've heard most of Vladimir's wonderful designs over the last decade, and I've owned a Redpoint Model D for the past three.
I was forced to attributed this lifelessness to a number of likely issues, primarily the lack of run in (it was the first morning of the event, after all) and the low output of the bi-amplified system; the ML2.2 is rated as having a maximum output of 20 watts into a 4-ohm load.
Moving down the hall to the second Lamm sponsored room (35-307), I found a system with a price tag just over $667,000! The system was comprised of the Wilson Audio Alexandria X-2 speakers ($158,000/pair), the Lamm ML3 signature amps ($139,290/pair), the Lamm LL1 Signature line-level preamp ($42,690/pair), a pair of Lamm LP2 phono stages ($7590 each), the NeoDio NR22T transport ($13,300) and NR22D DAC ($12,000), the da Vinci ASS Gabriel Limited Edition table ($59,900), with a pair of Grand Reference Grandezza arms ($10,989 each), one fitted with the Grand Reference Grandezza Stereo ($8525), the other with the Grand Reference Grandezza Mono ($8250). All cabling was the remarkable Kubala-Sosna Elation series ($84,700 total) and component isolation gear was from Critical Mass Systems ($92,800). All I'll say about this room is that it was almost a polar opposite to 35-309. There was a distinct sense of body here, but it was not very transparent or liquid. I was so under whelmed, given the potential and the price tag, that I never bothered to go back to this room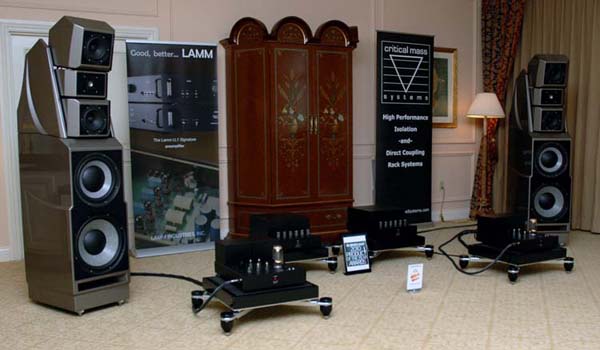 The impressive looking Wilson Alexandria X-2s, driven with Lamm ML3 Signature monoblocks.
At this point, given my respect for Vladimir's work and the obvious potential that I expected from such a combination of gear, I had simply decided not to write about these rooms. Well, dear readers, I'm writing about 30-309, so something must have changed, no? When I went back to 30-309 late Saturday afternoon the man running the show (i.e., controlling he volume), was my friend and colleague Wes Bender. Wes was there representing Peter Clark and Redpoint Audio. I've known Wes for some years now, and he is one of the more passionate and outspoken industry reps. He puts the music first. He understands that the equipment is a necessary means to the MUSIC. All of this may explain why I've come to respect him and enjoy his company!
During this visit, the music was easily reaching 92-95dB peaks in the front row listening seats. Not only were the transparency, inner detail, and liquidity still clearly apparent, but now the "jump" factor was there as well as a real sense of palpability and body to instruments and performer's that was patently lacking during my Thursday morning visit. The crowd in the room at that time (including Michael Fremer) was SO into one of Jim Merod's live Jazz recordings that there were audible groans when he collected his disc after our audition. In my opinion, had Wes not been there monitoring the system, driving it to its fullest potential (and let's face it, a $611,455 system should KICK ASS), show-goers NEVER would have heard the musical heart and soul this collection of gear was so very capable of rendering. Thank you, Wes, for giving us a chance to hear what that system could create!
Into to the Lite…
The next section of this report will be comprised of my images with some fairly long cut notes included below. Again my apologies, but I just don't have the details from my lost notes to do a more comprehensive job. Next year!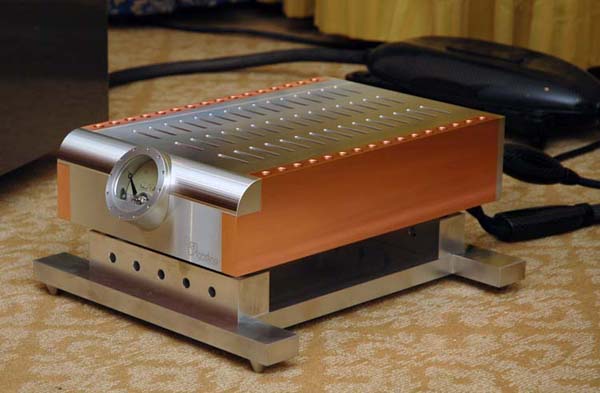 Dan D'Agostino Inc., a new company founded by the veteran industry designer of the same name, was showing his latest creation, the GORGEOUS looking and authoritative sounding Momentum Monoblock Amplifier ($42,000/pair). The Momentum employs 28 high performance output transistors per channel operating at 69MHz. The claim is that this permits remarkable bandwidth. Rated at 300-watts into an 8Ω load (600 into 4Ω and 1200 into 2Ω), these new Class A/B monos weigh in at 90 pounds and are just 4.3 inches tall, 12.5 inches wide, and 18.5 inches deep.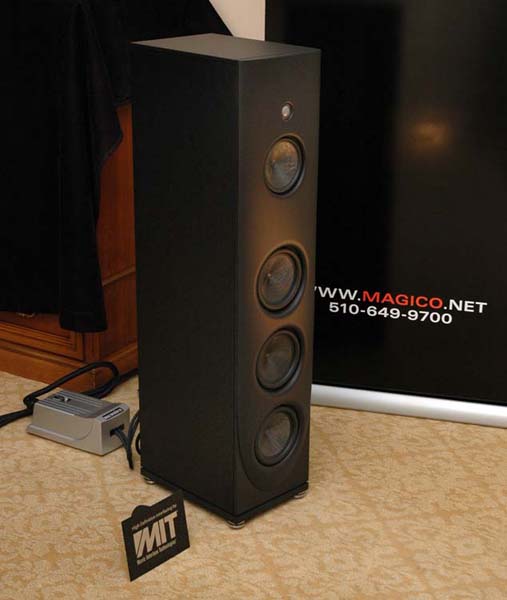 The new and truly breathtaking sounding Magico Q3 ($34,000/pair). The Q5, located in a different room on the lower floors, was the recipient of this year's CES High Performance Innovation and Engineering Award, which I was privileged to judge again for the third time this year. Listening to the Q3s, driven by Magico's own Music Server, the splendid Swiss Soulution Audio electronics, and all MIT cabling was quite impressive, if somewhat uncertain. There was clarity of tone, of dynamic events, and low bass unlike any I've heard before. They offered a degree of focus and an amazing sense of transparency that I found hard to resist. Transients were precise and clearly delineated. The sense of overall "speed" imparted to the music was captivating. This is one amazing product. The reason I suggested a degree of uncertainty is, of course, the inability to audition the speaker with any known music. Irv Gross and I had our same discussion wherein he defended Magico's desire to get the utmost performance at a show by using their own music server, and me defending the frustration at the inability to be able to truly "compare" the speaker by not having the ability to hear music of my own choosing. To Irv's defense and credit, we both clearly understood each other's viewpoint, but it was a frustration nonetheless.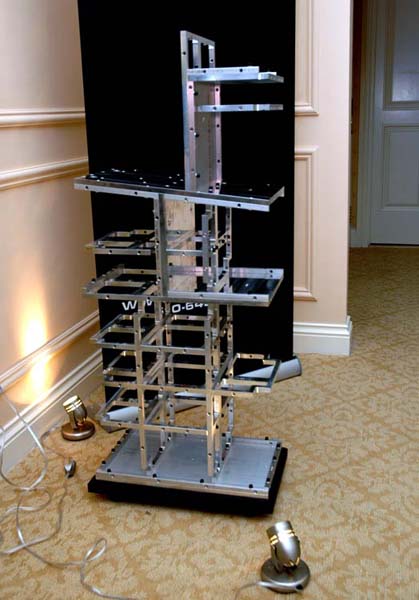 A view of the structural bracing inside the Magico Q5 makes it clear just how much technology and effort has gone into the new Q series of speakers. Magico's Irv Gross said that the Q5's internal architecture consists of 86 plates and 377 bolts! Spending a little time chatting with Alon Wolfe this year brought about a better understanding of this gifted designer. It was quite clear that his passion for what he does is manifest and sincere; with Alon, it isn't about the paycheck; it is about the result he is able to achieve. During our discussions, we learned that we shared yet another passion, photography. Alon is an accomplished photographer as well as a speaker designer; he used his medium format camera gear to create all the images of the Q5 you see on the Magico site!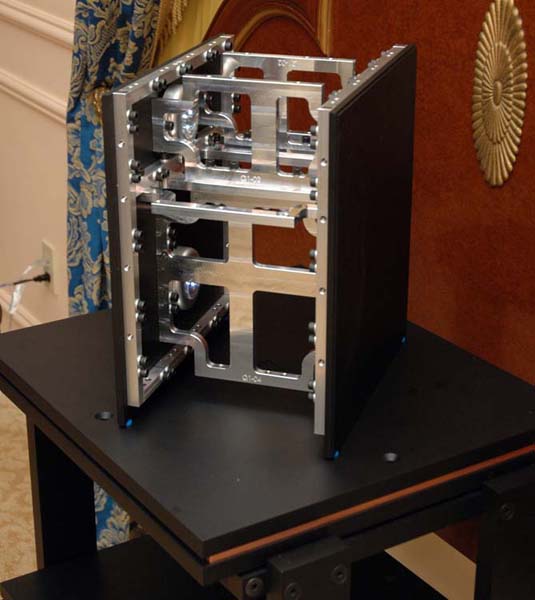 Soon to follow on the remarkable Q5 and Q3 will be the Q1, a small two-way monitor using the same internal bracing technology as its larger siblings, pricing to be announced.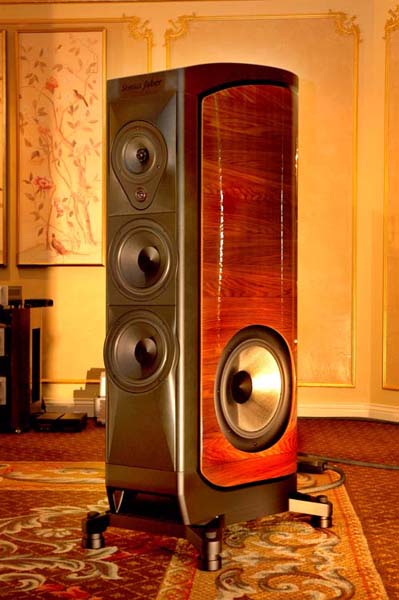 Easily the most musical and engaging system I heard at this year's event was the new statement speaker from Sonus faber, simply called THE Sonus faber. It sounds even more elegant and remarkable than it looks, and it looks SUPERB!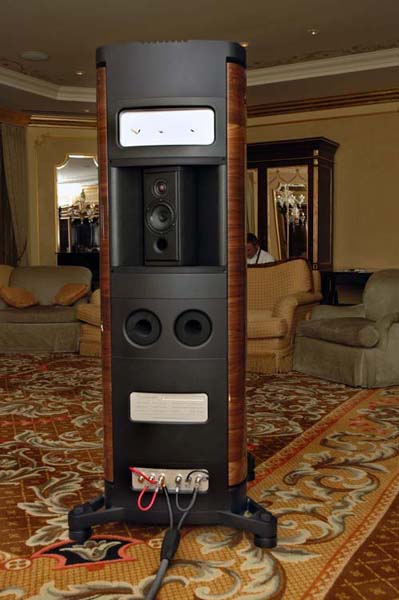 Here is a view of the back of The Sonus faber, with its flexible controls and ambient speaker array. It is easy to see why these elegant and beautiful speakers sold for $200,000 a pair. That's right, I said sold – past tense. They are only building thirty pair, and Sonus faber's Bill Peugh told me that by Sunday afternoon, all thirty orders had been placed!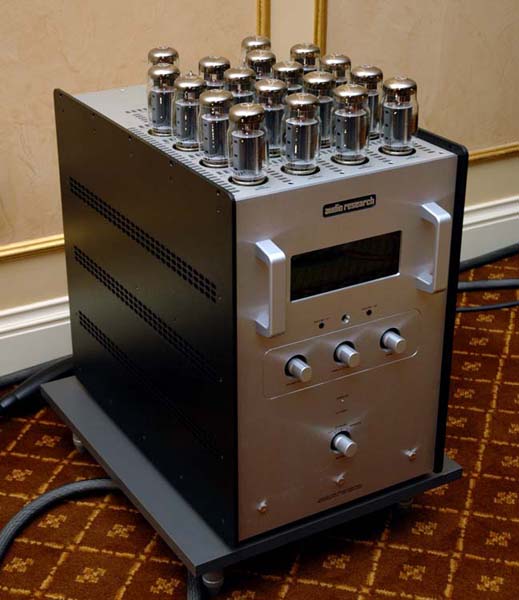 The Sonus fabers were driven by a pair of the commanding looking Audio Research Reference 610T Mono Amplifiers (~ $40,000/pair). Employing eight matched pairs of 6550C, one 6550C regulator, one 6H30 regulator, two 6550C drivers, two 6NIP inputs, with one 6H30 follower, this gorgeous beastie weighs in at 170 pounds, and is said to deliver 600watts continuous at 16 ohms from 20Hz–20kHz (approximate actual power available at "clipping" 630 watts [1kHz])! What a remarkable match up. I simply cannot recall any system able to achieve a more realistic sense of scale, or so realistically recreate the body of instruments and the space of the soundscape in which they exist. This system was breathtaking, and only thirty very lucky people will live with this exciting and remarkable loudspeaker.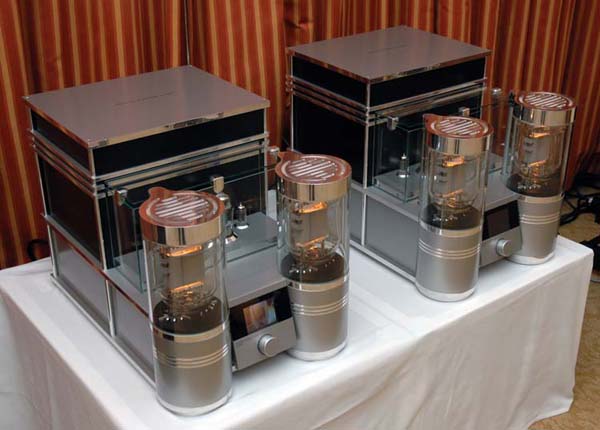 A pair of the enormous and gorgeous Audio Power Labs 833TNT monoblocks. Based on a pair of 833 transmitter tubes, they should start shipping in Q3 of 2011. Projected retail will be in the $150,000/pair range. These guys knew how to have fun as well as show off their new flagship product. They gave me a Tee that has the company name and a graphic image of the amps on the front, but the back says, "Our tubes are bigger than yours!" Though they had a hard time keeping them running on Thursday (due to the enormous current draw on the hotels less-than-beefy supply), some re-biasing and other unmentioned tweaks had them singing away gloriously by Friday. These are some VERY impressive amps and I'm hoping for a review when they are actually in production.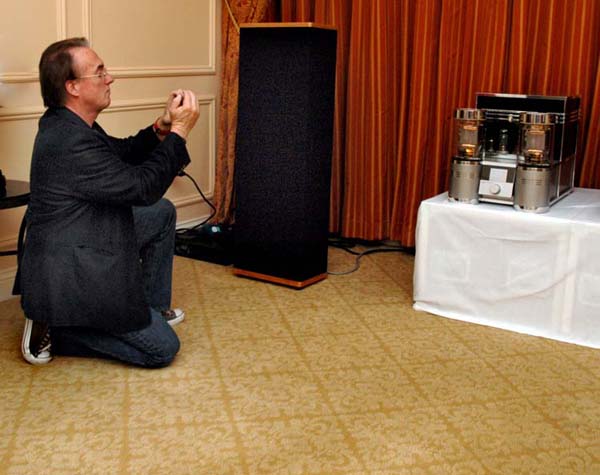 My good friend and fellow PFO'er Gary Lea, taking a shot of the Audio Power Labs 833TNTs. Gary was a bit disappointed as he told me that his camera battery had run dead just as we entered the Audio Power Labs room. He seemed more than merely surprised when I reached into my bag and produced a battery just the right size and voltage to fit his rig, allowing him to shoot the rest of the day!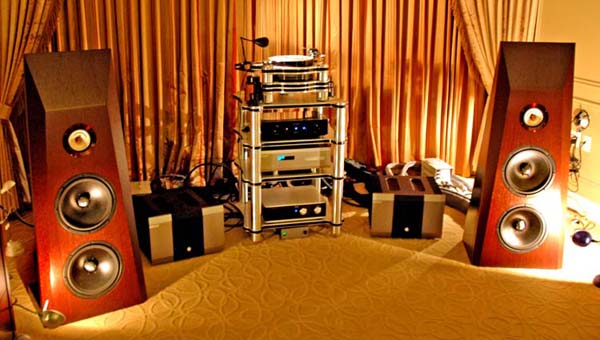 Joe Cohen's The Lotus Group has teamed up with Steve McCormack, distributing and showing his "stoop'ed" good VRE-1B preamplifier, and showing the amazing Granada Loudspeaker and over-achieving Hanns Acoustics T-60 Turntable. Joe was showing the latest from his personal PranaWire line, the Avatar series of cables. I don't know if it was the different associated gear, the low volume of the system when being demo'ed, or something else altogether, but the system just didn't seem to light up and spring to life as it did last year. Further, here was yet another example of someone often refusing to let the music flow by artificially restricting the volume (it wasn't Joe or Steve, by the way!), especially when asked to play music that wasn't especially to his liking.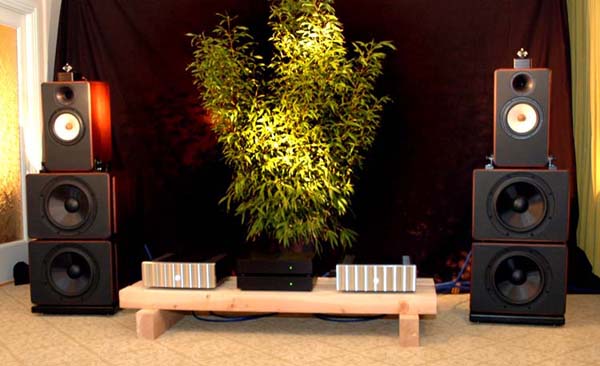 The striking looking new Trenner & Friedl Dukes ($175,000) in a suite shared with Profundo, the Jeff Rowland Design Group (the new amps are the silver boxes just inside each speaker), and Cardas. While solo piano works loomed nearly as life-like as I've heard, when playing anything with deep bass, the system was clearly discontinuous down low; the bottom two octaves were slow, ill-defined, and bloated by comparison. Maybe it was the room, maybe it was the associated gear, you can NEVER be sure at a show. I stopped in this room a total of three times, hoping to find a different result, but it was consistent, and others who's ear's I trust heard the same thing.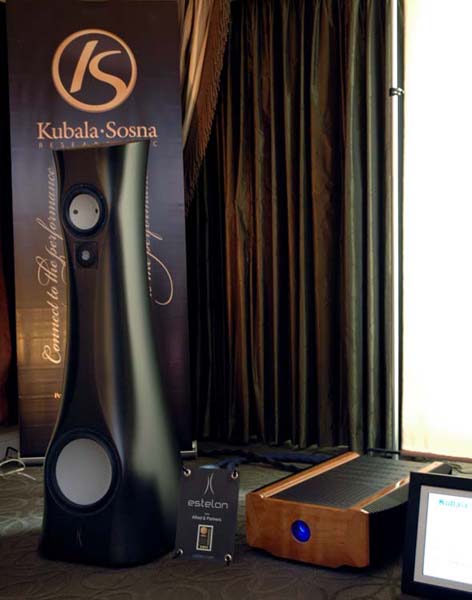 The Kubala-Sosna room never fails to please, and this year was no exception. The new sleek looking Estelon XA loudspeakers ($43,900/pair), featuring all internal K-S wiring, were driven by the Tenor Audio 350M monoblocks ($100,000/pair). Joe played many "records" that he had previously recorded to a VERY impressive Korg MR2000S, a studio-grade recording device that records at "Double DSD" to its own internal 80GB hard drive. I've NEVER heard the theme from Flashdance or Al Stewart's The Year of the Cat, quite like that before. K-S cables have grown to enjoy remarkable success and were used in 12 different rooms at CES this year! Besides making a truly wonderful product, Joe and Howard are two of the nicest fellows you'll have opportunity to run into in our industry.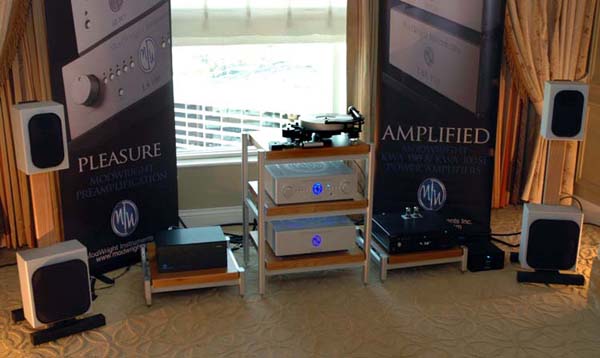 Dan Wright has shown with Audio Machina speakers for the last couple of years now, and sitting down and listening in the room makes it clear why. There is an inescapable sense of "liveness" from the resultant pairing. Dan has managed to put together exemplary show rooms for going on five or six years now, and it is always a pleasure to sit down and listen in the ModWright room. I will be taking a closer look at the new LS 100 line stage preamplifier early this year.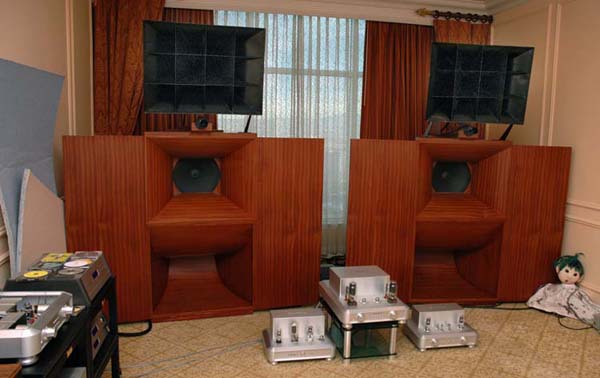 The Silbatone Acoustics/G.I.P. Laboratory room is an enigma to me, as it has been for the past two years. Sporting numerous six-figure prices electronics, many fashioned from newly found and miniscule caches of NOS tubes, these Korean companies claim that they aren't there to sell anything. What they are trying to do, so it would seem, is keep the Western Electric way of life alive. I was told that Silbatone would be making only 10 units of a certain amplifier design, since they recently uncovered 20 odd rare old tubes that had been stashed away and forgotten. The price will be something on the order of $150,000. And the speakers? You can't buy them either! G.I.P. Labs will sell you the plans for the horns and the raw drivers, but you are on your own to execute those plans. Electronics used in the room priced out at well over $350,000, and the speakers were estimated to be worth about $250,000, but they couldn't say for sure. I just don't get it… Sorry!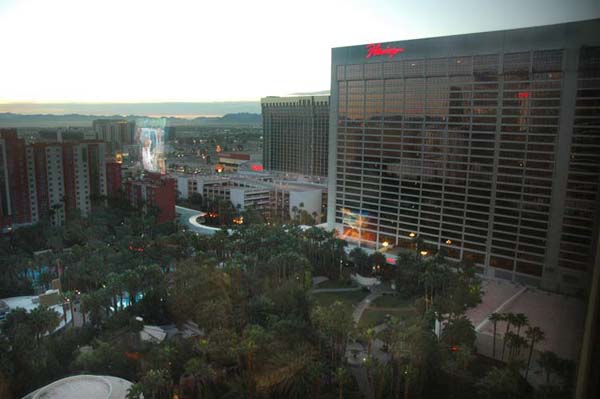 Thursday morning dawn from the 28th floor of the Flamingo, looking down into their remarkable conservatory of fish, flamingos, birds, trees, and tropical plants. Winding sidewalks, numerous waterfalls feeding meandering streams, populated with loads of fish and waterfowl, as well as their signature flamingos, create a relaxing, serene, and otherworldly oasis in the middle of the concrete and steel expanse that is the rest of "the Strip."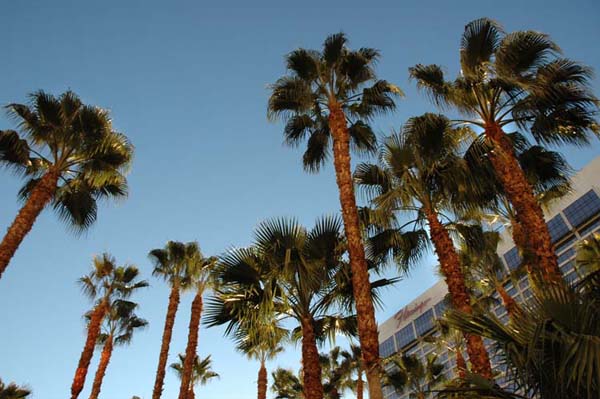 Looking up through the palms scattered throughout the central "park" inside the confines of the Flamingo Casino and Hotel, home for the second year to Richard Beer's steadily growing T.H.E. Show.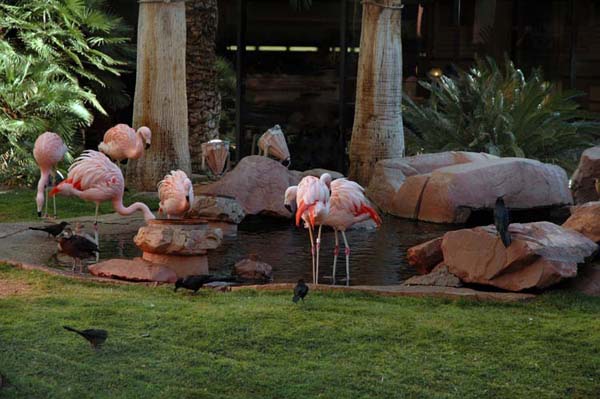 It just wouldn't be the Flamingo without some, would it?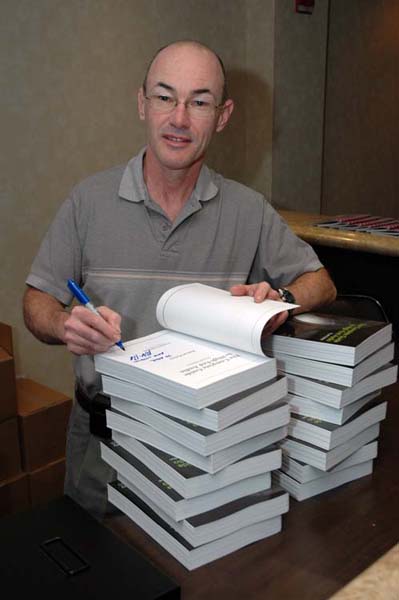 Digital Maven and Editor-in-Chief of the abso!ute sound, Robert Harley, signing my copy of the Fourth Edition of his ever-popular The Complete Guide to High-End Audio. He recently moved to the Carlsbad, California area and lives just blocks away from our own Jim Merod.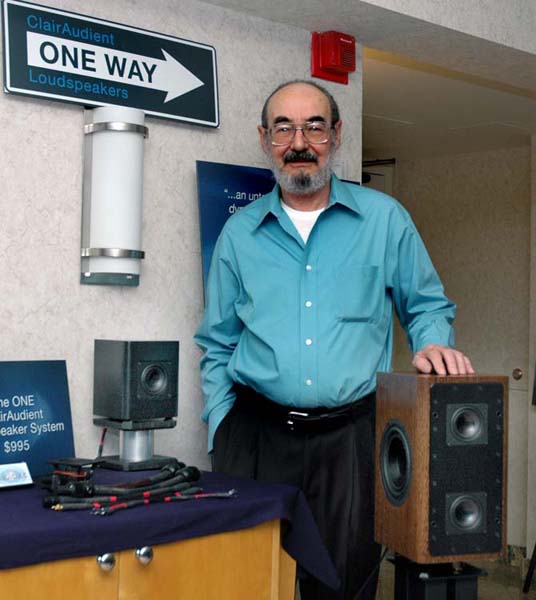 Audience's chief design engineer, Roger Sheker, stands between two very overachieving new speakers, The ONE, on the short stand atop the counter to the left, and the 2+2, on which he is resting his hand to the right. Like all of the Audience ClairAudient line of loudspeakers, they are based on the astonishing Audience A-3S driver, a remarkable little 3-inch driver, and are therefore crossover-less. I have to say that at $995, The ONE, using one A-3S driver on the front, acoustically coupled to a single passive driver on the rear face, is going to set a high standard of overall performance. I expected it to be good, but it was truly stunning, quite competently filling the good-sized suite occupied by Audience on the fourth floor of the Flamingo!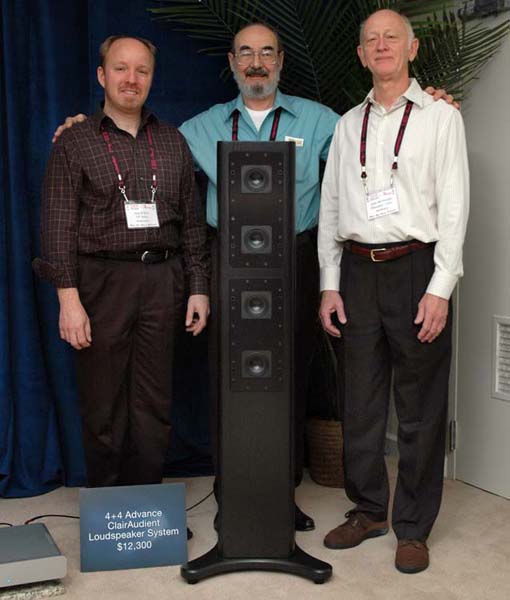 From left to right, Dan Rosca, Vice-president of Sales and Marketing, Roger Sheker, Chief design engineer, and John McDonald, President and CEO of Audience, stand behind the new ClairAudient 4+4, which should sell for around $12,500. I only had one word for the way it performed in their nicely sized suite in the Flamingo, "F**k," and they plan to quote me! The speaker is amazingly transparent, with goose-bump generating dynamics, and a naturalness that is rare at any price, let alone the $12.5K price point!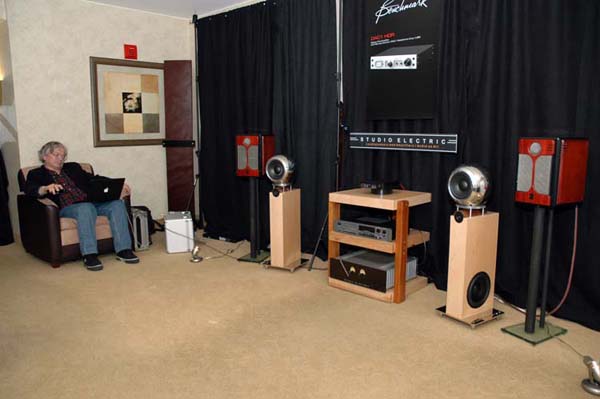 The Studio Electric/Benchmark room is ALWAYS flat out fun. Studio Electric designer and principal, David MacPherson, is seated to the left above, running the music from his MacBook to feed the Benchmark DAC. The analog output is sent to the Studio Electric EA4 amplifier, driving the new Studio Electric Monitor.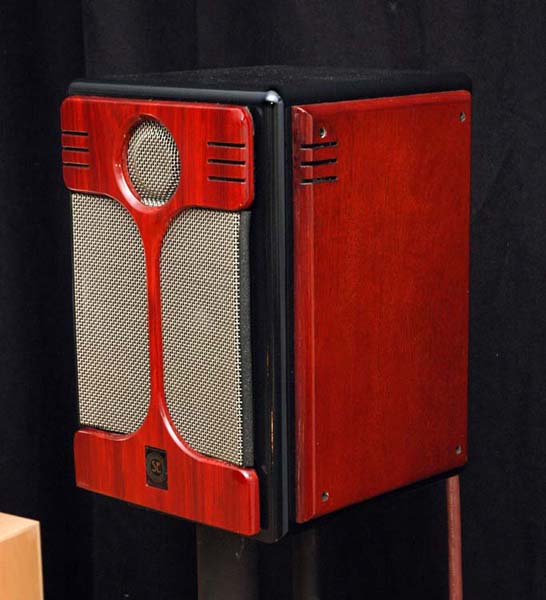 When I first ran into the SE Monitor($2550/pair) back at the 2010 "AKFest" in Novi, Michigan in May, it had just been released and was called the Pasadena. The big change is that they now sport way-cool retro looking stainless steel wire mesh grills. Taking a closer look at this over-achiever, you can see why Dave's site proclaims that his products are, "industrial art for audiophiles." While you might be able to argue that it is not quite as striking as the company's current standard T3, or the original T1 or T2, it makes music—unfailingly! I defy you to listen to any of Dave's products and not be tapping your toes within minutes. With Studio Electric products, you are simply a part of the music under examination. I've been trying to find the time to audition a set of the T3s for several years now. What does David do but develop a killer monitor in the mean time! These are some of the most musically engaging monitors I've ever experienced, and I say that having only ever heard them under show conditions. I can't imagine how good they really must be in a controlled home listening environment!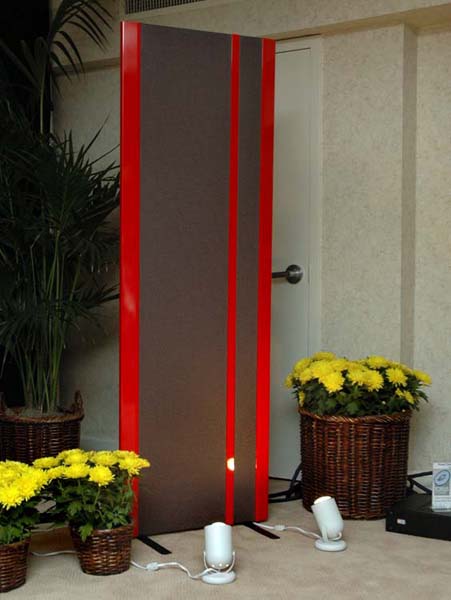 The new $5500 Magnepan 3.7, which, after a dozen years, replaces the long-standing 3.6 model. I've long been a fan of what a "Maggie" does right, but they have never totally engrossed me, until I heard the 3.7 this year! A wonderful speaker, reasonable priced.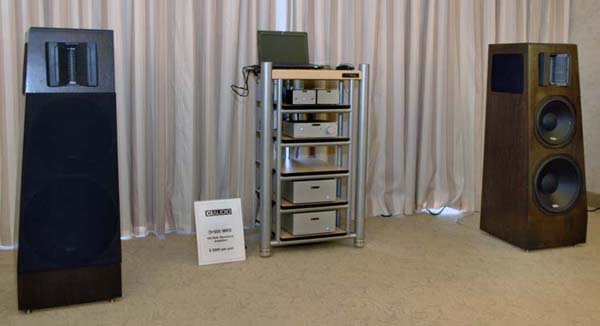 No, you are not seeing things! Those are ESS loudspeakers, updated and back from days gone by. The model LD-10LR is the flagship of the AMT™ line, and sports the long admired Heil Air-Motion Transformer. Ricky "Rico" Caudillo is proud to be part of resurrecting the famous line and of restoring that technology to the myriad of fans that have been clamoring for just such a return. The amplifiers used in this room were the delicious Channel Islands Audio D-200 Mk II that received my Writer's Choice Award this year, and are my current reference. Ridiculously good amplification for very little money (meaning highly affordable)! I'll have a full review coming soon.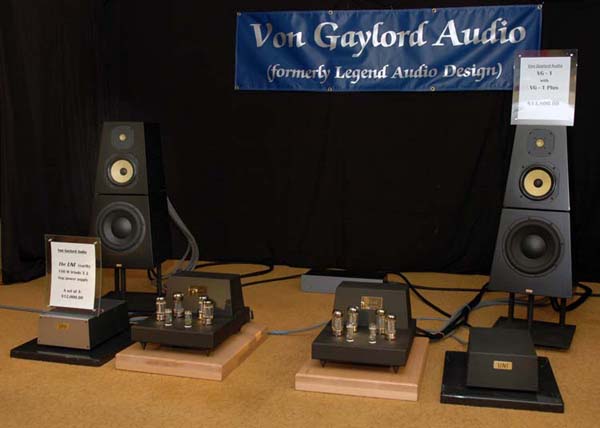 This modest looking system just took me in—again. Jim Merod was with me, and he had never had an opportunity to hear this gear. He was just as taken as I was. This all Von Gaylord system featured the VG-1 speakers ($7500/pair) paired with the VG-1 Plus subs ($6300/pair), on their matching stands ($450). Amplification was from their Uni Earth amps, a four-box, two-channel pair of monos ($12,000/pair). The preamp was their Uni Preamp ($15,000), a class-A preamp with a separate power supply. Ones and zeros were handled by their Uni Digital DAC ($9995), also sporting a separate power supply. All cabling was from Von Gaylord as well, featuring the Chinchilla interconnects ($1350/1 meter pair), Chinchilla Speaker cables ($3600/10 foot pair), the Chinchilla Digital cable ($995/1 meter), and the Chinchilla Power cords ($995/6 foot). This system was natural sounding, immediate, and offered up intimae nuances from the recordings.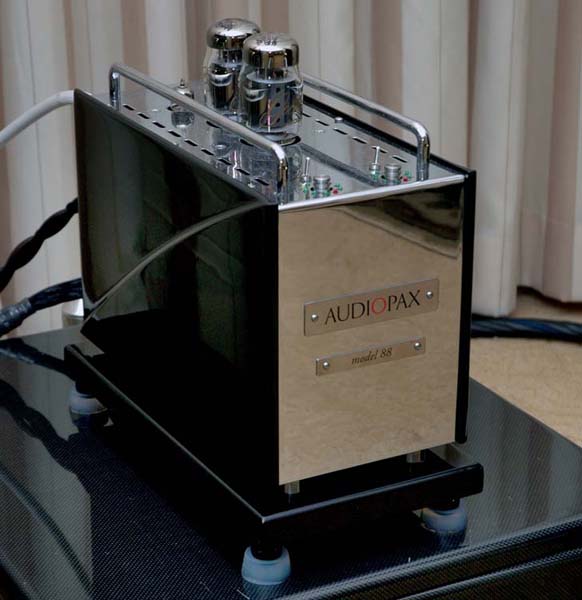 The AudoPax room featured the Model 88 A3 amplifiers ($19,000/pair), which employ an interesting circuit called Timbre Lock®. It allows for fine adjustment of the amplifier/speaker interface, allowing the user to dial-in and fine-tune amplifier behavior. The A3 signifies the third generation of this product, which won an industry award for the Timbre Lock® feature when it was introduced, and was on Stereophile's Class A recommended component list for 7 years. I am expecting a pair to arrive before the end of February for review, so stay tuned.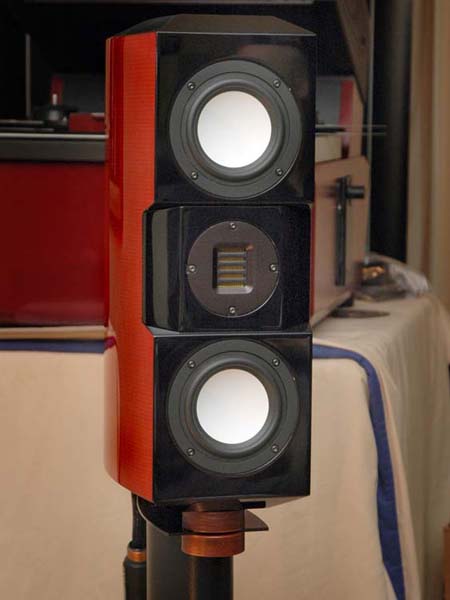 This year, with the exception of the Sonus faber, it was the little speakers that really spoke to me (see my comments on the $995 Audience The ONE above) and left the strongest feeling that trickle down in our industry really works. The speaker above is Kevin Malmgren's latest addition to the growing Evolution Acoustics product line, the MMMicro ONE. Even though it is of modest size, when I first heard it, I would have guessed that it would command a much higher retail than its $2000 asking price. The MMMicro ONE is listed as +/- 3dB from 35Hz to 30kHz, and -6dB at 30Hz to 35kHz! This little speaker was fronting some $90,000 to $100,000 worth of electronics! Its transparency and sense of body and scale were remarkable. I have to say that had they told me it would retail for $6500, I STILL would have been impressed. This speaker clearly sets a new bar for the $2000 speaker price range. Well done Kevin and Jonathan! Jonathan, don't forget to send me a pair just as soon as production allows!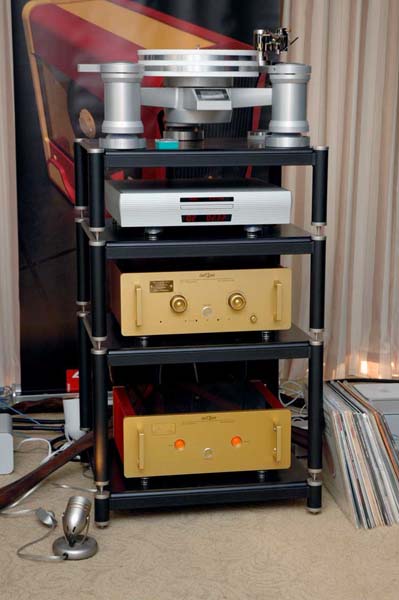 Sources in this room were alternately the Playback Designs MPS-3 CD Player with USB input ($8500), which was making its world debut, an Ampex ATR-102 Reel-to-Reel deck with Aria Electronics (price on request!), or the Wave Kenetics NVS Reference Direct Drive Turntable (price to be announced) fitted with the Durand Talea II Reference arm ($7900) using an Ortofon MC A90 Limited Edition moving coil cartridge ($4200). Amplification came from the darTZeel NHB-18 NS Reference preamplifier with MC phono section ($30,000) and the NHB-108 Model B Reference stereo amplifier. Cables were all from Evolution Acoustics, including the PC2ONE power conditioning AC cord ($2000), the TRPC AC cord ($3000), the Link Reference 50Ω BNC-BNC interconnect ($6000), and the DRSC speaker cables ($6000/pair). This system was astounding!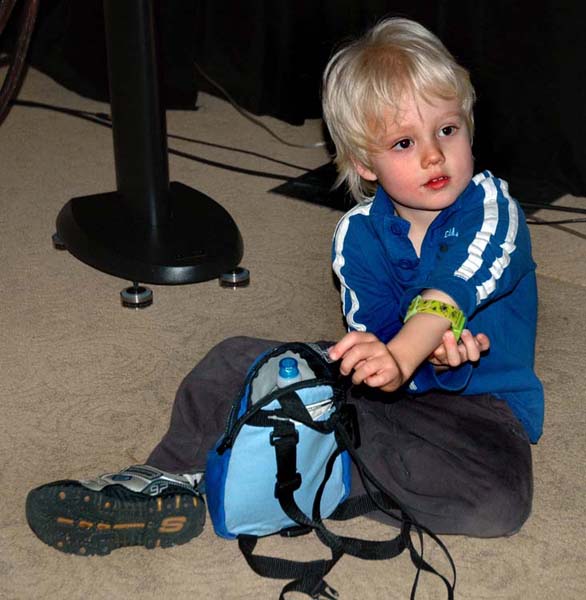 Flo and Kevin Malmgren's son Mikael was just so adorable, and was having so much fun listening to the music with a room full of show-goers, I just had to include his picture.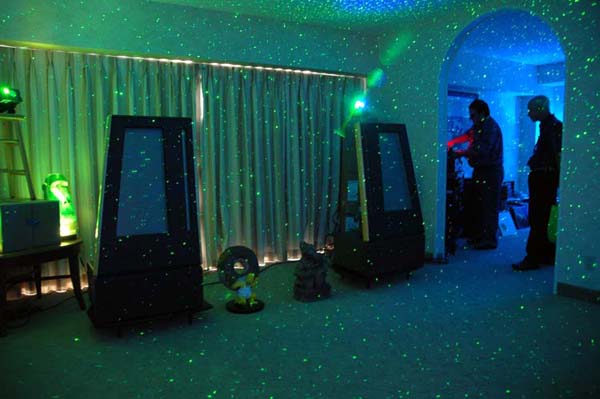 The dark and "disco-esque" looking NFS room. NFS stands for "Nothing For Sale." It is a room full of vintage gear, playing classic rock, run by three guys who just LOVE music and hangin' out at shows. They have cases and cases of wine, which they share with other show-goers, and as you can see from the photo above, they are into reviving the whole '60s and 70's psychedelic experience, even though they use modern technology to achieve their goal. Good fun, great conversation, and whole bunch drinking!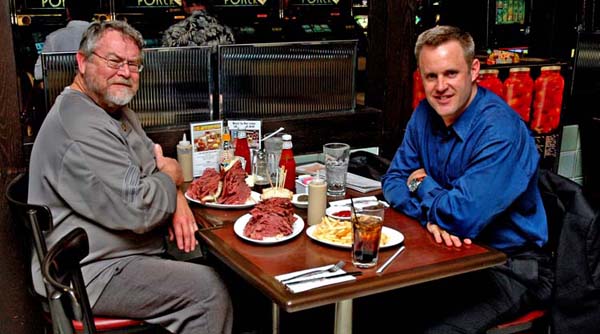 Jim Merod, the wizard behind all the Blueport Jazz recordings, and Jeff Smith, the designer and principal of SilverSmith Audio (and an active duty Commander in the United States Navy), sat with me for a meal in the Carnegie Delicatessen at the Mirage. We had just left Philip O'Hanlon's (On A Higher Note) annual get together held in one of the Mirage suites, and had decided to get some chow. This Deli had been lurking in the back of our minds since we passed it on our way into the Mirage.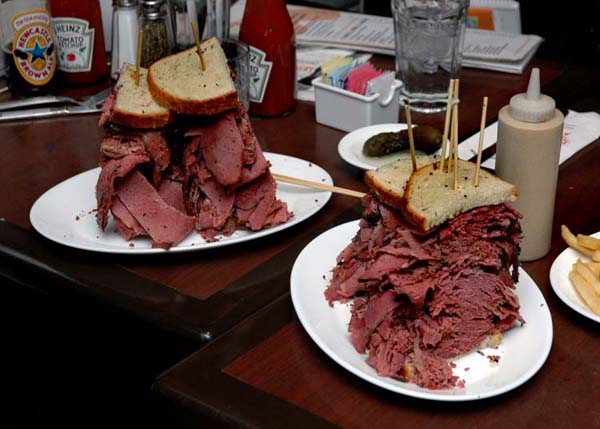 Jim and I each ordered a Woody Allen, described in the menu rather vaguely as a sandwich "For the dedicated fresser only! Lotsa Pastrami plus Lotsa Corned Beef." Just for clarity, fresser is a Yiddish word that loosely translates as glutton! When the sandwiches arrived, they had over two pounds of meat, arranged in cut sandwich halves, each stacked over 7 inches tall. Now that's a meal, folks. Of course, they came with the (prerequisite) plate of dill spears. Ah, I love Deli's!
Thirty-Nine and a Quarter Miles
Just how much walking is required to cover an event as large, encompassing, and widespread as the combined CES/T.H.E. Show? Some years ago, my wife Kim suggested that all I do at my day job (as an IT Engineer at the University of Notre Dame) is sit on my duff and type. So I started using a pedometer on a daily basis. In actuality, I walk somewhere between 3 and 5 miles a day at the University, with an additional 2 or so every evening with our aforementioned dogs.
Out of curiosity, and knowing that my five days in Vegas are long and necessarily comprised of a tremendous amount of hiking, I took it with me this year. I wore it faithfully from the time I landed at McCarran airport Wednesday morning until I returned there for my departure Sunday night, logging a surprising 39.25 miles. I'd NEVER have believed it without that pedometer!
So, one more CES/T.H.E. Show has come and gone... It seems like I've attended over 20 of them now. Oh, wait! I have! However, I promise to not store my notes at "dog" level next year! Till then…