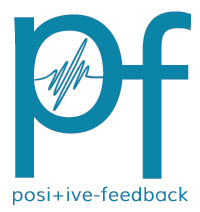 You are reading the older HTML site
Positive Feedback ISSUE 52
november/december 2010
A Tale of Two Cables: The Whiplash Audio Dynamics SCSCag Interconnects and the Moon Audio Silver Dragon IEM LOD's
by Andy Schaub (with the unorthodox assistance of his friend Gerry including additional photography)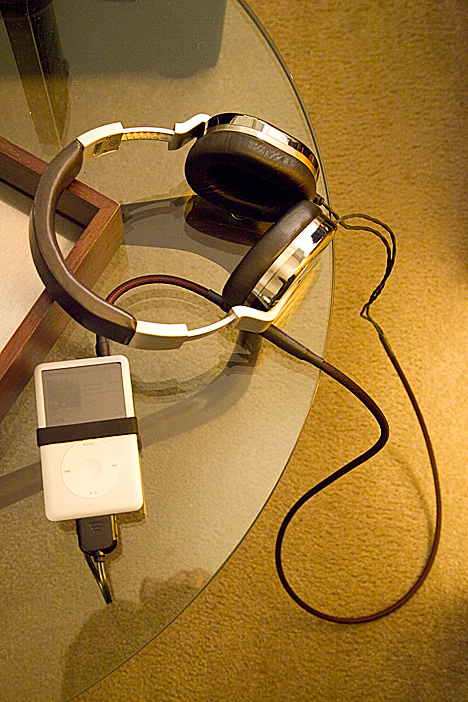 "What's the Frequency, Kenneth?" – REM
Pt. I: It was the best of wires; it was the Wurst of wires.
That was my initial impression of the Whiplash Audio Dynamics SCSCag interconnects. Placing them between my Triode Audio Corporation CD player and integrated amp where I normally have Audio Note AN-Vx interconnects with Eichmann Silver Bullet Plugs, I immediately noticed a level of detail that I had not expected from such an unassuming black cable with black, locking Furutech RCA connectors and left/right color coded heat shrink tubing; on the other hand, they seemed terribly bright. However, I know I am prone to dislike brightness and the cables were brand new, so I should give them a break, right?
Well that's exactly what I did. With Craig Sanborn's permission (the owner of Whiplash Audio Dynamics or, from now own, just Whiplash Audio), I lent the one-meter cables out to my friend Gerry who has a greater tolerance for excessive high frequencies and vastly more patience for extended burn in periods as well as the following equipment:
1. An Immedia RPM-1 Turntable (the original, MDF model) with an SME V (used as a reference in designing the original RPM-1 according to Allen Perkins, the owner of Immedia, now spelled IMMEDIA) and a Lyra Helikon.
2. A Quad 77 system (preamp, CD player and tuner) using the Quad bus and a Quad 707 power amplifier.
3. A pair of Spendor SP-1's (on stands).
4. A vast array of peripheral equipment including a Ray Samuels XP-7 headphone amp and a pair of Moon Audio Silver Dragon Grado RS-1's.
Gerry was more than happy to sub-review these cables for me, or at least offer his opinion after more than a month of experimentation.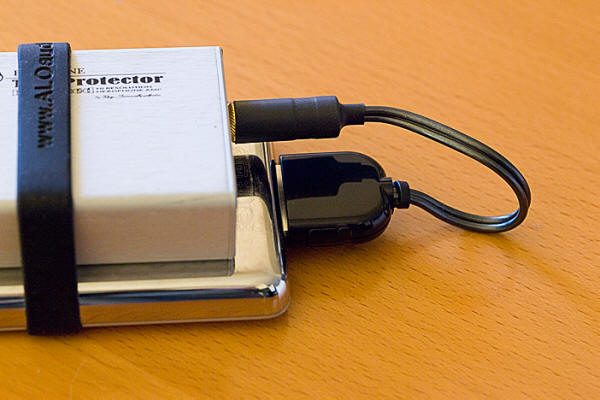 In the meantime, I was experimenting with various LOD's (Line Out Docks) to use with my iPod and iPad including, most notably, the Moon Audio Silver Dragon 6" and 12" LOD's. In situations where flexibility is not an issue, like using the correctly labeled "AUX" mini-plug input in my Prius, the 12" Moon Audio Silver Dragon worked quite flawlessly and allowed me to connect my iPhone to the JBL stereo system built in my 2009 Prius and—playing nothing but lossless files—I got awesome sound quality, much better than the generic Belkin LOD and iPhone charger combination I had purchased, not to disparage Belkin's many fine iPhone-oriented devices and their 4 port mini USB hub, which I love. When the time comes, I can drive to Mendocino (about 3.5-4 hours depending on what route you take, according to Google Maps and my quickly failing memory), and listen to a long playlist of CD's by Jordi Savall while sipping black iced tea.
By now, Gerry had received the Whiplash Audio SCSCag interconnects, hooked them up between his turntable and the phonostage of his Quad preamp. His normal cable going between the Cardas DIN-to-RCA box and his Quad preamp is the Audio Note AN-Vx with AN-P connectors; personally, I think the AN-P connectors are a little bright so 90% of my Audio Note cables have Eichmann Silver Bullet Plugs on them. But Gerry likes the forwardness of the AN-P's; however, even he admits that with certain records they can sound a little too bright, so—with great surprise to me—he finds the SCSCag interconnects to have a softening effect and likes swapping them in on his brighter LP's. He did comment that if the locking Furutech RCA connectors twisted the other way when tightening (clockwise as opposed to counterclockwise, depending on your position relative to the connectors), they would be easier to work with; and I agree with that. But the Furutechs seem to follow an industry standard.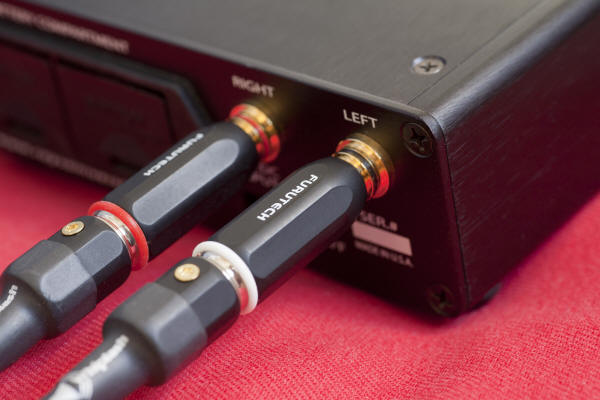 Over time, I've experimented with the Silver Dragon LOD's and liked them, but the stiffness of the cable is, as I mentioned, is a limiting factor. So what did Drew Baird—the owner of Moon Audio—do? He came out with "IEM" versions of the Silver Dragon LOD's. The main difference—from my perspective—is that the wire is thinner and runs along with left and right channels in parallel unlike the Whiplash IEM cables, which are twisted, but both still have much greater flexibility than the regular Silver Dragon LOD. What does IEM stand for? It's "In Ear Monitor". It's a way of describing the portable, highly efficient "earbuds" that actually go down into your ear canal and generally block external noise. They're also reputed to be technically more accurate than regular headphones, hence the moniker "Monitor". I have a pair, the JH 13 Pro's, which are great, and required that I get my ears cleaned, have latex molds made (for about $50) and then have JH Audio custom make their JH 13 Pro IEM's for me that are a perfect fit for MY ears only, meaning that they fit more comfortably than a generic IEM and block MUCH more outside noise. In fact, they fit so snugly you have to follow special instructions on how to insert them properly, go way down into your ear canal, and of course require a smaller, lighter cable. Hence the development of the Moon Audio IEM Silver Dragon cable; however, the same wire works very well for a more flexible LOD, and I ordered two: a 24" for my iPad feeding my B&W Zeppelin through the "AUX" in and a 6" for my iPod driving my Ray Samuels Protector or my ALO Audio Rx portable headphone amp.
Meanwhile, back at the Bat Cave, Gerry is burning in the SCSCag interconnects for a whopping 500 hours with characteristic patience; he has not been burning in the SCSCag interconnects with his turntable. He has used a digital, line-level source; however, his listening samples have continued to be conducted via the junction box for his Lyra Helikon/SME V and Quad preamplifier. In other words, has conducted the listening tests WITH his turntable. As mentioned, he reports that—in direct contradiction to my initial experience—the SCSCag softens the harsher, more forward passages that sometimes grate on his nerves with the Audio Note AN-Vx interconnect and his brighter records. Again, I should point out that he uses the AN-P connectors on his AN-Vx's which are, in my opinion, a bit forward; but that doesn't explain this degree of difference; and the additional 500 hours isn't making that much of a difference he says, which is interesting to say the least. I will say that when I received the SCSCag interconnects back—temporarily—they did sound smooth as silk; so clearly the extended burn in had made quite an extraordinary difference to me. Ultimately, Gerry chose to keep the SCSCag's with the kind assistance of Craig Sanborn, the owner of Whiplash Audio and a truly nice guy.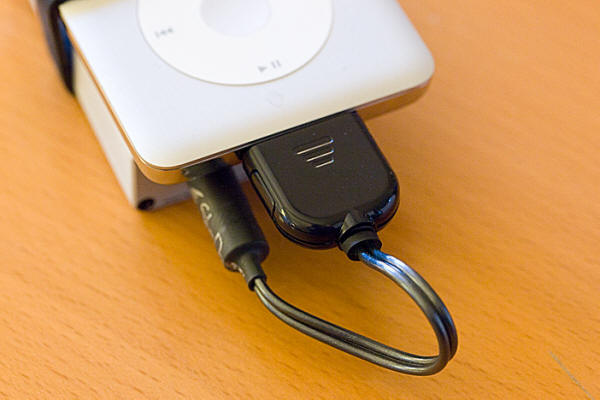 Pt. II: The plot thickens.
Or should I say, "the wire thins". Now I'm going to focus on the Moon Audio Silver Dragon IEM LOD's for a moment; but fear not "bat lovers", we will get back to the SCSCag interconnects as well as a surprise appearance from the Whiplash. In order to accommodate the growing IEM (In Ear Monitor) market, and to make a more flexible LOD, Moon Audio did come out with this new version of their Silver Dragon cable as I described above. I was hoping it would sound the same as their regular Silver Dragon cable, and it does, sort of; however, it sounds a little more rolled off in the top end and there's a complimentary warmth. Plus, there appears to be a slight bump in the midrange that gives it a pleasing presence. It reminds me a little of the original Spendor BC-1. I do find that longer runs (say 24") don't sound quite as good as shorter runs (say 6") but not so much that I would avoid using it with my JH Audio JH 13 Pro's, which I mostly use for travel anyway; however, I can't really comment on its effectiveness as an IEM cable, because that's not the context in which I'm using it. I'm using it as a LOD with 3 devices:
1. The AUX in of my B&W Zeppelin, which is uselessly rolled off sounding on its own. The actual B&W dock connector sounds very good, hence my purchase of an 8GB iPod Touch to stream Internet radio via WunderRadio.
2. The line-level input of my Audioengine A2 Traveling Wilbury speakers, a phrase I am coining myself because I like their sound (the speakers, but the Traveling Wilburys as well).
3. My Ray Samuels Protector, which I grow to appreciate more every hour I use it, with the requisite balanced connector attached to my universal Silver Dragon Edition 8's.
In fact, as I write this, I am listening to "Trinity Revisited" by Cowboy Junkies using my 160 GB iPod Classic, 6" Silver Dragon IEM LOD, Ray Samuels Protector and universal Silver Dragon Edition 8's after hot and spicy bean curd with my best friend and I just can't imagine life getting any better. There's a synergy to the portable electronics and cables that echoes the exuberance of the evening. Again, it is as if Margo and the boys are in this room with me.
So, at this point you may be asking, "So, in a real life, practical situation, which cable sounds better, the original Silver Dragon or the Silver Dragon 'IEM LOD' cable?" I would have to say, "neither, or more specifically, both". It's not so much that one sounds better than the other; they just sound different. The original sounds a bit more like a pair of WATT/Puppies in that there's greater clarity, the "IEM LOD" sounds a bit more like a Spendor SP-1 or BC-1, warm and a little rolled off (and quite pleasing).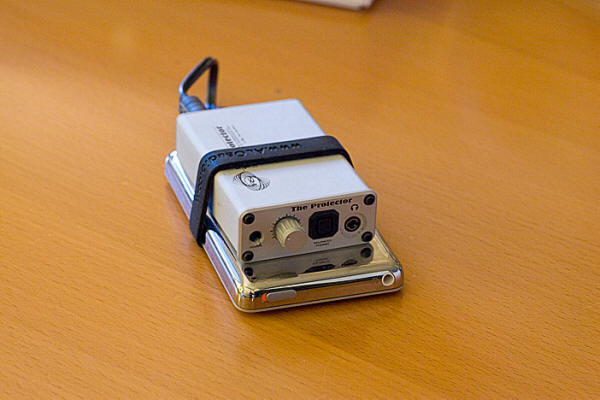 III. What the thunder said (*).
As the "Washington Post" wrote, "'Misa Criolla,' widely regarded as a stunning artistic achievement [by Ariel Ramírez (4 September 1921 to 18 February 2010)], combined Spanish text with indigenous instruments and rhythms. Its effect is that of a reverent carnival, and it has sold millions of albums and been performed countless times across the world by artists including opera star José Carreras and Latin American folklore singer Mercedes Sosa."
I have the version with Sosa, which I think is quite remarkable and need to thank Lee "Non-Weiland" forintroducing to me. On my home system—with my hemp woofers (yes, I said hemp; and they're blue)—there's tremendous heft to the bass and the opening drums of "'Misa Criolla" as referenced above are quite solid and sort of thud you in the chest; with the Silver Dragon IEM LOD driving my Silver Dragon Edition 8's, there is heft but it's diffuse; however, given that I'm using an iPod (with Apple Lossless Compression), a Ray Samuels Protector (which does do a fine job with bass) and the Edition 8's (which lean towards warmth but not at the expense of clarity), the fact that drums still seem weighty is quite an accomplishment for a 6" LOD that looks like it has black zip cord coming out of it. Really. This device is not your Belkin car audio adapter that we're talking about (again not to disparage Belkin, which produces fine products).
So do I feel the need to go back to the 6" or 12" original Silver Dragon to get that extra bit of clarity? No, I don't think so at all, particularly when the Silver Dragon IEM LOD produces such fine sound. At this point, I will confess that I plugged in a Whiplash Audio right angle LOD (told you something was coming) with rhodium-plated parts that is very fine (i. e., thin) and looks like semi-transparent twisted pair. How did it perform? Well, in all truth, it was quite remarkable; there was a level of clarity in the upper midrange and treble that I haven't heard from any other LOD; however, I have to give the nod to the Silver Dragon IEM LOD in terms of weight and bass definition. I just found it musically very engaging and it made me want to listen to "Misa Criolla" again and again. So I would be happy with the Whiplash Audio right angle, rhodium-plated LOD, very happy in fact; but there's just a tremendous sense of synergy between the Ray Samuels Protector, the Moon Audio Silver Dragon IEM LOD (the 6" version) and the Silver Dragon Edition 8's WITH the correct connector on them, all held together with an ALO rubber band. So what did the thunder say about the Silver Dragon IEM LOD? The thunder said, "Yes".
Wrapping it all up then, Gerry and I have evaluated two very different cables by two very difficult but equally competent and personable manufacturers and in both cases, we decided to keep the cables we were evaluating; and although my initial impression of the SCSCag interconnects was that they were very bright, or forward, after Gerry's patient burn in of several hundred hours (using a digital player for practical reasons, not his turntable), the sound was detailed but smooth as silk and actually quite neutral. Then with the Moon Audio Silver Dragon IEM LOD, it IS true that compared to the original Silver Dragon LOD, it is a little warm and rolled off; however, it adjusts the frequencies (Kenneth) in a very beguiling way that makes one want to listen while at the same time requiring far less patience than one needs with the stiffer, original Silver Dragon LOD which might need to be closer to 12" to really make a decent loop when my 160GB iPod Classic and Ray Samuels Protector are strapped together with an ALO rubber band and that MIGHT stick out too far to plop the whole thing into the larger interior pocket of my North Face TriClimate winter jacket.
So whether you need a good, solid, silky smooth interconnect or a more practical alternative to the original Moon Audio Silver Dragon LOD, the Whiplash Audio SCSCag interconnects and the Moon Audio Silver Dragon IEM LOD should serve you quite well, respectfully. And that is ultimately what the thunder said.
Kindest regards,
Andy
(*) This is the title of part "V" of T. S. Eliot's "The Waste Land" and is intended as homage to him.
Whiplash Audio
http://www.whiplashaudio.com
Moon Audio
http://www.moon-audio.com