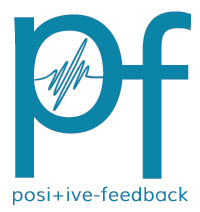 You are reading the older HTML site
Positive Feedback ISSUE 52
november/december 2010
Nikolai Kapustin and B3 Classic Trio SACDs
by Teresa Goodwin
Under consideration are a couple of new SACD's from Non Profit Music of mostly unusual and seldom recorded classical compositions, as is their usual forte. Both SACD's come housed in a beautiful hardcover 36 page Digibook with text in both English and Spanish. They offer very complete information of the musical compositions, their history and style as well as the biographies of the performers with lots of full color pictures. The look and feel of the books are elegant and must have been expensive to produce.
As with all my reviews these SACD's were auditioned in high resolution two channel stereo for us two channel diehards, as reviews of the multichannel mix seldom give an indication of how the high resolution Stereo program sounds in a dedicated 2 channel stereo sound system.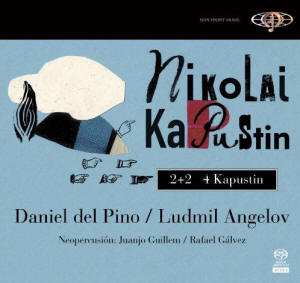 Nikolai Kapustin: 2+2 4 Kapustin Concerto for two pianos and percussion Op. 104, Paraphrase on Dilly Gizespie's "Manteca" for two pianos, Sonata Op. 14, Eight Concert Etudes Op. 40. Stereo/Multichannel Hybrid SACD. Non Profit Music NPM 1011
All works on this SACD are world premiere recordings with the exception of the Eight Concert Etudes. One of my first classical discoveries was Bartók's Sonata for two pianos and percussion so I was excited even before I put this disc in the player.
The first composition is the world premiere recording of Kapustin's Concerto for two pianos and percussion Op. 104, composed in 2002 and was commissioned for the same ensemble as a celebrated composition of Bartók which has little to do with this one.
From the very beginning the sound is absolutely Jazz-like. This is due above all to the swing that immediately appears and to the presence of the drums. One of the percussionist plays a vast array of traditional orchestral percussion instruments while the other plays a standard Jazz trap set. Very realistic percussion and drums with tremendous impact and presence. I would describe this as avant-garde Jazz inspired Classical music. There is some dissonance but it is very approachable and listenable. The dissonance is more on the order of wonderfully strange or weird but never ugly.
The solo piano works are very jazzy as well. Kapustin's music is definitely classical as nothing is improvised, even if it sounds like it is, everything is written in the score.
The Eight Concert Etudes Op. 40, written in 1984 influenced by both Jazz and Franz Liszt are a very tonal mix of the romantic virtuoso piano approach with the harmonies and rhythms of modern jazz. The Piano Sonata 14, Op. 120 written in 2004 is so difficult to play that Ludmil Angelov is the only pianist to have done so. The Paraphrase on Dizzy Gillespie's "Manteca" for two pianos Op. 129 is based a tape of ten different versions of Dizzy Gillespie's theme "Manteca" sent to Kapustin from a Japanese TV director He came up with a delightful four-minute Paraphrase of the tune for two pianos.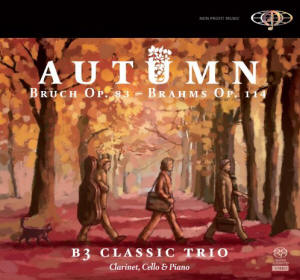 Autumn, Bruch: Eight Pieces Op. 83. Brahms: Clarinet Trio in A minor Op. 114. B3 Classic Trio. Stereo/Multichannel Hybrid SACD. Non Profit Music NPM 1010
Bruch's Eight Pieces Op. 83 were composed in 1910. They bare no programmatic titles, and the eight pieces do not form a cycle in any sense. It is thus feasible to perform selections from them in any satisfying order, especially taking into account the composer's wish that he did not intend the work to be performed in its entirety at any one time. Each piece is a self-contained unit. Bruch himself gave no indications to his preferred order. The order on this is SACD is 8, 6, 2, 7, 1, 5, 3 and ending with 4. This work is very important in the output of Bruch as it represented a successful return to chamber music, many years after his previous second string quartet, and was to be first of several interesting chamber works.
This recording is named Autumn after No. 8, here is a description of each piece from the liner notes:
1) – Eb minor. (Op.83 No.8). This piece is especially romantic, in which the melody is totally given to the autumn and sentimental mood. It contains the most daring harmonies from the 'Bruch-ian language' which are indeed in some moments are almost post-Brahms, and where one feels an 'out of this world' feeling, giving the impression here that Bruch was exploring his own stylistic limits.
2) – G minor (Op.83 No.6). "Nachtgesang". A piece with an individual title – nocturne – which is a worthy example of atmospheric contrast, and where the clarinet and cello need careful control of phrasing, and a fine understanding of the type of sound production.
3) – B minor. (Op.83 No.2). This piece is cast in a fast 3/4 time, but without the character of a waltz or a scherzo. It is a somewhat stormy piece, reminiscent of Brahms. However finally the piece comes to rest in the major key.
4) – B major. (Op.83 No.7). An energetic scherzo, that remains us of Mendelssohn. This piece, the most festive composition of all, contains two secondary episodes of a more relaxed and contrasted nature.
5) – A Minor. (Op.83 No.1). Begins with the rhythm of a funeral march which, little by little, transforms itself into a dream-like melody. This piece in binary form has the aspect of a meditative prelude.
6) – F minor (Op.83 No.5). "Rümanische Melodie". In this piece, also containing its own title, the idea was suggested by the delightful young princess 'Princess zu Wied', and finally the entire dedication of the eight compositions went to her. The use of Rumanian or gypsy feeling is illustrative of Bruch's interest in folk resources.
7) – C sharp minor. (Op.83 No.3). Seemingly the most important piece for Bruch according to his comments, combining intense and rhapsodic flourishes from the cello, then with a sublime slow clarinet melody. Each has his own turn 'two verses'; however in the last clarinet section the cello dialogue is 'clamed' to produce a heavenly ending.
8) – D minor (ending D major). (Op.83 No.4). An intense movement that maintains driving propulsion, even in the more lyrical episodes. Towards the close the music switches to the home major key to produce a glorious finish.
The Brahms' Clarinet Trio in A minor Op. 114 was composed 1891 is one of the principal works of chamber music repertory.
I was not overly impressed with the sonics of this SACD in 2 channel stereo. A nice warm beautiful sounding clarinet but I found the violin tone a little thin and the piano not as full bodied as I like. The music on Autumn is more intimate and I didn't expect a sonic spectacular like the above Nikolai Kapustin SACD, however even with lower expectations it still disappoints. Only for diehard chamber enthusiasts.
Jorge Grundman, Project Director confirmed both of these SACDs were made using 96kHz 24 Bit PCM. They were recorded with SoundField Microphones and processed with a Fairlight Console.
About Non Profit Music
Non Profit Music as a record company, was born with the aim of bringing the lesser known artists and musical compositions to the music buying public and at the same time to gather funds for humanitarian reasons.
The Foundation Non Profit Music arises as a response to the current incidence that classical music has in the world, the progressive decrease of top degree students in the music conservatoires, the lack of motivation of the of the public to assist representations of classical music, and the loss of sensibility towards the social and humanitarian action.
The Foundation Non Profit Music believes that it is possible to create initiatives that will help solve these deficiencies in our society, and even that those initiatives could act in a combined manner. This way, the activities of the Foundation Non Profit Music will be directed to the promotion and broadcasting of the musical culture and, simultaneously, sensibilizating the population towards the solidarity and the collection of funds for social and humanitarian purposes.
You can read more about Non Profit Music's foundation and record label at the website: http://www.nonprofitmusic.org