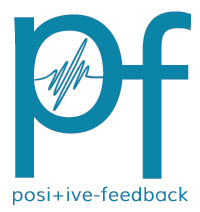 You are reading the older HTML site
Positive Feedback ISSUE 52
november/december 2010
Rocky Mountain Audio Fest 2010 - This is a Dogma- Free Zone
by Myles B. Astor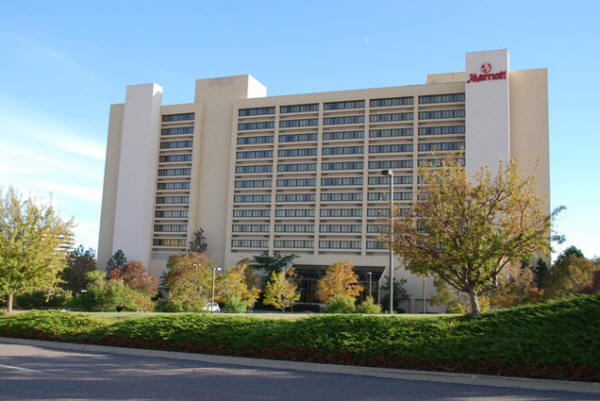 My colleagues Dave and Carol Clark did a simply yeomans job of covering the close to 200 rooms and/or booths at this year's Rocky Mountain Audio Fest. All while managing to keep a smile on their faces for the whole show! Needless to say, duplicating, much less topping Dave and Carol's efforts, would be an exercise in futility! Consequently, what I decided to cover in a little more depth in my RMAF report, were those rooms whose sound quality caused my ears to perk up, as well as some thoughts on the show, new companies and accessory products of interest.
Now despite being a veteran of many an audio extravaganza including the CES, Stereophile and Heathrow/Penta shows, this was my very first visit to the RMAF. Nor will this be my last RMAF show based upon the cordiality and friendliness experienced this year! It would be hard to imagine any audiophile, disappointed by what they saw or heard at RMAF. RMAF's admission price was unquestionably the bargain of the century—unless of course—one fell in love with and walked away with a piece of gear from the show!
This year's RMAF occupied by my count, 170 rooms of the Denver Marriot Tech Center and occupied the main lobby level and ballrooms, the fourth and fifth floors of the Atrium level as well as the mezzanine level and the second and 8th to 11th floors of the hotel's tower. Seeing all the rooms at the show in one day—much less the entire 2˝ days—was virtually impossible. According to Mission Flight Director Marjorie Baumert , preliminary RMAF attendance figures stood at 1475 pre-registered attendees (unique but most with 2 to 3 day passes) journeying from 48 states and 8 countries; there were also 1385 on-site registrants (of which roughly half were 2 day passes) travelling from 36 states and 8 countries. Rounding out attendance were 125 members of the press in addition to 1025 exhibitor badges printed comprising 41 states and 19 countries. Most major high-end audio companies were represented at RMAF with the notable exception of conrad-johnson, Magnepan, LAMM and Martin-Logan and software distributors such as Music Direct and Elusive Disc.
Pre-Show Attractions
There's no doubt that part of the attraction of RMAF is making the trip into a mini-vacation and partaking of some of the most breathtaking parts of our country! Take it from me—if you don't, you'll regret it when you're spending three days inside dark rooms, listening to equipment while the weather outside is positively gorgeous. Being that it was my first trip to RMAF, not to mention Colorado, my girlfriend Heidi and I made it a point to book a tour of Rocky Mountain National Park prior to the show. And we were extremely lucky this year, getting in just before the snows that mark the end of the tour season. Perhaps the highlight of the tour (and most apropos given some of the prices of the equipment at the show!) was a stopover in Idaho Springs, an early gold mining town founded during the Pikes' Peak Gold Rush of 1859, to see one of the early gold mines. I was ever so tempted to pan for gold to pay for my some of my recent audio purchases!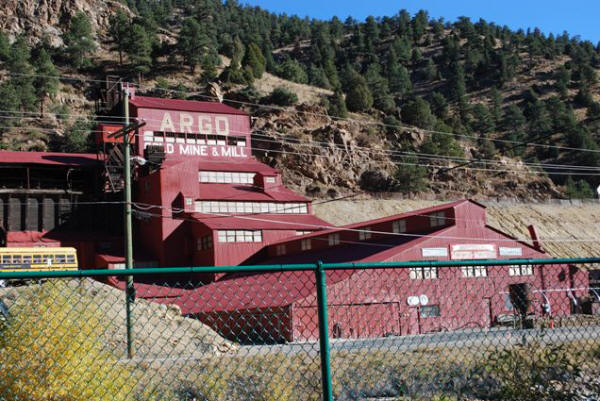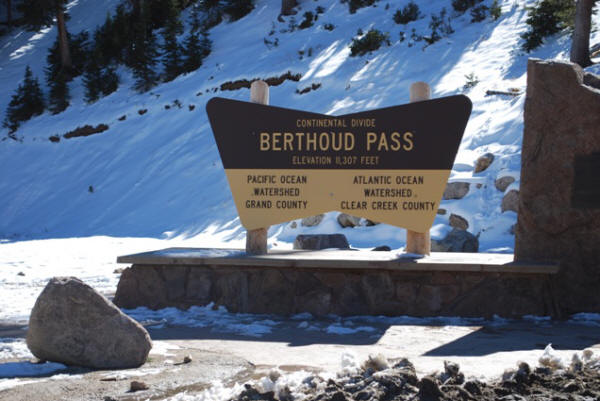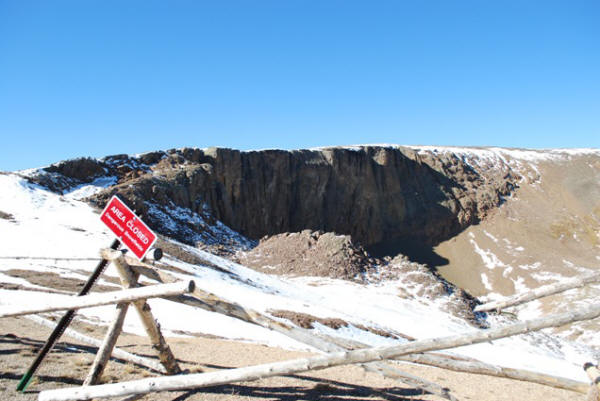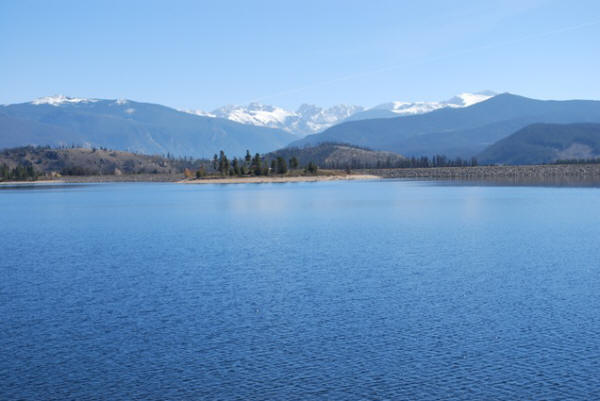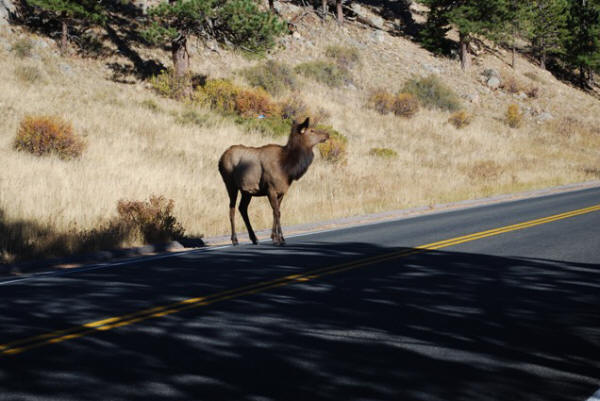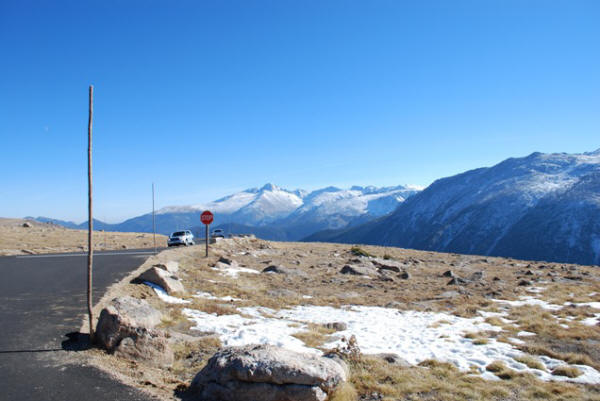 RMAF Thoughts
Dogma-Free Zone. So read the sign hanging on the wall of the Paragon Sight and Sound room. Take analog turntables for example. Until recently, high-end audio dogma held that belt drive tables were the only way to go. Revile at the sight of a direct drive turntable. Then rim drives turntables such as the VPI, Teres and reworkings of the Lenco, etc. suddenly became the talk of the audiophile town. It's now clear after hearing the latest generation of belt, direct and rim drives tables that there are many routes to analog nirvana. Great sound was heard at RMAF from direct drive tables such as the Steve Dobbin's Technics based The Beat, belt drives such as the Walker, VPI or Dr. Feikert or rim drives such as the VPI. (one mustn't forget the now discontinued Rockport DD table either.)
Another analog based medium, reel-to-reel tapes, appears to be at an important crossroads in its resurgence. Of course no one in their right mind believes that the reel-to-reel format will ever be a mass market medium; it never was even in its heyday back in the late '50s and early '60s and was why the LP supplanted tape. But there's no better musical source for those who want the ne plus ultra musical experience, can afford to set-up a SOTA reel-to-reel machines and buy the 15 ips/2 track tapes. And a wide variety of machines from Stellavox, Technics, Nagra, Tascam, Revox and Ampex were scattered around RMAF.
The folks at the Tape Project have without question created an underground audiophile buzz with their first two series of tape releases. But just as with the release of SACD players, many audiophiles are unwilling to make a commitment to the medium until there's more software available. To ensure the success of this venture, more companies must take the initiative and release more great sounding performances on15 ips tapes. This is no small task since the ROI is not going to be great and the asking price from many of the music companies for the rights to these tapes is often prohibitive. But there are individuals out there with the resources to release reel-to-reel tapes.
Continuing on the topic of front-ends, it seemed to me that the exhibitor's choice of front-end made or broke the sound of many a room at RMAF. The sonic differences between digital and analog front-ends were particularly striking in many of the rooms. In fact, my reaction to the sound of some rooms might have been very diametrically opposite if all I had heard was the digital front-end. The vast majority of the digital front-ends at the show just left me unfulfilled and wanting. On the whole, instruments and soundstage sounded very two-dimensional, the music was often hard and bright, grainy, harsh and in many cases just amusical.
So as with most audio shows, good sound was hit or miss. While some exhibitors complained about the size and acoustics of the show rooms (granted exhibitors have but a day to set-up), perhaps this should be viewed as more of an opportunity than end of story. In contrast to the utter joke foisted on high-end manufacturers exhibiting at the CES/Venetian, the Marriot removed armoires, desks, beds from the room. But might I suggest that the manufacturers/exhibitors take a different tack and recognize that their customer's listening rooms are often not any better than those at the show. After all, very few audiophiles have custom designed listening rooms, much less starting from the bottom up in constructing a room with good acoustic properties. Instead it might be more helpful for companies to show their customers different ways to realize great sound in this type of room!
One last thought. RMAF featured quite a few high-priced speakers vying for the title of "Worlds Best Speaker." But, very few of these 20, 30, 40 or 50 K speakers/rooms, of course complemented by super expensive components, really knocked my socks off. More often than not, I left many rooms thinking not bad. Then reality would set in and remind me these weren't great sounding modestly priced speaker such as Vandersteens or Maggies. Granted it was under show conditions with little time for set up, but I can't imagine that the exhibitors being happy with the sound they obtained.
Finally the Dave Clark, "They Don't Get It" award goes to an 'un-named' room featuring Sim Audio electronics, Project turntable and Sonus Faber speakers. When I entered this room, a highly esteemed Stereophile reviewer was in the process of listening to some tracks from his reference CD. When this reviewer finished with his selections, one of the exhibitors asked if anyone brought some vinyl to play. I replied in the affirmative and no sooner than I had pulled Roy Haynes' Out on the Afternoon release out of my Classic Records tote bag, this person's partner jumped in, hell bent on impressing this reviewer for some reason and immediately said oh just let me play Suite Espanola. The Stereophile reviewer inquired as to the source of the recording and the exhibitor talked about how he up, down and sideways resampled his Redbook CD on his music server. More so, it was painfully obvious that this exhibitor had never heard the original Decca LP, or gasp, the 15 ips Tape Project reissue. For if he had, then there's no way this person could stand listening to his digital abomination. Then, just this one cut became two and then three and finally in sheer frustration (and I could tell even this Stereophile reviewer was plainly embarrassed by this exhibitor's actions), I gave up any hope of getting a listen to the new, top of the line, Sumiko Project table and exited stage right.
A Trio of Show Standouts
Now for a quick synopsis of the sights and sounds of the show that captured my attention during the 2˝ days of the RMAF show. After the dust settled, the following three rooms stood out above all others at this years RMAF. Here in no particular order:
Evolution Acoustics: My first encounter with the Evolution Acoustics speaker line came earlier this year at CES and Jonathan Tinn followed up at RMAF with the debut of the new Evolution MMMiniOne/Two (15K without subwoofer and 27K with subwoofer). Belying its appearance, the MMMiniOne is actually a 2-way bookshelf (a 5-inch ribbon tweeter coupled to 7-inch ceramic midbass driver) integrated into its own high mass stand. Thanks to its modular construction, the MMMiniOne speakers can be upgraded with the addition of the MMMiniSub woofer; to my ears, I much preferred the sound of the MMMiniOne plus subs. The subs added a far more substantial foundation to the music as well as more dimensionality and midrange presence.
Some people might accuse Tinn and company of stacking the deck by bringing along either a modded Studer 810 reel-to-reel machine to playback 15-ips/2-track tapes or a $15,000 Playback Designs MPS-5 Reference SACD/CD player with 24/192 input (the PD was hands down and by light years, the best sounding digital front-end I heard at the show—and unlike the others actually did justice to the music) and a $2500 Music Servers Direct MSD-1 Reference music Server ($2500) to playback high-rez digital files. On the other hand, these sources allowed Tinn to demonstrate the system's resolution, frequency response and musicality.
And did they ever! The highlight of this year's RMAF was the simply jaw dropping sound of second generation, 15-ips tape copies of two of my favorite LPs: the first was Solti performing Glinka's "Russian and Romantic: Overture" from Romantic Russia (original Decca release SXL 6263) and the other, Oscar Peterson's "You Look Good to Me" from We Get Requests. Neither LPs ever sounded like this! On the Glinka, the low end extension, string delicacy and sense of space, a Kenneth Wilkinson's trademark, was beyond spooky. On We Get Requests, Ray Brown's bass was incredibly solid and powerful. It ws almost as if Brown was there in the room. Peterson's piano never sounded more wooden. The digital was no slouch either though not up the quality of the 15 ips tape playback. Bruce Brown of Puget Sound Studios played some outstanding high-rez digital files from audiophile favorites such as the Muddy Waters "Good Morning Little School Girl" track from Folk Singer. (Muddy Waters as well as Buddy Guy were remastered for Winston Ma's FIM label and HDtracks.) Of course, all this did is give me a Jones for the original tapes!
Tasked with the job of playing back the front-end sources were the new and the Dartzeel CTH-8550 250 wpc integrated amplifier with phono stage ($20,300), assorted cables from Dartzeel and resonance control footers from Wave Kinetics.
Finally, some visitors to the Evolution Acoustics were room knowing (or unknowingly) treated to a sneak preview of a more affordable version of Andreas' DAC to be debuted at CES 2011. Andreas had some prototype boards plugged into his Mac Mini that will output 5.6MHz via USB as well as working with DXD and outputting DSD from the computer.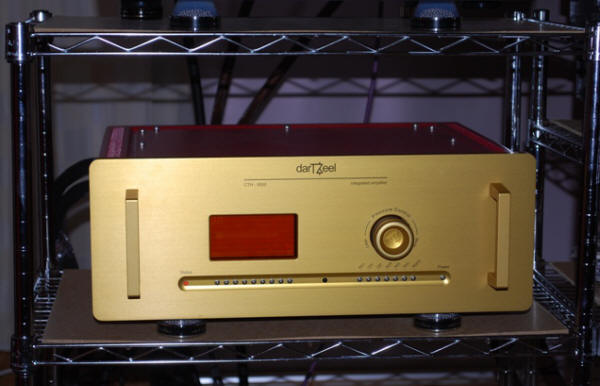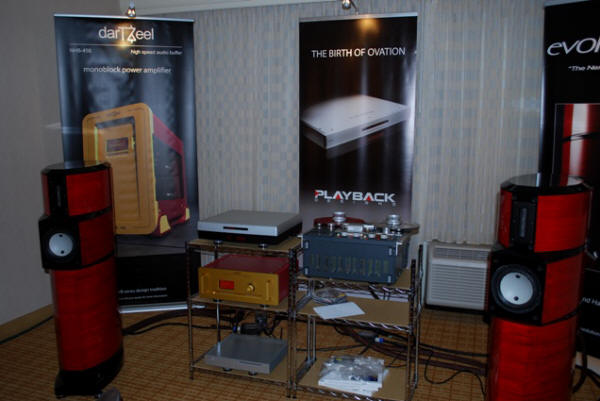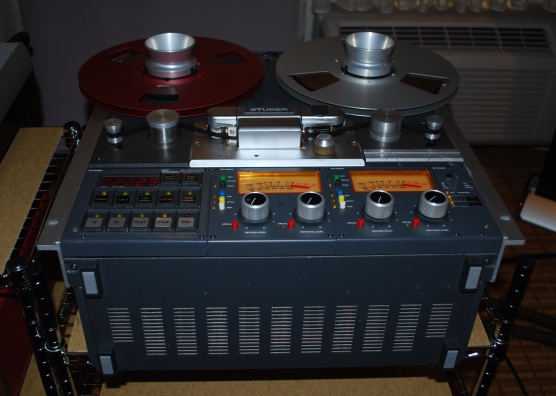 Paragon Sight and Sound, Ann Arbor, MI: Next up on my list of favorite show sounds was the Paragon Sight and Sound audio room from Ann Arbor, Michigan! Larry Marcus and company used three different mediums (analog reel-to-reel and LPs and digital) played back through the super sounding Wilson Sashas. But stealing the show were the $18,995 Doshi Jhor monoblock tube amplifiers and $14,995 Doshi Alaap V2.1 Full Function preamplifier. While Doshi isn't exactly a household audio name, you can take it to the bank that you'll be hearing more from this company down the road. Nick Doshi cut his teeth in the audio realm as head engineer for Tribune Television and more recently has been seriously involved in the designing of his own line of electronics line. Doshi's philosophy is very straightforward: simple, elegant designs, best parts, as short a signal path as possible while retaining the warmth, purity, and dynamics of tube based electronics. The "little" 90 watt push-pull EL34 based Jhor monoblock amplifiers had no problems driving the Sashas. In fact, the sound of the new Sashas will surprise many Wilson naysayers; there was no evidence of that coldness and upper midrange hardness that characterized many prior Wilson designs.
As in the Evolution room, it was the playback of several 15 ips reel-to-reel tapes thru Charlie King's Stellavox SP7 with Pro Nortronics heads run into the King/Cello tape repro that really elevated the sound of this system to another level. On two occasions, I had the privilege of hearing some tasty sounding jazz and rock selections from Rich Brown's tape collection. That was topped off with a selection from the Tape Project's Arnold Overtures (TP-003) before I had to leave to catch my flight home on Sunday.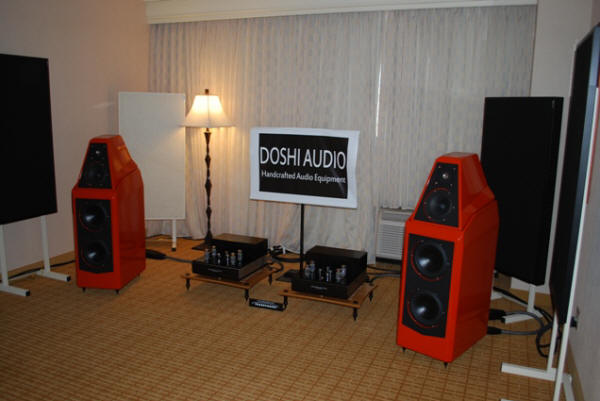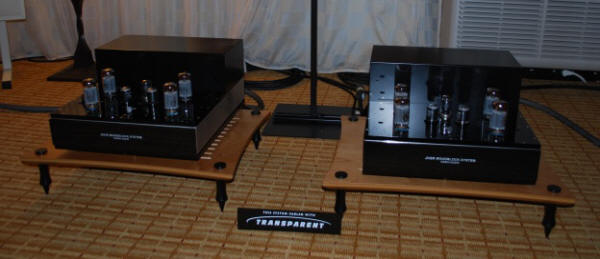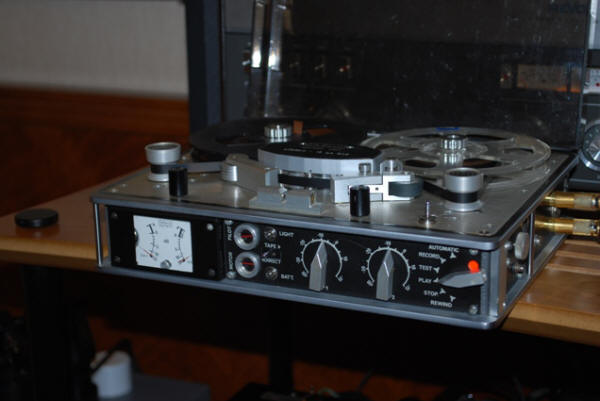 High Water Sounds: Last up on the list is Jeff Catalano's High Water Sounds' room. Though no fan of horns, I have to admit that the Aspara Acoustics HL1s were hands down the most cohesive and least horn(y) sounding horn speakers. Or as Jeff related, "Horns are the most complicated [speaker] to get right. It's no small trick to get the drivers to work in the cabinet and Aspara has been designing horn speakers for others for over 40 years."
Like most horn speakers, the Aspara's are equally comfortable being driven by a small 2 watt amplifier or a 150 wpc amplifier. A sampling of the other associated equipment in the "main" system (Jeff had two systems set-up at opposite ends of his very large room) included Reinhardt Thoress' $14,000 25 wpc 845 based single-ended monoblocks, and $8,000 Thoress preamplifier and $9,000 TW-Acustic phono section (sporting 60dB of gain using just three tubes and no solid-state assistance). Holding down front-end analog duties was the TW-Acustics flagship $40,000 Raven Black Knight turntable outfitted with TW-10.5 tonearm and Ortofon A90 cartridge. The new TW arm released in late February of this year uses a gimbaled, four point bearing system and has sold over 100 units to date. Both the table and electronics were housed in a Silent Running Audio Craz rack.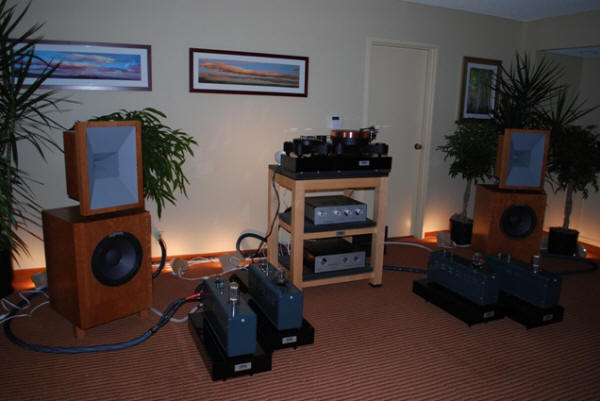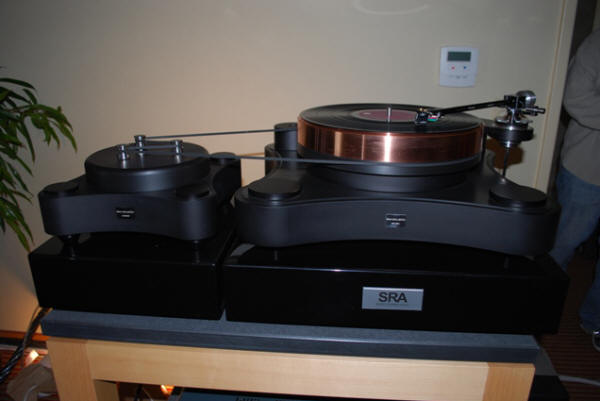 Additional Show Sights and Sounds
Some other rooms and products of note.
Jolida: This room, using the Tape Project tapes played back through the $15,000 United Home Audio Phase VI modded Tascam deck was easily one of the best, modestly priced audio systems at RMAF (unfortunately, the same couldn't be quite said with the Jolida room using the digital front-end). Interestingly, the $3750 von Schweikert VR-33 speakers, sounded their best in the Jolida room being driven by the $2000 Jolida JD P1000 100 wpc tube amplifier and $1000 JD3000B balanced circuit tube preamplifier. The electronics acquitted themselves well with little evidence of the soft upper octaves and muddy bass often associated with entry level tube electronics. My one complaint about the new VS speakers? Now I know that beauty is in the eye of the beholder, but the look of the new VR-33 speakers really leaves me a bit cold (But then there is the old saying: form follows function and they do sound might nice - Ed).
NOLA: Marilyn and Carl Marchisotto brought to Denver their $25,000 Metro Grand Reference speakers replete with their Alnico extra long stroke 6˝ inch midrange drivers and an Alnico ribbon tweeter. As is Carl's custom, he used ARC electronics to drive his speakers; the speakers really demonstrated excellent dynamic range, soundstaging and low frequency extension. Teaming up with Marilyn and Carl at RMAF was Greg Beron of United Home Audio whose highly modded Tascam reel-to-reel decks provided tunes. United Home Audio Tascam decks are now available in four color schemes including Black/Gold, Red, Silver and Turquoise.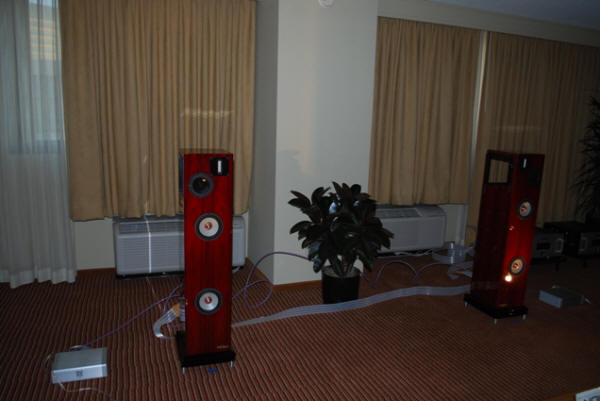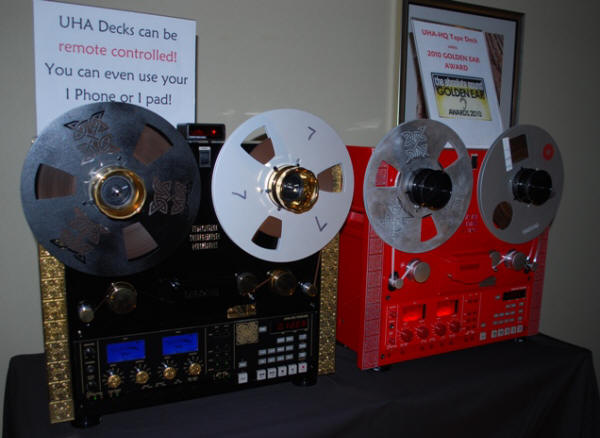 Avatar Acoustics: This was another room that spent quite a bit of time in spinning some LPs. Whether it was Saul Goodman or Roy Haynes or Jackie McLean, the system sounded ever so musical. The soundstaging was excellent and no one part of the audio spectrum brought attention to itself (we're talking the analog front-end only). If anything, the system was just a touch soft and transients were slightly rounded, but that was perhaps a blessing compared to some other sound around the show.
RMAF was the first time that had the pleasure of hearing the $12,995 Rosso Fiorentino Volterra speakers and certainly hope it's not the last. This 2˝ way, rear ported, closed box speaker features 6˝ and 8 inch Nomex woofers along with a 1⅛ inch soft dome tweeter; the speaker has a rated frequency response of 38Hz to 22kHz. The analog front-end consisted of the $7495 dual motor equipped Dr. Feickert Analog Blackbird turntable. Feickert uses the double motor set-up so as to cancel out reactive forces causing "wobble" of the platter. Mounted on the Blackbird was the $1000 (with turntable) Dr. Feickert Analog DFA-10.5 inch tonearm and the brand spanking new $2750 Lyra Kleos cartridge. Electronics included the Abbington Music Research $11,995 AMR PH-77 phono preamplifier and $9,995 AM-77.1 integrated amplifier. Rounding out the system were Acoustic systems International Resonators and LiveLine ICs, PCs and speaker cables.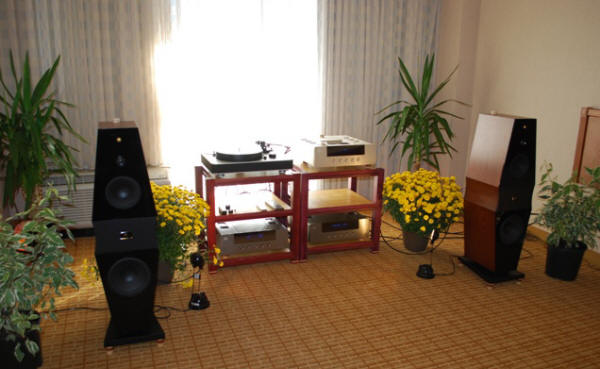 King Sound Prince II loudspeakers: On display at RMAF were the $6000 Prince full range (48Hz to 26kHz) electrostatic speakers. Overall the system sounded a little soft on top, a touch laid back and didn't plumb the lowest regions of the audio spectrum; what was in between, however, sounded very nice. Perhaps one could extract even more from the system with a little better cartridge than the Dynavector 20X. Associated equipment included the $9800 VAC Phi 200 amplifiers, the $18,000 Signature MK2 preamplifier and VPI Classic table equipped with the VPI Dynavector 20X cartridge. The Princes aren't exactly the most efficient speaker (84dB) on the market and require according to the manufacturer an amplifier with a rated power output of between 50 and 160 wpc. In addition, the Prince speakers also sported a high current and highly regulated outboard power supply designed by Kevin Hayes of VAC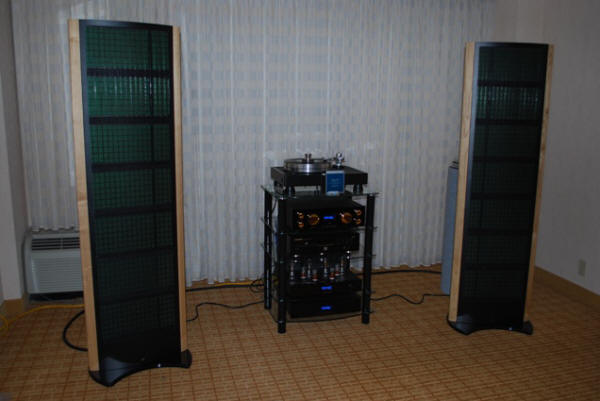 Veloce Audio: Vytas Viesulas and Mark Conti rolled out their new $14,000 V6 hybrid monoblock battery powered amplifiers to complement their highly acclaimed battery powered LS 1 linestage. In addition, Veloce also displayed their new LP-1 tube phono module ($3000) with switchable 60 and 69dB of gain. Interesting side note: the best sounding YG speakers proved to be the smaller Caramels driven by the V6 amplifiers. There was no evidence of that metallic sound that plagued their other speakers at RMAF.
Like electric cars, one wants to know how long the amplifiers can play between charges. According to Mark Conti, the V6s with their six sealed lead-acid (SLA) batteries per amplifier will play for 40 to 60 hours before requiring recharging; the main factor determining battery life is speaker efficiency. Sealed lead acid (SLA) batteries that Conti notes "have the largest energy density of any battery available today.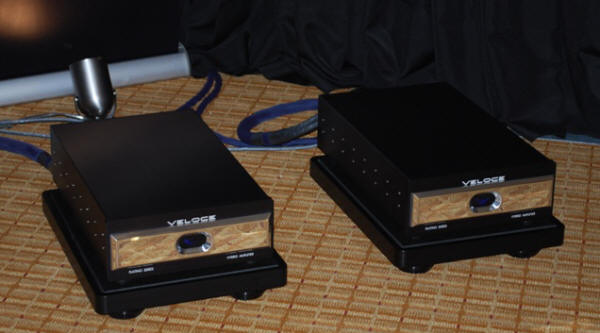 MIT: MIT deserves a special pat on the back for coming up with something out of the ordinary for audiophiles attending RMAF. Like Nordost (who did a power cord demo), MIT carried out a comparison of different priced speaker cables beginning with a high quality, non-networked cable and progressing through to their newest Martrix-HD speaker cables. And the sonic changes were unmistakable though the system consisting of Electrocompaniet electronics and Chapman speakers! With the non-networked cable, images were flattened, the bass was rolled off, low level information was missing and dynamics were compressed. With the Matrix HD speaker cable, all these qualities were restored—and then a bit more!
Silicon Arts Design and Concert Fidelity/Kaiser Kawero speakers: Every once in a while, one comes upon an unexpected pleasure at a show. The Silicon Arts Design and Concert Fidelity electronics first captured my attention at the 2008 CES show, then driving the Venture loudspeakers. In fact, I was impressed enough to request a review sample that unfortunately never materialized. New from Silicon Arts Design at RMAF was their $14,000 Concert Fidelity SPA-4C phono stage using discontinued and rare Japanese J-Fets noted for their purity of sound and low level information, transparency and immediacy. Also on hand were the $20,000 Concert Fidelity 080LSX hybrid linestage, the zero global NFB, $20,000 120 wpc Silicon Arts ZL-200 monoblock amplifiers and for those anacrophiles, a rebuilt Denon DP3000 turntable arm equipped with a Shelter cartridge.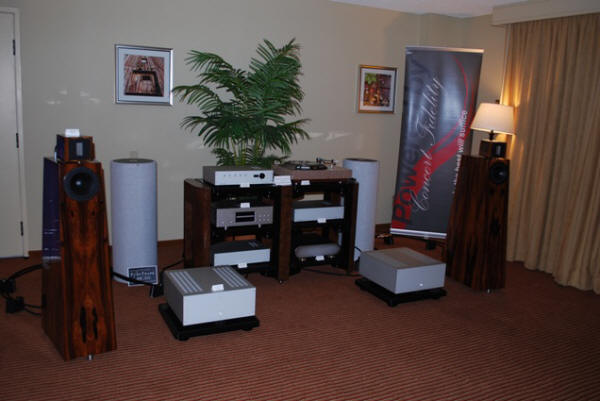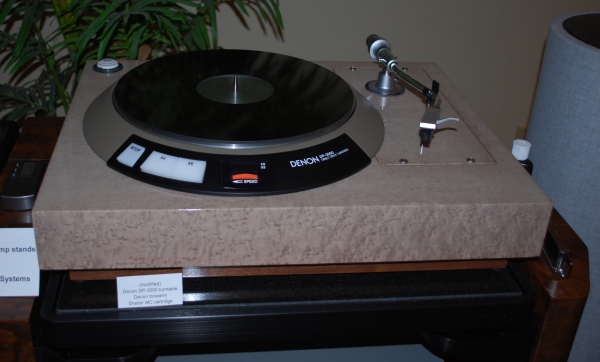 Soundsmith: The Cartright is the dream accessory of year. This $899 device and test LP allow for the set-up and alignment of a cartridge like never before. The accompanying test record includes tracks that allow for optimization of VTF and anti-skating, azimuth, overhang and stylus rake angle (SRA). The record also contains two bands for setting anti-skating. The first band uses a typical anti-skate test while the second, which Lederman recommends, "is a slight under compensated setting that many feel works better."
Analog Goodies:
Galibier Turntables: $27,300 Galibier Design Stelvio-II turntable equipped with the $7900 Durand Talea Arm and $7900 Dynavector XV1S cartridge. This was one turntable that would have liked in a better setting since the Daedalus Audio Ulysses speakers didn't cut the mustard sounding veiled, harsh, severely rolled off and lacking in resolution.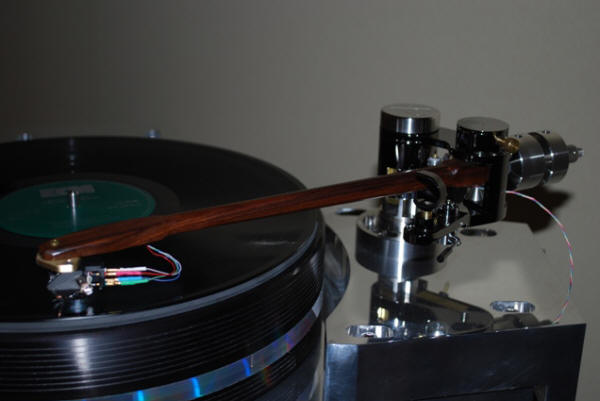 TT Weights turntables: This room was filled with tons of analog goodies including TTweights newest entry level turntable, the $6200 Gem Rim Drive, the Allnic Veritas cartridge and the Talea tonearm.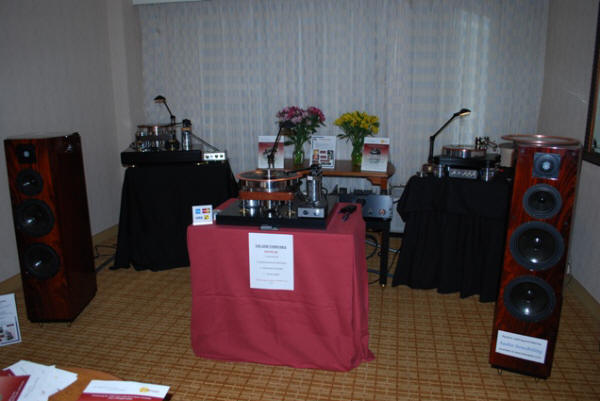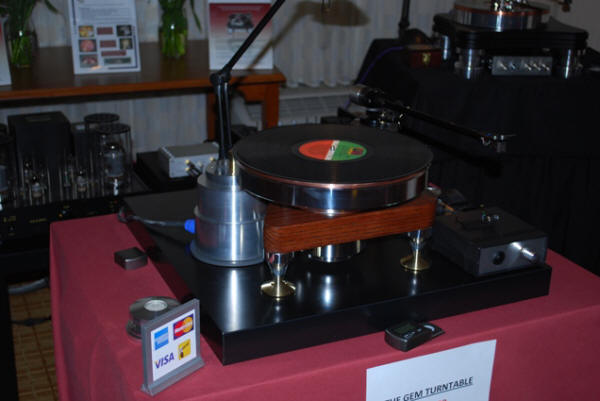 J-Corder: Talk about feeling like a kid in a candy store! I'll take one of everything, please! Jeff brought along more examples of his refinished Technics decks as well as a new, heavy duty version of the Technics Pro reel.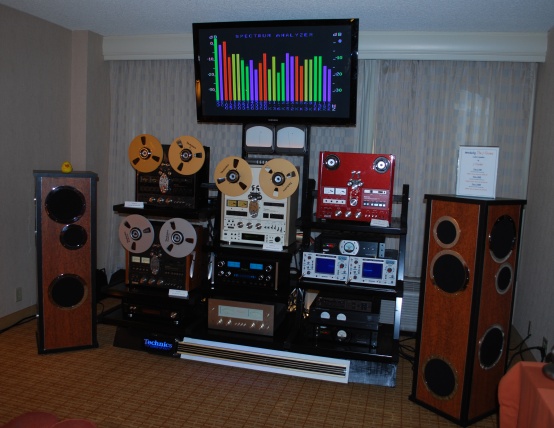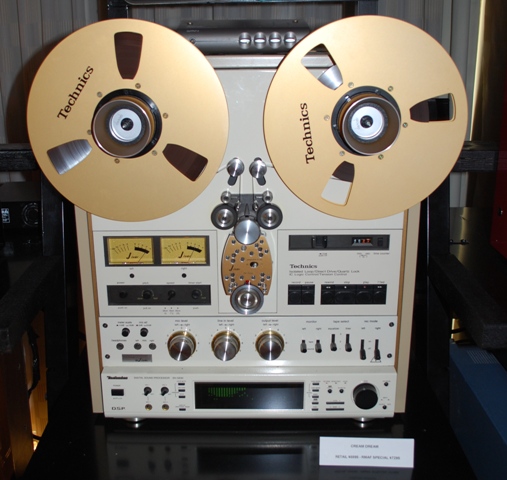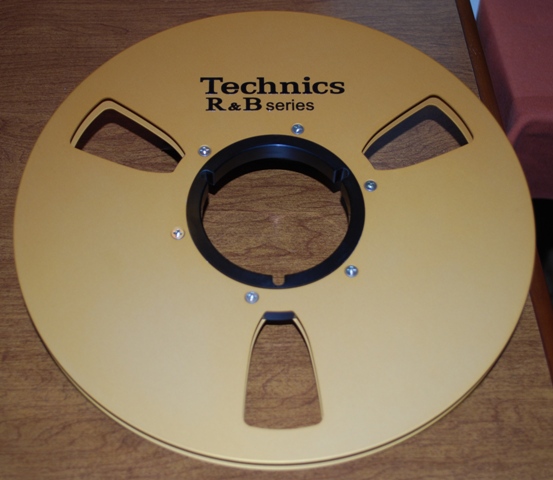 Xact Audio: Xact Audio demoed the Steve Dobbins designed $24,000 The Beat MagDrive turntable (there's even a 78 rpm speed too!) that sounded ever so good in the Evolution Acoustics room at CES and didn't disappoint this time with the $39,500 MBL F speakers. At RMAF, The Beat was set-up with both the $6500 wooden Reed 3Q laser guided 12-inch arm and the $4950 2P VTA on the fly 10.5 arm. Both arms used the $4950 Allnic Purity cartridge. Supporting electronics, like the TT Weights room included the $12,000 Allnic Audio M3000 amplifiers and the newest versions of the $13,000 H3000V phono stage and the $10,000 L3000 linestage.
EAR-USA: Dan Meinwald debuted Max Townshend's newest effort, the $3000 Townshend Rock 7 equipped with the $2900 Helius arm. As with all of Townshend tables, a damping trough removes vibrations created by the playing of the LP at the headshell rather than the bearing. The Rock 7's unique looking platter is fashioned out of a high density polyethylene plastic specifically chosen to match the mechanical properties of a vinyl record. Another new addition to the Rock 7 is a spring/bellows suspension that uses a counterweight to level the plinth and optimize the spring/bellow's pistonic action.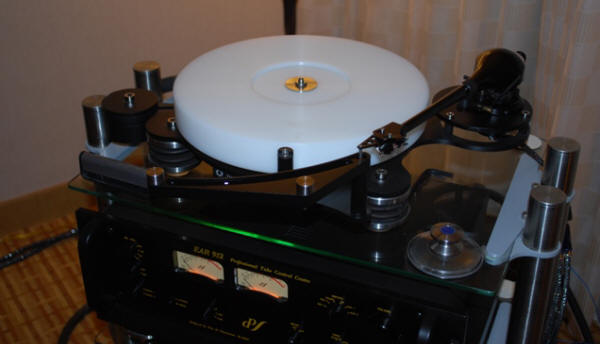 KT Audio Imports: Yet even more turntables and analog goodies were found in the KT Audio Imports room. On tap were two tables from Germany including the $5800 Musical Life Ol Jazz Reference 2 and Acoustic Signature Calypso turntables. The high tech looking Acoustic Solid table comes with a special high mass, Al platter complete with 12 inset decoupled brass cylinder to aid in vibration absorption. Another notable feature of the Acoustic Signature table is the use of a lubricant free, low noise, wear free, Tidorfolon material for the construction of the bearing. Both tables were equipped with the $8500 9-inch Musical Life Ol Vocalitas wood arm featuring a magnetic bearing and anti-skating and the ZYX cartridges. The Vocalitas arm comes in Ebony, Cocobolo or Makassar Ebony. I do wonder, though, what Joe Grado thinks about all these new wooden based tonearms being released some 50+ years after his original effort?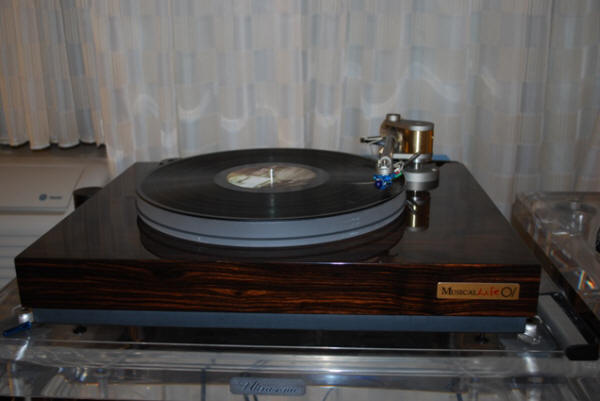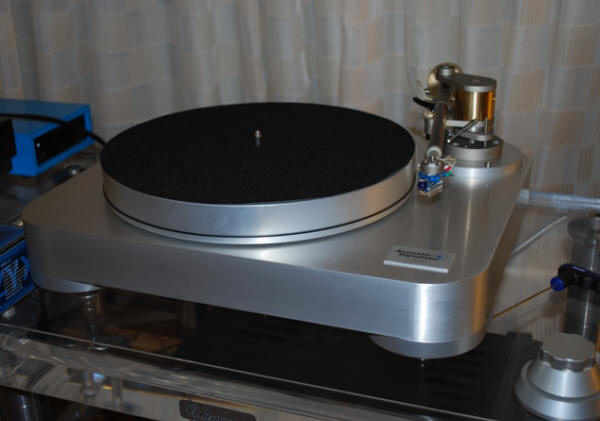 Aaudio Imports: I'll forever have a soft spot in my heart for air bearing arms ever since my days spent with the Eminent Technology ET-2 tonearm. The cleanly styled $50,000 Bergmann Sleipner Reference turntable and tonearm features an air bearing arm, air centered platter as well as vacuum hold down.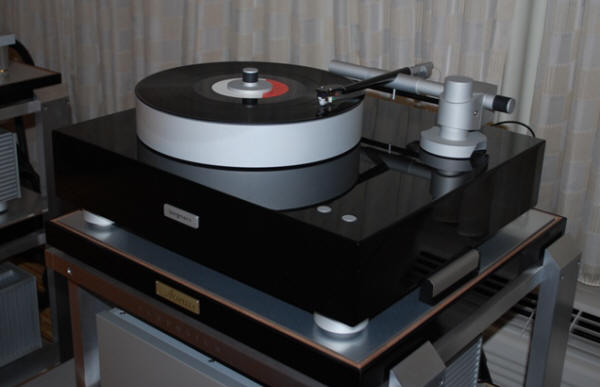 Tone of Music: Tone of Music played two new Simon Yorke turntables including the S7 inspired $9980 S9 "flamenco version" and the no-holds barred $19,980 S10 equipped with 7.1 interchangeable unipivot arm. The 7.1 arm is made from a combination of non-anodized aluminum alloys and stainless steel which is treated with a special stress-relieving process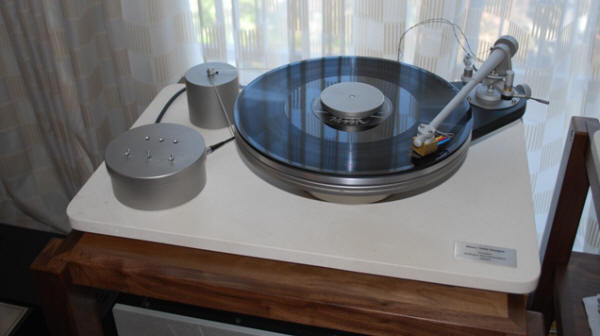 Axiss Audio/Audio Unlimited: Arguably one of the most striking tables at RMAF, the magnetic drive $45k Transrotor Tourbillin 07 turntable accommodates up to three tonearms. Constructed from an acrylic/aluminum composite, the table weighs in at a hefty 132 pounds.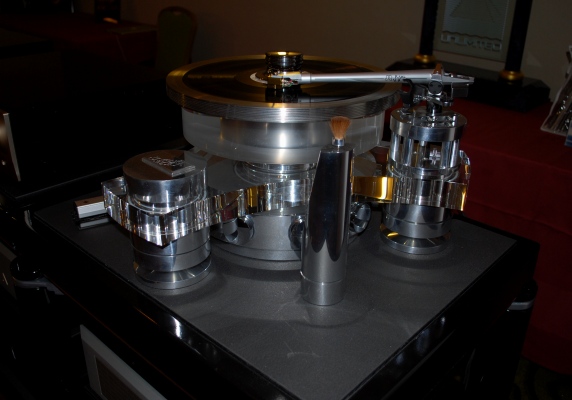 Kubotek: Designed by Mr. Matsudaira of My Sonic Lab (known for his contributions to many cartridge designs including Koestsu, Miyabi, Audio Craft, Air Tight and My Sonic) and Dr. Tetsuo Kubo, President of Kubotek, the $4000 Haniwa HCTR01 cartridge is noted for its 0.8 ohm, super low impedance and phase variance on the order of 1 degree. Matsudaira addressed the output voltage issue brought on by reducing the number of coils (and as a result impedance) by using a special high mu material for the core former, thick, 55 µm oxygen-free copper of for the coils and Neodymium magnets to complete the magnetic circuit and produce a usable 0.35 mV output voltage.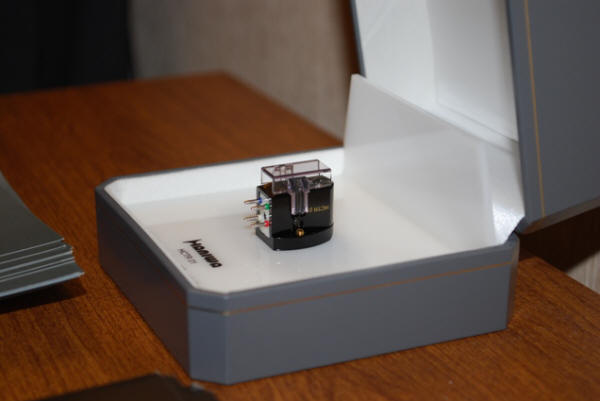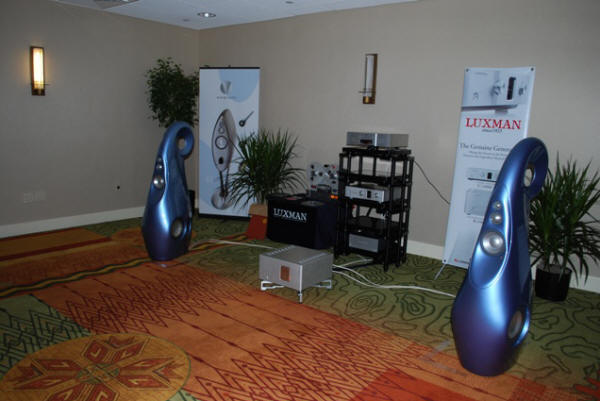 As usual, Philip O'Hanlon, owner of On a Higher Note and importer of Brinkman, Vivid and Luxman, brought along his tricked out Revox PR99 reel-to-reel machine. Philip played for the analog inclined, a sample tape provided by The Tape Project featuring upcoming tracks from Analogue Production's Little Hatch Rock with Me Baby (actually some subscribers already have the tape while other slobs like me are still waiting), Reference Recording's Respighi's Church Windows and Blue Note's Jimmy Smith The Sermon recordings. Based on my listening sessions at RMAF, these releases could prove to the three best releases yet from The Tape Project. In addition, Dan shared with me that the second reel of Church Windows will instead of the original albums B-side of Respighi Poema Autunnale, for Violin and Orchestra, P.146 (and appears to have been a filler for the original Church Windows release), Feature Copland's Appalachian Spring from (RR22) with Keith Clark and the Pacific Symphony Orchestra.
Spotted Around RMAF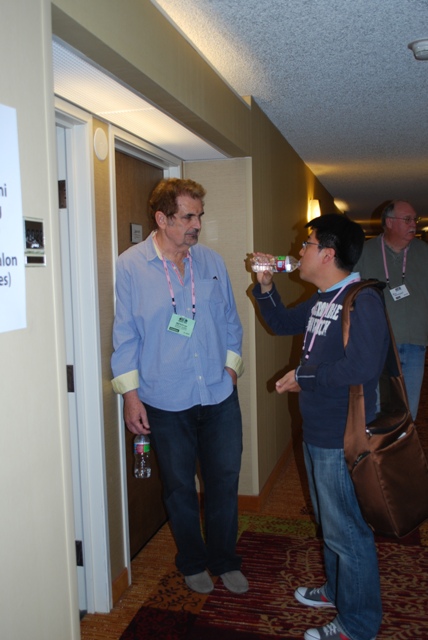 Recording engineer extraordinaire Bill Schnee hanging out with show attendees prior to his Magico speaker sponsored evening presentation. Recognized by many audiophiles for his work with Doug Sax Sheffield Labs, Bill has a prodigious list of recording and producing credits including Grammys for Steely Dan's Gaucho and Aja.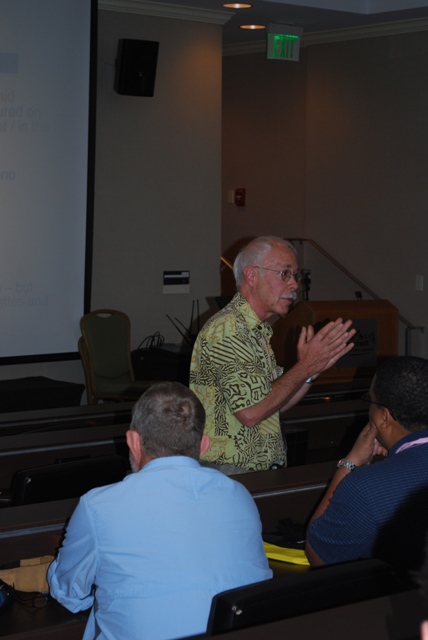 Charlie King, reel-to-reel guru, giving an afternoon seminar on setting up a reel-to-reel tape deck based front-end during RMAF. Surprisingly, at least to me, attendance was standing room only. Guess there's a lot of closet tapeheads out there!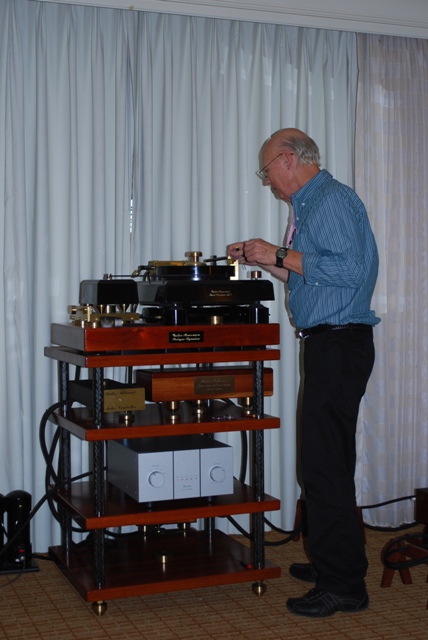 The award for the most tweaked out system goes hands down to Lloyd Walker.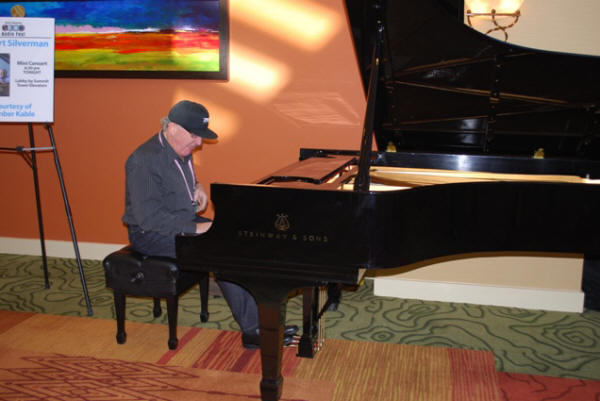 Renowned pianist and (little known) audiophile Robert Silverman giving, thanks to Ray Kimber, an impromptu late afternoon performance in the lobby of the Marriot Hotel. Oh yes, I bumped into Robert several times during the show auditioning equipment in different rooms.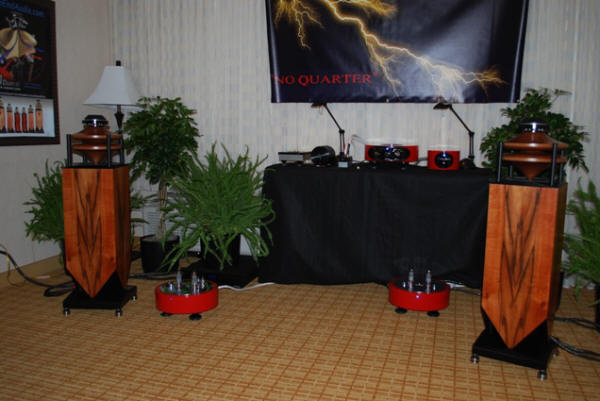 The striking looking and sounding Thor Audio tube electronics line has been resurrected thanks to Ted Lindblad of HighEndAudio.com. Sadly though, Ted informed me of the recent passing in August of this year of Jerry Ozment. Jerry was a renowned digital engineer instrumental in the design of several leading high-end audio digital components and later formed his own company Audio Logic.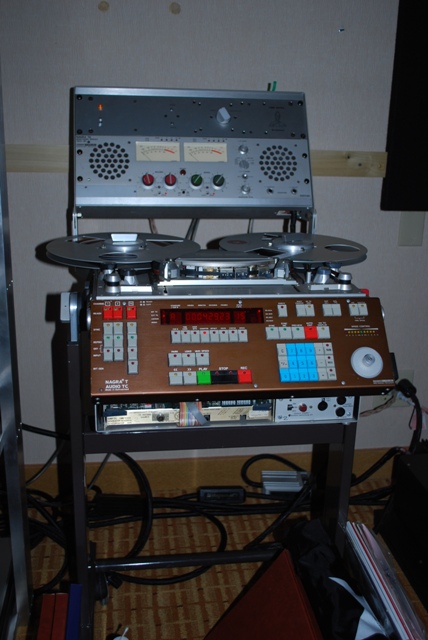 Now here's a tape deck that you don't see every day! Dan Schmalle of The Tape Project and Bottlehead Electronics trucked his personal deck out to RMAF and played back some tasty sample tracks from current and future Tape Project releases thru a prototype of a soon to be released new Bottlehead Repro, Spectral electronics and Magico speakers. Special kudos to Paul Stubblebine of The Tape Project for interesting hallway discussions of the recording and mastering process.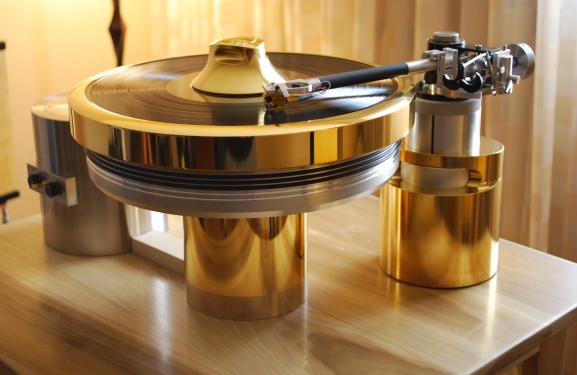 Stunning looking turntable—and even more stunningly priced at $150,000.