I embarked on this journey almost six months ago. Since that time I have moved into a newer and larger home, took on more responsibility at work where I am now department head, participating on two different school district curriculum committees, and I am a school site Union representative where I try my best to keep the peace between teachers, parents, and the administration---sheesh! Couple that with two very active kids, and I am sure you can understand why I can hardly wait for bedtime which translates to daddy headphone therapy for the rest of the evening.
As many of you are aware the Sennheiser HD-650s are quite the bargain at the current retail of $599 per pair. Though not state-of-the-art (SOTA) in my opinion, these headphones are known for their open sound, laid back and polite presentation, extended bass and excellent soundstaging. I already own a pair of what I consider SOTA headphones, a pair of modified Ultrasone Edition 8s, and I was hoping to improve upon my office system HD-650s. I have always liked the spatial expansiveness the open back Sennheiser headphones display as compared to my closed back reference headphones. My goal was to approach some of that inner detail and clarity I enjoy from my reference headphones but without giving up any of that open back trademark sound the Sennheiser headphones communicate to the listener. What better way to accomplish this goal than by taking a look at after market cables available for the Sennheiser HD-650s. Since the HD-650s accept a plug type cord this task was very easy to accomplish—no hard wiring of after market cables needed here! All one has to do is swap out the stock cables and plug in whatever cable you may have at the ready, provided it uses the same type plug. Not being impressed with the stock cables that come with the HD-650, I contacted Drew Beard of Moon-Audio to see what he had to offer.
Drew sent me three different sets of cables from the Dragon series of headphone cables he sells under the Moon-Audio nameplate. According to Drew, each cable has different tonal qualities, thus, he thought it would be a good idea to send me all three—Blue, Black, and Silver Dragon headphone cables. Shortly after receiving all three Dragon Cables for my HD-650s, Drew sent me a pair of Sennheiser HD-800s, a modified Cary Xciter integrated headphone amplifier (review upcoming), and a couple of Moon-Audio Cables for the HD-800s. This extra set of cables included at pair of Blue Dragon Version 3 and Silver Dragon Version 2 cables terminated to fit the HD-800s. Now with five different sets of cables on hand, 3 for the HD-650 and two for the HD-800, odds are at least one or two amongst the group are going to provide that match I was looking for in an after market cable. Fact is I liked them all. However when all was said and done two sets of cables did stand out amongst the crowd. These were cables that met my audio agenda and provided a synergistic match between headphones, cables, and my reference rig.
This review will be comprised of two parts. Part One will discuss the Moon-Audio Silver Dragon Version 2, Blue Dragon Version 3, and Black Dragon Version 2 headphone cables for the HD-650s, along with Moon-Audio Silver Dragon Version 2 and Blue Dragon Version 3 headphone cables for the HD-800s. Part Two will be an update to my findings along with the newly introduced Silver Dragon Version 3 cables for the HD-800, and should be online sometime mid-January. Call it a Moon-Audio Dragon series headphone cable shoot-out for the Sennheiser HD-650 and HD-800s headphones if you like.
Part One
One of the first things that I noticed upon receiving of all three sets of cables is how well built they were—especially for an aftermarket headphone cable retailing for less than $300! All three cables were visually appealing with their black, brown, or dark gray mesh jackets, terminated with a ¼" Furutech FP-704 headphone jack, a set of Cardas two prong connectors, or a set of brushed aluminum connectors for the HD-800s. All top of the line stuff.
A while back I asked Colleen Cardas about those nifty Cardas two prong connectors. She told me they were designed out of a need. One of the common complaints amongst owners of HD-600s and HD-650s is the dreaded Sennheiser jiggle. Meaning the connector that Sennheiser uses to terminate their stock cables wears out. Over time slowly but surely the connector makes a weaker connection, thus the Sennheiser jiggle. Often times this results in the cable falling out of the headphones. Cardas, not being satisfied with the stock connectors decided to make their own. Other than the stock cable, almost every after market company that I know of uses the Cardas two prong connector as they apply to Sennheiser 600 series headphones. These connectors are made of the highest quality of products with a polished rhodium finish, and most importantly fit as snug as a bug in a rug into the headphone. Not once during the review period did the cables pop out of the headphones. One last thing I noticed about the Moon-Audio cables is once you pick them up you can truly appreciate their beauty and girth. This clearly communicates to the end user that these are a serious and very well thought out cable.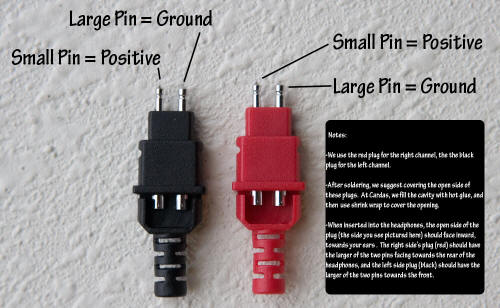 Cardas HD-600 series connector
As stated earlier, Drew suggests all three cables have different sonic signatures resulting from the different geometry and materials used for each cable. Before I start my discussion regarding all three cables, please bear in mind that no matter how critical I may get during this evaluation, all of these cables are a clear improvement over the stock cable which sounds veiled and compressed limiting the true potential of what the HD-650s and HD-800s can accomplish. With all of the technology at Sennheiser's fingertips, you would think they would offer better cables for the HD-650s and most importantly the top-of-the-line HD-800s. No matter though, it does create a nice niche headphone cable aftermarket—something that I would assume pleases Drew to no end.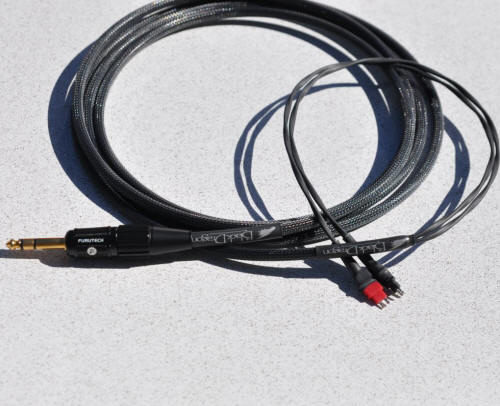 Black Dragon Version 2 headphone cable for the Sennheiser HD-580, HD-600, and HD-650 headphones
Right out of the starting gate this cable is far superior in sound to the stock Sennheiser cable that comes with the HD-650. It is not even a contest. More on that in a minute, right now I need to discuss what makes these cables tick. The Moon-Audio Black Dragon Version 2 cable is the latest generation of HD-650 headphone replacement cable. The cable uses a 4 x 21.5AWG Teflon insulated stranded conductors using pure single crystallized UP-OCC pure copper with 7N purity 99.99998%. Each conductor in order to help eliminate eddy currents and issues of cross electrical contamination is made up of varying sizes of stranding arranged in a circular pattern. The copper stranding is mixed with Kevlar stranding to reinforce each connector which make the cables stronger while at the same time retaining their flexibility. The conductors are then surrounded by cotton and a layer of Teflon tape. The cable is terminated using Cardas Audio silver bearing solder bonding the Cardas two prong headphone connectors and ¼ Furutech FP-704 (G) headphone jack to the cable. Last, the entire cable is covered with 2 layers of Techflex braid used as the final protective cover for the end product.
Immediately upon insertion I noticed the extremely smooth sound the HD-650s exemplify but with improved low end extension, grip, and better imaging where each performer is placed within a well delineated soundstage. While these cables did improve the sonic picture as compared the to stock cables, what was really cool was they still maintained a sense of warmth about them that is truly inviting. Over time based upon my extended listening of these very fine cables, I found them to be a great match for someone whose system is clearly to the right side of neutral, or a system that is clearly detail oriented. Knowing my tube based system has a sonic signature that is a tad left of neutral, I found these cables lacking a bit of the transparency that I found while listening to the Blue and Silver cables in the series. Don't get me wrong these are GREAT, and I mean great cables, I could happily live with them for a very long time. However, after listening to the Blue and Silver cables the Black Dragon cables were not the ideal fit for me, my system, and my audiophile agenda. Drew suggests these cables sound great as an all around type cable—meaning they sound great on all types of music. Bearing in mind the forgiving nature of these cables I could not agree more.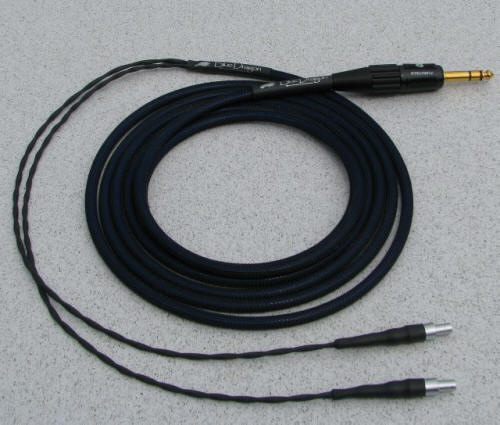 Blue Dragon Version 3 headphone cable for Sennheiser HD-580, HD-600, HD-650, and HD-800 headphones
This is another cable that is clearly a significant improvement over the stock Sennheiser HD-650 or HD-800 cable. This cable is one of my favorites for the HD-650s, and my personal favorite for the HD-800s. Drew sent me two pair of Blue Dragon Version 3 cables for review—a pair for the HD-650s and a pair for the HD-800s. The cables can also by used for Ultrasone, Sony Qualia, AKG Pro Series or any other headphone that uses a connector attachment system. Upon request Drew will custom terminate your headphones with these cables if your current headphone does not have a connector system. With a pair of Ultrasone Edition8 headphones as my reference the thought did cross my mind to have that done. The Blue Dragon Version 3 headphones as stated by Drew were designed to match the Silver Dragon headphone cable, but with a high purity copper conductor using the Ohno Continuous Cast Process.
The Blue Dragon Version 3 cable include 4 x 24AWG Teflon insulated stranded conductors using pure single crystallized UP-OCC pure copper with 7N purity. The cable geometry and standing is the same as the Black Dragon. Version 3 of these cables are now shielded and placed in a polyethylene jacket for further protection. Like the Black Dragon, the Blue Dragon cables still use the Texflex outer jacket which in my opinion dresses up the cable quite nicely. Comparing the larger stranded conductors in a multi-wire wrap that the Black Dragon cables use as compared to the smaller Blue Dragon's 4 x 22AWG stranded conductors really did open the cable up and increase its transparency. Could this be due to the Blue Dragon cable using the smaller gauge wire where it closes the gaps between each wire much closer than the larger gauge wire used in the Black Dragon? In theory, my answer would be yes! One thing that is for sure, this change did alter the sonic signature of the Blue Dragon cables as compared to the Black Dragon cables.
I have always liked the Sennheiser HD-650s with their smooth sound and not-in-your-face demeanor. But, like all things in time you want more. I wanted better definition, bass, a faster more impactful type sound, and most importantly better detail in the upper extreme of the musical spectrum. Yeah, I know I want it all. The Blue Dragon Version 3 cables do take me one step closer to that goal. As compared to the Black Dragon cables, the Blue Dragon cables are livelier, with an increased speed and impact, and tighter bass while maintaining that smooth and slightly warm sonic signature in the upper end of the frequency extreme.
Overall I found these cables very complimentary to the HD-650s and a perfect match for someone who has solid-state gear or a system that needs to be toned down a bit. From my listening experience you really are not sacrificing anything at all, not spotlighting anything either when using the Blue Dragon cables. Maybe that is why overall they were my favorite amongst the group—especially if I were looking for a jack-of-all-trades type set of cables. If you are unsure which cable to purchase for the HD-650s or HD-800s, this is the place to start.
How do the Blue Dragons perform with the HD-800's? Placing the Blue Dragon Version 3 cables into the HD-800s instantly transports me to sonic heaven. For me, this is THE cable for the HD-800, no doubt about it! Let's back up a bit here. Stock, the HD-800s are a very fine headphone; though for me they lack the smooth top to bottom response I enjoy as compared to my current reference headphones. In stock form I find the HD-800s a bit bright on top with a slightly depressed upper midrange. It is that depressed upper midrange that doesn't do it for me. Fact is in stock form I find the HD-800s leave much to be desired and are a disappointment, especially at the retail price they command. However, everything changes when replacing the stock cable with the Blue Dragon. For the first time while listening to a pair of headphones I found nothing regarding the musical presentation lacking, no matter what type of music I was listening to be it classic straight ahead jazz, big band jazz, be-bop jazz, hard rock, classic rock, alternative rock, country, acoustic rock, or classical—this headphone/cable combination represents, in my opinion, the very best in high end audio music reproduction. I really can't see how it can get any better—period! Everything about this combination is right. Bass is full, articulate, and precise, the midrange has just enough bloom to it without being over done, and those highs… so airy smooth without being bright or strident with just enough detail to satisfy any audiophile. Soundstaging is the best I have heard from any headphone closed or open back included, with a depth and precision that is beyond comprehension. In fact, a lot of what I was hearing was that same type of spatial clarity that many electrostatic headphones enthusiasts experience without all of the idiosyncrasies that electrostatic headphones bring to the table. For the HD-800s these cables are clearly "the best."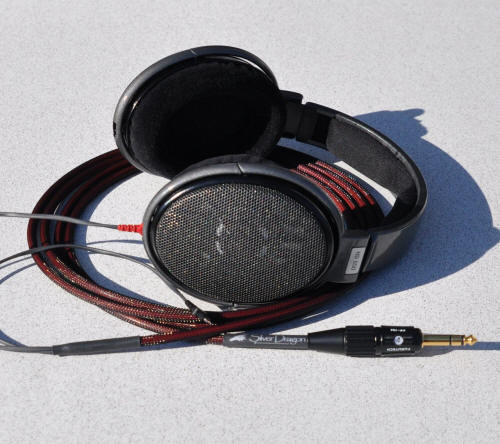 Silver Dragon Version 2 headphone cable for the HD-580, HD-600, HD-650, and HD-800 headphones
Now on to the final cables of the group—the Silver Dragon Version 2. Unlike both the Blue and Black Dragon cables, which are copper based, the Silver Dragon uses a 4 x 99.998% ultra pure silver 24AWG wire with Teflon insulated conductors. One of things I like about silver based cables is the transparency they can transmit to the listener. On the other hand, what I don't like about silver based cable is they can have a metallic over ripe characteristic in the upper high end that can leave the listener lost in the haze of this apparent added noise. Regarding the Silver Dragon Version 2 cables, this is a characteristic I never heard when auditioning them with both sets of headphones—the HD-650s and HD-800s. Like Blue Dragon Version 3 cables, the Silver Dragon Version 2 cables use the same cable geometry where the strands of wire are made of up of varying sizes and mixed with Kevlar stranding to reinforce each conductor. Again like the Blue Dragon Version 3 cables, the Silver Dragon Version 2 cables are surrounded by cotton, and then a layer of Teflon tape. Last, the wire is covered in a dark grayish Texflex wrap. Again, all in all a very well designed and good looking cable.
So how did it sound? With the HD-650s these were the 'be all and end all' for me. I loved how these cables sounded with the HD-650s. They truly stuck a balance with the soft sounding HD-650s, bringing the performers out to the forefront within a large and clearly defined soundstage. This combination of the HD-650s and Silver Dragon Version 3 cables resulted in sound reproduction at the cusp of what a reference headphone is all about—that being not missing any of the music, and presenting it in a manner that is smooth from top to bottom with no noticeable bumps or gullies. In short, the Silver Dragon Version3 cable and HD-650 headphones as a combined package gets out of the way of the music and allows the music to flow with the greatest of ease. Listening the to HD-650s with the Silver Dragon cables truly improved all aspects of the HD-650. These improvements were: increased bass performance, mid-range, and a top end that is sweet while at the same time extremely transparent. If it wasn't for that last bit of transparency at the very top that the HD-650s lack, or that last bit of impact and deep bass the HD-800s can accomplish when combined with the Blue Dragon V3 cables—the HD-650s and Silver Dragon Version 3 headphone/cable system could easily be my reference set of headphones. The difference was truly astounding. When you think that the asking price for the HD-650s with the Silver Dragon cables is one half of what the HD-800s command you are truly looking at a high end audio bargain.
On to the HD-800s. When listening to the HD-800s with the Silver Dragon 2 cables, some of the faults I have mentioned at the beginning of this article were back—that being a mid-range dip, and a high end bump up. Though there was an increase in transparency where micro- and macro-dynamics clearly did improve as compared to the stock cable, I still found the silver based cable too much of a good thing for my ears. This is not to say they will not work for you. They might. However, the fact is my system is very resolving. As a result I found the Silver Dragon Version 2 cables a bit too over-the-top when paired with HD-800s. Food for thought. The Silver Dragon Version 2 cables would be a match made in heaven for my current reference Ultrasone Edition 8s. One of my complaints regarding the Ultrasone Edition8s is that they can sound veiled and a bit slow in response time as compared to the HD-800s when they are coupled with Blue Dragon Version 3 cable. Add to that the HD-800s open back design, I don't think you can hear a bigger soundstage coming from a pair of headphones and you truly have in my opinion a headphone cable combination that is truly state-of-the art.
Final Thoughts
After the extensive break in time, each cable needed about 50-100 hours of playing time to come into focus and bloom per se, I truly enjoyed my time with all three sets of cables. Nailing down a particular common sonic quality or sonic signature regarding the Moon-Audio Dragon series cables is really difficult since each cable did sound differently as they interconnected with the two different headphone models. I am sure this has a lot to do with several factors, the influence of impedance, inductance, and capacitance as these cables mate up with various headphones.
Overall I found the Black Dragon cables the most forgiving, almost a bit euphonic, but not in a bad way. These cables truly do strike a balance between being the end all in transparency and detail to being very musical and a bit on the warm side of the spectrum type cable. Whereas, the Blue Dragon cables do all of the things that the Black Dragon cable do but with a larger soundstage, increased dynamic range, and a top end that is in my opinion to die for. In short, a veil or two is lifted. When listening to the HD-800s through the Blue Dragon cables I really do not think it can get any better. This combination is clearly what a state-of-the-art headphone is all about—they place the listener as close as possible to the original performance, in my opinion.
Now for the Silver Dragon cables. Though I found their transparency and top end extension a bit too much for the HD-800s, I loved these cables when paired with the HD-650s. The Silver Dragon V2 cables with the HD-650s bring a taste of what a top-of-the-line headphone is all about. I could easily live with HD-650s when paired up with the Silver Dragon Version 2 cables for a very long time. In the end, I liked all of the Moon-Audio Dragon series cables—they are really something special. There was not a dog in the bunch. Each Moon Audio Dragon Series cable clearly improves upon the stock cables which sound constricted, limiting soundstage, dynamics, and top to bottom transparency. While there are differences amongst this group of cables, one thing all of them retained at all times was their core musical quality. Listening to music through any of the cables was truly a pleasure. Summing things up, I could see any one of the Moon-Audio Dragon series cables being the cat's meow for someone depending upon the set of headphones used, the system they are ultimately a part of, and the musical agenda of each listener. My suggestion: have Drew send out a couple to try out, you will not be disappointed. Highly Recommended!
P.S. Though I could not afford to buy the Sennheiser HD-800s with the Moon Audio Blue Dragon Version 2 cables, I did manage to scrape up enough money to buy my the HD-650s with Silver Dragon Version 2 cables. At the current asking price of around $600 including the HD-650s and Silver Dragon cable it was a steal I could not pass up. Oh, before I forget my manners, if you are looking for further reading regarding Moon-Audio cables please don't forget to check out Andy Schaub's article in Issue 50 of this very magazine. Jeff Parks
Black Dragon Version 22
Retail: $250 10' cable terminated for HD-650s
Blue Dragon Version 3
Retail: $275 10' cable terminated for HD-650s
Retail: $300 10' cable terminated for HD-800s
Silver Dragon Version 2
Retail: $275 10' cable terminated for HD-650s
Retail: $300 10' cable terminated for HD-800s
Moon-Audio
308 Chrismill Lane
Holly Springs, North Carolina 27540
TEL: 919. 649. 5018
web address: www.moon-audio.com
email address: drew@moon-audio.com