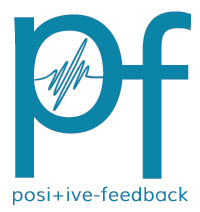 You are reading the older HTML site
Positive Feedback ISSUE 52
november/december 2010
Notes of an Amateur: Podger's Bach, Hewitt's and Uchida's Schumann, and Kirchner
by Bob Neill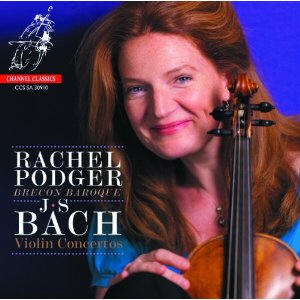 Rachel Podger, Brecon Baroque. Bach, Violin Concertos. Channel Classics CCS ST 30910.
Surprisingly, this is Rachel Podger's first shot at these central works in the Bach oeuvre. She literally played second fiddle to Andrew Manze in two concertos for two violins on a 1997 CD for Harmonia Mundi, where he got to play the best known pair for one violin. Comparing their performance's of BWV 1041, Manze on the earlier CD and Podger on this new one, affords a good opportunity to focus on Podger's distinctive approach to the composer. Podger, as always, is more concerned to bring out the emotional identity of the composer, which, to oversimplify, is partly a matter of playing him with a bit of well judged flair and fluidity and with a bit less pace. Overall, we get the impression that she is giving the music more room to breathe.
Another notable aspect of this performance is its scale: rather than give us a full baroque orchestra of some 15-20 musicians, Podger plays with her own small ensemble of seven, which she established in 2007 for her own annual Brecon Baroque Festival. The group is thankfully free of big name all-stars with their individual needs and musical agendas, though we do recognize cellist Alison McGillivray, who has played with both the Academy of Ancient Music and the English Concert. So, instead of a blended sound behind Podger, we hear the distinct sounds of six instrumental voices. Seven musicians can make a pretty big sound, especially in a living room, so the effect is not so much smaller as clearer.
I won't hide my continuing enthusiasm for Rachel Podger here. To my ears, she strikes the perfect balance between discipline and feeling. Bach in her hands is beautiful and emotionally effulgent, as well as orderly and eloquent. Structure is clearly in place but emotion simply flows through and around the timbers. Her solos in the Adagio and Largo movements are tastefully ravishing. She does not indulge her violin, she frees it to get more of Bach out of his scores.
Wonderful music and music-making from the musician who has become the most compelling and satisfying period violinist we have. This is a CD/SACD hybrid. I listened only to the CD layer.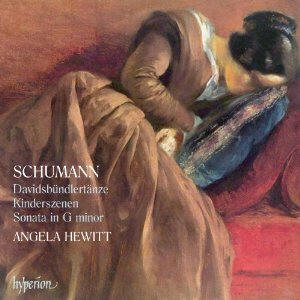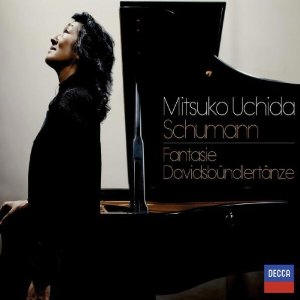 Robert Schumann, Kinderszenen, Davidbundlertanze, Piano Sonata No. 2, Angela Hewitt, piano. Hyperion. CDA 67780
Mitsuko Uchida, Schumann, Fantasie, Davidsbundlertanze. Decca. 4782280.
Angela Hewitt's second Schumann album, while recognizably kin to her first done three years ago, places more emphasis on clarity and transparency. The recording engineer, venue, and even the piano are the same, so this would seem to have entirely to do with Hewitt's evolving view of the composer, or how she wants to play him.
All hints of fat are trimmed away. The lower range of the piano is less weighty. This is a more classical than romantic view of the music, where the first was more down the middle. She tells us in her (always informative) album notes that she is concerned, especially in the Kinderszenen, to achieve "a poetic delivery," which as we hear her play seems to mean purity and precision rather than lyric flow and harmonic warmth. It sounds as if she is playing with pedals off to avoid any hint of blurring. Strong emotions here are more keyed up, frenzied, and intense; quieter ones seem as if they're coming from somewhere, someone else. We feel the mercurial Schumann, who famously described himself as two fairly different beings. This music sometimes feels like an analytical session. If it does not feel in the end like a 'whole' Schumann is present, that may well be Hewitt's intent. Her program notes focus intently on the composer's state of mind at the time of composition, especially in relation to the love of his life, Clara Wieck, later Clara Schumann. This is a thoughtful performance, which takes clear steps away from traditional approaches to the composer.
For some perspective, I turned to Mitsuko Uchida's new Schumann album, recorded, I'm happy to report, on the stage of the sonically magical Snape Maltings in Suffolk, England, home of the annual Britten-Pears Festival. Uchida also plays the Davidsbundlerdanze, so the playing field for comparison is flat. Uchida hears Schumann entirely as a romantic composer, whose personality, however disparate he may have felt its halves to be, fit together naturally. Her sound is richer, her notes have more body, her presentation seems less concerned with sonic transparency as with emotional persuasiveness. She is clear, but clarity is not her point. Schumann's turbulent passages here seem more of a piece with his quieter interludes. It is easy to get lost in Uchida's Schumann, whereas it always feels as if we know exactly where we are in Hewitt's. This doesn't make either musician right or wrong, it simply dramatizes through contrast the choices each has made. Mainly it helps me understand Hewitt better: when you aim for high clarity, you trade off a degree of emotional warmth.
If Uchida sometimes seems to 'get' Schumann more, make us feel we have got him, gotten closer to knowing him, Hewitt clearly aims to help us know more about him, know how he fits together, or doesn't. The old saw about the difference between the French verbs connaitre (to become familiar with) and savoir (to know as a fact) fits these two performances very well.
I felt Hewitt's urge to know in her Beethoven piano sonata recordings, somewhat less in her first Schumann CD. It does seem to be her principal hallmark however, beginning with the complete Bach keyboard performances, where it suited the music particularly well. If you are curious about such matters, I suggest that you track down both of these recordings: as a contrasting pair they have much to teach us, about Schumann and about music interpretation.
Note: The Uchida album includes a second CD on which the performer discusses Schumann with Gramophone Magazine editor James Jolly. Interestingly, she is full of the two Schumanns concept too, but also makes it clear that they are not always so easy to sort out.
Leon Kirchner, Complete String Quartets, 1-4 [1949-2006], Orion String Quartet. Albany Records, Troy 1030.
Leon Kirchner, who died last year at the age of ninety, was a classic modernist, whose music bristles with the chromatics and dissonance of the movement but which also remembers Copland. That is, like all true modernism, his music has a sonorous heart buried deep within its radical peregrinations. If anything essential has been lost with the rise of postmodernist sophisticated disillusion, it is this. The radically ironic voice has got separated from being, which used to humanize it. Listening to Kirchner here, played brilliantly by the 20-year old Orion Quartet, it hard to fathom why he is not a more prominent part of the chamber repertoire. Albany Records, one of very best small classical labels in the U.S., deserves great praise. Their catalog is a rich source of modern American music.
This is music full of turbulence and near cacophony, hardly suitable for tender ears more at home with traditional nineteenth century (and earlier) fare. So I may have just answered my concerns about its absence from the repertoire! Quartets No. 1 (1949) and No. 2 (1958) are fairly straightforward modernist chamber music. Quartet No. 3 features some quixotic electronic passages, whose intrusions become more extensive as the work progresses, threatening to take it over altogether. What sort of humorous jungle of music/sound we are in towards the end is anyone's guess. One curious effect of the juxtaposition of electronics and acoustic instruments is that when we periodically return to the instruments alone, they sound fresh and richer than before, even playing relatively dissonant music. The narrowness in pitch and lack of harmonics in the electronic music momentarily causes us to forget how much fuller instrumental music is, which is presumably at least part of Kirchner's intention. For what it's worth, the synthesizer gets the penultimate word, the string quartet the last one.
Quartet No. 4 (2006), written when the composer was 87, is all string quartet and while still pure modernism, it is generally more sonorous than the first three, and very moving music. Some of us just keep on going.
System used for this audition: Audio Note CDT3 transport, Blue Circle BC501ob dac, BC FtTH integrated amplifier. Jean Marie Reynaud Offrande Supreme, V2 loudspeakers. With Blue Circle BC6000 line conditioner. Audio Note Pallas and Sootto interconnects; Audio Note Sogon 40/40 speaker cables.
Bob Neill, in addition to being an occasional equipment and regular music reviewer for Positive- Feedback Online, is also proprietor of Amherst Audio in Amherst, Massachusetts, which sells equipment from Audio Note, Blue Circle, and JM Reynaud, among others.