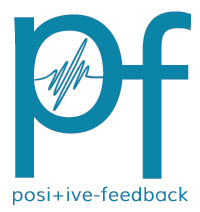 You are reading the older HTML site
Positive Feedback ISSUE 51
september/october 2010
Quickies! Including WyWires Custom Balanced Interconnect, Dynastrand Challenge, and Kubala-Sosna Fascination Interconnects!
by Robert H. Levi
New cable goodies from three manufactures have arrived on the cable scene and are not only very, very good, but are a testament to what smaller innovative companies can achieve. I like all three copper designs and consider each offering a strong over-achiever and solid choice for the audiophile looking for high value interconnects. That said, each has its particular strengths. Plus, they sound different, offering views of a sonic reality belonging to the good taste of each designer. They all cost about the same per meter so let's listen!
WyWire Balanced Interconnects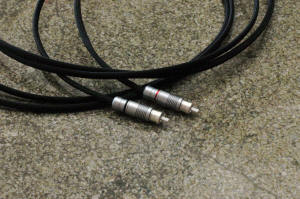 Pictured are the single-ended RCAs.
WyWire has introduced a stellar and provocative interconnect that is made to order. It has several special features including handmade internal twists to the litz wire to eliminate EMI. No way to mass produce these. I find it interesting that they can produce these beauties as one-offs for the price. I recently reviewed the single-ended versions and was delighted with their suave performance. The WyWire balanced version is as good or better with even more overall definition and high frequency airiness. With a juicy tumbrel presentation, the WyWires are slightly laid back when compared to more vivid, mass market performers. This relaxed presentation is delightful and addictive making long listening sessions a true pleasure.
Their easy going nature is less involving if your system is somewhat dull…just right if it's on the slightly vivid side. You should discuss this with the company when you order. The brilliant designer of the interconnect, Alex Sventitsky, is super friendly and very responsive to your questions and requirements.
I like the balanced version and consider it a solid value. It is particularly top notch for classical music lovers as violins and horns are magical. Vocals are particularly excellent. Their response is even from top to bottom. Just owning and listening to custom cables is very cool. Very flexible and handsome, the WyWires will not fail to please. They are a very reliable choice for a high-end system.
$849 for four feet
WyWires
TEL: 818.981.4706 PST
email: alexs@wywires.com
web address: www.wywires.com
Dynastrand Challenge Interconnects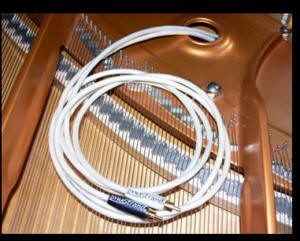 Back in the market with a new distributor, this interconnect has been further improved and renamed the Challenge. It is currently available with RCA termination only. The RCA plugs are made of resin which is totally unique. Minimal metal connectors are all the rage and the Challenge is right there. The stranding within the cables is the smallest available on the planet, but this is not litz wire. Its individual wires strung together with special insulation for maximum signal transfer. Lowest capacitance of all cables is claimed.
Very flexible and beautiful, this is killer cable! The first thing you will notice is your overall volume is louder with the Challenge. Ultra low resistance will give you a boost in output. Slightly vivid and very dynamic, imaging pops like no tomorrow! This might be a problem, but it's not. I hear very true timbres and musical nuances that are quite like the real thing. It's very Nordost-like in presentation with spot-on imaging galore. They remind me of the much more expensive CRL Silver Interconnects overall. The Challenge is not bright or crisp unless the source is doing this. Its overall neutrality is amazing. A stunning achievement and a truly fascinating balancing act of sonic elements. It is very even in response at all frequencies and has loads of textural information.
The designer is Jed Hacker, a very talented fellow and past designer of other important cable offerings. He has invested a ton of himself in the Challenge and has hit on an amazing wire. I hope the balanced version is equally superb. A fabulous choice for jazz and vocals, performance is system dependent in the all best ways. Out-performs the price point considerably. The Challenge is high-end on a budget..
$899 for the first meter
Dynastrand
web address: ww.dynastrand.com
Distributor
E.A.R. USA
web address: www.ear-usa.com
TEL: 562-422-4747
Kubala-Sosna Fascination
Want an interconnect you can take home to Mother, this is it! Like all Kubala-Sosna cables, it is unfailingly musical and very detailed. Sonically somewhere between the WyWires and the Challenge, it images very well and is a tad laid back and warm sounding overall. I can easily tell that the Fascinations are cut from the same sonic cloth as the wondrous Emotions at three times the cost. That said, they are lovable to hear and a pleasure over long listening sessions. I hear a bit of added emphasis in the lower mids and upper bass with even more definition in this range. Highs are super smooth and a tad dull.
Knowing Joe Kubala as a recording enthusiast and music lover, you can hear his sense of musical reality incorporated in the Fascination. Instruments sound real in real space and this is no accident. Joe knows music and these wires are beauties.
Very flexible and handsome, both the RCA and XLR versions of Fascination are superb for the money. OK, so they aren't as detailed or tightly imaged as the expensive stuff. I think the under $1000 price point is critical and the Fascination fits the bill. Kubala-Sosna offers a terrific trade in, trade up program. You can always buy them and trade them in later when your ship comes in. The Fascinations make most mass market offerings sound thin and uninvolving.
$800 for the first meter
Kubala-Sosna Research LLC
TEL: 1-973-993-1952
email: info@kubala-sosna.com
web address: www.kubala-sosna.com
Conclusion
These are hard choices to rank! I had several audiophiles come hear these and took them to audition on several systems other than my reference systems. Overall, I found the Dynastrand Challenge a powerful choice with the kind of definition and textural information I like in expensive high-end cables. I ranked them as a tie with the new improved Kimber Select copper offerings.
WyWire is in its own category. Sounds more like Kubala-Sosna's Fascination, but system dependent of course. I love the idea that a manufacturer is willing to admit that one size does not fit all! They will build it to suit your needs and will stand behind their work. Who could ask for more? They are an intensely musical design and perfect for a high-end system at a great price.
The Kubala-Sosna Fascination may be all you will ever need in your system. Intensely musical and delicious, they are love at first listen. Maybe a bit less neutral and detailed than I am used to with their upscale Emotions and Elations, but you get so very much performance for the money. The balanced version is fabulous and super flexible. A great choice, too.
I hope I've made it at least a little easier for you to choose your next interconnect if you are shopping in this price range. In the end, listen for yourself. Your ears and your system are the real deciders.
Rankings including the Challenge, WyWire Custom, and Fascination are as follows:
Over $4000 per meter
TIE: Jorma Origo (single-ended and balanced); Kubala-Sosna Elation [balanced and single-ended] State of the Art Category.

Jorma Prime (balanced and single-ended)

Nordost Odin (balanced and single-ended)

Tara Labs The Zero (single-ended)

Acrolink 7N-DA6100 (single-ended)
$2000 - 4000 per meter
Kimber Select KS 1136 and KS 1036 [balanced and single-ended]

Kubala-Sosna Emotion (balanced and single-ended)

Jorma #1 (balanced and single-ended) Bybees on board.

Clarison Teresonic Gold (single-ended)

Nordost Valhalla (balanced and single-ended)

Wireworld Platinum Eclipse (balanced and single-ended)

Acrolink 7N-A2500 Mexcel (single-ended)

Silversmith Palladium (balanced and single-ended)

Harmonic Technology Photon Interconnects [fiber optic] with Power Pack 4 (balanced and single-ended)
$1000 - 2000 per meter
CRL Silver Interconnects (balanced and single-ended)

Stereovox 600-SEIii (balanced and single-ended)

Kimber Select KS 1126 and KS 1026 [balanced and single-ended]

Kubala-Sosna Expression (balanced and single-ended)

Jorma #2 (single-ended)

XLO Signature 3 Interconnect [balanced and single-ended]

Acoustic Zen Silver Reference II (balanced and single-ended)
$450 - 1000 per meter
TIE: Kimber Kable Select KS 1016 and 1116 [single ended and balanced] with Dynastrand Challenge [single ended]

WyWires Custom Interconnect [single ended and balanced] Conditional Ranking

TIE: Harmonic Technology Magic II (Balanced and single-ended) and Kubala-Sosna Fascination [balanced and single-ended]

Audience AU24e [Balanced and single-ended]

Kimber Select KS 1011 (balanced and single-ended)

Nordost Heimdall (Balanced and single-ended)

CRL Copper Series Interconnects (Single-ended tested)

Harmonic Technology Pro Sil-way III+ (balanced and single-ended)
$250 - 450 per meter]
Mythos by Argentum Acoustics (balanced and single-ended)

Dynamic Design New Generation Lotus SE

Soundstring Octaphase Alpha Series (single-ended Unshielded Interconnect)

Soundstring Octaphase Omega Pro Line (single-ended/Balanced Shielded Interconnect)

Under $250 per meter

Kimber Hero (balanced and single-ended)

Kimber Timbre (single-ended)