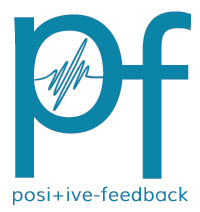 You are reading the older HTML site
Positive Feedback ISSUE 51
september/october 2010
Notes of an Amateur: Clarke, Boulez, and Britten
by Bob Neill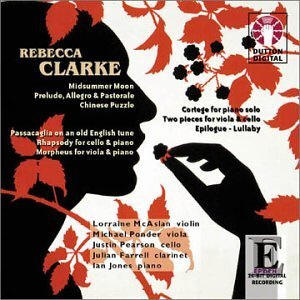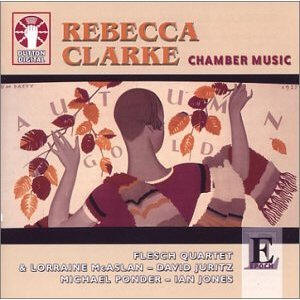 Rebecca Clarke, Midsummer Moon. Loraine McAslin, violin; Michael Ponder, viola; Justin Pearson, cello; Julian Farrell, clarinet; Ian Jones, piano. Dutton CDLX 7105.
Rebecca Clarke, Chamber Music. Loraine McAslin, violin; David Juritz, viola; Michael Ponder, viola; Ian Jones, piano; Flesch Quartet. Dutton. CDLX 7132.
Some of us have a weakness for minor twentieth century British music and for recording labels who share this predisposition, Dutton in particular, not least for the outstanding quality of their sound. Minor composers almost by definition are less concerned with breaking new stylistic ground, more interested in cultivating inherited ground. If you are drawn to minor British music, it's partly because you find the inherited ground appealing: a millennium of Celtic melody being just the tip.
Rebecca Clarke (1886-1979) wrote chamber music, a lot of it for her instrument of choice, the viola, which she reportedly played extremely well (with the likes of Schneider, Casals, Rubinstein, Hess, and Szell). Her best known work, Sonata for Viola and Piano, has been widely recorded and appears on albums featuring the instrument. Fairly early on in her career, her music began to reflect the blended influence of such contrasting contemporaries at Vaughn Williams and Debussy, resulting in an affecting compound of lyricism and crisp French sophistication. A great deal of her music occupies the rich ground between old and new, which to my ears is the clue to its strong appeal.
These two albums include her two other major works, a Rhapsody for Cello and Piano and Sonata for Violin and Piano in D, but are mainly made up smaller works, many of which, like short stories, have strengths that belie their length. Both discs sound very fine, the more recent one, CDLX 7132, engineered by the inimitable Tony Faukner, especially so.
The Sonata for in D Major for Violin and Piano (1908), the feature of the earlier CD, shows us how much more can be made of the inherited material than—pardon the heresy—Vaughn Williams generally made of it. It's full of Celtic melody but Celtic melody seen through a grateful, inspired post-romantic lens. Clarke's modern contemporaries may have given her the tools but it is she who wields them.
The Rhapsody for Cello and Piano (1923) on the second CD is every bit a rhapsody—fulsome and emotional. The cello is recorded (and presumably played) gorgeous. We can hear some Rachmaninoff in this work but don't let that put you off. It is less full of itself than anything by the Russian romantic, far more reflective, expansive, and stylistically complex. She takes what she needs from him and moves on.
I don't mean to make too much of Rebecca Clarke, but a part of me does because I am moved by her music. I can see how a voice as compelling but as unrevolutionary as hers could get lost. Virtually all of her music on the earlier of these two CD's is unpublished (!) including the Cello Rhapsody. History may have lost track of much of this music but thanks to Dutton, it's back, for music lovers.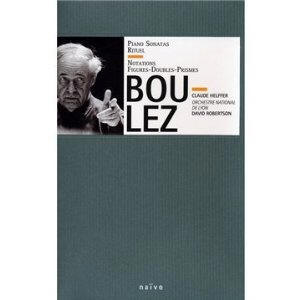 Boulez. Piano Sonatas [3]; Ritual; Figures-Doubles-Prisms. Claude Helffer, piano. Orchestre National de Lyons, David Robertson, conductor. Naive. NC4 0005.
Pierre Boulez has been such a large presence in the world of modern music—as conductor, critic, and authority—it is easy to forget he is also a composer of fairly radical avant-garde modernist music. This album is one of fifteen special 2 CD box sets issued by Naive offering introductions to what they clearly feel is the best music in their catalog. They come at a discounted price along with informative (in this case anyway) booklets. (http://en.naive.fr/#/work/les-grands-millesimes)
Claude Helffer's performance of my three favorite Boulez works, his three piano sonatas, quite literally propels this dramatic bourgeois bashing music into the listening room with force and gusto. If I didn't know Idil Biret's performances of the works for Naxos (http://www.naxos.com/catalogue/item.asp?item_code=8.553353), which are more restrained and, well, French, I would say this music has to be played Hefller's way to be believed. It doesn't—it works wonderfully both ways. Birets's Boulez feels like modernism that is continuous with the French tradition of classical music, Helfffer's like a bold departure.
Recorded brilliantly in 1980 (!) presumably in analogue, it sounds like state of the art. Huge kudos to the recording and (especially) the remastering engineers.
The orchestral music on CD 2 comes with the transcript of an extensive conversation between Boulez and conductor Robertson done in 2002 when this music was recorded. Boulez as commentator is always interesting but less so than his music which may know better where it's going than Boulez knows, or is willing to say. Boulez's orchestral music has the lean quality of chamber music written in the spirit of painters Paul Klee and Piet Mondrian—playful and abstract. Brass, woodwinds, and percussion (wood blocks, bells, chimes) take the lead and create the chief character of a world we recognize if we don't insist on verisimilitude. It can have its sinister moments, just as benign dreams can drift into surreal corners.
It is in this music we are made most aware of Boulez' program: to compose music that quite literally leaves the world of traditional European music behind. While he can conduct Ravel, Mahler, and even Wagner and Bruckner effectively, he often gives the impression that he does this the way an architectural historian describes a Georgian house, aiming for accuracy and appreciation rather than identification. What he appears to disapprove of most is transitional music that tries to occupy some middle ground between the old and new. (Like Rebecca Clarke's!) For Boulez, modern music cannot become what it essentially is unless it breaks free. He is critical, for example of popular early Stravinsky, preferring the composer's later music, which strikes him as aiming at the new freer place.
Boulez' artistic implied (and in his criticism, expressed) argument for modernism is cogent but can we hear his truly modern music as he intends it to be heard? Does it establish a viable, habitable new musical world? As, say a Frank Lloyd Wright house does. I ask this question of a lot of contemporary modern music, not just Boulez' because given the freer aesthetic that radically modern music demands, success is less predictable. Some of it really works and some of it really doesn't. There are more ways to fail just as there are more ways to succeed. Traditional music fails when it is boring, staid, unable to infuse freshness and imagination into its form. Modernist music fails when it creates chaos and annoyance.
Boulez considers most of his orchestral music as work in progress. He is continually adding to and revising a great deal of it. Whether he is composing by intuition or design is never entirely clear. I find most of it interesting to listen to rather than compelling. It is the prominence of and focus on contrasting instrumental colors that attracts me most. It lacks the power and coherence that the piano sonatas have, partly by virtue of their involving a single instrument, of course. But it is neither chaotic nor annoying! It feels central to what is going on in the history of music, whether what's going on ends up being a fascinating side road or a continuation of the main route. I hope that's enough of a case to attract you to this album.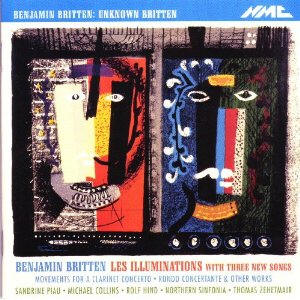 Benjamin Britten: Unknown Britten. Les Illuminations; Movement for a Clarinet Concerto, etc. Sandrine Piau, soprano; Michael Collins, clarinet, etc. Northern Sinfonia, Thomas Zehetmair. NMC D140 (www.nmcrec.co.uk)
NMC (which originally stood for New Music Cassettes) is a non-profit English record label founded in 1988 by English composer Colin Matthews, dedicated to recording and releasing lesser known contemporary British classical music. In my experience with the label so far, both musicianship and recording quality have been first rate.
This particular recording is of special interest as the first release of unpublished music by Benjamin Britten. Matthews served as Britten's personal assistant in his later years (1972-1976) and is conservator of the Britten musical archive. There is an informative essay by Matthews on this subject in Benjamin Britten; New Perspectives on his life and Work. (Issue49/amateur.htm). Matthews is a founding trustee and Music Director of the Britten - Pears Foundation and is responsible for the release and publication of music from the archive.
The music on this CD will be of primary interest to Britten fans but some of it is of general interest as well, thanks in no small part to the compelling voice of Sandrine Piau, who performs Les Illuminations with three additional hitherto unpublished songs Matthews has orchestrated. It's a great performance of the work. The chief 'discovery' appearing on the album is Movement for a Clarinet Concerto, composed for Benny Goodman but never completed. Matthews has composed a brief transition to a 'finale,' which was originally a brief 'sonata for orchestra' composed by Britten at around the same time and left unfinished. Matthews has pulled a clarinet line from it. As a small work, it works wonderfully well. Matthews assures us that "virtually all of the music is Britten's own."
Even the smaller fragments included on the CD are attractive for having a clear Britten stamp on them. Comparable to entries in a composer's notebook, some of them represent inspired and revealing moments even without achieving artistic completion.
System used for the audition: Audio Note CDT3 transport and Dac 4.1 Balanced Signature. Blue Circle FtTH hybrid integrated amplifier. Jean Marie Reynaud Cantabile Supreme loudspeakers. With Blue Circle BC6000 line conditioner. Audio Note Pallas and AN/Vx interconnects; Audio Note Lexus speaker cables.
Bob Neill, in addition to being an occasional equipment and regular music reviewer for Positive- Feedback Online, is also proprietor of Amherst Audio in Amherst, Massachusetts, which sells equipment from Audio Note, Blue Circle, and JM Reynaud, among others.