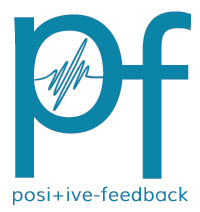 You are reading the older HTML site
Positive Feedback ISSUE 50
july/august 2010
The Neoteric Listener... and the Virtue Audio Sensation M901 Integrated Amplifier
by Dean Seislove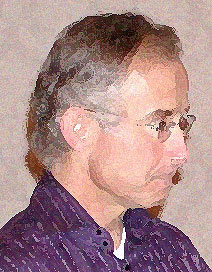 In my teens, I worked at a liquor store, stocking shelves and delivering fifth, quarts, and half-gallons (liters not having been invented in my part of the U.S.) in all manner of liquors naughty and nice. It was a plumb job, especially as much of my time was spent motoring around town in my Volkswagen Beetle, impressing my friends and delivering hooch to thirsty locals. Sporting the most electric blue paint job $69.95 could buy; my bug spluttered and chugged through the city, delivering good times, looking for the party and hoping for big tips from the tipsy. Through a combination of agility and a total disregard for a thrashed interior, full kegs would emerge from mein klitzeklein auto like foamy circus clowns. All good fun; and it taught me a sound lesson that little packages bringing big surprises are guaranteed to please.
I was reminded of this fact when awarding a Positive Feedback Online Writer's Choice Award to the Virtue Audio Virtue TWO Amplifier. Small and stylish, the TWO was an audio action hero capable of holding large speakers over its head, and you couldn't ask for a better sounding amp at the ridiculous price of $349. Everything about the Virtue TWO was exceptional, but there was just one thing...No, literally, there was just one thing! By that, I mean there was just one input for your source, which really limited the Virtue TWO's practicality, if not its excellence. No doubt, Virtue Audio's CEO, Seth Krinsky, got mighty tired of countless rubes like me saying, "Hey, wouldn't it be great if the Virtue TWO had multiple inputs!" (Gee, you think?), so I was thrilled when given a chance to audition their new solid-state integrated amplifier, the Virtue Audio Sensation M901.
Like the Virtue TWO, the Sensation line features Class T amplification. The "T" stands for Tripath, the now defunct company—good circuits, bad economic timing—that developed the chip responsible for greatly improving the sound of this amplifier. As many readers of this column already know, all amplifier designs have trade-offs in their presentation of sound, compounded exponentially when matched with different sources, cables, and rooms. The bitter struggle to establish amplifier design supremacy is a sport enjoyed by many engineers and audiophiles, but I'm not fool enough to side with any faction. I've enjoyed both tube amps and solid-state amps in my home this year, but the Sensation's Class T sound makes it a unique product for many reasons. The Sensation M901's mission is to retain the efficiency and transparency of its Class D counterparts, the warmth and holographic soundstage of a good tube amp, and the speed and power of a traditional solid-state amp. And all for $729. Oh, and build quality and styling need to be at a premium, as well. If they even succeed a little bit at all, they'd more than justify the littler price, but, once again, Virtue Audio has produced a product that defies expectations. So, did they just add inputs and make it a Virtue FOUR?
Nope, but the Sensation M901 follows the Virtue Audio commitment to utilizing materials usually reserved for more expensive products: Auricap input capacitors, cryo-treated Auric hookup wire, Tellurium copper propeller posts and RCA jacks, and an aluminum and steel chassis. Features such as a buffered mono subwoofer pre-out (which I didn't try) and full featured remote control and soft-start circuit (which I did) are also useful additions for the money. Virtue Audio also offers a variety of styling options and aftermarket upgrades designed to improve the amplifier's sound. Naturally enough, the Sensation shares some of the Virtue TWO's sonic signature, as well. Like its predecessor, the huge sound that comes out of such as modest sized box is completely out of proportion. Give the giant volume knob a twist, and drums thump, soundstage expands, and tones RING. I've been listening quite a bit to Blitzen Trapper's Destroyer of the World…which led me back to Jellyfish's Bellybutton…to Queen's A Day At the Races…and, ultimately, to the Kinks' Everybody's in Show Biz (just trying to sleuth out the musical family tree). Anyway, "Hot Potatoes" from the Kinks album begins with a classic burlesque show floor tom, ride cymbal, and snare beat so often employed by rock bands of the sixties and seventies. Mick Avory's untuned drums are recorded with just a hint of reverb, so an amp's control of the bottom end needs to be good, or the drums will sound mushy. And mushy's only good for English peas! Frankly, these drums have sounded pretty washed out through the Nolas when using other amplifiers. The Sensation, in contrast, pushed the Boxers so that the drums retained both their natural timbre and the forcefulness necessary to propel the track (even at ear-splitting levels, according to my neighbors). Moving up a level in the heavyweight bass prize fight (at least, in the music division), the Sensation M901 squared off with Mino Cinelu's "Moun Mandinina". Recordings of train engines and tectonic plate shifts are a little hard for me to evaluate sonically, so this track is a better indicator of how much useful bass is being produced. The Boxers have admirable bottom end for stand mounts, but they can't suddenly grow double cellos. Still, the Sensation's excellent control of Cinelo's burrowing bass lines made the Boxers grunt and sweat (meant as a compliment!).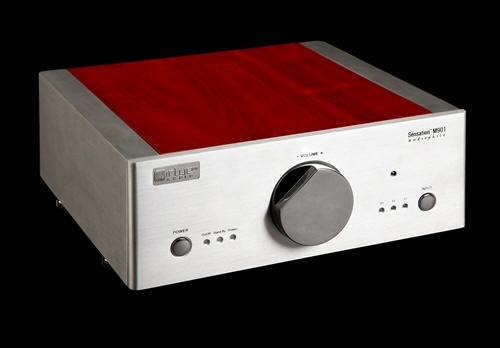 Finally, just to see if the M901 could hit a moving target, I played Peter Gabriel's world beat-influenced "The Rhythm of the Heat." I was curious as to how well the Sensation would keep up with the song's suspenseful build up and climatic explosion of Ghanian drums, Surdo drums, and Linn drum machine. Depending on the system, by the time the song ends, you're either enveloped in the primal mystery of rhythm, or you're shouting "shut that f-ing noise off!" The percussion on this track is fast, dynamic, and loud, and it's easy for an amp to stumble and fall behind. The Boxers aren't really designed to awaken the forest spirits, but the Sensation's timing and control of the rhythm certainly elevated me out of my chair (perhaps an even more amazing accomplishment). I wasn't quite stripped down to body paint and a chikunga tribal mask, but the rhythm did inspire a creditable surfer stomp, of sorts. Virtue Audio claims that the Sensation, with a high-current, 30v input source, can deliver 90-wpc into 4 ohms, half into 8 ohms. Whatever, this amp has "loud" for all sizes and occasions. Having seen the Virtue TWO pull battle cruiser-sized speakers around like a tug boat, I'm sure that the Sensation can drive even the burliest speaker loads, or at least make a respectable showing.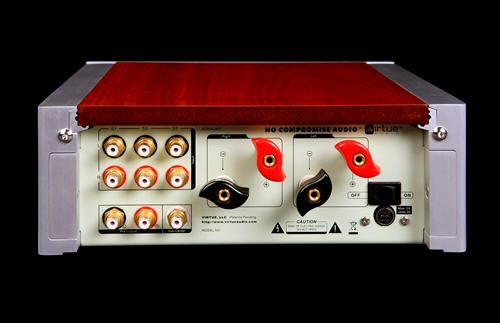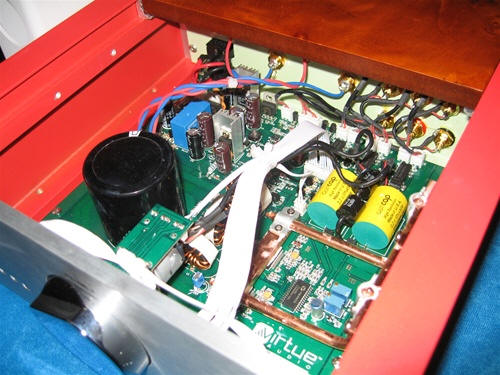 I've just finished reading EMI recording engineer Geoff Emerick's fascinating book, Here, There, and Everywhere: My Life Recording the Music of the Beatles, and, not surprisingly, spending a lot of time listening to the various Beatle Anthologies and comparing his recollections to the recorded tracks. The book is instructive because it details the instruments used and recording tricks used to create the distinctive sound of each album. I'm fairly obsessive about this sort of thing and the combination of low-noise floor and realistic imaging enable the Sensation M901 to bring instruments and vocals to the fore. Because many of the tracks on the Anthologies are outtakes and stripped down versions, the Sensation's tonal accuracy and transparency often created a "you are there" vibe that almost made me smell the joss sticks and look for Yoko reclining on her studio bed. The Lowery organ played by Paul at the beginning of "Lucy in the Sky with Diamonds" shimmered with just the right hippy trippiness (or is it trippy hippinesss, I can never remember) because the Sensation brought out the full midrange capabilities and spatial talents of my Nola Boxer loudspeakers.
The knock on Class D amps, of course, is that they come up short in the midrange, something that I've personally encountered when listening to several amplifiers of this type from other well-known manufacturers. The sound wasn't unpleasant, but it just sounded… sterile and metallic, like the car stereo you'd expect to hear on a Borg ship (ten points for you if you don't know the reference). And my Nola Boxers were basically designed to live in the midrange, making them natural swim buddies only with tube amplification… or so I thought. The next track on the Kinks album, "Sitting in My Hotel" begins with Ray Davies' unmistakably English vocals, accompanied by a simple acoustic guitar and piano. Going back and forth from my Arcam A-80 to the Sensation, the contrast between the two amplifiers was inescapable and undeniable. Vocals and instruments just sounded harsher on the A-80, and the Sensation provided a larger, warmer, more pleasing sound. Playing the hybrid multichannel CD, Ray Sings, Basie Swings, produced a similar result. Charles' voice sounded wonderfully soulful and gravely using the M901, but sounded baleful and grainy with the Arcam. Grainy-er than usual, I should say. Typically, the Arcam might be a little dull, but it's rarely coarse, and it often sounds marvelously musical. It certainly didn't fare well in this comparison, though, and that did surprise me. Similarly, on Analogue Productions' sublime reissue of Nat King Cole's Love is the Thing, the enchanting performance of "When Sunny Gets Blue" demonstrates that the Sensation can produce midrange on par with any amp near, double, or even triple the asking price.
Does it sound exactly like a good tube amp? Nope again, but this is a midrange that I could certainly enjoy for years True, the Arcam sounded more resolving to my ears, and I could hear some low-level details more easily using the British amp than the M901, but the overall sound of the Virtue Audio is superior. On Queen's "Good Old Fashioned Lover Boy," I was more than happy to exchange a microscopic view of the predictably abysmal sounding Queen Redbook CD for a tonally accurate representation of Brian Mays' saturated guitar tone. On a more modern recording, Jellyfish's "That is Why," the Sensation displayed its strengths: the closely mic'd snare and bass jumped out as they were obviously intended to do, lead and backup vocals were forceful but not strident, and the soundstage capitalized on the Boxers' excellent ability to represent "space" between instruments and vocals.
I was interested as to how well the Sensation would handle the complex tonal textures and timing changes of a large orchestral piece. Reaching for "Sinfonia de requiem Dies ira," from Britten's Orchestra on the Reference Recording label, I was looking for the type of wide open, dramatic classical music passage that might accompany, say, television footage of a squadron of F-86 Sabre jets in a dogfight with MiG 15s on the Military Channel. Lots of whirling strings and pounding kettledrums on display in this track, and the soundstage and timing of the M901 complemented the selection. Curiously enough, on the most frenetic passages, strings hardened and sounded slightly harsher than they did using the Arcam. A head scratcher, I know, but those violins with the Nolas and the Sensation just did not get along. Doesn't really bother me, but it would be nice if I could take everything up a notch.
Which brings me to the one of the most important advantages of the Sensation M901: the ability to greatly customize its appearance and its sound. My review amp shipped with the optional Dodd Audio, 5Ah, 28v Battery Kit. The kit, which costs an additional $139, resembles a miniaturized car battery, and includes a handy charger unit. After charging, the battery lasts 4-5 hours. If you prefer, you can keep the charger plugged and keep playing through the battery, because the sonic impact isn't very noticeable. What is noticeable, however, is the significant improvement to every aspect of the Sensation when using battery power. Resolution improves and background noise (already pretty low) shrinks markedly, thereby enabling the strengths of this amp to be highlighted. When the battery arrived, I didn't expect that I'd be able to hear much of a difference (having walked away unimpressed by many, many "wonder gear" enhancements), but the Dodd Audio battery is a must for anyone who purchases the Sensation M901. You can also replace the stock input capacitors and implement an 80Hz high-pass filter with a jumper, but I didn't, and never would. To each his or her own though, because this amp encourages personalization.
You can also change the amp's appearance, if you like. From the get go, the compact size, simple layout, and high quality materials give the Sensation style and panache aplenty. For those whose aesthetic demands cannot be denied, you may purchase the option to change the faceplate color, the color of the sides (Mesa, Redbrick, and Fuscia being some of the more exotic tones), and the top (Zebrawood, Figured Sycamore, Burl Chinawood… the list goes on!). High gloss lacquers and custom matched veneers to match speakers are also in the offing. You can even match the buttons—or mismatch ("Clouds" anyone?)—it's all there, for a price. Furthermore, Virtue Audio offers a 30 day return policy (minus shipping) and two year parts and labor warranty, and my experience with the company finds support response time and expertise to be superb.
But what about those violins, you say? Well, Virtue Audio recently announced that a Dodd Audio Tube Buffer is another option now available, and they claim that this addition enables the Sensation to "become a world-class preamp and an even better amplifier." I can't verify this for myself, but I hope to in the future. Even without the tube buffer, or the fashionable styling mods, or even the battery pack, the Sensation M901 is a boutique amplifier at a swap meet price. Another clear cut winner for Virtue Audio!
The Virtue Audio Sensation M901
Retail: $729