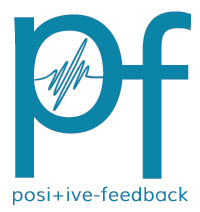 You are reading the older HTML site
Positive Feedback ISSUE 50
july/august 2010
The Locus Design Polestar Audiophile-quality mini-B USB Cable: A Guiding Light through the Darkness of Portable Audio and the Whiplash Audio Elite TWag Dock Connector and Headphone Cable: A Uniquely "Not There" Means of Connection
by Andy Schaub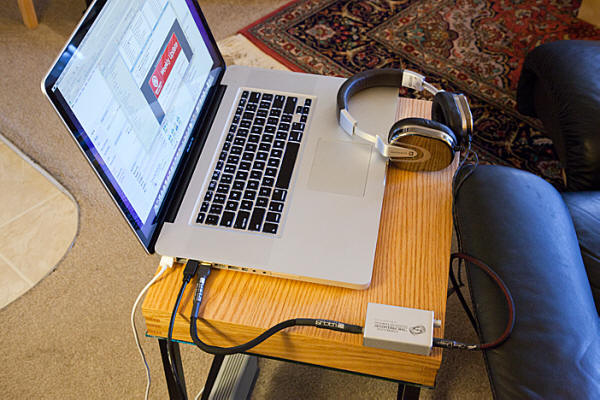 Gentle Reader,
According to http://www.dictionary.com, the definition of Polestar is, "something that serves as a guiding principle". I think that's a very appropriate name for Locus Design's least expensive audiophile-quality USB cable, particularly in the one foot mini-B configuration useful for portable DAC's and headphone amps such as my brushed aluminum (oddly called "clear/white") Ray Samuels Predator. With my 17" MacBook Pro—the 500GB magnetic drive having been replaced by a 256GB solid-state drive—running iTunes with the assistance of a machine-locked copy of Amarra MINI and sending 16/44.1 Apple Lossless files to the Predator through the quilted black cloth encased Polestar mini-B cable, a "system" is created with a tremendous amount of synergy revealed through my dearly beloved Moon Audio Silver Dragon modified Ultrasone Ruthenium Edition 8's. Their gold-plated mini plug at the end of a 5 foot run plugged neatly into the Predator which—for practical reasons—is held to my computer table beside my easy chair with a strip of Blu-Tack, the magic, impermanent adhesive that can change your regular DVD's into "Blu-Tack" discs, which have no higher resolution nor can even be loaded into your DVD player, but can be pressed against the wall and stay their indefinitely (until you remove them).
I have had two Predators before, a black one—because that's the basic color, always in fashion—then a gold one to match the Silver Dragon modified Grado RS-1's that I passed along to "mon vieux" Gerry when I replaced them with the Edition 8's. I truly wish I could find a good portable DAC that could then be coupled with my Ray Samuels Protector balanced, portable headphone amp in turn driving a pair of my reference standard Sennheiser HD650's through 48" of Whiplash Audio's Elite TWag headphone cable terminated with a protector plug; but I have to say I still really, really like my musically equipped 17" MacBook Pro, the Polestar mini-B cable (which is quite clearly a component itself), my brushed aluminum (i. e., MacBook Pro matching) Ray Samuels Predator and my lovely, 5' Silver Dragon Ruthenium Edition 8's which have never brought me anything but pleasure.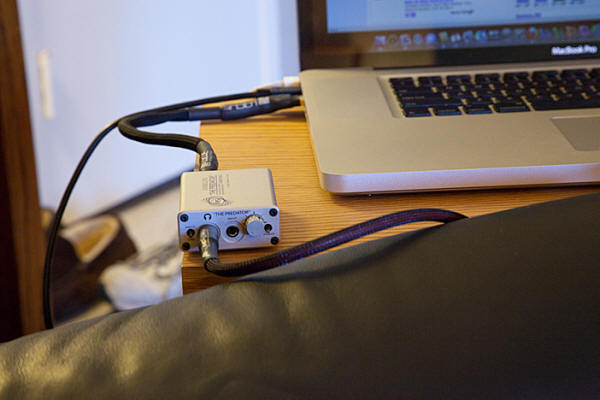 When I went to Chicago with my friend Laurie, I took my Edition 8's with a 160GB silver iPod Classic strapped to an ALO Audio Rx portable headphone amplifier and connected via the ALO Triple Pipe dock connector with a short Eichmann mini plug. I used them on the plane. I used them at the hotel. (Laurie has a family of her own with two lovely and exuberant daughters, so I let her sleep late up in her room several floors above mine while I listened to Angela Hewitt play Bach and looked out over the Chicago skyline from the Hotel Indigo on the Gold Coast.) Then I took the same contraption to London where I also had my 17" MacBook Pro (pre SSD, or Solid-State Drive) to process digital photos, post status reports to Facebook, and talk for pennies a minute to friends in the US via Skype with its built in microphone and speakers. I knew that the 17" MBP (Mac Book Pro—just trying to familiarize you with abbreviations) had enough power to drive the Edition 8's, and it sounded good but was just not as satisfying as my iPod Classic/Rx combination and shouldn't have been because the headphone out on that is really designed for the kind of Apple earbuds that come with the iPod or maybe pair of Grado SR-60's, which are very difficult to wear for extended periods and lack depth and dynamic range (not to mention a top end) plus DON'T block out any external sounds.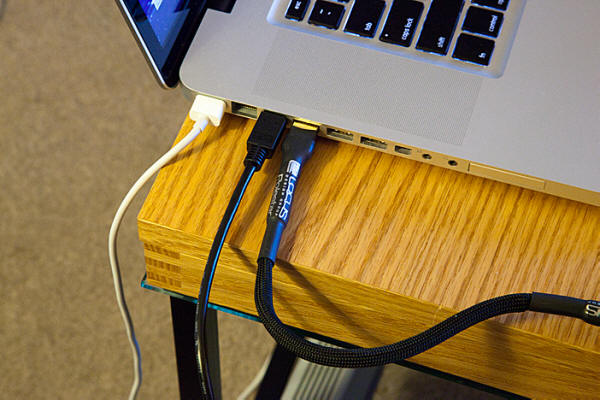 So when, you may ask, are we getting to what makes the Polestar so special and why is the article technically about it? Well, that's an easy one. It's because it truly represented the missing link. When I bought my first Predator, I asked Ray Samuels what kind of digital cable to use and he said it didn't matter; that digital cables aren't like analog cable and that even the cheapest Radio Shack mini-B cable—or in my case the mini-B cable that came with my Garmin GPS—would do fine. I'm sure Ray meant well, and he makes GREAT amps, but he was wrong. If anything, that short USB cable with the mini-B cable is probably the most essential link in the whole process and although the Kimber Ag (Ag for silver) and the Wireworld Ultraviolet (which is actually a very pretty purple-ish ribbon cable) claimed to be audiophile quality—and definitely are compared to my Garmin "data cable" (a term I coined to distinguish between cables that really do just have to get the bits accurately from point A to point B versus a "music cable" where timing issues and other distortions can effect the sound)—they sounded much better.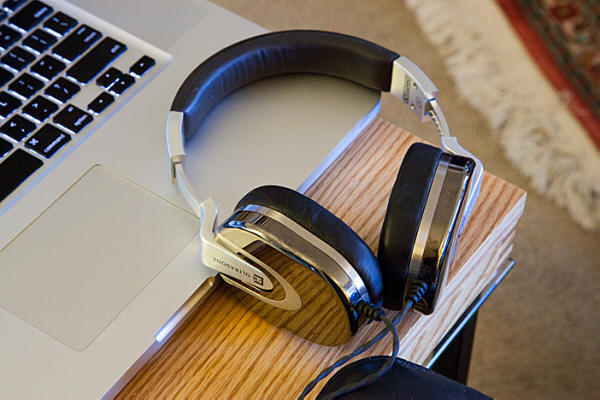 It wasn't until I asked Ken Ball at ALO Audio to create a custom made mini-B cable for me that I got decent sound. Ken's a great guy and he did a fine job, but the cable was fragile and a bit too long (which was my fault for asking for somewhere between 0.5 and 1 meter) and didn't quite have that "I am not here" quality I was looking for. So after a while I stopped using it and sold my gold Predator and gave my Silver Dragon RS-1's to Gerry, then asked Drew Baird at Moon Audio about good portable headphones, dropped a lot of money on a pair of Silver Dragon wired Ruthenium Ultrasone Edition 8's, and eventually met Lee Weiland of Locus Design. I asked Lee to build HIS version of a portable DAC cable (meaning mini-B) and ordered the Ray Samuels Predator in the nice brushed aluminum to match (sort of) my Macintosh and go nicely with the jet black, neatly protected one foot Polestar mini-B USB cable. And although I doubt it was as exciting as Alexander Graham Bell saying "Watson come quickly I need you!", when I fired up one of my favorite test albums in iTunes, Jerry Garcia and David Grisman's "Shady Grove", I knew I was hearing something very, very special. I was hearing MUSIC, and JUST music, no digital artifacts, no upper midrange distortion, no treble sputtering, no either (a) greatly exaggerated nor (b) very anemic bass; I just heard music.
Does that mean the Polestar is flawless? No; I'm sure if Lee could make a one foot Cynosure (his top of the line USB music cable) with a mini-B connector on it, he would; but the Polestar sounds so good that it really does deserve to be seen as "something that serves as a guiding principle" for the re-creation of digitally encoded music on the go.
Making an elliptical leap, we are now returning to the simpler form of portable music reproduction that I discussed earlier: the silver 160GB iPod Classic. Unfortunately, by itself, it can't amplify very much; you can drive a pair of Apple earbuds or any number of IEM's (In Ear Monitors) reasonably well, but an outboard, portable headphone amp can make a big difference in the sound. A new one that just came out ("just" relatively speaking) is the Ray Samuels Protector, which is the first portable BALANCED headphone amp that I know of; and with the right peripherals, it can make some really lovely music that sounds hauntingly like you're listening through headphones on your home system or at a live event. When I bought a brushed aluminum (oddly called "clear/white" or "silver") Protector, Ray Samuels suggested that I use it with a pair of Sennheiser HD650's or JH Audio JH13 Pro custom fitted and manufactured IEM's. The JH13 Pro's are supposed to be the ultimate in sound quality and comfort for IEM's particularly when used with the balanced Protector and – most importantly—the Whiplash Audio Elite TWag dock connector and balanced headphone cables, which end in a special, "Protector only", plug.
Last night I was assembling all the parts I just described and I also used a flipped around extra hearty rubber band from ALO Audio and a polishing cloth from my iPhone 3G S to prevent the Protector from scratching my silver iPod Classic; so I had the following arrangement:
Silver 160GB Pod Classic --> Whiplash Audio Elite TWag dock connector (shielded I believe) --> brushed aluminum Ray Samuels balanced, portable Protector headphone amp with its special/custom balanced connector --> Whiplash Audio TWag Elite balanced headphone cable for the Sennheiser HD650's, dampened with a circular piece of hand crafted "babenga" (perhaps "bubinga"?) wood --> and a pair of well burned in Sennheiser HD650's.
Because it happened to be what I was using to burn in my modified AKG K701's, I set my iPod to play a lossless copy of "Love's Illusion" by the Anonymous 4, a really lovely recording, and I have to say that the combination of the bit-perfect Apple Lossless file(s), the Protector, the Elite TWag dock and headphone cables and the trusty HD650's allowed me to hear the most glorious, articulate choral voices that I think I have ever heard in a headphone—much less portable headphone—based system.
I was reminded of a passage from T. S. Eliot's "The Wasteland" which he again stole from Baudelaire, "Et, O ces voix d'enfants, chantant dans la coupole!", which—roughly translated—means, "And oh the voices of the children, singing in the dome". Now if you spoke French, you would realize that alliteration of the poetic passage in the original tongue resonates with the sonic image of the children singing in the dome and the echoes or reverberation they would get; and I have to say that that really describes the kind of sound quality I was getting from the Anonymous 4.
As a reality check I put Amy Winehouse's "Back to Black" which has some serious bass in it and is perhaps a bit over equalized. The TWag cable did what it does best; it told the truth. So while it was bassy and a little bright it still sounded like music and I do believe it sounded the way Amy Winehouse intended it to. I then put on Natalie Merchant's "Leave Your Sleep" which is a remarkably lush and engaging recording with rich, "round" sound; and, again, the TWag cables played just what was on the disc with extraordinary richness and clarity. In the Amy Winehouse case, I have to say I might have preferred my Edition 8's over my TWag-wired HD650's because of the Edition 8's more holistic presentation (a polite way of saying the Edition 8's might filter the treble a little, which can be very good under the right set of circumstances); but I don't know how much that has to do with the Silver Dragon versus TWag cable or the Edition 8's versus the HD650's. I have a 5 foot BLUE Dragon Protector cable for the HD650's on its way to me and someday may get to hear an Elite TWag modified pair of Edition 8's. What I do know is that the TWag dock connector and headphone cable synergize, so you want to use the two of them together, and—like I said—when I first heard those "anonymous" choral voices I really did feel like I was in that poem by Baudelaire; and that's just saying huge amounts.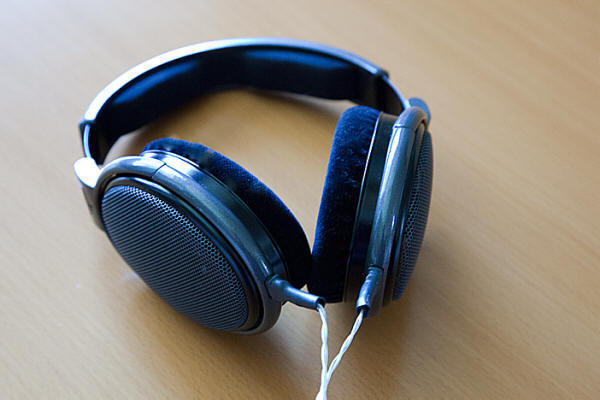 So whether you use a Polestar mini-B cable with your laptop to guide your way towards your music or you use a complete, coordinated set of Elite TWag docks and headphone cables to get the synergy that gave a choral performance on an iPod the ability to sound like LIVE MUSIC, you really can't go wrong. I humbly admit that, with a solid, well produced recording, it can actually get scary how much the Elite TWag sounds like LIVE music, even though you're wearing a gargantuan "at home" pair of headphones. By chance, my custom-fitted JH13 Pro in ear monitors just arrived and I am experimenting with them using both the stock mini plug terminated cable in my Predator and the 48" Elite TWag balanced cable that plugs into my Ray Samuels Protector, which is still attached to my silver 160GB iPod Classic using the Elite TWag dock connector.
I don't think I've ever had anything block my ears from the outside world quite so completely and comfortably particularly given that I have an oddly-shaped left ear canal and the sound was pure heaven and bliss with just the right amount of openness and detail and a slightly but not excessively lush tonal balance—thanks in no small part to the TWag headphone cable which is orders of magnitude better than the stock cable.
I was particularly taken by the purity and beauty of Natalie Merchant's voice again on the first track of "Leave Your Sleep", a song I have heard MANY times; initially, I think that my first choice of "at destination" (i. e., at the hotel, not on the plane or flight itself) headphones would either would my Moon Audio modified Ultrasone Edition 8's with my computer and RS Predator, or my Sennheiser HD655's with the 48" Elite TWag balanced cable going into my silver iPod Classic and RS Protector; but for the actual traveling where you want to be isolated from outside noises and allowed to listen to beautiful sounding music even at soft volumes, there's no doubt that you get what you pay for with the JH13 Pro's and the third-party Whiplash Audio Elite TWag cable in conjunction with the RS Protector and Apple Lossless files imported using error correction onto any decent iPod or iPhone.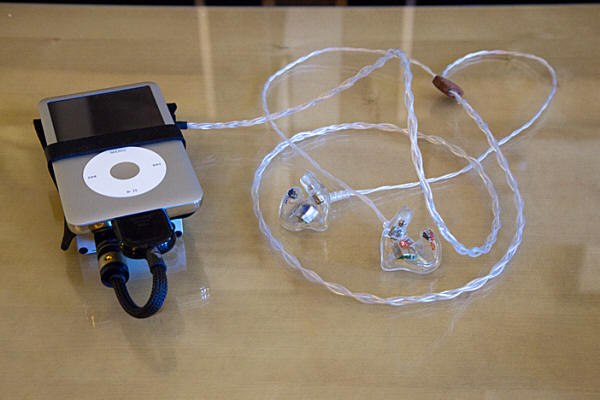 NOW that I've gotten used to them, I think I MIGHT just take the JH13 Pro's (with the ear wax tool they supply and the antiseptic wipes they recommend from Walgreen's). The JH13 Pro's really are that much better than the Etymotic ER-6i's or the Sennheiser MM50 iP's and they're just as good as the "regular" headphones once you get used to them, so there's really no need for an "at destination" headphone; having said that, I would probably take either my Ultrasone Edition 8's or my Sennheiser HD650's depending on what device(s) I was listening to as a backup, both an audible backup, in case I'm in the mood for over the ear monitors which do have their luxuries and a "something broke and I need an extra pair of headphones" backup, just so I can listen to music.
Kindest regards,
Andy
Whiplash Audio
http://www.whiplashaudio.com
Locus Designs
http://www.locus-design.com
Ray Samuels
http://www.raysamuelsaudio.com
Edition 8 Ultrasone
http://www.edition-headphones.com
JH Audio
http://www.jhaudio.com/promusic