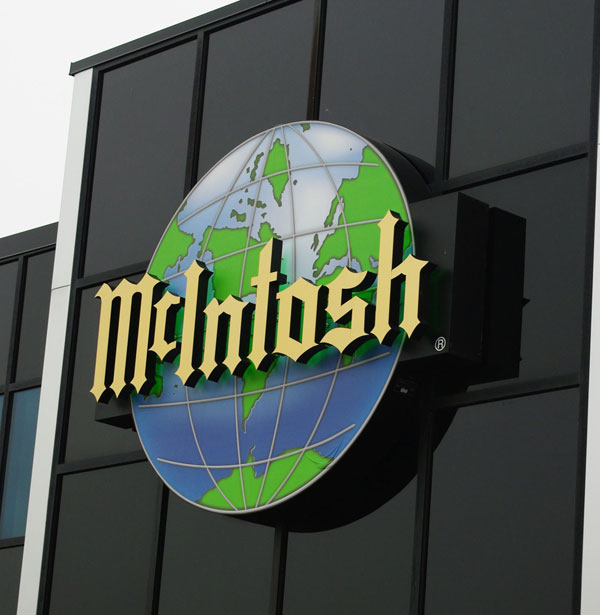 In September of 2006, my wife and I were driving our daughter to Massachusetts where she was starting college. We were heading across New York State when I saw an exit off of the freeway for Vestal, New York. It took me a few seconds to place where I had seen this name before. By the time I realized that it was the home of Audio Classics, I had passed the exit by. By good fortune, however, there was a second Vestal exit.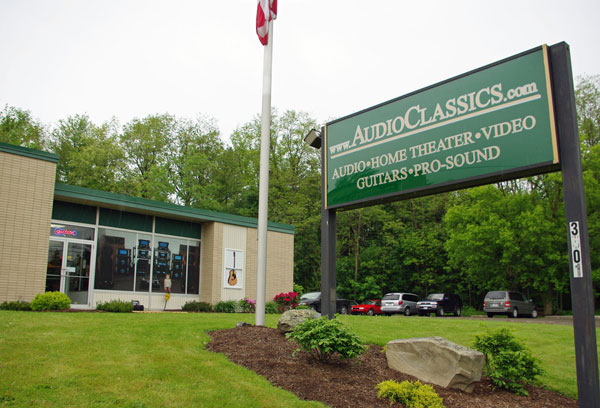 I got lucky and found them really easily. I spent about an hour there visiting and checking out the huge amount of equipment they had for sale.
In May of 2010, we were traveling back to Massachusetts, this time for our daughter's graduation, and I thought there would be a nice symmetry in visiting Audio Classics (AC) once again. I had also had the pleasure of meeting a number of the people who work there at Audio Karma's AKFEST in 2009 so it was a chance to renew acquaintance with them as well.
Entering AC, I immediately ran into Ryan Kilpatrick, with whom I had spent time in the McIntosh room at AKFEST. It was a real pleasure to see Ryan again. After catching up on things in general, he took me for a tour around AC. They have an impressive amount of McIntosh and other audio equipment on the premises, to say the least.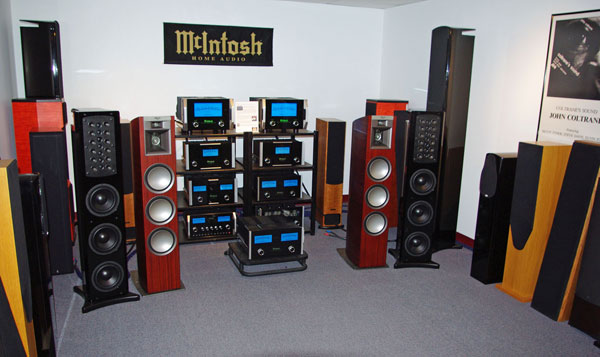 They also have extensive repair and restoration facilities. They have created a niche as a McIntosh dealer that has resulted in a business that is truly world-wide.
During the tour, I got to meet Steve Rowell, AC's owner, and virtually everyone else working there. Everyone made me and my wife feel very welcome.
As we finished touring AC, Ryan casually mentioned that they had some customers coming by who had just flown in from France. AC was serving them lunch and then taking them on a tour of the McIntosh factory. Would my wife and I care to join them?
This was really a tough decision—took maybe an entire nanosecond to make.
(OK. Let me be perfectly honest here. I had to check with my wife. Not to see if going on the tour was all right but to make sure we had enough slack in our schedule to take the time to do so. My wife's trip scheduling makes that of the Swiss railroad system look extremely informal by comparison. Fortunately, we had an extra day built into the trip east and we did not need to cover some god-awful number of miles that afternoon. Not that it mattered. Even if we had had to drive until midnight as a result, I would still have taken the tour. While maybe not a once-in-a-lifetime experience, its darn close.)
We got to meet AC's French clients who were extremely pleasant but did not speak any more English than we spoke French. I understood, however, that they were owners of some very nice McIntosh equipment and had made the trip for the purpose of seeing where their components had been made.
While we ate lunch and chatted about audio, kids graduating from college, and how long they are likely to live at home before finding jobs, Ryan offered an excellent suggestion. He suggested that I purchase a copy of Ken Kessler's book, McIntosh…for the love of music… and have it autographed by some of the employees at the factory, many of whom have worked there for years. It was definitely a great idea and provided the rationale for buying a book that I have wanted since I first heard about it.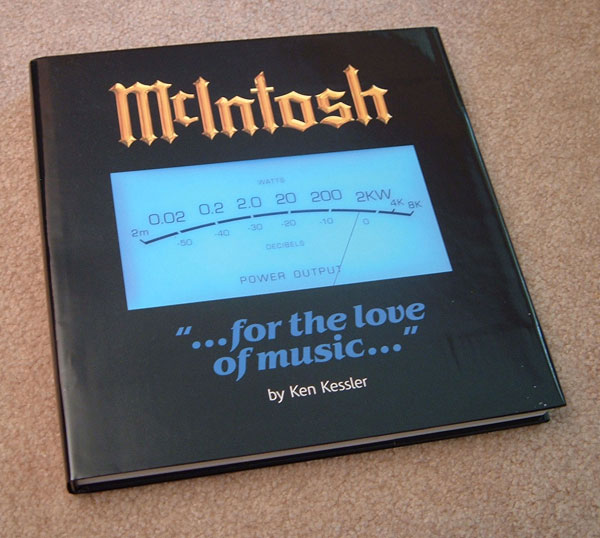 With lunch finished, book and camera in hand, we followed Mike Sastra and Kelly Melnyk of AC and their French customers on the short drive into Binghamton and the McIntosh factory itself.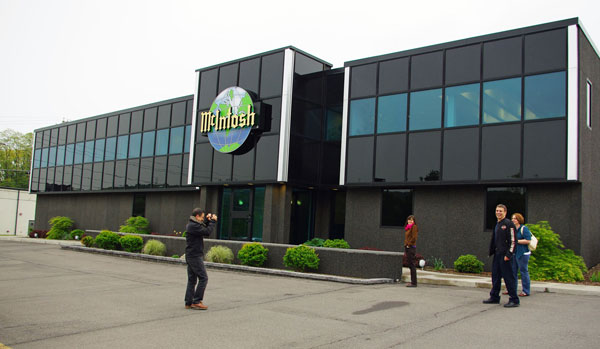 The factory consists, in part, of the original core building built in the early 1950s. It has been added to both front and back and now houses the administrative offices, manufacturing facilities, and warehousing. It is a fairly large building but does not give that impression from the street. A second smaller building, which we did not visit, houses the engineering department.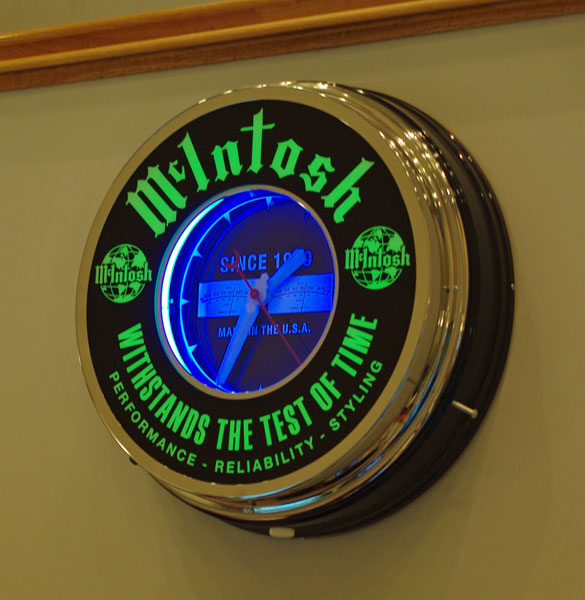 Once inside the lobby, we were greeted by Tony Frontera, a Brand Communications Manager for McIntosh. He was to be our guide. He provided some brief history of McIntosh, which has been in business for over 60 years—officially since 1951 as McIntosh Laboratory, Inc. and as a small start-up company for a few years prior to that.
The first commercial product McIntosh ever made was the 50W-1 mono tube power amplifier. These developed 50WPC from a pair of 6L6 output tubes. What made the 50W-1s exceptional for the time was a frequency range of 20-20kHz at less than 1% distortion. They also used McIntosh's new bi-filar transformer design that "used two primary windings in parallel, instead of in series, as in the past."*
McIntosh moved to their present location in 1956, having outgrown a smaller building in Binghamton where they had been since 1951.
With some background history fresh in our minds, we began our tour at the printed circuit board assembly line.**
Circuit Boards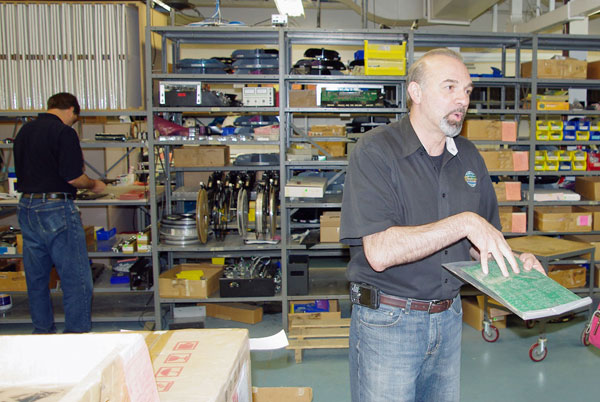 McIntosh does not make its own printed circuit boards (or the parts that fill them); they are made for them by another Binghamton company that specializes in circuit board manufacture. McIntosh circuit boards use both surface mount components and traditional through-hole components depending upon the product being manufactured.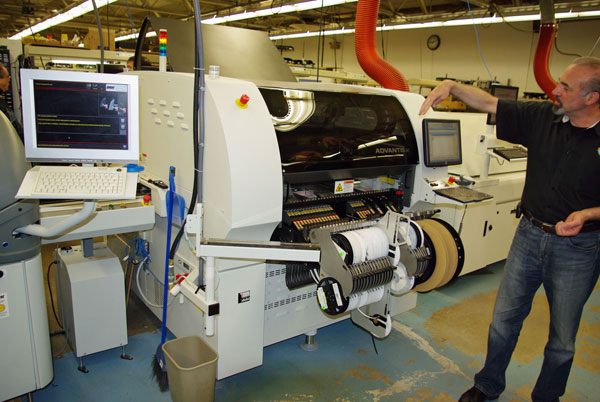 We began at the surface-mount assembly machine, a custom-made piece of computer-controlled, ultra-sophisticated equipment. This machine begins by taking an empty circuit board and placing soldering paste in all the positions that will be occupied by surface-mount components. The board then moves to the filling station where parts are actually placed in position on the board. Many of the surface-mount parts are as small and light as large pieces of dust. They are picked up with a vacuum tool with over one hundred different tips, each chosen specifically for the part being mounted. This machine not only positions each part properly but confirms its orientation and whether it is the correct part for that location. It does this so quickly that its action is invisible to the naked eye.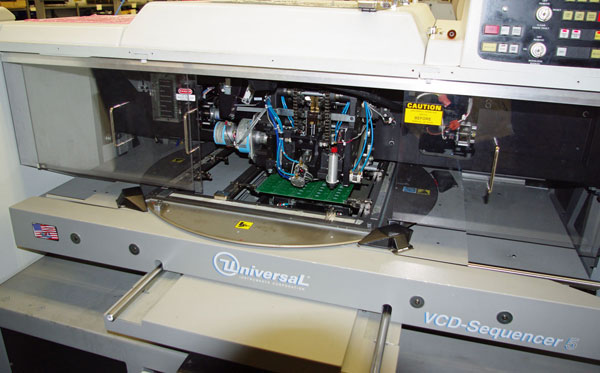 A video screen on the machine confirms for the technician that the correct parts have been properly placed. With all the components positioned, the board goes into a heating chamber that melts the soldering paste, securely attaching the components.
The board then moves to the through-hole component-stuffing lines. The first of these lines is the "axial" line. Here, axial components (the leads come out of each end) such as resistors and capacitors are taken from large rolls of parts, put in their proper positions, and have their leads bent and trimmed. The action is fast but viewable. It is somewhat like watching a mutant sewing machine at work.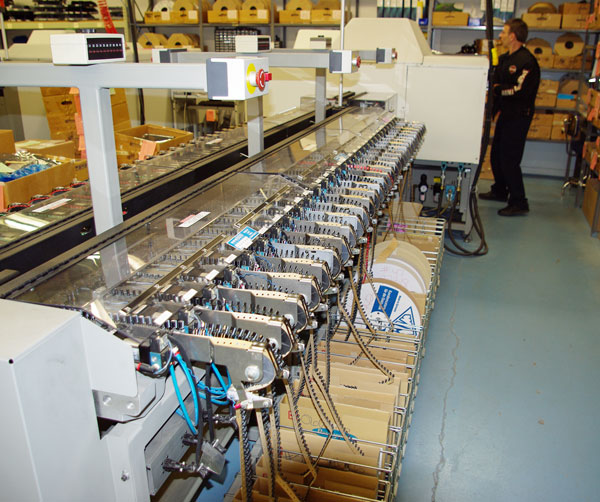 After axial-stuffing comes radial stuffing (the leads come out of the same end). These tend to be taller components, mostly capacitors, transistors, heat sinks and such.
Once these components are in place, the board travels through a wave soldering machine and all the components are soldered to the board.
The penultimate stop for these boards is one of the hand-soldering stations where skilled technicians (all women apparently) attach those parts that cannot go through the soldering machines. These include meters, volume controls, and displays. They also touch-up any solder joints that look marginal to their experienced eyes.
Once the boards are fully filled, they go to a testing station where custom testing jigs have been designed for each board. Here, all of the circuit boards are tested and then sorted into bins according to the product being made. The boards will be drawn from these bins as individual components are constructed. A schedule on the factory floor informs everyone as to what equipment is being made during the current month. McIntosh makes approximately 1000 components per month, half of which are sold overseas.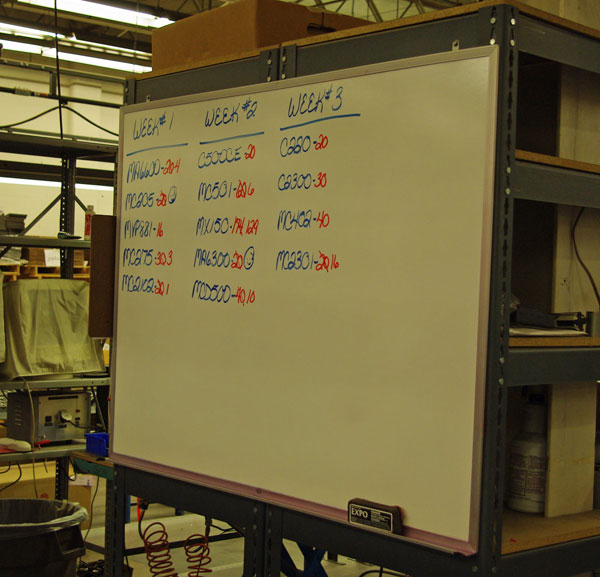 While the circuit boards are being stuffed, three other production lines are also diligently at work.
Chassis
The chassis production line has a very different feel from that of the circuit board area. The employees working there look like they would feel right at home in a blacksmith shop. It is hot and noisy where the metal is cut and shaped to form the chassis of a given component. Working behind sound proofed walls, the chassis components are stamped from steel or stainless steel and then polished or painted. Chassis painting involves several steps including cleaning, priming, and then the application of the paint itself. The photo shows primed chassis parts entering the drying chamber that will prepare them for additional finishing operations.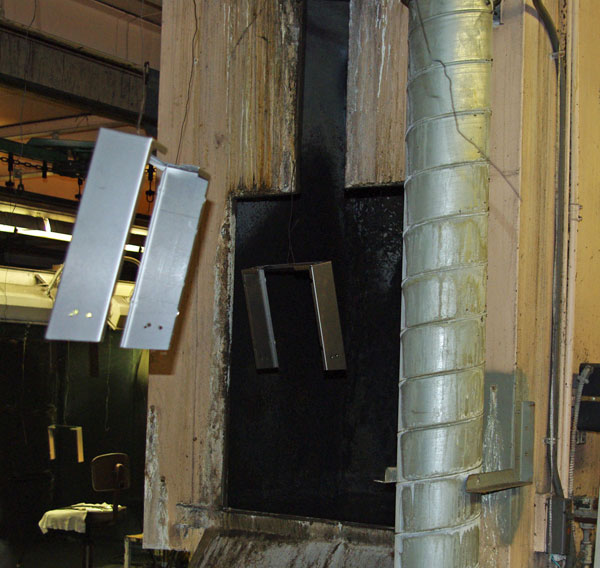 Faceplates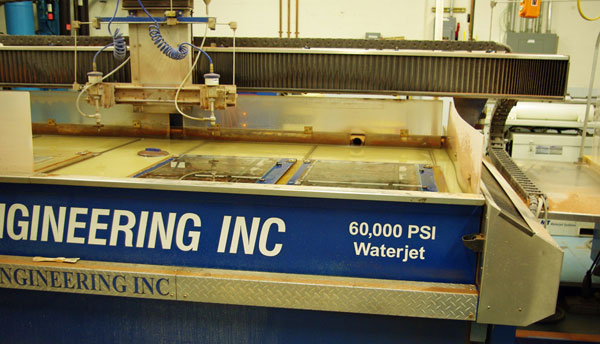 Making a McIntosh faceplate may be the most labor intensive operation in the whole factory. Faceplates start with glass that is one step below optical quality. A glass blank is used that is large enough for typically two or three individual faceplates. The glass is cut using a 60,000 psi water jet. The water is mixed with garnet powder about the size of very fine sand. The garnet powder leaves an exceptionally smooth finish that would not be possible using water alone.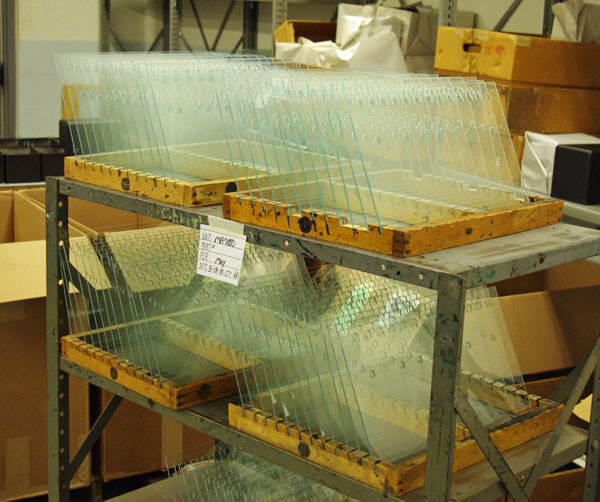 After being cut out, the faceplates are cleaned and sent on to the silk-screening room. Tony explained the various steps involved in the silk-screening process.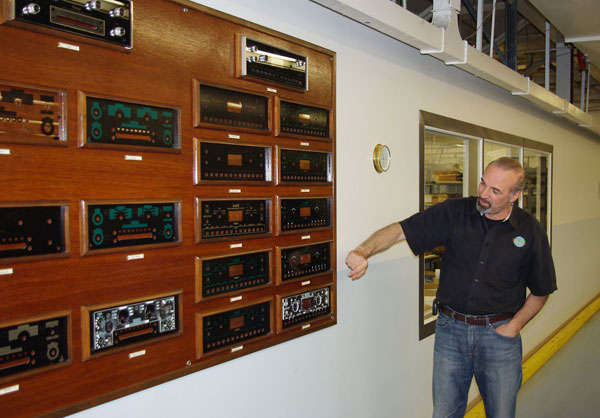 This machinery applies between seven and twelve individual color coats to each glass blank depending upon the faceplate being made.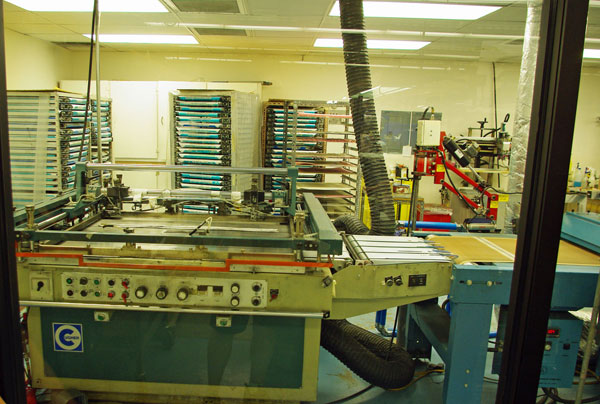 Each pass through the silk-screener, each application of color, is exacting. Once a faceplate is finished, it is inspected and if found acceptable, fitted with any required trim and sent on to the final assembly area.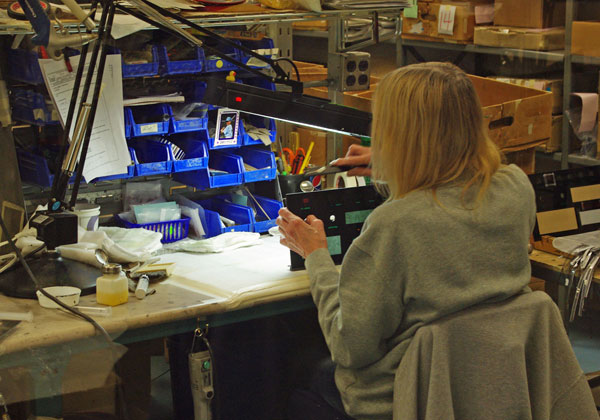 It is possible for McIntosh to make a new faceplate for virtually any piece of equipment they have ever made. The cost of a new faceplate is not inexpensive. Yet, when you see the time and talent that it takes to properly make a classic McIntosh glass faceplate, the cost starts to look not merely reasonable, but almost cheap.
Transformers
McIntosh buys its AC transformers, which are custom made for them. They still wind all of their output transformers (designated by McIntosh as "Autoformers") themselves. These bi-filar transformers are truly the soul of each McIntosh amplifier.
The winding is done on equipment originally designed in the infancy of the company. It appeared to me that up to four transformers can be wound at one time. Sandy West has been winding transformers since the early 1970s. If you own a piece of McIntosh equipment made since 1973, she probably wound its Autoformers.
I would have really liked to ask Sandy some questions about the winding process and gotten some photos of her at work, but lack of space and time prohibited both. I did get her to autograph my book, however.
Every transformer used in McIntosh equipment is potted in a tarry substance that eliminates hum and buzzing noises. This is a pretty straightforward process. A large heated tank of the molten potting compound fills the space between the transformer and its external cover.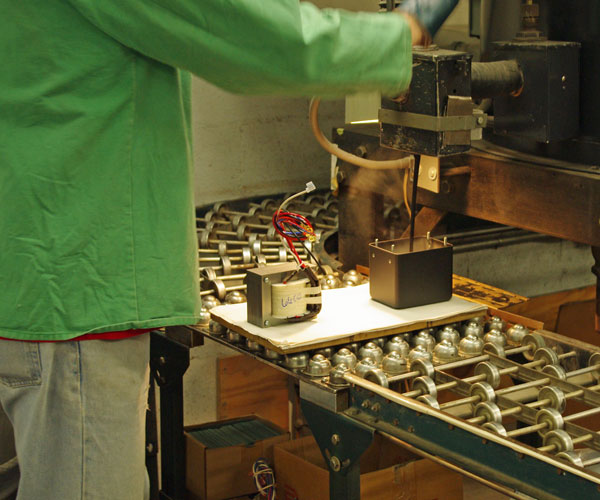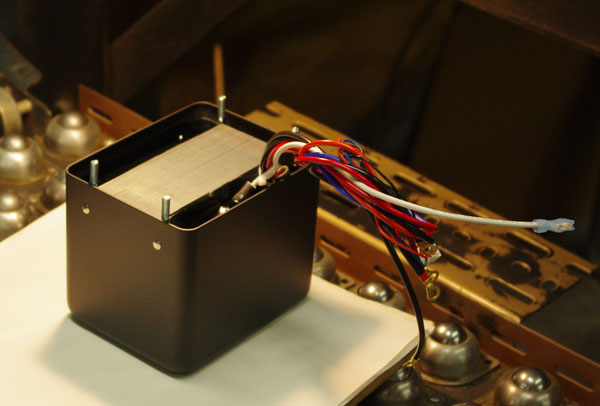 As with faceplates, McIntosh can reproduce Autoformers for most of the products that they have ever made.
Final Assembly
Once the circuit boards, chassis parts, transformers, and face plates are completed, they meet at the final assembly area.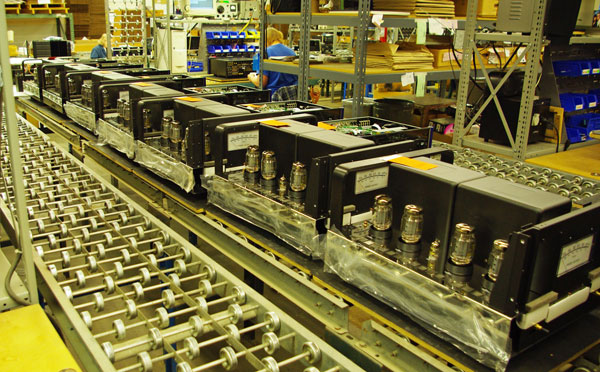 Here, each component is assembled by yet more skilled craftspeople. As with the rest of the factory, there is a sense of onward momentum tempered by the need to do the job properly. I got the feeling that no piece of equipment moves on until the person doing their immediate job is fully satisfied with it. I did not get to see a lot of final assembly occurring while on the tour but what I did see was all hand work.
Final Inspection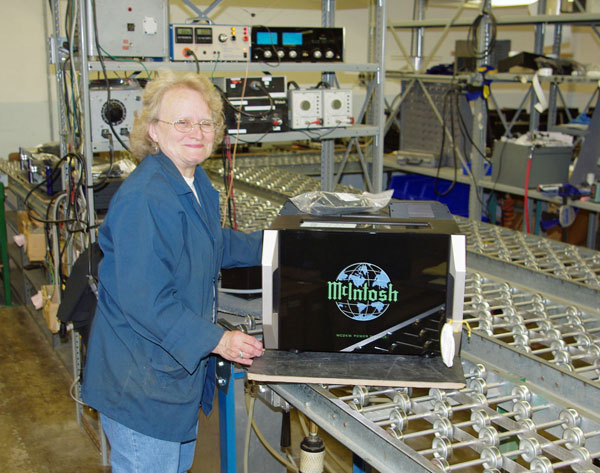 The next to last stop for any piece of McIntosh equipment is Final Inspection. This is performed by Shirley Callan, easily the most powerful woman in American audio. Shirley inspects and checks each piece of equipment and only if she is completely satisfied with it does it go on to packing and shipping. If she is not satisfied with what she sees, the equipment gets a blue "reject" tag and goes back for whatever is needed to satisfy her. I got blue-tagged and was told to come back fifteen pounds lighter.
Warehousing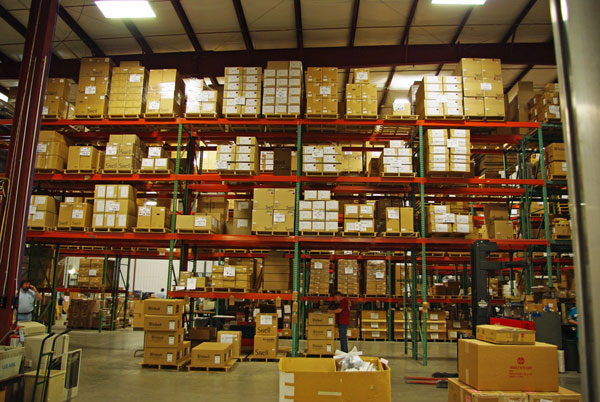 Once inspected and boxed, components are grouped for shipping and placed in the warehouse. The photos really do not do justice to what, for many of us audiophiles, can only be described as a vision of audio-heaven itself.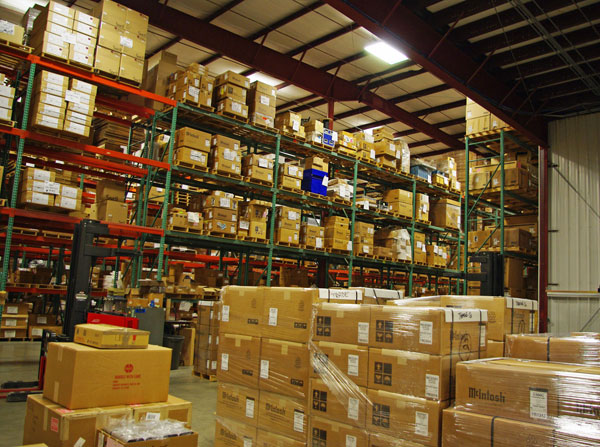 We ended our tour in McIntosh's home theater room. There they use individual MC2KW monobloc amplifiers to drive right, center, and left channel speakers. I am not certain what was driving the surround and rear speakers (there was a lot of equipment and the room was necessarily dim). Suffice it to say, there was enough McIntosh equipment in this room alone to set up at least three or four normal listening or home theater rooms. Impressive does not do justice to hearing McIntosh's XRT2K speakers being driven with essentially unlimited power.
And then we were done.
My wife and I took leave of Tony, Mike, Kelly, and our French associates. We still had to get into Vermont and it was after three o'clock.
I had started out the day enjoying the drive through rural New York (It was pretty despite the rain.) and looking forward to doing some "audio stuff" while at Audio Classics. I had no idea that I would get to visit the McIntosh factory as well. As far as having an already good day turn out better than I had expected it to, this day was possibly the best ever.
My appreciation for McIntosh products, which was already extremely high, was only increased by everything that I saw. When you see the quality of the parts, the excellence of the engineering, the attention to detail, the precision workmanship, and all of the other factors that go into making an audio or video component a McIntosh, it is self-evident why these products are so highly respected. Beyond its function as a piece of high end equipment, it is an industrial work of art built to last for decades. Music lovers who can afford to own McIntosh are very fortunate indeed.
Thanks so much to Ryan, Steve, Mike, Tony, Sandy, Shirley, and everyone else that I got to meet at Audio Classics and McIntosh Audio Labs. I had a terrific time.
*Kessler, Ken. McIntosh… for the love of music… Binghamton, NY: McIntosh Audio Labs, 2006
**I want to point out that McIntosh is a working factory and I tried to be reasonably respectful of that fact. It wasn't possible to take every photo I would have liked to or talk with everyone working there who was doing something interesting. I felt lucky to be there at all. The photos I was able to take under the circumstances are what you see here. Also, any mistakes/misunderstandings in this article are totally my fault. It is easy to get distracted.
McIntosh Audio Labs
2 Chambers Street
Binghamton, NY 13903-2699
607-723-3512 / 800-538-6576
web address: www.mcintoshlabs.com
Audio Classics
3501 Old Vestal Road
Vestal, NY 13850
800-321-2834
web address: www.audioclassics.com