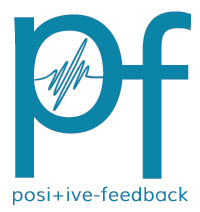 You are reading the older HTML site
Positive Feedback ISSUE
49

may/june
2010
AudioKarma Fest 2010, a Music Lovers Oasis in the Midwest
Tale and images by Greg Weaver

The first day of the month of May: Throughout history, that day has seen many a significant event. On that date in 1707, The Act of Union joined the Kingdom of England and Kingdom of Scotland to form the Kingdom of Great Britain. In 1778, it marked the beginning of the Battle of Crooked Billet in Hatboro, Pennsylvania during the American Revolution. In 1863, during the American Civil War, the Battle of Chancellorsville began. The Battle of Manila Bay occurred on this date in 1898, wherein the United States Navy destroyed the Spanish Pacific fleet in the first battle of the Spanish-American War.
Frederick Stanley Mockford, a senior radio officer at Croydon Airport in London, originated the now ubiquitous mayday call sign for aviators and sailors in distress in 1923. The phrase, a take on the French phrase "Venez m'aider," means, "(you) come help me." The Empire State Building was dedicated in New York City on May 1, 1931. Jonas Salk's polio vaccine was made available to the public on this date in 1956. Francis Gary Powers was shot down in a Lockheed U-2 spy plane over the Soviet Union on May 1, 1960. Three-time Formula 1 world champion Ayrton Senna was killed in an accident during the San Marino Grand Prix at Imola, Italy on that date in 1994. And this year, we witnessed both the 135th running of the Kentucky Derby and a failed car bomb attempt in Times Square in New York City on May 1st. But to audiophiles and music lovers in the mid-West (and beyond), this was the date that marked the highly anticipated opening of the 7th Annual AudioKarma Festival, or AKFest 2010, held at the Sheraton in the affluent Novi suburb of Detroit.
What is an AKFest? That is a good question, and one that I could not answer myself less than 2 years ago. AudioKarma.org is an active online forum for two-channel (stereo) audio equipment with more than 80,000 members. The fest has sprung from the desire for the members, who would, in days of yore now, meet at each other's homes to demo and show off their own rigs, grew too big for most people to host all the members who wanted to attend in their homes. For more info, see my coverage of last year's event.
It was a gloomy, overcast, rainy, and foggy 3-hour drive from my home in Elkhart, but I landed, without incident, in the parking lot of the Novi Sheraton at 8:55 AM that Saturday morning. As I entered the lobby, it was clear that something rousing was under way, given the bustling crowd of people near the back of the hotel's lobby area.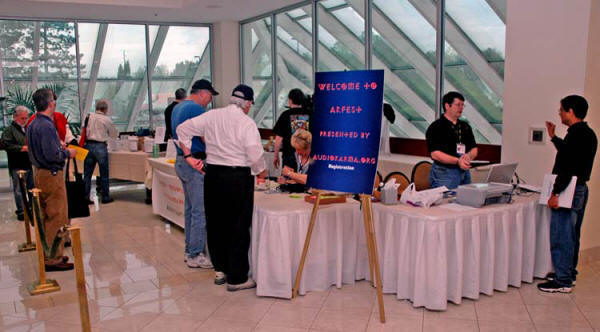 People in line to register and to enter to win one of the hourly doors prize
Event promoters and all-around great guys, Ernie Burke and David Goldstein, have quite a hit on their hands; and the momentum only seems to be rising. While both gentlemen informed me in separate conversations of slightly lower overall participation numbers this year, I feel the event was, in a number of substantial ways, a significant improvement over last year's event; and that is no easy feat! Yet in the "missing" and slightly disappointing category, there were no "seminars" like those given at last year's event by Snell Acoustics Chief Engineer Joseph D'Appolito. Yet, in an economy that has suffered in general as ours, and as seriously as that of the Detroit area in particular, being only "slightly" down must be seen as more than just encouraging.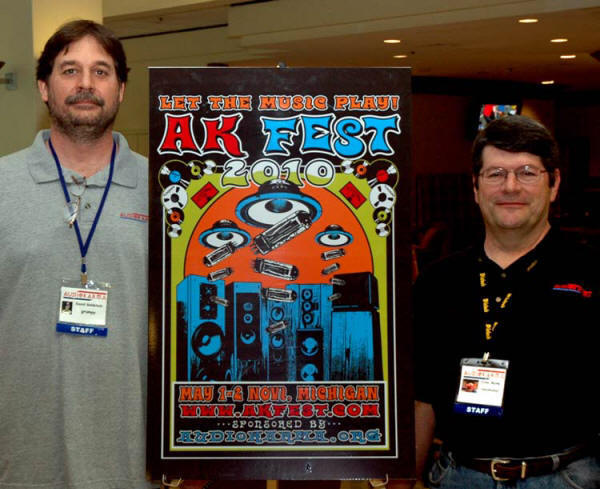 David Goldstein and Ernie Burke flanking the sign for this year's event
Looking at the numbers overall, though five "regulars" dropped out this year, some at the last minute, AKFest 2010 saw 70 companies, occupying 40 listening rooms, with eight of those sponsored by AudioKarma members showing their own vintage gear. The official count for attendees was over 800, with visitors from Florida, Washington State as well as from all over Canada.
One of the improvements over last year's event was the venue itself. While the Embassy Suites Hotel, in Livonia, Michigan, had been a wonderful location, with its inherent friendly atmosphere fostered by its huge indoor open atrium, the smallish rooms (10' x 12') had presented obvious challenges to all the exhibitors. The Sheraton's larger 13' x 19' standard rooms here were a serious improvement. And while the Embassy had offered those three very large banquet rooms, this year, there were several sizes of suites, many of which were utilized to great advantage on floors two and three by a number of exhibitors.
Twenty-eight manufacturers donated door prizes for this year's event, and Ernie estimates that all those items totaled in the $12-14,000 range! That was good news for all the attendees, as prizes were awarded by raffle once an hour during the exhibit hours, with a grand prize awarded at the closing of the show on Sunday. Shucks, I even won a $10 gift certificate!
The "Swap Room," a large room off to the right of the registration area, was an area set aside for vendors, dealers, and members to offer vintage and used gear and other miscellaneous items for sale. There were records and tapes too, and lots of them. As I leisurely poked around and through all that gear, I spotted some very cool old hardware, including a set of speakers that I owned back in the 1980's, a pair of DCM Time Windows! Had they not been already sold, I just may have chosen to add them to my collection of vintage gear!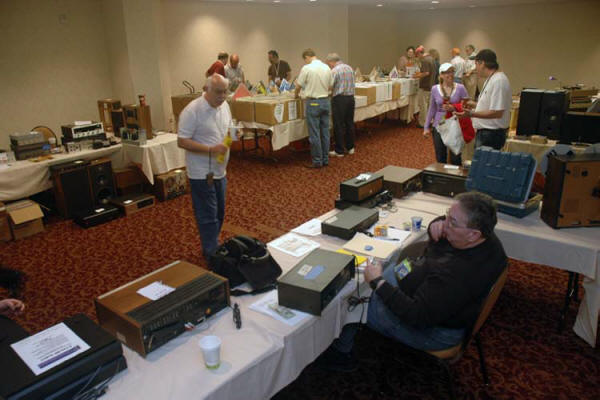 The large area dedicated to vintage and used gear – the "Swap Room."
While it is true that the number of exhibits and overall attendance were both down slightly from last year, as I mentioned, it was also equally as apparent that the quality of the exhibits was superior.
Room 329 – AK Member cdfac – assisted by echowar and army

Let's kick this thing off with a visit to one of the vintage rooms set up by 26-year-old graduate student and exhibitor Chris Doran, known by his club handle as "cdfac." With the exception of the Cambridge Audio 840c CD player, stepping into his room was just like stepping back into the late 1970's or early 1980's. Though Chris has only been collecting vintage gear for four years, most of the gear he was showing was older than he is!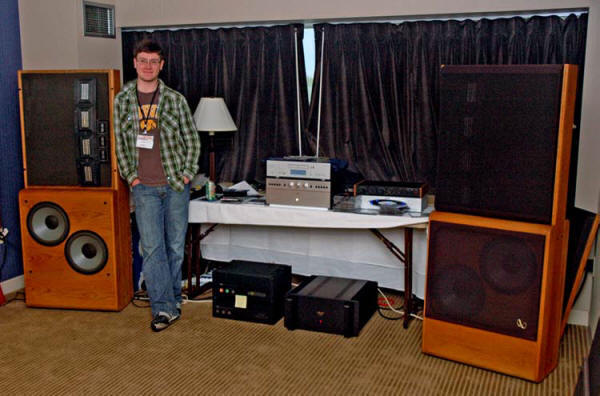 Member Chris Doran stands beside his rare and remarkable Infinity RS 4.5s
The enormous pair of Infinity RS 4.5s dominated the room. I heard a pair back in the day, and could only dream about owning a set because of what they cost then. Over the three year period between 1979 and 1982, Infinity only manufactured something like 300 pair, and this set was all original, except for the woofers, which Chris has had re-coned.
Amplification came from a late 1990's Classé CA400, the preamp was a late 1970's Stax CA-X, and all cables were from Vampire Wire. Also on static display were a 1980s Yamaha M2 and M4. Talk about memories… man!
Room 228 – Jolida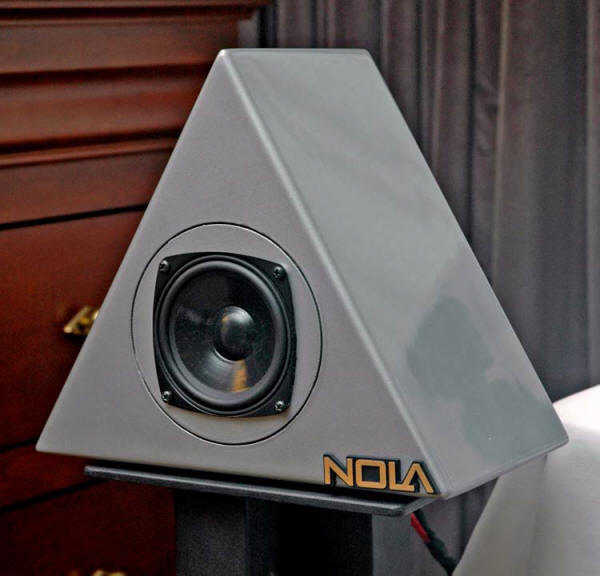 The new Tripod from Nola
Jerred Dunkerson of Jolida was showing off their Glass products, featuring the FX-10 amplifier ($450), a compact, 10-wpc (into 8 ohms), EL84 design. They had demonstrated this gorgeous little over-achiever at last year's event, pairing it with the then prototypical Nola Boxer speakers. This year, they had two interesting parings for the FX-10. The first was with the new Nola Tripods, a unique looking triangle shaped box housing a single 4" driver, selling for $199 a pair. This system was driven by an iPod/iPhone feeding the new Glass FX-DAC mini ($119) and was a substantial performer, given the low overall system sticker price.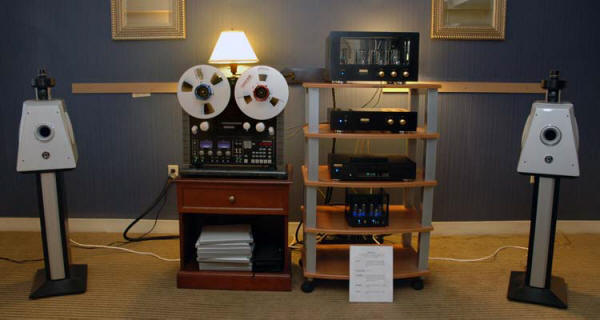 An all Jolida system driving the mbl Radialstrahler 121 Compact monitors
The main Jolida system was fronted by a highly modded TASCAM BR2 open reel deck, the Jolida JD 100 Vacuum Tube CD Player, or an iTransport. The rest of the system included the JD 3000 B ($1000) preamplifier, and the Jolida JD 1000 RC ($2400), a remote controlled 3rd iteration of their flagship EL34, 12AX7a, 12AT7a based integrated amplifier, which includes XLR inputs. But the most unusually part of this system was the choice of loudspeaker, a pair of $13,000 mbl Radialstrahler 121 Compacts! The 121 compacts are no easy load to drive, given their rated 82dB sensitivity.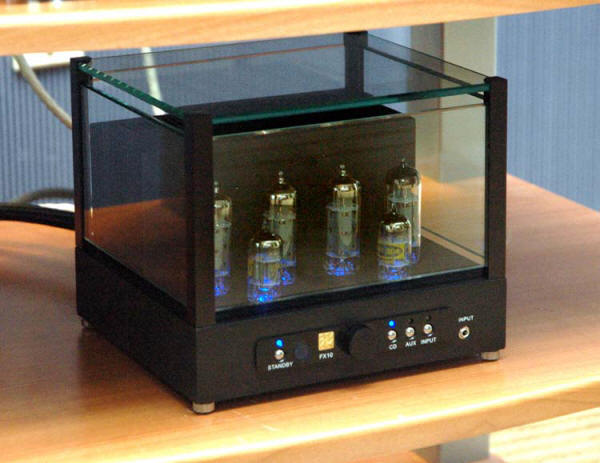 The gorgeous and over-achieving Jolida Glass FX-10, an EL84 based integrated with single-ended CD, Aux, and 1/8" MP3 Player inputs
While this main system sounded very, very good, the real performance, meant to show off just how much heart the little Glass FX-10 integrated really has, came when Jerred swapped out the flagship integrated JD 1000 RC for a slightly modded, tiny Glass FX-10. It was an amazing and surprisingly great sounding, demonstration. My hat is off to Mike Allen and the gang in Annapolis Junction, Maryland, for the great and affordable work they continue to do.
Room 343 – Macintosh Laboratory, Inc.
Macintosh showed several rooms, but the one that impressed me was debuting their new Room Correction System, the MEN220 ($4500), specifically designed to preserve the original tonality of your loudspeakers while eliminating room-interaction. The MEN220 employs a 2-way Electronic Crossover for biamping, integrates Mono or Stereo Subwoofers, and allows the creation of custom EQ curves with its built-in equalizer using your PC Interface via an RS-232 port. It includes its own IR Remote Control.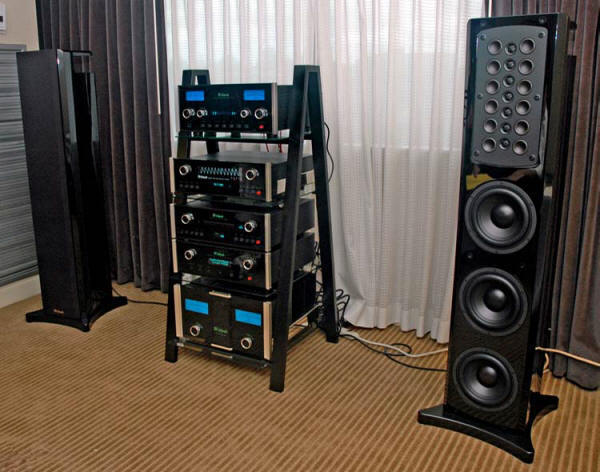 Introducing their new Room Correction System, the MEN220, the sound in this room was very impressive
Sources were either the MR88 AM/FM/XM/HD ready tuner ($4500) or the MCD500 SACD/CD Player ($6500), both feeding the C2300 tube preamp ($6000). The new MEN220 handled all the processing for room correction, and the authoritative MC402 (400 Wpc stereo/800 Wpc Mono) drove the XR-200 loudspeakers ($20,000).
This was a big system, and one that clearly had the potential to overpower this hotel suite. Yet there was an undeniable balance in this room between bass power, speed, and finesse, between soundstage space and instrument placement, between tonal texture and instrumental articulation. And when Ryan Kilpatrick (Audio Classics Service Manager), who was staffing this room, switched out the MEN220 Room Correction System, many of the warts and blemishes that had previously not been an issue came into full illumination. In my opinion, thought the changes wrought by the MEN220 are undeniably subtle, their result was extremely effective.
Room 326 - Tyler Acoustics
Ty Lashbrook, the man behind Tyler Acoustics, never fails to please and this show was no different. He was showing his rather impressive sized D1 ($7800/pr) speakers. This particular version incorporated an internal 200-watt A/B amp for the woofers. This additional amplifier integration frees the user to need only provide amplification for the midrange and tweeter modules, which in this room, was powered with another of the previously mentioned Jolida JD 1000 RC integrated amps. A Jolida JD-100 tubed CD player fronted this very impressive sounding system.
The impressive looking, and even MORE impressive sounding, Tyler Acoustics D1 loudspeakers
Every Tyler Acoustic loudspeaker is handcrafted in house at their Owensboro, Kentucky plant. And while they don't have a dealer network per se, there is a network of owners who have agreed to allow folks to come into their homes and hear their Tyler Acoustics products to help with your decision making process. And, given that Danny Richie of GR Research assists with the design work, you are getting a whole lot of artisanship and engineering for your money.
Ty is one of the most accommodating manufactures out there, and as such, he is willing to do virtually anything with a build to satisfy any customer's unique needs. He made it clear that the addition of the mono amps to this particular show model set of D-1s was done at the request of a customer, and it was one he was happy to deliver. Given the affordability of linear class A/B (or even the PWM Class D series) mono amp modules today, he insists that it really doesn't add that much to the final price of the products. Give him a call if you have a special request… He's a great guy; one who works hard delivering great looking and sounding loudspeakers.
Room 237 – Madisound
If you've not heard of Madisound, the raw speaker (and related products) purveyor of Middleton, WI, then you certainly aren't a DIY speaker person. In my early speaker designing days, the mid 70's through early 80's, I used SpeakerLab and Audio Concepts (well before Mike started making the renowned Jaguar and Sapphire monitors). Madisound came along by the early 1980s, and today offers such a tremendous diversity of options, from drivers to crossovers to retrofits to DIY speaker designs, that I find myself looking in on their site fairly regularly these days.
This year they were showing their fully assembled BK-16 kit (kit price $846), a beautiful light Baltic Birch plywood cabinet housing a Fostex FF165K 6.5" KENAF paper/fiber composite full range driver and a T90A top-mount horn super-tweeter, together with enough Nordost 2 Flat cable to connect them.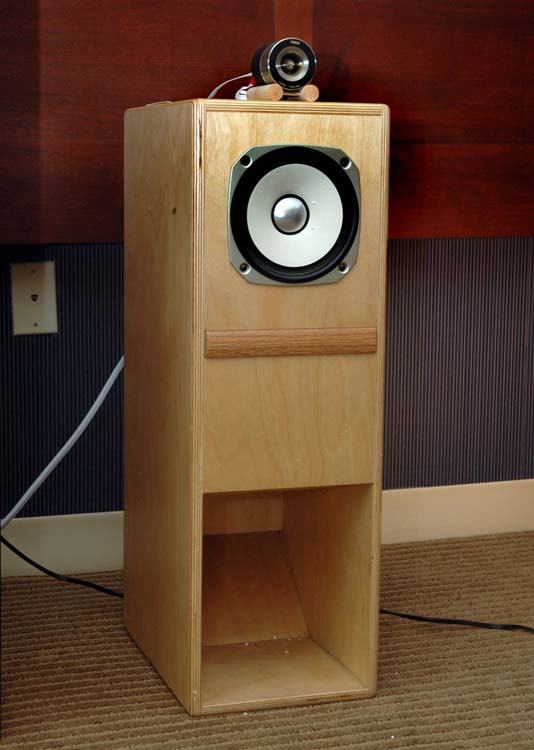 The fully assembled Madisound BK-16 Kit.
While it is well known that I'm not the biggest fan of single driver designs, this ridiculously affordable kit won me over with remarkably little effort. Arriving as a box of parts and a stack of flat, unassembled, unsanded, and unfinished wood, the potential is almost limitless for the creative Do-It-Yourselfer. If you are willing to ignore the value of your time required to assemble, tweak, and finish, you will be hard pressed to find ANYTHING for under $850 that will give you this much music… period. And for those who suffer the DIY gene like me, getting to actually CHOOSE cabinet color and finish, as well as getting to have all the fun putting the thing together, making final choices on otherwise mundane assembly tasks, that is something people like me would almost pay for the privilege of having. What a winner, and on so many fronts! Thanks Madisound!
Room 240 – Nate's Audio
Nate Field, an AK member and founder of Nate's Audio, was showing two impressive and affordable products, his now standard T5 mini-monitor ($895/pr), and the newly introduced F26-TL ($2495/pr). Either pair of speakers was alternately powered by an all Audio by Van Alstine electronics system. One of the coolest things I saw at this event was in Nate's room; the LogiTech VU Meter he had installed sitting atop the rack in this room… way cool nouveau-retro! ;-D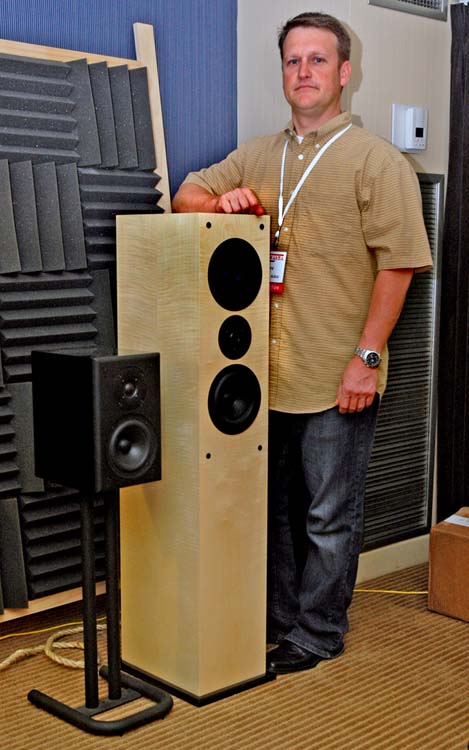 Nate Field stands behind two of his creations, the T5 monitor, and the F26-TL

Both systems sounded very smooth and balanced, but there was a clear advantage, and not just in the lowest registers, with the F26-TL. Nice products, well built, finely constructed. Could this be the genesis of a new player in the loudspeaker game?
Room 331 – Yara Design
The first thing you noticed in this room were the unique cabinet styling's of the Yara Designs loudspeakers. Designer and carpenter Frans Heikamp has been building speakers for 30 years, and for the last 10 under the Yara (his daughter's name) Designs name in his native Denmark.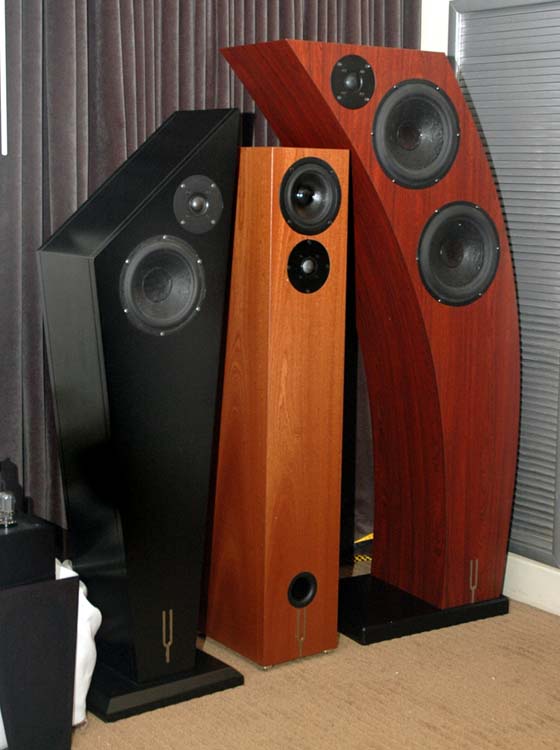 Looking as much like art as a speaker, Yara Designs is a 10-year-old Danish company
Using BAT and Vincent gear, these systems sounded as engaging as they looked. Yara Designs makes guitar and instrument speakers as well as those for home audio and theater. His designs feature transmission line cabinets and a less is more, minimalist componentry, crossover philosophy.
They currently produce eighteen different models, ranging from $3,000 to $14,000 a pair, and every model is hand wired using Cableworks internal wiring. There is no question that these speakers look much more like art than the typical loudspeaker.
Room 232 – Wadia
The Wadia room featured a real treat, with Wadia President John Schaffer personally on hand to present the newest group of Wadia innovative and trendy "i" products. The heart of this "mini" system featured the new Wadia 171i transport/dock ($599) and the identically appointed and sized 151 PowerDAC mini ($1195). This was an exceedingly impressive system, rounded out by an equally impressive performance from a pair of Dynaudio Exite X12 ($1270/pr in white) monitors. Cabling was UltraLink/XLO throughout.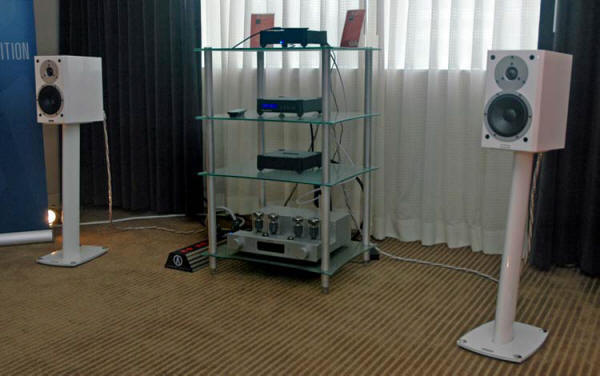 Wadia's latest "i" series compact components, the 171i and 151PowerDac
Most iTransport lovers are familiar with the beautifully styled Wadia 170i Transport, the industry's first certified "Works with iPhone and iPod" dock, allowing the revered smartphone and iPod to perform as a high-performance media server. The 170i has made a remarkable penetration at the $380 price point.
Wadia's new 171i builds on its success, offering overall higher performance thanks to improved power supply components and step-up audiophile grade connectors that easily couple to a DAC, A/V receiver or other audio component with a D/A converter. In addition, the 171i passes High-resolution video signals through the dock's component video connections. Finally, a new, feature-rich infrared remote control allows convenient navigation through Playlists and Albums. The 171i will also recharge your iPhone or iPod when either device is docked. Pretty cool, no?
The Wadia 151PowerDAC mini is a sophisticated and compact combination of high performance DAC with a robust 50-watt (into 4 ohm) Class D amplifier. The 151 includes a remote control, a polarity inversion switch (how freakin' cool is that?), and four selectable digital inputs (USB, Toslink, and a pair of coax S/PDIF), allowing for connectivity for a computer, games, streaming audio sources, and/or your iTransport. With a heritage traced back to Wadia's original Reference PowerDAC, the 151 uses a scaled-down version of Wadia's proprietary DigiMaster and DirectConnect technologies.
John was gracious enough to allow me to play my own AIFF files from my iPod Touch, and the results were, in a word, staggering. Most of those who know me know what I think of iPods in general, but this diminutive and reasonably priced Wadia rig was truly impressive. Granted, the Dynaudio Excite X12s roll off very quickly below 60 Hz or so. But everything else was remarkably well fleshed out, dynamic, and so well balanced, I could EASILY have been convinced I was listening to an optical disc and a MUCH pricier system. A tip of the hat to John and Wadia for a job extremely well done.
Room 206 – Soundstring/ModWright/Bamberg Audio
This year found ultra-value-for-the-money cable house SoundString teaming up with two other over-achievers, ModWright Instruments and Bamberg Audio, much as they had last year, but in one of the larger suits on the second floor. And what a successful, synergistic association it was.
Two systems were set up in this very large room; one "statement" system fired into the length of the room form one end and one slightly lesser system fired across the room at about the middle of its length. A beautiful and informative SoundString backlit display, seen at CES and other shows, was set up at the opposite end of the room, along with many open cables for display and instruction.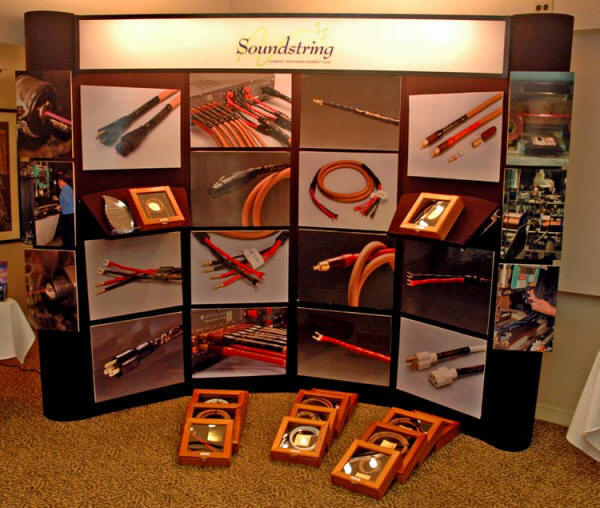 SoundString Cable's beautiful and informative display
The "Big Rig" at the right end of the large room featured the ModWright Platinum Signature Truth modified Slim Devices Transports ($2000 mod only) and a ModWright MCH modified Oppo BDP-83 ($1295 for the MCH mods) as sources. The superb LS-36.5 line stage ($4995) handled preamplification and handed off to the KWA-150 stereo amplifier ($5995), driving the exquisite-looking Bamberg Audio Series 5 TMW ($8395/direct price) loudspeakers. SoundString cabling tied it all together and this powerful and expressive system show just what it could do every chance it got. Deep, powerful, and cogent bass, clear, articulate, balanced mids, and defined, focused, and detailed highs really brought it home; this system was exceptional, one of the most engaging I've ever heard under show conditions.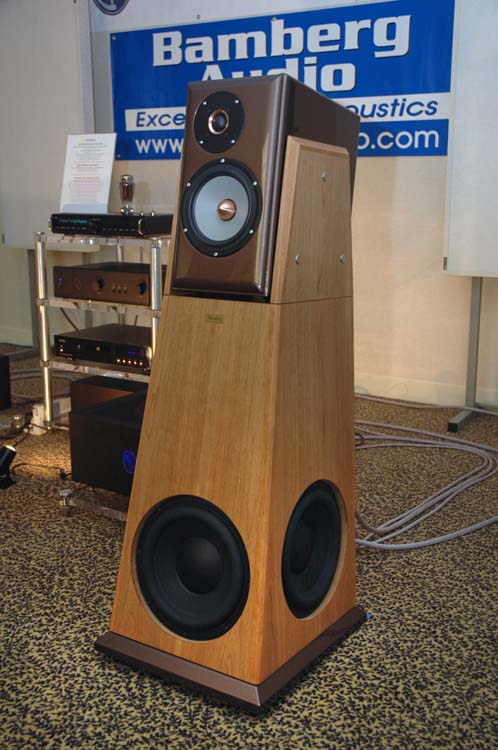 The debonair looking and authoritative sounding Bamberg Series 5 TMW with ModWright electronics and SoundString Cables
The smaller system was no slouch either. Similarly fronted, it featured the new ModWright KWA-100 ($3295) stereo amplifier and the Bamberg Audio Series 2 TMM ($3995/direct price) loudspeakers. As nice as it was, I was thrilled to get a chance to hear the smaller KWA-100 in the big rig late Sunday afternoon. It was VERY impressive, and Dan and I have discussed my taking a closer look at the KWA-150's smaller sibling as soon as I get caught up.
I just have to say that these gentlemen managed to get it right, really right, and not only from the point of their audio presentation, but from the hospitality angle as well. Coffee, water, and snacks were available to all who stopped in to listen or chat, and every time I stopped by, this suite was a busy, active room. Many stopped by to enjoy the music as well as to learn more about these great products directly from the source of these three manufacturing firms.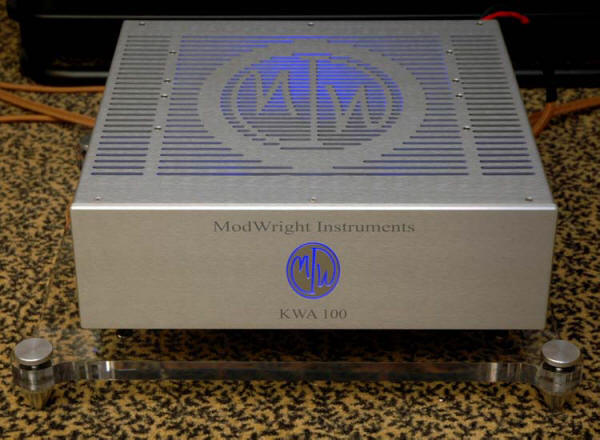 Somewhat smaller, the new KWA-100 amplifier strutted it stuff quite impressively
SoundString's Len Miller, always a gracious and accommodating host, was on hand to answer any questions about his remarkable cable products. He has been kind enough to allow me to have a sneak listen at his upcoming line, and I'm here to tell you that from what I've heard so far here at the audio analyst©, SoundString has a WONDERFUL lineup in store for audiophiles everywhere, regardless of your budget.
ModWright's founder Dan Wright was on hand basking in the praise over his highly regarded and well-reviewed KWA-150 amplifier. But the new, very affordable KWA-100 amplifier was equally impressive, and Dan was prepared to answer questions about his entire line of products and modifications.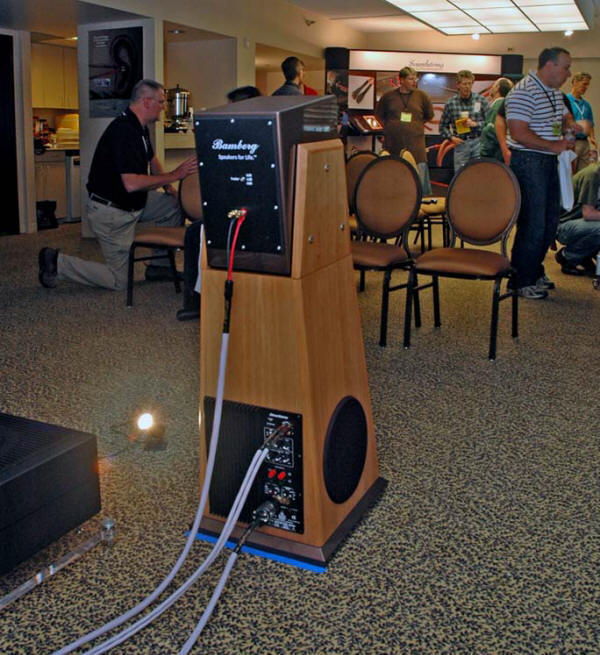 Steve Fay (kneeling in black shirt to left) speaks to one of the many visitors to this room while we see the back of the Bamberg Audio Series 5 TMW
Finally, Design Engineer and President, Phil Bamberg, and Operations and Sales Director Steve Fay were both on hand to field questions about their well-received speaker line. If you haven't heard much about them, be sure to read colleague Adam Goldfine's take on the Series 5 TMW in PFO issue 42. Bamberg currently sells direct, but Steve Fay explained that you MAY be able to hear a Bamberg Audio product near you sometime soon as they have begun the arduous process of developing a dealer network. Bravo, gentlemen! Bravo!
Room 208 - Kyomi Audio
When I first made my way to the second floor exhibitions, about mid-morning Saturday, I stopped in to say hello to previously mentioned audio pals Len Miller and Dan Wright, and was then honored to have Dan accompany me down the hall to check out the Kyomi Audio room. As we entered, not only did I recognize the CAT, Esoteric, and Vivid gear in play, but I also immediately identified the distinctive cabling used throughout. It was all pinnacle line product from Stealth Audio Cables, the impressive handy work of one gifted cable designer, Serguei Timachev. I was further able, based on images that Serguei shared with me previously in relation to John Atkinson's 2010 February Stereophile "As We See It" column, The Recording Angle, to determine that the man directing the presentation in this remarkable sounding and large room was none other than George Vatchnadze.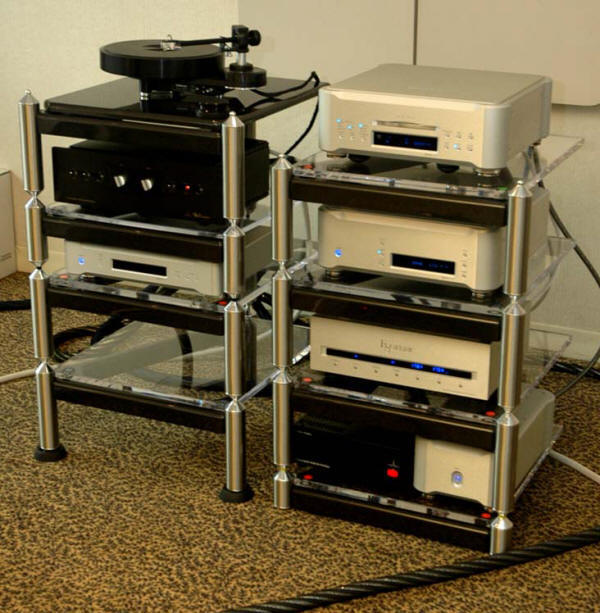 Resting on Grand Prix Audio Monaco stands, the Esoteric, CAT, Kuzma system was an absolute delight
As a welcomed surprise, it had been after about ten minutes of watching and listening to the interesting demonstration under George's direction, I finally noticed that the fellow who had been standing in the kitchenette section of this room all this time with his back to me was none other than Serguei himself! I hadn't even known he was going to be attending this show! Suddenly, I was assured that my evening meal would be much more interesting!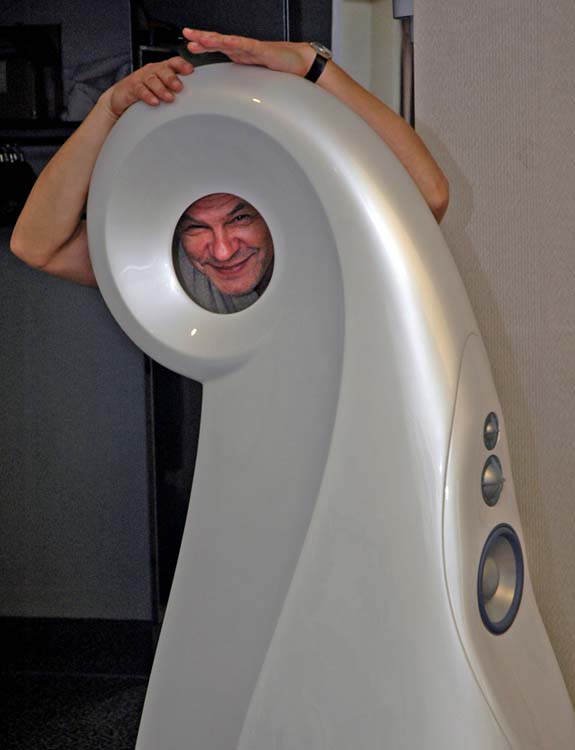 Peeking through the distinctive styling of the Vivid G1 Giya, the inimitable Serguei Timachev
George Vatchnadze is the principal behind Kyomi Audio (Kyomi is his wife's name), located in Okemos, Michigan. A native of Tbilisi in the Republic of Georgia (former USSR), George is an assistant professor of piano at Michigan State University and has appeared with orchestras and in recitals throughout the world. I have recently acquired two CDs that feature George playing with the Tbilisi Symphony Orchestra under Maestro Jansug Kakhidze; good stuff all.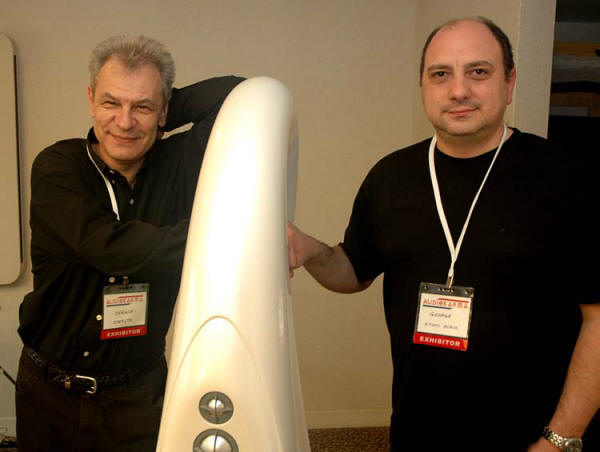 Flanking the beautiful white Vivid G1 Giya loudspeaker, Serguei Timachev (left) and George Vatchnadze (right)
As a musician, George has an uncanny ear for reproduced music. This system was a clear statement as to his intent, and it was truly a standout room, one that was without question the most accurate and engaging system I heard at this year's event.
The digital front end was a three-piece Esoteric rig comprised of the P-01 VU transport with external power supply ($38,000), the G-0Rb Rubidium Clock ($16,000) and the D-03 DAC ($16,000). Vinyl was transcribed by a Brinkmann direct drive table ($8,000), a Kuzma Stogi S Unipivot arm ($1000), and full bore van den Hul Colibri ($7000).
The Convergent Audio Technology Legend (CAT) SL1 handled preamplification ($20,000), and handed off to the CAT JL2 signature ($20,000), a 100-watt triode design. The loudspeakers were the latest brainchild of Laurence "Dic" Dickie, creator of the iconic and legendary B&W Nautilus, the Vivid G1 Giya ($64,000). All cabling was from Stealth Audio, and included a pair of Stealth digital AES cables, the Varidig Sextet ($3600 each), 2 sets of the new Sakra single ended interconnects, 1 and 4 meter ($10,000 a meter), an 8 foot set of the new Dream v10 speaker cables ($14,000/pr), and 8 Dream AC cords ($3000 each). Everything rested on Grand Prix Audio Monaco Stands (~$27,000). All in, this system was over $200,000, but the result was REMARKABLE.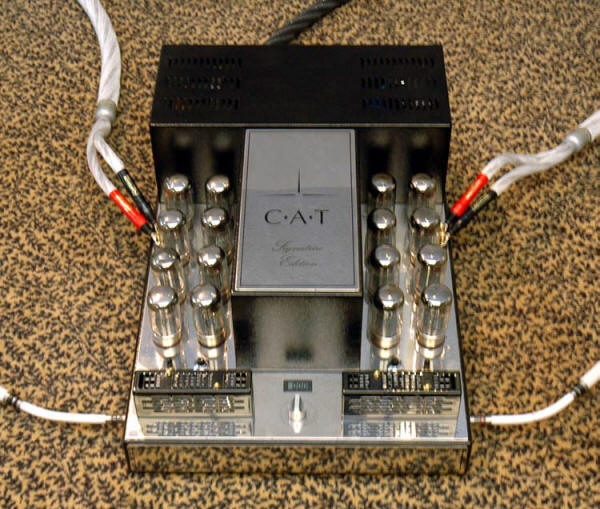 As arresting to look at as it is to listen to, the Convergent Audio Technology JL-2 signature
This remarkable system was the zenith of the event, and by some major margin, as one would hope given the sticker price. Rich in relevant musical detail, rife with harmonic texture and compellingly faithful timbre, able to recreate an unshakable, utterly believable, and realistically sized soundstage, it ranks as one of the most engaging systems I've had the pleasure of hearing at a show.
By mid-afternoon Sunday, as the show began winding down, I was able find time to go back and just spend some time listening with George and Serguei. One of the more interesting treats George had for listeners was a set of Japanese Led Zeppelin re-masters on the Japanese SHM-CD format. Wow, I've NEVER heard Led Zeppelin like that!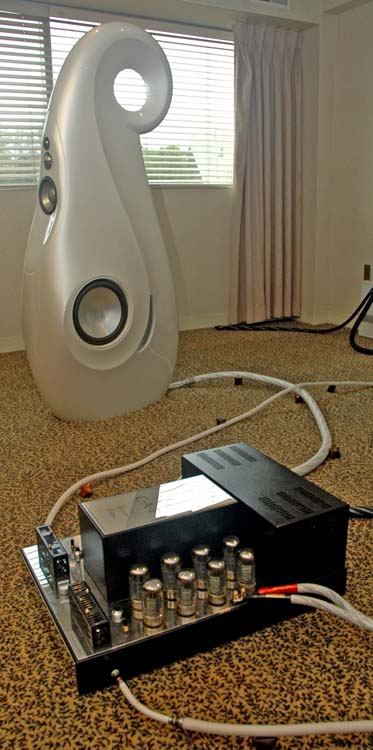 Front and center, the CAT JL-2 signature, with the Vivid G1 Giya over its shoulder
I'm not exactly sure how the subject of tweaking came up, but as I have a well-known reputation for writing about such matters, George was anxious to demonstrate something about which he was very excited.
He proceeded to show me a set of four relatively small, composite material isolators from Clearlight Audio of Germany, the RDC 4 cones. Selling for about £115 (~$170), I learned that these particular cones were developed specifically for CD players and amplifiers. Esoteric's own chief designer and founder, Mr. Motoaki Ohmachi, had alerted George to these interesting little devices during a visit to Japan.
We started by placing a set of four of these unassuming looking little "pucks" under the external power supply for the P-01 UV transport, on the bottom shelf of the GP Audio Monaco stand. That's right, under the power supply!!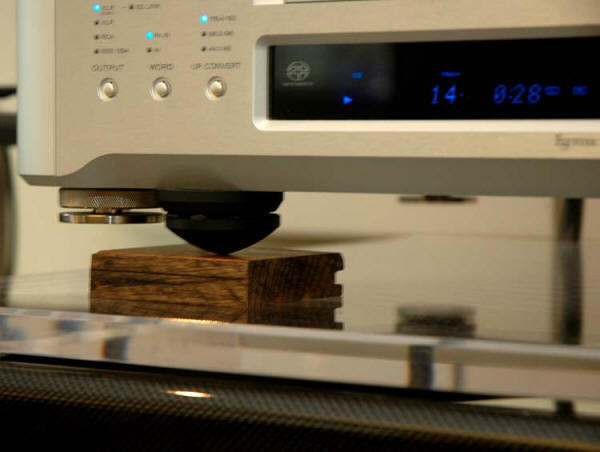 Resting under the Esoteric P-01 VU transport, one of the remarkably effective Clearlight Audio RDC 4 footers
While I wasn't surprised that they made an audible difference (everything does, but that doesn't mean that every change is an improvement), what did surprise me was both the obvious nature and the musical direction in which they took the sound. Granted, the improvements they wrought were not earth-shaking in quantity alone, but they were unquestionably improvements, and in a decidedly more musical direction; more space, more clearly defined timbre, and denser, more whole musical textures.
The experiment continued with a second set of four placed under the P-01 VU transport itself, resting on the top shelf of the GP Audio Monaco. While in this instance, they offered a minor furtherance of the audible improvements along the same sonic character as we noted with their introduction under the power supply, the change here was of smaller magnitude. Regardless, the degree of musical improvement they afforded was remarkable for the price, and they are one of the more interesting isolators I've heard over the past several years. He has agreed to send me some to report on in the near future, so stay tuned.
Why AKFest Matters
All told, it was, again, a remarkably festive and fun-filled two-day event, and one that ended too quickly. The hands on educational value of the exposure to the diversity of sounds, product types, and design philosophies afford beginners and seasoned audio buffs alike at an event as well organized and accomplished as AKFest is impossible to achieve through reading books or magazines or by merely talking with other likeminded hobbyists alone.
It is precisely this type of energizing, informative, interactive, and downright fun event that will ignite the latent interest of younger listeners. Further, it is such newly kindled awareness that will spur them forward to undertake the high-performance audio cause and thereby fuel the replenishment of an audience too long on the wane. This replenishment is necessary not only to merely keep our industry alive, but hopefully, to permit it grow and thrive once again. For this heroic audio effort, I am unable to find words to thank Ernie and David in any way that approaches adequate. Gentlemen, you have my enduring gratitude. Carry on… and I'll see you next May!