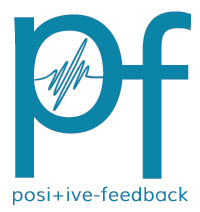 You are reading the older HTML site
Positive Feedback ISSUE
48

march/april
2010
A Classical Half-Dozen from LSO Live and Telarc
by Karl Lozier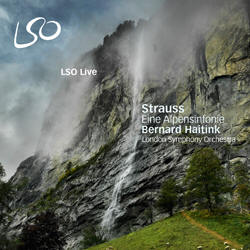 Richard Strauss, Alpine Symphony (Eine Alpesinfonie). Orchestra: London Symphony. Conductor: Bernard Haitink. LSO Live Hybrid SACD LSO0689
In issue 46 I glowingly reviewed a performance of this truly great tone poem, the longest, last and greatest by Strauss. Despite the title it is definitely not a symphony. That fine version included the short tone poem Hamlet. I also mentioned a possible tendency of an audible caveat in a very few passages. Comparing that Pentatone release with this reviewed LSO Live release reveals that mentioned tendency to be missing now. How could that be? I received a large number of "tweak" items from Herbies Audio Lab. I simply replaced my various tweaks collected over the years with Herbies. The overall audio sound quality from my reference stereo system revealed a small though definite improvement, not just as with the preceding example. This extremely large scale composition remains as impressive as ever with more than a hundred and twenty performers plus a few instruments not commonly heard. As I mentioned in issue 46, do not expect to hear it at your local concert program; the huge forces needed are seldom available and even then are often not of the quality needed to do justice to this composition.
The separate sections or scenes, twenty-two total, cover a full day, starting and ending musically at night. Along the way, most any Alpine scene you can imagine is beautifully and relatively accurately portrayed by Strauss' outstanding score, a truly great composition. The excellent performance and audio quality simply go hand in hand in this outstanding release, easily one of LSO's finest. It is easy to describe Hailink's performance as bringing out all the lyrical beauty in this awesome score in a seemingly relaxed, but not really so, manner. That assessment is aided by an apparent seating locationnear mid-hall and seemingly nearly eight to ten rows further from the orchestra than the previous reviewed release that is recorded at about a two db higher level. It may or may not be simplistic to call that release audiophile oriented and the LSO's release to be more likely to please typical, if there is a typical, concert going music lover. This year, my concert hall seat is in the fourth row left of center.
The audio quality on this recording is simply excellent, absolutely full-range down into the palpable bass area, very clearly with no hint of added or relatively more bass fullness as might be heard from a closer perspective. This recording is very highly recommended as is becoming more and more common with recent LSO recordings. This composition is accurately described as a tone-poem, a great one.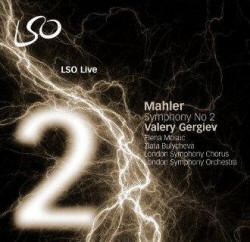 Mahler, Symphony No 2 (Resurrection). Symphony No 10- Adagio. Orchestra: London Symphony. Conductor: Valery Gergiev. Chorus: London Symphony. LSO Live Hybrid SACD LSO0666
Probably best known for his very large scale symphonic works, this symphony is the first one so composed following his rather conventional first symphony. Also famous as a conductor, here Mahler introduces a great range of colorful orchestration while employing a couple of female vocalists and chorus. The excellent liner notes by Stephen Johnson do an excellent job or overview of what Mahler tries to do with this, the first of his huge ambitious projects. The gamut of both musical expression and human emotions are presented here. Life, death and resurrection are all heard. Yes, it is a huge and difficult project and well handled by Gustav Mahler here. I will not use the word "typical" to describe this, his second symphony. I will just say that it is a good representative of his large-scale compositions.
It may or may not be the most popular of them though I think it is the easiest to learn to appreciate or love. The unique relatively small-scaled fourth symphony is definitely easy to appreciate and enjoy. Power and beauty both share much of the music making in this composition. The audio quality easily joins the ever growing list of LSO Live's top quality echelon of excellence. As expected the London Symphony Orchestra, the most recorded large orchestral group in the world, fueled partly by many film soundtracks, is outstanding as usual. There are no audible negatives and the propulsive power is palpable when called for. For music lovers and audiophiles, if your music playing system is of high quality, the beauty and clarity of soft passages emerge superbly with instant recognition. Those light taps on the drums will never be mistaken for gentle plucking of the double bass's strings. Here is outstanding audio quality for music lovers as well as audiophiles. Simply enjoy this absolutely top recommendation.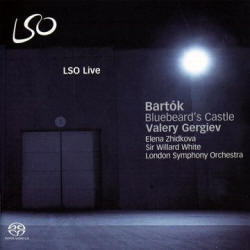 Bartok, Bluebeard's Castle. Orchestra: London Symphony. Conductor: Valery Gergiev. Mezzo-soprano: Elena Zkidkova. Bass-baritone: Sir Willard White. LSO Live Hybrid SACD LSO0685
This is Bela Bartok's 0nly Opera . It is dramatic, it is intense and has only two vocalists. A male for Bluebeard and a female for Judith. That makes for a very compact opera. The orchestration and the orchestra are not compact. The orchestra is big, bold and plays beautifully; I can not heap too much praise on the orchestra, conductor and the sound quality. The orchestral music is very appealing. With any opera, the vocal parts are a personal taste or preference. The past half dozen or so, releases by LSO Live have been consistently superb. They also have been releasing all of them in SACD multichannel form. Keep that in mind when looking for new recordings. If the companies that are making these excellent SACD recordings and are not able to sell them, eventually they will stop making them. Then all of us music lovers, as well as audiophiles, will be long term losers. The above information should be sufficient to decide on interest or purchase. What follows is my brief background Bluebeard story.
Bluebeard had been married three times previously. He and Judith met, married and she moves into his castle. She had never been there previously. It is very dark and dingy with seven large locked doors blocking out all outside daylight. Wanting to light up the castle she ultimately gets Bluebeard to give her all the keys while he protests. Starting with room one each room reveals progressively bad secrets. The last room reveals Bluebeard's previous wives, secretly held captive. At the end Judith is seen in the room with the other three as the door closes.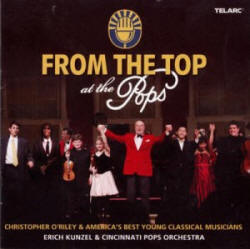 From The Top at the Pops, Conductor: Erich Kunzel. Featuring: Christopher O'Reily & America's Best Young Classical Musicians. Orchestra: Cincinnati Pops. Telarc CD-80745
Kunzel's last recording session, though I did not know that when I first heard it. My wife and I were on our annual trek to the mountains of North Carolina in late September for our usual relaxing vacation with spectacular leaf turning views. We do not have leaf changing colors in South Florida as it would conflict with the beauty of coconut palm trees. Taking a break from an audio book mystery, I pushed the search button for classical music FM stations on the superb sound system on my wife's single indulgence, her top of the line model LS-460 by Lexus. It even included a chauffer – me. I doubt if there is a better stock mobile music system/environment available. Designed by Levinson for that one model and with an almost unbelievable quiet isolated listening interior, we almost instantly were hearing beautiful classical music, completely surrounding us in great detail due partly to a lack of engine noise thanks to the eight speed, transmission, letting the engine really loaf, another area lacking noticeable background noise in addition to great isolation. As you have by now guessed we were possibly listening to public radio's program, if not this recording being reviewed of that program. I had to dig up this recording, it was not automatically sent to me as usual and they said it was Kunzel's final release.
It is basically a compilation recording, and not all are complete compositions. For example, Grieg's beautiful piano concerto includes only one of the three movements. Same goes for Bruch's violin concerto and Mendelsohn's concerto for violin, piano and strings. The cello in Popper's Hungarian Rhapsody is very clearly heard, not always true in recordings. The age range of these extremely talented young performers is from twelve to nineteen years. Peck's contemporary composition, "The Upward Stream" is a very fitting concluding selection and features superb playing by Corey Dundee with tenor saxophone. Veteran or famous soloists often set the pace for the conductor and of course the orchestra also. In a unique situation as this recording, it is possible and probable that the young players may be mainly following the conductor's lead. In any event, the excellent playing and performance (nine total) are nearly all a tad on the the relaxed or restrained side, not on the heroic or show-off side of neutral. Fine audio quality though not quite the equal, of course, of Telarc's SACD releases. This should be of great interest to anyone wanting to hear the next generation of performers in advance. Thanks for that go out to Eric Kunzel with this, his last performance.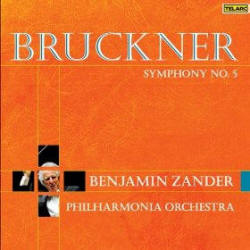 Anton Bruckner, Symphony No.5. Orchestra: Philharmonia. Conductor: Benjamin Zander. Telarc 2CD-80706
Anton Bruckner's fifth symphony is not one of his most popular. Probably his most popular is the fourth and it is fairly easy to appreciate. Unusual for Bruchner, this fifth symphony has a slow introduction and deliberate or not, it seems to be aimed at intellectual music lovers or listeners. Some aspects of that conclusion are discussed by conductor Zander in the second disc included with this release. Zander makes every effort to bring out the best in this composition and it is easy to recommend his efforts. The score is big, full and powerful; Zander and the Philharmonia together are as up to the task with seemingly no faults. Audibly the engineers do quite a fine job with solid power and ambiance, though not quite to the same extent as Telarc's, SACDs do. Easy to recommend to Bruckner lovers, those new to classical music listening might be better off starting with his fourth symphony. Those looking for musical intellectual stimulation will appreciate the dedicated second disc plus an interesting included chart attempting to help also. Recommended highly to serious listeners and "students" of music. Disc two quotes conductor Zander, "This disc is dedicated to the memory of my father Dr. Walter Zander.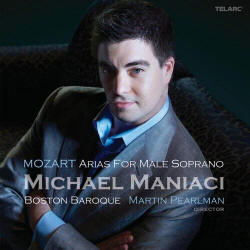 Mozart, Arias for Male Soprano. Vocalist: Michael Maniaci. Orchestra: Boston Baroque. Director: Martin Pearlman. Telarc CD 31827-2
Do not stop reading. This singer needs to be heard and listening to him is very likely to reward you. Both he and his voice are uniquely attractive and deserve to be heard by you at least once; this recording is your chance. He is a true male soprano. When he hit puberty, his vocal chords did not change. As he said, "I don't sound like a counter-tenor or a woman, its quite unique". An article in the London Times reveals that he is whole, male, shaves, is fertile and his voice never broke. He does not sing falsetto and unlike counter-tenors, he does not have a baritone register. I am unable to describe his voice to my satisfaction. I have found his singing to be extremely attractive and ultimately interesting in the extreme. Included in this release are a couple of overtures performed to near perfection and excellently captured by Telarc's audio engineers. Admittedly, the unusual or different often appeals to me and other reviewers as we may tire of more of the same old, same old. Personally, this is a highly recommended performance featuring male soprano Michael Maniaci.