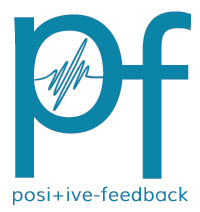 You are reading the older HTML site
Positive Feedback ISSUE
48

march/april
2010
A Classical Half-Dozen from Naxos and Chandos
by Karl Lozier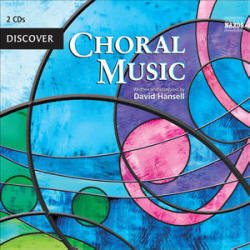 DISCOVER Choral Music. Includes: A Brief History of Choral Music . Author: David Hansell. 2 CD compilations, 42 selections. Naxos DISCOVER Series 8.558198-99
Here again Naxos offers another in their now famous DISCOVER series. This time it's all about choral music. If you have ever seen one their productions you know how this one is. Why change something that is fundamentally working so well and it is working really well. Sure all of us think we could improve on what is offered. Just adding one more CD would cover so very many more selections, but where to stop while trying to cover five centuries of choral music! The first CD covers from Gregorian Chant, Josquin des Prez, Taverner and Tallis and up to and including Purcell and Bach. The second CD covers from Handel, Haydn and Mozart and up to and including Vaughan Williams, Britten and Arvo Part. If I were to play the part of critic rather than reviewer I would ask, "Where's the last half century or more?" The 176 page accompanying book has a featured "Timeline" section that wisely ties music in with history, literature, art and architecture. Hopefully you have not forgotten what your professors tried to teach you that all "The Arts" and music is one of them, are intimately tied together and in step with each other and collectively are a reflection of their times! Also, time marches on. The book's timeline covers more than forty pages and is simply outstanding in my not so humble opinion. The recordings taken from twenty-one releases all share similar acoustical settings almost as if they were all done in the same spacious concert hall, of course not so. Audio quality is definitely very good and consistent as has true of most recent Naxos releases and a truly top quality CD player is a huge help and a necessity for serious music lovers. This production easily earns a top recommendation while having no direct competition that I know about.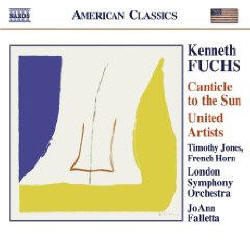 Kenneth Fuchs, Canticle to the Sun. United Artists. Quiet in the Land. Fire Ice and Summer Bronze. Autumn Rhythm. Orchestra: London Symphony. Conductor: JoAnn Falletta. French horn: Timothy Jones. Naxos CD 8.559335
Canticle to the Sun is a concerto for French horn and Orchestra. United Artists is dedicated to the London Symphony Orchestra. The other selections use four to six members of the orchestra including every wind or brass instrument, but only a single violin or viola, in different combinations. At times the resultant sound resembles that of a wind band. There is variety galore here. Melody and rhythm abounds and the compositions vary greatly. Romantic is here, so is post romantic, neo romantic and at times "fun-sounding" almost abstract music making and other hard to describe delights though outgoing and upbeat come to mind. I thoroughly enjoyed nearly every minute of this fine sounding and intriguing release. You will not be disappointed with its excellent audio quality. I wish I could describe the music more adequately though any listener desiring a bit of hearing music that is new or just a bit different sounding, should be delighted. Obviously this is a top recommendation.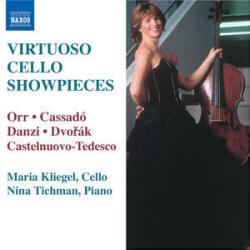 Virtuoso Cello Showpieces, Orr, Cassado, Danzi, Dvorak. Castelnuovo-Tedesco. Maria Kliegel: Cello. Nina Tichman: Piano. Naxos CD 8.557613
Orr's arrangement of Bizet's famous and very popular opera is entitled Carmen Fantasy and very surprisingly, to me at least, opens with a cello cadenza that does link Bizet's most famous themes. That should sound familiar to every listener. Cassado's arrangement continues the Spanish theme from Carmen. Danzi's contribution for this collection is variations on a theme from Mozart's opera "Don Giovanni". As you by now can tell, this release is based on arrangements for the cello and not music composed for the cello. As a result, not all the selections will be familiar sounding though musically interesting and pleasing. I really do not like to quibble over small details when the enjoyment of classical music is of paramount importance. I think that the title includes the words virtuoso and showpiece are simply misleading promotional terms. While I am in this mode, I shall mention much of the time the arrangements sound like "for cello and piano" and that is fine with me as they are my favorite instruments. I enjoyed this release and still do though it took a number of listening sessions and a touch added on the gain/volume control to get to that conclusion. Then the recorded cello was sounding much like a live cello heard from a fairly close seat in a relatively small theater. As such I can easily recommend this fine release, unlike so many recordings that do not do the cello accurately.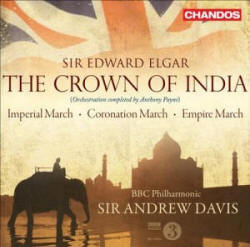 Edward Elgar, The Crown of India. (Orchestration completed by Anthony Payne). Words by: Henry Hamilton. Imperial March. The Coronation March. The Empire March. Orchestra: BBC Philharmonic. Conductor: Sir Andrew Davis. Chorus: Sheffield Philharmonic. Chandos CD CHAN 10570(2)
This composition and its background were rather difficult to track down with any certainty. I could not remember hearing the music other than a march from it. Composed early in 1912 and performed then in London. It is ceremonial music for English rulers of India. The original score was for piano and voices, probably spoken and sung. The orchestrated score was lost or destroyed long ago. Eventually, The Elgar Society commissioned Anthony Payne to orchestrate or finish orchestrating the score while keeping the original vocal and piano scoring. It is meant to be performed in the theater with masques used by some of the performers representing other people, things or places. A historical story seems to be unfolding with this production and at times the music itself may not be of upmost importance. Anglophiles will have to obtain this impressive release with libretto and other points of interest in the outstanding accompanying 68 page book that is almost as impressive as the Naxos Discover series book mentioned in the preceding Naxos Choral review! A bit of a different approach here aimed squarely at a theater setting , music lovers may not appreciate all the spoken lines. Elgar lovers of all stripes will be diving right into this two disc release. Much of the second disc is devoted to the three fine marches included here. As usual Chandos pays close attention to their recorded audio quality that features 24 bit recording.
As good as it is here, it is seemingly not quite the equal ultimately, of the Bax release that follows, though the more outgoing and engaging Bax's offerings lets excellent audio quality to more easily shine through in appreciation. This is an excellent presentation that is easily recommended to Elgar and theatrical lovers while presenting excellent orchestral playing and Davis' usual sympathetic conducting.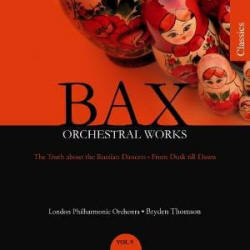 Arnold Bax, Orchestral Works, Volume 9. The Truth About the Russian Dancers. Part One. Part two. From Dusk till Dawn. Orchestra: London Philharmonic. Conductor: Bryden Thomson. Chandos CD CHAN 10457X
This recording is simply immediately appealing and quickly receives my top tier recommendation to all, including classical newcomers. Sprightly tunes and toe tapping melodies should appeal to most everyone even if like myself, you have never even heard of, much less ever heard the music. I am not familiar with conductor Bryden Thomson's previous efforts and will be looking forward to his next release with the fine London Philharmonic players. Here the brass and percussion get to really shine thanks to the fine efforts of the audio engineers and perhaps because of Chandos' well known efforts with audio quality. Hey guys, why no SACD release here? Here as usual they like to feature their use of 24-bit recording technology. Up to about ten years ago most of the audio engineers seemed to think that any above 20-bit use was simply not audible. I have not kept up and do not know if that belief is still widely held. No matter, simply run out and order this delightful recording, offering regular or so called red-book CD technology, with audio quality as good as any and better than most.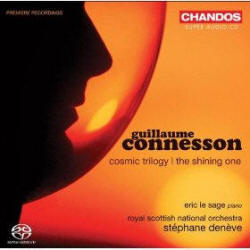 Guillaume Connesson, Cosmic Trilogy. The Shining One. Orchestra: Royal Scottish National. Conductor: Stephane Deneve. Piano: Eric Le Sage. Chandos SACD/CD hybrid CHSA 5076
This excellent sounding release, SACD of course, is used to great advantage with these definitely contemporary compositions by Connesson, born in 1970. The accompanying notes use fairly interesting language and thoughts to describe what Connesson's thinking is about and what he is musically trying to describe. Most everything seems close to what the notes say and imply. I tend to hear bold and forcefully powerful passages designed to perhaps capture attention. The first section of the trilogy, Aleph is both defining the first letter of the Hebrew alphabet and the symbol of the power of infinity. The work opens with an almost shocking 'wall of sound' as described by the composer. It is also dedicated to conductor Stephane Deneve and his wife. Events such as that are common and commonly lead to a first performance or recording; that is just the way things can go and have for at least a century or two.
The outstanding sound quality lets the SACD layer of this release really show off and could easily become an audiophile favorite. In the third section of the trilogy, Supernova, puts listeners in the midst of space and energy created by the death of a star. That jogged my memory to Michael Bishop's memorializing the unnamed exploding planet in Star Trek by naming it Tinsis (There Is No Sound In Space). The other selection here is a piano concerto in three continuous movements, The Shining One.
It is relatively conventional and uses almost the same forces as Mozart with double winds while adding percussion and harp. It is simply very listenable, enjoyable and my favorite on this release while also having Chandos' usual excellent SACD audio quality letting the orchestra's fine playing to be fully revealed and enjoyed.