With the arrival of the astounding Marten Bird loudspeakers, now my number one high-end speaker reference, I have begun exploring other offerings from Marten of Sweden. My number two reference system has always been a two way monitor style system as the room is only 12 by 15 though my thirst for big sounding little speakers is insatiable. That search is now on hold as I listen to the baby of the Marten line, the $8500 Duke. With top components and interconnects, the two way Dukes set new standards for small speakers, easily the most musical and highly dynamic of their breed in my long experience.
My first monitors were the Dynaco A-25s so that dates me pretty clearly. The search for the ideal monitor has taken me to the Wilson Cubs, Reference 2as, Paradigm 20's, and many more. I heard the new Magicos at two shows and at the local dealer with my test CDs and listened intently to the latest single driver designs at CES. Then along comes the Duke!
Why are they so good? The answer in part is "Accuton." With a one inch Accuton ceramic tweeter and seven inch ceramic/bass midrange, top notch internal components, and a beautifully finished well reinforced rear ported wood cabinet, they will leave you jaw-droppingly giddy.
My long experience with ceramic drivers, first in Avalons in the 90's and now the premium driver of choice in many speaker manufacturer designs, has taught me that they should NOT be used with other drivers based on other materials which are slower in any way. Consistently, speakers with all ceramic drivers blend better and sound more linear. The ceramic does perform with near electrostatic speed and definition and with cone-type dynamic range capabilities, making for musical nirvana in the right hands. Mated with a top ribbon tweeter or ultra expensive diamond tweeter may take the performance up a notch as well. The included ceramic tweeter is invisible to the ear and perfect for a monitor application like the Dukes.
Setup was a chip shot. I assembled a fabulous small system including the E.A.R. 534 Stereo Tube Amplifier, the E.A.R. 834L Deluxe Line Stage, the ModWright Sony 999 Tube CD/SACD Player, the Mac MR-71 fully restored FM tuner, all Kubala-Sosna Elation top of the line interconnects and bi-wire speaker cables, and Kubala-Sosna Emotion AC power cords. At $6000 per meter for the interconnects, the Elation is probably overkill. Nevertheless, the cables maximally communicate and reinforce the glorious mids and ethereal highs from the high tech ceramic drivers within the Dukes.
The "in residence" Focal JM Labs Cobalts gave way for The Dukes. There are dedicated Duke stands for $1250 that I did not use, but they should be considered and are really sharp looking. I initially placed them on 20 inch stands, but changed them to 24 inch stands which brought the tweeters to exactly ear level and focused the soundstage even more. Also, the Dukes, like the big Birds, have all non-parallel sides to minimize internal reflections. When you look at the Dukes while playing, you can only see the front panel with drivers. This design element reduces room interaction and makes setup about anywhere a snap.
The Birds have taught me that Marten understands how to maximize Accuton drivers and has the taste levels that bring musical recordings to life. All I can say is "wow." Placed 7 feet apart and 7 feet from my listening position, the room ceases to exist. Depth perspective and imaging are beyond reproach. I hear no colorations on which to report. The Dukes are fast, involving, extended to the sky, and nuanced to provide ultimate ground breaking definition. Bass is quick, highly detailed, and perfectly integrated into the midband. The deepest bass is suggested. The addition of the Ellington sub woofer would make the Dukes a full range system. However, at this price point, I don't want to feel like I really need it and I don't! These babies take you to the moon and back with no space station needed for me.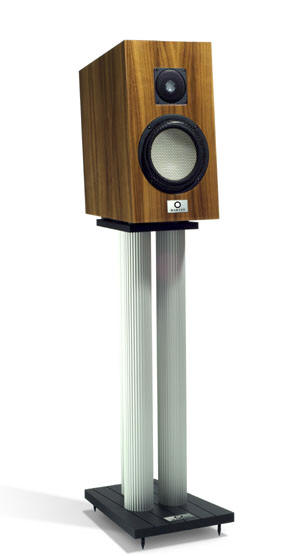 So why ground breaking? Simple. Like the Birds, the Dukes sound like real music in real space. I did not think this was possible with a monitor speaker. Apparently, in 2010, it is!
The 'you are there' palpability of the mid band is spot on realistic and alive. There isn't the least hint of boxiness, dynamic limitation, or etch. Musical images just exist in space even with an FM tuner as a source. Plus, my 50 watt tube amp drives them to ear shattering levels. I don't hear this kind of dynamic range or detailing with Magicos even with 200 watt power amps! Truth be told, the Dukes behave like something entirely new even though they have been in the Marten line for five years. Maybe they have not had the royal treatment I gave them? Nevertheless, if you don't consider them on your short list of monitor speakers, you will miss the boat!
Just for fun, I tried my hand-made by Dennis Had Cary SET 300B amplifier, 8 watts per channel from Western Electric matched 300B tubes, to see if this would be a satisfying combo. At low to medium volumes, it was a warm, rich, and luxurious combination, but nowhere close to the dynamic, neutral, alive, breakthrough performance of my E.A.R. 534, a 50 watts per channel EL34 tubed power amplifier. Since the Dukes are designed for continuous power up to 150 watts, they will play at levels sufficient for a medium large listening area. This is more than most traditional monitor speakers will do in my experience. If I learned anything from this experiment, the Dukes are sonic chameleons which critically and faithfully take on the characteristics of the amp you choose.
I just received the new Marinsky label hybrid disk featuring the Marinsky Orchestra and Valery Gergiev, conducting, MAR0503. Sonic blockbusters include the "1812 Overture" with cannons, "Moscow Cantata" with chorus, and several festival overtures. Recorded in 2009 and produced by the legendary James Mallinson, this huge, overwhelming drop dead gorgeous disk would challenge Hansens! I was beyond exalted and entertained with the Dukes! The silvery elegant highs, the voluptuous mids, the solid powerful bass combined to fulfill all audiophile fantasies. Cannons played on monitor speakers? This is not the kind of music you would normally think monitors would or could maximize. Think again.
I also received the latest Yarlung Records Gold CD pressed in Germany and featuring Antonio Lysy playing fabulous cello with violin and piano incredible selections by Ginastera, Piazzola, and more: Antonio Lysy at the Broad, Music from Argentina, Yarlung 27517. Recorded in minimalist high end fashion by the experienced Bob Attiyeh, this is an in the room performance on the Dukes. The Piazzola selections are richly romantic and sweet as sugar. The artists sit right in front of you and play to perfection. This is another killer recording from Yarlung, now the best new artist, fine music recording organization I know of not linked to a symphony orchestra. The Dukes proved their versatility big time with this extraordinarily life-like recording.
The Marten Dukes are just plain amazing and, I believe, the best of their breed yet produced. Not only are the Dukes extraordinary, but they are important speakers that deserve attention and auditioning. The impression of boxlessness and infinite transparency is stunning to hear. Expensive? Yes. Worth every penny and more? Absolutely. The Dukes are a true high-end reference speaker for the top audiophile and music lover searching for stand mounted monitor speakers. End of story. Robert H. Levi
Duke loudspeakers
Retail: $8500/pr Dedicated Stands: $1250/pr
Marten
web address: http://www.marten.se
US Distributor
E.A.R. USA/Marten
web address: www.ear-usa.com/marten.htm