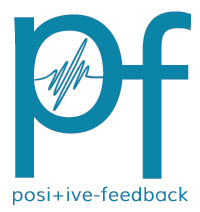 You are reading the older HTML site
Positive Feedback ISSUE
48

march/april
2010
A Few More Classical Gems plus one jazz item
by Karl Lozier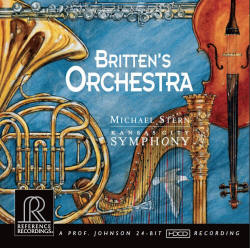 Britten's Orchestra, The Young Person's Guide to the Orchestra. Sinfonia da requiem. Peter Grimes: Four Sea Interludes and Passacaglia. Orchestra: Kansas City Symphony. Conductor: Michael Stern. Reference Recordings HDCD RR-120
Every classical music lover should have music by Benjamin Britten or be introduced to it. Though not his most famous or very best compositions, this wide-ranging group serves as an excellent introduction.
The quite beautiful variations in the Young Persons Guide originally served as stated in its title and the first performance included the spoken Guide, seldom done in more recent years. It is excellently performed here as well as the Peter Grimes selections and I could have easily believed it was being done by a UK conductor and orchestra. The rather brief story behind Peter grimes needs to be read and could so easily have recently taken place, as the basis for this opera. The music tells the story quite well and the Sea Interludes easily stand on their own as tone-poems. Little is really known about this (or little found by me) early career Sinfonia da requiem. The audio quality, helped by Reference Recordings rather well known 24- bit unique HDCD technology, plays on any CD player and the better the player the better the sound and with the best players it at times can be mistaken for SACD sound quality. Better and more nearly real sounding audio quality would be tough to find. Just as an example it has been a long time since I have been in a performing arts center that had deep bass quality, fullness and richness, without boom, as Keith Johnson has captured here and fully backed by former audio reviewer and now RR executive producer, Tam Henderson.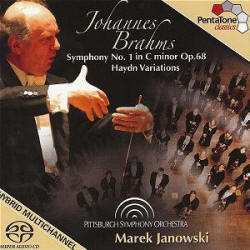 Brahms, Variations on a Theme of Haydn. Symphony No. 1. Orchestra: Pittsburgh Symphony. Conductor: Marek Janowski. PentaTone Hybrid SACD PTC 5186 307
Once again we get to hear the quite excellent Pittsburg musicians. Even most music lovers seem to forget how rich is Pittsburgh's heritage. How many can match Victor Herbert, Otto Klemperer, Fritz Reiner, William Steinberg, Andre Previn, Lorin Maazel and Mariss Jansons? Here they handle the basic reportoire beautifully. I do not remember hearing the Variations handled any better than here with a bit lilt and appropriate sparkle. The audio quality has no fault here just excellently rich SACD reproduction.
The music world had waited for someone to take over after Beethoven's death, expecting to hear a tenth symphony by him and this first symphony by Brahms is what they got. Easily one of the very few really good first symphonies (most composers probably are in a rush to get out their first) some musicologists think the scoring to sound a bit thick. I must admit that at a few places I thought that just maybe the audio engineers were trying to add touches of lightness or brightness to compensate. That was probably my imagination working overtime. The audio quality in the symphony is just fine if somehow just not quite the equal of that in the Variations. A solid recommendation is certainly earned.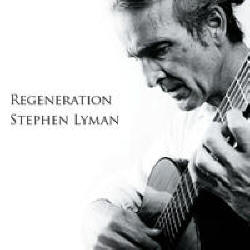 Regeneration, Stephen Lyman (Guitar). ISOMIKE #5598
This unusually outstanding guitar recording by Ray Kimber is easy to review. I have reviewed recordings by some of the world's best. Often their recordings are quite good, though none could do what this IsoMike recording by Ray Kimber did! I am not even certain if it was, at the correct gain level, supposed to sound as if it was being played right there in front of me! Because that is exactly what it did; not take me to the recording venue, it brought the player and his guitar to me.
How or why can that be? Perhaps by isolating the guitar playing from the effects of its surrounding location is my guess. Is that good? Well, in this instance there was plenty of room for the musician and his guitar and I was entertained. That was very sufficient. For others a possible negative was the fact that many people might never have heard any of the music played ,ever before, though none could deny its beauty.
Stravinsky, Pulcinella. Symphony In Three Movements. Four Etudes . Orchestra: Chicago Symphony. Conductor: Pierre Boulez. CSO-RESOUND Hybrid SACD CSOR901 920
The main attraction here is Pulcinella. I may have to agree with those who ask if it is ballet or simply dancing with music. It is based on early classical music and probably is more nearly neoclassic and so what. As conductor Boulez says, that here Stravinsky is playing a game. I wound up liking the game or games Stravinsky is playing in this case. I had not remembered liking Pulcinella in the past and evidently I have really changed and enjoyed this performance greatly. Changed even to the extent I would now consider recommending it to anyone wanting to be introduced to Stravinsky's music.
His music is so far ranging that is a real problem and my usual choices had been the Firebird ballet Music or Petrushka. I have great trouble trying to describe in five hundred words or less the above listed symphony and the four very brief etudes. Pulcinella includes what are almost variations using simple combinations of instruments resulting in a wide range of relatively simple music plus a bit of singing. Conductor Boulez plus the Chicago orchestra form an imposing combination here that is outstanding. Add the equally imposing solid audio quality and I am happy to welcome them back with their own recording label plus my top recommendation. All I can add is, more of the same in the near future please.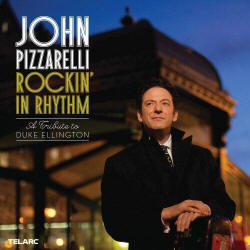 Rockin' in Rhythm, (A Tribute to Duke Ellington). John Pizzarelli. Plus guest performers. TELARC CD-31921-02
In addition to John, dad, the equally famous Bucky, plus son Martin are also heard here and others. At one time or another there are a total of ten other musicians playing on this excellent release. As usual with Telarc, the sound quality is simply excellent though I do miss their SACD versions. There is jazz here, some swing, much rhythm and beautiful ballads. A wide ranging variety to say the least by the jazz great, Duke Ellington. Some are heard in new arrangements all trying to be true to Duke. This sort of release is much like some of Sinatra's and like him, Pizzarelli gives his all here plus a bit of guitar.