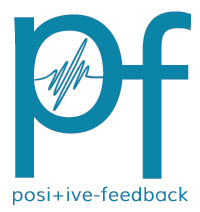 You are reading the older HTML site
Positive Feedback ISSUE
48

march/april 2010
Notes of an Amateur, March, 2010, Part 1
by Bob Neill
Thierry Pécou, Symphonie du jaguar; Vague de Pierre. Ensemble Zellig, Pécou, conductor; Orchestre Philharmonique de Radio France, François-Xavier Roth, Jonathan Stockhammer, conductors. Harmonia Mundi HMC 905267.
My musical horizons have been growing a little tight lately, so I decided to take a flyer on this one. Pécou is French by birth but has Caribbean roots, which may or may not lie behind his express drive to move beyond European musical culture to several others—pre-Columbian Latin American, Manchu Dynasty Chinese, among others, to create a new music that is neither modernist nor post-modernist, somewhat in the spirit if not the letter of Osvaldo Golijov. The two works on this CD were 'inspired' by Mayan civilization and late seventeenth century China.
My sense of Pécou's music here is that, his aspirations notwithstanding, it is not really new so much as recognizably modern avant-garde. The Jaguar Symphony, played by Pécou's own Zellig Ensemble (along with a full orchestra), is directly descended from Stravinsky's Rite of Spring and none the worse for that. The first three movements are ferociously rhythmic, sometimes almost feral, its five female voices in wild cacophonous excitement accompanied by trombone, clarinet, and strings. Its final movement is a release from the passion of the first three, bringing the whole work into calmer waters. There are still plenty of wild voices, instrumental and vocal, but it does indeed sound like a nocturne, which it is designated. As a whole, this symphony is colorful and compelling.
Vague de Pierre (stone wave), as its title suggests, is about sweeping power, but the power surrounds, almost shelters, pockets of quiet, restless beauty. There are hints of his Chinese reference, but like all successful modernist avant-garde music, it mainly rides above thematic specificity. It will be particularly attractive to those who enjoy focusing on orchestral detail: Pécou's highly effective use of winds, especially the flute, is fascinating.
This is ambitious music, which has impressed me on first hearing.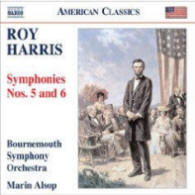 The Symphonies of Roy Harris
The principal creator fathers of the twentieth century American romantic school of classical music, Aaron Copland (born 1900), Howard Hanson (1898), Samuel Barber (1910), Roy Harris (1898), Virgil Thompson (1896), share a voice that is immediately recognizable and that has been enormously influential. They created the affirmative musical voice of American culture, just as Emerson, Thoreau, and Whitman created its literary equivalent. Hawthorne, Melville, Frost, Henry James, and TS Eliot along with musical modernists such as Piston, Sessions, and Carter, are mainly responsible for our critical or questioning voice, the voice of intellectual culture, so to speak. But it is the affirmative voice of the romantics that has seeped down into the culture as a whole and given us our primary emotional identity. You can hear it in three-quarters of our film scores in the latter half of the last century. It sings to us in ways that encourage us to treasure our uniqueness: it is triumphant, lyric, sentimental, richly harmonic—though always with just enough chromaticism to provide some 'modern' bitter-sweet poignancy, nostalgic, and elegiac. It is almost never ironic, seriously dissonant, questioning, or tragic. At its most successful, it can be nearly irresistible to all but the hardest of hearts. At its worst, it cloys or slips into the background becoming benign music to do other things by.
In the broader context of Western culture, it is part of the late romantic musical world of such composers as Sibelius and Britain's Elgar, Vaughn Williams, and Delius. Among the Americans, Copland stands head and shoulders above the rest, and even wrote a good deal of semi-modernist music that fits happily into the critical school as he grew older. But there is plenty of enjoyable music among the work of the others, and Naxos Records has dedicated itself to issuing as much of it as possible. Sensibly they have picked up (reissued) a few fine earlier recordings of music by Hanson (and David Diamond) recorded for the defunct Dorian label by Gerard Schwartz and the Seattle Symphony; but mainly they appear to be calling on Marin Alsop with her orchestras, the Bournemouth and Colorado (she is now director of the Baltimore Symphony Orchestra), to do a great many of the others. It appears she has now signed on to complete a full edition of the symphonies of Roy Harris.
To date, Naxos has issued Harris's Symphonies 3, 4, 5, 6, 7, and 9—the last two recorded by the National Orchestra of Ukraine under Theodore Kucher in 1999. I spent a week listening to them, giving Harris a generous chance to make his case. My sense, coming out this experience, is that he is a romantic impressionist who composes mainly musical essays rather than traditional symphonies. His goal seems to be to create sonic-emotional landscapes often made up of what amount to chorded backgrounds with counterpoint and complex and varied instrumental textures set against them to provide more emotional interest than this kind of music often has.
Symphony No. 3 (1938), like much of Copland's music, builds melodic moods with the black notes, moods he and his fellow romantics have accustomed us to so they no longer feel dark in and of themselves. They have become the cast we put on our romanticism. Here in Harris's work, we go up and down the scale in some unnamed minor key, first with strings, then with strings and woodwinds. At some point a solo bassoon, oboe, and flute are feathered in, and finally the brass are admitted, led by solo horn and trumpet. The whole piece, once in motion, tends to remain in motion, helped along later by tympani which turns the proceedings into a gallop. (Harris grew up in Oklahoma.) This music was written before World War II broke out and gives voice to a national innocence that many Americans, though not many of its intelligentsia, shared. It is pastoral music which registers no significant change in its implied view of the world from music written a century before. Koussevitsky called it "the first great symphony by an American composer."
Symphony No. 4 (1939) on the same disc amounts to seven popular folkish songs for chorus and orchestra and is several degrees lighter than its disc-mate. It really belongs in a pops concert where it would likely outshine most music around it. There is no hint of condescension, as there doubtless is in my writing about it. It gets more out of its material than anyone could expect, but a symphony it is not. The least familiar piece of the group, "Negro Fantasy," is the most interesting, perhaps because I don't know the two folk songs on which it is based or because they are so utterly (and effectively) transformed.
Symphony No. 5 (1942) is a darker, heavier work—we are in the middle of World War II here—but the substance, particularly of the first two movements, is essentially melodrama, not tragedy. The third and final movement is a pleasant surprise, moving beyond melodrama to something more interesting that gets closer to the feel of Symphony No. 3, Harris's most effective voice. The orchestration of this movement, which includes visits by piano and both snare and bass drums, is also more complex than most which precedes it.
Symphony No. 6 "Gettysburg," (1944) tells us it is now definitely time to write about war unless you are an unworldly aesthete, which none of our American romantic composers were. The Battle of Gettysburg is Harris's vehicle here for composing affirmative music for 'our side' in World War II. It is martial and reflective in turn, maintaining a sober and thoughtful mood, especially its extended third movement (of four) called "Dedication." No militarism but no dark criticism of warlike man either. It is not clear what we are being urged to dedicate ourselves to here until the fourth and final movement, "Affirmation," where sunnier strings in a more confident sounding key appear to propose no more war. 'Good luck with that,' we say, in brilliant hindsight, but it is the right thing to say if your overall disposition is, well affirmative.
Symphony No. 7 (1952; revised 1955) has a new stormy, stentorian quality to it, even when it's being melodic. No moody reflection or melancholy here. This is passionate, stirring stuff. The work is not without periods of relief but they are mainly oases. This is more urban in feel than Harris's earlier music, full of motion, energy, and eclat, with hints of other 'foreign' things - even of Hindemith's Mathis de Maler! I expect Symphony No. 7 shocked the composer's usual fans.
Symphony No. 9 (1962) starts up as a rollicking, high-spirited affair. We can feel the good nature, optimism, 'positive thinking,' and well-being of the 1950's, which 1962 culturally speaking still was. I expect this is great fun to conduct: every orchestral voice gets a chance to strut its stuff and all do. Harris uses the U.S. Constitution as his thematic structure and the first movement is called "We the People," in whom Harris expressly places high hopes. "To Form a More Perfect Union" is equally affirmative but in Harris's quieter, lyric, pastoral voice, the equivalent of the traditional second movement Adagio. It is twice the length of "We the People," nearly twelve minutes, and it feels a good deal longer than that. The final movement, "To Promote the General Welfare," is broken into three sections, the first, as it is designated, is "Of life immense, in passion, pulse, and power;" the second, "Cheerful for Freest Action Forward," friskier and melodic; the final, "The Modern Man I Sing," triumphant and uplifting, with brass a-blare and tympani a-boom.
And so there we have it, or at least six of the Harris first nine symphonies. Clearly it's a mixed lot, exhibiting all of the virtues and some of the shortcomings of his school of composing. There is much to learn from listening to this music, in particular about the mind and soul of American culture. Have fun with it.
System used for this audition: Audio Note CDT3 transport and Dac 4.1 Balanced Signature. Audio Note M6 tubed preamplifier and Audio Note tubed (300B) P4 Balanced monoblock amplifier. Audio Note E/SPe HE speakers. Audio Note Pallas and Sootto interconnects; Audio Note Sogon speaker cables.
Bob Neill, in addition to being an occasional equipment and regular music reviewer for Positive- Feedback Online, is also proprietor of Amherst Audio in Amherst, Massachusetts, which sells equipment from Audio Note, Blue Circle, and JM Reynaud, among others.