Jolida - Jo-Lee-Da - most audiophiles are familiar with the name and image it conjures: Very fairly priced tube integrateds with a pleasant sound. Amps you could recommend to someone who was building a budget, or second system. Recommend? Didn't Jolida have some typical made-in-China quality problems? Once upon a time they did.
In fact, back in 2001, Jolida's troubles became bad enough that for Michal Allen, Jolida's CEO, it was either fight or run. What did he do? He got on a plane and fought. First, he instituted strict quality controls and doubled worker's salaries. He then followed-up by dumping Chinese components that showed the most defects, and started sourcing higher-grade parts from Germany, Japan, and South Korea. After that, he insisted his sub-contractors adhere to rigid quality controls. Finally, a cosmetic make-over to the entire line—the switch to a classic silver finish—completed the first round of sweeping changes.
Did Michael's efforts pay off? No doubt they did. So much so, that Jolida—that's right—Jolida, was featured in Forbes—yup—Forbes magazine as a turn-around success story. A high-end manufacturer stereo featured in Forbes? Tubes no less?! Reading the story made my day.
Although many of the components that go into these amps are made in China, the factory that produces them is Jolida's wholly-owned US subsidiary, not a Chinese OEM shop. And, although the components are produced overseas, final assembly, test, and QA is done at Jolida's headquarters in Maryland. This actually makes a case for Jolida being more "American made" than some high end brands…
Safe to say that today's Jolida is not the Jolida of 10 years ago. Michael tells me the company's quality problems have all but disappeared and they are keeping busy. In this economy?
Fixing problems has allowed Jolida to smooth out their operations and also branch out to develop new products. This review focuses on some of the company's newer, more esoteric offerings, the JD 3000A amplifiers and the JD 3000B Tube preamplifier.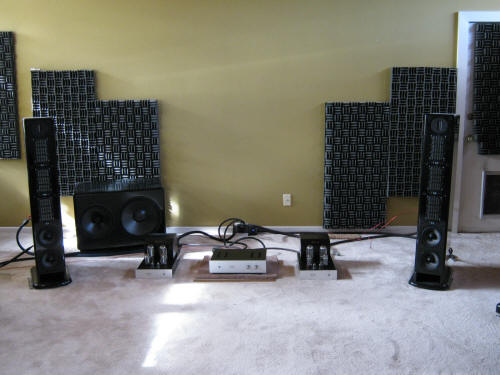 I was looking for some hefty tube power to round out my VMPS RM-30s. Although the VMPS sounded good with solid-state, friends using the same speaker setup (RM-30s with Larger Sub and 1000-watt plate amp) told me they really sang with tubes. Tubes that could sink some current that is. The JD 3000A seemed to fit the bill and Michael Allen was happy to send me a pair. He also decided to send their matching preamplifier; the JD 3000B.
I concentrated on the JD 3000A first, pairing them with my deHavilland UltraVerve remote preamplifier. Based on the 211 power tube, the 3000A, even as a monoblock, is a large unit: 55 lbs each. First thing you notice is the big honkin' German-steel transformer that dominates the top of the heli-arc welded chassis. In front of the trannny sit the valves—three pair—211s, EL34s, and 12AT7s. Interspersed among the glass are the bias test ports and adjust indicators. You only need adjust the bias for the 211s, a simple procedure.
The front panel, silver machined aluminum, sports the Jolida logo, a power switch, and a blue LED power indicator. The rear is simple and utilitarian. IEC socket, fuse holder, dedicated ground connection, 4 and 8 ohm output taps, and an RCA input. All in all, nothing fancy, but a good solid feel to the construction. The 3000a also includes a separate power supply for each of the three gain stages.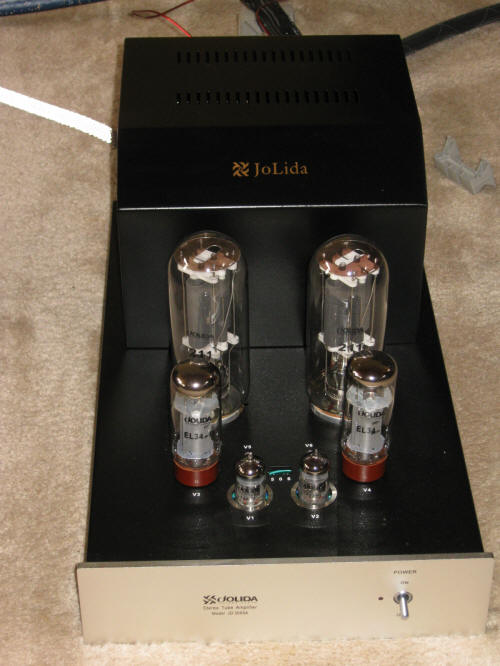 Why did Jolida base these amps around the 211 tube? According to Michael Allen it's simple: sound quality and reliability. The 211's heritage is industrial, and is built to last at least 4 times longer than other large-gain tubes. In addition to the 211's dependable strengths, the 3000A is fused at critical points and employs a digital protection circuit. You could actually hook this amp up to 220v and it would protect itself from harm.
My first impression after connecting the Acoustic Zen Satoris in a bi-wire configuration confirmed my suspicions. The Jolidas steered the RM30s right into the zone, controlling them with aplomb. I was listening to a totally different presentation. Rich, creamy textures, fast attack and full bass, completely realistic mids, and crystalline highs all came out of the VMPS when the music called for it. The 3000A conveyed an energy that was a bit alien to my room. In some ways the combo produced some of the most precise music I've heard in this space. Grace and power. As I expected, the 211 tandem gain vales were a little quicker than a single 845, not quite as full-textured, but certainly much more powerful.
On to the music. The first cut I heard was Rickie Lee Jones "Ugly Man" from The Evening of My Best Day. A slightly unusual jazz waltz, I immediately picked up on the thinly-veiled political message behind the cut. Rickie Lee tracked-in her own harmonies, in her own style, and they translated to a rich vocal color. The 3000a let me pick out each line she sang, but also portrayed the complete cohesive chord. The flugelhorn solo sounded like... well... a flugelhorn. Fat compared to a trumpet, but not slow. Very distinctive, and easily recognizable.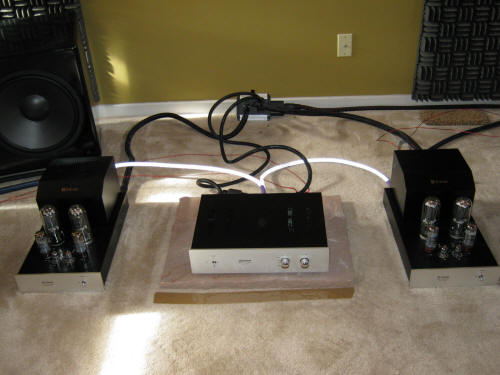 Craving something really dynamic, I dug out Heavy Weather from Weather Report and dropped the Shelter 501 on "Rhumba Mama". Alex Acuna and Manolo Badrena both sound like they have 8 hands on this barrage of percussion, and after listening again, I was even more amazed there were only two players—live. Voices, congas, timbales and a host of other latin percussion instruments rained down hard. Complex polyrhythms? This is not Radiohead's "In Rainbows". This is the real thing. Dynamics and transients were kick-you-in–the-face present. Fast, punchy and alive. Adrenaline spiked-up, I wanted more when the batterie attack suddenly finished.
Although I mostly loathe audiophile-approved recordings, I enjoyed some of the tracks on Eva Cassidy's Songbird. The title cut in particular. A well-recorded cover of the Fleetwood Mac hit, Eva had her way with this ballad, and it—damn I hate to say—took me into the proverbial goose-bump territory for a short time. Sadness, sorrow, melancholy, blue, they all came across—and left me a little shaken and contemplative.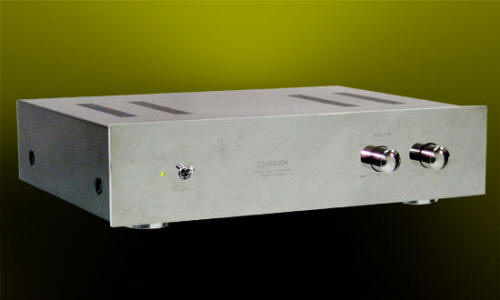 When I felt I had a handle on the character of the amplifiers, which to sum up was powerful and quick with that unmistakable tube exquisiteness, I put the 3000B preamplifier into the mix. The 3000B shares its cosmetics with some of Jolida's hybrid siblings; again, down-to-earth, functional, no audio jewelry. The front panel is uncomplicated: power switch, volume, and selector, including DVD, Tuner, Tape, and CD. The rear panel includes inputs labeled Aux, Tuner, Video, CD, and bypass. There are three sets of outputs, including one fixed at 1.8 volts, a dedicated grounding terminal, and an IEC power connector.
The 3000b seemed simple enough, and I wasn't going to be delving into any video applications, so I rotated the Jolida preamplifier into the spot normally reserved for my deHavilland UltraVerve. Not easy shoes to fill. The Jolida, based on 2 12AX7s and 2 12AT7s was a good mate with the 3000A—after all they were designed to work together. It changed the overall presentation of the system in a way that was immediately obvious. Being a little more polite than what I was used to, the Jolida had a pleasing, rich sound that was easy on the ears. Tonal qualities were slightly darker, dynamics excellent, and good response was apparent across the audible spectrum. The only down side was a very slight reduction in detail and sophistication. Granted, I'm comparing the Jolida against a preamplifier that is three and a half times as expensive, with an upgraded tube compliment. Fair? Maybe not, but this is the only comparison I could make. The 3000B did fine, and when I found out its retail is only $1K, I was even more impressed.
Lately I've discovered a new (latent?) affinity for Brahms symphonies. I recently bought a Brahms box set (among many other gems) featuring Claudio Abbado conducting several major European orchestras from my local vinyl dealer and serious music expert, David Sckolnik of Ala Carte productions. The guy sells some seriously great records. This particular quartet of Brahms symphonies has been spending a lot of time on my Scoutmaster. Yes, it's a Duetsche Grammpohone, but Abbado's interpretations sing to me. Although Johannes wrote only four of these works, I now think they stand as the greatest in this form after the great master of the immortal Ninth. Full of conflict and dramatic intensity, they include Classical tonal and structural traits, blended with melodic styles of the Romantic period. Early fusion?
Listening through the 3000a/b combo I heard the influence of Ludwig van on Johannes, together with 19th-century harmony and orchestration. The spirit of true romanticism and veneration for earlier works was obvious. All these compositions possessed an exceptionally individual character, with new innovations found in almost every movement—Brahms constantly introduces new features while adhering to an established foundation. I could feel this through the strong ensemble interplay that Abbado obviously used in his interpretation. The low frequency resolution combined with the defined transient attacks of the highs and a lovely natural mid range, communicated these works in a very fulfilling way.
Safe to say the 3000a/b combo gave me a good glimpse into the beauty of Brahms' soul—the fact that I could describe the presentation in musical terms as opposed to audiophile jargon give you an indication of what the Jolidas can do for you. You may think of this as a measure of transparency.
One complaint. A remote. My kingdom for a remote. Seriously, this combo is good enough to warrant a remote—and if you're lazy like me it's a requirement.
By and large I felt the amplifiers were on a higher plane than the preamplifier. Don't get me wrong—for $1 K I can't fault the preamplifier—it's just that the power amps stood out and were able to hold their own paired with a much more expensive preamplifier.
If you are into tubes, but require high current, the 3000As can foot your bill. I'm fairly confident they can drive just about any load. My suspicion is that Martin Logans or other electrostats/planars could certainly be a stellar combination.
Reliability was perfect throughout the long review period. Not one problem with either the amplifiers or the preamplifier
So, what kind of audiophile are you? Do you need the big, expensive names? Must your gear have a certain look? Or are you simply interested in getting great sound? If you are in the latter category, put the Jolidas on your short list for audition. Make no mistake, this company is still about value, but starting with the 3000A/Bs the line begins a journey into a higher realm of quality and reliability. Forbes did their homework. These amps took me by surprise and surpassed my expectations.
When I lived in New Zealand the locals had an expression for a job well done. It certainly applies here: Good on ya Jolida! John Zurek
JD 3000A amplifiers
Retail: $2750 each or $5500 for the pair
JD 3000B preamplifier
Retail: $1000
System with 2 JD 3000A amplifiers and JD 3000B preamplifier is $6000
Jolida
web address: www.jolida.com