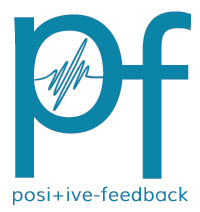 You are reading the older HTML site
Positive Feedback ISSUE
46

november/december
2009
Classica D'Oro
by Guido D. Corona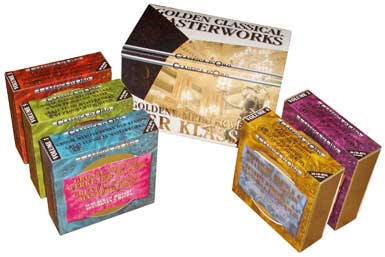 I am sometimes asked for meaningful discographic suggestions by music lovers curious about—or outrightly intrigued by—the classical music repertoire. How to create a basic classical music library for a novice, without falling into the pitfalls of flashy but ultimately irrelevant sonic spectaculars, which are often rendered by stylistically anachronistic orchestrations? How to avoid small scale collections of ill assorted fripperies—remember the "Karajan Bon-Bons" on DGG during the 1970s?—or the more recent theme-based anthologies of the "Most relaxing classics... Ever!" which are best relegated to serve elevator music duties. Even the more knowledgeable fan of the repertoire may-from time to time—wish to rebalance a personal classical collection which has grown somewhat mono-maniacally lopsided, giving preferential treatment to a few authors only, and showing inexplicable holes... Please do not look at me gentle reader, while I unashamedly sport just over 250 J. S. Bach CDs in my collection, the fact that until last week, I had absolutely no coverage for such giants as Hector Berlioz, Frantz List, Sergey Rachmaninoff, and Karl Orff is purely... ahem, immaterial.
I was thus delighted to discover that the rather massive 50 CD collection called Classica D'Oro, exclusively available in North America through May Audio, is far from an attempt to create the ultimate pastiche of musical irrelevance.
Rather, 5 volumes of mostly well chosen 10 CD each, explore the Western classical instrumental repertoire ranging in time from the early 18th century to the mid 20th century, with invariably relevant works, assembled into well compiled anthologies and monographic albums.
Budget priced at an attractive $179, the collection is packaged in a somewhat Spartan display carton, containing 5 volumes of 10 albums each, with individual CDs inserted into sturdy cardboard sleeves. My sole outward disappointment is that there is no booklet or liner notes in evidence in the set. The only information I could find on each album are the names of performers and individual track listings printed on the back of each sleeve.
Peter Iljitsch Tschaikowsky is very well represented in the set with a number of major works, like the Nutcracker Suite, the 5th Symphony, Sleeping Beauty, and the Romeo And Juliet Fantasy Overture—just to name a few. The Swan Lake suite in particular catches my attention on CD2 of the 3rd volume. The work is magnificently performed by the Symphony Orchestra under the baton of Alberto Lizzio. Very good engineering generates a convincing sound stage, solid and transparent instrument imaging, and ample dynamics matched by micro-dynamic subtlety. But sonic excellence by itself would be inadequate to render the poetry and emotional intensity of this major work by the late romantic Russian composer, without the clearly synergistic rapport existing between lizzio and the orchestra, who together bring us a Swan Lake that has passion, energy, rhythmic precision, combined with a soulfulness that bespeaks an internalized understanding of Tschaikowsky and his music.
Alexander Borodin's Polovtsian Dances performed by the Radio Symphony Orchestra of Ljubljana—the ancient capital of Slovenia—are conducted with verve by Lawrence Siegel on CD 7 of volume 3. The lesser known orchestra is more than up to the task and gives us a taught rendition of this famous suite from the Prince Igor opera. The dynamics are quite excellent, the orchestra well polished, and the sense of stage full and credible. On some CD players the recording may have a very slight tendency towards treble overpressure, but on the Esoteric X-01 Limited it sounds all together balanced and delightfully energetic.
My hope to discover a performance of Carmina Burana—a major hole in my extant CD library—does not go unfulfilled. The muscular oratorio for solo singers, mixed voice and children choir, together with its unique instrumental ensemble fills CD 1 in the 5th volume of this collection, where Kurt Prestel conducts the soprano Gerda Hartniann, tenor Richard Brunner, baritone Rudolf Knoll and the Salzburger Mozarteum Chor & Orchestra in a rousing performance. Rather than the more typical grand symphonic choir common of so many recordings, Prestel has chosen a chamber choir, where the perfectly well blended voices of this well tuned vocal ensemble can still maintain their individuality. The effect is of a grand performance that blends some of the best qualities of a large orchestral choral work with the pristine intimacy of a chamber piece. While the rousing tutti and the blaring brass fanfares convey all the majesty of O Fortuna, singers and instrumentalists reach us with a delightful soloistic clarity in the softer and often jocular episodes, mercifully sung in the original Church Latin and old German, so not to offend any 21st century neo-traditionalist sensitivities with the frolicsome divertissements of a wayward Medieval monastery.
Dubravka Tomsic brings us a classic interpretation of 3 major piano sonatas by Ludwig Van Beethoven on CD 3 of volume 5. She eschews facile sentimentality in favor of a presentation that hearkens to the classical style and the coruscated proto-romanticism of Sturm und Drang. The ever famous 1st movement of the Moonnlight sonata Op. 27B is serene and measured, with just the right touch of soft dynamics and the slightest concession to wistful ritardando. The muted piano resonances are suggestive of a Petrof grand piano. Yet, the balance of her selections seems to have been performed on a more resonant instrument, perhaps a Bechstein? Following the Moonnlight, the Waldstein sonata Op. 53 is one of my greatest piano favorites. Tomsic takes it at a slightly faster clip than my Alfred Brendel reference performance. The result is an agile yet shimmering rendition, perhaps more in common with Rudolf Buchbinder's. The recording quality itself is quite good if not spectacular. The miking is fairly close, and the result suggests a relatively small and well dampened venue.
Antonin Dvorak's masterly Symphony No. 9 Opus 95 (From The New World) is my only significant disappointment. The recording technique is collagistic at best. Phrases seem to have been spliced together in the studio, helter-skelter, with opaque silences in lieu of musical pauses, where no signal is heard from the venue. An inspired execution of the allegro molto section of the 1st movement is offset by an extremely disappointing largo 2nd movement, where the brass section seems to be sleeping on the job, and the English horn solo is perhaps performed by a Balcanic pastoral ancestor of the modern English horn, and is sadly reminiscent of the bleating lament of an old Italian piffero.
I fully recover from my vorakian disappointment as soon as I insert CD 9 from the same volume: Anton Bruckner Symphony No. 4 (Romantische) sounds majestic, beautifully performed by the Austrian Radio Symphony under the symbiotic direction of Milan Horvat. The performance has all that passion, drive, precision, gravitas—and what is even more important perfect musical and cultural understanding—that I usually associate with only the most well known orchestra/conductor teams. The technical aspects of the recording are excellent. The recording engineer projects a solid sound stage of very realistic proportions in my listening room. Instrumental sections are placed correctly in the 3 dimensions. Woodwinds do not seem to suddenly rush front-stage during solo passages, but are anchored to their correct spatial perspective. The brass choirs are massive and powerful, yet their cuivre never breaks into tinny shrillness. The transparency of the recording allows Bruckner's complexity of orchestration to emerge, as subtle melodic lines of usually hidden instrumental voices in the easily far too under-appreciated middle range reveal themselves in sudden and especially delightful moments.
Volume 4 of the collection is mostly dedicated to the baroque repertoire, with the occasional excursion into later styles. Some of the most beloved works of the 18 century are present: J. S. Bach's Brandenburg concertos No. 1, 2, and 3, Antonio Vivaldi's ever popular concertos from Il Cimento Dell'Armonia E Dell' Invenzione, commonly known as The 4 Seasons, and George Frideric Handel's Music For the Royal Fireworks, just to name a few. Yet, attracted as usual by the solo repertoire and perhaps by old personal memories, my attention falls on CD 8 and 9, where I discover fine performances of Handel's Concerto for string and organ Op. 7 No. 4, and of the Oboe concerto in D from Alessandro Marcello's Op. 1 in D minor, performed here with heartfelt sensitivity by Emanuel Abbubl together with the < Strings of Zurich under Howard Griffiths. The slow movement of the oboe concerto in particular is lyrical and expansive. Abbubl gives a nuanced interpretation, where a measured used of vibrato, of controlled agogic and dynamic means, create an emotional intensity which brings back that wistful memory of when—still a lad of 16—I heard the work live in concert for the first time in a small town north of Milano, and sitting in 1st row next to my Dad, promptly fell into tears.
Not at all surprisingly, the well known Capella Istropolitana of Naxosian memory, under the capable direction of Paul Kantschieder, and with Harald Feller at the single keyboard of what is likely a very spritely positif pipe organ, brings us George Frideric Handel's Organ concerto Op. 7 No. 4, in a performance whose allegros are refreshing, crisp, and rhythmically energetic, and whose slow movements are delicately transparent and airy, into a technically excellent recording that is more than apt to the task. The organ solo in the 1st movement in particular reveals the subtlety of overtones from the compact pipe instrument, playing with a gentle vibrato register, which appears to have been forged correctly by matching two almost identical ranks of pipes, artfully out of tune by less than 1Hz.
Having received this diamond in the rough only several days ago, and with the deadline for this draft only a few hours away, I sadly need to curtail my exploration of what appears to be a delightful goldmine of well known—and sometimes not so well known-classics. While just a few albums in Classica D'Oro have been disappointing, and may have value mostly as ethno-musicological documents, a large number of these CD reissues are at a fine technical level, and offer very good to excellent musical value, while more than a few of them are simply magnificent finds for every personal library of recorded music.
But... my editor is looking impatiently at the clock during this afternoon of October 31st. He appears not to be terribly mollified by the sad fact that I have not yet had the time to listen to and report about Hector Berlioz's Symphonie Fantastique, nor to far too many other important works. I intend to deliver this review in time for PFO's Christmas 2009 issue, as Classica D'Oro will make a very nice present under many musical Christmas trees.
Classica Doro, 50 Redbook CD set. Catalog/UPC: 619929117824. May Audio
Price: $179 USD.
May Audio Marketing, Inc.
2150 Liberty Drive, Unit 7,
Niagara Fall, NY
14304-4517, USA
Phone: (800) 554-4517 / (716) 283-4434