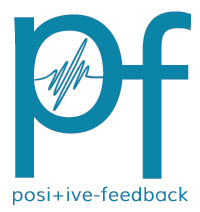 You are reading the older HTML site
Positive Feedback ISSUE
46

november/december
2009
Notes of an Amateur, November, 2009. Part 2
by Bob Neill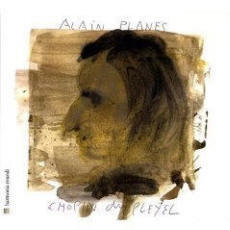 Chopin Chez Pleyel, Alain Planes, piano, Harmonia Mundi HMC 902052.
Alain Planes' principal virtue as a musician is that he makes the composers he plays sound like themselves, which may sound like faint praise until you discover for yourself that every composer seems to sound better under his hands. He releases composers' specific and original genius from the influence and stamp of the musicians interpreting them. Great actors become their characters, 'stars' always play themselves.
We have all heard Chopin all of our lives: from adolescent pianists at class recitals to virtuoso professional musicians in their concert debuts. But I have come to believe that we have not heard him until we hear Planes play him. We have not heard the passionate romantic under such masterful control. Planes' Chopin is the Chopin responsible for the myth of Chopin. He plays the Chopin who made such an enormous impression on audiences (and composers) of his time. Emotional power and extraordinary technical virtuosity and control in place of the flamboyant melodrama we so often hear. Some others have tried to oppose the usual sentimentality with an overt show of discipline. But as interesting as this correction can sound, it loses the romantic who is at the core of Chopin.
This album is a fine way to meet Planes' Chopin. He has recreated one of the composer's few 'live' recitals, played at the Salons Pleyel in 1842. The program combines preludes, mazurkas, etudes, nocturnes, a ballade, mazurkas, an impromptu, and the Grand Valse. He gives each work its own life and makes us want more. Let's hope Harmonia Mundi give us more.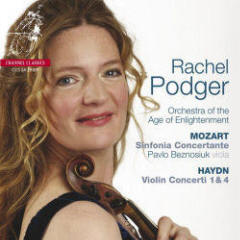 Rachel Podger (violin) Mozart, Sinfonia Concertante; Haydn, Violin Concertos #1 and #4. Pavlo Beznosiuk (viola). Orchestra of the Age of Enlightenment. Channel Classics
Where does Rachel Podger fit onto the crowded stage of solo early music violinists that we should pay attention to her recordings of standard repertoire already well represented by so many others? What does she bring to the table? Is there anything essential missing from the others?
Some of us have followed her through her early years on Linn Records with the Paladian Ensemble, which she established in the mid/late 1990's; to the English Concert where she was concert master for Trevor Pinnock and made a recording with Andrew Manze of Bach's Concerto for Two Violins for Harmonia Mundi; and finally to Channel Classics, picked up by nobody's fool, Jared Sacks, where she founded a new chamber group, Florilegium and became what she is today, the label's house early music violin soloist and star. Why do we follow her? We noticed early on a unique sense of emotional energy. Unique: one of a kind. Present at the start but now both full blown and mature: pure brio, but which never seems to spill over.
Her first solo ventures for Channel Classics were recordings of the solo Bach Partitas and Sonatas, which are easily the most forceful, meaty, and spirited Bach recordings we have. They were followed within a year by a comparably exciting CD of Bach's Sonatas for Violin and Harpsichord with Trevor Pinnock. In 2004, she began a series of Mozart's Piano and Violin Sonatas, just now complete, in which her characteristic energy came as a surprise to most of us accustomed to elegance and refinement in this music. Podger's Mozart sonatas are sensuous and even a bit earthy. Her swells in the slow movements call up the Mozart of Amoedeus, the fast movements are vigorous and passionate, but also dance-like. As Pinnock has noted, even in the midst of her energetic whirls and riffs, she is always marvelously under control.
"She's a stunning musician," counters Pinnock. "She has a wonderful fluency in the way that she plays the instrument. It's a very natural approach, which is so lovely because her being and her music seem so well connected. But this natural approach is underpinned by a tremendous sense of the structure and architecture of the music. I think it's that sense of structure which gives her the amount of freedom that she has."
Nobody I know gets this blend of eloquence and energy so right. And around this same time came her Vivaldi's La Stravaganza, many peoples' favorite baroque concerto album, a guaranteed show stopper at audio shows when the crowd has finally tired of the pyrotechnics of demo recordings. This is the album that confirmed for many that she was not going to compromise her approach as she achieved a degree of fame; and that it is an inspired one that takes you back to the music with new enthusiasm and new ideas about what this music really is.
With this history in my head, especially the developing Mozart sonata cycle, I was eager to hear Podger's latest release, not just the much loved Mozart, Concertante, which is the album's centerpiece, but also the surprisingly little known Haydn violin concertos. And the news is all good. The Concertante is delicious. Pavlo Beznosiuk and his viola are perfect partners for Podger in this work, providing a firm alto voice for her to dance with and then soar above. Their dialogue in the slower and quieter middle movement Andante calls up the amorousness of the Adagio she plays with Manze in the Bach concerto. Her playing here is as beautiful as I've heard from her. Unlike the sonatas, which take on new life from her vigorous approach, the Concertante wants more polish and elegance and get it. The two Haydn concertos are given their best performance in my memory. The Orchestra of the Enlightenment, which she leads with her bow, are clearly lifted by her energy and fly along with her. Together they may have brought both concertos back into the solo performance repertoire for good.
This is easily one of the best albums of the year.
If you want to hear and see Podger and Beznosiuk play and chat about the Concertainte, here's a video I just found on Youtube: http://www.youtube.com/watch?v=tScWu5YnF7o.
>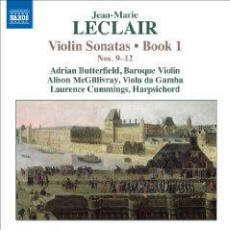 Jean Marie Leclair, Violin Sonatas, Book 1, Nos. 9-12. Adrian Butterfield, baroque violin; Alison McGillivray, viola da gamba; Laurence Cummings, harpsichord. Naxos 570890.
I would like to know more about how violin music of the late renaissance and baroque found its way to North America. But as a lover of fiddle music of the Atlantic provinces and as someone who has always been drawn to the simple eloquence of Jean Marie Leclair's violin sonatas, I can at least feel the history I don't know about. Leclair is not folklike, which would make the connection obvious; but his spirit is rural and infectious. When I asked the violinist and pianist who performed at my wedding reception if they knew and would play some Leclair, they smiled enthusiastically, prepared two sonatas, and played them with a delight that in retrospect clearly got us off to the right start.
The four sonatas in this set conclude a three-CD series of the composer's Book I, music written around 1723, near the beginning of his career. All three musicians get the spirit of the music admirably well. Both McGillivray and Cummings are established in the field. McGillivray has played with most of the English early music ensembles, most recently with John Eliot Gardiner's English Baroque Soloists in the Bach Cantata cycle. Cummings has recorded one of the very best albums of the keyboard music of Couperin (for Naxos). Butterfield is new to me but seems very fine. This music would lose much of its 'natural' appeal played with excessive virtuosity and Butterfield avoids that nicely. If want more flair in your Leclair you'll have to seek out Fabio Biondi on Arcana.
The acoustic of this recording is a bit dry which suits the music's character, by intention or not.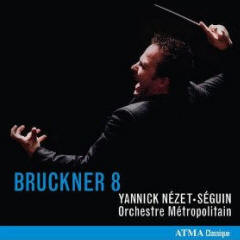 Bruckner 8. Yannick Nezet-Seguin, Orchestre Metropolitain. ATMA- Classique ACD2-2513.
What happens to Bruckner's Eighth if you play it quieter, more beautifully, and with less dynamic contrast? Unlike, for example, the way Gunter Wand, the definitive Bruckner conductor, plays him. Well, for one thing, it makes the path to Mahler easier to follow. For another, the overall effect becomes more meditative and visionary and less epic/heroic. And finally, it forces your audience to make an adjustment if Wand is their man.
I was impressed by Nezet-Seguin's Bruckner 9 a year ago (http://www.positive-feedback.com/Issue40/amateur2.htm) and his Eighth is recognizably from the same cloth. What I noticed in this Eighth immediately was the beauty of both the music and the sound of the orchestra. Rereading what I wrote about the Ninth, there is no sign of the darkness I heard there in this performance of the Eighthówe are told the Eighth was written during a good time for the composer. But the sense of Mahler looming in the future that I noted in the Ninth is present in this one too. Either it's there in the music and most other conductors choose not to hear it, or it's something that Nezet-Seguin is bringing to it with imaginative hindsight. I also noticed that if you're not attentive, this Eighth can slip by unattended! We are used to lots of drama in Bruckner, I could say too much. And playing him the traditional loud and stentorian way does tend to keep audiences awake for the hour and a half (!) the symphony takes to play. But to my ears, which prior to hearing Nezet-Seguin's Ninth were never excited by the prospect of spending that long with this composer, this approach is mind-bendingly successful.
Far be it for me to wave the great Wand off the stage. His Bruckner Eighth is the stuff of heroes and Wagnerian drama. And one could make a scholarly case that Wand's Bruckner is closer to what Bruckner imagined he was writing. But if you want to hear a different and arguably more interesting view of Bruckner that has an eye to the broader sweep of nineteenth century music history, try this recording. It's very fine stuff.
Systems used for this audition: Audio Note CDT3 transport and Dac 4.1 Balanced Signature. Blue Circle FtTH hybrid integrated amplifier. Jean Marie Reynaud Duet/Bliss and Offrande Supreme loudspeakers. With Blue Circle BC6000 line conditioner. Audio Note Pallas and Sogon interconnects; Audio Note Lexus speaker cables.
Bob Neill, in addition to being an occasional equipment and regular music reviewer for Positive- Feedback Online, is also proprietor of Amherst Audio in Amherst, Massachusetts, which sells equipment from Audio Note, Blue Circle, and JM Reynaud, among others.