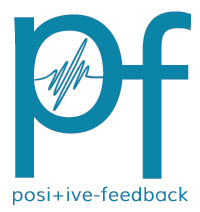 You are reading the older HTML site
Positive Feedback ISSUE
46

november/december
2009
Notes of an Amateur, November, 2009. Part 1
by Bob Neill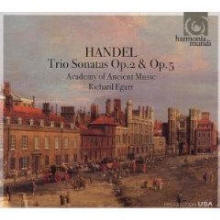 Handel, Trio Sonatas, Opus 2 and Opus 5. Academy of Ancient Music, Richard Egarr, director. Harmonia Mundi HM 907467/68.
If you remember the review back in 2007 (http://www.positive-feedback.com/Issue29/amateur_feb2.htm) of Egar'rs performance of Handel's Opus 3 Concerti Grossi, you'll have a good idea of what to expect from this set of the composer's much loved chamber music: lively enough but with a premium on beauty rather than verve. This is expressly Egar's favorite baroque music for small groups, preferred even over both its primary influence, Corelli's Opus 5 sonatas, and over Telemann's ("very different") Paris Quartets, which he admires almost as much. Clearly what he is drawn to in Handel is his 'long line.' There is a sonorous, prosy beauty to the composer's slower movements and even implied in the quicker ones, that can be irresistible, and that's what Egarr goes after.
Handel is a poetic genius and it is in this early music for small forces that his lyricism is most evident and in which Egar's chief virtue really comes out. More ebullience, a more sprightly pace, is not what these pieces ask for. It is also a blessing that Paulo Beznosiuk is now the lead violinist rather than Andrew Manze, who has moved on to direct the English Concert. Egarr made a handful of recordings of sonatas with Manze (Handel, Corelli, Mozart, Pandolfi, Rebel), which for all their verve were long on instruction and short on delight. Beznosiuk is a less virtuosic but more tonally attractive violinist. He and his performing partner, violinist Rodolfo Richter, are placed opposite each other in this recording to dramatize the musical dialog Handel sets up for them and it works wonderfully.
In trying to place this music, we don't have to agree with Egarr about Handel being preferable to Corelli. Corelli's Opus 5 is less refined, less suave, less fluid, more emotionally turgid. His sonatas are more rural, less courtly—less beautiful; but I find them appealing for their natural vigor. And then there are the sonatas of Handel's contemporary and Corelli's Italian successor, Vivaldi. Vivaldi wrote a great many more than either, no surprise there. His sonatas are more refined than Corelli's and more flamboyant and virtuosic than Handel's. They are also less distinctive and memorable as individual works.
The world of small baroque chamber sonatas affords a highly focused and rewarding look into what makes this musical period so attractive to many of us. The lack of orchestral fullness, even the amount provided by a chamber orchestra, can be an asset if you love the bitter sweet texture of individual stringed instruments.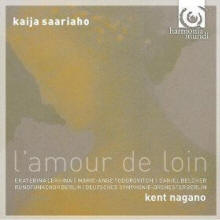 Saariaho, L'Amour de Loin, Deutsches Symphonie-Orchester Berlin, Nagano, conductor. Harmonia Mundi HMC 801927/38. SACD.
To begin with, L'Amour de Loin, (love from afar) is more of an extended lyric and dramatic poem set to music than any opera you have likely heard. The 'narrative' amounts to a troubadour prince in his castle in Aquitaine (southwestern France) imagining an ideal woman far east and across the Mediterranean in Tripoli who turns out to be a real countess, writing lyrics about her (which a pilgrim go-between recites to her), sailing to actually see her, and dying in her arms. Sorry to spoil it for you, but as a story it is a thousand years old. No suspense is needed once you realize what story you're in. It is the story of the essence of passionate ideal love and what occurs when we try to bring it into the real world. This kind of love depends on distance, otherness, inaccessibility to maintain its extraordinary power.
What makes this particular telling of the story unusual is that it includes the point of view of the woman who is idealized as well as the adoring man. Perhaps that is its modernism. She is properly frightened but eventually moved and overcome by the troubadour's eloquent ardor. This doesn't change the story, of course. The untruthful, romantic version of the story is a whole other thing, found primarily in popular romances.
We don't listen to this story to hear how it comes out, we listen to immerse ourselves once again in the beauty of its tragic truth. To take part in the ceremony it rehearses. And so each telling depends on artistic power to to hold us. There is nothing else. So, does Saariaho's telling have the power?
The libretto is critical—you really have to follow it the first time through to appreciate the subtlety both librettist and composer bring to their telling. (If you know French, you're ahead of the game.) As I say, the root of the tale is nearly a thousand years old - there are periodic musical hints and references to its eleventh and twelfth century origins. But in literary tone and most of the music, especially the instrumental interludes and scene settings, this is a thoroughly modern work. All three voices—troubadour, countess, and pilgrim go-between—are very fine. Soprano Ekaterina Lekhina has a transcendent upper range, baritone Daniel Belcher is delicious all around.
The use of an intermediary pilgrim, who plants the idea in the mind of the troubadour that his imaginary women may in fact exist far to the East and who informs the countess that a troubadour is singing songs of her in the West, is a fascinating new wrinkle to the tale, so far as I know. In a sense he is the love potion found in the Tristan and Isolde version of the tale. Saariaho assigns the role to a contralto rather than a male voice, moving him/her into a less clearly defined space and writes music for her characterized by a coy, seductive rationality. Is the pilgrim a true tempter or just an innocent enabler upon whose bare descriptive hints the adorer and adored imaginatively construct their love?
Both 'lovers' are unhappy in their lives, the man sated with an indulgent life, the woman nostalgic for her ancestral home, as it turns out, in Toulouse (also in southwestern France). Both are ripe for imaginary escape. And the music of each, the man's bold, ardent; the woman's mystical, meditative, mercurial, builds the quality of the tale eloquently.
You really must give yourself over to this music to be moved by it. It is a musical world that, like a meditative state of mind, must be entered. Our lives are built of transient doing and less time-conscious being, less of the latter because it is hard to keep more insistent doing in its place. Many of us turn to the arts as an aid to being, music especially. And both renaissance and contemporary modern music strive particularly toward representations of being. Once thoroughly into this work, it is uncanny how we can be transported by it. It seeks to explore and express the experience of adoring and being adored more than it aims to tell a tale. Or the tale is the experience.
L'Amour de Loin is not so inhospitably modernist as much of its composer's other music. It reveals the musical origins of its story's early renaissance time with great eloquence and, in a sense, renews them. But it is a new, modern music-scape. It is also almost entirely aural: I can't imagine what could be gained by staging it. Tread carefully if you are not already a fan of classical vocal music. But if you are, I expect you will find this an extraordinary work.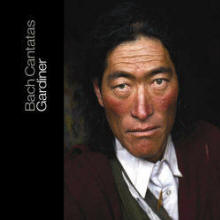 Bach Cantatas. John Eliot Gardiner, Volume 9. Monteverdi Choir, English Baroque Soloists. Soli Deo Gloria SDG 159.
No Bach Cantata cycle I've heard can stop me dead in my tracks the way this one can. It flows along and then suddenly time stops; and something unutterably beautiful enters the room. The less than a minute long choral movement that concludes BWV 169, for example. As soon as you realize that something nearly unearthly is going on, it's over. It's as if Grace itself has passed briefly by. There are more than the usual number of such moments in this album of seven cantatas and one a capella chorale which is allegedly the last work composed by Bach. And while Bach is responsible for all of these moments, of course, Gardiner and his people are the immediate cause of their incarnation into audible life.
As this great cycle proceeds, I frequently find myself asking, What new can I say that will make saying anything at all worthwhile? What can I point to that will help get these perfect performances and recordings in front of more of you? Moments like these, moments in which, as Eliot says, time and eternity seem to intersect, are something very few performances of this music can accomplish. How's that?
The volume is Number 9, the catalog number is SDG 159. There is the face of a Middle or South American man on the cover shown at the head of this review note. Go find it!
Systems used for this audition: Audio Note CDT3 transport and Dac 4.1 Balanced Signature. Audio Note M6 preamplifier and Neiro monoblocks. Audio Note E/SPe HE speakers. Audio Note Pallas and Sootto interconnects; Audio Note Sogon speaker cables.
Bob Neill, in addition to being an occasional equipment and regular music reviewer for Positive- Feedback Online, is also proprietor of Amherst Audio in Amherst, Massachusetts, which sells equipment from Audio Note, Blue Circle, and JM Reynaud, among others.