In PFO Issue 43, I wrote about Teresonic's Clarison Silver interconnect cables. These cables were extremely good sounding, providing an excellent soundstage, neutral tonal range, and exceptional midrange clarity.
I have recently been listening to a three meter pair of Teresonic's Clarison Speaker cables and have found them to offer the very same strengths—sound staging with excellent width and depth; strong bass performance; very good detail; and an open and spacious midrange.
Description
Each channel of the Clarison Speaker cables utilizes two individual wires, one positive and one negative. They are covered with what appears to be the same black PVC spiral outer covering that is on the interconnect cabling. These cables are also shielded and consist of twisted oxygen-free, pure copper wires. This results in a cable that is fairly slim and very flexible.
The cables I listened to had WBT spade connectors at the amplifier end and very good quality banana plugs for attachment to the MG1.6s. A pair of Clarison Speaker cables sells for $1485. I listened to these cables with my Magneplanar MG1.6 speakers, DH Labs Revelation interconnect cables, and both my Rogue 90 stereo amplifier and Korato's Anniversary amp, which was still here.
Listening
I listened to these cables first with the Korato Anniversary amplifier. First impressions were of a cable that offers a very large soundstage, excellent bass, and good performance over the rest of the frequency range. Initially, the Clarison cable seemed to lack detail but, with extended listening, the detail clearly improved. During the time I used the Korato, the Clarison cables continued to improve sonically but did not reach their full potential until I was listening with my Rogue 90 amplifier. I considered substituting the Korato back into the system for some follow-up listening, but my back vetoed the idea.
Bill Charlap's Live at the Village Vanguard CD (Blue Note 7243 5 97044 2 5) is beautifully played and very well recorded. Track 6, "Paper Moon," is exceptionally beautiful even within the context of the other tracks. Charlap's playing here is sensual and emotional, turning the piano into a vocal instrument that wrings every nuance of meaning from the notes being played upon it. It is an exceptional performance and the live audience responds just as emotionally at the end of it. Their applause sounds real and startlingly informative as to the actual dimensions of the recording venue. Subtle inflections from the upright bass have nice weight and detail as well.
The only negative regarding this CD sonically concerns the wire brushes stroking the snare drum in the right channel. They are recorded too far forward and high in volume, rendering them somewhat distracting, at least in my opinion. They end up competing with the piano performance instead of supporting it. The Clarison speaker cables, however, clearly reveal this sound as that of metal wires on a taut drum skin. So while it is intrusive, it is clearly part of the musical performance, not some unrelated, invasive white noise. The emotional quality of the music is never disrupted as a result.
Cat Power's Covers CD (OLE 426-2) features her voice with minimal instrumentation and, on some tracks, limited intelligibility. (Although she still has a ways to go to equal Rickie Lee Jones in this regard.) Still, her music making is compelling and affecting as it unravels and expands outward from a compacted inner center.
The sound quality of this CD is very good with excellent atmosphere enveloping her voice. Guitar, piano, and even zither occupy tangible locations within the soundstage. There is subtle reverb around her voice on Track 8, "Red Apples" that is very clearly reproduced by the Clarison cables. Overall, Ms. Power's voice is big, clear, realistic, and very much in the room with the listener.
Interestingly, Shirley Horn's CD, Loving You (Verve 314 537 022-2) has a great deal in common with Cat Power's recording. Both performances feature female singers with minimal instrumental support. And both singers depend upon the strength of their vocal performances to convey the emotional content of the heavily emotional songs chosen for inclusion on the CD.
Like Cat Power, Shirley Horn's voice is beautifully reproduced by the Clarison cables. It is rich, detailed, equally atmospheric, emotionally charged, and ultimately very realistic. The introduction to track 2 on the CD, "The Man You Were" features some subtle hand drumming that appears out of a black silence at various places in the soundstage. This is reproduced very realistically and serves as a reminder as to how well the Clarison cables handle soundstaging. Shirley's voice is not quite as large nor does she sound quite as far forward in the soundstage as Cat Power's does on her CD. Knowing nothing about Shirley Horn, and only hearing her voice on this recording, you would have no doubt that the singer was a woman of a certain age, worldly, and somewhat world-weary but who is still capable of viewing the world with a realistic amount of optimism. This information does not leap out of the recording but builds subtly as each song tells its own story. A wonderful CD both sonically and musically.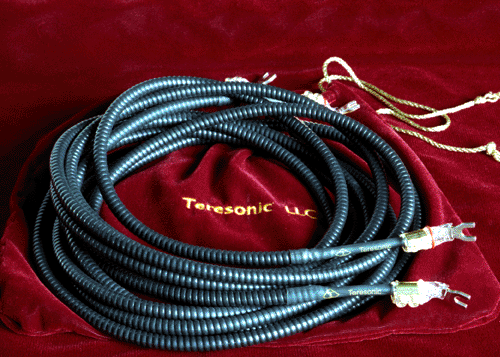 The Seven Last Words of Christ performed by the Rosamunde Quartet (ECM New Series 1756) filled my listening room with some of the loveliest string sounds I have experienced. This gorgeous string quartet performance balances passages of fragile delicacy from the violins with substantial underpinning from the cello. The soundstage offered excellent separation of the four instruments, making it possible to follow any one of them pretty much at will. The strings were lustrous and natural with very good extension.
Coronation Anthems performed by Harry Christophers and the Sixteen is simply spectacular. The soundstage is huge, vocals are gorgeous and surprisingly intelligible, and the Organ Concerto in F Major, Opus 4, rings with lovely reverberation in the very well reproduced space of St. Paul's Church in London. An incredibly wonderful performance. (CORO COR 16066)
The Melody of Rhythm, Triple Concerto & Music for Trio, composed and performed by Bela Fleck, Zakir Hussain, and Edgar Meyer with the Detroit Symphony Orchestra and Leonard Slatkin is definitely distinctive. Actually, for anyone who has been listening to Edgar Meyer's associations over the past decade or so with Joshua Bell, YoYo Ma, Mark O'Connor and other musicians, this composition does not come as any surprise but is definitely much more ambitious and larger in scale than previous efforts. The second movement of Melody of Rhythm is the first to involve the larger orchestra. (The first movement features just the three solo instruments.) It opens with the three solo instruments—drums, banjo, and bass violin—playing off of each other. These instruments are clearly defined in the soundstage and have an immediacy to their sound that I found very appealing. When the orchestra joins in, however, the soundstage opens up spectacularly from side to side and to the rear to reveal a space much larger than suggested by the playing of the soloists. The Clarison cables did an excellent job of locating solo instruments within the larger orchestra and revealing all that is happening behind the three soloists.
I am not a music critic, and while I enjoyed this recording, I found the entry of the orchestra both exciting and essential to keep this music from becoming simply repetitious. Personally, I would have liked more orchestra and less drumming but that's my opinion. I'm going to have to listen to this a few more times before I feel totally comfortable as to my final opinion of it. (E1 Music KDC-CD-2024). The Clarison cables gave me everything I could have asked for on all of these recordings.
As always, I listened to great deal of other music as well; the new Willie Nelson CD, America Classic, for example, is very enjoyable, if exactly what you expect it to be. With all of them, the Clarison cables never failed to be musical, spacious, and enjoyable.
Comparison Listening
I also have a pair of Supra Sword 3.0 speaker cables available to me. These cables sell for $1105, making them an appealing match for comparison purposes.
While these two cables differ in actual construction, they have some interesting similarities. Both use very high quality copper wire and PVC insulation. Although the Supra wires are attached to each other, each channel could easily be separated if the listener chose to do so.
The differences between the two cables are not immense by any means but proved to be fairly consistent over numerous recordings. The Clarison Speaker cables tended to offer a slightly wider soundstage. Vocals had the same sort of smoothness I heard with the interconnect cables. I could not detect any loss of detail to this slightly smoother presentation. The Supra Sword 3.0 cables were slightly less forward and, by comparison, slightly less smooth. While these characteristics were fairly consistent, I need to emphasize that there were some recordings where these tendencies did not apply or even changed roles between the cables.
Conclusion
The Teresonic Clarison cables are very good sounding and exhibit a number of substantial strengths. They are very open and spacious; male and female vocals are beautifully rendered. Objects in the soundstage are very well focused and notably tangible. Bass performance is excellent. Anyone looking at speaker cables in the $1500 range should definitely put the Teresonic Clarison Speaker cables on their short list. I feel very confident that that they will impress in all the areas I have mentioned but also with their remarkable musicality. Teresonic offers a 30 day home trial with its cables. You don't have to take my word for their sound, you can hear for yourself with your own components. Bear in mind, however, that these cables need to be fully broken-in to hear the full benefit of what they can bring to your audio system. Kent Johnson
Clarison Speaker Cables
Retail: 3m pair $1485
Teresonic
1215 Fiddlers Green
San Jose, CA 95125
TEL: 877-287-1649
web address: www.teresonic.com
email address: mike@teresonic.com