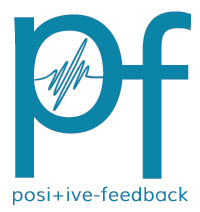 You are reading the older HTML site
Positive Feedback ISSUE
45

september/october 2009
New SACDs from Mariinsky, PentaTone and BSO Classics
by Teresa Goodwin
This months offerings include Russian orchestral music performed by three Russian orchestras including a tale of two Hamlets. Plus a comparison of BSO's SACDs and 24 Bit 88.2kHz downloads. All reviews are of the 2 channel stereo high resolution DSD layer.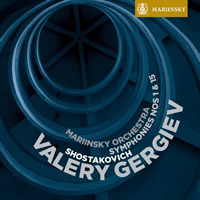 Shostakovich: Symphony No. 1, Symphony No. 15
Valery Gergiev, Mariinsky Orchestra. Recorded July 18, 20 & 25, 2008 in Mariinsky Concert Hall, St. Petersburg, Russia. James Mallinson (producer), John Newton and Dirk Sobotka (recording engineers). Stereo/Multichannel Hybrid SACD - DSD recorded. Mariinsky MAR0502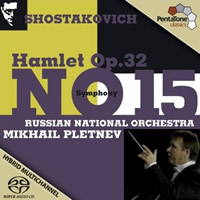 Shostakovich: Symphony No. 15, Hamlet (Incidental Music) Op. 32
Mikhail Pletnev, Russian National Orchestra. Recorded March 2008 in DZZ Studio 5, Moscow, Russia. Job Maarse, Rick Walker (producers), Erdo Groot (balance engineer), and Roger de Schot (recording engineer). Stereo/Multichannel Hybrid SACD - DSD recorded. PentaTone Classics PTC 5186 331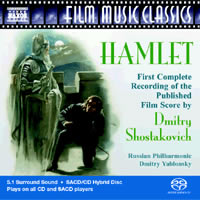 Shostakovich: Hamlet, Music for the 1964 Film, Op. 116/116a
Dmitry Yablonsky, Russian Philharmonic Orchestra. Recorded February 6 &14, 2003 in Studio 5, Russian State TV & Radio Company KULTURA, Moscow, Recorded, edited & mastered using Pyramix by Merging Technologies. Lubov Doronina (producer), Alexander Karasev and Dmitry Missailov (sound engineers). Stereo/Multichannel Hybrid SACD. Naxos 6.110062
The Symphonies
The superb Mariinsky SACD offers the most realistic percussion and the feeling of being in a concert hall I've heard yet. Indeed the woodblocks in Symphony No. 15 sound like I have only heard live. The high frequency "shimmer" in the high percussion instruments was unbelievable and very lifelike! The strings were silky smooth, and winds and brass had beautiful tone with lots of bite. The imaging and soundstaging were excellent. In many ways it sounded like a great analog real time duplicated reel to reel tape without the tape hiss of course, in other ways it was even better! This might just be the most realistic commercial recording on the planet. Valery Gergiev and the Mariinsky Orchestra performances of both symphonies are perfect and very well may be definitive. In Symphony No. 15 Shostakovich's quotes of Rossini's William Tell Overture and Wagner are played to great effect.
By contrast the PentaTone SACD is a little of a sonic disappointment, I went through the booklet and found nothing about how it was recorded. Unlike my other PentaTones it does not say it was recorded by Polyhymnia and it was recorded in a studio instead of a concert hall. I was assured by an industry insider that it is indeed DSD recorded. The PentaTone has deeper bass than the above Mariinsky but not as much impact, overall the sound is excellent but just not up to the extremely high standards of my other PentaTone's most of which are recorded in concert halls.
Mikhail Pletnev and the Russian National Orchestra turn in a very good performance of the 15th symphony which is a notch below the version in my reference Capriccio SACD set of Shostakovich's complete Symphonies with Dmitrij Kitajenko conducting the Gürzenich-Orchester Köln, however the performance is slower than the above possibly definitive Mariinsky and not nearly as exciting.
A tale of Two Hamlets
The above PentaTone SACD also has an "edited" suite of the incidental music of Nikolay Akimov's notorious production of Hamlet which presented it as a farcical comedy following the prince's cynical attempts to gain the crown. It was written in 1932 with the opus number 32. Pletnev's selection includes eleven numbers, with five deleted from the original suite, three added from the incidental music and one added from the 1954 stage production, the reason being to make the selections more suited to the classic story-line of Hamlet.
The Naxos SACD is the first complete recording of the published film score from 1964 of the Grigori Kozintsev production with the opus numbers 116/116a.
The two Hamlet's are nothing whatsoever alike and are indeed two diametrically opposed views, the 1964 film music is darker, more exciting and sounds more like the Shostakovich we all love. Even the occasional use of harpsichord in the 1964 film music sounds more modern than the early 1931 incidental music. The contrasts of two works on the same subject by the same composer could not be greater. I find the 1964 film music to be the superior work.
The Naxos SACD is a great recording and doesn't sound like a normal Naxos recording. It does still have a slightly cool sound but not really cold like other Naxos SACDs. However it is one of the most exciting recordings I've heard and the percussion has impact like one usually only hears live. Maximum goosebumps abound.
This was recorded using Pyramix by Merging Technologies. I searched their website and discovered that Pyramix can record any resolution of PCM up to 192kHz, native DSD and DXD. This does not sound as warm as the DSD recordings I have so I am believe it is high resolution PCM.
BSO's SACDs and 24 Bit 88.2kHz downloads.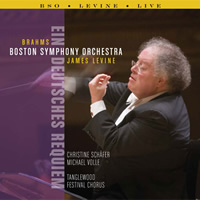 Brahms: Ein deutsches Requiem (A German Requiem) Op. 45
Christine Schäfer (soprano) Michael Volle (baritone). James Levine, Boston Symphony Orchestra and Tanglewood Festival Chorus. Physical Format: Stereo/Multichannel Hybrid SACD - DSD recorded. Download: Stereo/Multichannel 24 Bit 88.2kHz PCM. BSO Classics 0901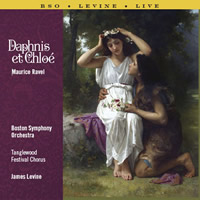 Ravel: Daphnis et Chloé (complete)
James Levine, Boston Symphony Orchestra and Tanglewood Festival Chorus. Physical Format: Stereo/Multichannel Hybrid SACD - DSD recorded. Download: Stereo/Multichannel 24 Bit 88.2kHz PCM. BSO Classics 0801
I while back I purchased a one year Boston Symphony Orchestra digital music subscription for $50 which includes all of BSO's 24 Bit 88.2kHz downloads including the six currently available and the upcoming eight new titles. Three of their high resolution recordings so far have been released on SACD,
I recently was loaned the SACD versions of both the Brahms' Ein Deutsches Requiem and Ravel's Daphnis et Chloé so I could do a comparison with 24 Bit 88.2kHz downloads on my hard drive. For the SACDs I am used my Yamaha DVD-S1700 SACD/DVD-Audio player with the internal VSE Terra Firm Lite Clock mod (review forthcoming), for 24 Bit 88.2kHz downloads I used my Mac Mini with the analog outputs directly into my AMC tubed preamp using Monster cable interconnects.
The DSD recorded SACDs sounded better, however the high resolution downloads are quite superb in their own right. The SACDs have fuller and deeper bass, more presence in the midrange and a more complete feeling of being in the concert hall. However when the SACDs go back to their owner I will not be purchasing copies of the SACDs as the 24 Bit 88.2kHz PCM downloads sound excellent in their own right and give up very little to the superb SACD versions. Listened to on their own without comparisons they are superb high resolution recordings. So if you want everything the Boston Symphony records in high resolution go for their affordable download program. If want the very best sound and are if you are willing to settle for what is chosen for SACD release buy the physical discs. Many listeners may very well do both the high resolution downloads and the SACDs.
For reviews of the performances and more information on the Boston Symphony Orchestra download program see "BSO's Digital Music subscription program, the bargain of the century!" http://www.positive-feedback.com/Issue43/bso.htm
Later this year I plan a round-up of USB and firewire DACs and which perhaps may close the gap between high resolution downloads and SACDs a little bit further.