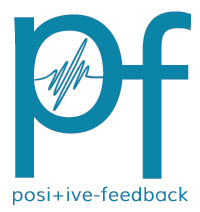 You are reading the older HTML site
Positive Feedback ISSUE
45

september/october 2009
Rocky Mountain Audio Fest 2009
by Kent Johnson
This year's Rocky Mountain Audio Fest (RMAF) was somewhat smaller than 2008's. All of the exhibitors were in the Marriott hotel instead of having a portion of the show in the nearby Hyatt.
Even so, the show itself is still too large to cover in the two and one-half days allotted to it. Knowing that this time around, I decided to let serendipity lead my wanderings. I didn't get to every exhibitor but I got to most of them and I found something interesting in nearly every room I visited. The sound quality, with a few exceptions, ranged from good to extremely good—which should be regarded as more of an impression than appraisal. My experience has been, however, that if equipment sounds good under show conditions, it sounds even better in a home environment.
I had a great time, met lots of interesting people, got turned on to some fantastic music, and heard a lot of great components. In no particular order, here is the RMAF that I attended.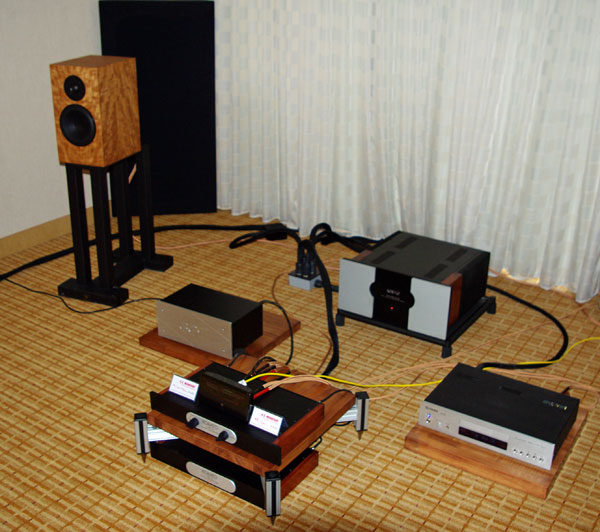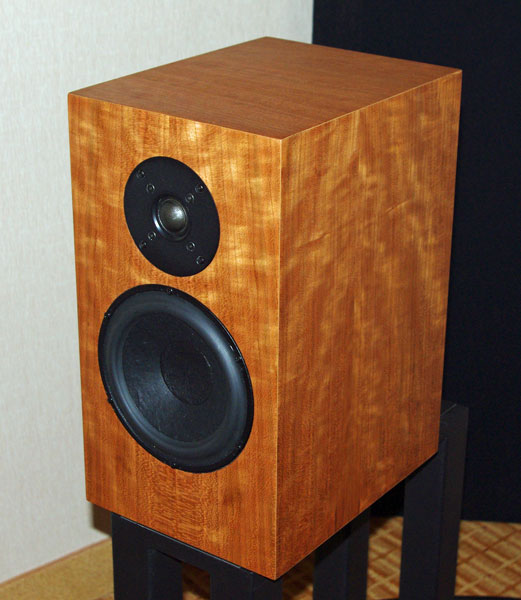 The same Korato Anniversary amplifier ($4600) and KVP-10 preamplifier ($,995) that I reviewed in PFO 44 were making very nice music attached to Fritzspeakers Carbon 7 loudspeakers ($1750) sitting on DKM Design stands. The Carbon 7s use ScanSpeak drivers, are 88dB efficient, and claim a -3dB point of 39Hz. The source was computer-via-Squeeze Box and power conditioning came from Balanced Power Technologies. This was one of a number of simple, straight-forward systems that just got out of the way and made music. www.bspaudio.com www.fritzspeakers.com www.audiorack.com www.b-p-t.com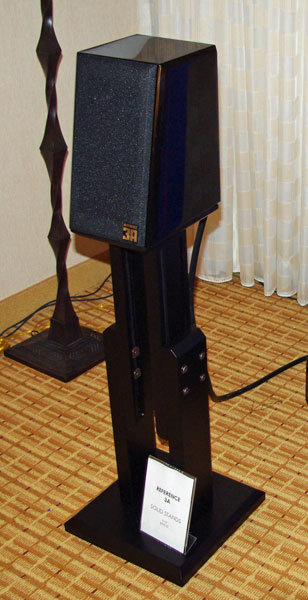 I had never heard any of the Reference 3A speakers until I heard the 3A Dulcet ($1974.50 and 87dB efficiency) at this show. This small, monitor speaker sounded marvelous and had impressive bass. The Dulcet uses no crossover on the mid/bass driver and only a simple, high-quality, high-pass filter on the tweeter. Dedicated stands are available for $400. The sound left me wondering just how much the larger speakers in the range could significantly improve upon it. www.reference3a.com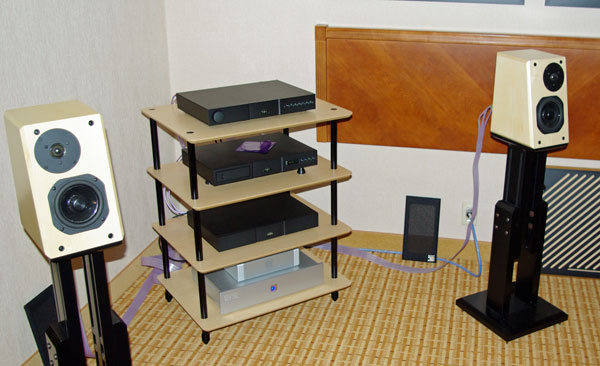 Dulcets were also being used in the second Reference 3A room with a complete Naim system. Here, they were on the receiving end of a Naim CD5 SX CD player and Nait XS integrated amp (60W), both being boosted by a Flat-Cap 2X power supply. I enjoyed the sound of this system as well as its stylish simplicity. www.naim-audio.com
As I headed next door to the M•A Recordings suite, I ran into Harry Pearson of the Abso!ute Sound. Harry was at RMAF doing a seminar called "The High End: Past, Present, and Future." I have never met HP but have been an admirer of his work for many years. We chatted a bit and since HP seemed very familiar with the M•A Recordings catalog, I asked him to recommend a couple of their CDs for me. He responded with Buenos Aires Madrigal by La Chimera and The Lute Music of Johann Sebastian Bach, Volume 1 played by Eduardo Egüez. (M•A Recordings MO63A and MO53A)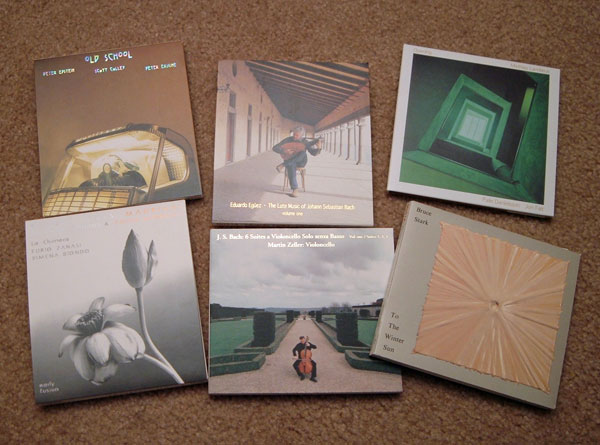 While I have had only a limited opportunity to check out these CDs since returning home (I have this report to write.), and am listening to them on a system set up on my dining room table to get some break-in time on it, it is already clear that they are remarkable sonically. The J.S. Bach "Six Suites for Solo Cello" (M•A MO73A) that I also purchased is definitely chills-up-the-spine stuff. I am not only anxious to hear these CDs in my main system but I expect they will be extremely useful for reviewing purposes as well. Interesting music, wonderful sound, and I now have personal confirmation of the quality of HP's hearing and taste.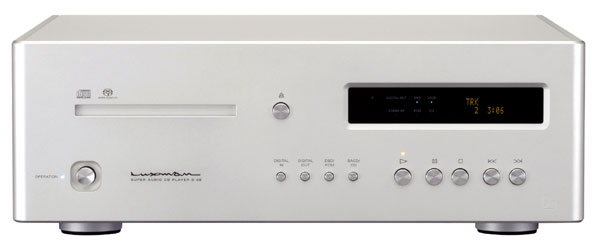 The sound in the M•A room was very good. A custom-made David Berning tube amplifier was fed by the new Luxman D-08 SACD/CD player. I failed to get a photo of the D-08, what with meeting HP and all, but did get one from Luxman's web site. The speakers were from Gemme. www.marecordings.com www.luxman.us
The most unique amplification at the show, without question, came from Win Analog's S Series-833 monobloc tube amplifiers ($75,000/pair), which use a single RCA 833A transmission tube for amplification and output 100W. These amps were driven by the Win Analog Z845 tube preamplifier ($45,000). All of this equipment is beautifully crafted and extremely overbuilt. The amps weigh 200 pounds each! The Win Analog is without a doubt the coolest tube amp I have ever seen. And it sounded very good as well. I overheard comments in the hallways about this equipment and suspect it was one of the highlights of the show for many of us. www.winanalog.com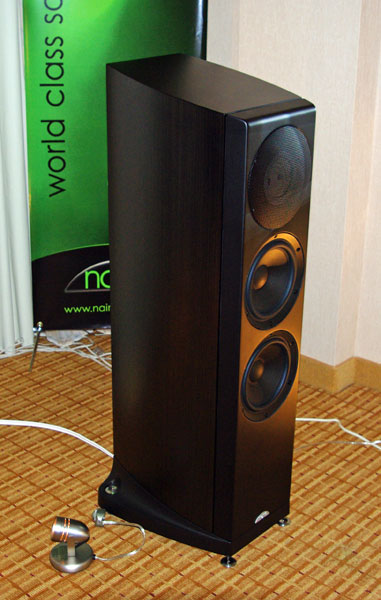 I missed the Naim press conference held on Friday morning to introduce their new Ovator S600 speaker. Fortunately, I got to hear it in Naim's room. The S600 is the middle speaker in a new line that will include an S400 stand mount and a larger S800 floor stander. The S600 itself is a large speaker standing about forty-six inches tall. It weighs 61 Kg per speaker (134 pounds), much of which comes from the pressure-cast aluminum plinth.
Utilizing a Balanced Mode Radiator (BMR)—the first in a high-end loudspeaker—to reproduce the six octaves from 380-24,000 Hz, it has a pair of 8-inch woofers for everything below. At 88dB and a minimum 3.2 Ohm resistive load it should be drivable by just about any quality amplifier, including some fairly low powered ones. There is more technology involved with this speaker than I can possibly cover here so please see the Naim web site for more information. My impressions of its sound were favorable but, at $10,450 in basic black, it failed to really knock me out. I think it really needs to be heard under better conditions than the show offered. www.naim-audio.com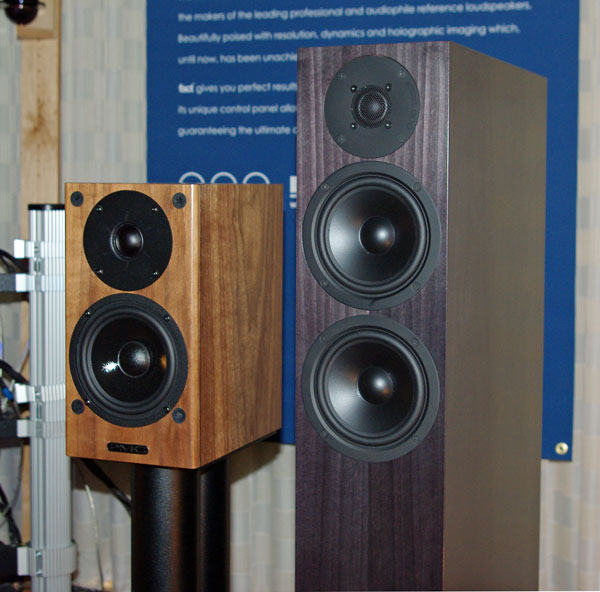 The Professional Monitor Company (PMC) was demonstrating their DB1i speaker, which, they claim, is also the world's smallest transmission line loudspeaker. At $1929, the DB1i competes with a great many speakers in terms of price. Sonically, it was really in a class of its own. Driven by a complete Bryston system, the DB1i truly made music in the PMC room. It was one of the best sounding rooms at RMAF.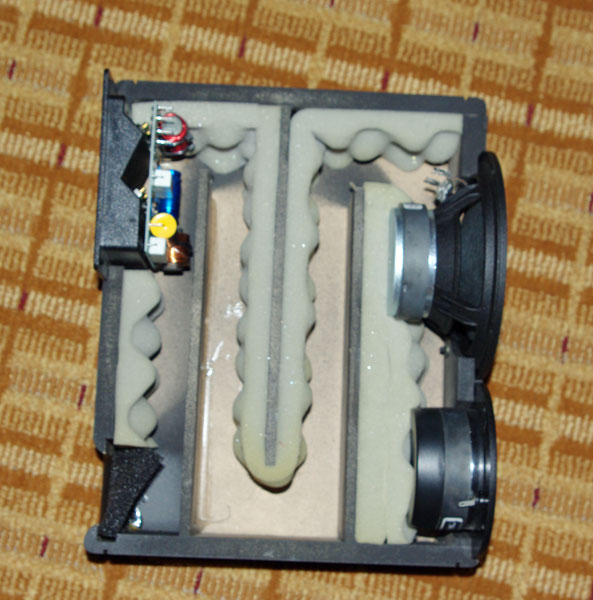 I also had a chance to hear PMC's new Fact 8 speaker ($10,999 and 88dB efficient), it is the larger one in the photo. While also very good sounding, the Fact 8s served mainly to make the small DB1i speakers appear to be even more of a great deal than they were on their own. www.pmc-speakers.com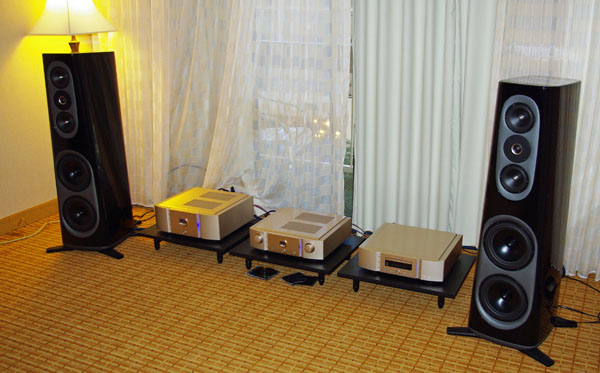 The Marantz/Snell room had another very simple, very elegant system in use. Utilizing their Phantom Prototype 2 speakers ($TBA) with an SC-11S1 preamplifier ($3199), SM-11S1 power amp ($4499), and SA-11S2 SACD ($3599) player, the system looked as good as it sounded.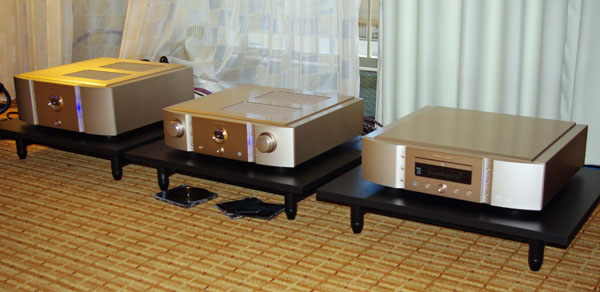 While not an inexpensive system by most standards, this system is very reasonable by high end standards. The sound was excellent and left me mulling over—not for the only time—the question of what more would anyone really need?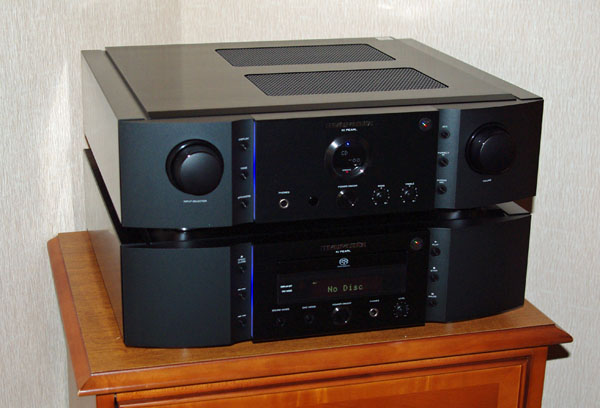 Also shown, but not running was the new PM-KI-PEARL integrated amplifier ($3599) rated at 90W into 8 Ohms. This amp beautifully complements the SA-KI-PEARL SACD player ($2999) that was introduced last spring. www.us.marantz.com
Now for something completely different.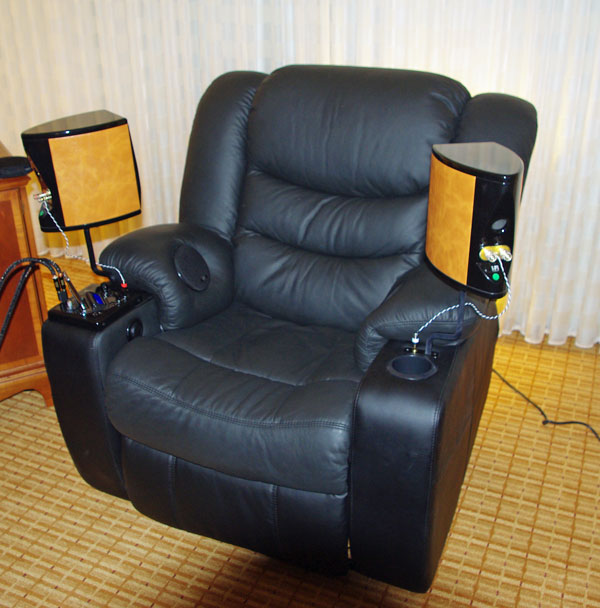 This is the i-Fi chair. Yes, the first thing that crossed my mind, too, was that it was some sort of gimmick. But it's not.
The i-Fi chair is a very comfortable, high-quality reclining chair into which is built a pair of woofers, a shaker, various electronics, and a pair of detachable speakers. The chair houses controls for amplifying an iPod or any source with RCA outputs. Listening can be done with the removable speakers or headphones. Two models are offered which are identical except for the detachable speakers provided. The base unit sells for $3499 while the upgrade is $3999. The upgrade speakers, in wood finish in the photos, use Vifa drivers.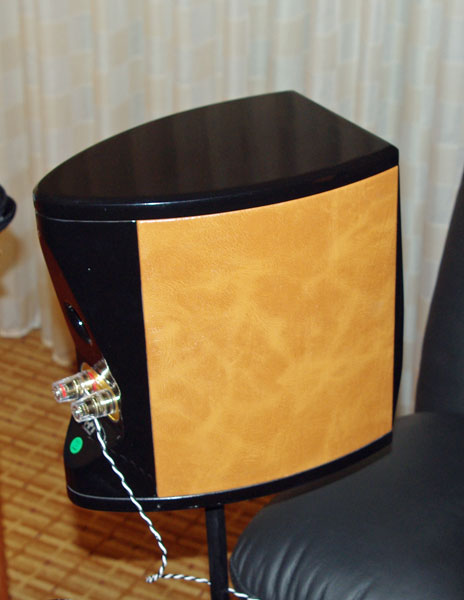 The speakers themselves can be small and use small drivers because the woofers are part of the chair itself. Control is provided over the shaker (presumably used more for home theater than audio), volume, and input. There is also a cup holder.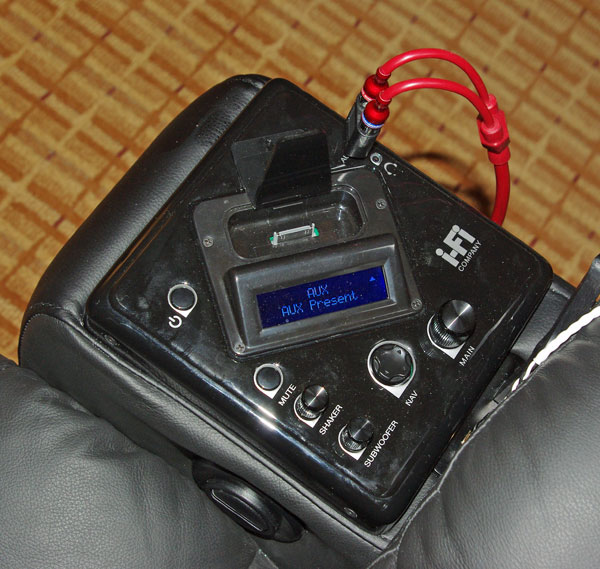 I see no reason that other small speakers could not be used. The speakers sold with the chair, though, are optimized for the listening distance.
It will be interesting to see what other reviewers thought of this component but I found it surprisingly good sounding and pleasant to listen to. The i-Fi chair offers a very spacious sound that is very much like listening in the very near-field of a normal stereo system. In fact, I heard a number of near-field speaker set ups at RMAF where the sonic effect was very similar.
It is my guess, though, that this chair will appeal most strongly, among audiophiles anyway, to headphone aficionados. The chair offers a headphone amplifier as part of the package so the listener can simply lean back and adjust the volume.
A lot of thought, design, and engineering has gone into this product over the three years in which it has been developed and I think it will do well. Time will tell if that proves to be the case.
In the interest of full disclosure, I, and, I assume, other journalists, got an email from the i-Fi company prior to RMAF offering a free SACD for auditioning their chair. I can say perfectly honestly that I would have written exactly the same things about this product had this not been the case. My journalistic integrity is not for sale for the price of a single SACD. Three for four SACDs, of course, would be another story. www.i-ficompany.com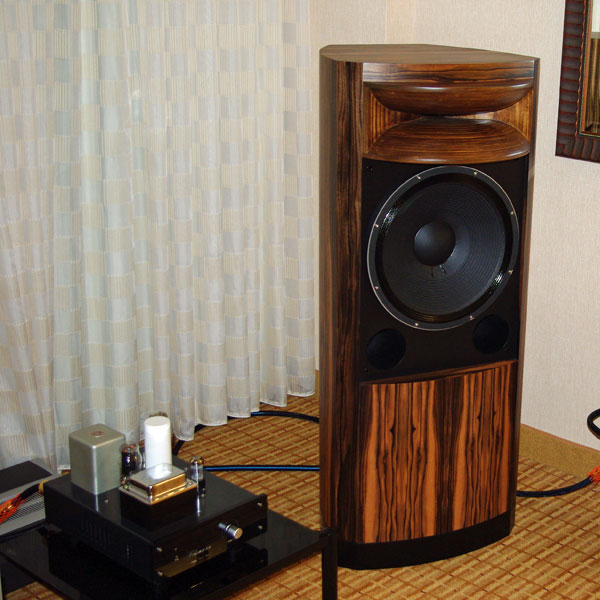 Arte Forma is a new company, headquartered in the Atlanta area, which is importing high-quality audio components designed and built in Taiwan. Two initial products are the C-2 horn-loaded loudspeaker, which uses a 15-inch woofer ($18,000 and 96dB efficient), and a 2A3 monoblock power amplifier ($3000/pair).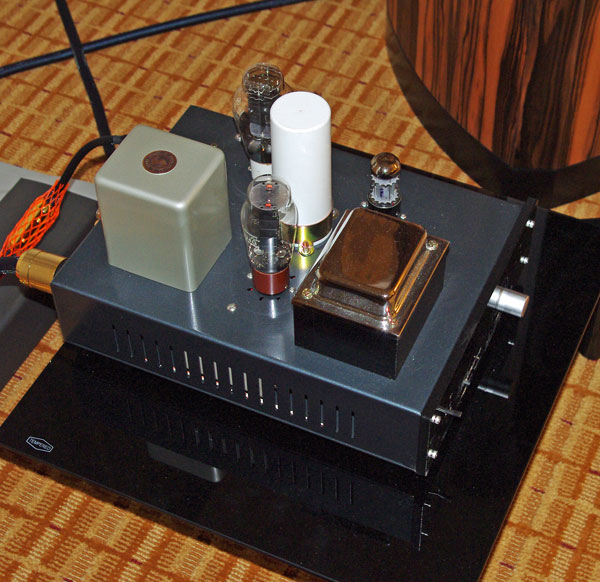 Each 2A3 power amplifier produces 3W. These Watts easily drove the C-2 speakers to realistic listening levels with excellent dynamics and detail using an Esoteric SACD player as a source. In the course of doing this, the C-2s also disappeared—not an easy thing for a speaker this large to do.
I was impressed by both the sound quality of the Arte Forma room and by the fact that, unlike some companies new to the US market, they are offering a finished, perfected product. Their products have been sold in Taiwan for years. While I don't envy Arte Forma the task of breaking into a market as competitive as that found in high-end audio, especially now, the quality of the products they are offering certainly makes it possible. www.arteformaatlanta.com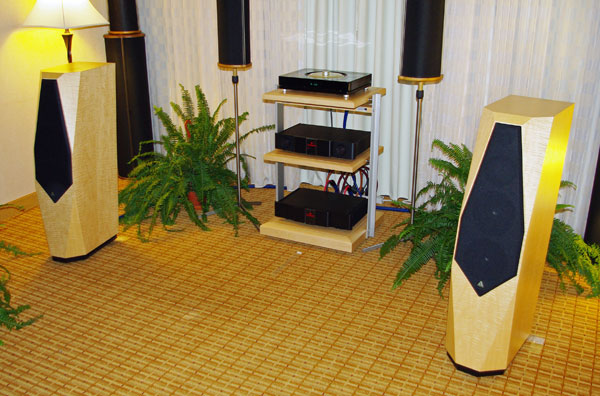 I have read a number of very excellent reviews of Karan Acoustics components in the British press for quite some time, so I was very interested in seeing and hearing this equipment for myself. Karan's room featured their KA S 180 stereo power amp ($10,000, 180WPC) and KA Line Mk2 preamplifier ($10,000, 3 single-ended and 2 balanced inputs). Speakers were Avalon Indras; the source was a Zanden 2500 Signature CD player. Karan does not have a US distributor at this time, but information on their products is available from West Side Music and Cinema of Canada.
The Karan pair produced impressive sound through the Avalon speakers. All circuitry in both components is fully balanced. Their casework is substantial and they look like they will last forever.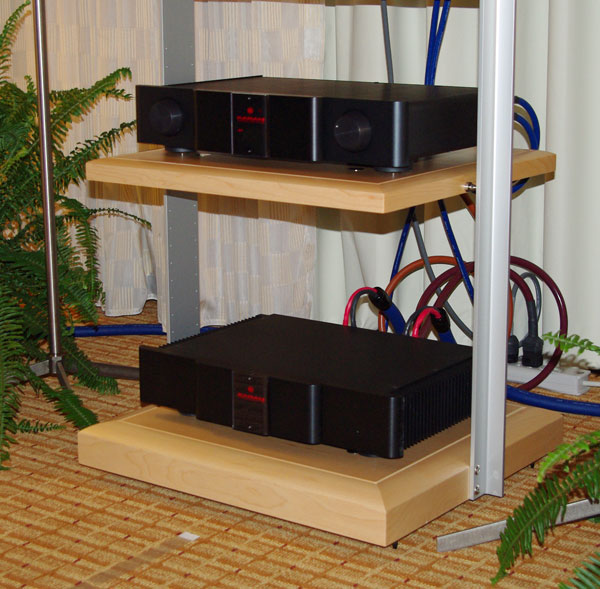 I certainly hope that demonstrating these products at RMAF results in US distributorship. Karan would be an excellent addition to the high-end audio community here. www.karan-acoustics.com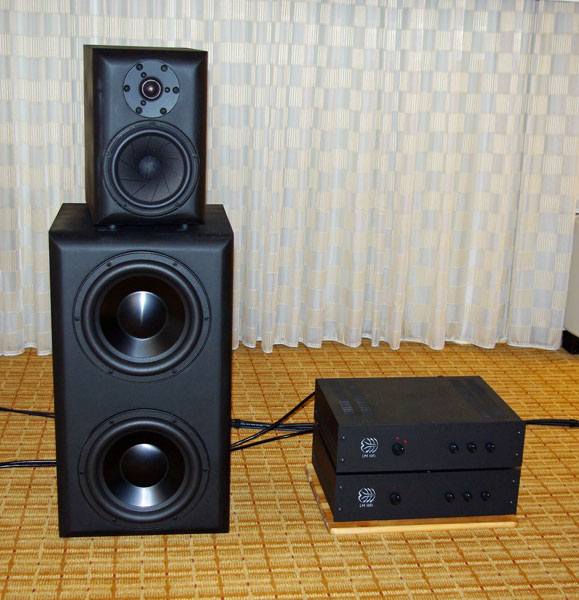 The LM HiFi room demonstrated their LM HiFi System II amplifier and loudspeaker system. These components lack only a source component to form a complete system. Each amplifier provides 180W of Class D amplification and handles all crossover functions for the speakers.
The speakers themselves consist of two modules: a mid/tweeter and a bass. The mid/tweeter module can be adjusted for toe-in and time alignment independent of the bass boxes. All cabling is also included.
The sound of this system varied widely with the recording used. A fellow PFO reviewer was in the room with me and found the track we were listening to "lifeless." I had to agree. He then left. The next track, a female vocal, exhibited good dynamics, floated free of the speakers, and was very lively, although I still felt it lacked the dynamics that really excellent high-end systems at this price range provide.
What makes this system worth noting is the fact that it is an attempt to offer an environmentally friendly system that can simply be set up and listened to. No decisions are needed regarding which amplifiers, speakers, or cables to use.
The two problems I see with this approach are, first, the price is $16,000, which simply seems too expensive for what you get. The second is that half of the fun of being an audiophile is trying different cables, AC cords, and components.
The very nice people at LM HiFi were very interested in hearing what listeners thought of their system and, for their part, listeners contributed some very honest and helpful suggestions. For my part, I thought that much of the inconsistency that I heard might be due to the height of the mid/tweeter module. I think it sits too low and I would want to raise it closer to ear-level before rendering any further sonic judgments.
This is a system that presently is at least good sounding and possibly better than that. It is hard for me, however, to picture who its customers will be at its asking price. www.lmhifi.com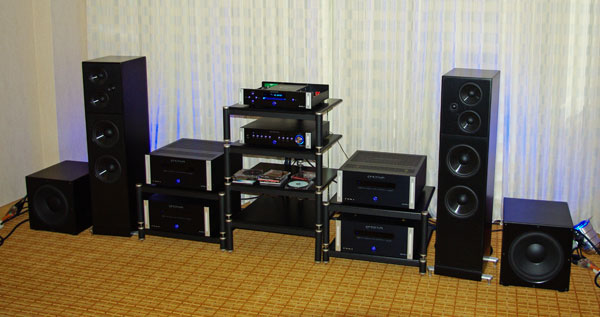 When I entered the Emotiva Audio Corporation room, my initial reaction was that I had entered a room with equipment far too expensive to even consider requesting for review. Shockingly, it was one of the least expensive (and maybe the least expensive) equipment manufacturer exhibiting at RMAF.
Their USP-1 preamplifier is only $399 but looks like equipment costing five times as much. (At least it did in the somewhat dim listening room.) At this price, the USP-1 offers seven inputs switched by relays, a phonosection for either MM or MC cartridges, gold plated connectors, a remote control, and a headphone outlet.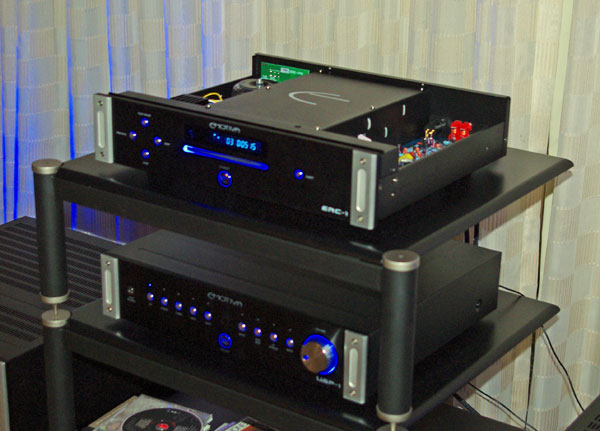 The ERC-1 CD player, also $399, uses an Analog Devices 384X oversampling chip, and has a slot-loading mechanism.
Their XPA-1 monoblock amplifiers output 500W into 8 Ohms, 1000W into 4 Ohms, and cost $999 each. They are a true balanced design, can be externally triggered, and have a milled aluminum faceplate.
In addition to the amplifier, CD player, and preamp, Emotiva also sells cables, speakers, HT processors, and other equipment.
All of this technology is made possible by direct marketing (and, I assume, Chinese manufacture). I am absolutely certain that there will be numerous reviews of this equipment over the next few months. If the sound quality matches the appearance, the high-end market is going to get very interesting indeed. www.emotiva.com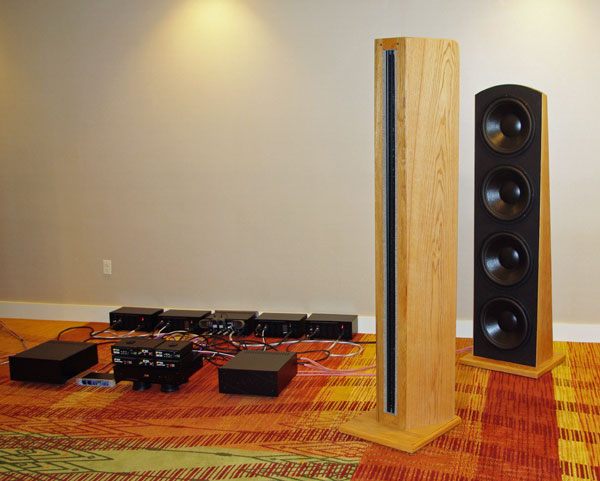 Balanced Power Technology (BPT) is best known for their AC line conditioners. At RMAF they were demonstrating their new monoblock power amplifiers along with a plethora of products from Empirical Audio. BPT also brought some custom speakers to show off their sound. While prices have not been set, each amplifier is rated at 200W into 8 Ohms and 400W into 4 Ohms. Cosmetically, they are some of the most basic black-box amps I have ever seen.
The four-piece speaker system, fortunately, is the absolute aesthetic opposite. It is beautiful and sounded very good. The tall thin modules house a full-range 6 Ohm ribbon that covers the midrange and treble. Efficiency overall is 88dB. Each bass module uses four 15 inch bass drivers. Their impedance dips to 1.5 Ohms. BPT was quick to point out that this low impedance presents no problems whatsoever for their amplifiers.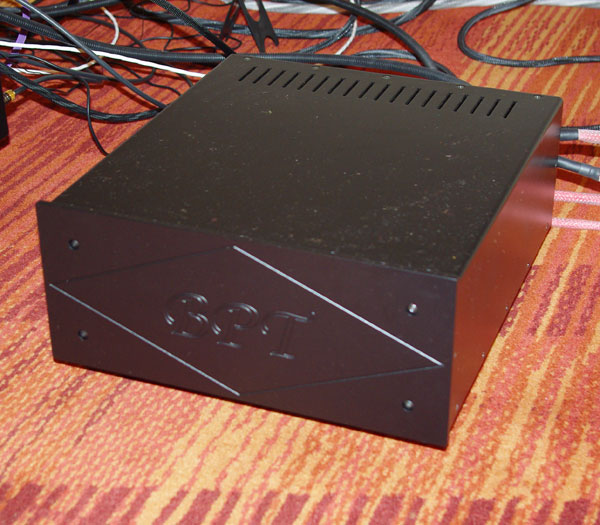 The rest of this system was from Empirical Audio (www.empiricalaudio.com) and DEQX and, despite having it explained to me twice by two different people, I could not remotely follow what was going on. There were at least six small boxes (pairs of Empirical Audios' new DAC, Off-Ramp 3, and Pace Car) in the middle of the floor and enough wires to organize a telephone system. The speakers are truly gorgeous and the sound was superb, however it was being reproduced. Seeing and hearing this level of all-out effort to recreate music realistically is what makes going to RMAF so enjoyable. www.b-p-t.com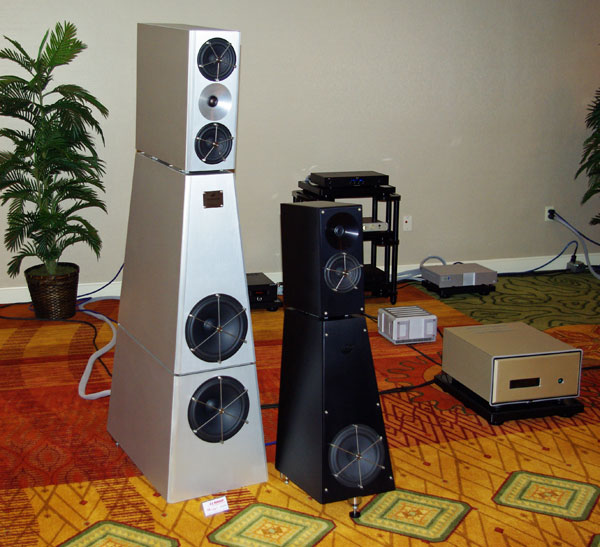 The YG Acoustics room was also offering an all-out system. I got to hear both their Anat II Reference Professional ($107,000) and smaller Kipod ($38,000) speakers. The disc source was a Weiss Jason transport ($19,600) with Medea DAC (16,299); the amplification was from FM Acoustics. They were demonstrating their Model 245 preamplifier ($23,200) and 811 Mk2 stereo amplifier ($128,800).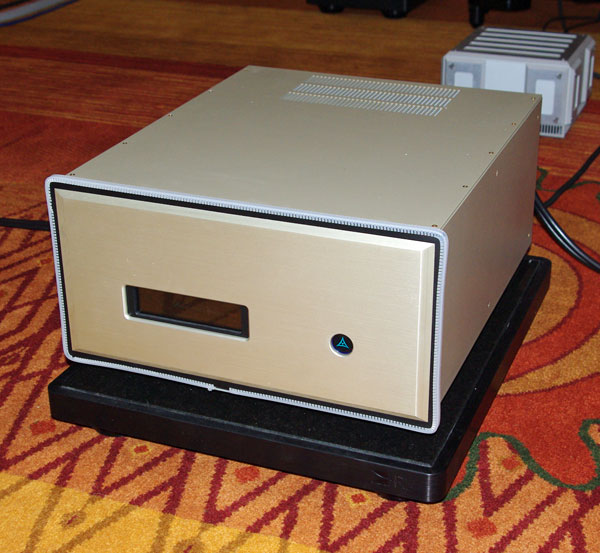 This system cost the moon and sounded extremely good. I guess if you have the room and the money, why not go for it? I certainly would. www.yg-acoustics.com www.weiss.ch www.fmacoustics.com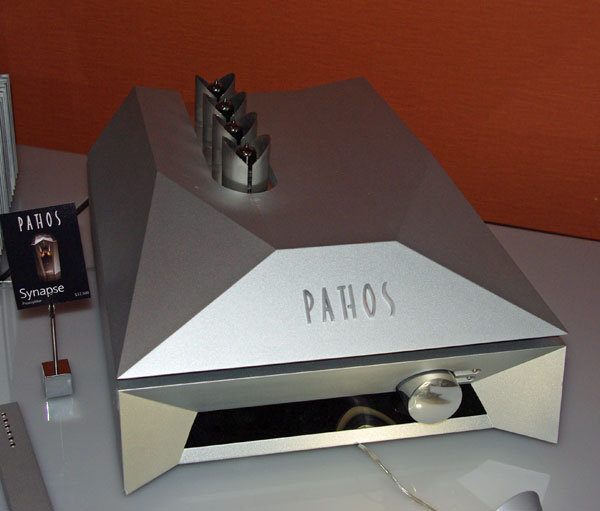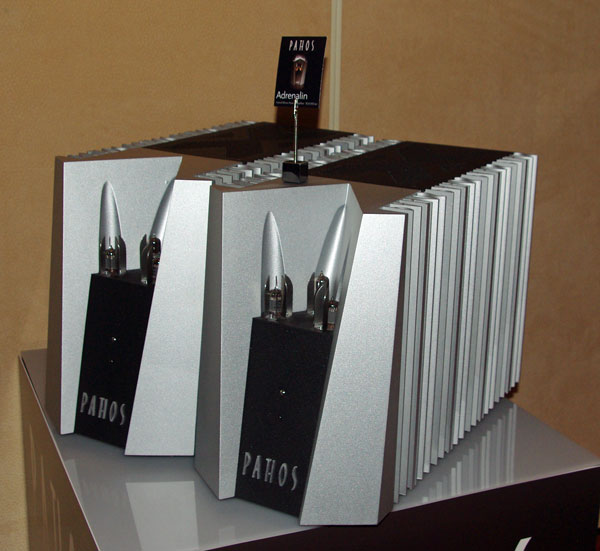 The Pathos Synapse preamplifier ($26,000) and Adrenaline mono amplifiers ($54,995 a pair) in the Pathos/JMLabs/Micromega room injected a dose of Italian style into the show that was pretty much unmatched anywhere else.
The Adrenaline amps output 200W of Class A power and they are absolutely gorgeous. Whoever thought to make the heat sinks read "Pathos" was a genius.
Unfortunately, neither the Synapse nor Adrenaline was actually being run. Most of the music came from Micromega, a company that has been recently revived. Many of you may remember the DAC they sold in the late 1980s, I believe. It was the absolutely hot set up at the time.
Micromega was demonstrating their French-made integrated amps and CD players through the new JMLabs 1038Be ($12,500). This speaker is not only good sounding, it, too, is absolutely beautiful. The main change between it and the 1037Be is a new, slightly larger (1.25-inch) beryllium tweeter.
I was particularly taken by the Micromega entry level amp and CD player, the IA 60 and CD10. I think they would form the core of a very simple, very satisfying music system. www.pathosacoustics.com www.audioplusservices.com (Micromega)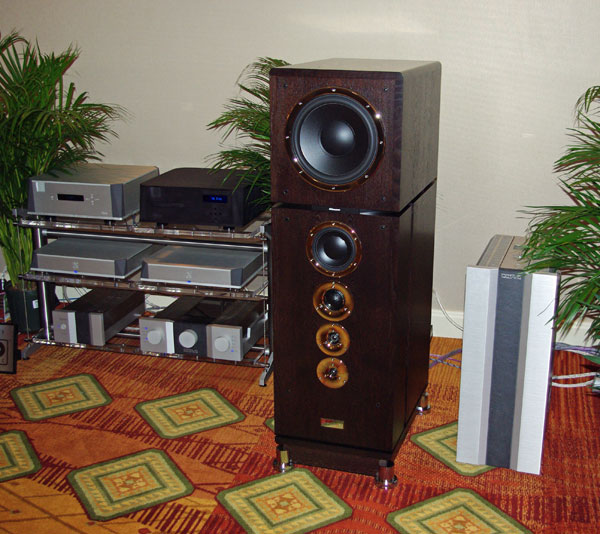 Dynaudio was showing their confidence in both their equipment and the audio market by reintroducing their Confidence Ultimate Edition loudspeaker. This 25 year old design has been redone using modern materials and parts. It is a very large speaker and certainly an equally interesting design. The multiple drivers, lined up like buttons on its chest, integrated flawlessly and produced a very open sound in their listening room. The source was a Wadia Series 9 system consisting of a 971 transport and 931 DAC.
The preamp, its power supply, and the monoblock amplifiers were from Octave's Jubilee line. I absolutely loved the power amps. They are the size of a room heater and are probably capable of performing the same function. Using 8 KT-88s per amp, they are rated at 250W. www.dynaudio.com www.wadia.com www.octave.de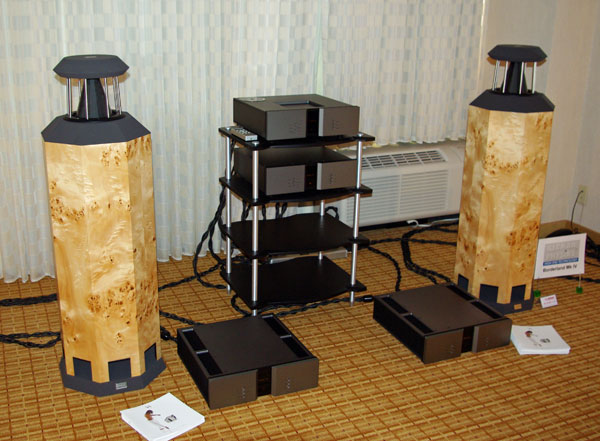 Just as interesting as the Dynaudio Confidence speakers were the German Physiks' Borderland Mark IVs ($34,995/pair). Using omni-directional technology, the sound in their room was very open, very detailed, and, to my ear, extremely satisfying. The speakers were driven by Danish-made Vitus electronics. www.german-physiks.com www.vitusaudio.com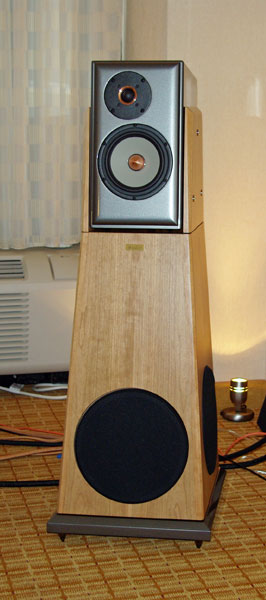 It was a real pleasure to visit both of Bamberg Audio's rooms. They were showing a slightly revised (since the Audio Karma show in May) version of their large Series 5 TMW speaker ($8450). (Reviewed in Issue 42 of PFO.)
Even in the hotel room, the imaging was impressive. I sat nearly in front of the right speaker and the soundstage was still very well reproduced. Another visitor brought in one of the re-mastered Beatles albums while I was there. We listened to "Blackbird" and it had an immediacy and vitality about it through the Bamberg speakers that simply stunned me.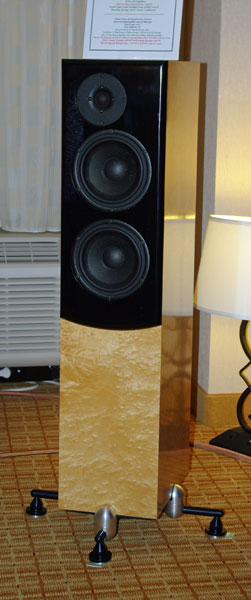 In a second room, the smaller Bamberg Series 2 TMM Reference speaker ($3995) was being driven by Modwright electronics and was just as impressive sounding as the larger speaker. www.bambergaudio.com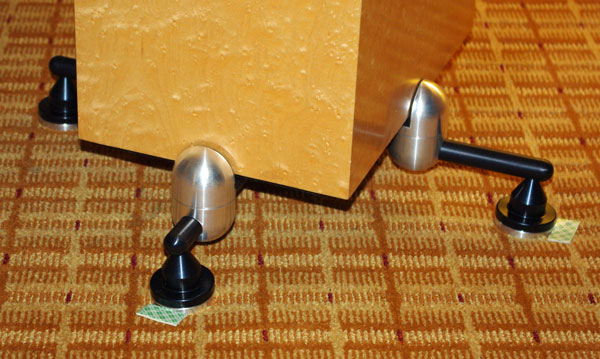 The smaller Bamberg speakers were supported by Zeeba stands made by Paramount Technology, Inc. These stands will work under speakers or electronics. They are very simple, very ingenious products. Each stand consists of two rods that join each other at a 90 degree angle. Along the length of each rod is a pod that is cut away to form a supporting surface. The pods can be adjusted along the rods so that the cut-out fits securely against the sides of the component being supported.
The ingenious part is that, instead of having the rods rest on downward pointing spikes and having to deal with getting through the carpet or damaging the floor, the spikes face upward. The rods then rest on the very small (.005") point of the spike providing excellent isolation. Each spike assembly consists of two parts threaded together, which allows for leveling and height adjustment. While not inexpensive at $1300 per pair, the Zeeba certainly struck me as very well designed and a very interesting concept overall. www.paramount1.us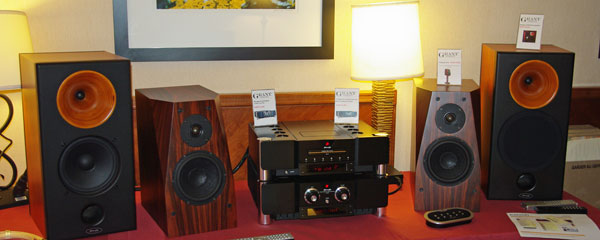 As regular readers of PFO are probably aware, I have reviewed a number of Grant Fidelity components and I have been very impressed with everything I have heard. Despite several reviews, I have only scratched the surface of all the equipment that GF either imports or manufactures. There is a GF system that can be put together for virtually any budget.
The system shown above was one of several GF demonstrated at RMAF. Comprised of the Shengya A-216 hybrid amplifier ($1850 and reviewed in PFO 42), the matching CD-16 CD player ($1850), and Shengya V-218 horn speakers ($1900/pair), this grouping sounded very good under show conditions.
I had the chance to hear Shengya's most expensive and powerful system as well. This consisted of the CS-6 preamplifier ($4900) and a pair of 600W PSM600 monoblock amplifiers ($19,000/pair and Class A to 150W). The source was a Shengya CD-1000 player ($3200). One of speakers being demonstrated with this system was Grant Fidelity's new LS3/5A—small bookshelf speakers, voiced like the classic for which they are named, and costing only $995 per pair. This system offered both amazing delicacy and surprising bass weight.
The amplification was then changed to the 10W GF A-534B 300B integrated amp ($1966 and reviewed in PFO 41). This amplifier was also outfitted with a set of upgrade Shuguang Treasure tubes. I thought the sound of the LS3/5As was somewhat richer through the tube amplifier while the bass retained virtually the same weight it had had with the larger system. Hearing this amplifier prompted me to remark that if it only had 20W, it could potentially be an all-purpose amp. It turns out that Ian Grant is currently working on a 20W 300B amp, so stay tuned. When it comes to fruition, I hope to get a chance to hear it.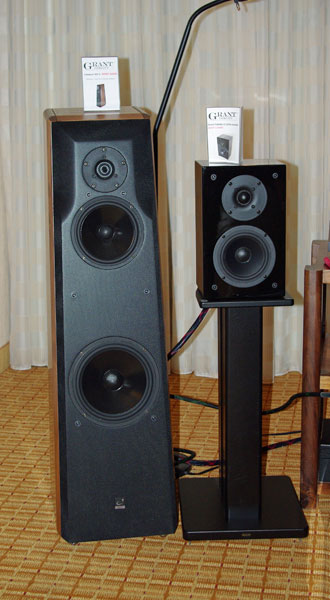 Also new at this show was the WZ-5 speaker from Shengya ($4500/pair). This is a medium-sized floor stander using drivers made by Tiffany of China. Tiffany now owns and makes ScanSpeak, Vifa, and possibly some other well-known drivers. I am not certain of their entire holdings. The WZ-5 uses the equivalent of ScanSpeak components. I only got a brief chance to hear the WZ-5 but certainly was impressed by how beautifully it was made. www.grantfidelity.com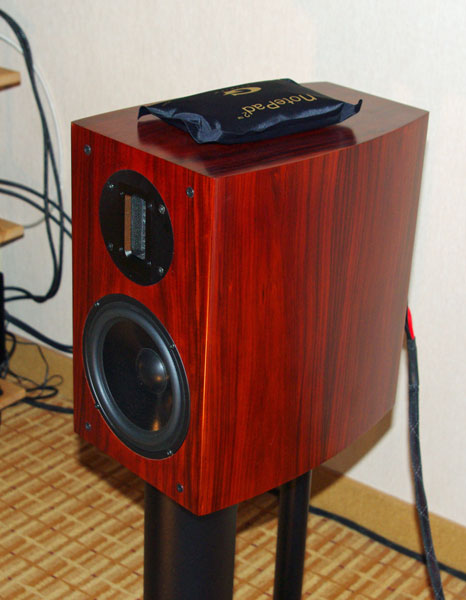 LSA Audio Group was demonstrating their LS1 Monitor Statement speaker ($2599) driven by an LSA Standard integrated amplifier. You may recognize the amplifier as having at one time been known as the DK integrated amp. The amp is a totally new component today although it does retain the tube-input, solid state output, and exterior appearance of the original.
The basic LS1 Monitor speaker starts at only $999 but can be upgraded via tweeter and crossover parts to both Signature and Statement models. This was yet another small speaker offering very impressive sound quality. www.thelsagroup.com

Affirm Audio, formerly known as Maxxhorn, showed the larger of their single-driver, true Tractrix horn loudspeakers. Based on design work done by Paul Voigt, the Elation ($9995) has a 10 foot folded Tractrix horn built into the cabinet. This speaker is the result of 18 years of experimentation and research. The result is a 99dB efficient, full-range speaker. Not small at 165 pounds each (and capable of additional mass loading via an internal cavity), they use a custom made driver. If I had been told there was a woofer inside the cabinet, I would not have been the least surprised. The bass was that good.
The electronics driving the speakers while I was there were from Ayon audio. I really liked the Spirit 2 KT-88 based integrated amp that was supplying the power (55W in Pentode mode, 35W in triode). It was fed by an Ayon CD-2 player.
At $9995, I won't be buying a pair of these speakers soon but did buy a bottle of their BlueMaxx digital disc cleaner to try. (Which works great by the way.) www.affirmaudio.com www.ayonaudio.com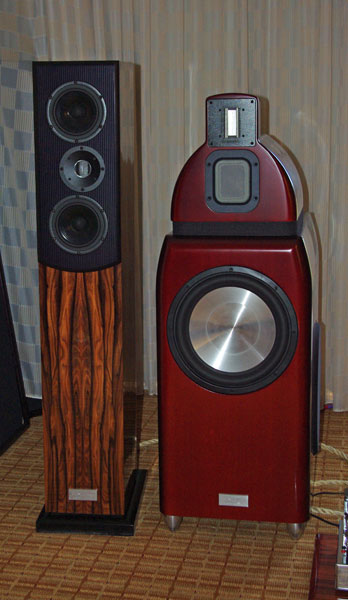 Jim Salk and Frank Van Alstine teamed up again to show Jim's (relatively) new reference speaker—the one with the silver woofer—and Frank's new tube stereo amplifier.
I wrote about the Salk speaker in my review of May's Audio Karma show in PFO 43. I referred to it as the HT-4, which was not technically correct as it officially has no actual model number. There, this large speaker produced a stunning level of musical quality in a large ball room powered by 1000W Van Alstine monoblock amplifiers.
At RMAF, the room was much smaller and I was far more impressed by the musical quality of the Salk Songtower speakers ($1695-1995 depending upon finish.) These speakers driven by the new Van Alstine 30W, 6CA7-based, stereo UltraValve power amp was another of the best sounding systems I heard at the show.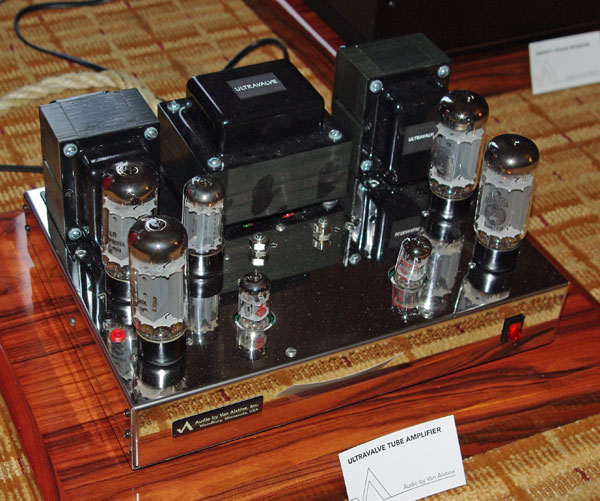 Frank seemed duly proud of this amplifier and I think he has every right to be. www.salksound.com www.avahifi.com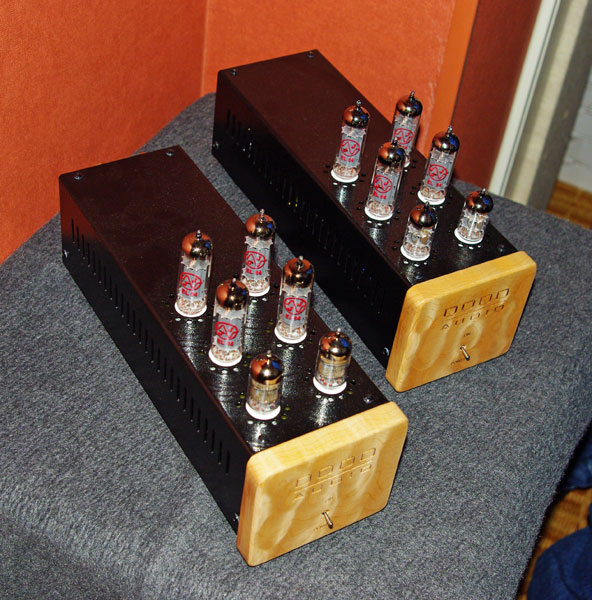 The Dodd Audio room was very crowded while I was there. Fortunately, both Gary Dodd and his new EL-84 monoblock amplifiers were near the door so that I could see the one and talk with the other.
The small monoblock amps use 4 EL-84s to produce 30W. The amps are beautifully made and cost only $1595 per pair—without a 12 Volt power source to run them. Many people are aware of Gary's excellent battery preamplifier. What they may not be aware of is that all of his equipment will be battery powered sometime in 2010. He is a firm believer that this is the way to go for optimum sound quality. Hearing him discuss his equipment, it is hard to disagree with him. Most power supplies' job is to step the AC line voltage down to something less than 12 Volts DC. That being the case, why not just start with DC power and eliminate the cost of the power supply and all of the hum problems its 60Hz AC brings with it? Gary's products can definitely demonstrate how to go about doing that while offering audiophile quality sound. www.doddaudio.com
I was wandering through the lobby on Saturday afternoon just after the 2PM power outage had occurred, when I was stopped by a Canadian audiophile I had met on Friday. (Yes, the power went out and the Marriott got very dark. It turns out that there is very little that you can do at an audio show without electricity.) He asked me if I had heard about what had happened to the exhibitors from TT Weights Audio, also from Canada. I hadn't, so he told me.
It seems that the TT Weights people were kept at the US border for over 32 hours by the Department of Homeland Security with no explanation as to why they were being prevented from entering the US. My informant thought this was outrageous and that I should speak with Larry or Christine Denham of TT Weights about it.
I spoke briefly with Christine and she told me that they were never informed at any point during their 32 hour ordeal as to why they were being delayed nor was their trailer or vehicle ever searched or inspected despite being stopped. They eventually got across the border but did not arrive in Denver until 5 AM on Saturday morning and still had to set up.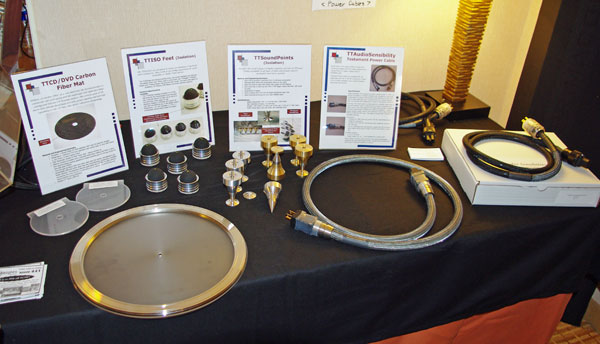 Happily, while I was in the TT Weights room, it was jammed with listeners interested in all of their products. I hope the Denhams ended up having a good show. I am certain that all the vinyl addicts were grateful that they persisted and made it to the show. www.ttweights.com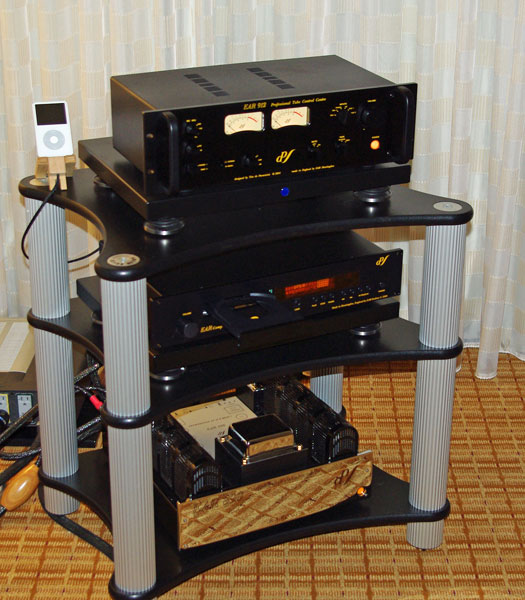 One of the rooms that impressed me at RMAF 2008 was that shared by E.A.R. electronics and Marten speakers. This year E.A.R. was demonstrating their 912 preamplifier, 890 amplifier, and Acute CD player. The speakers were Marten Birds.
I did not get to this room until late Saturday. The sound was detailed yet relaxed. It was truly a musical oasis in what can seem a relentless cacophony of sound after a couple of days. www.ear-yoshino.com www.marten.se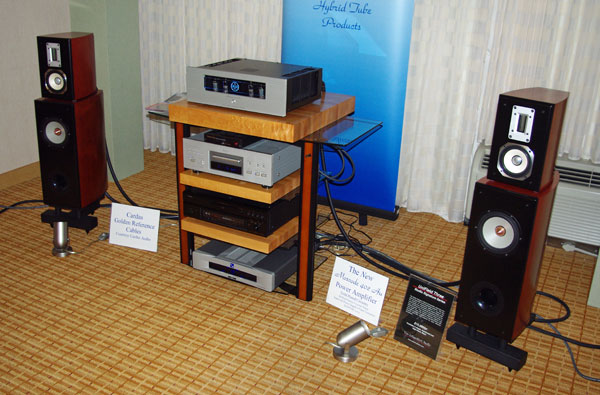 And another truly exceptionally sounding room at the show was the Moscode/Von Schweikert room. I finally got to hear and see the Moscode 402 Au amplifier with its tube input stage and solid state amplification. It's a beautiful component and sounded remarkably good playing through Von Schweikert Unifield 3 speakers (88dB efficient). Here again were components that provided everything I would ever need or expect from an audio system. This was easily one of the best systems that I heard at RMAF, possibly the best. www.vonschweikert.com www.moscode.com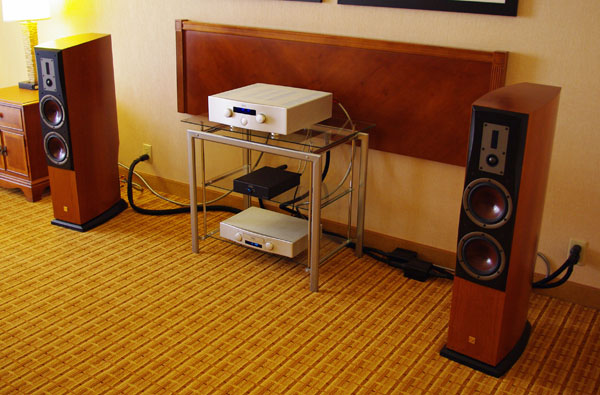 Simplicity, elegance, and excellent sound marked the room of Norwegian manufacturer Hegel. I first heard a Hegel amplifier and CD player at RMAF 2008 being used to drive GURU loudspeakers. (Reviewed in PFO 42)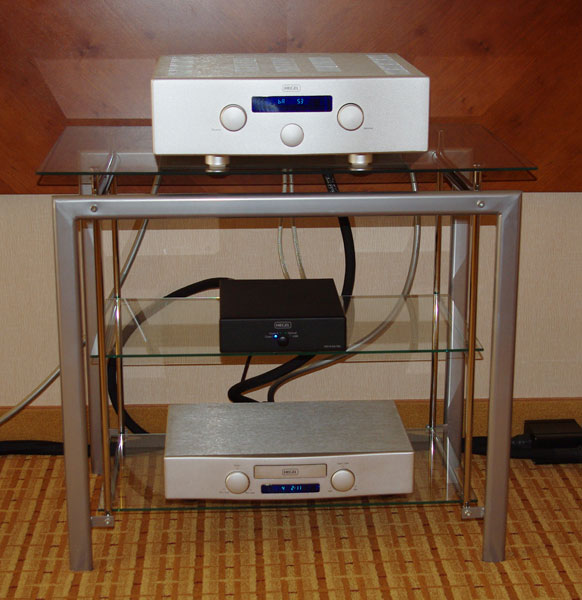 Now Hegel has a US distributor and they are bringing in a full line of products. Using Dali Euphonia MS4 speakers, the demonstration system of CDP2A CD player ($2650), HD10 DAC ($1200), and H200 Integrated amplifier ($4400 and 200W) produced very good sound.
Hegel is also offering an upgrade CDP4A CD player, smaller H100 Integrated amplifier (100W), two preamplifiers, and two power amps (200 and 300 W respectively).
I am going to be doing a review of the CDP2A player with the H100 amplifier. I brought this pair home with me from Denver and will get to them as quickly as I can. I am looking forward to hearing them in both of my systems. www.hegel.com
Summary
I believe that there were at least 6 or 7 writers from PFO covering the show (Actually closer to 15 - Ed). I managed to meet several of them, which was a real pleasure. It will be interesting to read the other writers' reviews of the show. I won't be the least surprised if reader's wonder if we were at totally different shows in totally different places. There is just so much equipment to hear and investigate at RMAF that even the sort of relentlessly determined, unremitting effort that I made to cover this show on behalf of my editors and magazine, could not encompass it all. The result being that any report will only be a fragment of all that went on. Still, I would be lying if I referred to going to RMAF as actual work. It was a real pleasure to be there.
I worked briefly for a non-profit organization some years ago and was involved in putting on events that were microscopic in terms of size compared to RMAF. I remember very well how much work they were and how much time they took. RMAF runs so well that visitors can truly enjoy themselves completely oblivious to all of the work that has gone into putting it on—which is the highest compliment that I can pay to everyone involved.
I want to say thank you to all of the people at the Colorado Audio Society who make this show possible. RMAF gives so much to the audio community that thanks truly seem inadequate for all that we receive.