Notes of an Amateur, September, 2009. Part 2
by Bob Neill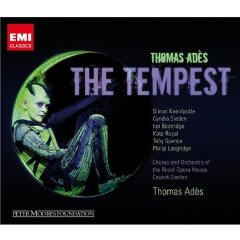 Thomas Adès, The Tempest. Royal Opera House of Covent Garden, directed by Thomas Adès. EMI 95234.
Thomas Adès' The Tempest, based on Shakespeare's play, is another of the very few modern operas which strike me as successful. Not surprisingly, it follows the model and even some of the musical palette of the composer's immediate predecessor, fellow Englishman, Benjamin Britten. Adès' work is predictably harder to wrap yourself around than Britten's, on first hearing. Adès is a musical generation younger and more comfortable with the outer edges of the modernist aesthetic. But his music remains audibly continuous with the music that precedes it and comfortably this side of the contemporary avant-garde sound of Boulez, Gubaidulina, Saariaho, Berio, and Legeti.
His spare musical style suits the less florid text librettist Meredith Oakes (and presumably the composer) give us in their adaptation of Shakespeare. The plot is necessarily tighter, the lines are shorter, and the 'philosophy' of the tale is less conventionally comic and resolving. All is not made whole at the end and problems are more difficult along the way. In the opera, the infatuated love of young Ferdinand and Miranda, which in the play is managed and orchestrated by Prospero, resists Prospero's power to control and domesticate, something he himself concedes. Ariel, Prospero's executive spirit, is wilder and less compliant in the opera. Antonio does not accept Prospero's forgiveness at the end but is expressly bitter and jealous of his brother still, whereas in the play he goes strangely silent. And Caliban in the opera, though more complex than in the play, in the end remains the crude but exploited native creature he has always been; in the play he shows at least intention of becoming civilized. Oakes and Adès do not change Shakespere's story so much as explore it for different shades of meaning. They tell it in a darker, chromatic key. As a result, the tale feels more modern, to suit the music to which it is set.
The choice of cast also affects the feel and meaning of the tale. Casting stunning British soprano Kate Royal with her strong mature voice as young and innocent Miranda cannot help but make the character a more formidable and less compliant daughter. Cynthia Sieden's very high soprano voice, often almost impossible to understand in its shrill shrieks, turns Ariel into a wilder creature than Shakespeare gives us and is suggestive of just how dangerous and unmanageable Propero's spirit is at the extremes. And assigning high tenor Ian Bostridge, whom we are accustomed to hearing sing Schubert, to the role of Caliban (!) adds to the creature's complexity considerably. Just setting The Tempest to modernist music intensifies it, but these three singers in particular change its internal feel dramatically. The Tempest has always been about the morality of power, but Adès' Tempest is more passionately and less stoically so.
It is far too soon for me to express anything more than personal enthusiasm for this work. Judgment will have to await a few more hearings - I'm still finding things in it I missed on the first few listenings that move me considerably with their eloquence.
EMI, who appear to a have an exclusive arrangement with Adès to record and release his music, are taking their dear sweet time about it, giving those of us who find him one of the leading composers of his generation the feel of hearing him in 'tape delay.' It takes several years between a work's premier and its release for the world at large to hear it. The Tempest premiered in 2004! And the composer's Violin Concerto, played by British violinist Anthony Marwood, has been sitting 'in the can' (and on download) for two years while EMI waits to find the right work to pair it with on a CD. That said, Adès has a generous discography, which I urge you to explore. His music will be with us for a long time.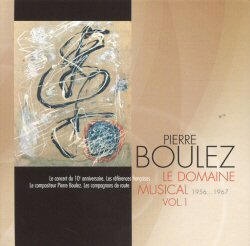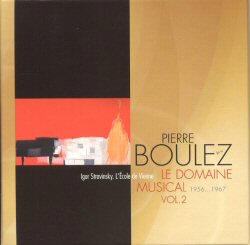 Pierre Boulez, Le Domaine Musical, 1956-1967. Vols 1 and 2. Accord Records Nos. 474-9209 & 476-8862
Speaking of Pierre Boulez, which I was in the first paragraph of The Tempest review above, this week is Boulez week at my house. Boulez has made himself the advocate of the music that grows out of the more radical wing of early twentieth century modernism, which he characterizes as its 'expressionist' wing in contrast to the more conservative wing which expanded music's "rhythmic vocabulary" without otherwise taking it forward. He is as interesting and instructive for what he says as for what he gives us as interpretive conductor and as composer; and while I often have to fight my way toward much of the music he champions, I have learned a great deal from him.
When Boulez refers to the early, more rhythmically driven music of Stravinsky as 'neoclassical' (and this term has become popular for designating modernist music that has a recognizable relation to what precedes it), what he is really saying is that the early modernist music of Stravinsky (and Bartok, Shostakovich, Prokofiev, and Britten) is not really modern, or at least sufficiently new. This music (and by extension the literature and visual art that contemporary with it) by attempting to renew rather than break away from the tradition, left modernism stalled.
Those of us who treasure 'neoclassical' modernism (and the first generation of modern literature and art) see it as a natural progression from late nineteenth century romanticism and impressionism smile at what sounds to us like Boulez's self-serving radicalism - Boulez as the enfant terrible. But Boulez, as always, is making a useful and important point, even if some of us can't help but hear it as upside down. We can't help but hear Webern, Schoenberg, Berg, Boulez's heroes of the Second Vienna School, as not saving or delivering music from the past so much as cutting it loose and spinning it off into space. But looking at the change objectively, the result is the same. Much of the post-modern music which followed the path pointed out by the Second Vienna School composers, can be, whether free or lost, genuinely new and exciting music. And Boulez is one of those who has helped us to understand and appreciate what it is.
Some fifty years ago in a series of programmatic concerts, Boulez set out to demonstrate and deliver what he called, Le Domaine Musical—in effect, the new and true modern domain of music, according to Pierre Boulez. And thanks to Accord, the French record label, we now have the fruits of this project in two multi-CD albums, all of which are more interesting and compelling than anything I can say in this lecture! The best way to make a case for your view of music history is to 'lead' us through examples, which is what these albums do. Boulez did a bold variation on this approach when he led the New York Philharmonic from 1971 to 1977 years, setting a considerable portion of the Philharmonic's subscription audience back on its heels. He has also conducted and recorded several of the world's leading orchestras in the music of Stravinsky and Bartok, among others, revealing those composers in what he conceives to be their proper light. But Le Domaine Musical may be the most useful thing he has done in this vein yet. And the performances in these albums have about them the freshness and immediacy of a radical program.
Volume 1 points to the principal precursor of all modernisms, Debussy, and then goes on to the music of Stockhausen, Berio, Messian, and Boulez himself. Volume 2 begins with a selection of late Stravinsky, the Stravinsky of which Boulez approves (!), and then focuses on the Second Vienna School of Schoenberg, Berg, and Webern. I'm not sure how long these albums will remain available - they are already unavailable through Amazon USA but Arkivmusic in the US and MDT in the UK still offer them. As I say, the performances are fresh and powerful; and the sonics are terrific. A wonderful music appreciation course with no talking!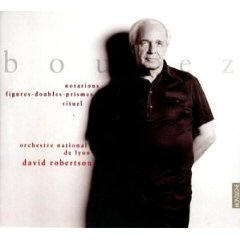 Pierre Boulez, Notations, Figures-Doubles-Prisms, Rituel. Orchestre National de Lyon, David Robertson, conductor. Naive Records. MD 782163.
As theorist, conductor and here on this CD as composer, Boulez's artistic ideal is clarity. Clarity seems to be what he finds insufficiently present in early modern music, at least as it is generally presented. He aims to create soundscapes that represent clear seeing. His Mahler cycle has been criticized by Bernstein romantics as being clear to a fault. In fact, it is lucid and powerful. Instrumental textures are almost visible. It is Mahler as heard by someone, Boulez would doubtless say, with a truly modern sensibility and his performances make a great case for Mahler. For the record, he has also recorded a splendidly lucid Bruckner Symphony No. 8 and Wagner Ring cycle!
If you are the sort who imagine landscapes when you listen to music, Boulez's nature is characterized by distinct, often conflicting forces. You have the impression you are seeing what is there, not some pastoral vision you might prefer. Listening to his series of Notations written mainly in 1980 demonstrates this effect brilliantly. These short works—a series still in progress—are not about narrative. There is no time for narration. They are about seeing. I will make you see.
Listening to the longer Figures - Doubles - Prisms, I was reminded of an experience I had recently watching a honey bee move back and forth among thistle blossoms: not lovely delicate dancing; but crisp, clear, strangely beautiful athleticism. I expect that playing this music is exhilarating: I have a distinct instrumental voice—they can hear me!
Can clarity—seeing clearly—be an end in itself in music? Or at least a metaphor for a way of being in the world? That seems to be a question many late twentieth century and contemporary composers ask. In theory it sounds questionable. But in fact, here in Boulez's music, not at all questionable. Captivating.
Systems used for this audition: Audio Note CDT3 transport and Dac 4.1 Balanced Signature. Blue Circle BC 3000II GZpz preamplifier and BC204 amplifier. Jean Marie Reynaud Orfeo loudspeakers. With Blue Circle BC6000 line conditioner. Audio Note Pallas and Sootto interconnects; Audio Note Sogon speaker cables.
Bob Neill, in addition to being an occasional equipment and regular music reviewer for Positive- Feedback Online, is also proprietor of Amherst Audio in Amherst, Massachusetts, which sells equipment from Audio Note, Blue Circle, and JM Reynaud, among others.