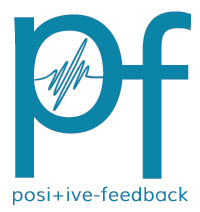 You are reading the older HTML site
Positive Feedback ISSUE
44

july/august
2009
From the Vinyl Vaults - A Quintet of Audiophile Jazz, Blues and Rock LP Reissues
by Myles B. Astor
In sharp contrast to our economy, the number of new and reissued vinyl albums continues to expand at an exponential rate. At home, the number of new homeless albums recently reached the bursting point, necessitating the purchase of a fourth record cabinet; that's no small feat for a one bedroom NYC apartment with an audio system, two people and three cats! How long before this record cabinet's storage capacity is exhausted (especially with it doing double duty storing my new 15 ips/2-track reel to reel collection) is anyone's guess. Among the re-homed records finding play time on my VPI table were the following the five albums.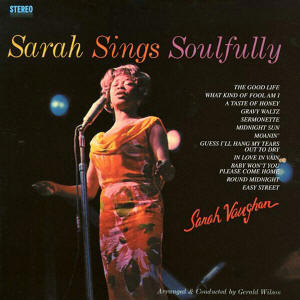 Sarah Vaughan, Sarah Sings Soulfully (PPAN SR-52116)
I've been reluctant, especially given my original enthusiastic review of their Lightnin' Hopkins re-release, to cover Pure Pleasure's Records later releases. Many subsequent Pure Pleasure LPs are sonically disappointing. More to the point, several albums arrived with a variety of Q/C issues including groove narrowing, distortion and scratches (including the Lonnie Johnson album reviewed in this piece).
That said, Sarah Sings Soulfully would make a worthy addition to any audiophile's music collection. Sarah Sings Soulfully marks Vaughn's last effort for Roulette before returning to the Mercury fold. Vaughn, capably backed by the likes of Teddy Edwards, performs several standards including "Round Midnight," one of the most recorded jazz pieces, "Guess I'll Hang My Tears Out," the Julie Styne and Sammy Cahn piece made famous by Frank Sinatra as well as "A Taste of Honey," the piece made famous by Herb Alpert and the Tijuana Brass in '65. With the possible exception of "Round Midnight," Vaughn is not quite as melodramatic on Sarah Sings Soulfully as with her other recordings.
Mastered by Sean Magee at Abbey Road Studios, Sarah Sings Soulfully possesses a huge soundstage and tremendous instrumental separation. Overall the recording has a club-like perspective though there's little in the way of ambience. Vaughn's voice is closely mic'ed, and, is as typical for many recordings of this era, awash in reverb. Compared to the Roulette issue, the Pure Pleasure release is edgier and more electronic (solid-state?) sounding and less three-dimensional. Surfaces are a totally different story. Original Roulettes must have been pressed on cheap or recycled vinyl; to a tee, they sosund murky and veiled with noise riding atop the music. By comparison, the Pure Pleasure reissue is far quieter and transparent, thus leaving the listener to concentrate more on the music at hand.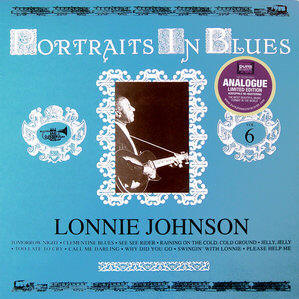 Lonnie Johnson, Portraits in Blues, Vol. 6 (PPAN SLP162).
If you like Muddy Waters, you'll immediately take to the music of Lonnie Johnson. One will be in pretty good stead too as the work of Lonnie Johnson didn't escape the notice of Robert Johnson, Elvis Presley or Jerry Lee Lewis. Or as Keith Shadwick expressed it in Blues: Keeping the Faith, Lonnie Johnson was the "instrumental link between blues and early forms of jazz." Johnson's "gift was the area of melodic and thematic improvisation." Like many of his peers such as Lightnin' Hopkins, Johnson's career was experiencing a resurrection in the early '60s. Storyville Records Portraits in Blues, recorded seven years before Johnson's death at age 81, finds Johnson paired with the renowned Otis Spann on piano.
Storyville Records, founded in 1954 by jazz aficionado Karl Emil Knudsen, isn't exactly a household record label name. As explained on the Storyville website, "the burgeoning post-war jazz scene attracted the American jazz artists to tour in Europe and Scandinavia and Knudsen seized every opportunity to record his jazz heroes for the label."
Employing the typical vocal processing of the day, this album varies in sound quality between tracks. Instruments are less processed and therefore sound far better than vocals. Sean Magees' re-mastering brought out a tremendous sense of detail on Johnson's guitar and Spann's piano as on "See See Rider." This Pure Pleasure release, like the Sarah Vaughn, exhibits a slight electronic coloration.
As mentioned earlier, Pure Pleasure's recent releases have not been the epitome of Q/C. A large gash on "Tomorrow Night" rendered the first track virtually unplayable. It's still worth a gamble on this foot tapping music.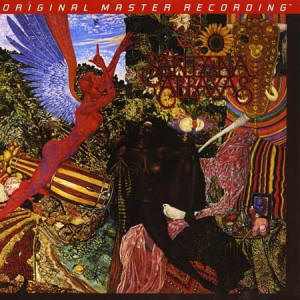 Santana, Abraxas (Mobile Fidelity MFSL 305)
Move over Michael Phelps and get a hit of this album!
"A visionary artist with no regards for genre boundaries (Santana.com)," sums up Santana's best selling album Abraxas in a nutshell. Emerging from the '60s SF Bay based rock scene, Abraxas featured an eclectic fusion of salsa, jazz, rock and blues. The album is best known for its two blockbusters, the Gabor Szabo intro "Gypsy Queen," leading into the Fleetwood Mac founder Peter Green's "Black Magic Woman" and Tito Fuente's "Oye Como Va ("Hey, what's up)." "Black Magic Woman" is noted for its complex polyrhythms punctuated by the use of percussion instruments; "Oye Como Va," is noted for its guitar and organ solos as well as Santana's Latin flavoring using electric guitar, Hammond B3 and drums.
Abraxas's sound quality, given the recording standards of the day, is even more amazing. And the original Columbia orange label release is simply left bloody by the sound of the new MFSL Abraxas reissue. The MFSL production bests the original release in every way including frequency extension, palpability and solidity of instruments, lowered distortion and midrange presence.
The situation becomes a little less clear cut, however, when comparing the sound of the latest MFSL re-release to the late '90s Jorge Kessler mastered ARS release (though ARS is extremely rare commodity). Compared to the ARS (and adjusting for VTA), the MFSL Abraxas version's low frequencies are a little boomier; vocals are slightly more recessed and not quite as transparent; upper octaves sound somewhat softer; dynamic attacks are just slightly rounded. By comparison, the ARS is more focused, cleaner; instruments more 3-D but definitely edgier—as in the difference between solid-state and tube electronics.
But what really separates the MFSL Abraxas release from all other Abraxas releases (including the ARS) relates to the correct phasing of the right and left channels. MFSL discovered in the course of mastering Abraxas (including the ARS) that Columbia had reversed the left and right channels. So there's only one choice if one wants to hear the "real" recording.
I am, however, puzzled as to why MFSL didn't go all out and cut Abraxas at 45 rpm. There's probably a whole lot more music on those original tapes than the standard LP speed can reveal!
Cannonball Adderley, Something Else (Analogue Productions 45 rpm ABJN 81595)
Something Else, widely regarded as one of the best jazz albums ever recorded, was one Blue Note that I was especially looking forward to receiving. Happily, AP didn't make us wait until the end of the Blue Note series to experience the fantastic playing and sound captured on tape by the legendary Rudy van Gelder on Something Else.
And one won't be disappointed by this reissued Rudy van Gelder classic one iota! (Nor will anyone be let down by Acoustic Sounds 100 Best 45 rpm jazz albums or the Blue Note reissues released by Music Matters or Analogue Productions. These albums are exceptional and worth every penny.)
We find on Something Else, Miles Davis returning the favor (Milestones and Kind of Blue) and appearing as a guest on Something Else. Adderley is backed by a very special quintet including Miles Davis on trumpet, Art Blakey on drums, Hank Jones on piano and Sam Jones on standup bass. The album is packed with highlights for all: the smoothness of Adderley's sax; the interplay between Davis on trumpet and Adderley on alto sax on the title cut "Something Else"; the arrangement of "Autumn Leaves"; the playing of Adderley on "Dancing in the Dark."
The sound on Something Else is something else too! There is a timbral realism and sense of projection to Adderley's sax that is rarely encountered on vinyl. RVG outdid himself recording this classic jazz LP—and Mssrs. Hoffman and Gray did a great job of preserving the sound of the master tape.
Given the silly prices commanded by these original jazz releases on eBay—not to mention the dubious and unpredictable condition—it's a no brainer to snap up the limited edition Something Else one up before it goes out of print!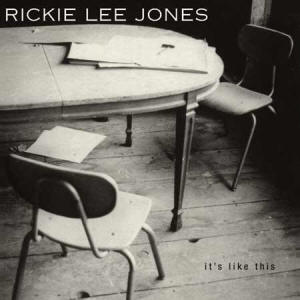 Rickie Lee Jones, It's Like This (Analogue Productions/Artemis Records 45 rpm AAPJ 51056)
One thing's for sure regarding Rickie Lee Jones 2000 release It's Like This. This album will never adorn the shelves of Wal-Mart.
RLJ is one of my favorite female vocalists and the music on It's Like This has steadily grown on me with time. The first of Jones' two Artemis' recordings puts most other rock LPs to shame sonically. Furthermore, it's one of the few albums Jones has done since her original debut album that's recorded in glorious analog sound!
Now It's Like This is not a grabber like Jones' debut release or her Pirates album; like most of her body of work, however, It's Like This demonstrates her meticulous preparation and arrangement of pieces, a trait that extends to her live performances. While It's Like is hardly the first album that comes to mind when one thinks of RLJ, this album nevertheless received a Grammy nomination for Best Pop Traditional Album.
Yes but not unexpectedly, the sound quality on It's Like This varies from track to track. At its very best, the three dimensionality, depth and separation of instruments on this analog sourced album surpasses the mediocrity of many mass marketed rock recordings. Tracks like "Long River," have a closer, more up front and club-like feeling. Tracks like "Watch over Me" shows off Jones' nasal, unrefined, almost child-like voice. Surprise, surprise. There's actually frequency extremes and Jones doesn't sound like she's being recording in the wormhole between the Alpha and Delta quadrants. And of course the attention and detail paid to the mastering process and subsequent 45 rpm release doesn't hurt the sound either!
Both It's Like This and Something Else are crying for release on 15 ips/2-track reel to reel tape! Chad? Are you listening?