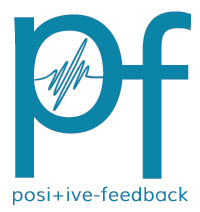 You are reading the older HTML site
Positive Feedback ISSUE
44

july/august
2009
Portland Cello Project
by Michael Mercer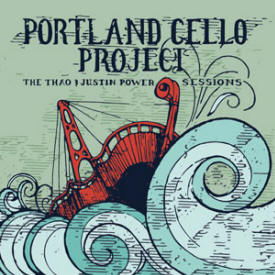 The Thao & Justin Power Sessions. Kill Rock Stars
There are endless avenues of ways to discover new music today. Watching one of your favorite weeknight dramas and dug the track playing throughout the sappy love scene? I'm sure they plug the song following the episode (or during the commercial break). Never before have we been so instantly informed about the music penetrating mainstream media (and even the underground). The ease of this delivery of information is unprecedented, and it spoils us in some ways. We lose our will for the involvement art demands, even if it means we pay attention for a few short minutes.
The overload has required people in the information delivery business to get creative, and that is one of the actual benefits of all these portals and gadgets. I am constantly seeking out new music (sorry to state the obvious to some readers), and therefore I end up with a lot to check out. PR firms sometimes nail an idea for a good press release, and sometimes it is plain as day how much they really don't care. The Portland Cello Project need not worry there. They picked the right people with Riot Act Media, and with Kill Rock Stars (an amazing name for a label, isn't it) being a newly formed record label in a sea of music business collapse, every decision matters. Why do I think they've got a winning formula? Here's a sample of their press release:
"In Spite of a barrage of musical and visual overload, you'll figure out that you aren't in a crowd of horse-tranquilizer-snorting maniacs, and that "PCP" is the tongue-in-cheek acronym of this group of classically trained cellists."
Now I would never pretend to be a classical music aficionado, though I do own a fair amount of the music and there is a time and place for it in our home for certain. Admittedly however my knowledge of well-known or respected cellists is pretty limited to Yo Yo Ma. The great thing about the music of the "PCP" (as they're affectionately called by their fans) is that it doesn't subscribe to any restrictive doctrine of "classic" classical music or any other fragmented genre for that matter. The Thao & Justin Power Sessions is an entertaining mixture of emotionally triggering string work and singer-songwriter/pop sensibilities. The album provides a brief, necessary departure from the mundane and soulless-sounding junk currently affecting the MTV generation (there are always exceptions of course).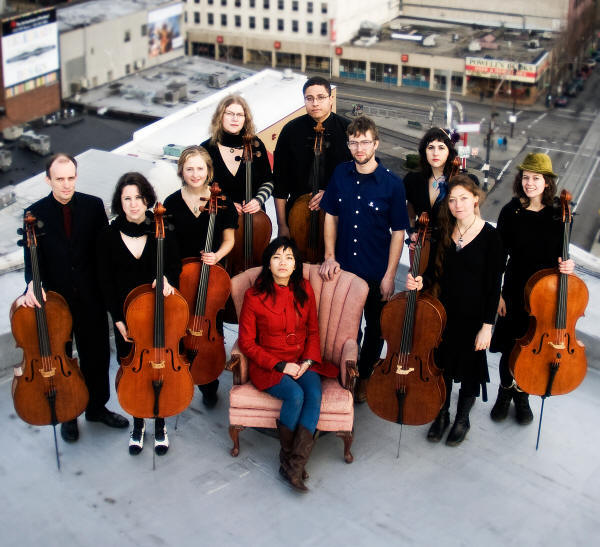 "The Lamb"; the record's opening track, sounds like the minimal, dark and dreary and beautiful string music you might hear during a quiet, reflective scene in an epic World War II film. A scene from Band of Brothers comes to mind actually: When Easy Company is listening to a local German play Beethoven on his violin while standing on his bombed-out home glancing over the carnage. "Beat" (Health, Life, and Fire) combines a folky, percussive sway with a sultry and vintage lyrical style of Thao. She sounds a bit like Erin Mckeown on her distillation album. "Cut the Rope" introduces the listener to Mr. Justin Power, who continues this sort of somber, folk-styled lyrical flow, sonically reminiscent of Beck's amazing Mutations album. PCP picks things up a bit on "Mouth For War", a number that proves they've got skills on those strings. The incremental/energetic tone of the music is a seeming message for what's happening today across the globe and the crescendos sound like something the classical faithful will approve of.
Thao channels her inner Edie Brickell on "Violet", a song that would have been home on her commercial hit Shooting Rubberbands at the Stars. There is a kind of Celtic strum to the rhythms on "Seeds May Fall." Justin Powers lyrical styling is a gorgeous combination of Rufus Wainwright and Teitur (check his poetry and Aeroplanes album) and "Turkish Wine" is another fine instrumental with peaks and valleys.
The Portland Cello Project should be proud of The Thao and Justin Power Sessions. Sometimes making comparisons can seem to take away from the originality of the artist, but it is necessary in painting a picture of the music. Let me be clear however: This group of dedicated musicians have taken their influences and created a unique blend of classical cello sounds and thoughtfully crafted lyrics. Their sense for combining the traditional and the obscure makes this a harmonious journey worth your exploration. You can check them out at: http://portlandcelloproject.com/
The recording is not fantastic, though that could be due to the sonic shortcomings of my promotional CDR. It is not terrible either; the strings have body and there is a sense of space surrounding the instruments. The overall dynamics is seemingly crunched a bit, but not so badly that you can not listen past these details in order to enjoy the music itself. Perhaps another choice of microphones in the future, or mastering would suffice. Despite any of these comments; this album is a sincere pleasure to listen to.