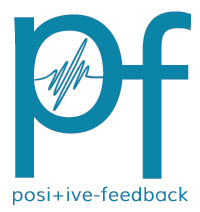 You are reading the older HTML site
Positive Feedback ISSUE
44

july/august
2009
The Neoteric Listener... a Complete System for the Music Lover from Glow Audio
by Dean Seislove and Hunnie Nguyen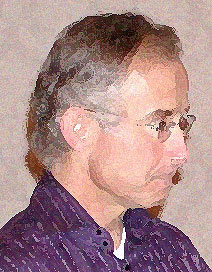 "Ooh, that is really a nice looking stereo!" She said, opening the door and laying her eyes on the fire engine red Amp Two ($648), two red satellite Voice One Speakers ($348), and natural wood Sub One subwoofer ($348). So much for having to trick her into participating in the listening session (and believe me, that says a lot about the Glow Two's appeal right there)…
Some audio products seem meant for the solitary enthusiast who is ensconced deep within a fortress of sounditude, limbs girded in thousand dollar cables, and protected by a perpetual "Keep Out! Maestro in Repose!" sign. Who doesn't like being enveloped in a musical cocoon? Works for me, most of the time, but the Glow Two System is a product that almost demands to be shared with others. The Glow Two System is like a Vespa: Great for one, but a blast with company! Ok, so maybe it can't literally speed you down the alleyways of Rome, but it is sporty, cool and just too fun for the usual reviewer drivel that I usually deliver by the amp-load.
"Yeah? Well, you don't have style or substance!"
I've heard this apt rebuke so often, I've had it silk-screened on a t-shirt. We can't all be mod or god, of course, and the only thing that keeps me from having style is the last two letters. Still, I know my limitations, which is why I've always relied on a Uriah Heep a helpin' of hospitality from those who have real taste, so as to offset my sweet n' low sensibilities. In my encounter with the Glow Two System, I've asked Hunnie to draw on her experience with fine audio (mainly by being dragged to audiophile shows by me) and her superior consumer and fashion sense to offer her perspective. Although I spent quite a lot of time listening on my own, I quickly recognized that Hunnie's observations succinctly framed and summed up the most important aspects of the Glow Two's characteristics… Even so, I'm not sharing the PFO wine cork remover I get for the review! As you might surmise, the quotes in italics are hers, the subsequent blather is mine entirely.
"It's so cute! Aesthetically, they're very nice to the eye, and they'll always look good in room, even when you're not using it. Small speakers like that will never go out of style. They're really attractive, and the speakers look like acorns!"
And let's get down to brass tacks; this system is as much for the eyes as it is for the ears. Which is not to say that it doesn't pull off the sound, it does, but it's one of those products that grabs you at first sight. The amplifier sports classic art deco architectural lines, and the beautiful finish is so red that, from a distance, you might think it's on fire. It's small, but of such substantial weight and sturdiness, I almost looked for the wheels and a hook-and-ladder. A large volume knob is backlit in an oscillating pattern of colors (green, blue, purple, red, and a lot of hues in between). Naturally, I turned off the lights when writing this review and enjoyed the Laserium. The speakers do, in fact, look like acorns, and are available in a two wood finishes (blond and mahogany) as well as high gloss finishes in pearl, black, red, or silver; although, why anyone would want anything besides red is beyond me (again, the no style or substance thing). Interestingly enough, the speakers feature "Proprietary 3 full range driver cones made of bamboo and hemp fibers and 'Puzzle piece' enclosures made of recycled scrap wood, to minimize environmental impacts." Personally, I like the attempt to make mean, green sound machines, and the materials selection only reinforces the in vogue vibe of the Glow Two.
"They sound shallow, not a whole lot of depth. The drums and bass can't handle it. It's like the middle is gone."
Are the looks a cheat? A come-on that only promises what they can't deliver? No, Hunnie's initial reaction requires some important qualifications. First, the subwoofer was purposely turned down as to be virtually nonexistent, and, next, the speakers were placed wide apart (slightly wider than the usual placement for my Tannoy stand-mounts).
"There, that's much better. They still don't compare to our big stereo, but they sound really nice, really smooth."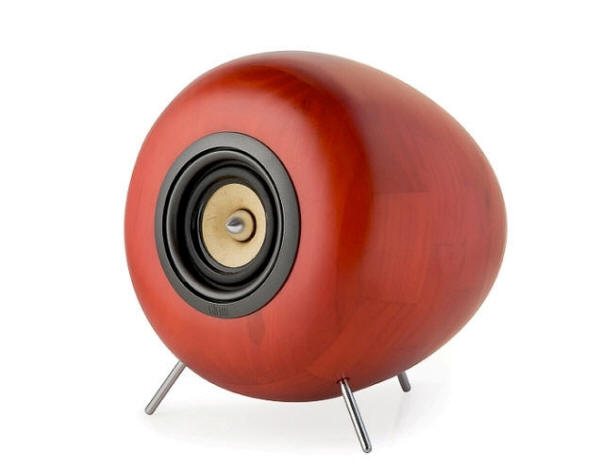 The Voice One speakers opt for a presentation that is designed for long-term listening without fatigue. This is no sonic sonogram, so don't expect to hear coughs, squeaky chairs, and all those other audiophile scavenger hunt items, but do expect to hear a surprisingly extended frequency range. Voices, such as Jane Monheit's in her rendition of "Moon River" fill the listening area without a hint of being chopped off by a truculent tweeter. On some recordings, especially ones plagued by excessive sibilance, the Voice One's refused to make excuses for the shortcomings, so be prepared. Most of the time, however, there's rarely anything remotely resembling anything harsh or discordant. This is true even on my standard issue Freedom Rock cornucopia, and my higher grade recordings all sounded splendid. You can't crank up these speakers, of course, they're made for listening, not for demolition. They go plenty loud enough for a small space, however, and they actually sound pretty rocking when playing pretty loud rockers. They enjoy music a bit more refined, though, so jazzers and classical music lovers will love these in a small setting. These speakers are also fairly directional, in that placement has a significant effect on soundstage, depth, and integration of the sound. Width apart seems to be more important than proximity to the walls, but the speakers are easy to move and dial in, so placement is more a matter of consideration than cause for concern. One quibble: The feet attached to the Voice Ones justbarely fit on my stands, forcing me to exercise unwonted dexterity and mental awareness!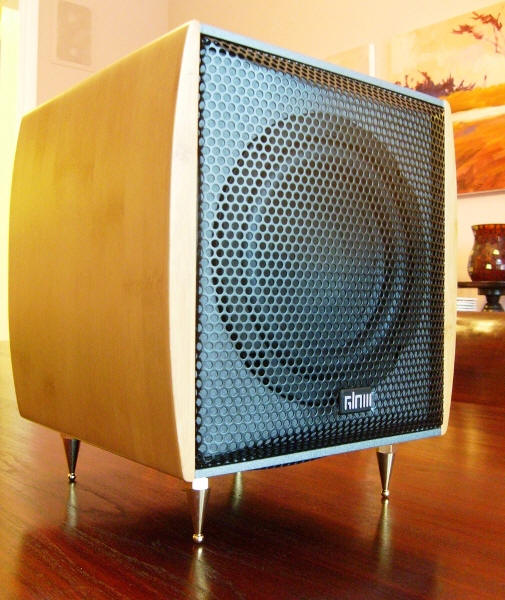 Don't even think about skimping on the Sub One purchase. The subwoofer is absolutely essential for the Glow Two to give a rewarding audio presentation. Although The Sub One is no Little Beaver earth drill—I tried it in an AV setting in a larger room and found it wanting—in a room proportionate to its size, it is agile, tuneful, and substantive. Bass guitar on Chris Botti's "Glad to Be Unhapy" evokes the characteristic bottom end of the Glow Two: full and musical, maybe not a push on the chest, but certainly delightful for those who require music and not elevator drops. It's a little tricky for the novice to hook up everything up without an owner's manual, but, thanks to Hunnie's ability to remember directions, we soon got everything singing and barking. No blowups from amp, subwoofer, or reviewers! Everyone who saw our Glow Two set up, however, shared our wish for the subwoofer to come in red to match the speakers and amp.
"This one sounds clearer. The last one sounded a little muddy."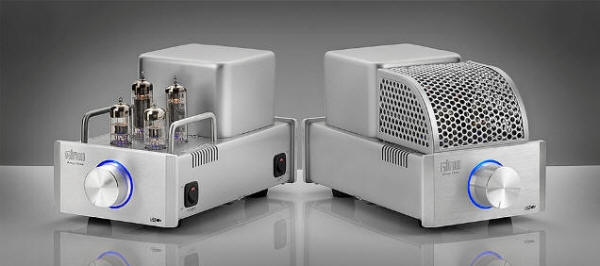 When it comes to the Glow Two, all sources are not created equal. The "muddy" IPod Nano was made to appear so when the CD82 became the "clearer" source. As iPod sound goes, it was clearly better than most of the iPod player systems that I've heard, but both amp and speakers enjoyed the source upgrade. Actually, the most enjoyable use of the Glow Two came when I connected my pc via the USB A-A cable (male to male—don't ask, and be prepared to go online or hunt for this elusive $5 cable). I spent much of my time having a natural ball listening to Pandora, Slacker, and all my other internet stations. Does that mean "better" in strict audiophile terms? No, but the virtue of this system is that it can double as a traditional music system and as a means for enjoying cybertunes. I enjoy listening to World music and obscure blues on the internet, as both are usually well-recorded and, at the very least, something that I haven't heard fifteen million times by age twelve (my musical expiration date). Barcelona-based flamenco fusion group Ojos de Brujo's "Cale' Bari" contains an inviting mix of guitar riffs, percussion, and the ubiquitous DJ "turntablist" squonks that so delight the Euros. This selection is a wonderful test for all systems mini or maxi. Streaming this tune through the Glow Two proved highly engaging and satisfying. Everyone who heard this system in my pc configuration recognized the potential for nonstop torturing of those who do not share my highly "idiosyncratic" musical taste. Blind Willie Mc Tell full blast 'til dawn! More than worth my 1200 bones, if you ask me…
Hunnie is used to a Denon/PSB setup or my Arcam/Tannoy rig, so she's accustomed to more depth, presence, and SPLs than the Glow Two is designed to deliver. Nonetheless, for over a month, it acted as my main source for listening, and hooked up to my Arcam CD82 player, I assumed that $1200 should be enough to purchase something that could play everything in my collection and not leave me wanting more. For the most part, that is just what the Glow Two did, it delivered a marvelously warm, balanced, and, yes, "tube" sound on variety of recordings. Featuring EL84 power tubes and an internal DAC, this amp adeptly elicits the character of each recording. Though the system is relatively small, you never feel like you're missing anything important, and the sound you do get is thoroughly enjoyable. Here's some manufacturers info about the amp:
Removable tube cage included with all amplifiers

Simple plug-and-play USB connection for your laptop, PC or MAC (cable included)

1 pair RCA inputs

Single ended (SE) Class A pentode design

EL84 power tubes*

Ceramic Tube Sockets

All point-to-point wiring

Precision hand wound transformers

Minimum negative feedback

Tubes are self-biasing and never need adjusting

1/4" Headphone jack

ALPS volume potentiometer

High quality binding posts

High Gloss Enamel paint with anti-corrosion undercoating

Steel chassis
This system is perfect for a small office, library, or a small room like ours…
I don't really need to add much more to Hunnie's summation than to say that I thoroughly enjoyed the Glow Audio Two's month long visit. It turned heads and I turned it up… which Hunnie promptly turned down and turned the station, but this system is small enough and inexpensive enough to buy two! Highly recommended.
Glow Two System (as reviewed)
Amp One ($648) + Voice One Speakers ($348) + Sub One ($348)
List cost: $1344, retail price: $1188
Glow Audio www.glow-audio.com