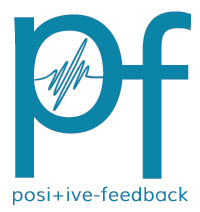 You are reading the older HTML site
Positive Feedback ISSUE
43

may/june
2009
More Great Music
by Karl Lozier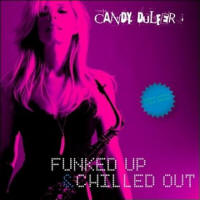 Candy Dulfer, Funked Up. Alto Saxophone; Candy Dulfer, Band and Guests. Heads Up CD# HUCD 3152
This very upbeat release just may be one of the last by the company's former executive producer, Dave Love who also had been quite a fine musician and from my viewpoint an excellent producer who was easy to deal with. This recording, as the title suggests is Funk. It is also a bit progressive, very upbeat and could be described as a modern big band sound. Candy handles her instrument very well and is heard doing a bit of vocals and also had a hand in most of the compositions. There are no "Great American Songbook" selections here. The recording was done at a rather high level and you may need to turn your gain/volume control down a few notches. With the first few selections there were some unusual touches keeping with a general idea of Funk. Definitely a fun time was being had by all the performers. Candy's reputation has been growing rapidly and this recording with fine audio quality certainly shows why. It is also true that her experience recording the soundtrack for the documentary film, Kissed by the Grape influenced a couple of relaxed tracks on this release. Recommended to "keep up with the flow'.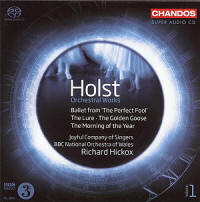 Gustav Holst, Orchestra Works. Ballet from "The 'Perfect Fool'. 'The Lure', 'The Golden Goose'. 'The Morning of the Year'". Orchestra: BBC National of Wales. Conductor: Richard Hickox. Chorus: Joyful Company of Signers. Chandos Hybrid CD-SACD CHSA 5069
The very short Andante that opens the Ballet from The Perfect Fool very quickly shows off the excellent audio (listening mainly to the SACD stereo layer) quality Chandos has achieved on this release. Full, rich, sweetly and smoothly extended into and through the entire treble range, it is particularly good at presenting a three dimensional soundscaping with excellent depth. The ballet consists of the Dances of the Spirits of Earth, Water and Fire. This selection is quite well known as an orchestral showpiece. Here the orchestra, aided in two selections by the fine small choral group achieves great success. This music is simply delightful; a gem is an accurate description. The choral ballet, The Golden Goose was written by Holst for Morley College where he had been the music director for more than twenty years. Extremely briefly I can describe this ballet, based on Grimm's fairy tale of a princess who could not laugh, as continuing in the same vein of enoyability as the preceding music from the "Perfect Fool" ballet. Here Holst adds beautiful choral and solo vocals to excellent effect and very clearly recorded in rather small quantities from the excellent "Joyful Company of Singers" obviously a very well trained and recorded choral group! The third selection is rather traditional in spirit with only a little of Holst's famous imaginative innovations. The wisp of a story consists of a tale of moths dancing around a candle flame. The more conventional aspects of this composition are based on a Northumbrian folk tune. It is perky and powerful and the most Holst-like passages in this ballet music. I would be curious if any of my usual readers has any idea of what or where Northumbrian refers to. Ah, yes, live and learn. Unfortunately you may never have the chance to ever use the word even after you, I assume, look it up in your reference book. It should be there without you having to once again consult a web browser.
The final selection on this release, is as far as I am concerned, another gem. It was also the first musical work commissioned by the BBC Music Department. It should be considered a serious composition and like the Golden Goose, it is a choral ballet. Dedicated to the English Folk Dance Society, as would be expected, Holst has imaginatively created a unique and interesting fusion of his imagination and folk music. The attractive choral sections simply represent "the Voice of Nature" and nothing more. There is much musical beauty here with imaginative scoring, and playing, with the horns and winds beautifully captured by the audio engineers. Much of the time there is a very low frequency organ pedal offering a solid foundation. If it is not extremely extremely deep and low in gain, your loudspeakers are simply "doubling". That means, for means, for example, that instead of laying down the very deep organ pedal at perhaps 32 Hz, the cone is doubling or giving you the second harmonic of 64 Hz at a louder gain or volume level—a relatively common fault. The choral accompaniment here does not get much chance to show off and there are not the solo passages as in the Golden Goose composition. The Ballet from The Perfect Fool has finally and justly achieved a bit of fame. However, put on the other three fine selections and challenge your seasoned classical music loving friends to guess the composer. I highly recommend this release and you will take notice of the seemingly easy and relaxed audio quality. It is about as natural or real as it gets, thanks in great part to the SACD layer, even in the stereo only mode.
Here I want to quote from the fine liner notes by Colin Malthews "Holst, there is no other composer quite like him and if he has sometimes seemed eclipsed by his more gifted contemporaries, he remains one of the most original and innovative musicians of the past century." Karl Lozier says, "I agree whole heartedly."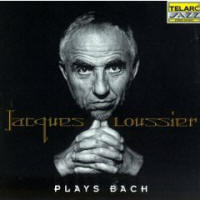 Jacques Loussier Plays Bach. (The 50th Anniversary Recording). Piano: Jacques Loussier. Bass: Vincent Charbonnier. Drums: Andre Arpino. Telarc Stereo CD- 83693
Now seventy-five years old, Loussier is certainly not slowing down. Actually the opposite is occurring with Jacques and his music making. As usual, the biggest percentage of his playing is with his very old buddy, Bach. I keep remembering his release some years ago with him and his trio, doing gently swinging improvisations and possible variations on sections of Beethoven's Symphony No. 7; that is still my personal favorite. For long time fans of Loussier's Bach, there are some repeats here, though the outstanding audio quality in nearly all selections quickly reveals a truly new approach by all three of the trio. Personally, I applaud the changes and enjoy the increased and more flexible contributions by both the bass and drum players. This release should sound new, really new, to all his loyal fans. This fine release by Telarc is outstanding in all respects though they did skimp quite a bit with quantity. I just finished listening to some new releases that contained almost an hour and twenty minutes each: to not even give listeners a full or almost a full hour for their money is disappointing.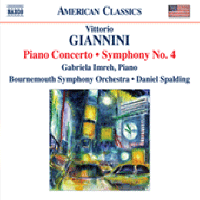 Vittorio Giannini, Piano Concerto. Symphony No. 4. Gabriela Imreh: Piano. Bournemouth Symphony: Orchestra. Daniel Spalding: Conductor. Naxos CD 8.559352
An unusual beginning to this review, was the arrival of an Email message that arrived after going through both editors Robinson and Clark. The Email was a request to review this recording along with an offer to send the recording to me. Exactly why I was chosen was not and is not perfectly clear to me though I can guess. I am known as usually being fussy and detailed with equipment reviews but known as very relaxed reviewing music with my main goal encouraging listeners to give classical music a good chance of being appreciated and evaluating the recorded audio quality. Picking details critically is of no help gaining more admirers of classical music.
The Giannini Piano Concerto was composed in 1934, performed in 1937 and never heard again until this release. The Symphony No. 4 was composed in 1959 and premiered the year after by conductor Jean Morel to whom it was dedicated ; a somewhat sneaky way to assure at least one performance, perfectly legal and not generally frowned upon. As with the Piano Concerto, the Symphony has been neglected till now. One never knows but I would not be surprised to see the neglect continues. The performances by conductor Spalding and this guest appearance with the deservedly well known Bournemouth Symphony Orchestra and pianist Imreh, has nothing to do with my rather negative assumption. I need to find some other reason for my negativity. For the first time in about two years I communicated with my mentor in whom I have unfailing great trust. In one rushed listening session she had the situation nailed exactingly while my brain played generalities. The reason behind my generalities was that while my brain was searching for continuity and a bit of that and variations or things ultimately reaching a single climax, I had been hearing borrowed excerpts from concertos by Grieg, Rachmaninov, Saint-Saens and Tchaikovsky and I am almost certain that old film music composition Addinsell's Warsaw Concerto popped up also. I will not have the nerve to check that one out some day. Repeated musical figures that are not very innovative and repeated in sequence personally led me nowhere, a real lack of development and ultimately my lack of interest.
Let's admit to a lack of originality or creativity without the composer's voice being heard over and over again. I reached a dead end in my listening sessions and certainly can not recommend this to beginning classical music listeners. Students of music might want to study this concerto to see what goes wrong without a continuing thread leading and tying it together, in my mind at least. There are plenty of arpeggios, double octaves, and predictable filigree passages and certainly not unique. The pianist adds personal notes to the liner notes and is finding much there that I as an interested listener am simply not hearing. "What took time and patience to develop was the vision of the whole of the complex architectural lines". One of many statements that I did not hear; there was no vision of the whole in my mind that ever developed. I have gone into too much detail and apologize. As with other experienced conductors I would bet that Daniel Spalding could work over the score and make great improvements but that is not his job. The second movement seemed to be the best in the concerto and in the symphony; to my mind, it could almost stand on its own as a tone-poem. The symphony is far the better composition as if after twenty-five years Giannini had gained valuable experience. The conductor, orchestral and pianist's combination was just fine; simply limited by the composition. Do remember that Spalding and his Philadelphia Virtuosi Chamber Orchestra have become, quite deservedly, quite famous. Here the very good overall audio quality is seemingly not quite the equal of his last review by me.