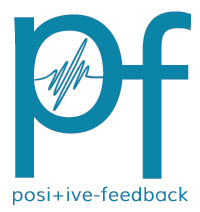 You are reading the older HTML site
Positive Feedback ISSUE
43

may/june
2009
AudioKarmaFest '09 - A Music Lover's Feast in the Mid-west
by Greg Weaver

The spectacle that would be known as the 6th annual Audiokarma Festival sprang into life and flourished Saturday and Sunday, May 3rd and 4th, at the Embassy Suites Hotel, in Livonia, Michigan. The phenomenon was an unqualified triumph for the music loving audiophile among us.
The sixth what? Yeah, that was my initial reaction too. Honestly, before last spring I had never heard the phrase, let alone been given a hint as to what it might mean. I had quite literally stumbled across web coverage of the previous year's (2007) event just weeks before last year's event (2008) was slated to begin. What I had discovered had piqued my curiosity enough that I made plans to go check out this mystery. When last minute work issues foiled that planned mission of discovery, I vowed that this year, I would let nothing get in my way.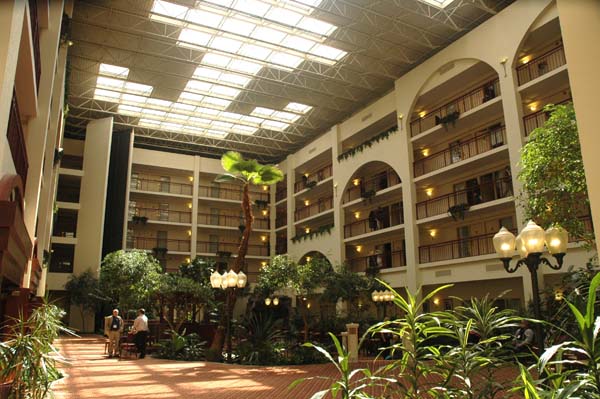 Five stories of audio fun – a view the Atrium side of the Embassy Suite Hotel courtyard.
An endeavor of pure passion from co-founders David Goldstein and Ernie Burke, what started in 2003 with some 7 rooms (simple partitions in one large ballroom of a local hotel) playing to about 75 local audio club "regulars," this hobbyist event has truly burgeoned into something quite special. This year the event boasted nearly 50 rooms visited by over 1000 attendees. Though the event has shown steady growth since its inception in 2003, this year's AKFest witnessed incredible growth, roughly 65% over last year's 31 rooms.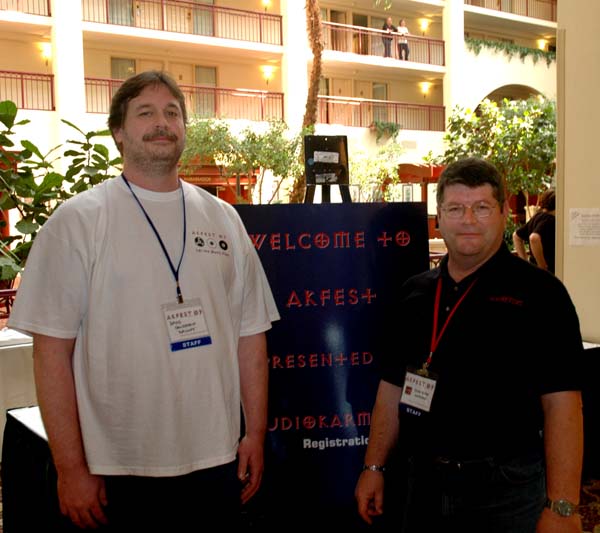 AKFest co-founders, David Goldstein (l) and Ernie Burke (r).
This event turned out to be one of the most good-natured and fun shows I have attended, perhaps since the late 1970s. Not that I don't enjoy most of the industry shows that I attend, like the annual CES, for example: I do. And though the seasonal demand of my University work schedule prevents me from attending the highly touted Rocky Mountain Audio Fest every October, from all the reports I've seen and heard from my many friends and colleagues, it is still nothing quite like the AKFest.
No, this event was something different. As a hobbyist show, it was something more laid-back, more relaxed, and more personable, entirely about the music. Yes, there was some commerce, but not that typically associated with events like CES; these were mostly individual purchases, or trades, listeners buying items to take home and use in their own system.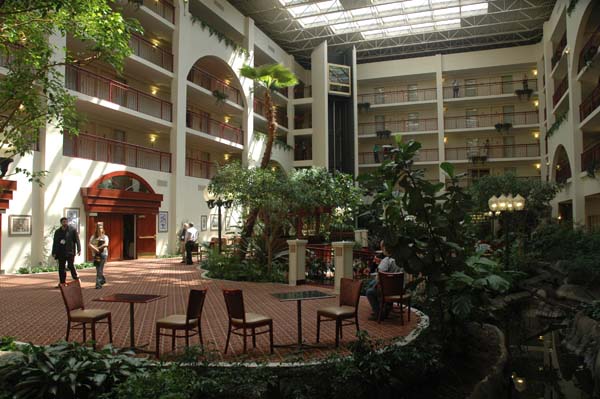 Looking at the large ballroom suite exhibits in the Atrium area of the courtyard.
There were a large number of rooms, fully 25 percent, that that had absolutely nothing whatsoever for sale. These privately subsidized, non-commercial "exhibits" were in fact, paid for by AudioKarma members, or by members of other area audio clubs like the SMAC (Southeast Michigan Audio Club).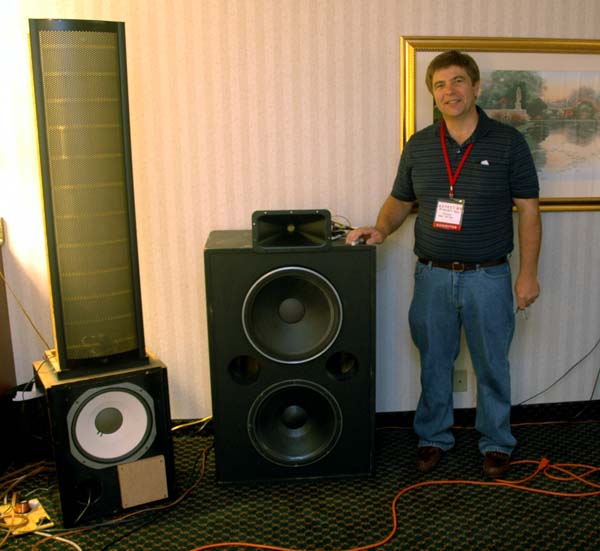 AK and SMAC member Dan Csomos (AudioKarma name, Cosmos) with his vintage JBL bins and hybrid panels he fabricated from Martin-Logan Odyssey panels and JBL L55 woofers.
In these rooms, club members brought in and set up their own personal systems, many of which consisted of the DIY or Classic variety. There were even a handful of rooms set aside just to trade items, to exchange tubes, records, discs and other items; the so called swap rooms!
The overall level of friendliness and general celebratory spirit ran rampant over this event, growing with every hour. It permeated every aspect, from the seminars right down to the exhibits and demos. While I did hear some disputes of the typical variety, optical disc versus vinyl, valve versus silicon, horns versus ESL versus dynamic versus planar dynamic drivers, I witnessed no real arguments, no swelling egos, and no chest-pounding pontification; only music lovers discussing their differences of opinion, their preferences, or their own listening biases, with courteous, civil, and informed discussion. Wow, who'd a thunk?
And talk about door prizes! Twenty-three manufacturers (yes, I said 23!), including companies like Audience, Audio Classics, Blue Circle, JoLida, Kubala-Sosna, Mapleshade, Marantz, McIntosh, Snell, Soundstring, Tyler Acoustics, and a dozen others, provided all manner of items for random drawing give-a-ways during the two day event. I'm not talking about just the trifling CD or paltry t-shirt here; I'm talking about nice cables, amplifiers, all manner of REAL treasures, not merely prizes in name.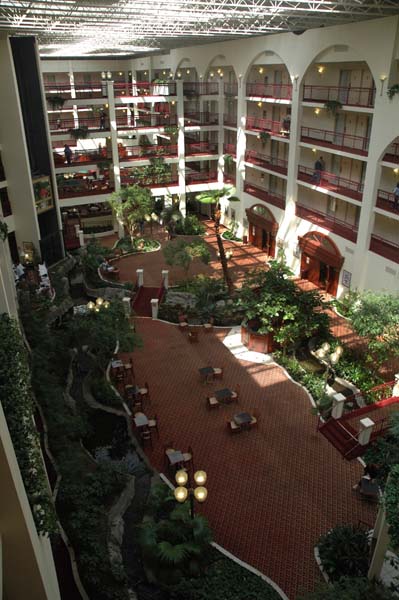 Looking down at the ballroom suites from the fifth floor balcony.
Held in the very open and spacious Embassy Suites Hotel in a suburb of Detroit just northwest of the Dearborn area, it proved to be a near perfect venue for the fun. The layout of this Embassy has all five floors opening into the central courtyard of the hotel. This splendid five-story high central courtyard houses an inviting open restaurant, with banquet accommodations (including a second bar and meeting room), at one end and a large, open atrium at the other. Populated with benches and tables, the atrium includes a faux rock formation and waterfall. The large ballroom has three independent entrances allowing it to be divided into three fairly good sized sections (the Regency, Ambassador, and the Diplomat) via folding sectional partitions and is located just off to one side of this pleasant space.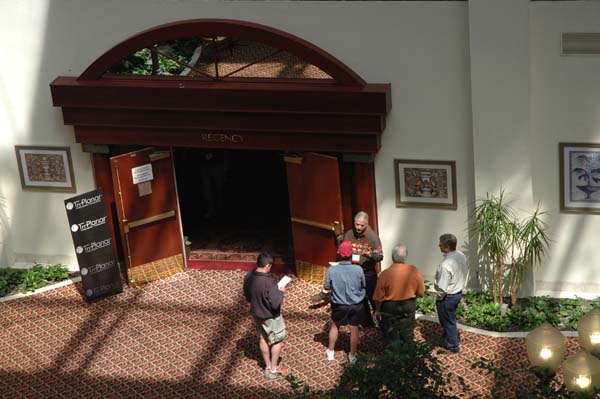 Ralph Karsten greeting visitors to the Regency Room exhibit with Atma-Sphere, Classic Audio Reproductions, and Tri-Planar.
It was in the first of these three rooms, the Regency, that my individual AudioKarmaFest began with a fascinating conversation with Atma-Sphere OTL guru, Ralph Karsten. We spent some time discussing a possible future review project or two, but the substance of the conversation was on amplifier paradigms, one based on power another based on voltage. This material is actually the subject of one of Ralph's White Papers, should you care to take a look.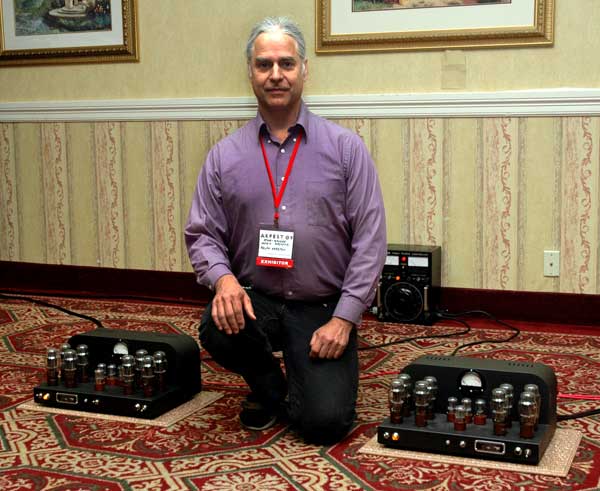 Atma-Sphere founder and designer, Ralph Karsten with the latest iteration of the award-winning M-60 Mk III.
Also exhibiting in that room was the ever-effervescent owner and engineer behind the Tri-Planar Mk VII precision tonearm, Tri-Ma. Tri was happily showing off the latest iteration of his world-class tonearm to any who came in with questions.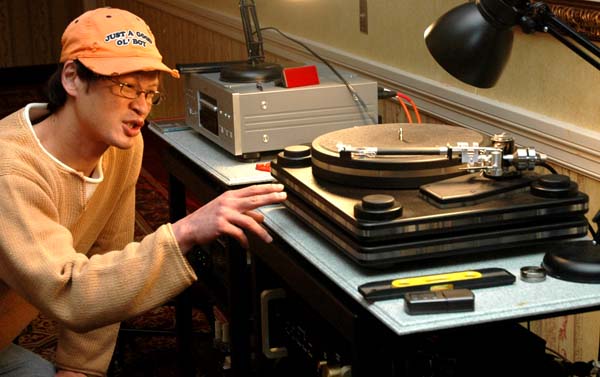 The amazing Tri-Ma running through some to the more salient points of tonearm design with his audience.
Unfortunately, I am unable to afford any serious report on the sound of this room. During my initial visit on the opening morning of the festival, one of the Classic Audio Reproductions loudspeakers was going through some minor surgery, a soldering iron at the ready. Though I made a point to stop back later the following morning, on that visit I encountered a terrible balance issue. The acoustic center of the soundstage had shifted from center to about the one-third/two-third point, away from the speaker that had tasted the heat of the soldering iron Saturday morning.
Something was seriously amiss on that follow-up visit. What unsettled me the most, and I was to find out at lunch that it also troubled my colleague Gary Lea, was that the audience, some 5 people sitting front and center at the time, one of whom had requested the music that was playing (a cut from the 1975 Jeff Beck masterpiece, Blow by Blow), didn't seem to even notice, let alone care.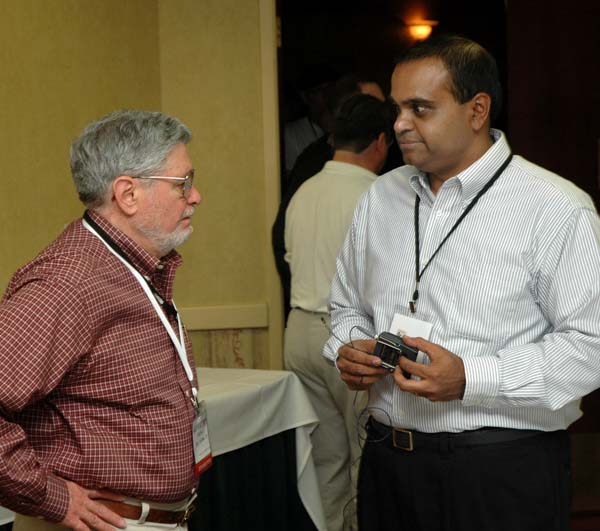 Snell Acoustics Chief Engineer, legendary speaker designer Joe D'Appolito (l) and Arnie Chinta (r) of AudiogoN, exchanging thoughts just before Joe's Seminar begins. AudiogoN recorded the entire discussion for possible webcast in the near future.
A variety of seminars were scheduled over the two days coving a number of pertinent topics, with something for just about anyone in attendance. Saturday morning, UltraFi's Larry Moore opened the seminar series at 10:00 AM with his in-depth assessment and analysis, "Analog, What Separates it from Digital." This discussion was a well thought out, thorough discussion, and one that was both easily accessible and well attended.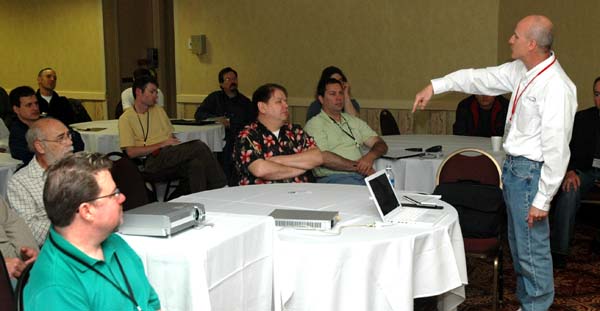 Larry Moore of UltraFi during his "Analog, What Separates it from Digital" discussion Saturday morning.
Saturday afternoon, Joseph D'Appolito, Ph.D., Chief Engineer of Snell Acoustics and speaker designer of near legendary status, took us on a journey outlining "Modern Speaker Design." Joe's emphasis was on the necessity of bringing new projects to fruition rapidly. In today's market, designers simply can't afford to spend years, even months, devoted to any single product, or project, especially when they may be offering dozens of SKUs. This inability for a manufacturer to spend excessive development time on products has mandated the use of many new and specialized tools like MLSSA, CLIO, PRAXIS, D.A.S., or TEF 25 for testing and measurement, as well as computer aided enclosure and crossover applications such as LspCAD, LEAP, SoundEasy, and AudioCAD.
Joe walked us through a typical development process, from design goals through the completion of the prototype. This event played to a packed room, with 90-100 attendees. This was a popular session, and unfortunately, 25-30 late-coming attendees had to be turned away as the room was already filled to maximum capacity.
Joe D'Appolito easily kept a packed room interested in the methods he uses to deliver a new speaker from concept to prototype.
Vincent Sanders, the inspired and creative force behind VRS Solutions, presented the third event Saturday, one that was the first of a two-part event to conclude on Sunday afternoon. Vincent is a master at setting up music servers, especially employing the Macintosh computer platform based Sonic Studio Amarra software. Unfortunately, my other travels and commitments did not permit me to attend either of these events. My apologies to Vincent, as I honestly find this to be one of the most vital and controversial subjects affecting today's audiophile.
Though I was unable to attend either of the two-part seminars, I did take time to listening to the latest iteration of this technology. I have heard this technology several times before, in varying degrees of development and with ever incrementally improved performance. This year, the only real bone I had to pick was, it seems, with a minor issue attributable to the new Emerald Physics CS 2.3 speaker system.
The newly introduced $3995/pr CS 2.3 is the second generation of the overachieving and stirring $2990/pr CS2. I've heard the CS2 in a number of systems fronted with a variety of sources, from the evolving VRS Solutions Music Servers to fine optical disc players, using a variety of amplification, and they have NEVER failed to impress, most especially for the asking price.
In the VRS Audio/Emerald Physics room demo, besides a surprisingly 2-dimensional presentation (remarkably flattened depth), the right CS2.3 speaker would occasionally offer a very perturbing buzzing, sometimes very subtle, while at others overwhelmingly blatant, over the playing of 5 different cuts. I cannot say if these particular models were perhaps "rushed" into production for this show, but I am certain that it is not a major concern or anything other than a one-off problem affecting this particular pair. Unfortunately, this flaw prevented me from making any real assessment as to the progress of the VRS Solutions systems OR the effectiveness of new and improved CS 2.3s.
Several major manufacturers, namely Marantz, Snell Acoustics, and McIntosh, used this event to launch or show new products. In the Diplomat Ballroom, Marantz offered the first "sneak-peek" at their new flagship Blu-Ray player, the UD9004 ($6000), which will play virtually any 12cm digital audio or video disc (DC, SACD, DVD Audio and Video, as well as Blu-Ray).
The room was set up around the Marantz VP-11S2L ($18000) front projector. Their AV8003 ($2600) networking preamp fed a pair of their eight channel MM8300 ($2400/ea) power amps. This system was driven by their very affordable BD7003 ($550) Blu-Ray player. Though I made it into the room only once, there were only static displays at that time. The rest of the weekend, they were doing demonstrations at set times, and I never managed to find myself nearby at the right time to take advantage of that experience.
The McIntosh room promised to be very interesting, with the first-ever live public demonstration of their limited-edition 60th Anniversary "Classic System," including reissues of some near legendary components, the MC75 monoblock tube amp and the C22 preamplifier. These classic reissue units were used to drive the company's new XR200 ($16000/pr) floor standing speakers, while sources were either the MT10 ($9500) turntable or the MCD500 ($6500) SACD/CD player.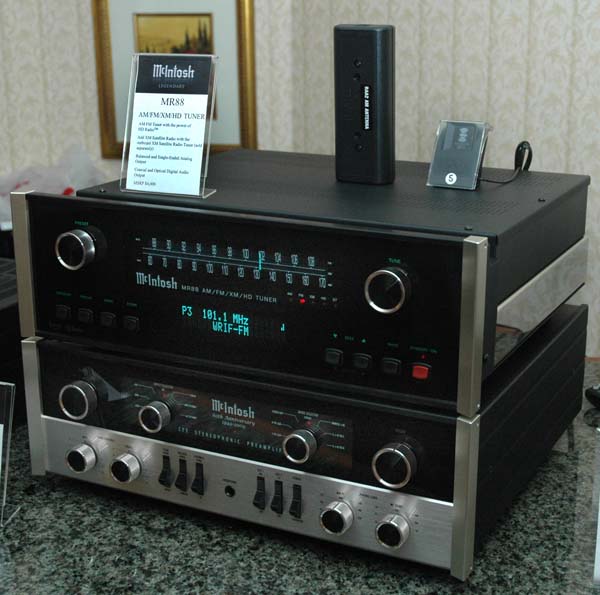 The McIntosh MR88 AM/FM/XM/HD Tuner and the 60th Anniversary C22 preamp.
McIntosh president Charlie Randall noted: "Our 60th Anniversary classic system has been generating a great deal of excitement among audiophiles since we introduced it at CES in January, and we are delighted to be able to give the many dedicated enthusiasts and music lovers who will be attending Audio Karma Fest the first-ever live demonstration. This anniversary system reflects everything that has typified McIntosh throughout our history, namely providing discriminating customers with components that deliver the ultimate in listening luxury and performance, combining both classic McIntosh style with some of today's most advanced audio technologies."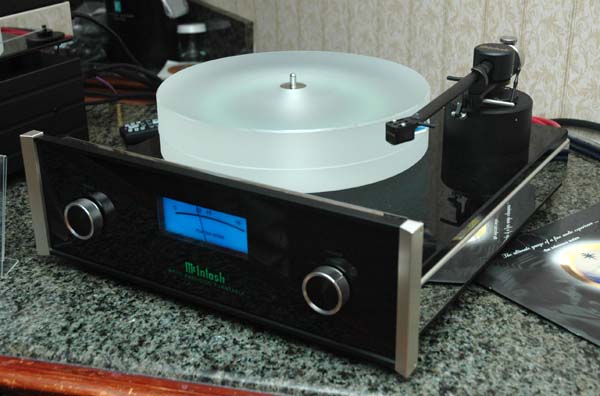 The way-cool looking McIntosh MT10 Turntable.
The McIntosh MC75 75-watt per channel monoblock amplifier was introduced in 1961, just three years after the BBC began its first regular broadcasts in stereo sound. The debut of this ultimate-quality monoblock amp reflected McIntosh's early and continuing commitment to pushing the limits of performance and providing customers with the very best solutions in audio. Largely true to the original design, McIntosh feels that the new Limited Edition MC75 offers many circuit updates that improve reliability while retaining the alluring sonic character of the original.
Introduced in 1962, the McIntosh C22 Tube Preamplifier ushered in the era of the audio preamp as the "control center." Designed to function as a superb line stage, phono preamp, equalizer and input switch, the C22 raised the bar for competing preamplifiers, and forged a standard of features and flexibility for future McIntosh preamp designs that endures to this day. The 60th anniversary C22 recreates the look and feel of the original with its backlit glass and brushed anodized aluminum front panel, and sees the addition of a number of circuit enhancements that bring the design current with recent McIntosh preamplifier specifications.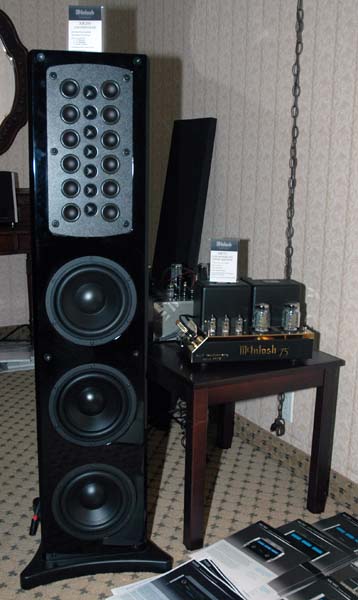 The new XR200 loudspeakers being driven by the 60th Anniversary MC75 amplifier.
There is no doubt that the classic Mac look is more than just nostalgic. However the new MXA60, Mac's first EVER integrated Audio system really looked unique while still keeping the distinguished and polished classic McIntosh look. It is a "tabletop" integrated audio system scheduled to ship early in the third quarter of this year, and features a high-performance 75Wpc amp, a CD/SACD/MP3 player, a vacuum tube preamp, an AM/FM/RBDS tuner, and its own two-way, bass reflex speaker system. Cool!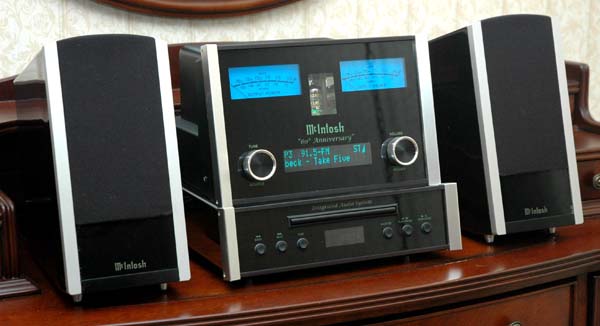 The new MXA60, Mac's first EVER integrated Audio system.
Last but certainly not least, Snell Acoustics used two rooms and showed a new product in each; the new Phantom ($20,000/pr) tower, the first "trickle-down" descendant of their statement Illusion ($50,000) loudspeaker, and the LCR7XL ($3000/ea). The new Phantom features many of the same astounding audio characteristics and leading-edge technologies as the flagship Illusion. In an effort to achieve their overall design goal of full-range, entirely uncolored audio reproduction, the Phantom integrates some of the world's finest transducers. Combined with Joe D'Appolito's many years of loudspeaker design expertise, the result is remarkable clarity and detail. The Phantom uses dual 4.5-inch machined XL magnesium midrange drivers mounted over and under (yes, the D'Appolito technique was named for Joe!) an extremely low-resonance 1-inch SEAS XL silk dome tweeter with neo-magnet. This is one very nice speaker, especially when driven by the McIntosh MA7000 ($8000) integrated amp, MS750 ($6000) Music Server and all AudioQuest cabling. Nice job!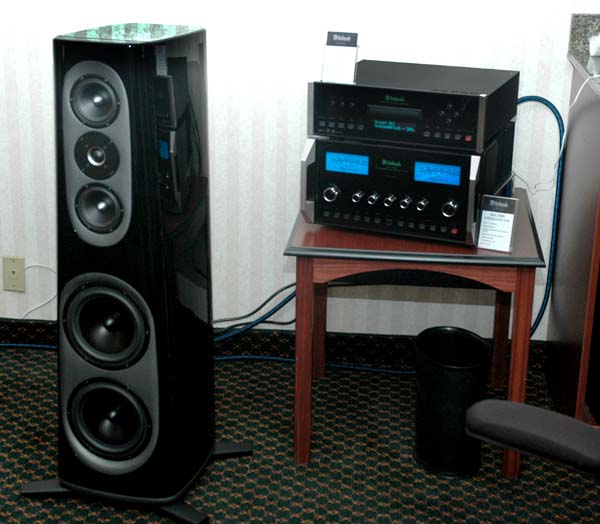 Snell Acoustics new Phantom powered by the McIntosh MA7000 integrated, sourced by the McIntosh MS750 Music Server.
As the day's scheduled events wound down, the obvious gathering place for attendees was the Atrium bar, especially as guests of the hotel were gifted several free cocktails with their room key. Small groups began to gather in that area, starting about 5:45 or so, and I planted myself as close to the big screen as I could when I arrived. The Kentucky Derby was slated to run at 6:30 PM, and, even with as much fun as I was having here, I did not want to miss it.
Several of us decided to go off-site and try the highly recommended Brazilian Style Steak house, Gaucho, just half a mile west on 7 Mile road, which runs just in front of the Embassy Suite. Len Miller, (SoundString Cables), Philip O'Hanlon, (On A Higher Note), Brian Bowdle, (Venus Hi-Fi), Todd Reitz, (TR Audio), and his son Chuck, joined me as we had a wonderful meal. After entirely too much protein intake, we headed back to the hotel for—you guessed it—some music.
Listening Saturday night came in several forms. First, the Ann Arbor based blues/rock band, the Laith Al-Saadi Trio, rocked from about 9:00 PM until just after midnight in the Parliament room, the same room where all the seminars were held during the day. This banquet area, just off the main restaurant floor, had its own full service bar for this event. Several of us hung out here most of the evening. I spent some time chatting with Brian Bowdle, an East Lansing retailer, and Arnie Chinta. The Heinekens' were discounted, the music was sweet, and the conversation was outstanding…
The OTHER music option, just in case you hadn't surmised, came from the rooms of some of the local dealers, exhibitors, and Audio Club members. Tunes wafted throughout the Atrium even as I headed to my room at 1:30AM and I'm told that the "party" went on well past 4:00 AM.
Sunday morning, I had breakfast in the open restaurant with Len Miller and fellow journalist Gary Lea (DaGoGo.com). After some lingering conversation over our morning meal that ambled from this year's exciting Formula 1 season to our thoughts on the current state of our society, we each headed off on our separate ways for more good music, shared among friends. What follows are some images and brief descriptions of some of the more interesting rooms.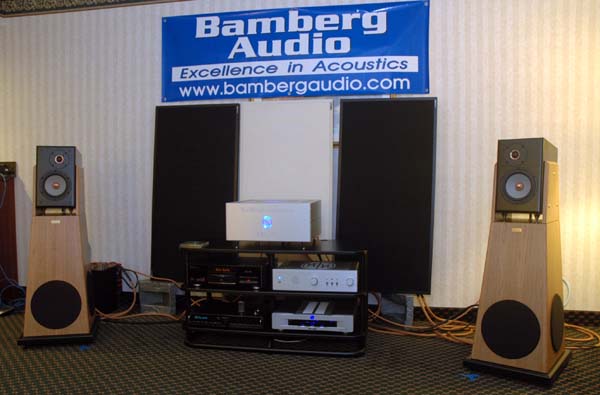 Using a Pioneer Elite PD-65 transport (first introduced in 1992!) feeding a Truth Modded Transporter Music Server ($3800), a ModWright 36.5 ($5000) preamp and KWA 150 amp ($6000), and all SoundString cables, the new Bamberg Series 5 TMWs ($8275) sounded very detailed and full bodied.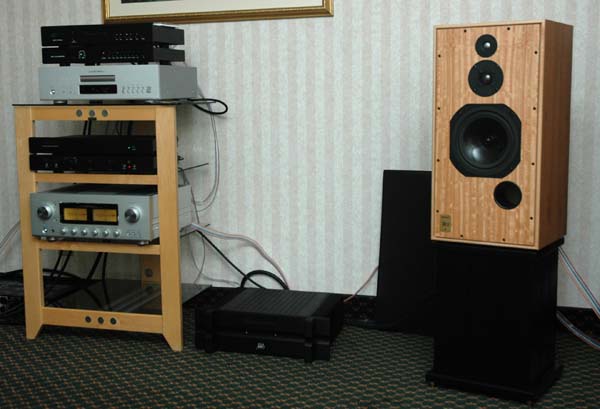 Royal Oak retailer David Michael Audio showed off a clear, detailed, and focused presentation in his room, featuring a Bryston BCD-1 ($2695) Disc Player, a Luxman L550A-MkII ($4800) integrated amp, and the Harbeth Super HL-5 ($5000/pr).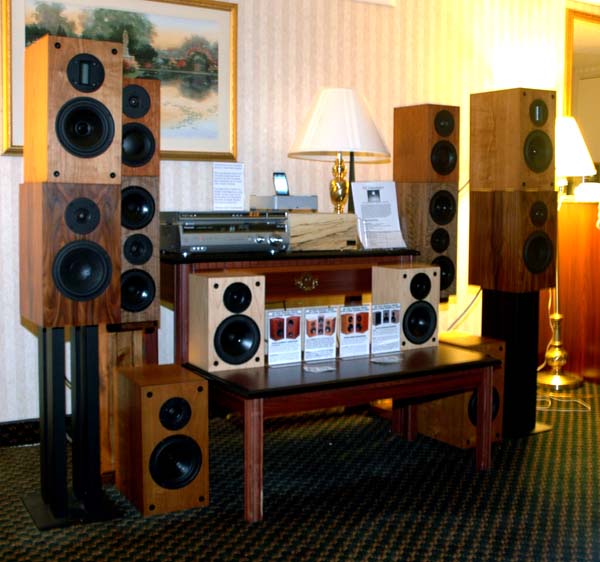 Speaker maker Fritz Heiler teamed up with ASi, using a severely modded Wadia 170i. Mods included a new internal "no limits" DAC, some serious clock upgrades, Bybee filters and a battery supply, making it about a $2200 iPod front end. The Fritz Speakers Carbon 7 (the speakers sitting directly atop the black speaker stands) made it all sound awfully sweet, especially for having only$1650 retail… Yeah, this room was SWEET!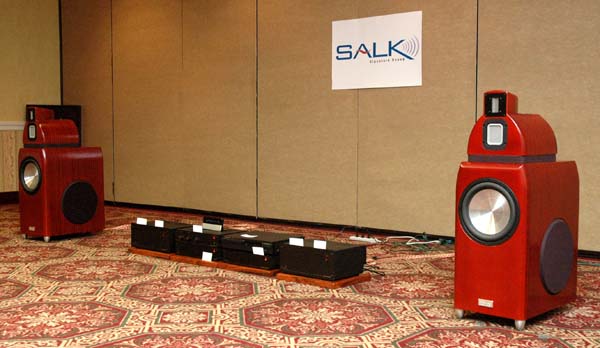 Salk Signature Sound teamed up with Audio by Van Alstine in the Ambassador Ballroom, and the result was sound as good as they looked. Using the Ultra EC ($1899) preamp and a pair of FET Valve Ultra 550 ($2399 ea) monos', they were driving a prototypical product with no name yet that should sell for about $15,000 per pair. I never really got a good demo, but even the haphazard information I caught was impressive. I'd like to spend a little more time with this combination.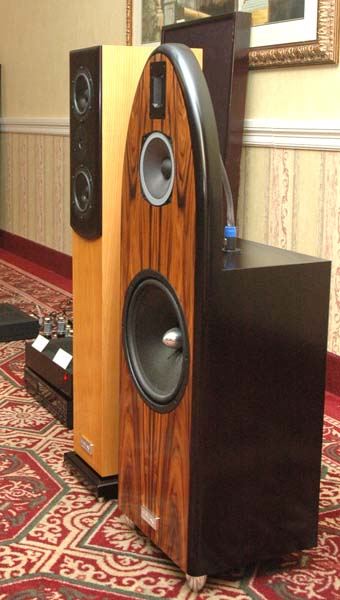 I really wanted to get to hear these Archos ($4200) Open Baffle speakers, which are said to be "tube friendly." They were being driven by the newly repackaged Ultimate 70 ($1599), essentially a lovingly recreated Dynaco ST-70. Unfortunately, I never made it into the room when they were live.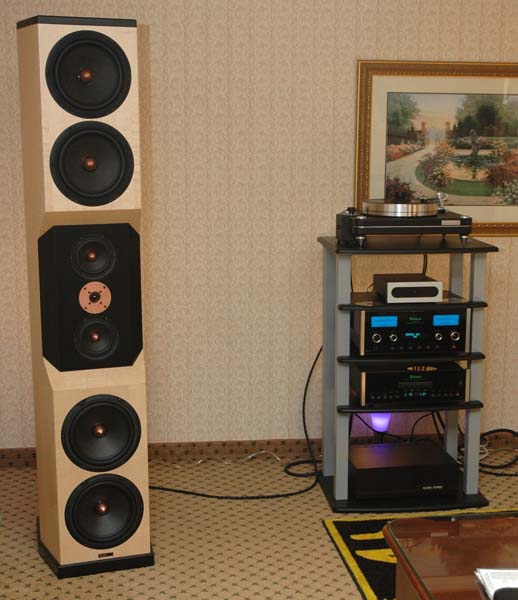 Tyler Acoustics showed the new Decade D10. Ty Lashbrook does all direct sales and this new speaker is $11,500 shipped to you! Fronted by a VPI ScoutMaster/JMW9 ($2500) through the Bel Canto Phono3 ($1500) or the McIntosh MVP851 ($3500), and using the McIntosh MA6600 integrated amp, ($6800), this system ROCKED. The vinyl version of Dire Straits "Ride Across the River" from Brothers in Arms was outstanding. This system was dramatic and DYNAMIC and, oddly, didn't overpower this smallish room.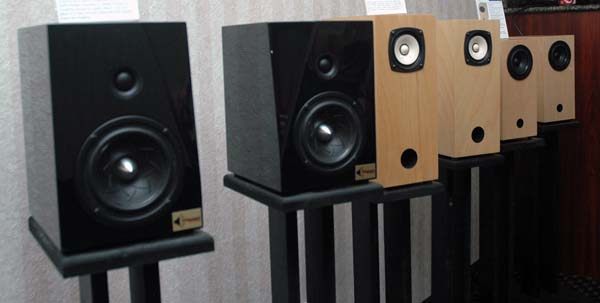 Many, many systems at the AKFest, and more and more in general, are being created specifically for iPods or some type of music server. The guy's at WhipLash are doing their best to cater to that market. Above are the $599/pr Pluto (left/black cabinets), the $299/pr Photon (center/silver driver), and the $299/pr Ion (right/black drivers).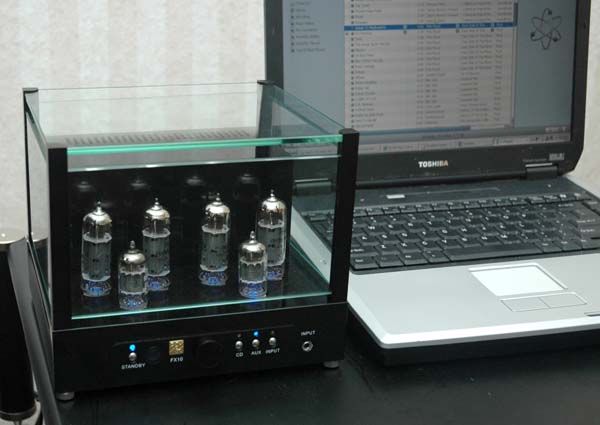 JoLida was making some SERIOUS sound with their new $450 Glass FX10 Integrated tube amp, with cool blue LEDs. Using iTunes on a Toshiba laptop, this remote controlled quad EL-84, 10-Wpc beastie was making the 96dB Nola Boxer prototypes, which are expected to retail for about $1500, dance. This was one of the most impressive, TINY, music systems I've yet to hear, period. A tip of my hat to both JoLida and Nola for this dynamic dynamo of a duo.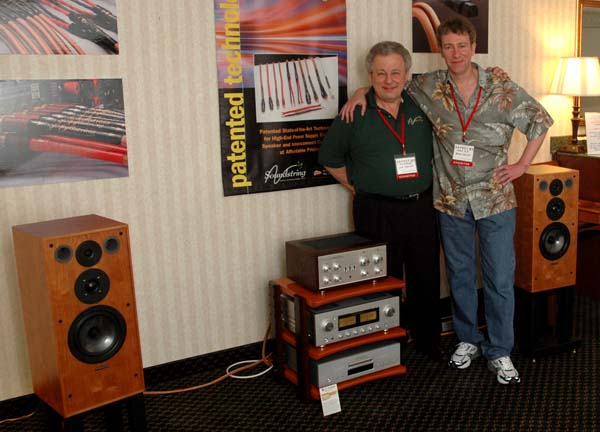 SoundString Cable's Len Miller and Venus Hi-Fi owner Brian Bowdle assembled one of the more involving rooms at the event. The source was the Luxman DU-50 ($5000), amplification was by the L550A Mk II ($4800), and the speakers were the Spendor SP 1/2Rs ($5500/pr). All cabling was from SoundString. While it never played any time I was in the room, the cool looking little Luxman SQ-38u ($6000)—on the top shelf of the component stand—was on display. This was one of the most musically compelling rooms at the entire AKFest. Good folks, good tunes, and great sound.
In closing, AKFest represents, to this hobbyist and music lover at least, the quintessential example of the type of event that our industry needs to promote in order to survive, thrive, and grow more dedicated, pro-active listeners. It was an unbelievably fun, unpretentious, music-driven, gathering of music lovers; the kind of music lovers who will chase, to the ends of the earth and to the limits of their disposable income, whatever equipment they can find that will help them achieve the best possible reproduced sound in their own listening room.
It is with grass roots events like this, where the MUSIC is the master and the gear, no matter how essential, though lovingly and appreciatively is clearly the servant to its inevitable recreation that we can begin to assure the future of this industry. In my opinion, we must take the time to cultivate, sponsor, and support such events if we expect to be able to educate and pass on an appreciation of such magical gear to a new generation of music loving audiophiles.
In that spirit, I offer my most sincere thanks to David and Ernie, and everyone in any way associated with bringing off this extraordinarily magical two-day event in the heart of the mid-west. While I can only begin to imagine how much effort it takes to pull off, it is a truly essential and enjoyable audiophile treat. Bravo!